Lá Fhéile Pádraig shona daoibh! Happy St. Patrick's Day!
What better way to mark our national holiday than by celebrating Irish style? We are incredibly lucky in Ireland to enjoy such a rich cultural heritage and I really appreciate seeing that reflected in the way we decorate our homes. I think what puts many people off is the fear of it all becoming a bit too "Oirish", but I believe that good design is timeless. Here's my pick of some quality homewares inspired by traditional Irish design that can easily be incorporated into a range of decorating styles.
Aran Knits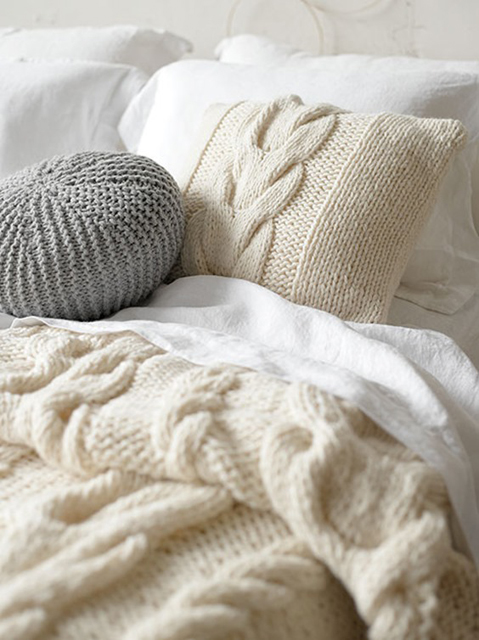 Imagine how cosy it would feel to snuggle up in this! The pattern on this luxurious knit throw and cushion is inspired by the traditional Aran báinín, a jumper (sweater) from the islands of the same name off the west coast of Galway. The one pictured is a knit-it-yourself pattern, but thanks to the popularity of this Irish design, there are endless options available in high street and department stores if you prefer a readymade alternative.
Irish Tweed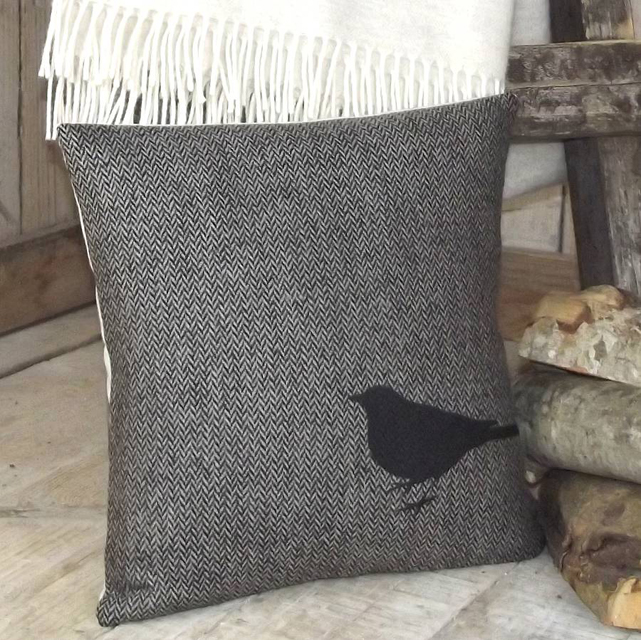 Irish tweed, traditionally used in men's clothing, is a quality fabric that can be incorporated into the soft furnishings of any home, whether it be traditional or more contemporary in style. This cushion cover is made from fawn tweed lambswool with an Irish linen back and is printed with a blackbird silhouette. (If my obsession with bird motifs isn't already apparent, stick around and it soon will be!) This design is produced by Rustic Country Crafts in their studio on the shores of Lough Neagh in Northern Ireland.
Cast Iron Cookware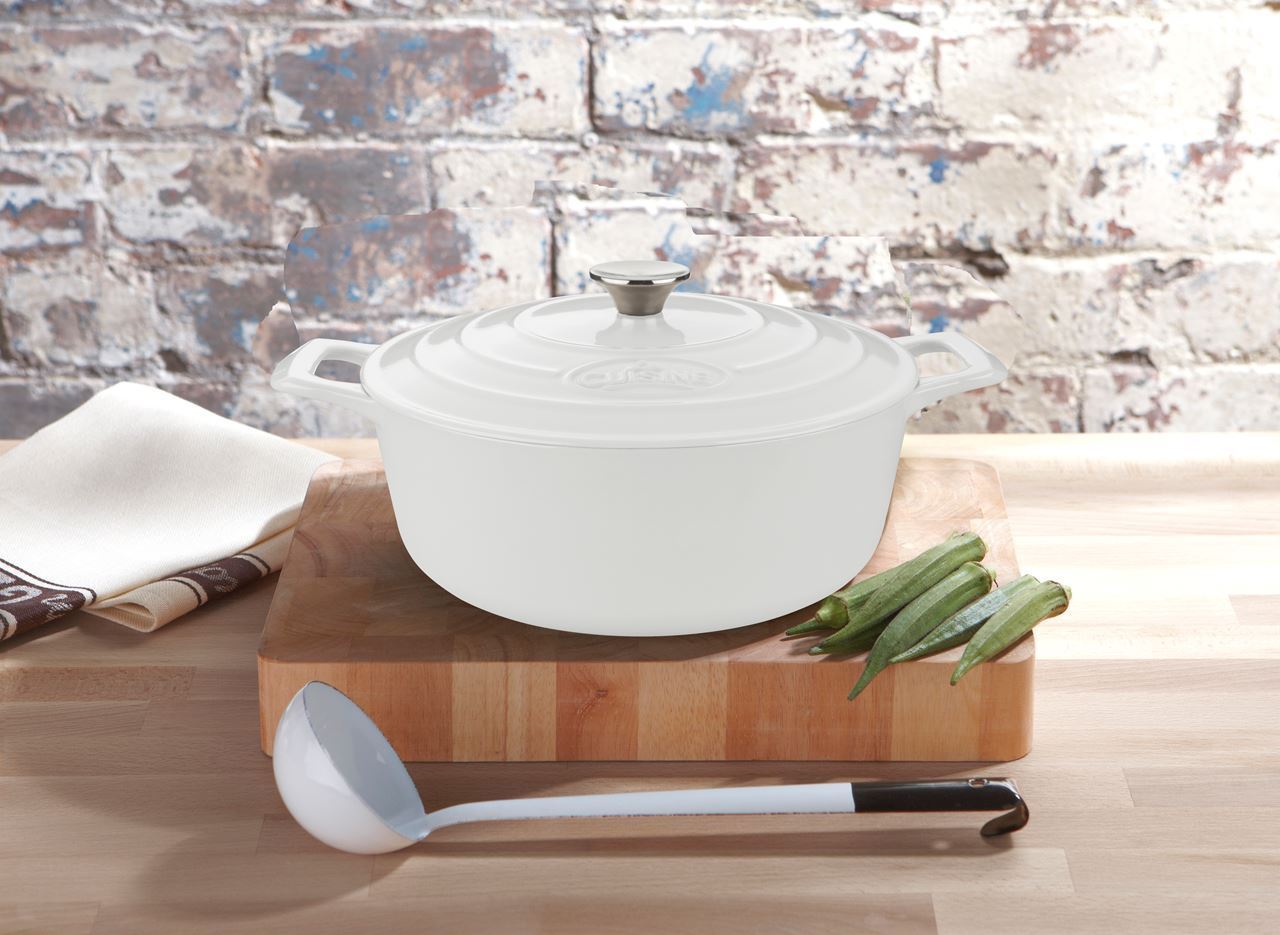 Our ancestors cooked in cast iron pots over an open fire. Thankfully, technology has moved on since then, but it's still hard to beat a cast iron casserole dish (Dutch oven) for their durability and their ability to maintain a consistent cooking temperature. Moreover, cast iron has none of the health risks associated with modern non-stick surfaces, which can release PFCs (perfluorocarbons) that have been linked with health problems concerning liver function, hormones, and even cancer. When it comes to cookware, it seems (grand)mother really does know best! This gorgeous enameled range is by La Cuisine, a family-owned business based in Donegal. 
Irish Linen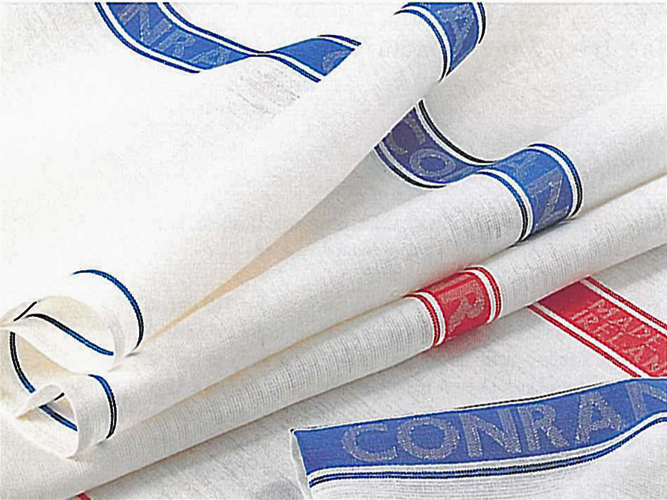 Flax has been grown in Ireland since prehistoric times and by the 16th century, linen production was widespread in the country, reaching its peak in the 18th-19th centuries. The industry has declined considerably since, but there are still a few producers in the northeast creating high-quality linens. Linen is actually stronger wet than dry, so tea towels made from the fibre are very hard-wearing. Linen can also absorb up to 20% of its own weight in moisture while still being dry to the touch. As a lint-free cloth, it is perfect for polishing glassware. These ones are produced by Tomary House in County Armagh. 
Baskets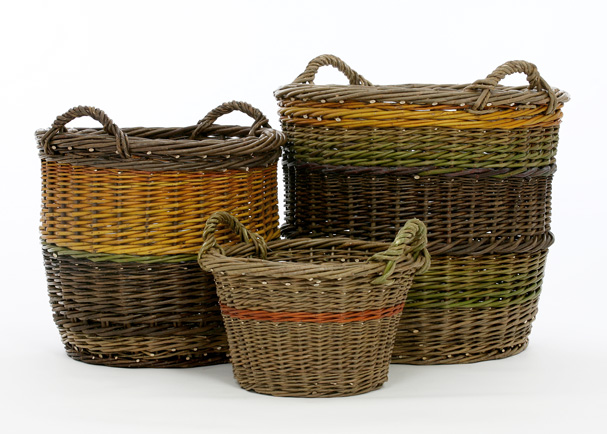 Follow The House that Will
Facebook | Instagram | Bloglovin'
Baskets enjoy a long history in Ireland, and are a beautiful way of introducing texture into any decor. These log baskets made in County Kildare by Kathleen McCormick use the natural colour variations in the willow for decorative effect. Or consider a lidded trunk as a stylish way of storing a variety of items in the home. From cradles to laundry baskets, bread baskets to trugs, it is their versatility that make baskets such a timeless classic. 
Milking Stools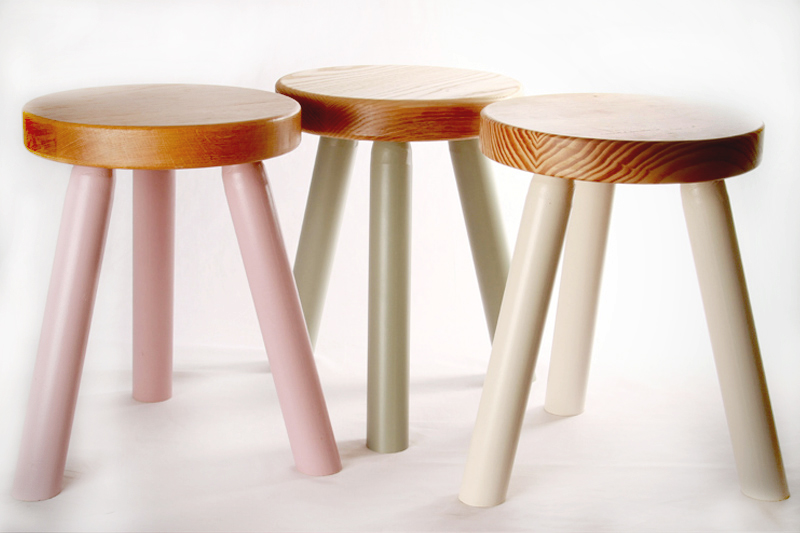 Woodbofin's colourful contemporary versions of the traditional three-legged milking stool are handcrafted from solid oak, mahogany or ash, with the option of natural ash or painted legs in Farrow & Ball shades. They would be perfect in a kid's room, or repurposed as end tables or bedside tables. 
What's your favourite Irish design?

Related posts:
National Crafts & Design Fair 2016
National Crafts & Design Fair 2015