Home of the Year has just completed its second season on RTÉ and, once again, it was incredibly exciting to see so many unique and inspirational homes being created by people right here in Ireland. 
Clever architecture is an obviously an important feature in creating a quality home environment, and several stunning examples were featured in the series, such as Jane Burnside's Origami House in County Antrim (pictured below) and the award-winning Keeper House & Lodge designed by Scott Tallon Walker for Denise and Stephen Walsh in County Tipperary.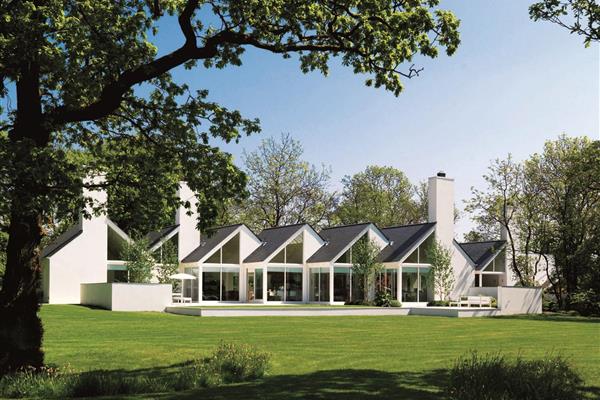 While I love modern architecture in public buildings, my personal preference tends towards the more traditional when it comes to creating a home. So for me, it was the seductive charm of Legatirriff House, William and Leslie Shannon's eighteenth-century thatched cottage with modern oak-frame extension in County Antrim, that was irresistible.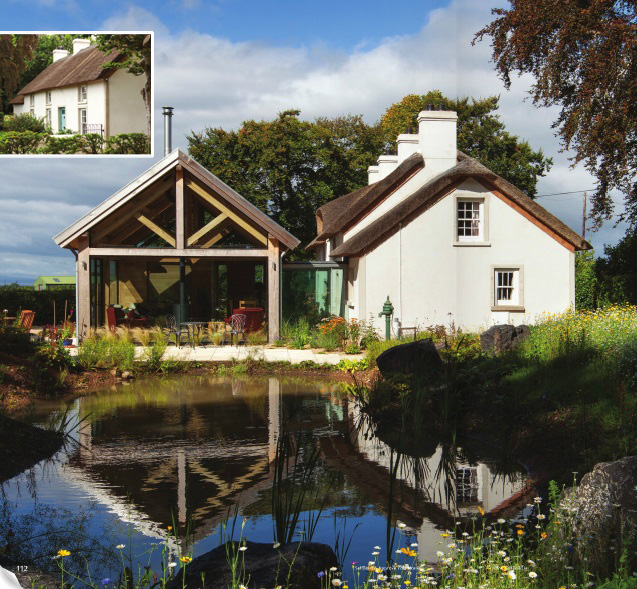 Another particular favourite of mine for its gorgeous architecture was this 1912 Arts & Crafts style home, restored and extended by homeowners, interior designer Aine Sweeney and her husband Mick. I love the double front door which opens to reveal the generously-proportioned entrance hall with its beautifully-crafted original staircase. The extension too is a lovely addition, with its characterful window frames, panelled walls, grey Shaker kitchen units with Carrara marble surfaces and a period brass lamp incorporated into the kitchen island ... plus a favourite material of mine: tan leather.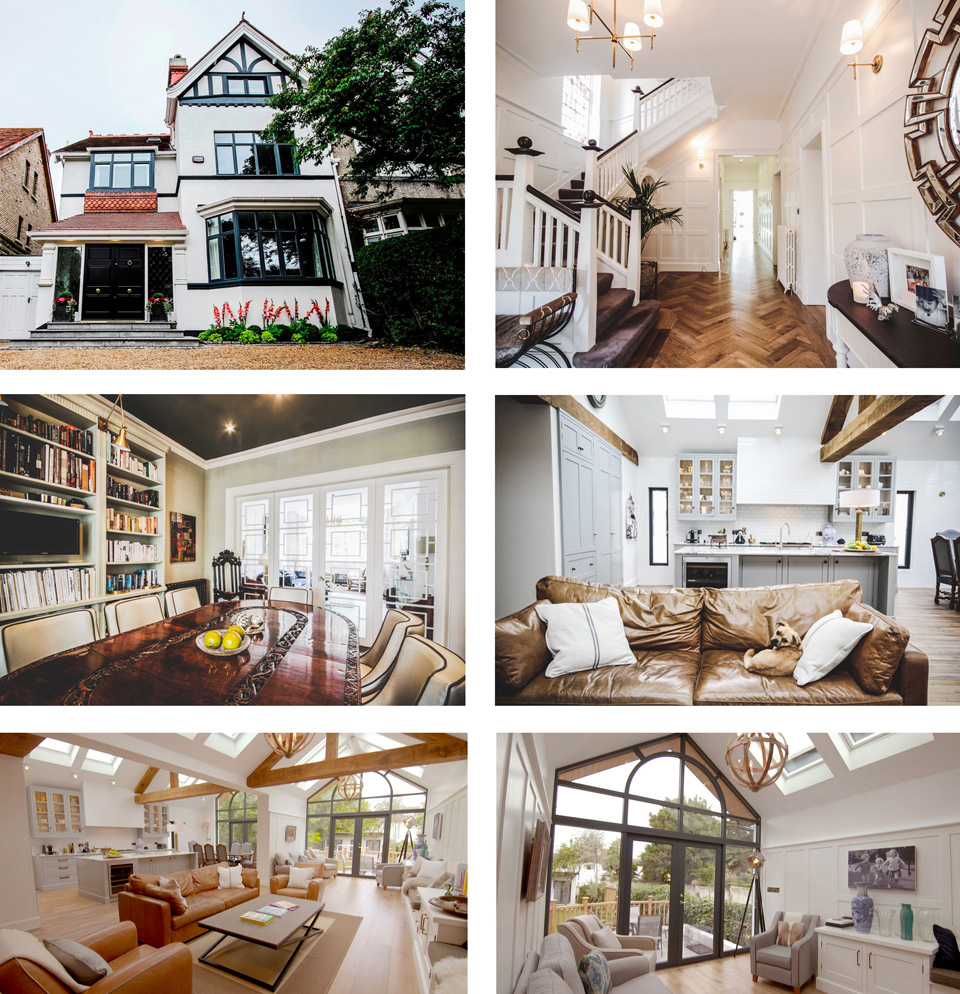 The overwhelming advantage that an attractive and well-designed structure provides when building a home is very powerful, which is why I really admire the way in which the judges this year acknowledged good architecture, but chose to prioritise the creativity and design flair of the homeowners themselves when selecting the winning home. That's what makes this show feel very different to, for example, the House of the Year contest. The distinction between house and home is an important one.  You may recall that when the show was launched last year, I had some reservations about the idea of introducing a competitive element to the concept of home - you can read my post about last year's series here - and I still contend that the only person a home needs to please is those who live in it. However, it is also true that design pervades every facet of human life, including our homes.
Great design is a multi-layered relationship between human life and its environment.
Naoto Fukasawa
The abundance of  TV shows about architecture and interiors, the thriving home décor magazine industry, and best-selling books about design and decorating (as well as this blog!) are all evidence that many of us are heavily invested - literally and metaphorically - in learning to navigate that relationship between our lives and our environment and in striving to make the best home we can for ourselves and our families. What I really appreciate about the Home of the Year series is its insistence that money is not a determining factor in making good decisions about design. While commending what (for most of us) are undeniably aspirational homes, Home of the Year also celebrates homes that (by the owners' own admission) were created on a very tight budget. 
A perfect example of good design triumphing over a modest budget is Emma Hogan and Andrew Hersey's 100 year-old cottage in County Clare. The unapologetically modern double extension respects the integrity of the original dwelling, so that a metal staircase and a plywood wall sit comfortably next to exposed stone walls and original fireplaces and windows. With backgrounds in graphic design and planning respectively, the homeowners' use of texture, colour, and a wide variety of materials combine to make a home that is brim-full of clever design and a tangible sense of fun. It is one of my favourites from the series and was also chosen by the judges as one of their top-three choices in the series final.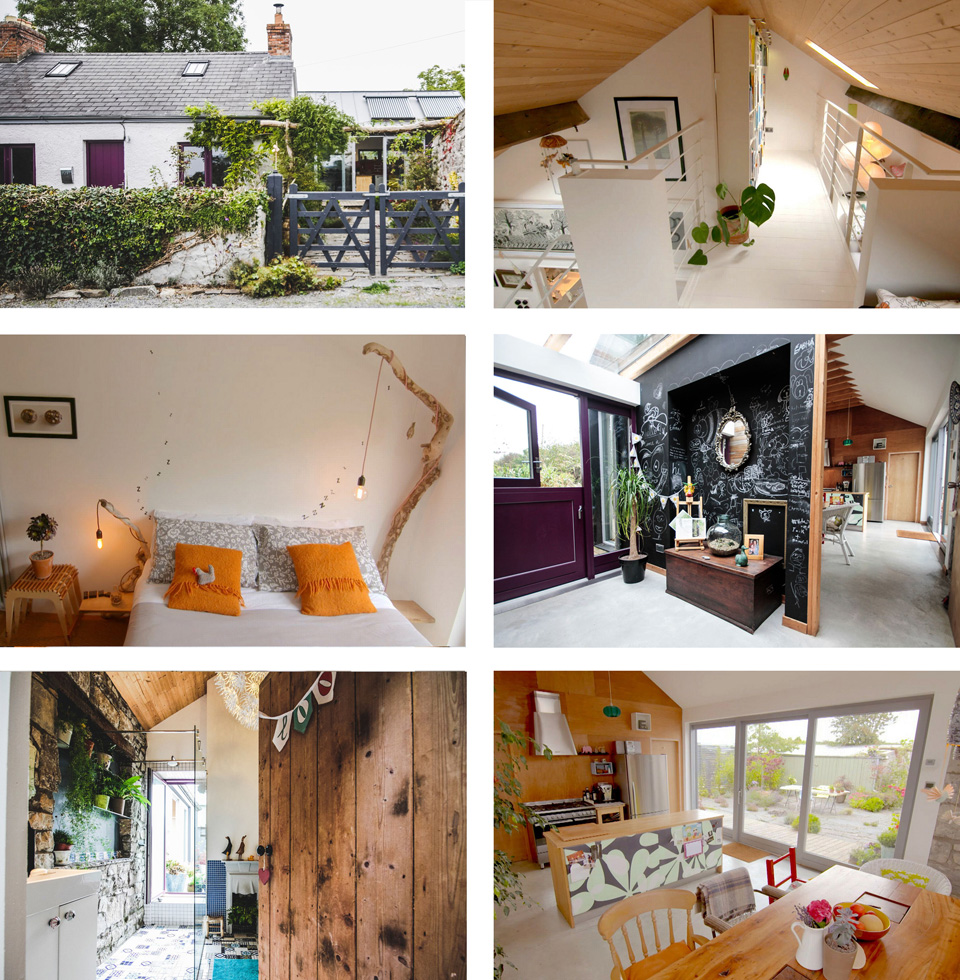 The sheer boldness of the innovation demonstrated by some homeowners was astonishing; and none more so than teacher Pat Davern's "fantastic plastic" house. The unassuming exterior of this Dublin terrace opens into a surprising interior that utilises polycarbonate as a unique building material, chosen for its ability to diffuse light around the compact interior. To maximise the available space, the floor was dug out to create a double-height loft-style living space, and a cantilevered bathroom pod was added to the rear in which a glass ceiling creates the illusion of bathing under open sky.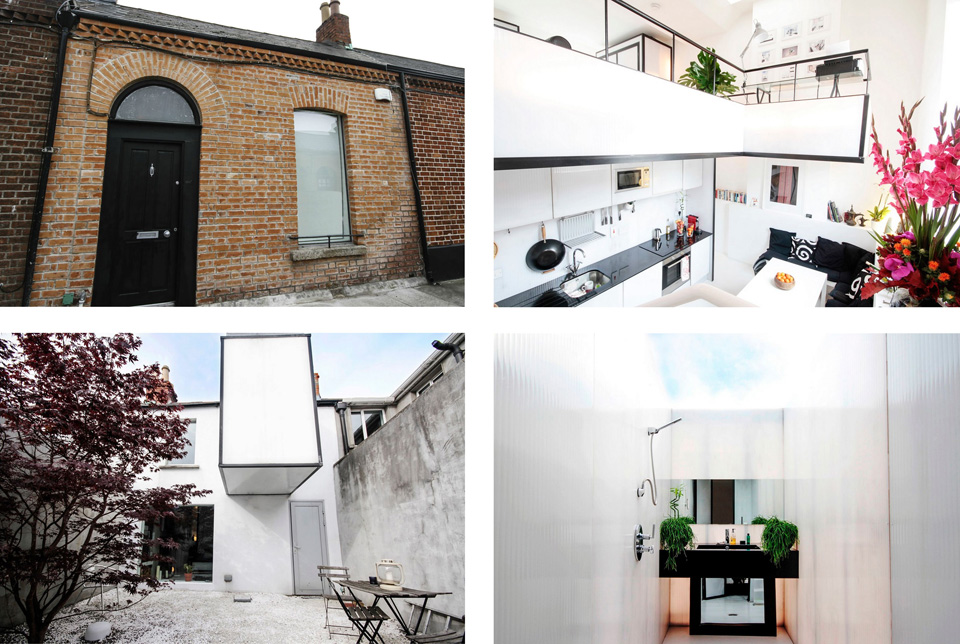 Dublin homes  represented a third of the overall selection but, as a Galway girl myself, I am very proud that my own home county ranked second in the number of homes featured, including a remodelled bungalow in Clifden and the 19th-20th century Rose Cottage, near Tuam (pictured below).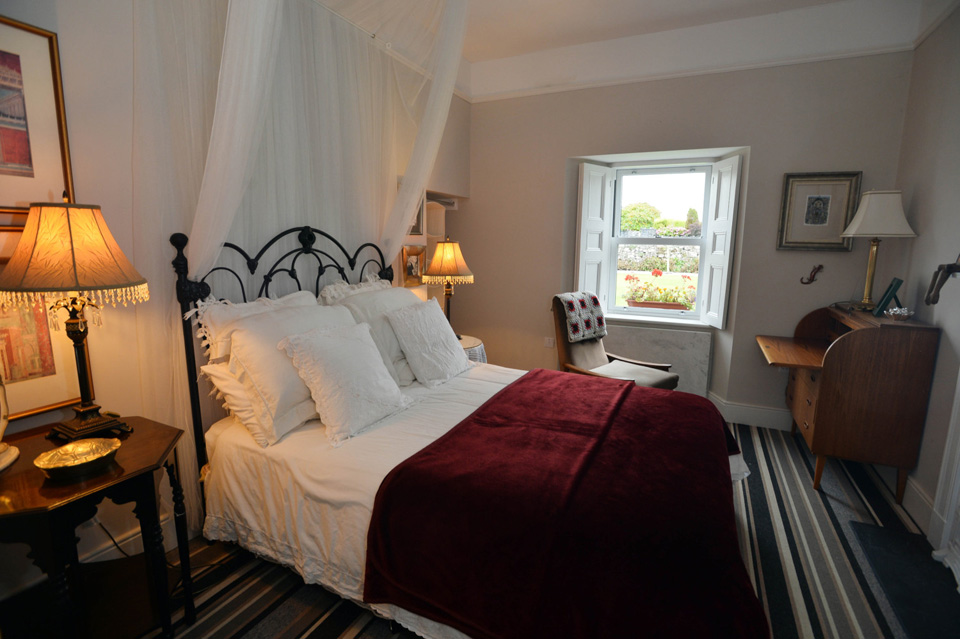 In fact, a Galway entry was chosen as one of the seven finalists this year. Having already featured in several publications, including Image Interiors, the renovated 1950s carpenter's workshop that Aoibheann MacNamara shares with her son, Oni, deservedly placed among the top homes in the country. I particularly loved the open-plan kitchen-living area and the neon greeting in the entryway featuring a heartwarming Galway colloquialism, "Howya now Loveens"!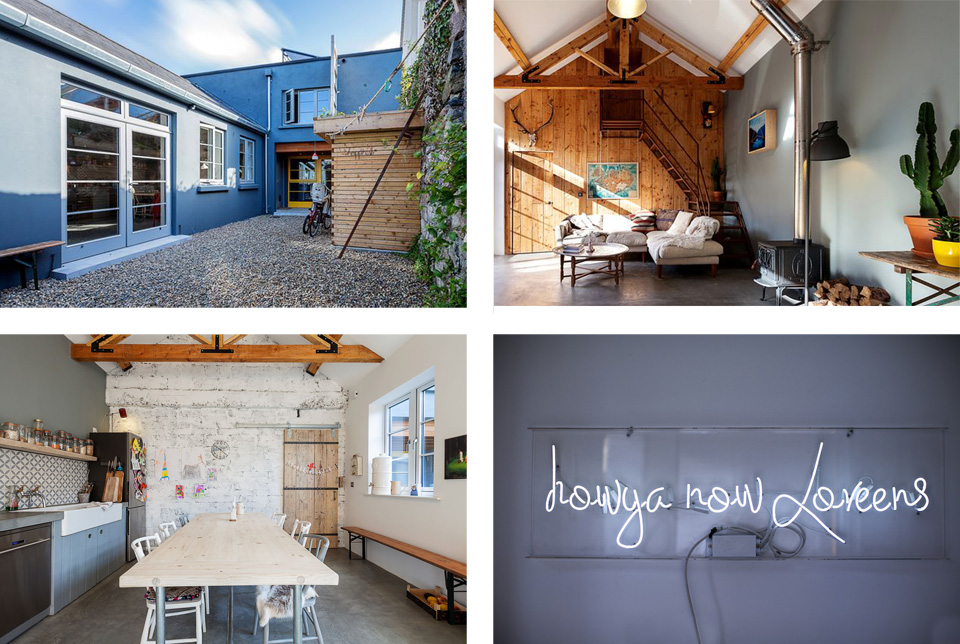 The overall winner was a genuine favourite of mine from the beginning and, on reviewing the episodes, I noticed that it scored the highest points from the judges of any home throughout the series. Yet, on the face of it, this is a remarkably modest home. What makes it special is what the homeowners have done with it and, in that way, it exemplifies everything that Home of the Year stands for. Interior designer Egon Walesch inherited the lakeside cabin from his late father in 2010, and he and his partner Richard Goodwin subsequently carried out extensive renovations, knocking internal walls to create an open-plan kitchen-living area, opening ceilings to reveal the rafters, and incorporating sliding glass doors to embrace its wooded waterside setting. I love the use of textiles to add texture and to create a cosy atmosphere, as well as the clever use of colour with cool neutrals punctuated by shots of burnt orange and fresh green throughout the mid-century inspired interior. Everything in the space is carefully chosen so that it is just right: not too much, not too little ... it is the Goldilocks of interior design!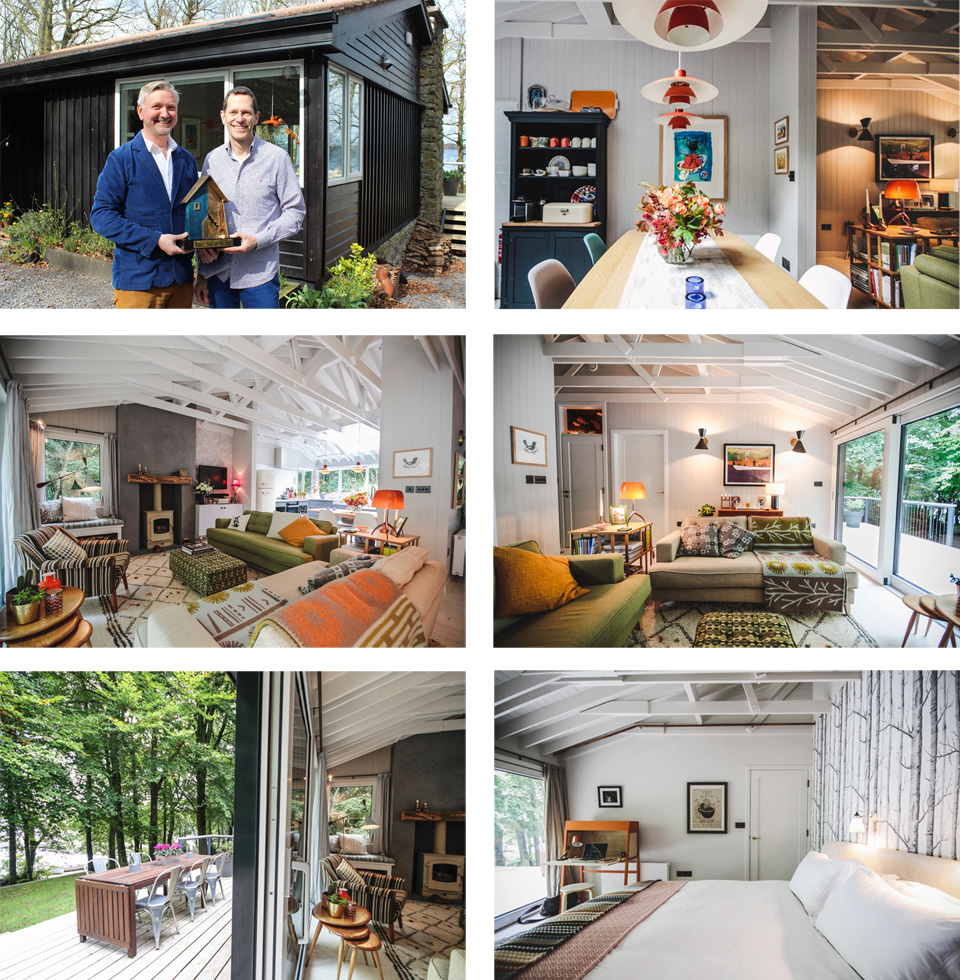 One evening, while re-watching the episode featuring the cabin, I was admiring the home aloud when Hubby pointed out how similar the homeowners' style is to ours: our master bedroom also has a feature wall of the Woods wallpaper designed by Michael Clark for Cole & Son, the wool textiles in their living area are very similar to our multispot blanket from Foxford Woollen Mills, the orange pendants over their dining table reference the ph50 light designed by Poul Henningsen for Louis Poulsen, of which we have a vintage red version, and we both own the grey hare lamp by Abigail Ahern (see my styled version here). They even have a black loo like we do! (You can just see the black wallpaper with orange goldfishes peeping through the transom over a door in one of the images above.) I guess it was inevitable that this cabin would feel like home to me!
Follow The House that Will
Facebook | Instagram | Bloglovin'
Personal taste aside, Home of the Year is a spectacular showcase of great design and inspiring home-making from all around the country. If you missed the series, episodes are available to view on the RTÉ Player up to one month after their original broadcast date.

Related posts: