Last week saw the release of a new feature film about Irish artist, designer, and architect: Eileen Gray. The Price of Desire explores the controversial story about how her extraordinary contribution to modern design and architecture was virtually erased by the "father of modernism", Le Corbusier, and his friend and promoter, Jean Badovici.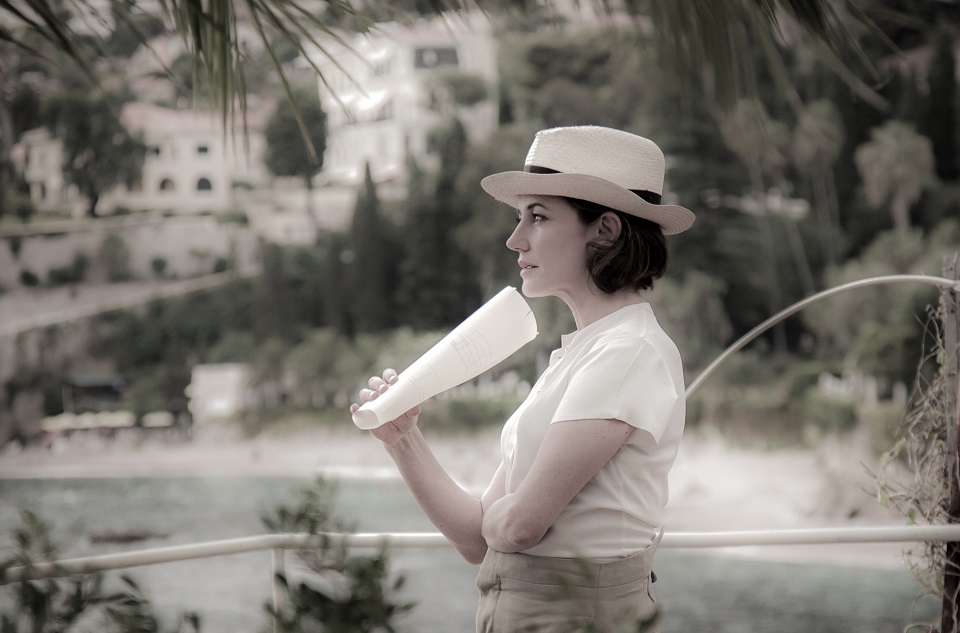 Source: Monaco Reporter
Note: Because this film is a true story about Eileen Gray and Le Corbusier, this post may contain spoilers if you are not already familiar with some of the facts about their lives. 
Born Katherine Eileen Moray Smith on 9th August 1878 at Brownswood House near Enniscorthy, Co. Wexford, the Gray surname came about when Eileen's mother inherited a Scottish peerage and became the 19th Baroness Gray in 1895. Her father, James MacLaren Smith, was a Scottish landscape painter. Eileen followed in his footsteps when she went to study painting at the Slade School of Fine Art in London, but she later turned her interest to Japanese lacquer work, which she initially learned from a shop owner in Soho. In 1900, her mother took her to Paris where she visited L'Exposition Universelle, a world fair that celebrated the achievements of the past century. There began her love of France and of modern innovation and, after moving back and forth between London and Paris for some years, she finally settled in France after the First World War.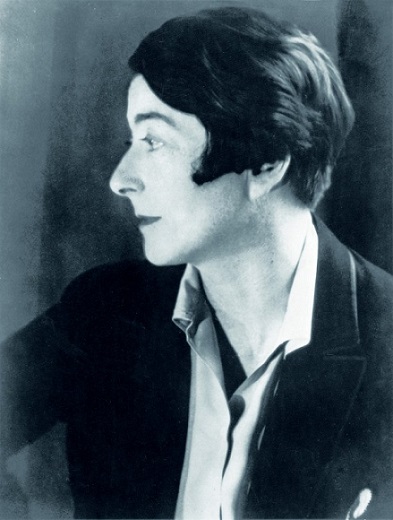 Source: Metropolis
Gray was already making a name for herself with her lacquered screens, tables, and chairs. Having learned Berber weaving techniques in the deserts of North Africa, she also expanded into producing carpets and rugs featuring abstract geometric shapes. For four years from 1917 to 1921, Gray worked on a commission to decorate the apartment of Madame Mathieu Lévy on Rue de Lota in Paris. It was for this interior that Gray designed some of her most famous pieces, including the Bibendum Chair and the Dragon Chair (also referred to as the Serpent Chair). When the apartment was revealed, it received enthusiastic critical acclaim for its innovation, and photographs of it were widely distributed, gaining her many more prominent clients1. 
Source: Arran Q Henderson
The Dragon Chair later came into the possession of Yves Saint Laurent and was sold by his estate at auction in 2009 for €21.9 million -  the highest price ever paid for a piece of twentieth-century furniture. (A side-note of interest is that the underbidder is reputed to have been Irish, but he gave up when the price reached €20 million.) After the auction, Cheska Vallois, who had bid on the lot for an anonymous collector, was asked how one could justify paying that much for a chair. She replied that it was "the price of desire"; a remark that made headlines around the world and which inspired the title of this film.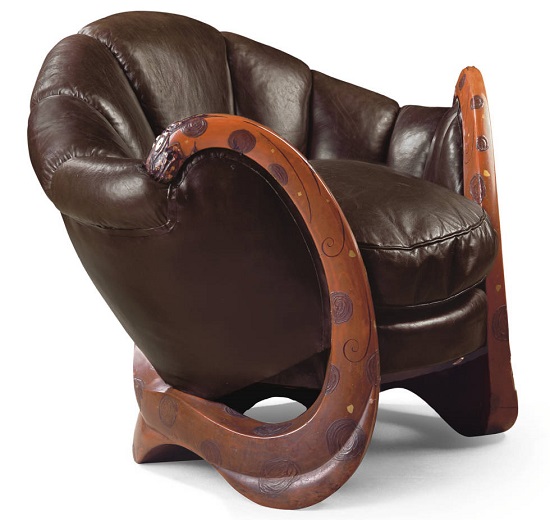 Source: Town & Country
"The price of desire" statement resonated with the producer and director of the film, Mary McGuckian (herself a native of Northern Ireland living in the south of France), because she senses that the integrity of Gray's work is inextricably linked to her sensuality. Despite her sometimes being portrayed as a very prim, Anglo-Irish character2, Gray was bisexual and was known to have had affairs with singer Marisa Damia (played in the film by Alanis Morissette) and Romanian architect and architecture critic, Jean Badovici (played by Francesco Scianna).
When Gray opened a store in Paris in 1922 to showcase her work, she called it Jean Desert, most likely in honour of her lover and mentor Jean Badovici as well as her time spent in Africa. The fact that she chose a male name for the store is significant and indicates that she was already feeling that, as a woman, she would not be taken seriously as a designer1.
The relationship between Gray and Badovici also led to the construction in 1926 of E-1027, a modern villa overlooking the sea at Cap Martin in the south of France. The name of the villa is a coded expression for the couple: the E is for Eileen, 10 represents the 10th letter of the alphabet i.e. J for Jean, 2 represents B for Badovici, and 7 is G for Gray. Gray herself actually joined the construction crew on site and helped to cart building materials onto the challenging cliffside.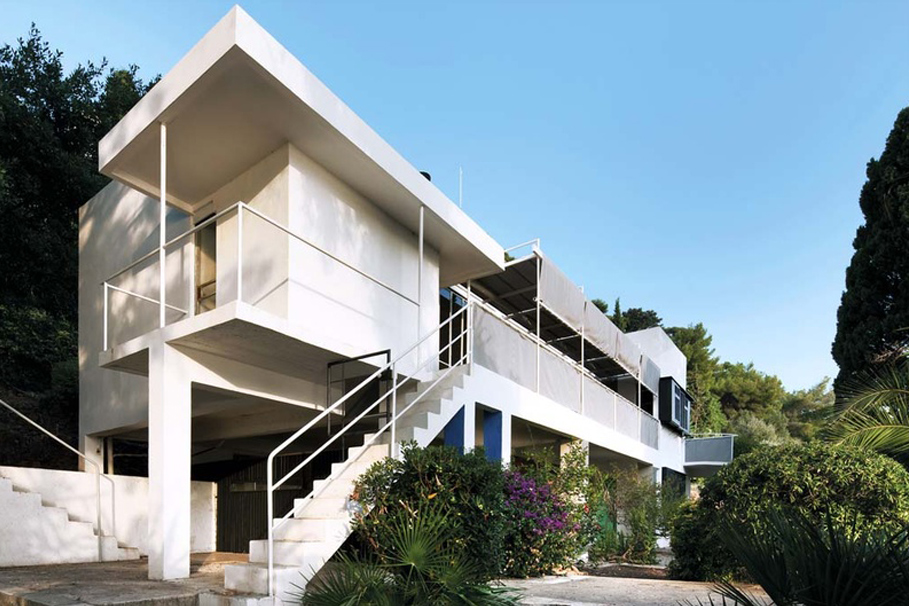 Source: Switch Modern
When E-1027 was completed in 1929, Architecture Vivant, the influential magazine of which Badovici had been editor for six years, dedicated an entire issue to the villa. Although supporters of Badovici point to his ownership of the patent for the villa's sliding windows as evidence that he may have had some input into the building's design,3 it is generally acknowledged that Gray was the architect of E-1027, with Badovici's role believed to be more that of mentor. The spreads created for the magazine, however, give equal prominence to both names - presumably this is because Badovici co-authored the feature. But the implication was that the pair were credited equally as architects of E-1027.
Source: Kiefer Buch- und Kunstauktionen
E-1027 incorporated four of Le Corbusier's Five Points for a New Architecture4, which he had published in 1923 in his manifesto, Vers une Architecture ('Towards an Architecture,' more commonly translated into English as 'Towards a New Architecture'). Yet, as a building at the vanguard of European modernism, E-1027 is also an expression of Gray's opposition to some of Le Corbusier's tenets. Whereas Le Corbusier sought the ideal of universal forms, Gray believed that a building should respond to its own unique environment, and so E-1027 seems to rise out of its hillside setting and is actually designed around the direction of the sunlight and wind at the site. Her appropriation of sailcloth as shades along the balconies of the villa are another response to its seaside location.
Gray also took issue with Le Corbusier's claim that a house is a "machine á habiter" (a machine for living in), contending instead that a house is "the shell of man—his extension, his release, his spiritual emanation."5 She argued that "It is not only a matter of constructing beautiful arrangements of lines, but above all, dwellings for people."6
"Indeed, the design of E-1027 seemed to take shape around the furniture and the way its occupants would move in physical space. Gray created built-in cabinets and drawers for summer clothes, guest rooms and nooks that allowed retreat and privacy, little windows positioned to afford spectacular views, deck-chair-style chaise lounges, and reading stands, dining tables, and tea and gramophone trolleys that extended and unfurled like something out of a Jetsons cartoon." Anthony Flint7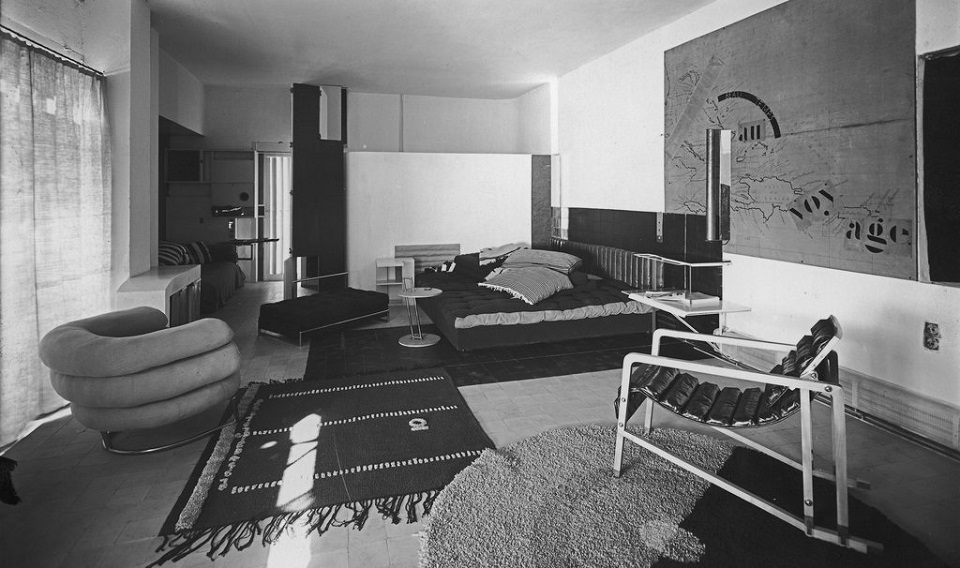 Source: The New York Times
Le Corbusier stayed at E-1027 in April of 1938, after which he wrote to Gray: "Those few days spent in your house have made me appreciate the rare spirit that dictates all of its organization, both inside and outside, and has given the modern furniture and equipment a form that is so dignified, so charming and full of wit."8
Yet within a matter of months - with the consent of Badovici but without Gray's knowledge - Le Corbusier began painting a series of eight enormous murals on the walls of E-1027. By this time, the relationship between Gray and Badovici had cooled to the point where she had actually moved out of E-1027. When Gray learned what Le Corbusier had done, she was infuriated, calling it "an act of vandalism."
While it could be argued that Le Corbusier painted the murals out of admiration for the building, the garish and lurid nature of the paintings seem to more strongly suggest that Le Corbusier was jealous of Gray's accomplishment. At best, it was a gross intrusion onto the design of a fellow artist.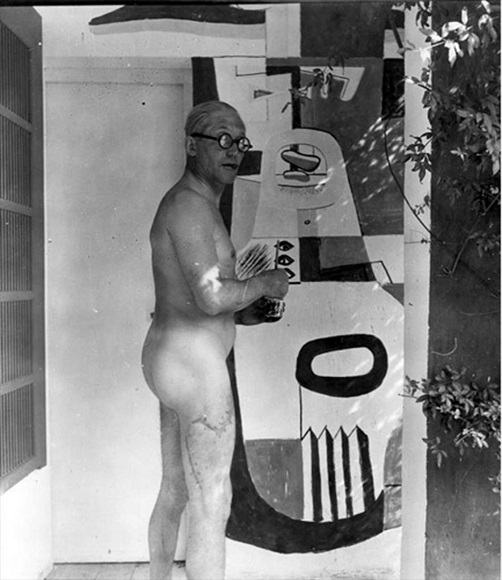 Source: The Guardian
Regardless of intention, simply because he was more famous, once Le Corbusier painted on the walls of E-1027, the villa became inextricably linked to him. Eventually, the villa was widely thought to have been an early design by Le Corbusier. Indeed, Le Corbusier did nothing to dispel the myth. When he published photographs of his "murals at Cap Martin" in 1949, he mentioned neither the name of the building nor its architect.
""The villa that I animated with my paintings was very beautiful, white on the interior, and it could have managed without my talents," he admitted, before claiming that the murals "burst out from dull, sad walls where nothing is happening . . . an immense transformation, a spiritual value introduced throughout."" Shane O'Toole8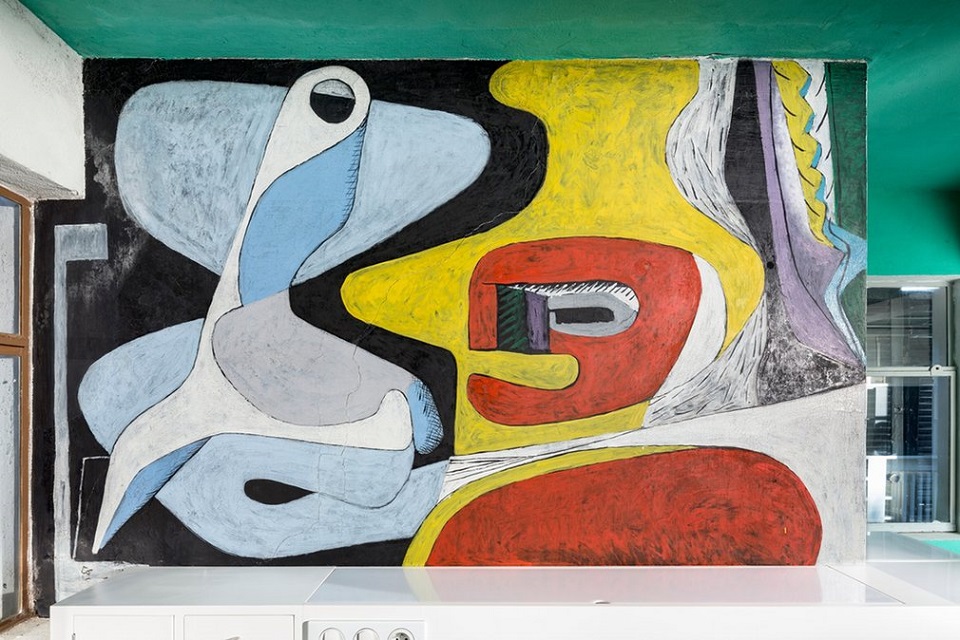 Source: The Guardian
With each publication about the villa, Gray's pivotal role as its creator was increasingly eroded by her male counterparts. It is a process that director Mary McGuckian refers to as "insidious chauvinism" in which there is "no great event, no great wrongdoing, just a lifetime of little omissions, remarks, forgetfulnesses."2 This is what inspired McGuckian to make the film, as she said it gave the story resonance as a universal female experience that could reach an audience on an emotional level.
"The difficulty is, as a series of chronological events, you get it that there's a level of injustice about it, and a documentary can recite all of that. But with a drama, the question is what does that feel like? In hindsight, we can see that's what happened. But when she was in the middle of it, there were years between each of those events, time went on, relationships were involved, and now we look back and it looks like that's what happened. But, in the day to day of it, how do you get to a place where you put your life's energy and expertise and emotional energy into a piece of work, and then you walk away? How do you get to that place?" Mary McGuckian2
The story that unfolds in the film is, therefore, one of attrition that subtly evolves. As such it is a very beautiful, yet understated, drama (although, as my Hubby pointed out, there are some Nazis and shooting involved!). Instead, McGuckian set out to create an art piece that is intended to evoke a cinematic visual experience inspired by the work and aesthetic of Eileen Gray.2 In that sense, the film is an extraordinary success.
McGuckian directed her art department to only ever use Eileen Gray furniture and Eileen Gray interiors. In her endeavours to procure authentic furniture, McGuckian found collectors of Gray's work to be incredibly supportive, even if it wasn't always possible to accept the offers of furniture loans. For example, the owners of the Mermaid Chair were very keen to have the piece featured in the film, but the chair travels with two handlers, costs tens of thousands of dollars per day to insure, and then nobody is allowed to sit on it! In such cases, McGuckian received special permission to recreate each of the lacquer collector pieces. All of the modern pieces that are still in production were specially reproduced for the film in the style of the original prototypes.2 The film crew even contributed to the restoration of E-1027 itself, which had lain derelict for several decades, and large portions of the film were then shot on location at the villa.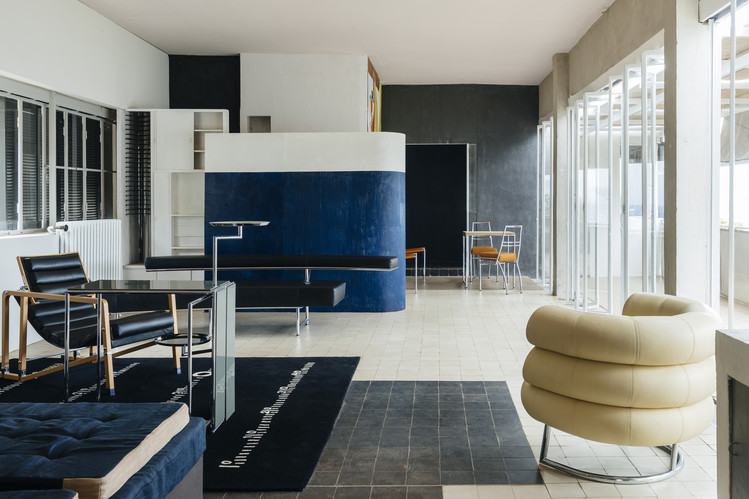 Source: The Wall Street Journal
Eileen Gray left the legacy of her work, but she intentionally destroyed her private papers and, out of respect, McGuckian chose not to delve into it. This creates a challenging role for Orla Brady, who nevertheless plays the part of Eileen Gray with remarkable sensitivity and went on to receive  an IFTA (Irish Film and Television Academy) award nomination for the role. A series of casting debacles meant that no fewer than thirty-five women were actually cast for the role of Eileen Gray in the movie (including Winona Ryder)2, but it is difficult to imagine anyone who could have done more justice to the part than Brady; not least because of her bilingualism in English and French. (The English version of the movie has subtitles where French is spoken, and vice versa.)
Ironically, it is Le Corbusier who becomes the dominant voice in the film. This is because McGuckian chose to create a very clever cinematic device out of his extraordinary persona. After all, she claims, Le Corbusier is actually "an invention of his own making;" his real name being Charles Jeanneret (Le Corbusier comes from Le Corbeau, the French word for 'raven'). Therefore, she says, "We were able to tell the story through his alter-ego. So Vincent Perez, who plays Le Corbusier, in fact plays two characters and so he tells the story from his point of view of how Eileen Gray came to be the most important, inspirational and innovative architect of their generation and gives her back the right to be recognised for that work. That's the cinematic licence!"2
In a funny way, that is also a reflection of the real-life turn of events. Over the years, Le Corbusier grew increasingly obsessed with Gray's villa. Unable to purchase it himself, he eventually procured an arrangement with an adjacent property-owner that enabled him to construct a small, rustic cabanon de vacances (vacation cabin) for his personal use. In 1965, Le Corbusier suffered a heart attack while swimming in the sea beneath the property. As a result, the entire area was declared a "Site Moderne" (Modern Site) and deemed an area of cultural and historical importance and international interest. Gray's masterpiece, E-1027, was thus preserved by erroneous association with Le Corbusier - remember that, at this time, the villa was still widely believed to be the work of Le Corbusier. 
It wasn't until 1968, when Joseph Rykwert published an article about her work in Domus magazine that Eileen Gray's name and reputation was rediscovered. She was later recognised in an exhibition entitled Eileen Gray: Pioneer of Design that originated at the Royal Institute of British Architects' Heinz Gallery in London and which went on to be shown at the Bank of Ireland in Dublin in 1973. The Royal Institute of the Architects of Ireland awarded her an honorary fellowship to mark the occasion.
Eileen Gray passed away at her apartment on Rue Bonaparte in Paris in 1976, but in the years before her death, she had worked with Zeev Aram, to whom she granted the rights to manufacture and distribute her designs. While working with her, Aram got a sense that, although she had enjoyed her life and the successes she had experienced, she was a little disappointed that she had been forgotten. Let's hope that The Price of Desire will bring the work of Eileen Gray to a new audience and help ensure that Gray will finally realise the fullness of recognition that she deserves for her remarkable contribution to modern design and architecture.
Follow The House that Will
Facebook | Instagram | Bloglovin'
In Ireland, The Price of Desire will be screened at the Eye Cinema in Galway and in the Light House Cinema in Dublin until 9th June 2016.
REFERENCES
1 Eileen Gray at IMMA, thoughts & reflections by Arran Q Henderson 
2 The Price of Desire: Mary McGuckian talks to DoCoMoMo's Shane O'Toole
3 So who is this Jean Badovici guy anyway? by Mark Cooper, Claire Ludewigs, Maddi Slaney, and Emmeily Zhang.
4 Le Corbusier's Five Points for a New Architecture required that a house be constructed on pilotis (concrete columns that raised the building off the ground and which negated the need for supporting walls throughout the building), have a free plan (without supporting walls, there were more options for the internal layout of the rooms), a free façade (again, with no structural purpose, the exterior of the building could be experimental), horizontal ribbon windows (to allow rooms to be lit evenly and to expand the view) and a roof garden to replace that occupied by the footprint of the building. Of these, only the roof garden is not featured in E-1027.
5 The Architect of Desire: Eileen Gray designed and built a house for love—and lived to suffer the consequences by Stacie Stukin
6 Eileen Gray: Operating in Dialogue by Caroline Constant 
7 Restoring Eileen Gray's E-1027 by Anthony Flint 
8 Eileen Gray: E-1027, Roquebrune Cap Martin by Shane O'Toole
9 Eileen Gray was "disappointed that she was forgotten" (an interview with Zeev Aram)

Related posts:
National Crafts & Design Fair 2015