How does it always happen with DIY projects that the smaller and quicker you think the job will be, the larger and more complicated it invariably becomes? So it is with our Loo Makeover.
PIN THIS!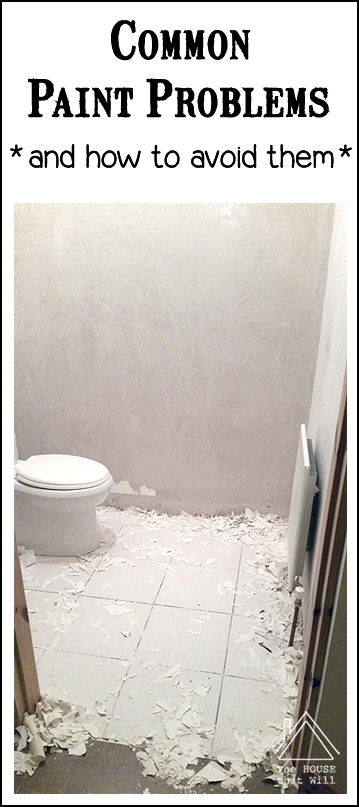 Follow The House that Will
Facebook | Instagram | Bloglovin'
Paint Problem #1: Painting onto bare plaster
The trouble all started with a little hole - I mentioned in the before post that we had being having problems with the paint in this room because whenever we drilled a hole in the wall, the paint around it would blister off. Well I filled those old screw holes and then I started sanding the area to make it all lovely and smooth. But as I sanded, the paint started to flake off the wall. So I tried really gently sanding the edges of the flakey paint ... but even if I did manage to create a smooth edge, the paint would very shortly start to curl up and flake off the wall again. It was like pulling a loose thread in your knitwear – it all started to unravel until what had started as a little hole became a huge patch of bare plaster on the wall of our loo!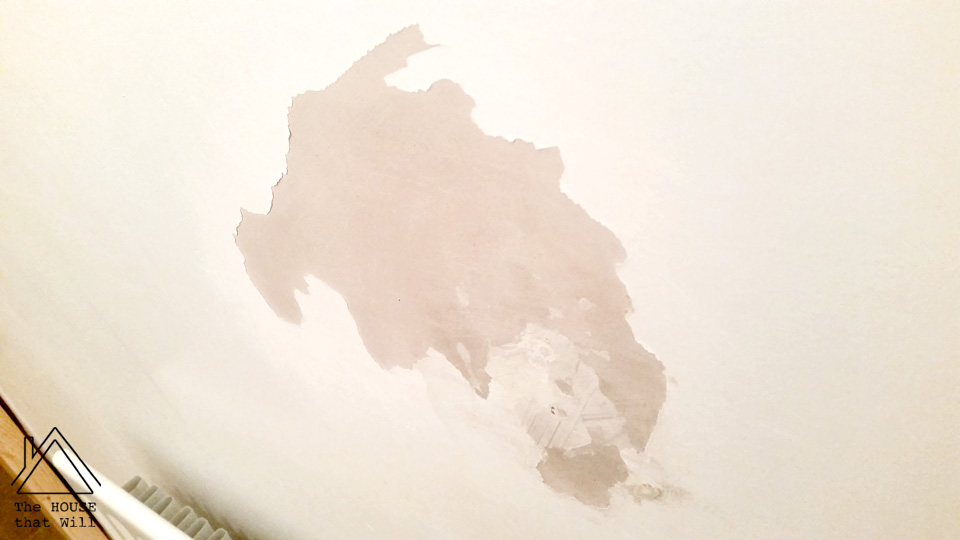 The paint in this room had always been problematic and we didn't want it to continue to be an issue after we redecorated. So we decided that the best thing to do was to remove any loose paint. Hubby tested an area to see how difficult that might be …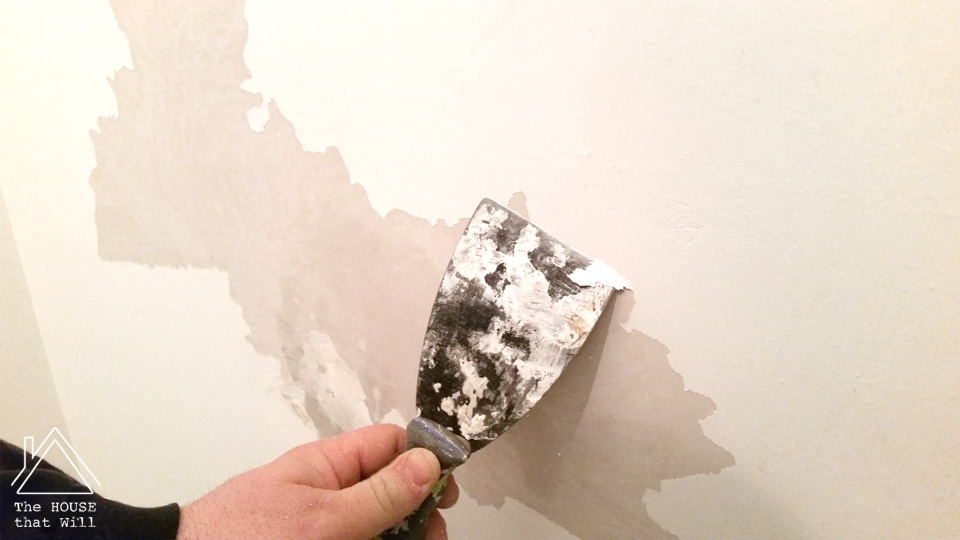 Guess what? The paint practically fell off the wall.
But funnily enough the paint was really well adhered to some patches of the wall. Unfortunately, this only made things worse because if we wanted a smooth overall finish, then it all had to come off.
We wondered if it would be faster to use a belt sander on the entire wall, but then we figured that it would generate so much dust that it wouldn't be worth the hassle. So instead, the two of us spent the entire weekend cooped up in this tiny room, undertaking the incredibly tedious and arm-aching job of scraping all the paint off the walls.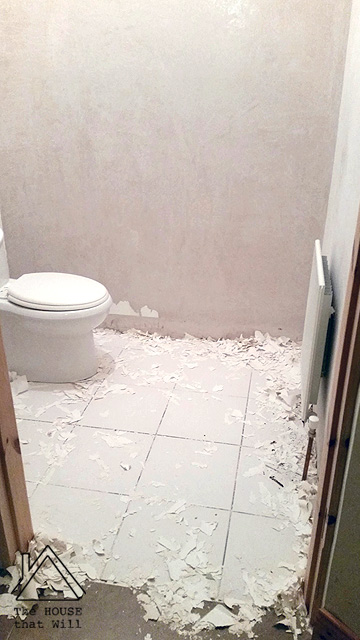 What a mess!
You would think that we would be breathing a sigh of relief at this stage, but our woes were not over yet: we discovered that the plaster underneath was practically dust.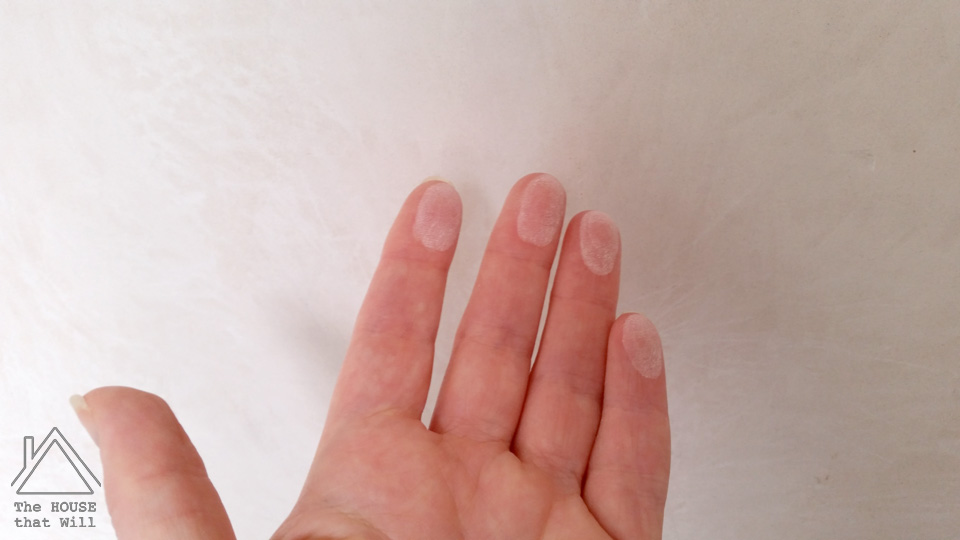 Well, obviously, that's not a good surface for painting. Indeed, when I thought back to the first time I decorated this loo - although it wasn't as dusty as this then - I do remember thinking that the paint would NEVER stick to the wall. It took four coats of paint to get a good finish, and SEVEN coats in the main bathroom upstairs, where I encountered a similar problem. I guess that should have been enough of a clue for me to cop on that I was doing something wrong.
After doing some research, we finally discovered the root of our misery: if you apply paint directly to bare plaster, the dry plaster absorbs the moisture out of the paint too quickly - before the paint actually has a chance to adhere to the surface of the wall. In our case, we had exacerbated the problem by using a bathroom paint, which is thicker and less moisture-permeable than regular emulsion.
Never paint directly onto bare plaster. Start by applying a coat of diluted emulsion paint called a "mist coat".

The correct way to start painting fresh plaster is to apply a watery emulsion first so that it soaks into the dry plaster and gradually seals the surface. We had some leftover dark grey emulsion from another project, so we used that because it doubled up as a dark undercoat for the final paint colour we wanted. Various sources suggest different dilutions, but we mixed it 50:50 with water and the walls practically drank it in. After just one mist coat, our wall looked ready to paint. However, if you try this and your wall doesn't look ready for a top coat yet, you can try building up to it by applying gradually less-diluted coats of emulsion e.g. 3:1 paint with water until you feel that the surface is properly sealed.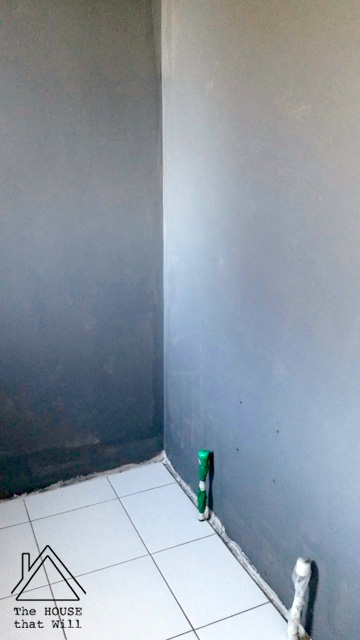 Plaster sealed with a diluted emulsion "mist coat"
You can also see here that we removed the toilet and wash basin; partly because we had had some issues with their being incorrectly installed the first time around, and partly because we need to re-tile the floor next and it's preferable to tile underneath fixtures.
Anyway, at last, we were ready to paint the top-coat. We chose Night Jewels 1 by Dulux.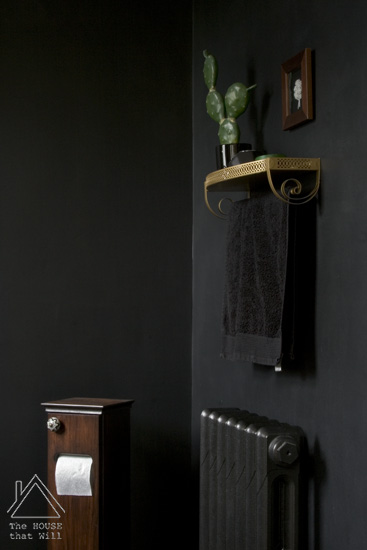 Finally, this little loo had a coat of paint that was behaving like it actually wanted to be on the wall!
Paint Problem

#2: 'Mapping'

We were lucky in this room that we didn't encounter the other common paint problem that has raised its ugly head elsewhere in the house: mapping. Mapping occurs on blockwork walls (not on plasterboard) and is actually a defect in the plaster that isn't visible until you paint it. Then, as you paint, you discover patches of plaster that the paint won't stick to. The blotches give the appearance of a map on the wall; hence the name "mapping".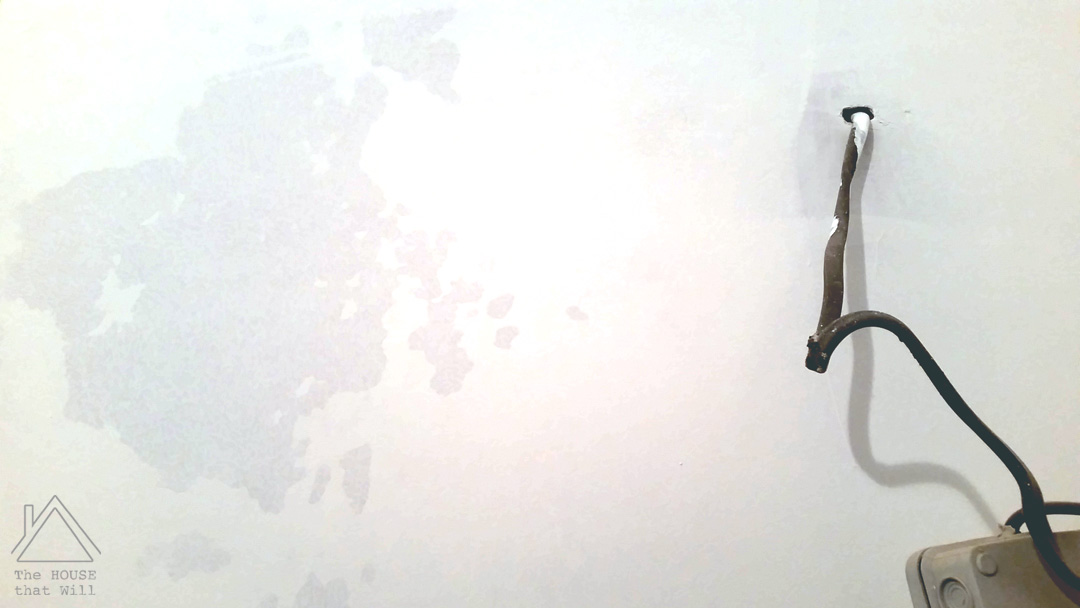 Thankfully, the solution is an easy one, and involves applying a stain blocker before painting over it again. We use One Coat Stain Stop Aerosol by Polycell, which is easy to apply and dries quickly. Some people also recommend sanding the affected area first, but we've never needed to do that.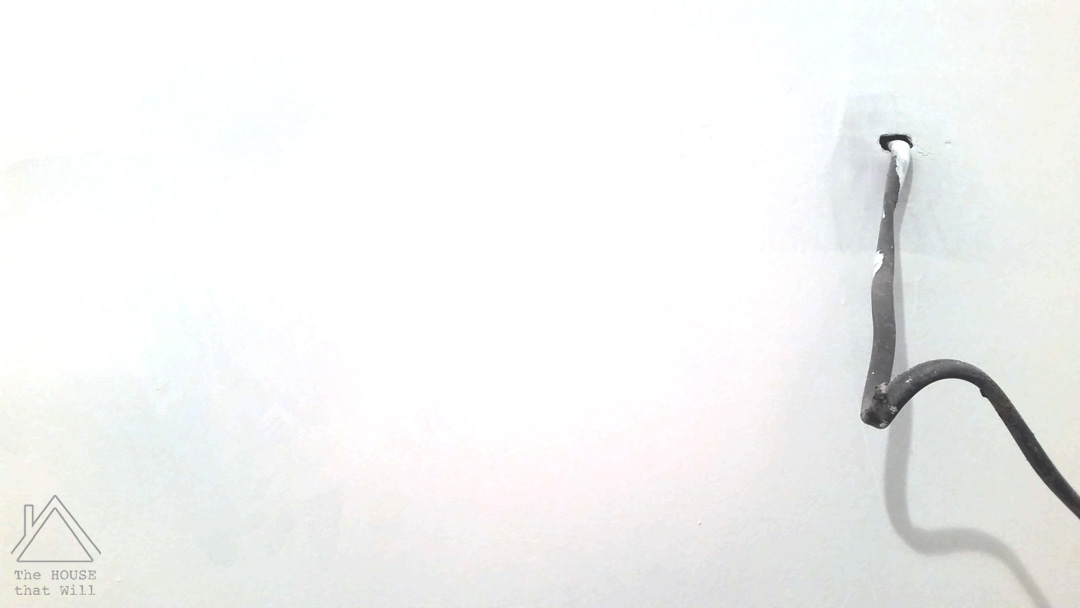 Mapping after treatment - once treated, painting over it will hide the pattern completely
Paint Problem

#3: Stains

Stain Stop is also fantastic for sealing water stains, like this one: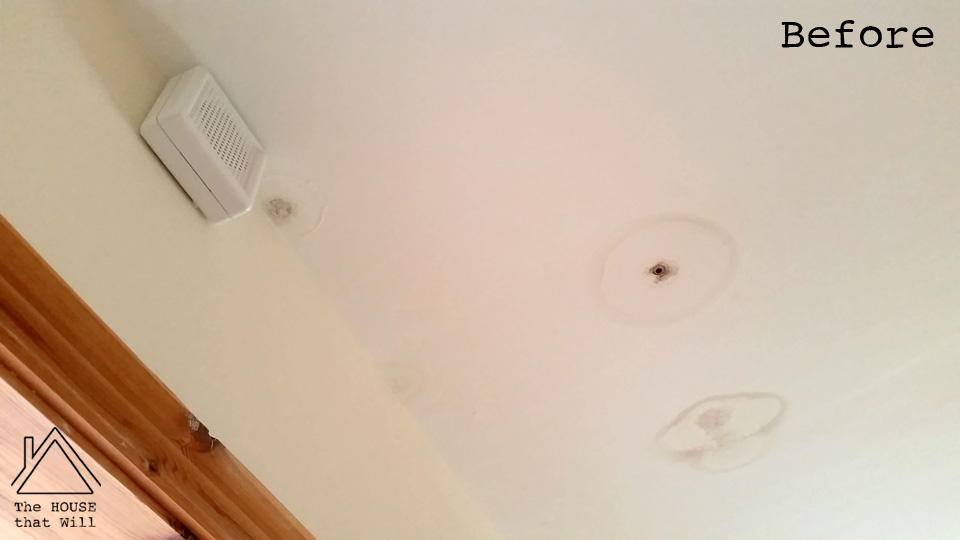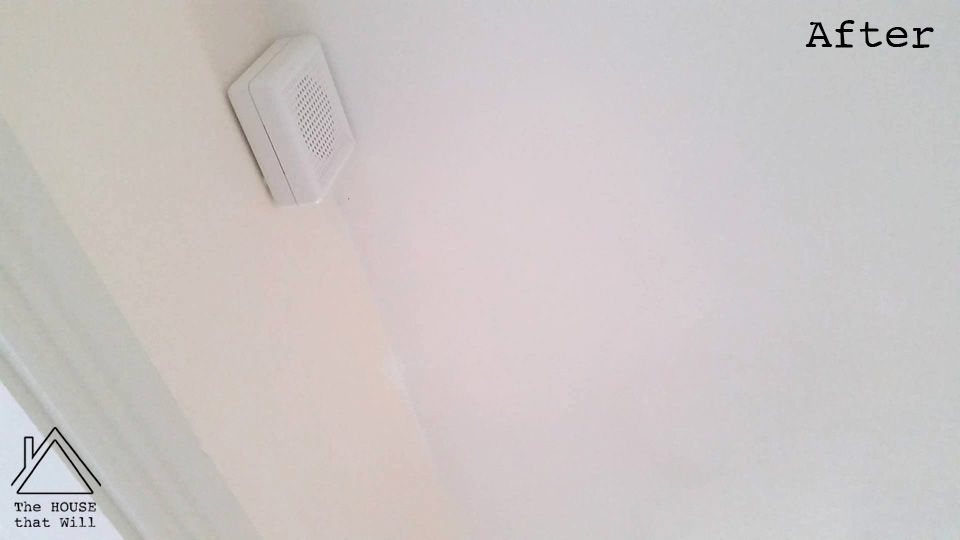 So are we the only ones these things happen to? Please do share if you have a nightmare story about paint that goes bump in the night!

Other posts about the Loo Makeover ...