Here's where we're currently at with our sitting room makeover: all the prep work is complete, the painting is done, and the floor has been refinished. Then I had the bright idea to install coving. We have higher than standard ceilings on our ground floor, so I figured it would be an appropriate addition to the room. Ideally we would have done this before we painted, but it's not a big deal as it just involves some extra touch-ups.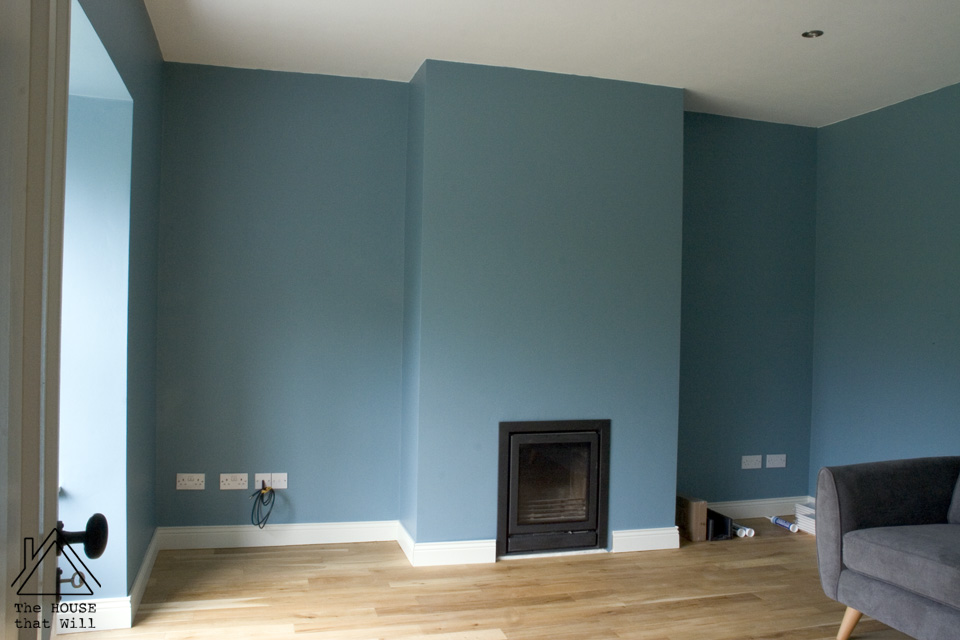 Again, I need to give full props to Hubby for this job. It's a very visible feature in one of the main rooms in the house, and I simply trusted him more than myself to pull this off. 
PIN THIS!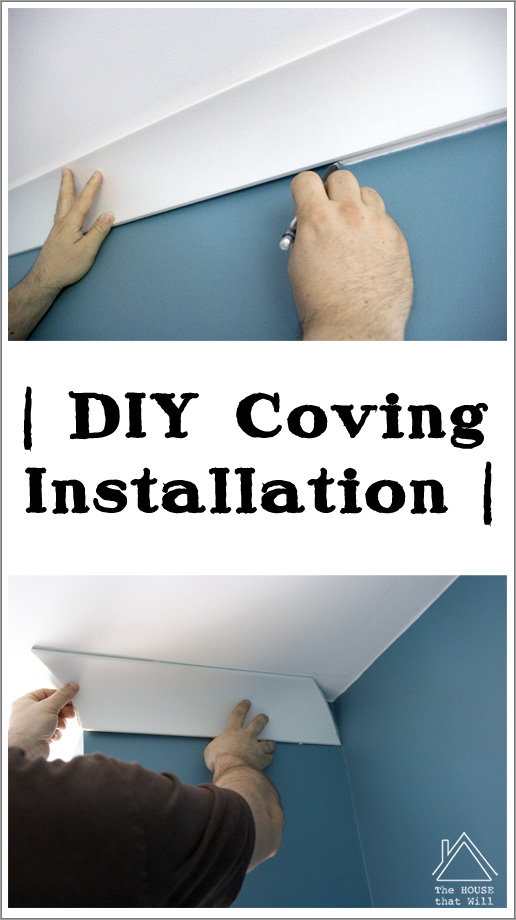 Types of Coving
I did a lot of research beforehand into the best kind of coving to use. The three main kinds available are:
Plaster
Polyurethane
Polystyrene
Sometimes a paper facing is added on top of the base material so that it can be easily painted.
I decided against using plaster as it is very heavy and inflexible, and I thought the polystyrene would be too easily damaged. Polyurethane was kind of the Goldilocks option: lightweight and flexible, yet relatively robust. I read a lot of positive reviews of SuperCove, which is made from paper-faced polyurethane, so I decided to buy that one. Our nearest supplier was Woodies.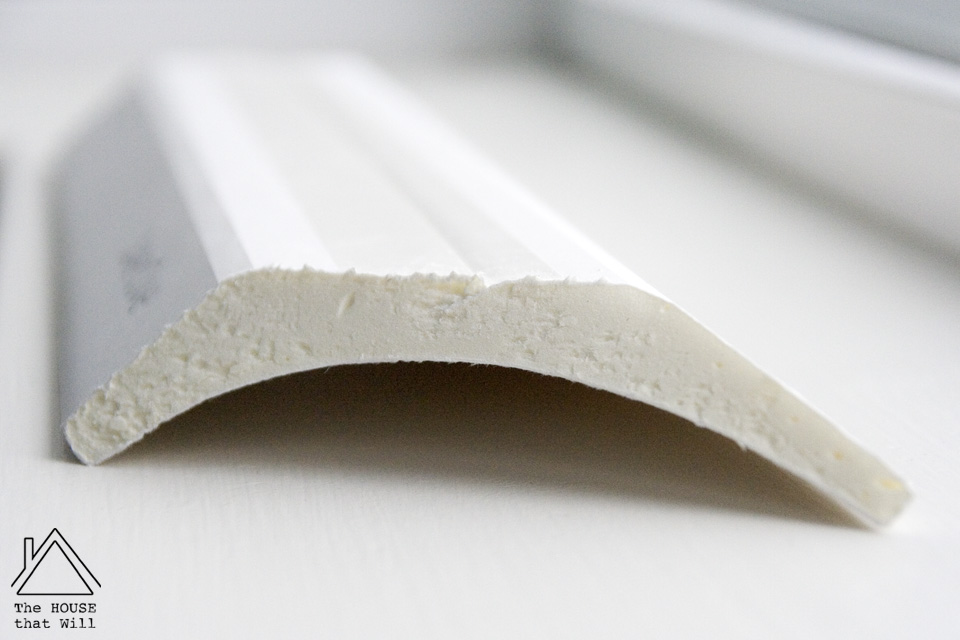 Supplies
Coving
Adhesive & Filler (Supercove make a proprietary one to go with their coving)
Mitre box
Saw
Utility knife
Sandpaper
Caulking gun
Measuring tape
Pencil
Damp cloth
Installation
Preparation
It's important that the coving sits at the correct angle against the wall and ceiling. To ensure that you get that just right during installation, it is recommended that you mark a line along both the wall and ceiling to use as a guideline. The packaging should tell you the appropriate measurement - ours recommended marking the wall 83mm down from the ceiling and marking the ceiling 83mm out from the wall.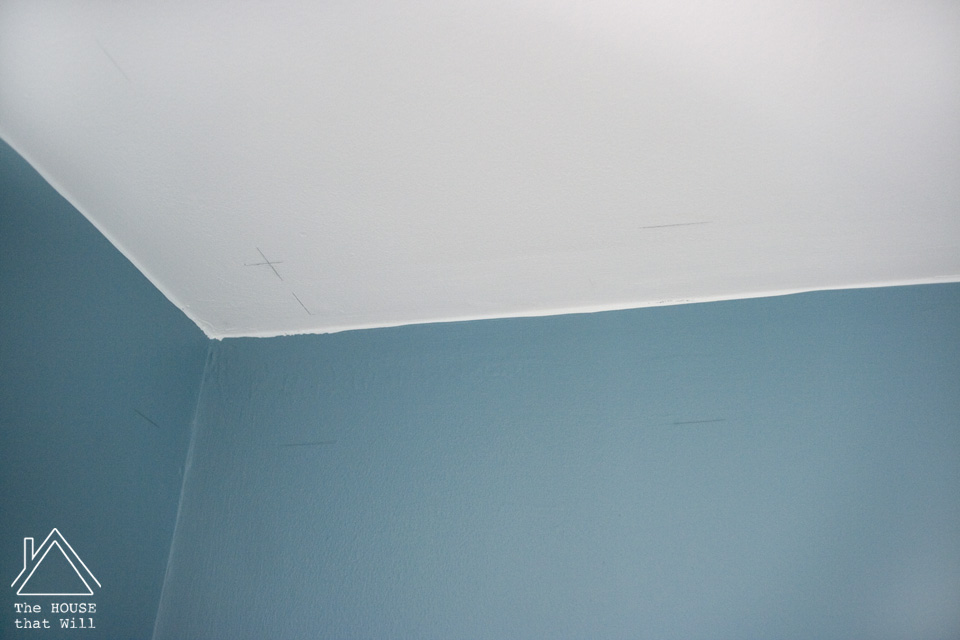 To make this easier, Hubby cut a piece of wood the required size and used that as a guide to make the marks.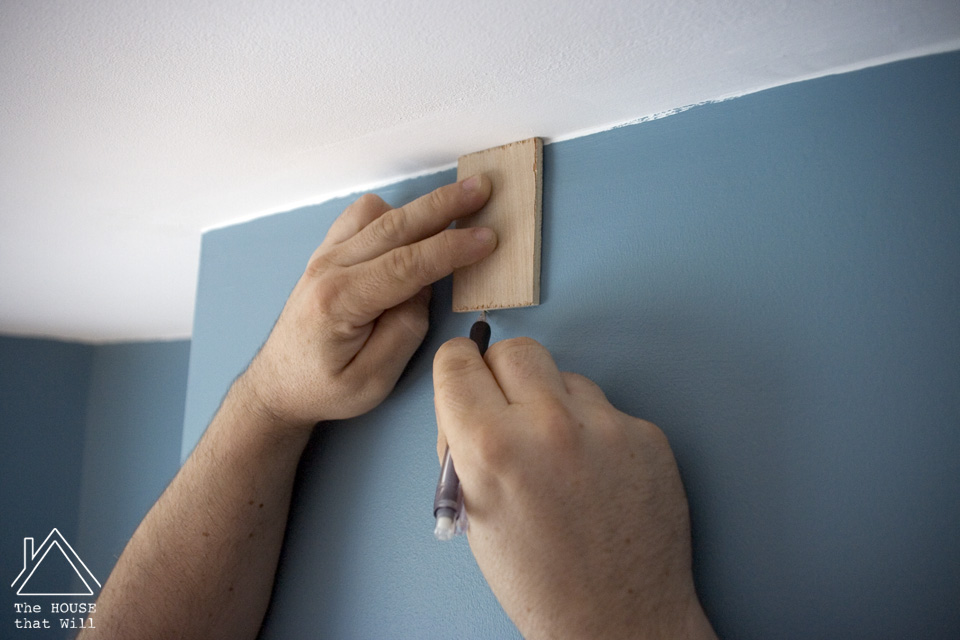 Marking along the ceiling like this assumes that your ceiling is level. Otherwise, you are advised to draw a level line and then fill any gaps around the coving as you fit it. However, our ceiling line slopes gradually downwards towards each corner and levelling the coving would have involved filling very large gaps in between, so we decided to just follow the ceiling line as is. Now that the job is finished, I have no regrets as the slope is not noticeable to the naked eye. So use your own discretion here. 
Cutting
To cut the coving, you need a mitre box and saw (alternatively, it is possible to buy pre-cut external and internal corner sets.) The mitre box should be sized so as to ensure that the coving sits inside it at the correct angle. Since our local store did not have the one we needed in stock, Hubby modified one by using a baton to prop up the coving while he cut it.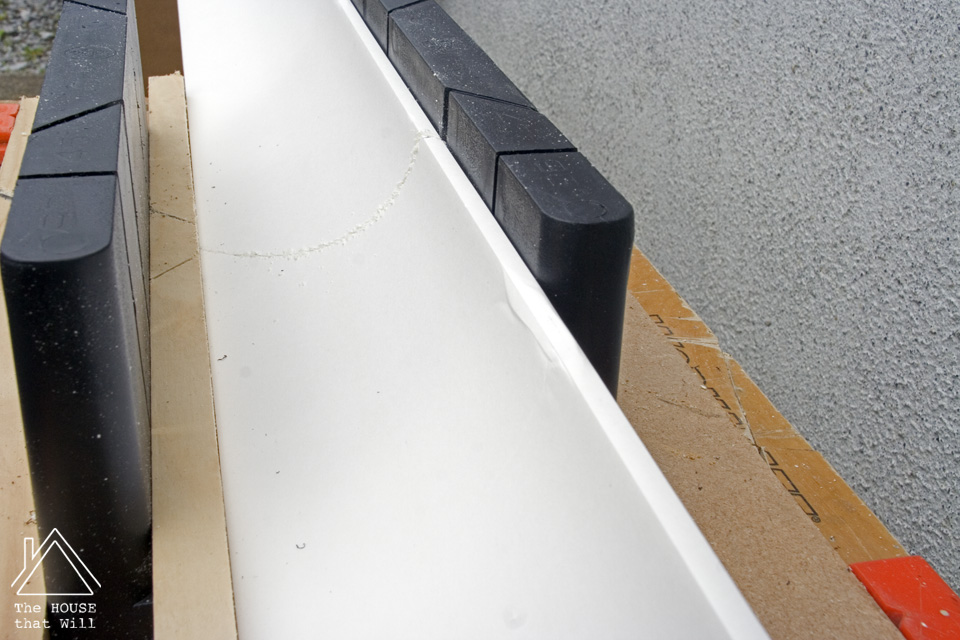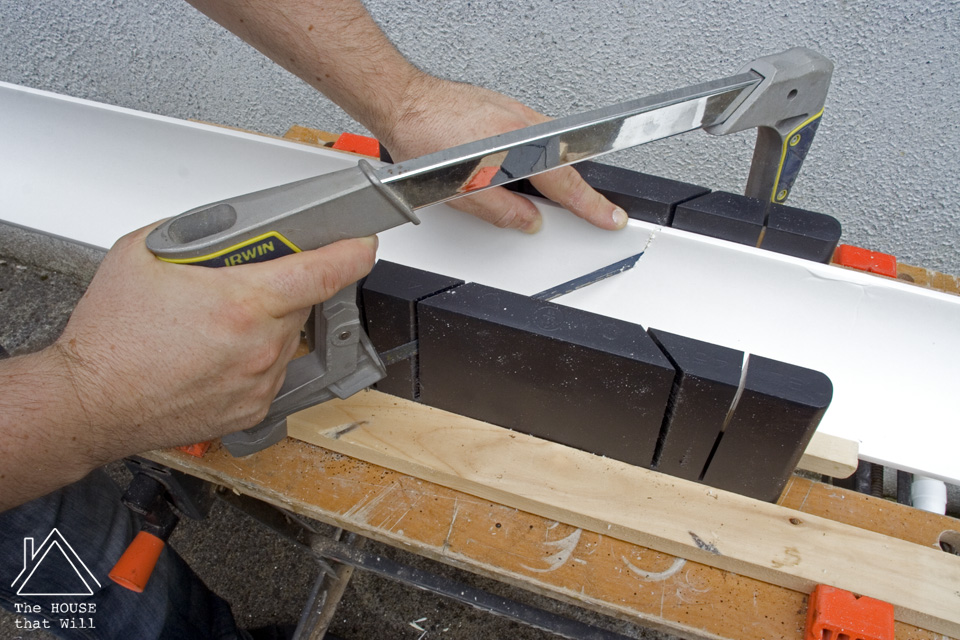 The saw didn't always cut fully through the coving, so Hubby used a utility knife to cut through the last layer of paper without tearing it. Then he used sandpaper to smooth off the cut faces.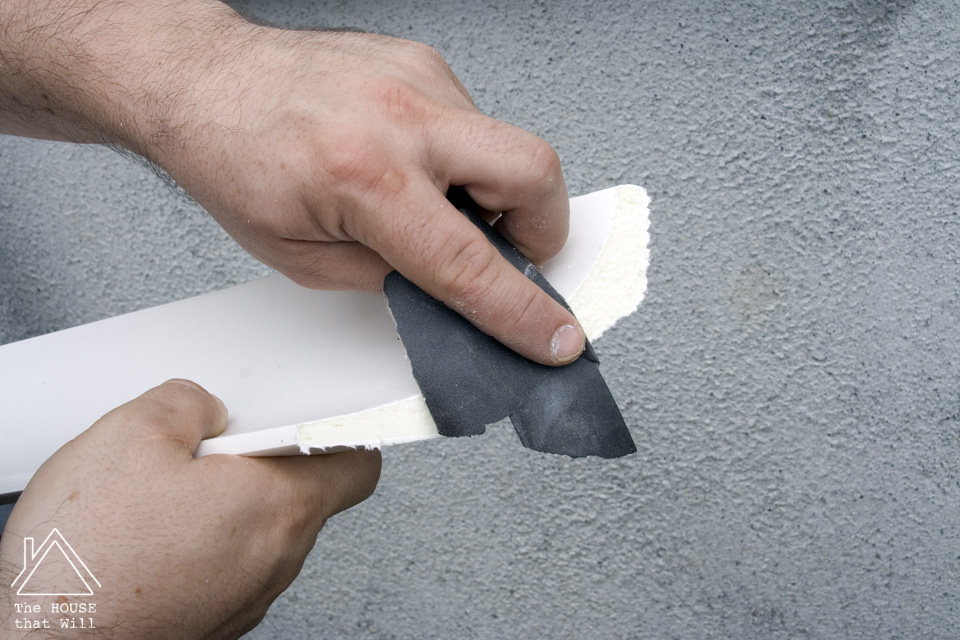 Cutting Tips
Internal and external corners are cut differently. With external corners (that protrude outwards, like at each side of the chimney breast), the bottom should be shorter than the top. With internal corners, the bottom should be longer than the top. 
With coving like ours that is the same on the top and bottom (some other types are designed to be installed in one direction only), it's easy to get confused and accidentally cut the angle in the wrong direction. However, the brand name was printed along the back, so we used that to determine a right-side-up.
Fitting
Start by pre-cutting a mitre at each end of your first piece of coving - even where two pieces meet along a straight wall, it makes a neater and more secure join if the ends are spliced together rather than just butting straight edges together.
Note that this image shows the coving before it has been finished and painted because it is easier to see how it's done. But don't worry - the join is much less noticeable once the job is completed.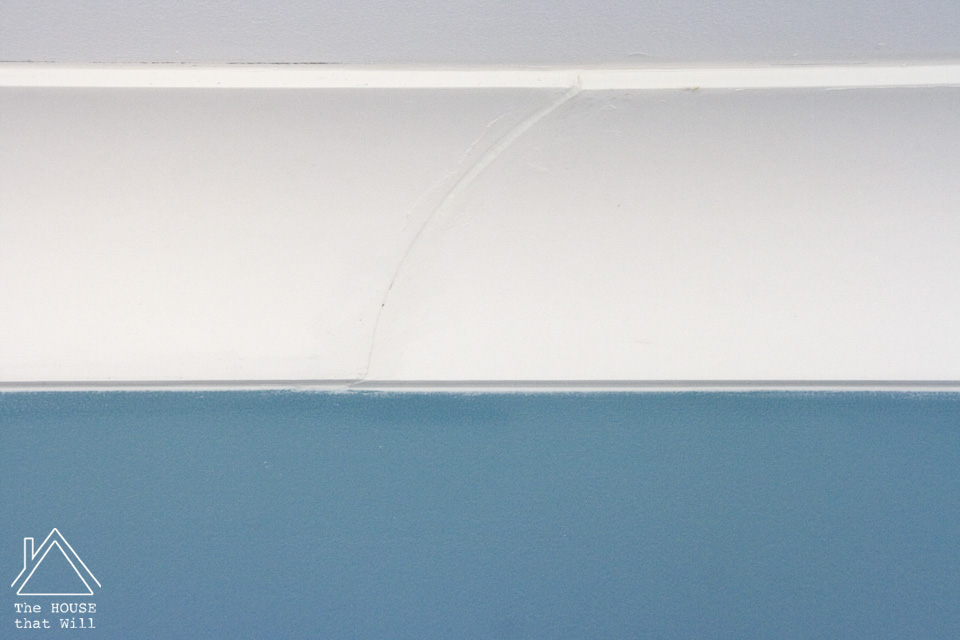 We found that the most accurate way of measuring pieces was to just offer them up against the wall in the position they would go and then mark them with a pencil. Cut to size as described above.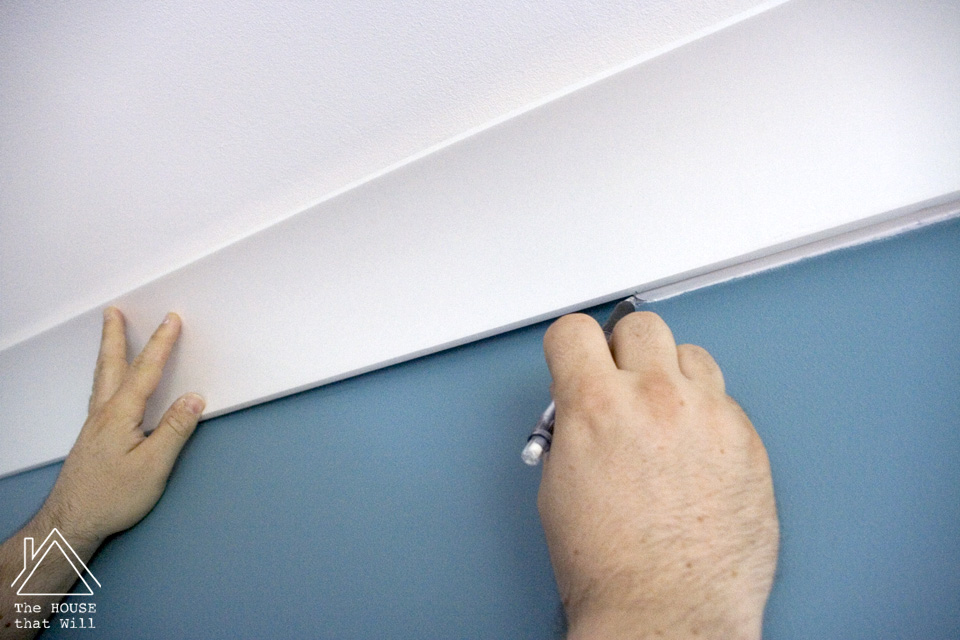 Use the caulking gun to run a line of adhesive around both edges of the coving.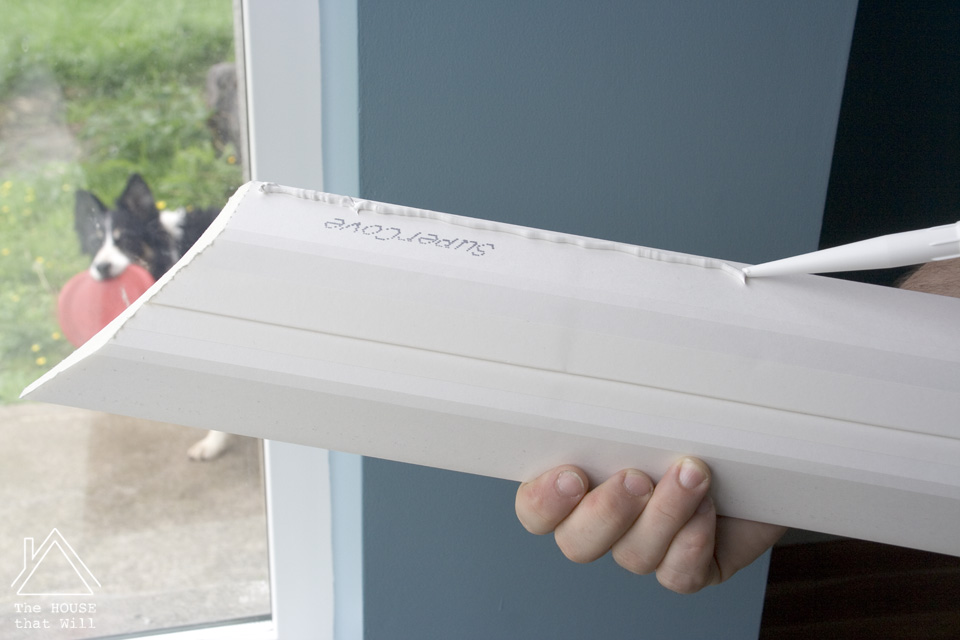 (BTW, if you ever thought I was kidding in my introduction when I said the dog supervises every project, there he is outside the window keeping an eye on proceedings! Also, our lawnmower is broken; hence the long grass.)
When joining two pieces, adhesive should also be applied to both ends ...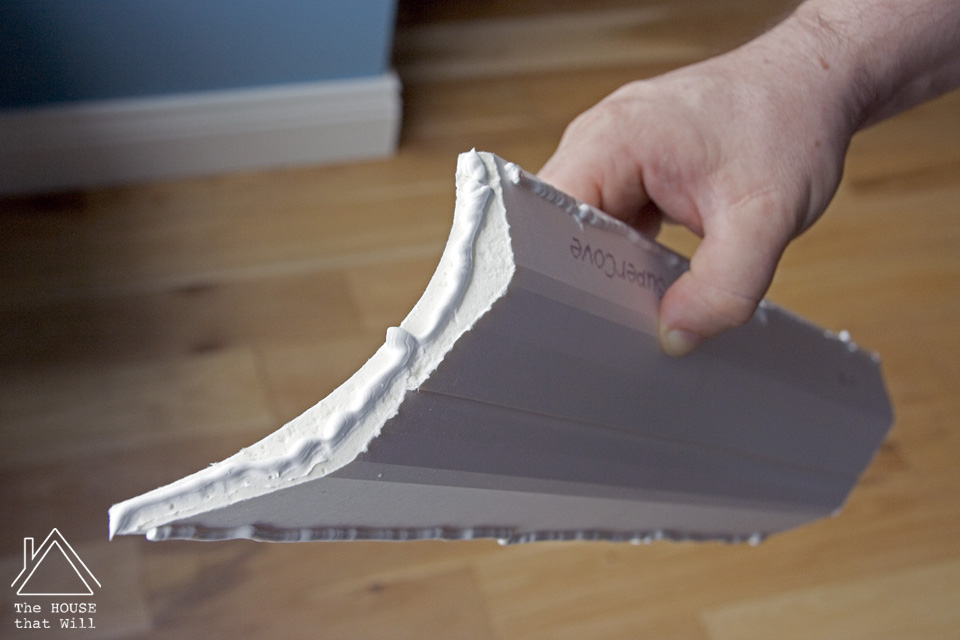 ... including the piece that has already been fitted.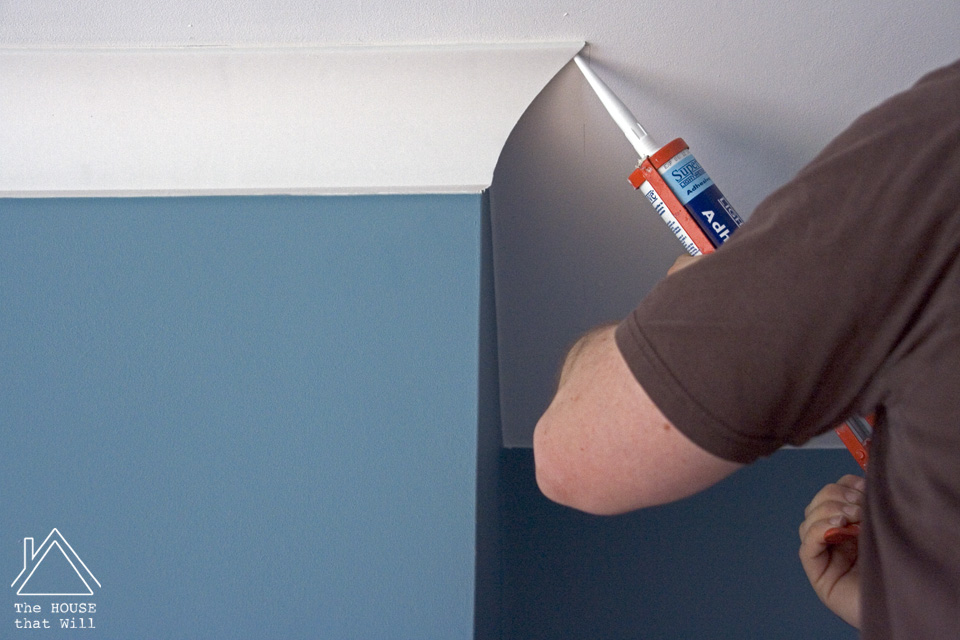 Then it's just a matter of pressing the new piece into position.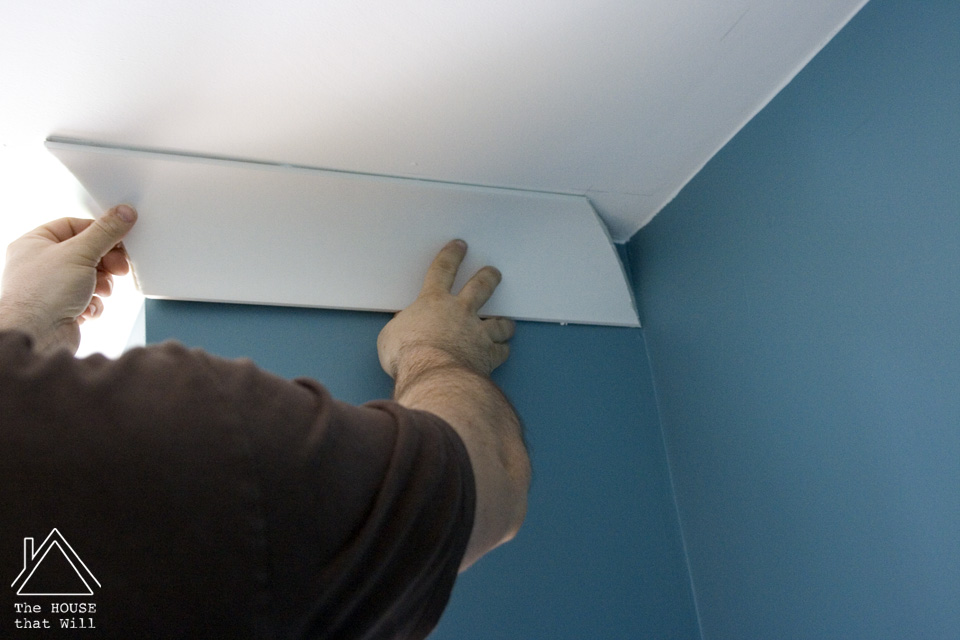 As usual, there is not a straight line, right angle, or level surface to be found anywhere in the room. That makes fitting the coving a little finicky because right-angled pieces will not join up perfectly when fit to a crooked wall, and gaps show where the ceiling and walls are not level or even.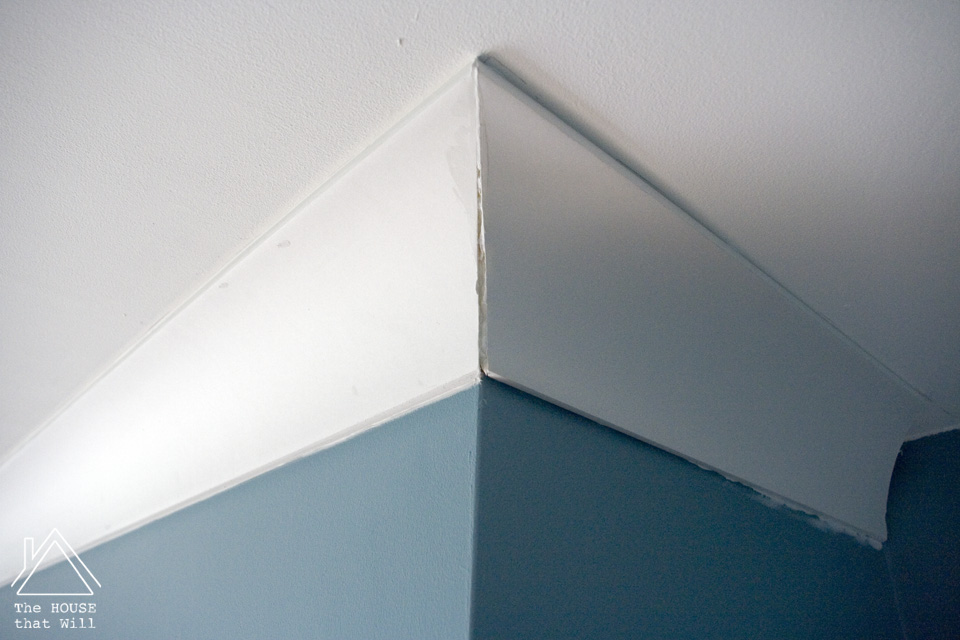 The adhesive to go with the coving (sold separately) can also be used to fill and smooth over those gaps. It is applied using a caulking gun and then the excess can simply be wiped off with a damp cloth.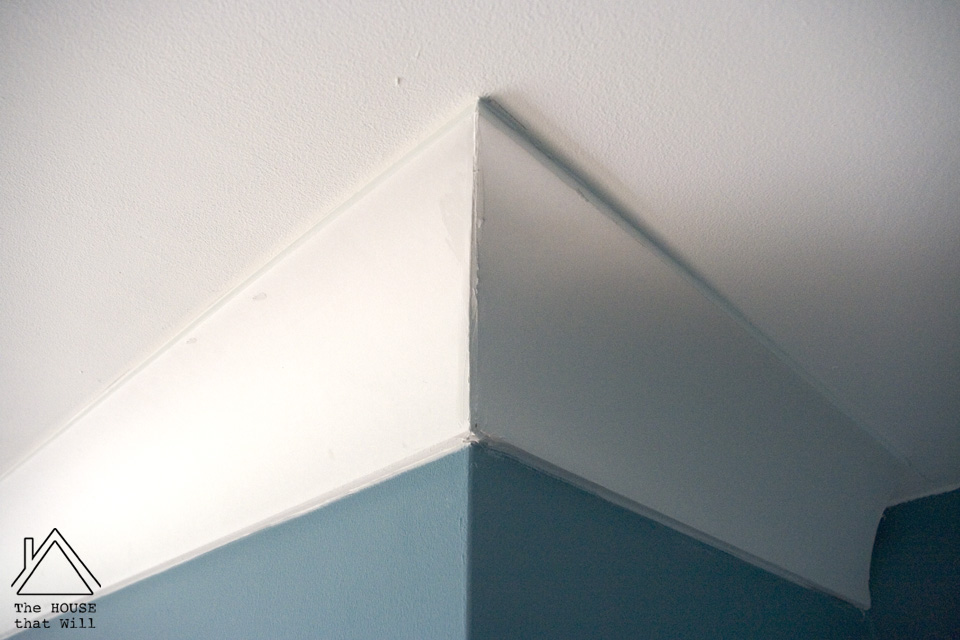 It should be noted that it is not possible to used sandpaper on the front surface of paper-faced coving as doing so will damage the finish, so you do need to get this looking as good as you can before it dries. It's tricky, and so the end result (at least in our case) is not 100% perfect, but even standing on a ladder eye level to it, it really looks pretty good. (Plaster coving can be sanded to a smooth finish, but overall the disadvantages of plaster coving still outweigh the benefits and I'm happy we used these polyurethane ones instead.)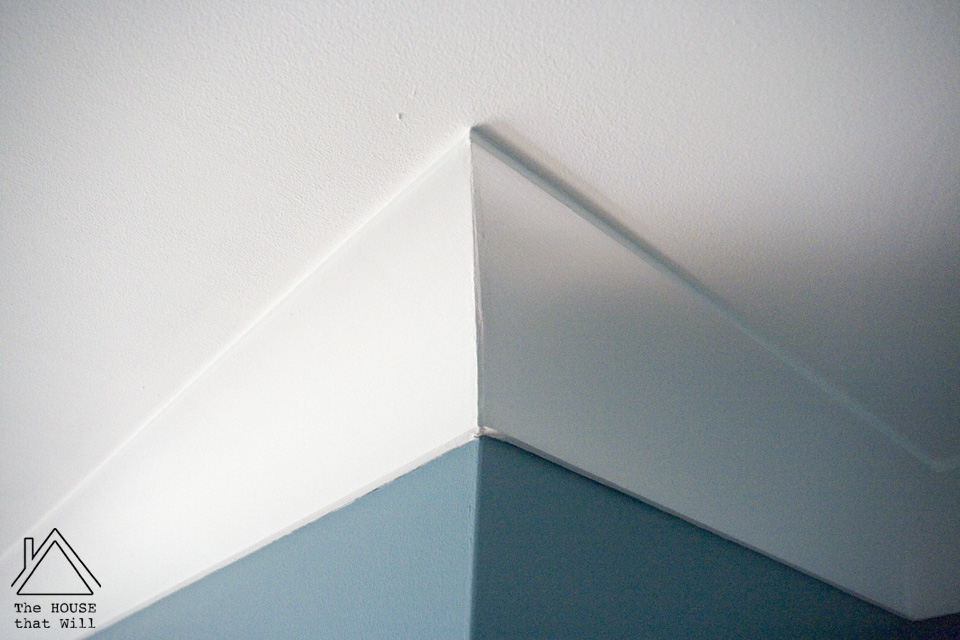 Here you can see how the room looks with coving installed to the left and front of the chimney breast, but with none yet installed to the right of it.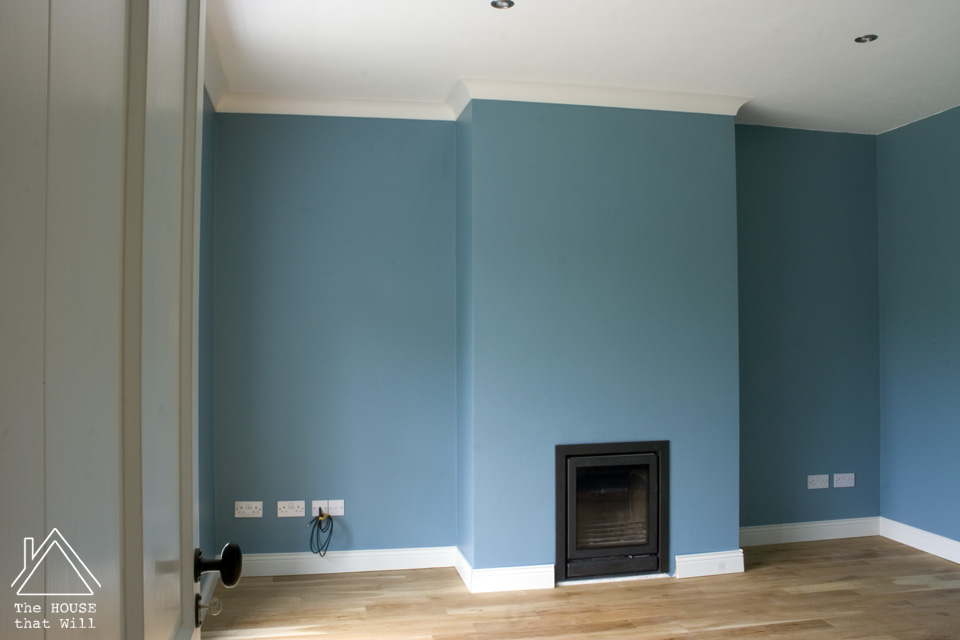 Once it is installed, the coving needs to be painted. I found that the first coat of paint was difficult to apply as the paper quickly absorbed the paint. The second coat went on well over the paper, but the coverage over the filler was not as good. I probably should have gone over those areas a third time but, having already painted every inch of this room including the ceiling, the floor, and all the woodwork, I had already had enough painting! Besides, it's really not even noticeable unless you're up on a ladder at eye level to it.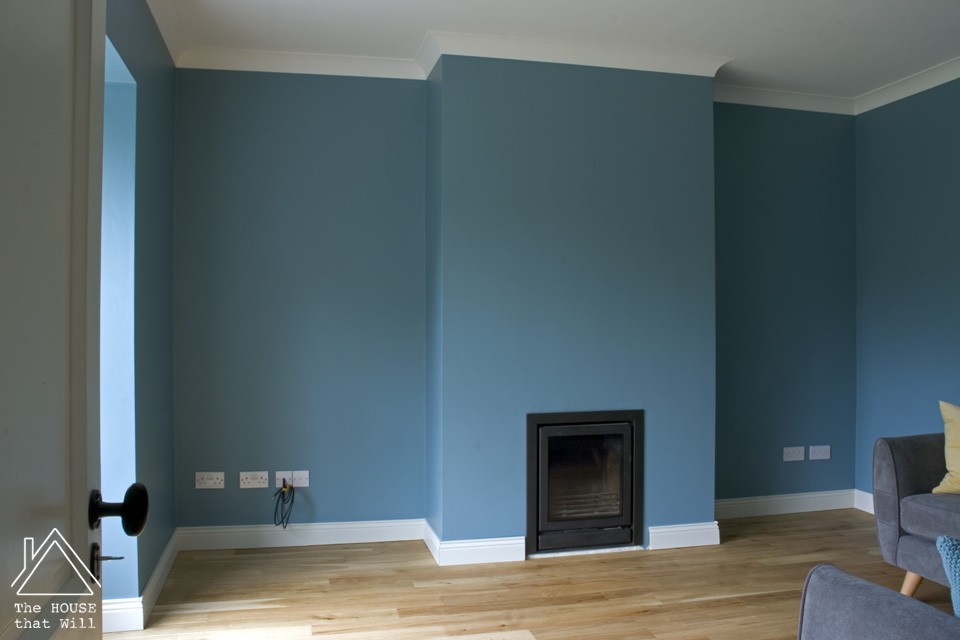 Follow The House that Will
Facebook | Instagram | Bloglovin'
In Conclusion
I know hubby says that this was a bit of a finicky job to do but, all in all, it's a lot of impact for a relatively quick job and we both agree that this is something we will definitely do again.

Related posts:
One Thing Leads to Another ...
Sitting Room Makeover: Progress
The Optical Illusions of Paint
Refinishing a Solid wood Floor