Paint has an incredible ability to transform anything it touches, which is why I chose to paint the sink unit (vanity) in our guest ensuite: the maple sink unit had been vandalised by a plumber when he drilled a hole in it without our permission ... and then tried to hide it. Seriously, I couldn't make this stuff up! Anyway, we had to patch over the hole and, to hide the patch, the easiest thing to do was paint the entire unit.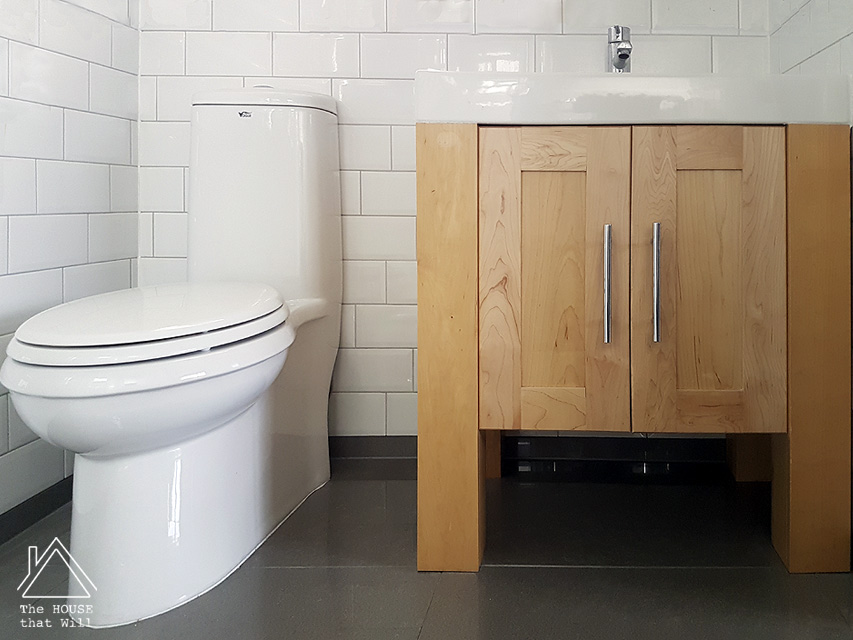 Pic of the same unit in a different room
I also took the opportunity to replace the handles, as I really didn't like the original ones. So I removed them and filled the holes where they had been attached.
Obviously, a big consideration when painting a sink unit is that it should be waterproof. I needed the paint to adhere very well to the wood in order for it to be hard-wearing, so I took more care with the prep on this project than I usually would when painting.
I started by sanding the unit all over to key the surface. Because there were so many nooks and crannies, the best tool for the job was a mouse detail sander.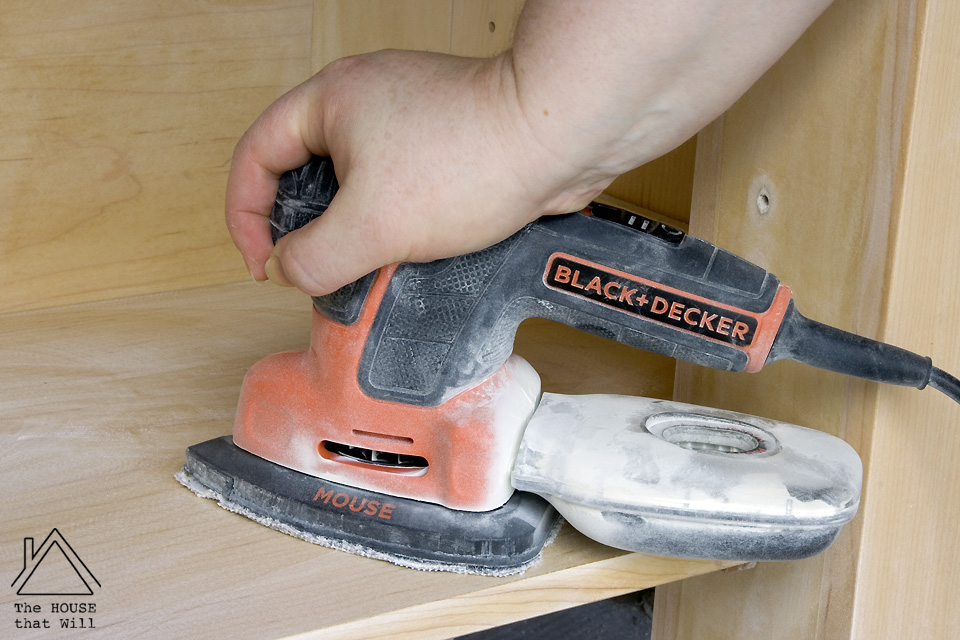 With that done, I vacuumed off any loose dust and wiped the surface with a lint-free cloth soaked in methylated spirits.
Next, I gave the unit a coat of primer as another means of ensuring the best paint adhesion possible. My go-to primer is Zinsser B.I.N Primer/Sealer & Stain Killer
(affiliate). I started by using a brush in the recesses.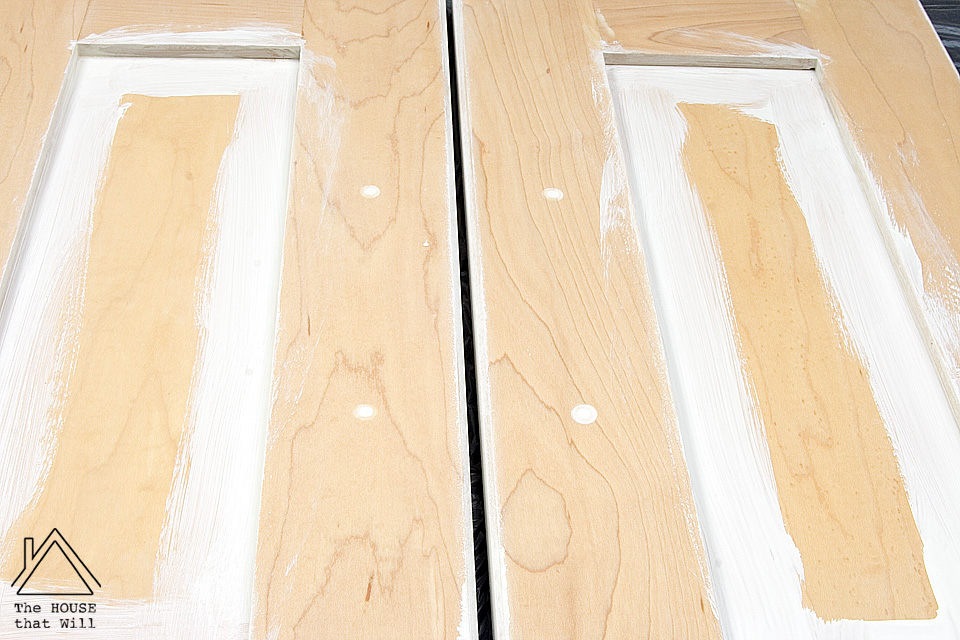 The I used a foam roller to coat all the flat surfaces in order to get a smoother finish.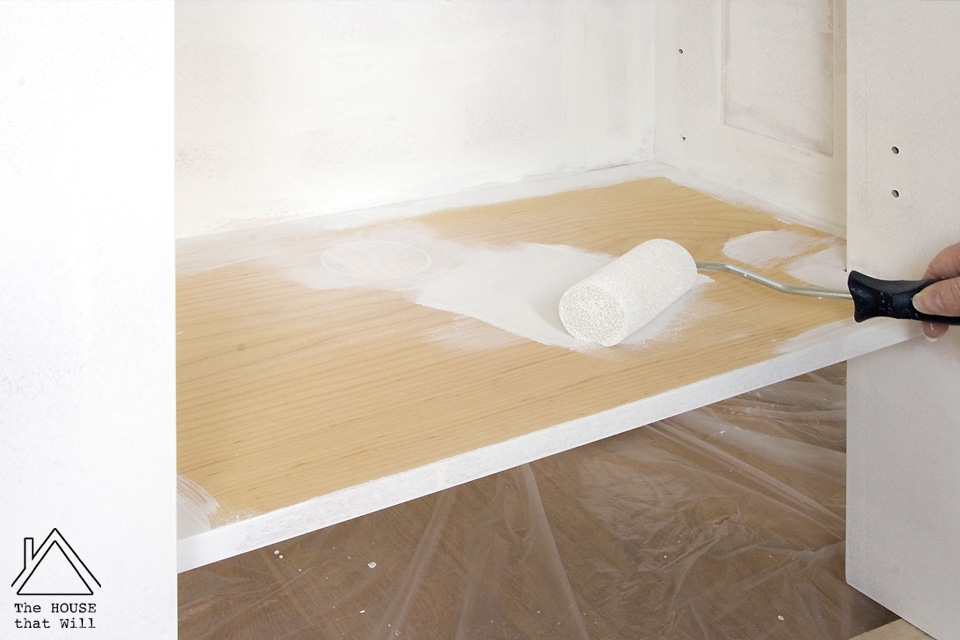 Actually, in the pic above, you can still see the round outline of the hole that the plumber cut into the bottom of the unit! Grrrr!
Next I applied two coats of General Finishes Milk Paint (affiliate) in Lamp Black
.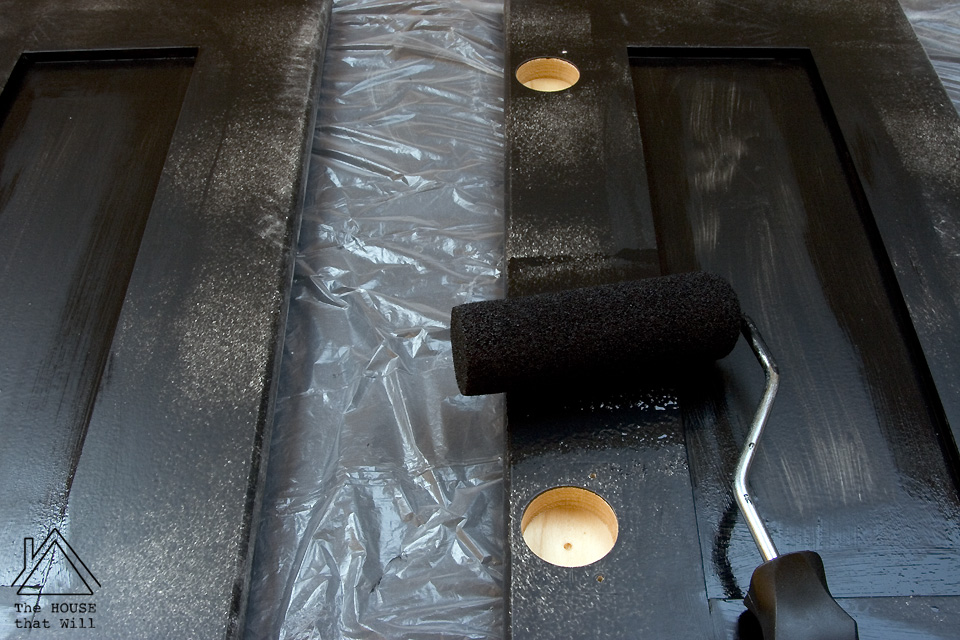 Then, to guarantee a hard-wearing waterproof finish, I used a foam brush to apply three coats of High Performance Water Based Topcoat by General Finishes
(affiliate) in the satin finish. Read my reservations about this product here.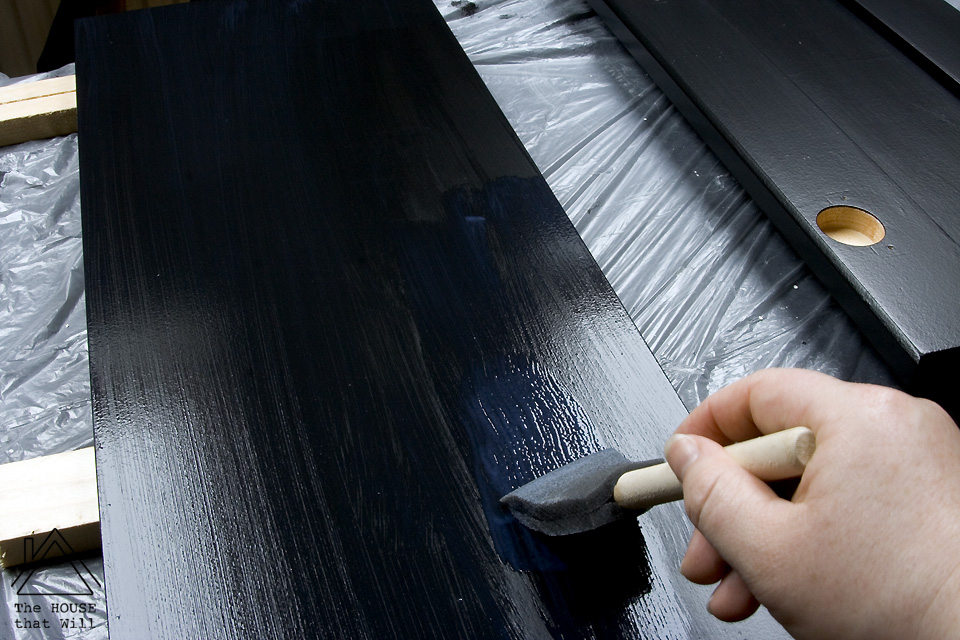 When it dried, I drilled two holes in the doors to attach the new ceramic drop pulls I'd purchased for it.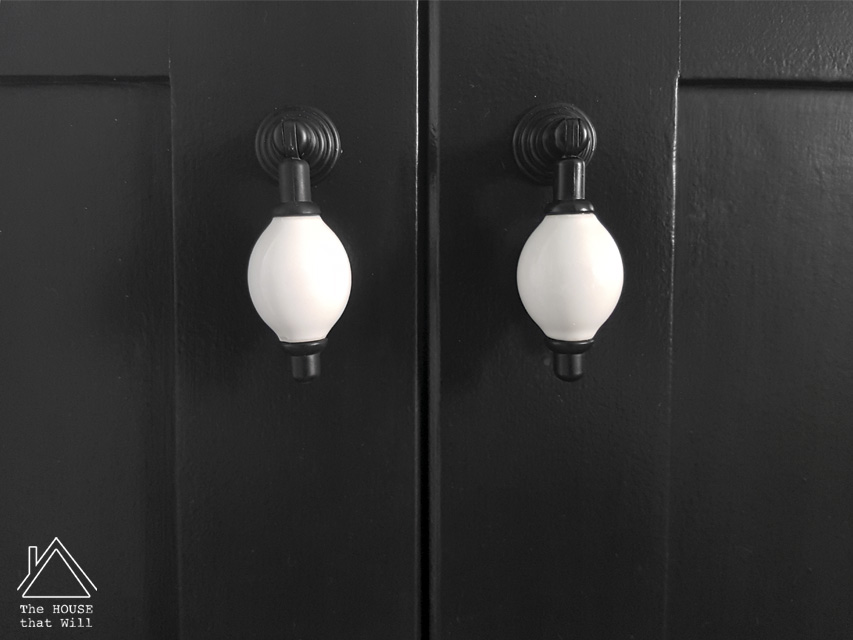 Then I refit the original hinges and Hubby installed the basin on top.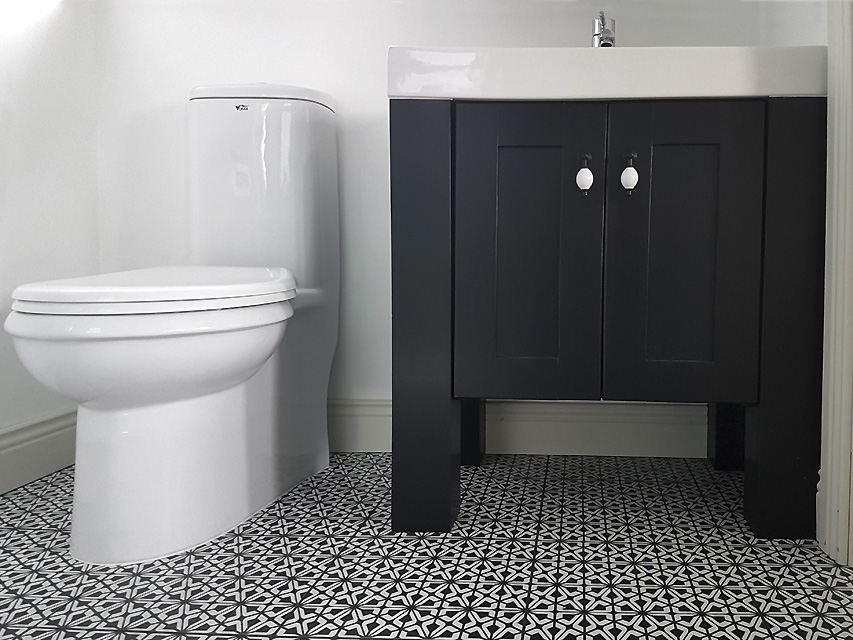 It really looks like a completely different piece now!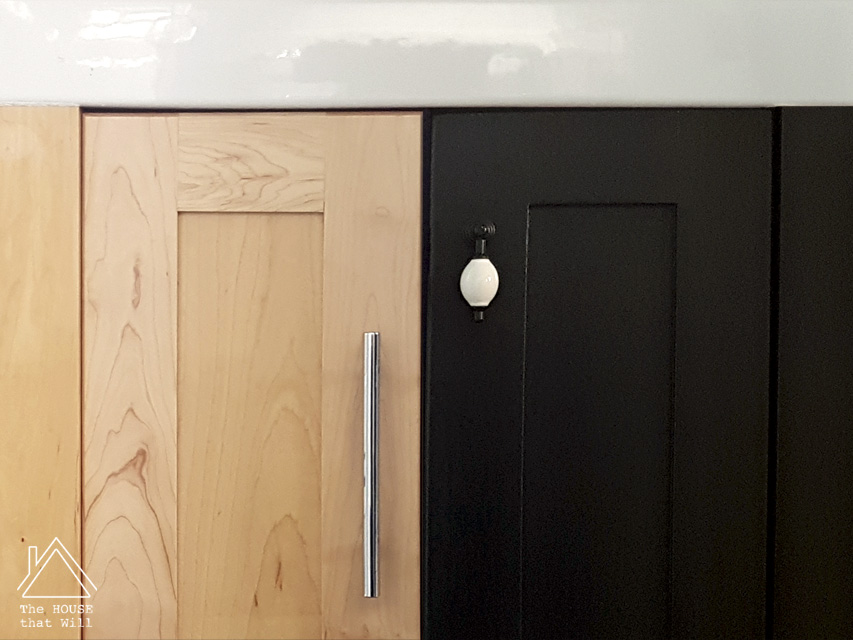 PIN THIS!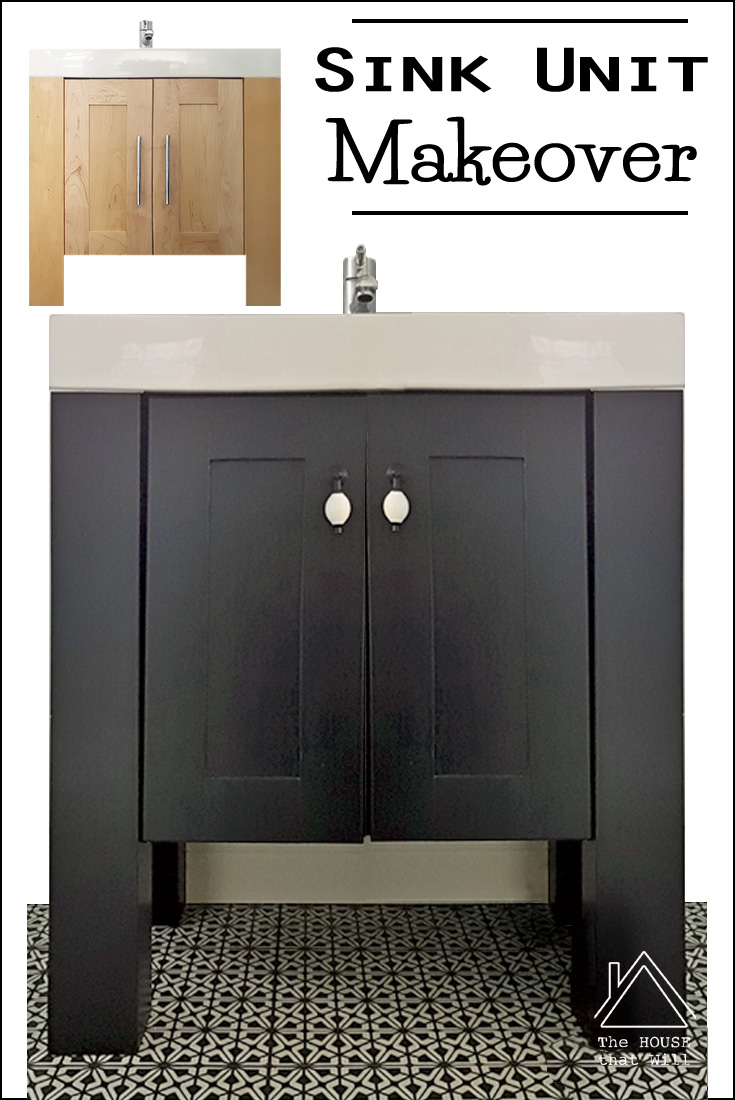 https://www.instagram.com/p/BMo6SN6h4Y4/?taken-by=thehousethatwill
Follow The House that Will
Facebook | Instagram | Bloglovin'
Of course, the important question is how it's been holding up? Well, I have to confess that when we installed the sink, we didn't tighten the fittings underneath quite enough the first time, so there was a little puddle on the inside of the unit. And yet the paint is unmarred. Mission accomplished!

Related Posts:
One Room Challenge: Guest Ensuite Reveal