As a little girl, my mother would occasionally gather my sister and I around her as she brought out a tiny package and unwrapped a few pieces of delicate lace made by my great grandaunt from Limerick. The ceremony with which my mother would unveil those cherished family heirlooms left me with an appreciation of the preciousness of lace, as well as a sense of familial duty to preserve the tradition of lace-making in some capacity ... even though the prospect of ever learning the craft myself seemed utterly unattainable.
That is, until a post popped up in my Facebook newsfeed a few weeks ago advertising a workshop in Limerick Lace Making for Beginners by Toni O'Malley. With limited places available, I registered immediately and was lucky enough to secure a ticket. Yesterday morning, I arrived for the workshop at City Hall in Limerick to find eleven other lovely ladies in attendance, a couple of whom had travelled from as far away as Wicklow and Dublin. 
The workshop was organised as part of HYBRID - Limerick Lace | Liminal Identity, a series of exhibitions and conferences organised by Limerick Museum and Archives with the Limerick School of Art and Design to examine the socio-economic history of lace as well as the practice of lace making, from traditional to new practices. 
As inspiration, our workshop tutor, Toni, showed us her personal collection of exquisite pieces of antique Limerick lace dating as far back as the 1800s.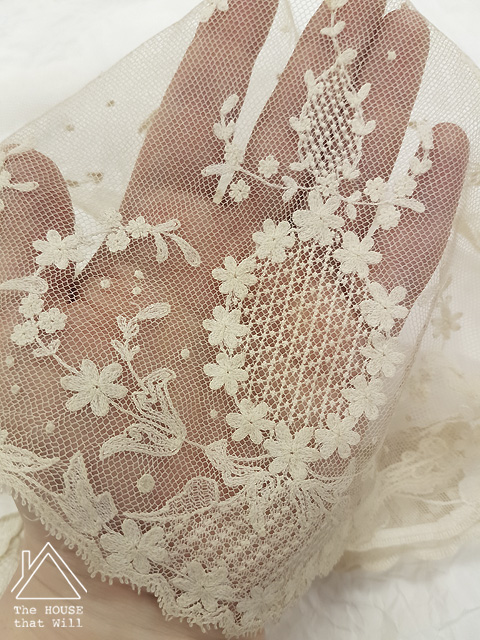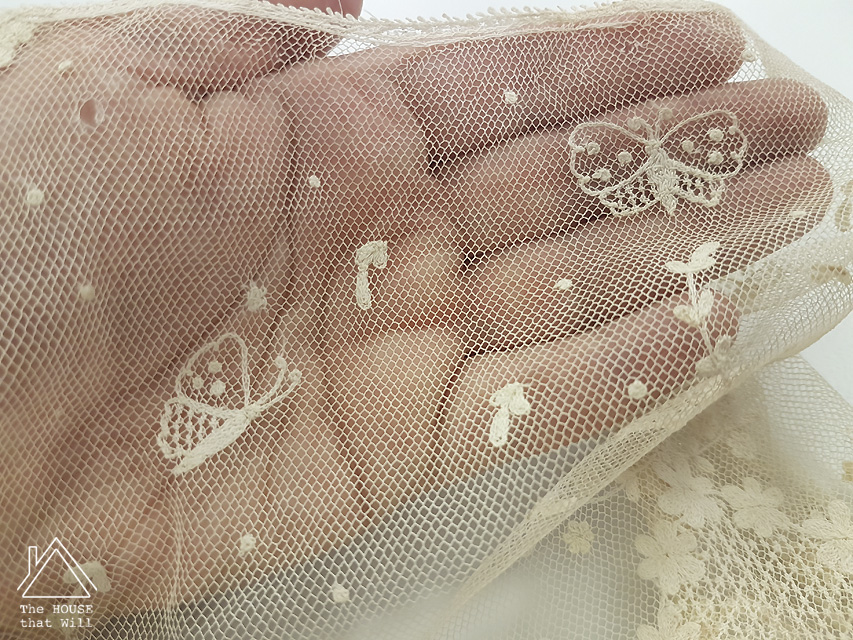 Follow The House that Will
Facebook | Instagram | Bloglovin'
Magnifying glasses were passed around - and indeed genuinely required - so that we could fully appreciate the intricacy of the finely-detailed work, as much of the delicate detail is barely perceptible to the naked eye.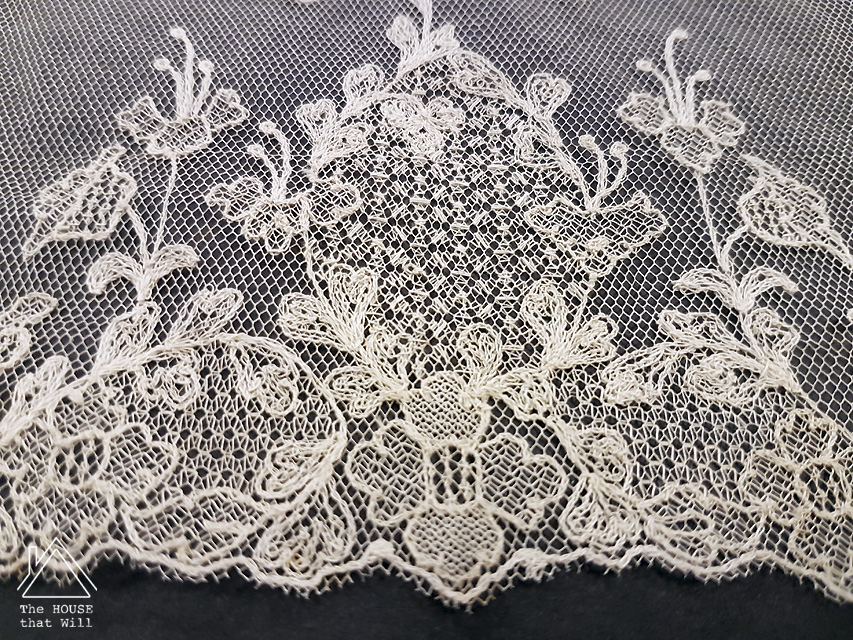 A couple of the pieces were so large that it would have taken several people a few months to complete. This piece is called a bertha: a wide collar to cover the shoulders of a dress.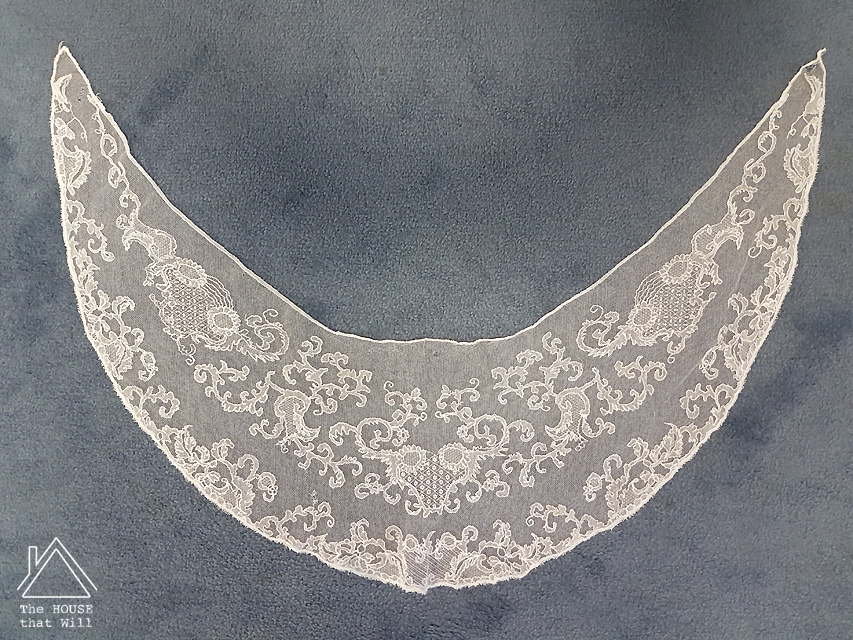 Limerick lace dates to 1829, when Charles Walker and his wife (the daughter of a lacemaker in Nottingham) came from England to establish a factory in the city. They brought with them lacemakers who were skilled in tambour. Soon, the Irish were inventing their own stitches and, within a couple of decades, thousands of Limerick girls were employed in several factories around the cities; including the department stores, Cannocks and Todds. In later years, Florence Vere O'Brien (an Englishwoman who married the O'Briens of Dromoland Castle) as well as convents such as the Good Shepherd helped to maintain and bolster the tradition and industry of lacemaking in Limerick.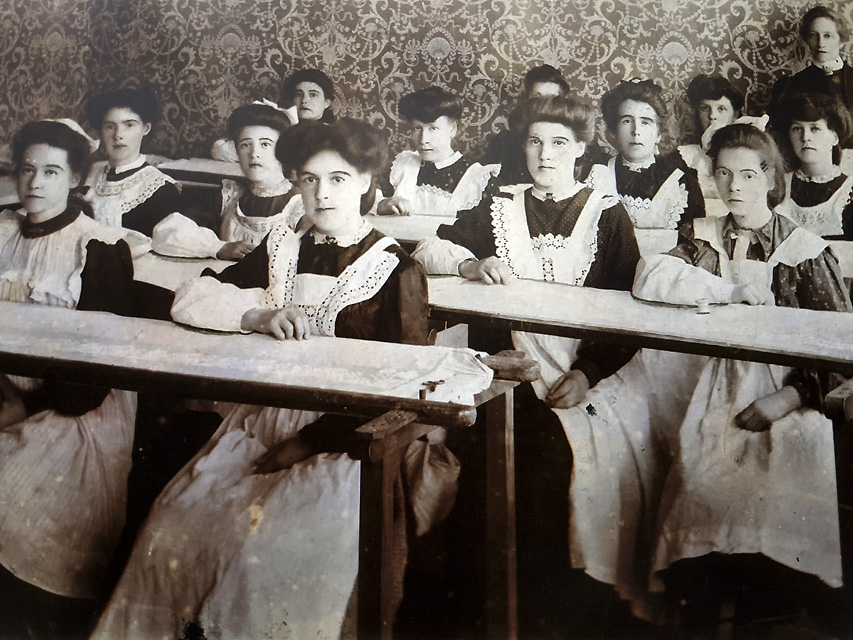 Students at Florence Vere O'Brien's Limerick Lace School in 1907 (Veronica Rowe)
Tambour originated in France, and is a kind of lace made by stretching a fine silk or cotton net over a hoop and creating a chain stitch using a hooked needle similar to a very fine crochet hook, but with a head that turns back on itself like a fish hook.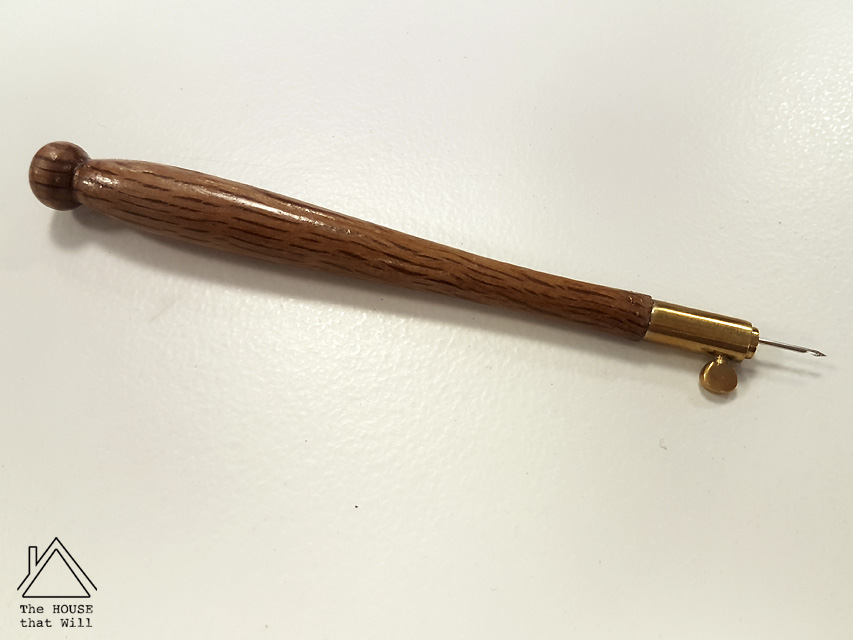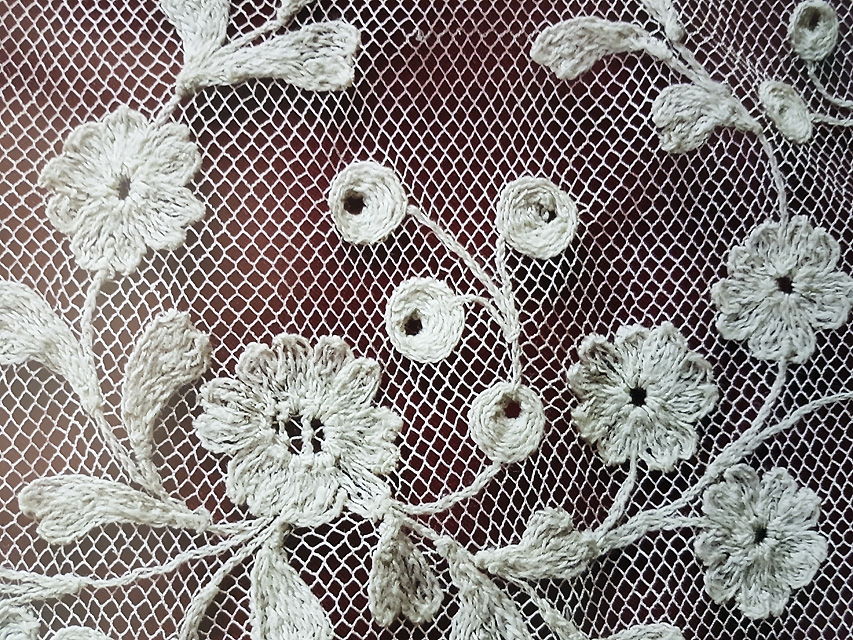 Detail of Limerick Lace in tambour style (Veronica Rowe)
In addition to tambour, Limerick lace has two other characteristic styles: needlerun, a finer, more delicate style with shapes outlined and then filled with intricate stitching, as well as the less common appliqué style.
For our beginner's class, we would focus on needlerun. Toni introduced us to the technique with beginner-friendly materials so that we could see the shape of each stitch we learned. Honestly, it didn't come easily to me, and my sampler is fairly rough-looking.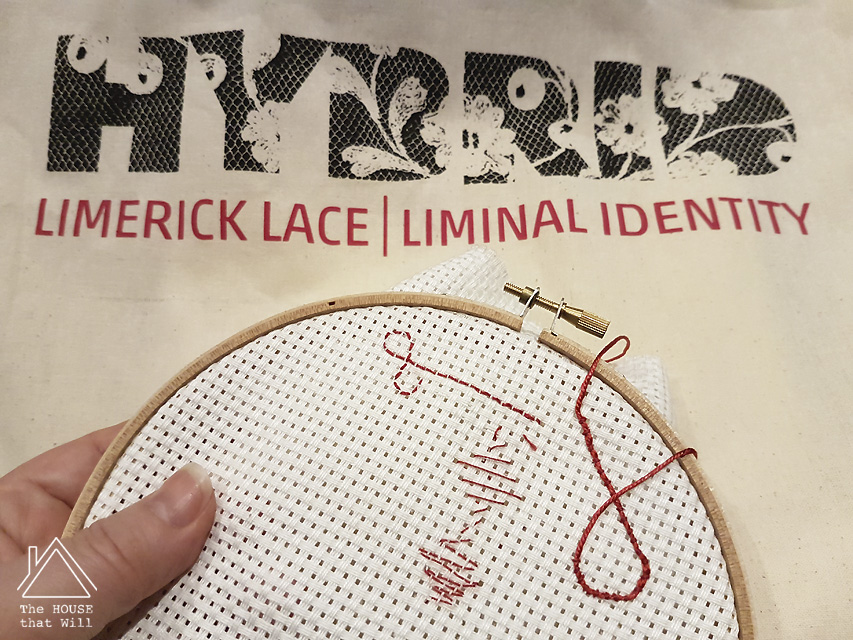 Others in the class who had more experience in embroidery and quilting produced much prettier work than I. But Toni didn't allow us to leave without first supplying us with excellent charts outlining some of the more common stitches and providing each participant with a piece of fine cotton netting, a hoop, and some pretty patterns - all the materials required to go home and create a proper piece of Limerick lace ourselves in our own time.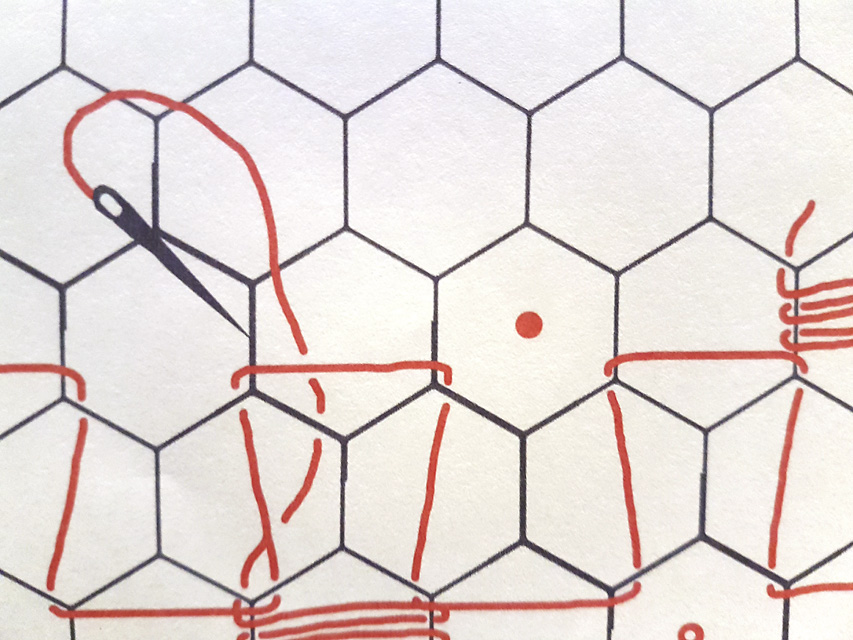 I think it may be a steep learning curve for me, but I came away with an enthusiasm to improve and to learn more, and I'm currently looking into taking a longer course in the near future. 
As we left the workshop venue at City Hall, we were treated to more celebrations of lace in the form of exhibitions, including this wonderful piece of public art by Warsaw native, NeSpoon. She has created lace-inspired artworks all over the world, and her intricate web of lace and rubber on Merchant's Quay invites interaction and helps to bring an awareness of Limerick's cultural heritage of lace-making into the public eye.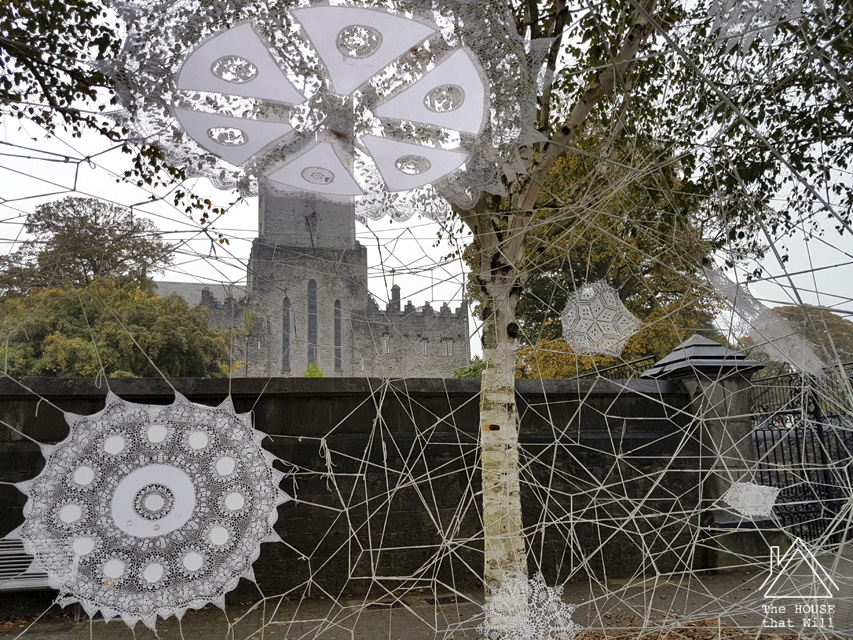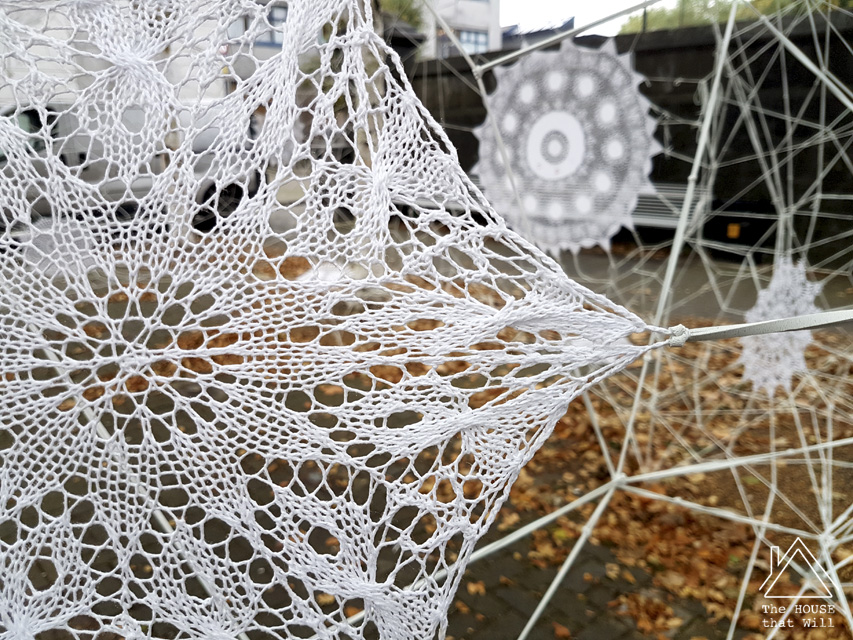 HYBRID runs until November 4th, and is definitely worth a visit if you are in the vicinity.

Related posts: