The National Crafts & Design Fair at the RDS in Dublin is quickly becoming one of my favourite days out as an opportunity to meet over 500 craftworkers and 120 food producers together all in one place. Meeting and talking with the artists is such a treat, as each one speaks about their craft with such enthusiasm and passion that one cannot help but be inspired.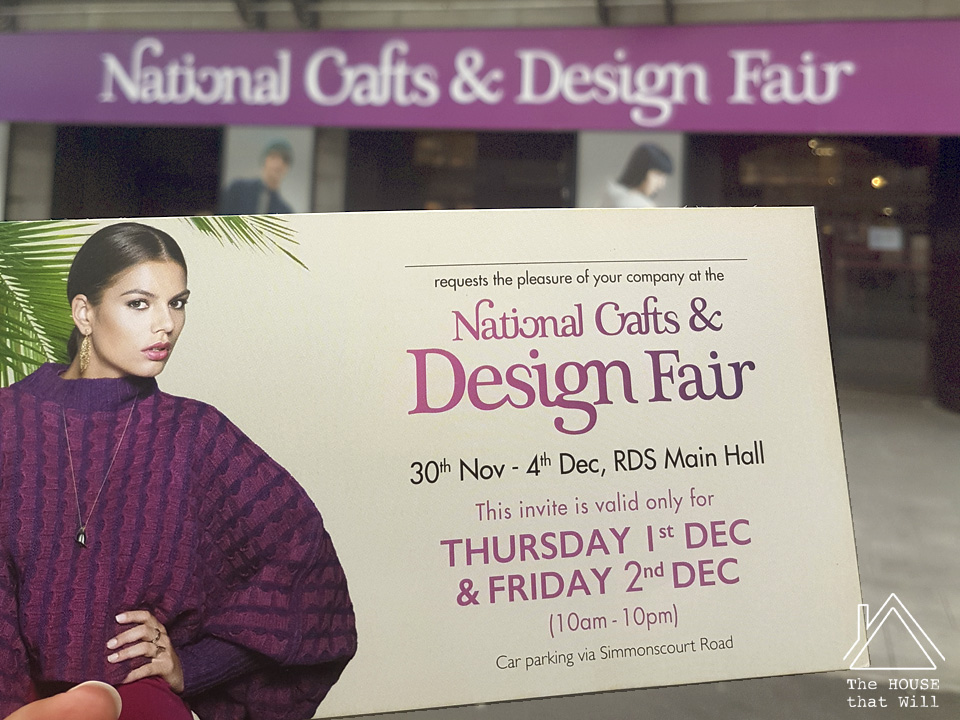 Follow The House that Will
Facebook | Instagram | Bloglovin'
Last year, I shared my thoughts about the fair here, and I was delighted to see some of my favourite exhibitors from 2015 back again this year. Once more I found myself pouring over the beach-inspired jewellery of Martina Hamilton and the gorgeous ceramic designs of KaroArt and Red Earth Designs.
Textiles
If you have been following my blog for a while, you will know that textiles are one of my favourite things ever. Deborah Toner's stand caught my eye from a distance. Her embroidered linen cushions feature motifs of Irish architecture: Georgian doorways and terraces, landmark cupolas, suspension bridges, and city skylines. I'm a country girl through and through, but these cushions make me dream of living in a townhouse - just so I could scatter these fabulous designs everywhere!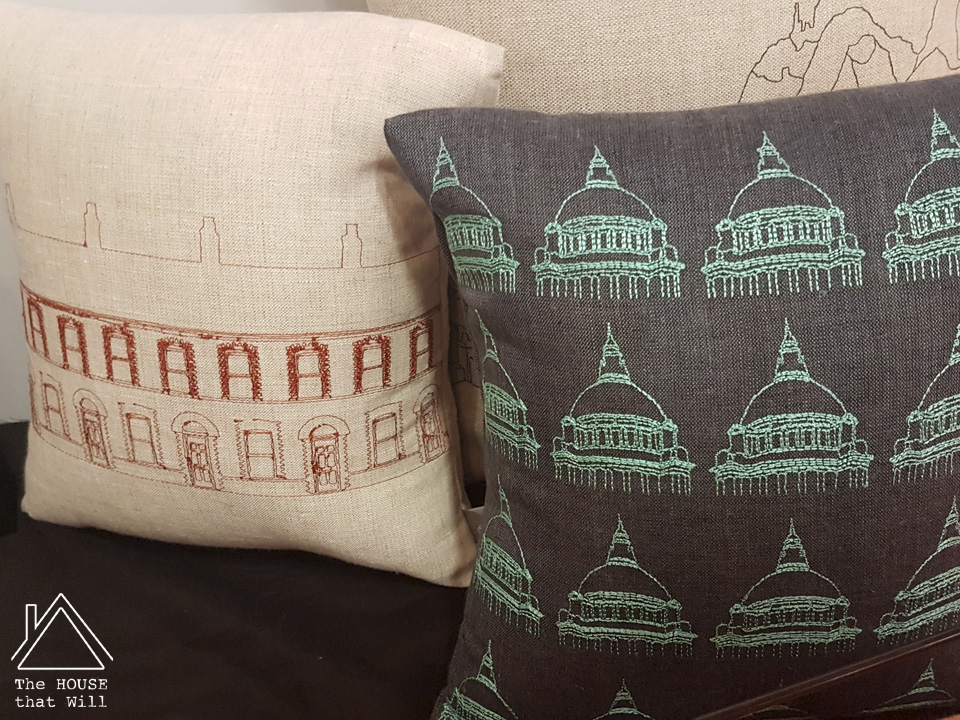 As an animal lover, I was also drawn to Annabel Langrish's range of printed cotton cushions from original paintings by the artist. The wren and hedgehog are so cute!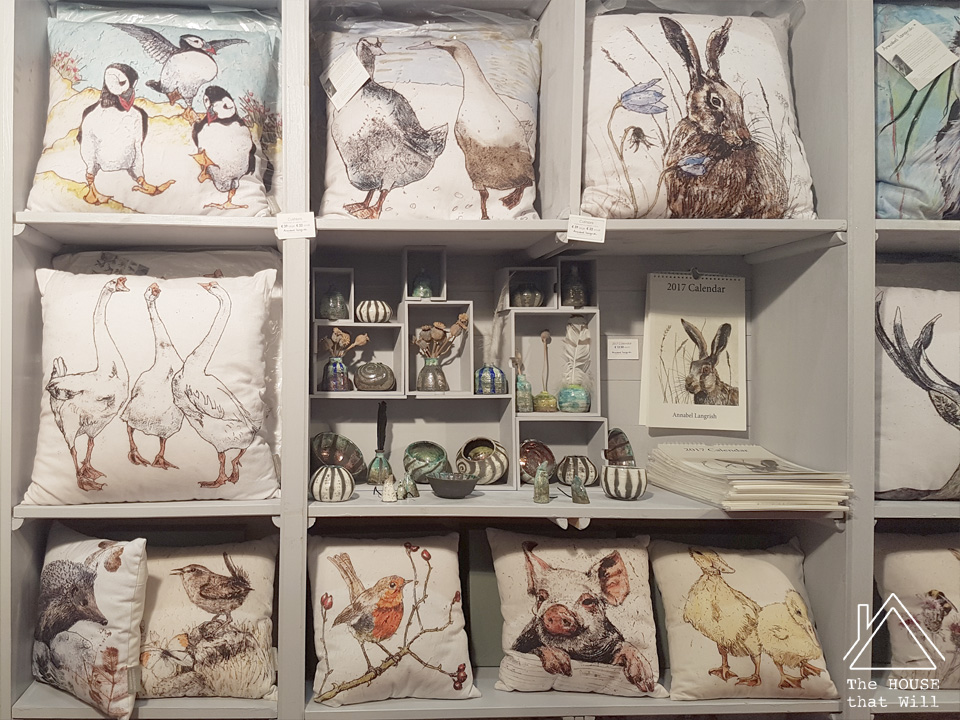 And, of course, I had to pop by the stand of McNutts Donegal Woollen Mill as they had sent me a ticket to attend the fair. I'm a huge fan of their lightweight soft and snuggly throws. On these winter evenings, you can usually find me snuggled up on the couch under my navy/grey reversible lambswool throw.
https://www.instagram.com/p/BKgRtCZBTGX/?taken-by=thehousethatwill
Watch out for an upcoming post about my visit to their Donegal store as part of my series on our Woollen Wedding Anniversary tour. 
The prestigious RDS Craft Awards are presented to Ireland's top craftworkers each year, and the winners' work is displayed at the National Crafts & Design Fair. This is always one of my favourite areas to visit, and this year the highlight was this beautiful embroidered sheep cushion by Niamh O'Connell aka Raggedy Lady Textiles. Niamh was the deserving winner for Embellished Textiles in the Emerging Maker category.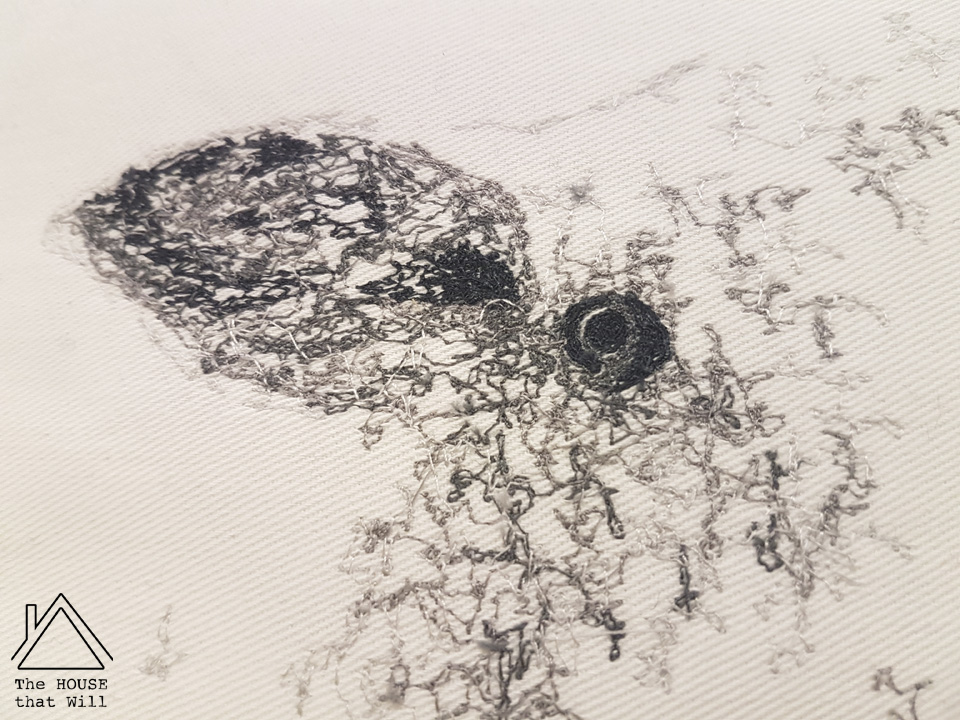 I was also mesmerised by the wistful felted landscapes created by Jane O'Farrell. I actually thought they were paintings until I came closer! I couldn't part without one, and so I chose this stunning moody blue landscape that I plan to hang in my craft room. 
https://www.instagram.com/p/BNj4DkgB9Li/?taken-by=thehousethatwill
Jewellery
Chupi Sweetman's collection of jewellery is inspired by the natural world. Feathers, twigs, and leaves all feature in her sophisticated collection alongside sparkling gemstones. My personal favourites were the silver hawthorn twig necklaces and bangles and this delicate gold raspberry leaf.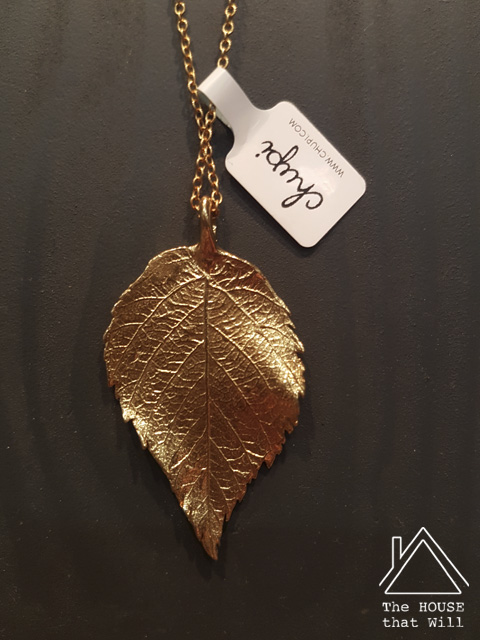 Painters 
I am currently searching for a painting to hang over the fireplace in the sitting room we're decorating, and I saw several contenders at the fair between the evocative landscapes of Donegal-based Sharon McDaid, the textural animal portraits by Noreen Walshe, and Marina Hamilton's characterful wildlife and farm animals. I just can't make up my mind what I want!
I was also very taken with the charming creations of Black Hen Designs from County Roscommon, whose prints on glass are derived from original artworks and feature stylised images of Irish birds and animals. My favourite, called 'Welcome Home', depicts a group of swallows arriving at the start of summer.
Candles 
I've posted before about the dangers of burning chemical-based candles in the home and shared a few of my favourite alternatives made from natural waxes and fragrances.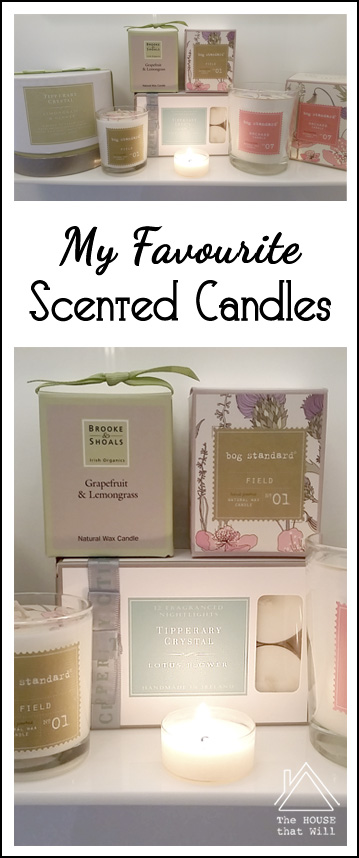 Purely by coincidence, all of those candles are produced in Ireland, and I was delighted to sniff out some new favourites at the fair. I just couldn't resist that pun!
Brookfield Farm on the shores of Lough Derg in County Tipperary is sustainably run by Ailbhe Gerrard. She planted twenty acres of wildflowers to feed her bees, and her range of 'Hive Gifts' include lip balms and delicious honeys as well as beeswax candles, which are available unscented or infused with essential botanical oils of lavender, bergamot, or sweet orange. 
https://www.instagram.com/p/BNhySJjhO0C/?taken-by=thehousethatwill
Emma's So Naturals are handmade in County Louth from 100% natural ingredients. I couldn't resist the Masala Chai fragrance, which contains a blend of pure essential oils of cinnamon, clove, ginger and cardamon. Its warm spicy aroma is perfect for this time of year.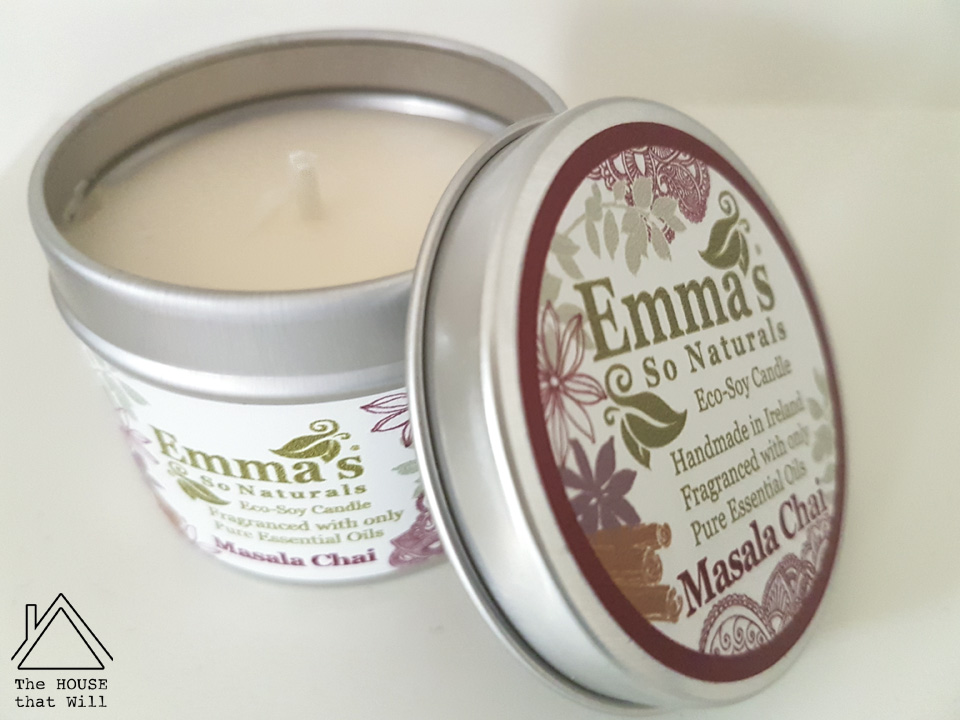 It is always a joy to me to find quality products that are made right here in the west of Ireland, and I was thrilled to learnthat Rowan Beg Designs are based in Renvyle, County Galway. Their fragrances include 'Connemara Bog Cotton' and 'The Wild Atlantic', but it was 'Cozy Winter Fireside' that I was drawn to above all. It is the most intriguing scent that is pleasantly perplexing in its ability to conjure precisely that idea through an aroma! 
https://www.instagram.com/p/BNh1Ci4h4ei/?taken-by=thehousethatwill
I happily purchased one of their pretty candles and was practically swooning when it was handed to me in its very own custom-printed cotton bag. It's adorable!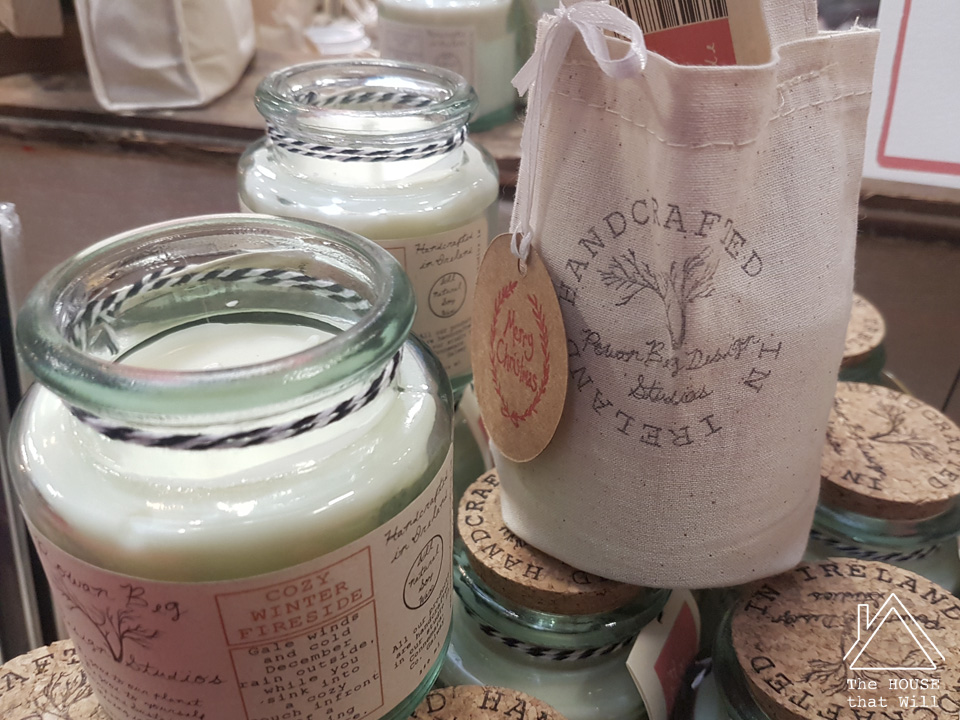 There must be some sorcery in the candles of The Handmade Soap Co because I actually bought one with lavender in it! Not that I dislike lavender, but I have a very sensitive sense of smell and so I usually find it quite overwhelming. But their 'Lavender, Rosemary, Thyme & Mint' is so well-balanced that it is difficult to discern any one of those individually; rather the whole blends into one light fresh fragrance. And, of course, all of their candles are made from natural ingredients.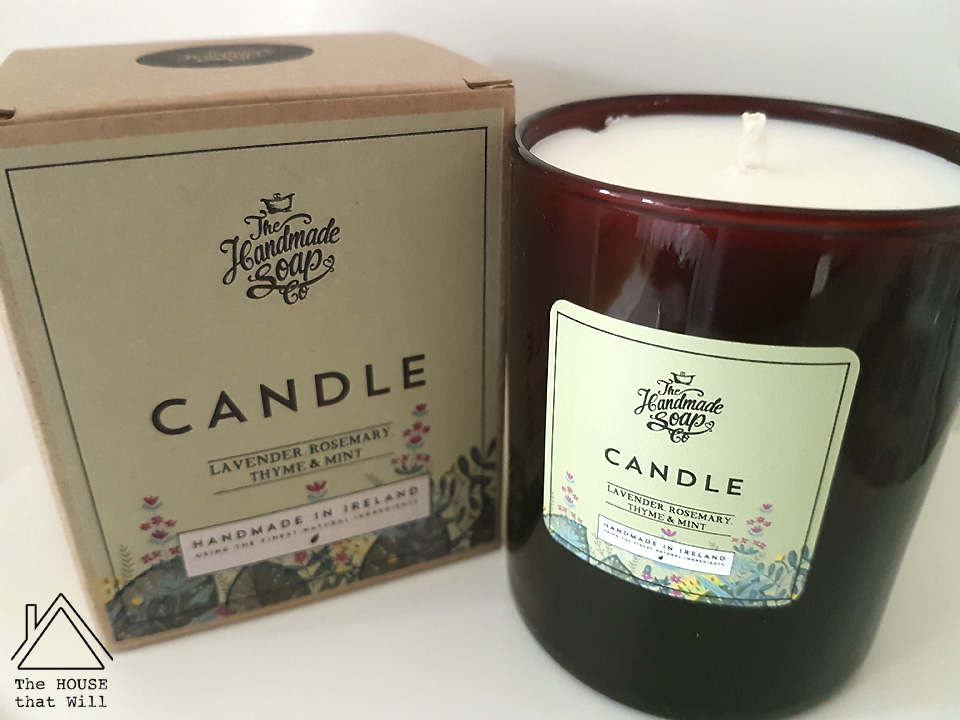 The National Crafts & Design Fair is a treasure trove of Irish talent where I enjoy discovering and rediscovering the best designer-makers in Ireland. It's still open today and, if you're in the area, I highly recommend going along for the afternoon. As for me, I'm already looking forward to next year.

Related posts:
National Crafts & Design Fair 2015