Woollen Wedding Anniversary Tour
Part IV
Our woollen wedding anniversary tour has already taken us north from Galway through county Mayo to the Foxford Woollen Mills, and along the shores of counties Sligo and Leitrim into Donegal. Following the Wild Atlantic Way, we called at the studios of Donegal Tweed weavers Magee, Eddie Doherty, and Kieran Molloy, before continuing on to the north coast of Ireland to visit McNutt of Donegal. The woollen theme not only symbolised our seventh year of marriage, but it was also the perfect excuse to go on a celebratory trip to a part of the country we had not seen before while visiting places that would interest both of us - me in the textiles and Hubby in the mechanisation of the weaving process. Our stop at Studio Donegal was not chronologically the last point on our tour (we actually visited there in between the tweed studios), but it is the natural conclusion of this series as it is where we fulfilled the ultimate purpose of our entire trip: to find a special woollen blanket to commemorate our seventh wedding anniversary.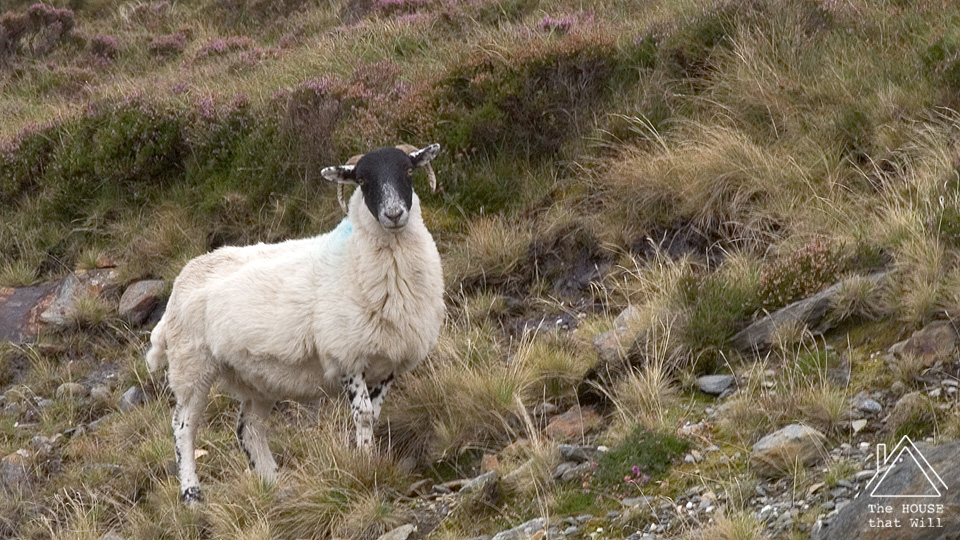 Studio Donegal is based in Cill Charthaigh (anglicised as Kilcar), a Gaeltacht (Irish-speaking) village west of the fishing port of Killybegs. But don't worry if you're visiting from abroad or simply not líofa sa Ghaeilge because everyone is bilingual and will readily converse in English also.
The studio itself is housed in a streamlined Art Moderne style building - one of my favourite periods of architecture and one that is relatively rare in Ireland (much less so in rural areas). So even from the outside, I already knew I was in for a real treat.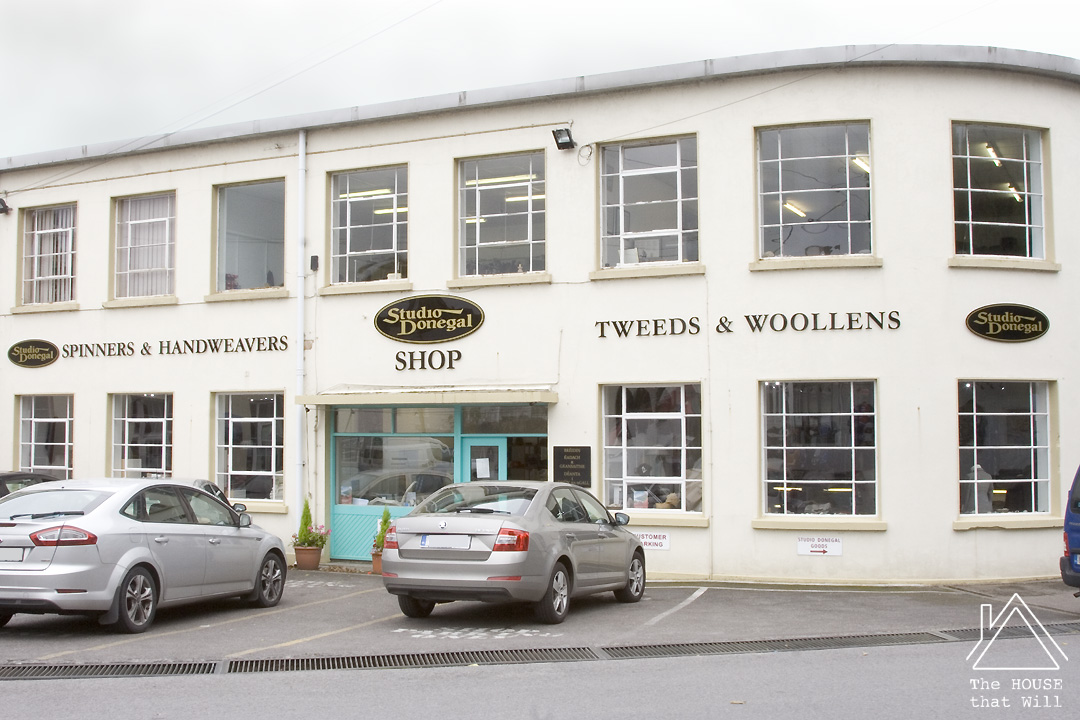 As with most of the other weavers we had visited, I first discovered Studio Donegal at the National Crafts & Design Fair. However, visiting the studio in person gave me something that seeing a stall at a show couldn't quite convey ... and that is an appreciation of just how special this place is.
You see, Studio Donegal not only weave everything by hand, but they actually make them from scratch. I was astonished to wander into a room stuffed to the ceiling with bales of dyed fleeces.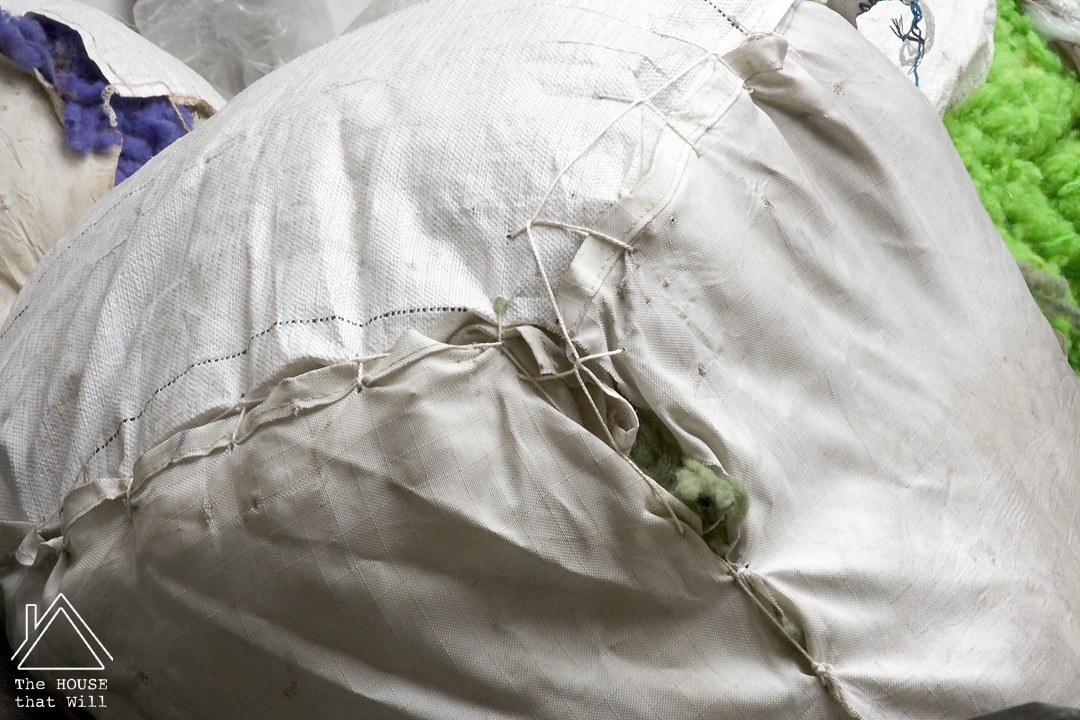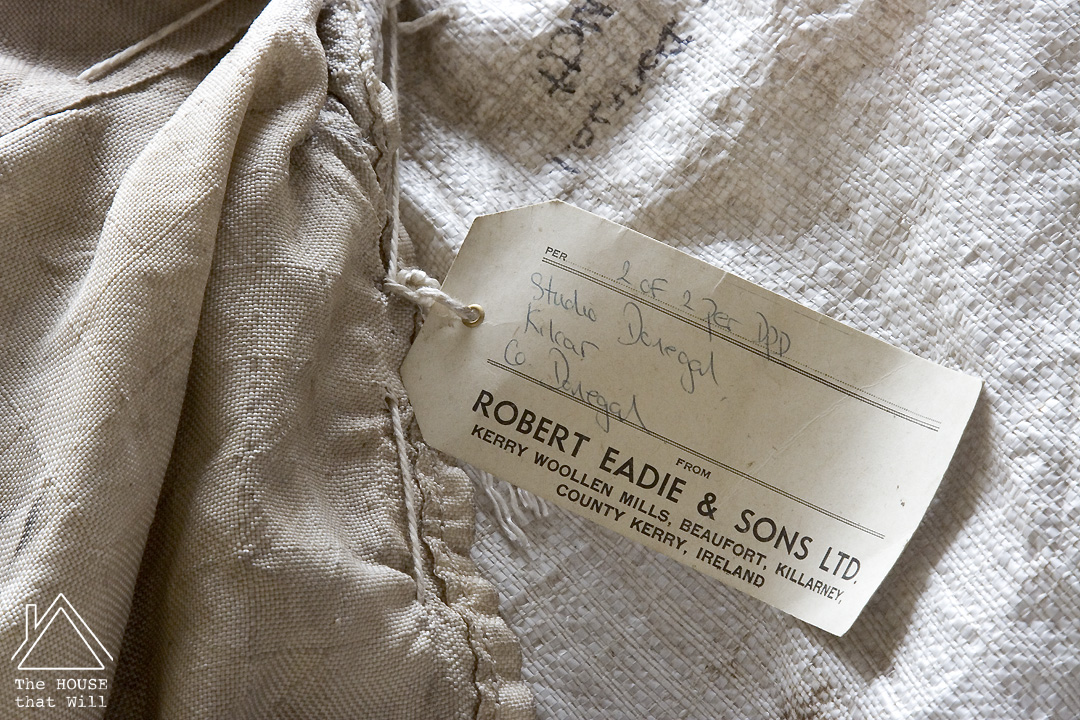 I was reminded of the fictional Rumpelstiltskin! 
The wool is carded and spun right there in the studio.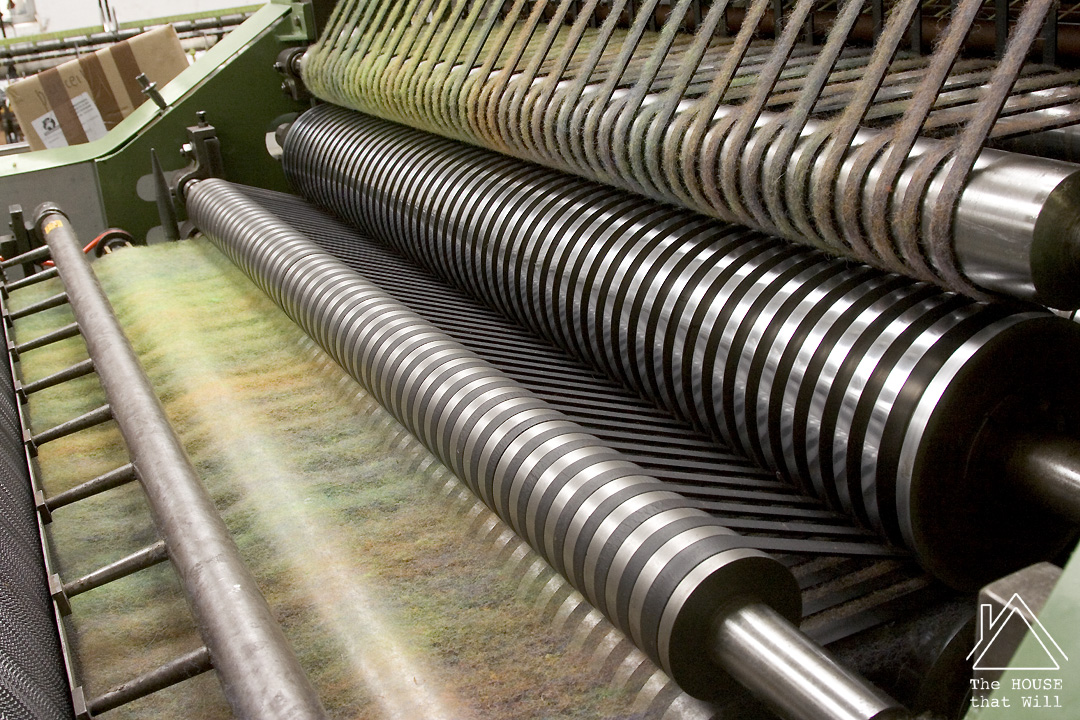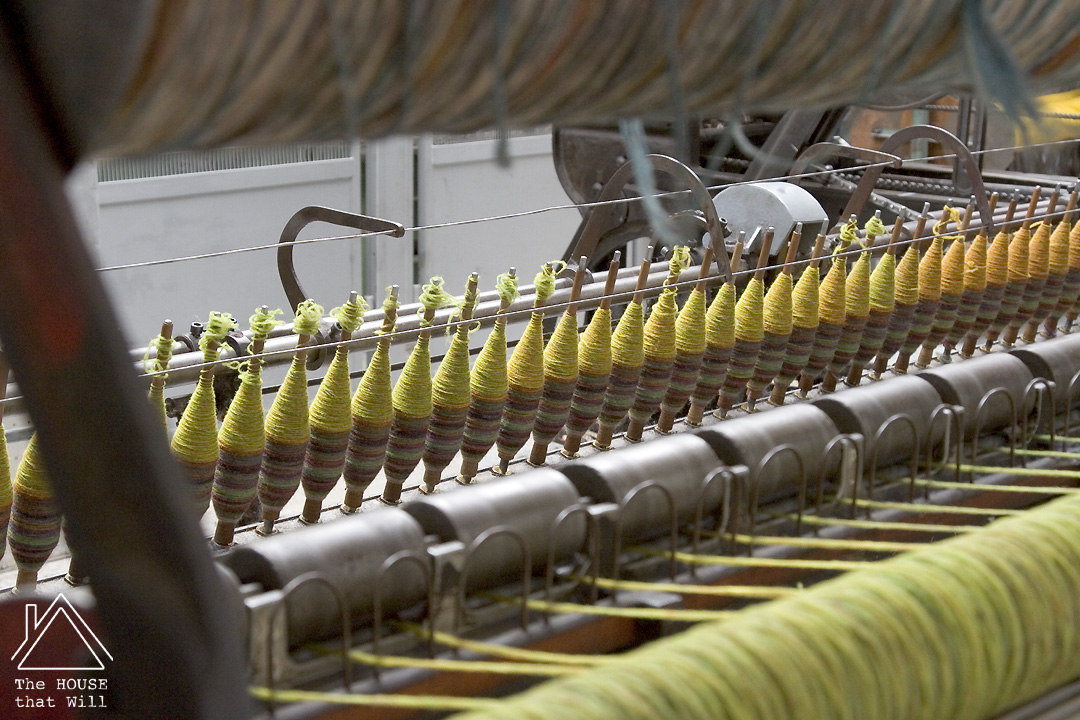 Then the warp is prepared for weaving.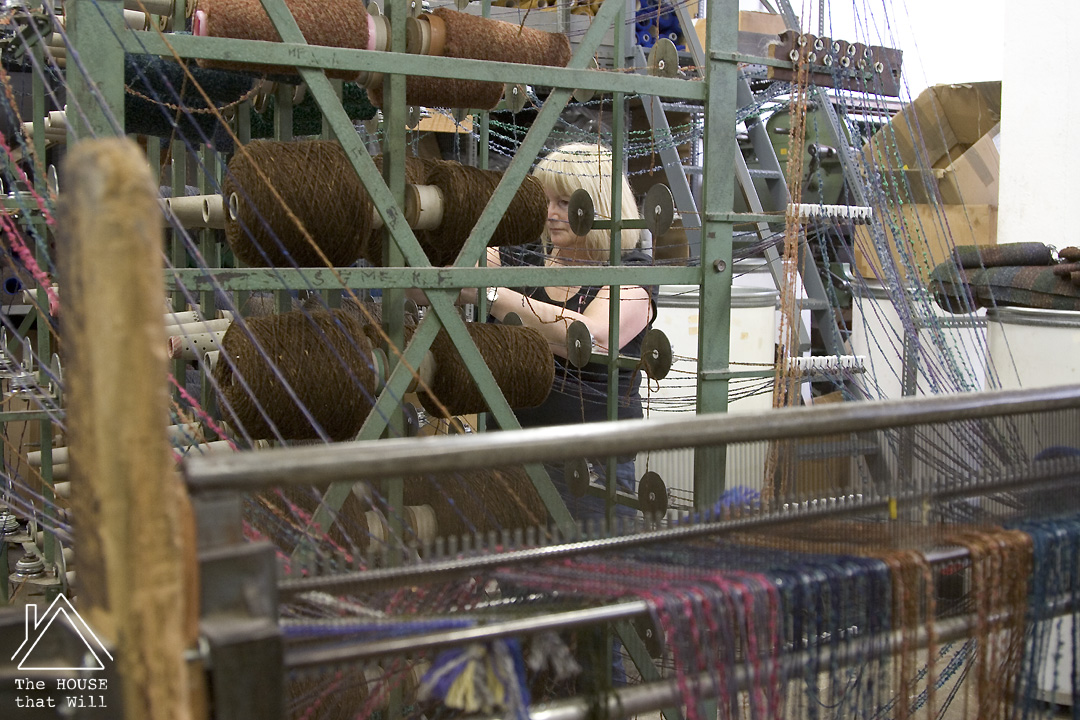 Granted, I'm a total sucker for textiles, but I just found every inch of the studio absolutely fascinating.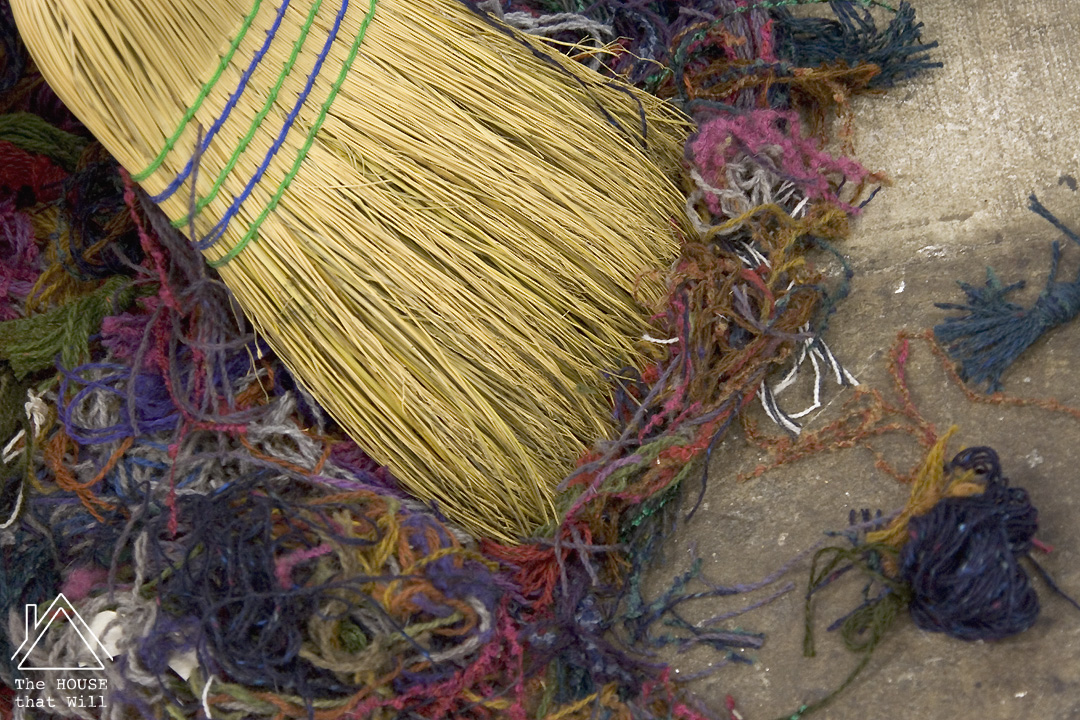 Upstairs, the weavers were on a lunch break when we arrived, so I wandered around the workshop in awe.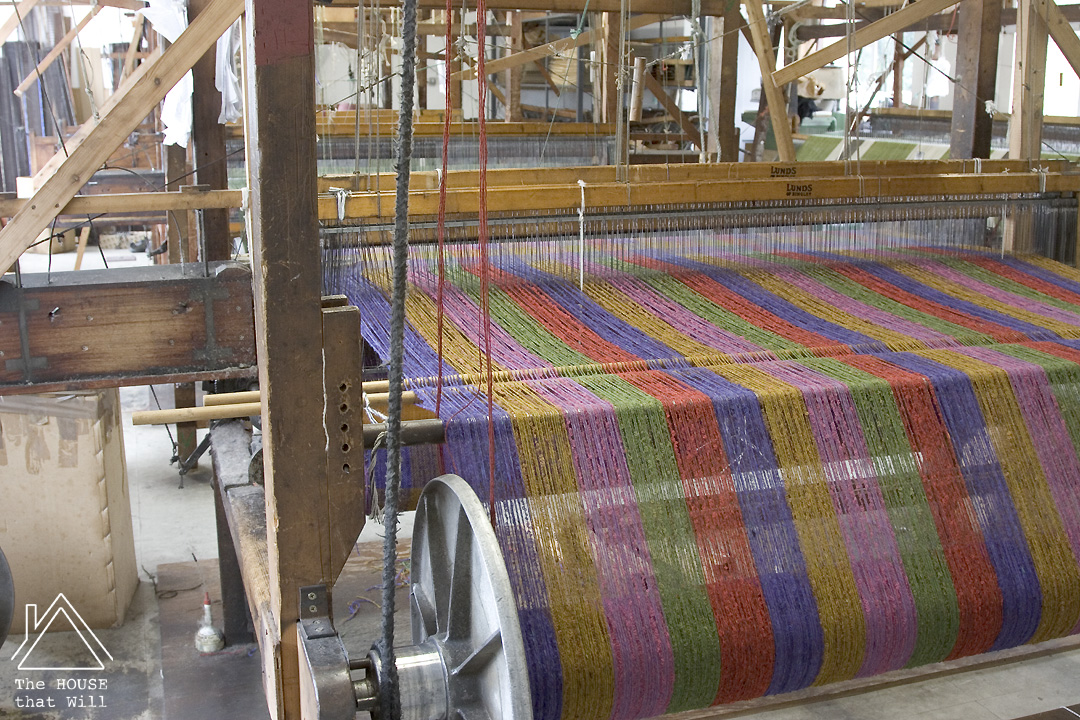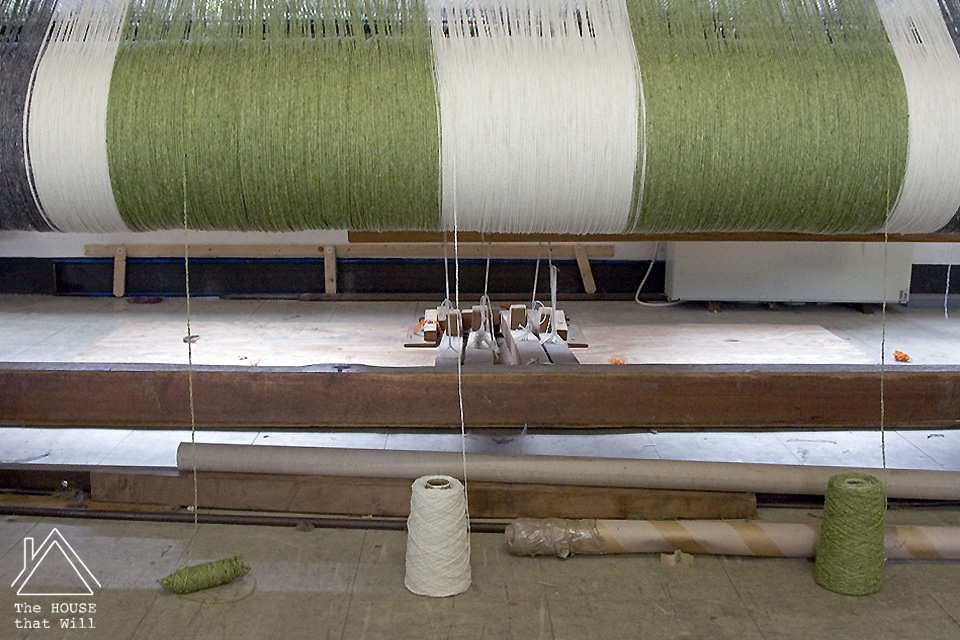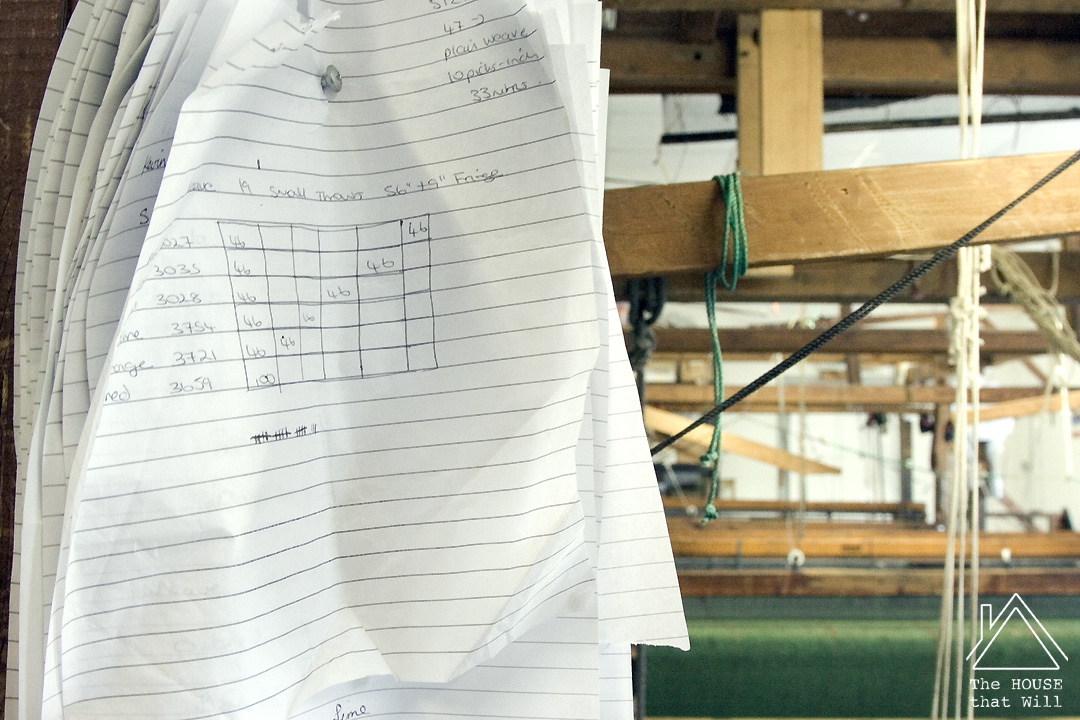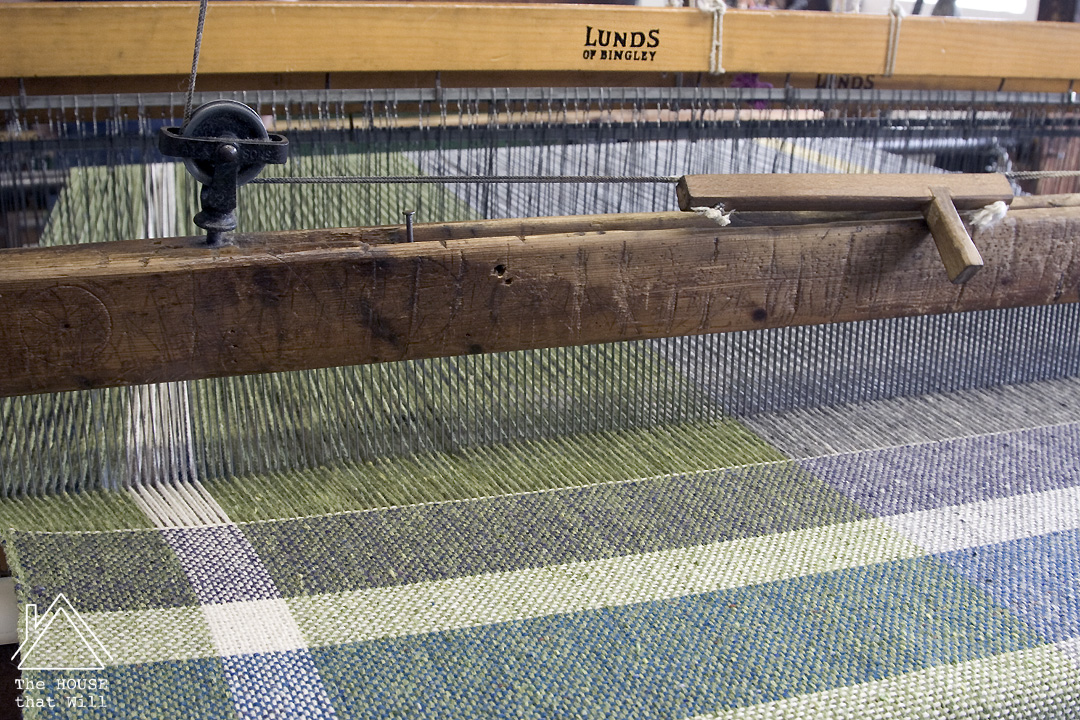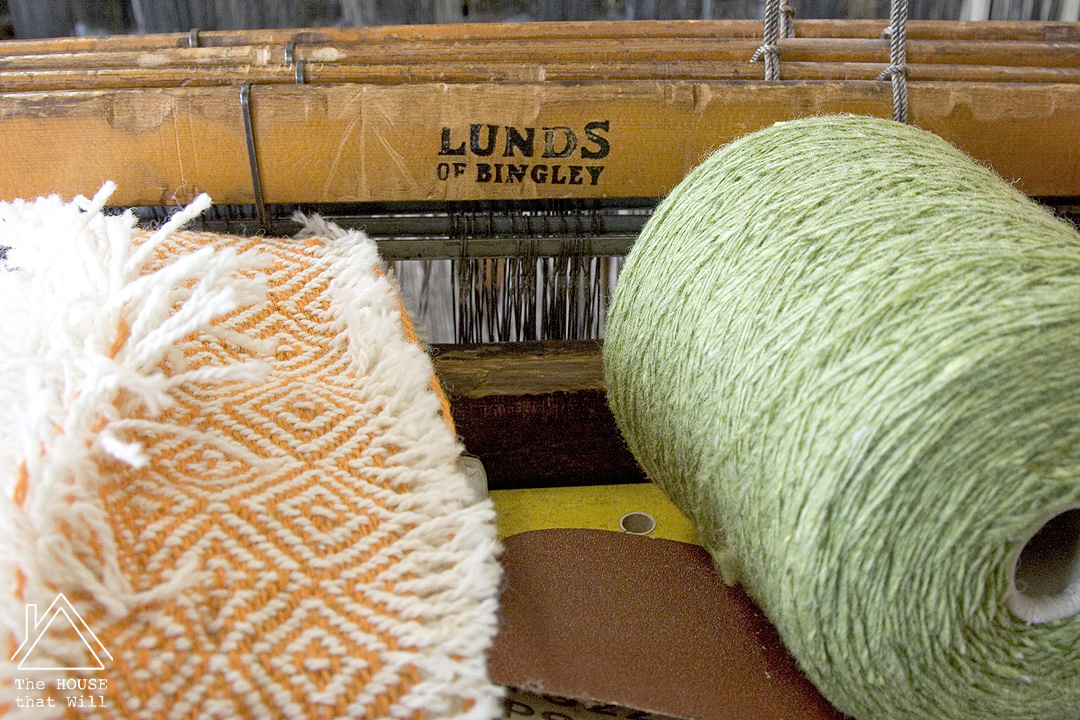 When the weavers returned and the studio sprung into life, the aural experience was spellbinding: the rhythmic clacking of the shuttles being flung over and back, the drone of timber treadles being engaged, the jingling of heddles being raised and lowered, and the rattling of the beater swinging back and forth.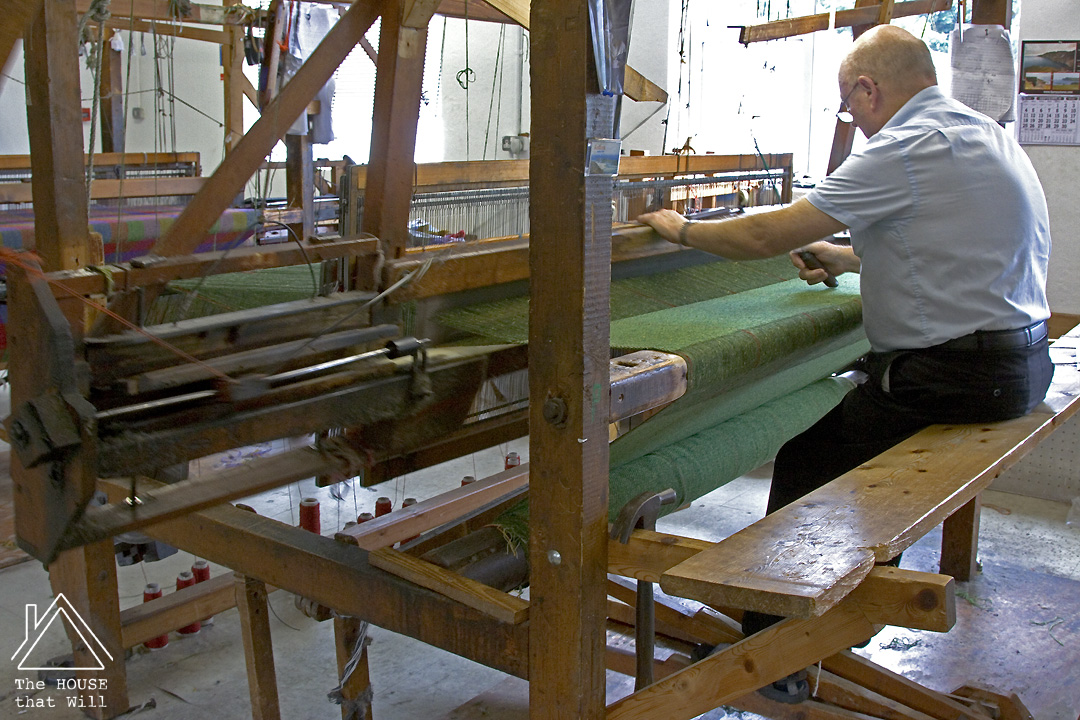 And yet, amongst all the noise, there was a surprising sense of tranquility. In studios that operated power looms, the din of the machinery was quite overwhelming. But here, with looms operated by the skillful choreography of the weavers, the sounds had a sense of authenticity related to the physicality of human labour.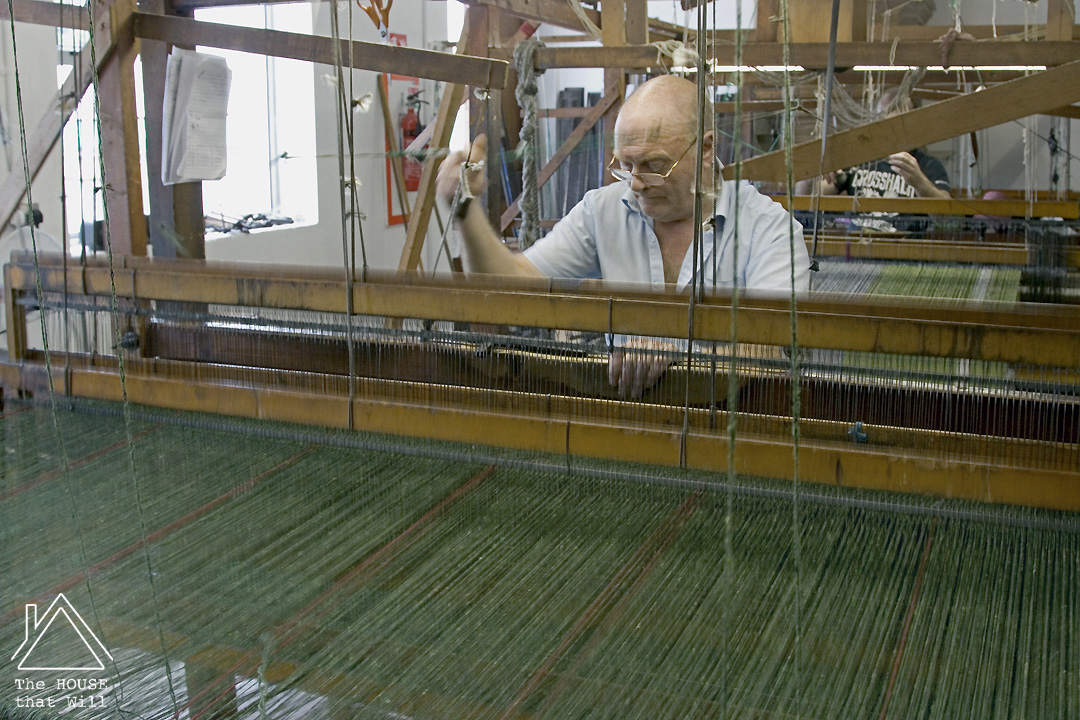 I chatted with master weaver John Heena (pictured above) about his work, his lilting Donegal inflections compelling my unaccustomed ears to focus intently. John is so generous about sharing his considerable knowledge that he should, in my opinion, be declared a national treasure. For it is people like him who keep our heritage alive; a vital link in the chain that has ensured a tradition of weaving in Kilcar since the 1700s.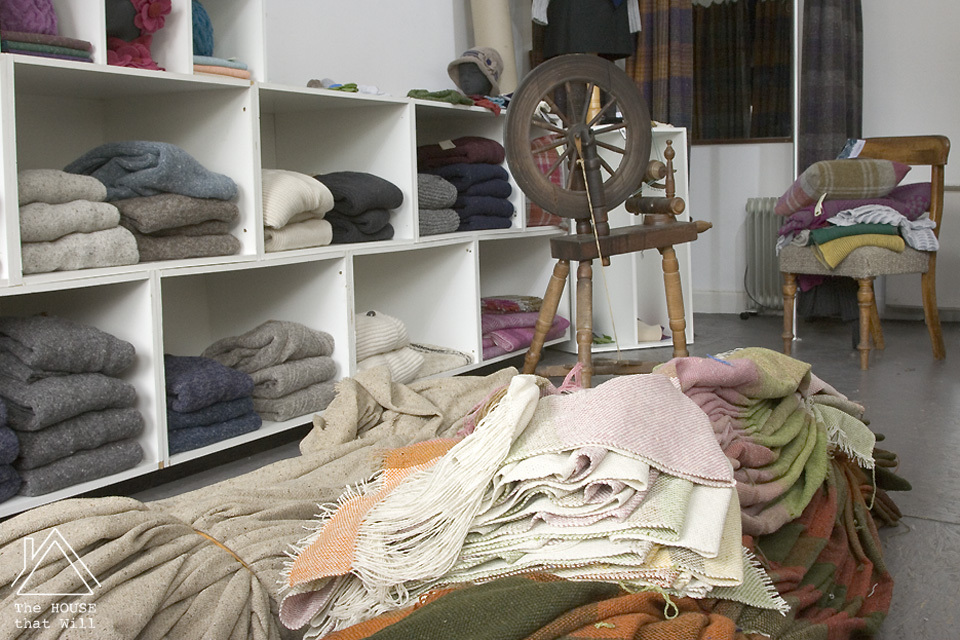 Afterwards, I surveyed the extensive range of handwoven wares in the shop.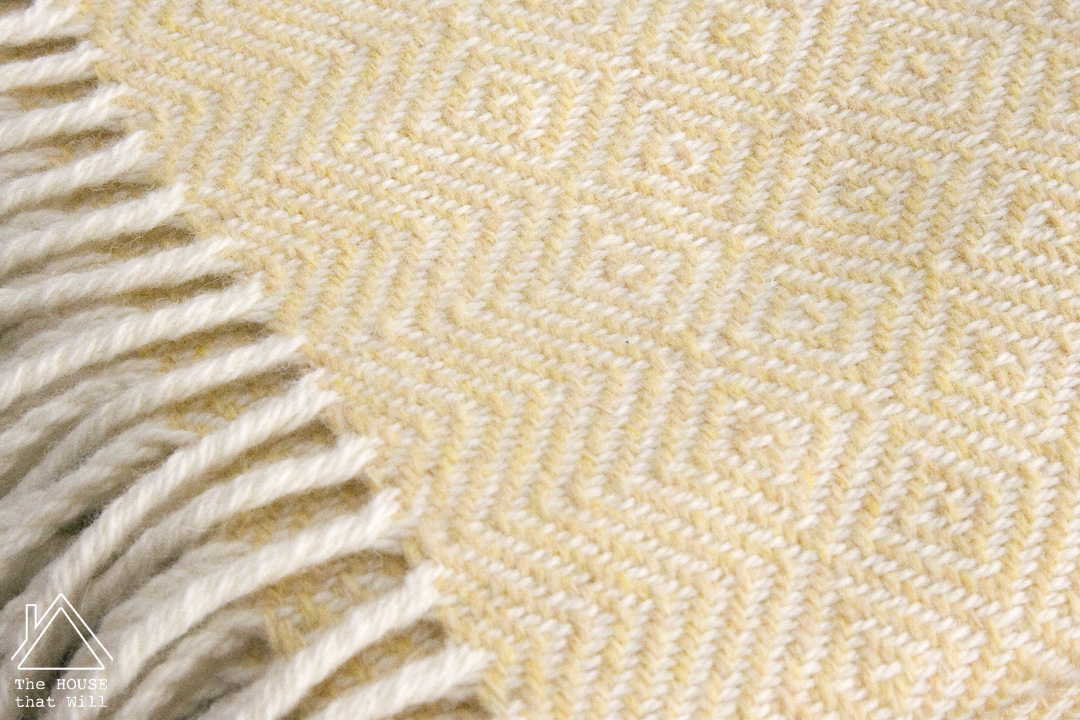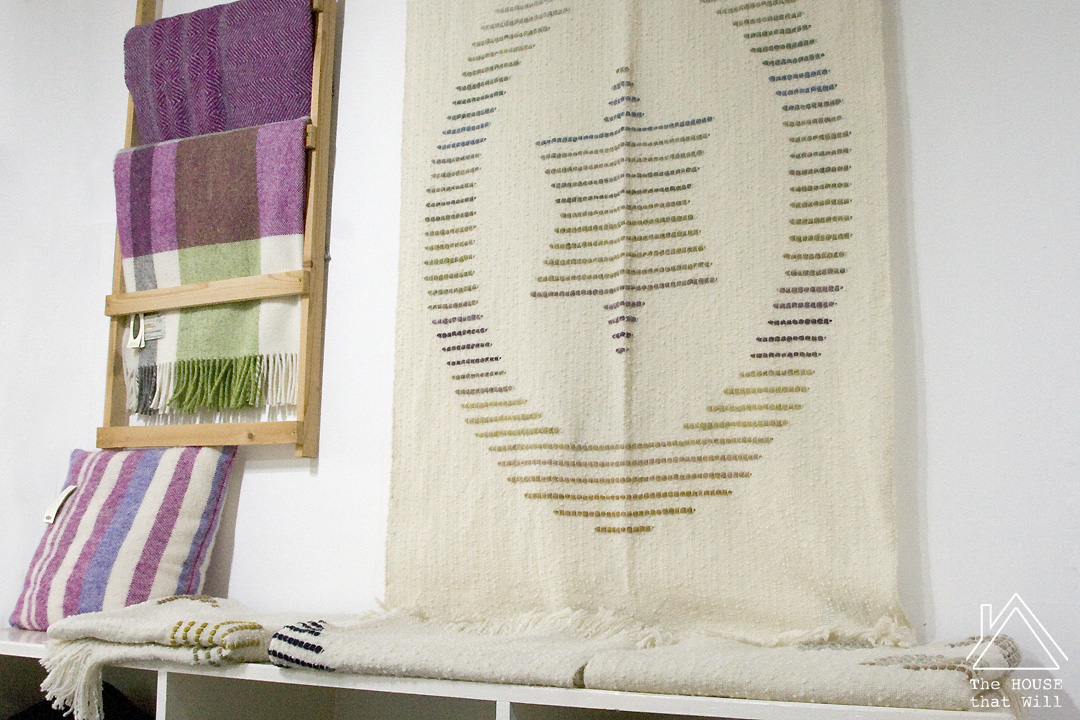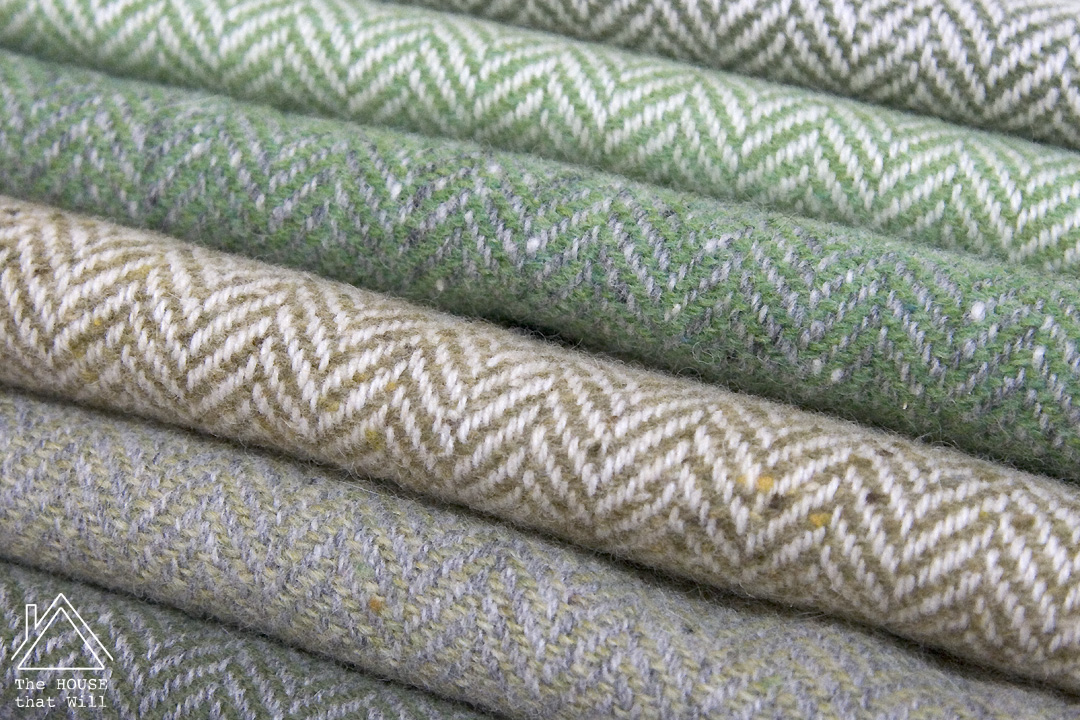 I picked up a few hanks of deep navy Aran tweed knitting wool that had been spun in the studio. But Hubby and I were mostly on the lookout for our special souvenir woollen blanket. In fact, we already had one in mind that we had seen at the National Crafts & Design Fair the year before. Called Undulating Twill, its rippling pattern is a delightful update to a traditional weave.
Browsing the store, we found several different colourways, including Granite, Oatmeal, Watergrass, Tobacco, and Carrot, amongst others.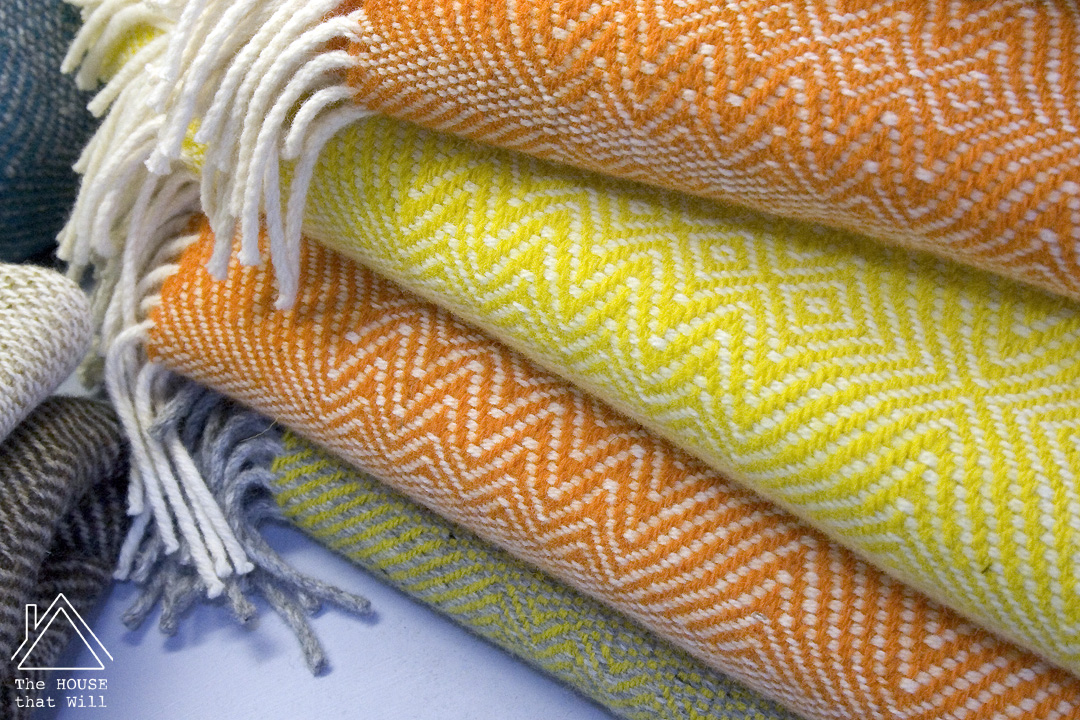 As much as we loved this pattern, I found another style in a blue colour that I thought better suited our decor. I was torn. On hearing my dilemna, the very helpful shop assistant (whose name I unfortunately didn't get) asked us to wait while she checked something with the manager. A few moments later, she returned with Tristan Donaghy, whose parents Kevin and Wendy had rescued Studio Donegal from closure in the late 1980s. Having confirmed stock availability of our desired Mediterranean Blue, Tristan said something I could never have anticipated: that because each item in the studio is handmade anyway, he could arrange to custom-make a blanket for us in the pattern and colour we wanted. I was astounded. If we were looking for something special to commemorate our wedding anniversary, it just didn't get any better than that. 
Tristan advised us that the production schedule meant that we would have to wait a couple of months for our blanket to be completed, but guaranteed delivery by Christmas at the latest. True to his word, in mid-December, I got an email notifying me that our blanket had been dispatched via courier.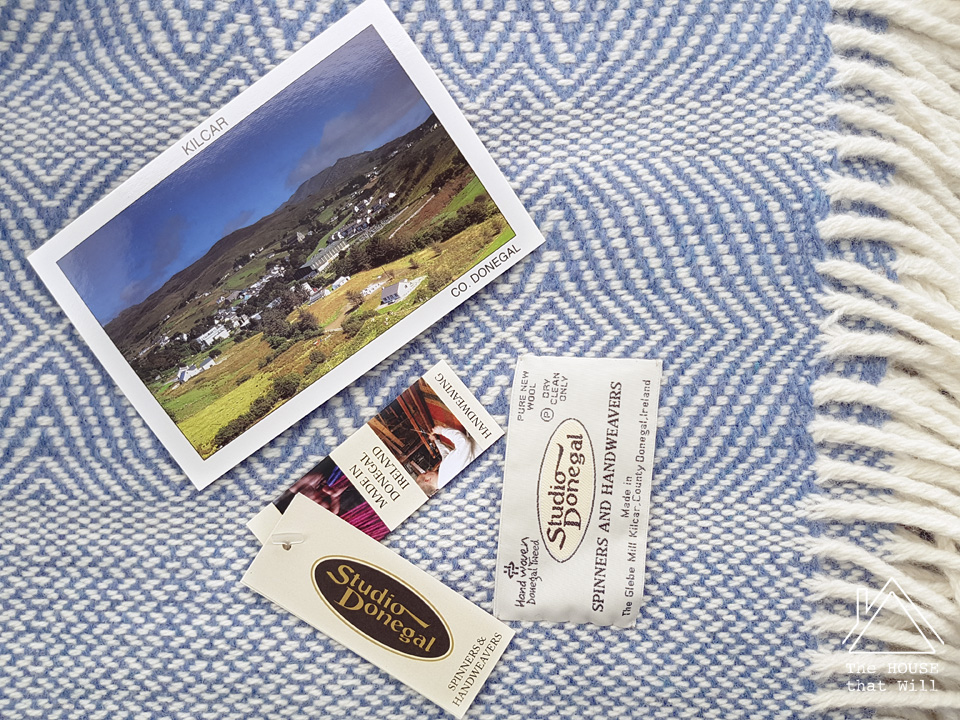 The package arrived with a picture postcard from Kilcar bearing a very special hand-written note.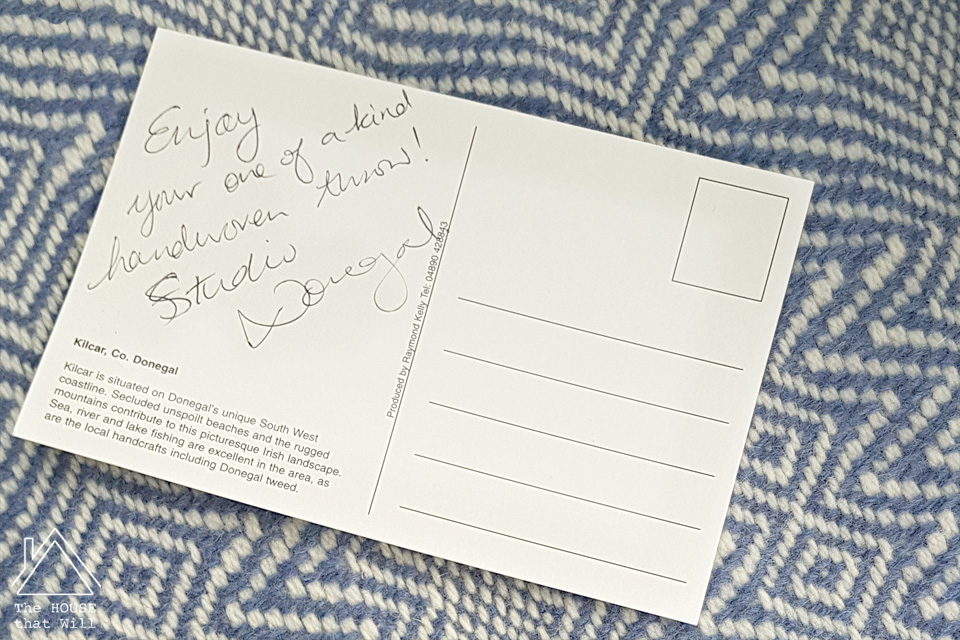 Also, because it was custom-made, I was able to find out the name of the weaver who made it: Kevin McGillicuddy, thank you so very much for your beautiful work.
https://www.instagram.com/p/BO14CsKBQ1K/?taken-by=thehousethatwill
Follow The House that Will
Facebook | Instagram | Bloglovin'
When we started our little tour, we could never have anticipated finding something as special as this to mark our woollen anniversary, and we are thrilled with it. Not only that, but we had the experience of visiting the studios of some of Ireland's finest craft workers and created many happy memories along the way. What started out as a novelty is something we now want to make a tradition. Next year, we celebrate our bronze/pottery anniversary and we are already making plans for a related artisanal tour. Anyone got suggestions for foundries or ceramic studios to visit? 

Related posts:
Woollen Wedding Anniversary Tour, Part III: McNutt of Donegal
Woollen Wedding Anniversary Tour, Part II: Donegal Tweed
Woollen Wedding Anniversary Tour, Part I: Foxford Woollen Mills