I have always loved rich, dark interiors, but have had mixed success with them in our own house. It has worked brilliantly in our hallway, but we ended up re-painting our bedroom a shade lighter. Given the difficulties we were having with the white décor in our loo, I thought it was time to boldly go once more to The Dark Side.
The starting point for our new scheme was the ceramic floor tiles (now discontinued) that we purchased from B&Q over a year ago. Despite their name – Africa Black – they are actually similar to slate with tones of grey and brown. I like that the browns will complement the coffee-coloured tiles in the adjacent utility room, creating a good transition between the two spaces.
For the walls, I wanted to go with jet black, but hubby was leaning more towards a dark grey. We got a few tester pots and eventually settled on Night Jewels 1 by Dulux; a deep dark grey that reads as black in most lighting conditions.
Ever since we first moved into this house, I have been on a mission to eliminate all of the knotty, orange, pine woodwork. I know some people love it, but I really I hate it. So the plan is to stain all the woodwork in the loo – windowsill, skirting, door, door frame, and architrave. I chose the rich dark Java, an oil-based gel stain by General Finishes. 
I had been thinking about ways to incorporate some gold or brass into the room in order to bring some glitz and glamour to all those dark, sultry shades. Fate intervened when we broke the old light fixture while prepping the room for painting, giving me the perfect excuse to go shopping! I found a gorgeous Persian cut metalwork lightshade in gold leaf available online from Bowley & Jackson in England, and it arrived within a few short days of ordering.
Follow The House that Will
Facebook | Instagram | Bloglovin'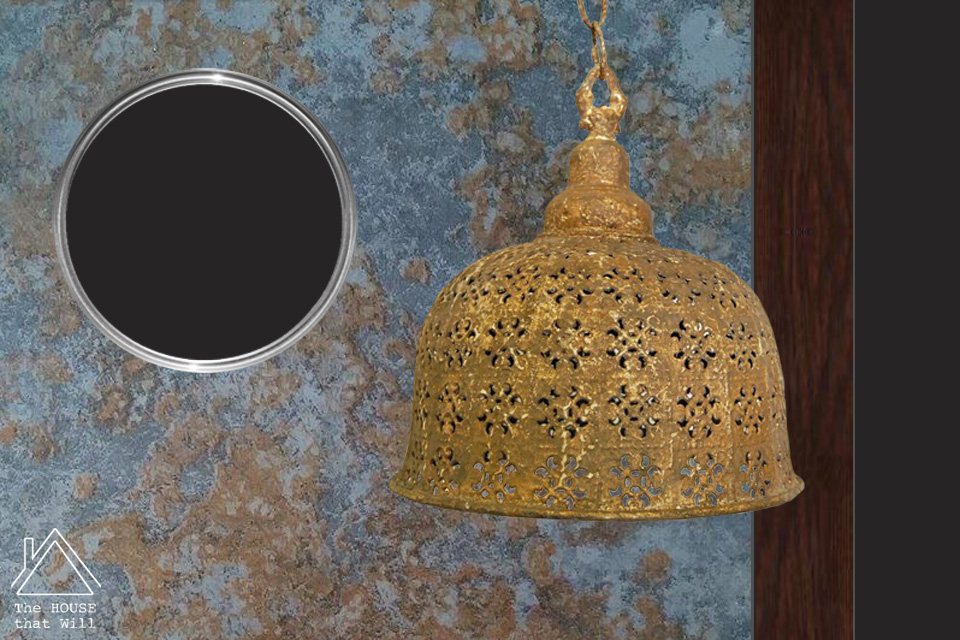 So this is the plan for the loo and I'm excited to finally get started. Have you decorated successfully with dark colours in your home? If you are curious to give it a go, Abigail Ahern's blog is a great place to look for inspiration.

Other posts in this series ...