Do you ever get to that point mid-way through re-decorating a room when you start to doubt yourself? You start out with absolute conviction that the room is going to look AMAZING and you get all excited at the thought of how your "new" room is going to look. You get stuck in and then, half-way through, you start to wonder if you're doing the right thing; if maybe, after all your hard work, you're going to regret this.
Having finished the first coat of new paint in our loo, I couldn't help but think to myself, "Oh! This is a lot darker than what was here before." And I got totally fixated on the fact that the room was darker than it was. Every time I walked past it, I couldn't help but notice that it was a lot darker than it used to be. The "darker" became the only thing that I could see in that room. And I started to have doubts about it. Serious doubts.
In the room's half-hatched state, I forgot that the new paint colour would perfectly complement the gorgeous new tiles we were about to lay. I lost sight of the fact that we planned on having dark walls because we thought they would look beautifully rich next to the wood that would soon be stained dark chocolatey brown. In that moment, I couldn't see in my mind's eye how that dark paint was going to provide the perfect backdrop for the striking new gilt light fixture we had already bought for the room.
Paradoxically, the new décor was not what I was actually thinking about when I started to have doubts about it. In fact, the new décor was the furthest thing from my mind in that moment. And that's an easy thing to happen. After all, a plan for the future is far less tangible than the memory of what was or, moreover, the reality of what is. This is especially true when you're standing looking at a work in progress that is very striking because it is so drastically different from what was there before; something that you were used to seeing every day.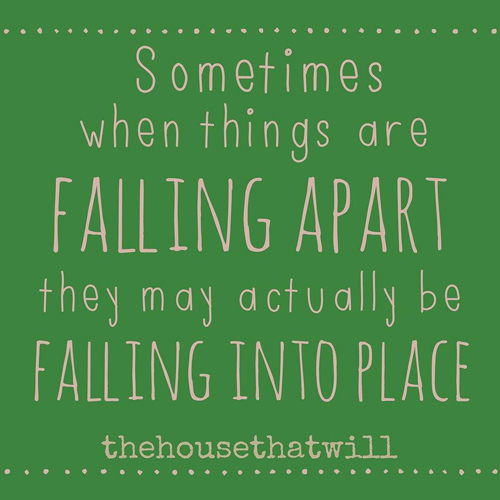 Follow The House that Will
Facebook | Instagram | Bloglovin'
That is why it is so important to have a very clear vision for the room before you begin. Create a moodboard of your ideas to make sure that they are cohesive before you start the project. And then, once work has started, remind yourself often of what your goal is for the room. Look at your moodboard every day. Or do it in real life if you need to – even if the new tiles are not yet laid, bring one into the room put it on the floor so that you can start to visualise more clearly how the room will look when it's done. And that new light fixture you bought? Hold it up against those dark walls and see what a perfect pairing it is. That is what I did, and it banished all my fears and doubts.
Understand that the room is not just changing from what it used to be - it is changing into what you want it to be! The transition is progress. If you are excited about the moodboard that you created, just imagine how excited you're going to be when you see it manifested before your eyes!

Related posts: