This is the last bedroom to be decorated! Actually, I had started to feel a bit bad about it because it had been neglected for so long. Other than putting enough furniture in here to make it usable, we really had done nothing with it. And it wasn't even nice furniture - it was the leftovers from our previous house. Being the second guest bedroom (there is a separate guest suite), it just wasn't a priority - especially when we had so many other more pressing projects to do in the house. But it has always been a bit of an embarrassment whenever we did need to accommodate somebody in here.
Actually, this room finally made its way onto our to-do list almost by accident. We were decorating our master bedroom and were getting rid of the suite of furniture from there. Given that it is solid alder wood furniture made in Belgium, I figured that I might be able to sell it. So I moved it into the guest bedroom, intending to photograph it so that I could list it online. We originally had other plans for this room, but then the furniture started to look like it really belonged in there. And seeing the room already start to transform before our eyes gave us the impetus we needed to go ahead and decorate it properly.
But before we get going on this project, let's just take a moment to acknowledge just how unloved this sad little room really was ...
Follow The House that Will
Facebook | Instagram | Bloglovin'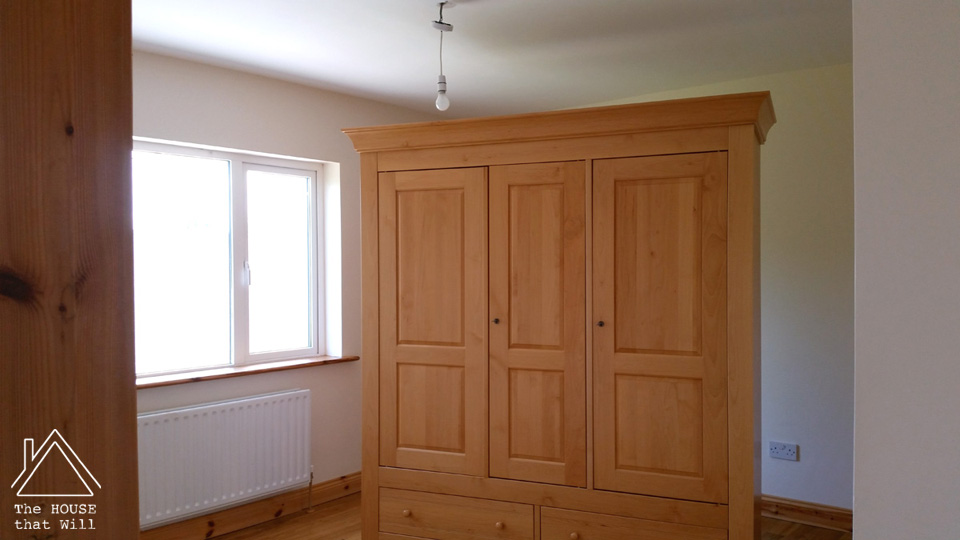 Now, granted, these were taken just as we were getting ready to start painting, so what you see here are the bare bones of the room. We did actually have some soft furnishings and things hanging on the wall but, in terms of decor, it retained the original magnolia paint that the builder used all over the house (not my choice) and the white oak floors that we had fitted shortly after we moved in. In preparation for painting, we had already unscrewed the light fixture from the ceiling, removed the window blind, and taken all the furniture out of the room – except the wardrobe as we didn't have anywhere else to put it.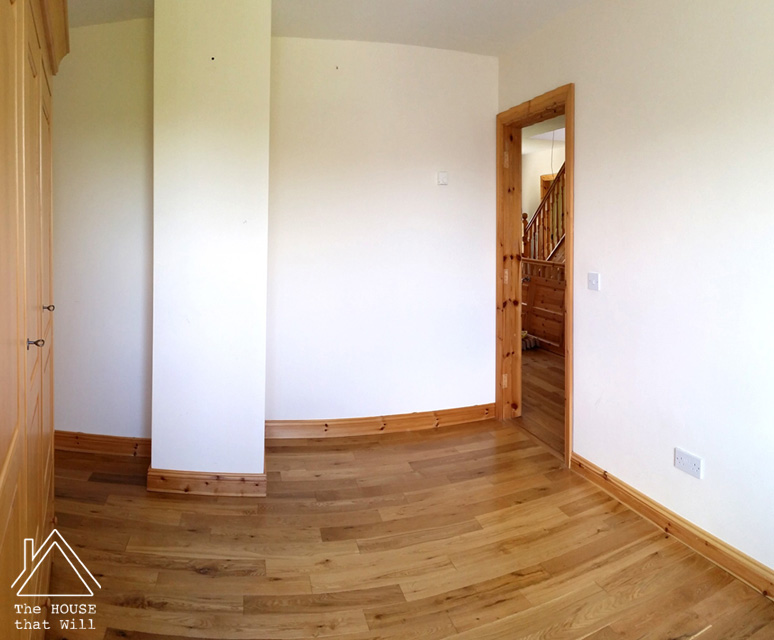 You will also see that we had taken off the pine door in order to paint that too. It is propped against the pine staircase out on the landing – so much pine in this house, and I hate all of it! I am so happy that we are finally ready to start painting it! (More about that later.)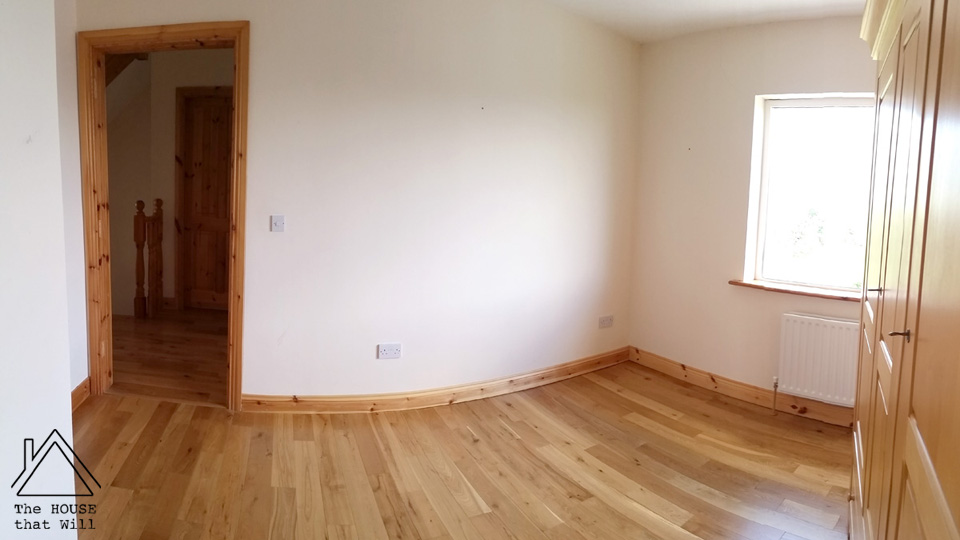 If ever the term blank canvas could be applied to a room, this is it! At least there is nothing to undo or rip out before we get started.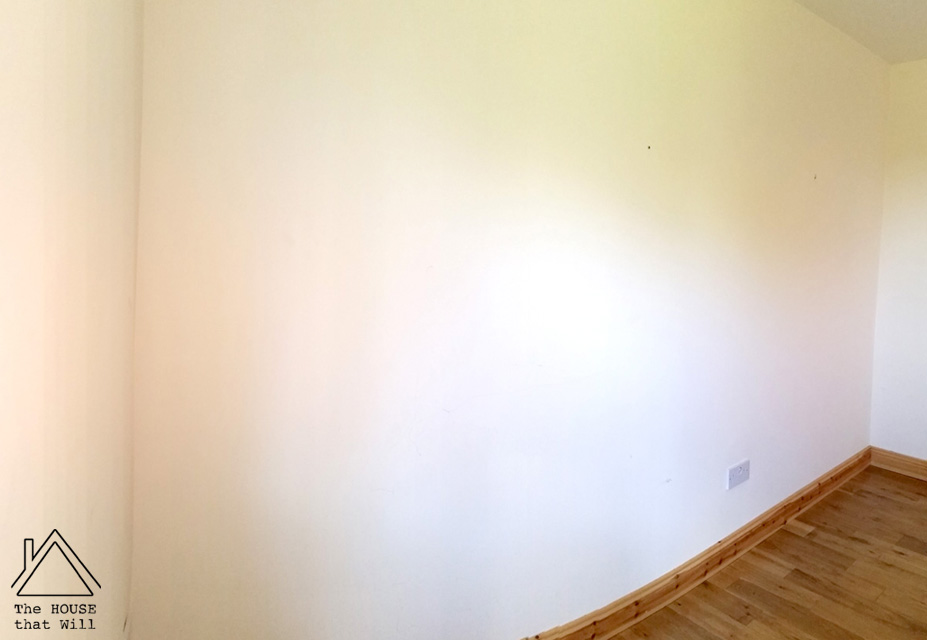 It's actually a fairly large room – 4m x 3.75m – but it is a bit of an awkward shape due to a chimney coming up from the lower floor. The door is in one corner in a wall that has nothing else other than sockets (outlets), the window and radiator are on the wall to the left, the wall opposite the door has nothing on it (except sockets), and the wall on the right is where that chimney juts into the room.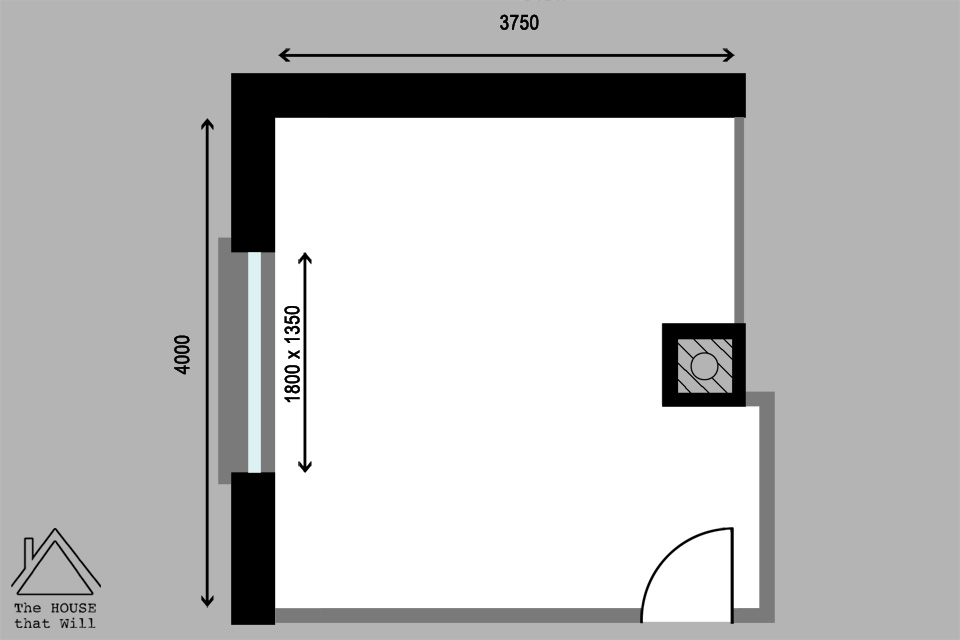 I'm going to have to get creative with that chimney!

Other posts in this series ...