Some time ago, I was feeling particularly fed up with my house. It felt like the to-do list was always growing faster than I could keep up with it, and I was starting to really resent the house for not fulfilling the potential I had seen in it before we had purchased it. So when I heard about a new book called Love the Home You Have
(affiliate link) by Melissa Michaels - owner of the wonderful home decorating blog The Inspired Room - the title really spoke to me. I was definitely in danger of falling out of love with my home. Hoping this book might help turn that around, I ordered a copy and waited for it to arrive ...
Let me tell you that I LOVE THIS BOOK! It has a captivating design with hand-drawn sketches and a personal writing style that gives you the feeling that it was written by your best friend just for you. It is truly charming.
https://www.instagram.com/p/BIvq0Kthd3m/?taken-by=thehousethatwill
Follow The House that Will
Facebook | Instagram | Bloglovin'
The book begins with the author describing her own dreams and disappointments in her quest to create the perfect home, and she does so in a very honest and endearing manner. It is most reassuring to know that I am not alone in feeling disillusioned with my house. But Melissa also has a wonderful way of turning this feeling on its head. When she talks about how much she enjoys looking at other people's beautiful homes, she's not comparing her house to theirs - something I am definitely prone to do when I'm feeling particularly frustrated with progress on the home front. Instead, she tries to pinpoint what it is about that home that appeals to her, and then thinks about how she can bring that feeling into her own home. I think that is such a clever, insightful, and empowering approach; the idea that our dream home can be anywhere that we choose to make it, rather than something we kind of stumble into in due time.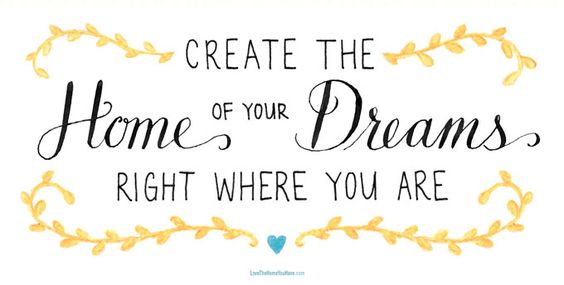 Another very touching chapter deals with the importance of banishing unrealistic expectations. I won't give the game away by telling you, but Melissa recounts a very humble and humorous story that was a sort of epiphany for her where she learned to let go of the idea of perfection and to embrace the idea of the home as a space to welcome friends and family. It's a good reminder that, paint swatches and moodboards aside, that is ultimately what we all want our home to be.
The book also outlines a very simple daily routine designed to keep your home "clean enough". I'm not kidding when I say that those ideas kinda changed my life. I'm a bit of a neat-freak at heart, but I also have a lazy streak! Melissa's straightforward tips make it incredibly easy to keep your house in a permanently well-kept state. Best of all, there are no checklists of daily/weekly chores. I really can't believe that I have maintained this routine ever since I read the book. (And I don't think Hubby can believe it either!)
Personally, I glossed over the gratuitous religious references and instead revelled in the many parts of the book that did appeal to me, such as the ways you can express yourself creatively through your home, approaches to decluttering, suggestions for how to decorate your home in your own "authentic style", ideas for incorporating seasonality into your home decor, as well as a superb chapter on how to "Love What You Have (Even When You Don't Like It)".
This short video give a great sense of what this book is about ...
Love The Home You Have from The Inspired Room on Vimeo.
Love the Home You Have is one of my favourite books of any sort that I have ever read. A couple of weeks after I bought it, the book topped the New York Time Best Seller list, so I guess I'm not the only one who thinks so.

Related posts: