... and before you know it, you find yourself bang-smack in the middle of another decorating project. Please tell me I'm not the only one that happens to? Anyway, here's how it happened this time ...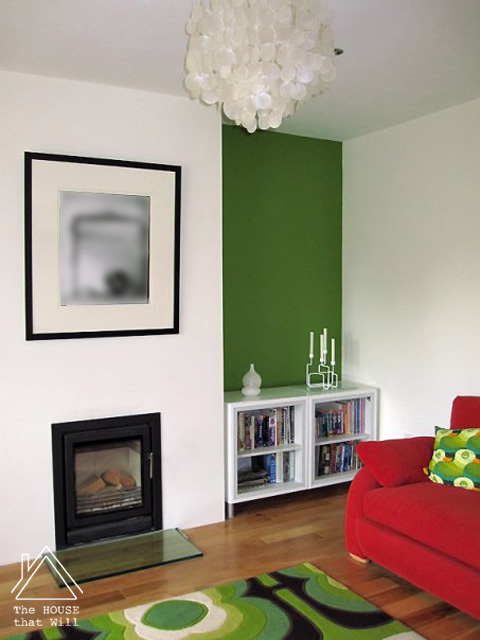 It started with the couch. The best-before date on our fifteen-year-old couch had long since expired and it was time to throw it out. I was delighted! Not only had this couch gotten really grubby and uncomfortable to sit on, but it had followed us here from our previous house and was a real throwback to the '90s. That awful terracotta colour! What were we thinking? Plus it was always a bit on the large size and seemed to dominate any room we put it in. So I was glad to finally be rid of it and to have the opportunity to pick something new.
When considering the options for our new sofa, Hubby and I agreed that a 2+2 seater corner sofa would best suit the space. Hubby's one stipulation for the new sofa was that it wasn't to have wide arms because he considers them a waste of space. I hadn't considered that before, but he had a point; we had already removed the arm cushions from that old couch because they were too bulky. For my part, I insisted that our new sofa should have long legs that would make it possible to vacuum underneath it without moving it. I also wanted a leather sofa because I thought it would be a more practical choice because of the dog. And I had a tan colour in mind as it's a colour I wear a lot of and therefore is something that I know I can live with on a daily basis. (By the way, your wardrobe is a great source of colour inspiration for your home as you already know that these are colours that you like and surround yourself with every day.)
In fact, I had already found my dream sofa on the internet: the Zinc Leather 2 Piece 2 Arm Corner Group from dfs.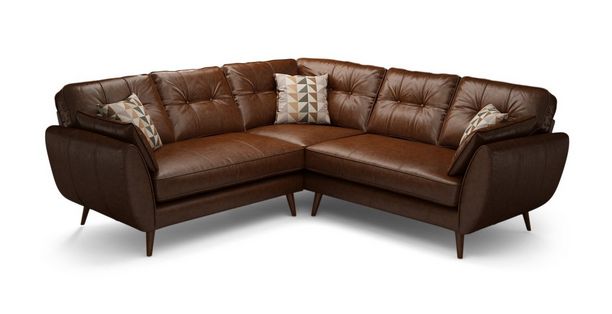 I adored everything about it - not only did it meet all our practical requirements, but it had a mid-century style that I loved. I thought it would work really well with our existing decor and take that relaxed retro vibe we already had in the room to the next level.
"Never buy anything for your bum until you've put your bum on it."
Kirsty Allsop
As the wonderful Kirsty Allsop once said, "Never buy anything for your bum until you've put your bum on it." That's good advice! So we headed to the Limerick store to do just that. Alas! When we sat on the sofa, neither of us thought it was comfortable. Such a shame!
So we asked what else they had in a similar style and were shown the Aurora 2 Corner 2 Corner Group.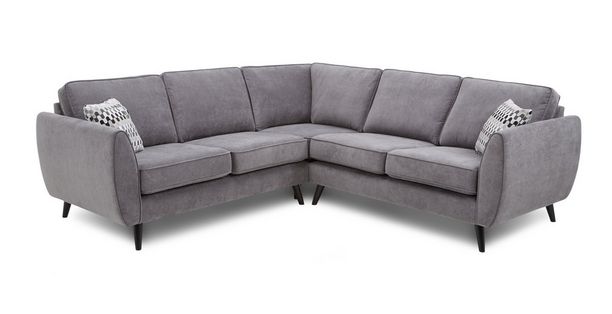 The Aurora has all the good features of the Zinc suite ... except that it isn't available in a tan leather option. Leather was available in other colours, but none that we particularly liked. The leather was also much more expensive than the fabric, and we questioned whether it would be value for money given the expected lifetime of the sofa. Besides, by now we had already fallen for the Graphite grey fabric on the display model. So that's what we picked.
And then it started to snowball ...
A grey sofa would change the entire look of our sitting room. The tan leather we'd originally planned to get wouldn't be too dissimilar to the terracotta-coloured couch we had, and the green wall colour was designed to work with that. However, the grey and green would not sit well together. A new colour on the sofa meant that we could - and should - consider other colours for the walls. And with a new wall colour came the decision to replace the other furniture in the room also. And since we were going to remove all the furniture from the room, it seemed like the perfect opportunity to refinish the oak hardwood floor that had also started to show some signs of wear.
Granted, we had always intended refreshing the sitting room this year, but now we were faced with starting all over again from scratch. Yikes!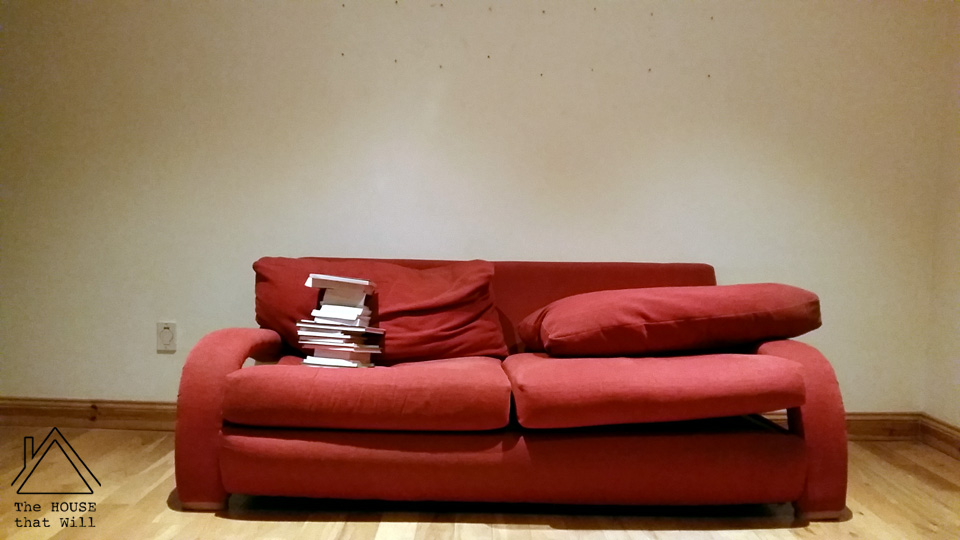 Follow The House that Will
Facebook | Instagram | Bloglovin'
So, before we knew where we were, the room was empty and we were in the middle of a new decoration project. There's never a dull moment at The House that Will!

Related posts:
Sitting Room Makeover: Progress
The Optical Illusions of Paint
Cushion Cover with Hidden Zipper
Refinishing a Solid wood Floor