If you have been following along, you will already know that Project Sitting Room just blew out of all proportion! I mean, we definitely intended on doing something with this room (see my 2015-2016 Resolutions for the House), but really we had only thought about replacing the couch and rejigging the room a bit so that it worked better us. We certainly weren't considering a complete overhaul. But then one thing led to another and then we found ourselves in the middle of a really huge project.
At first I was impatient because we couldn't just do the quick job we'd planned and move on. But now I'm really happy that we have this opportunity to start over. As time went by, I had gotten quite complacent about it, but the fact is that I never really wanted the room to look like this.
The Early Years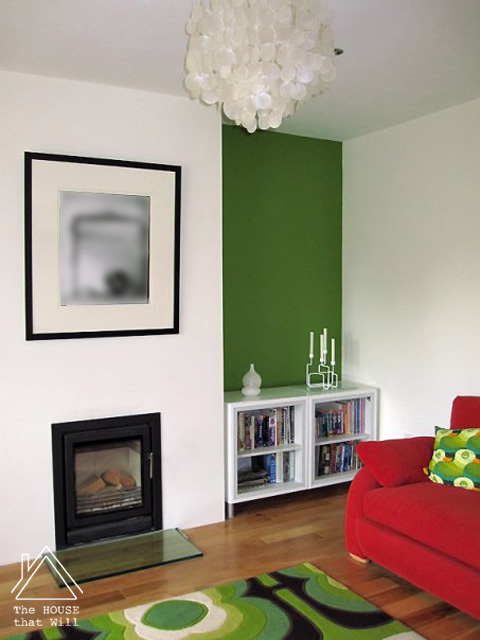 (I don't have permission to reproduce the image hanging on the chimney breast, but if you are curious, you can find out more about it here.)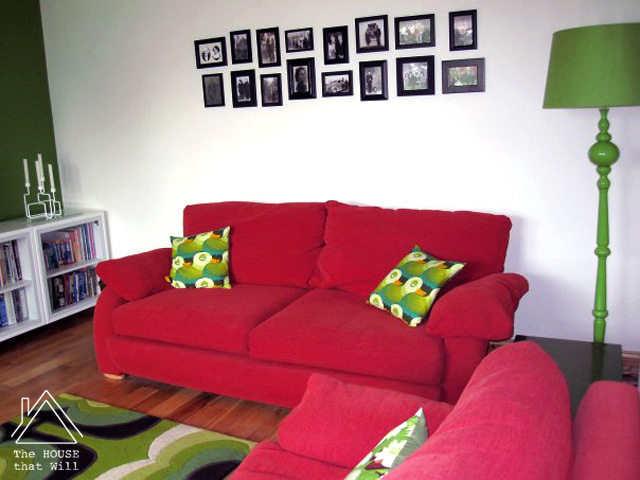 This couch came with us from our old house and we already hated it then. But it was in good enough condition that we couldn't justify replacing it at the time. Because these pics were taken a few years ago on my old phone (before I ever considered being a blogger), it may be difficult to tell that the couch is actually a terracotta colour. Terracotta was all the rage for a brief period in the '90s and, sadly, we were fashion victims to that awful trend.
Anyway, I had no intention of incorporating that terracotta colour into the rest of the room. Instead I decided to choose an equally bold colour that I did like to try to balance it out. So I went with this retro green colour (Soft Moss 1, Extra Deep from the Dulux Warm Greens range). You can read more about how we went about decorating this room the first time around in House Tour: The Early Years.
The "Before"
That was then, and this is now. Or at least this was how the room looked a few days ago ...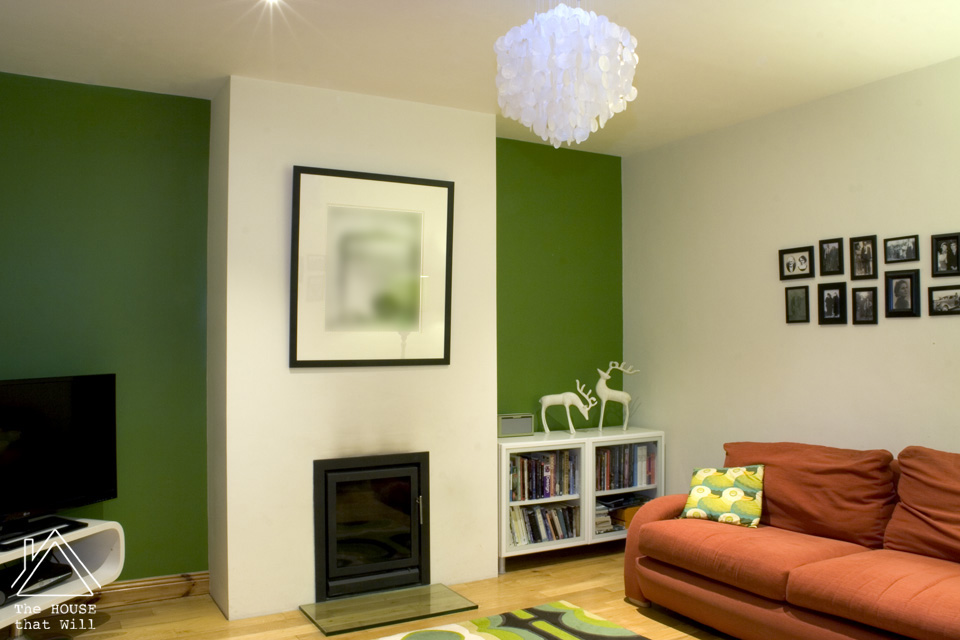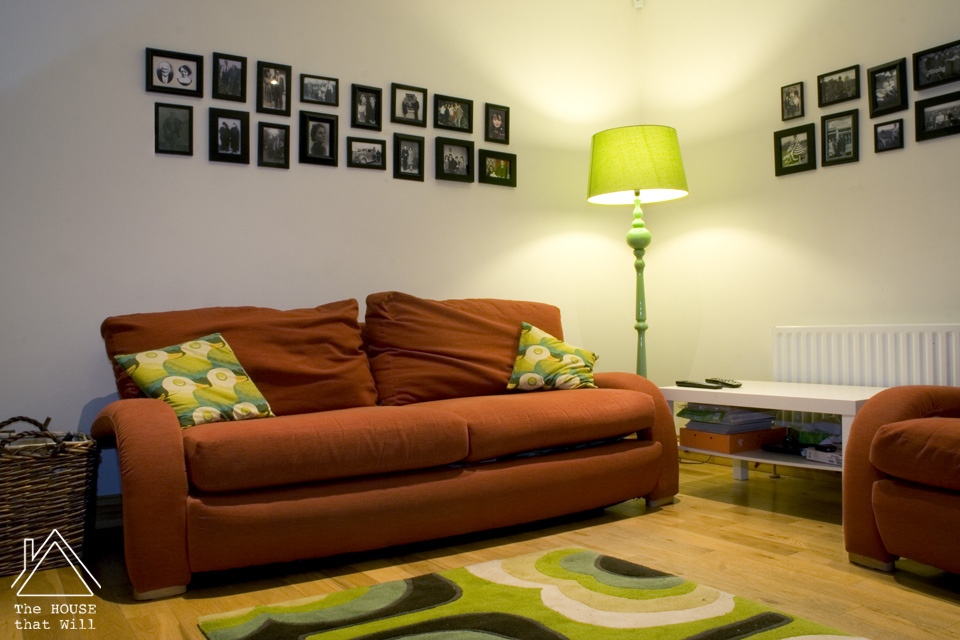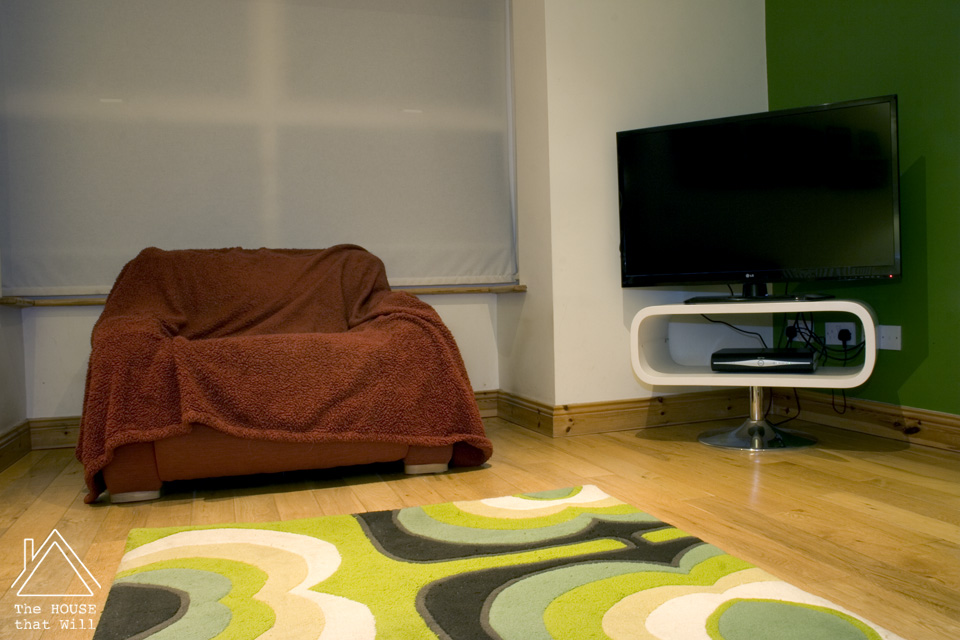 As you can see, not much had changed. Except that it had all gotten quite tired looking. We use this room more than any other in the house, so it deserves to look good. We deserve for it to look good! For a long time, I didn't feel like it was worthwhile trying too hard with this room because it's where doggy sleeps (that's his chair in the bay window) and so it's difficult to keep things looking pristine. But, in truth, our dog is actually really well-behaved; he doesn't chew the furniture or cushions, he's perfectly house-trained, and he generally stays off the chairs he knows he's not allowed up on. So I don't think I can really use him as an excuse for not making the room look nicer. I'm convinced that, with a few clever solutions, we can make this room work really well on a practical level and look much more visually appealing too.
So what's the plan? Oddly for me, I don't have this all planned out in advance. But I do have some ideas about what needs to be done.
Sitting Room To-Do List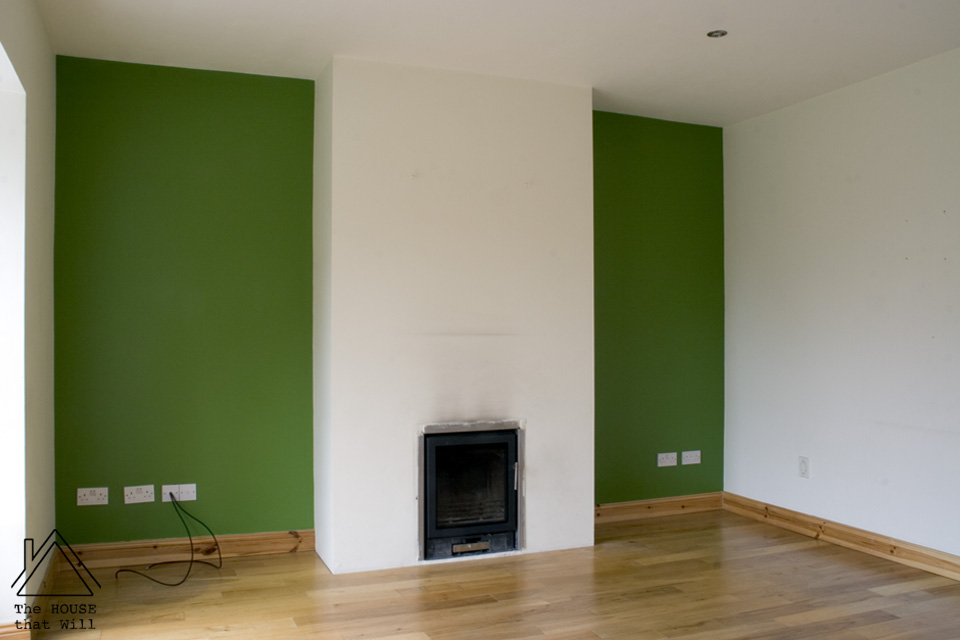 Follow The House that Will
Facebook | Instagram | Bloglovin'
Empty the room

(aka temporarily turning the rest of the house into a mess!)

Sand the floor

(then cover it with heavy-duty plastic so that we can get on with what else needs to be done without having to wait for the new floor finish to dry and cure)
Remove the small LEDs from the centre of the ceiling and re-wire for a pendant light instead
Wash the ceiling and walls
Paint the ceiling
Paint the woodwork
Paint the walls
Seal the floor
Assemble the new couch
Build a new sofa table
Get a new bench seat for the window bay
Make cushions for the new bench seat and sofa
Lay a new rug
Find/build a new coffee table
Decide what to do with the sideboard (upcycle or replace it?)
Find a new TV stand
Find and install a new fireplace
Figure out a new way to display the family photos (because I have some more I want to add)
Find new artwork for above the fireplace
Phew! That certainly ought to keep us busy for a while!

Related posts:
One Thing Leads to Another ...
Sitting Room Makeover: Progress
The Optical Illusions of Paint
Cushion Cover with Hidden Zipper
Refinishing a Solid wood Floor