Our master bedroom has an eclectic style that includes several Art Deco pieces, and I want to carry that theme through to the ensuite. Art Deco is my favourite period historically. It also happens to be the period during which dedicated bathroom spaces became prevalent in the home, and so the Art Deco style is somewhat synonymous with bathrooms in my mind. And it is a style that I think stands the test of time and that can exist happily in a contemporary home.
My love of Art Deco was thoroughly indulged during a recent visit to The Control Tower bed & breakfast, a former RAF base near Wells-next-the-Sea in Norfolk that has been lovingly restored in the Art Deco style by its proprietors, Ni and Claire. Each guest room features an ensuite bathroom with original 1930s fixtures that incorporate all modern conveniences.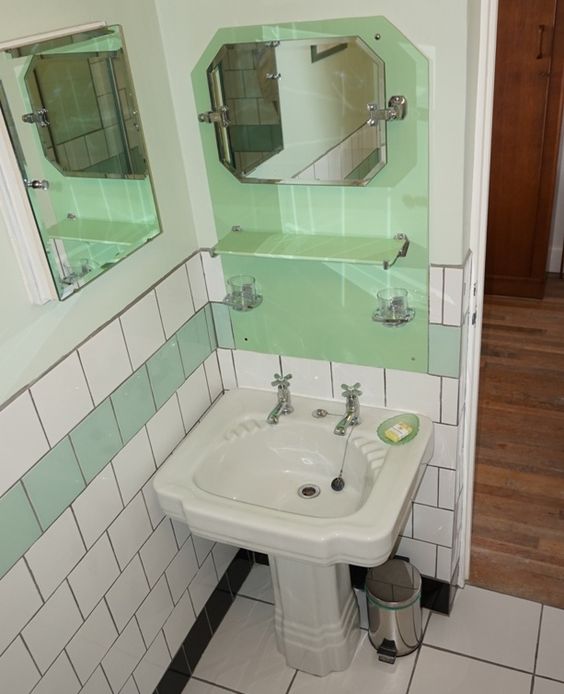 A few years ago, I saw a 1930s splashback like this one for sale and although I didn't buy it, I fell in love with the idea of having one in our house. So I was encouraged to see how well Ni and Claire had integrated them into their newly-renovated bathrooms. In fact, Hubby and I were so taken with the decor at The Control Tower that if you look back at the Master Ensuite: Before, you will see by the paints that we tested on the walls that we even considered going with the same colour scheme. Ultimately we decided that the green colour wouldn't work with the lighting in our room.
Instead we decided to bring the grey tones from the bedroom through onto the ensuite walls to create a relationship between the two spaces. Although grey is not a colour that is typically associated with Art Deco bathrooms, I think it works well with the style in a way that, if not historically accurate, at least seems appropriate and that also serves to lend the room a more contemporary feel.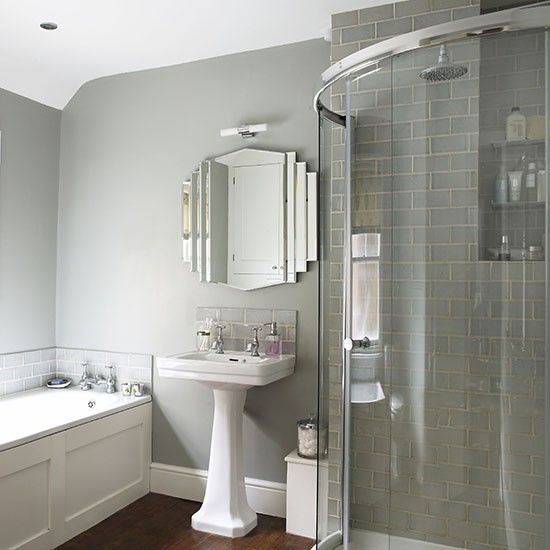 Our plans for this ensuite didn't materialise overnight ... when we first moved into this house, we bought a complete suite of fixtures for it. Our tastes have developed quite a bit since then, so it's probably not what I would choose now. However it doesn't make sense to replace what is a perfectly good, never-used bathroom suite. Luckily I still quite like what we bought and think they will work well with what I have in mind, even if they're not quintessential Art Deco pieces. 
The toilet and shower enclosure are fairly generic, but the sink is a rectangular basin on top of a maple shaker-style unit. While not particularly Art Deco in style, it is at least a traditional, timeless piece that I think will not detract from the other features in the room.
Follow The House that Will
Facebook | Instagram | Bloglovin'
PIN THIS!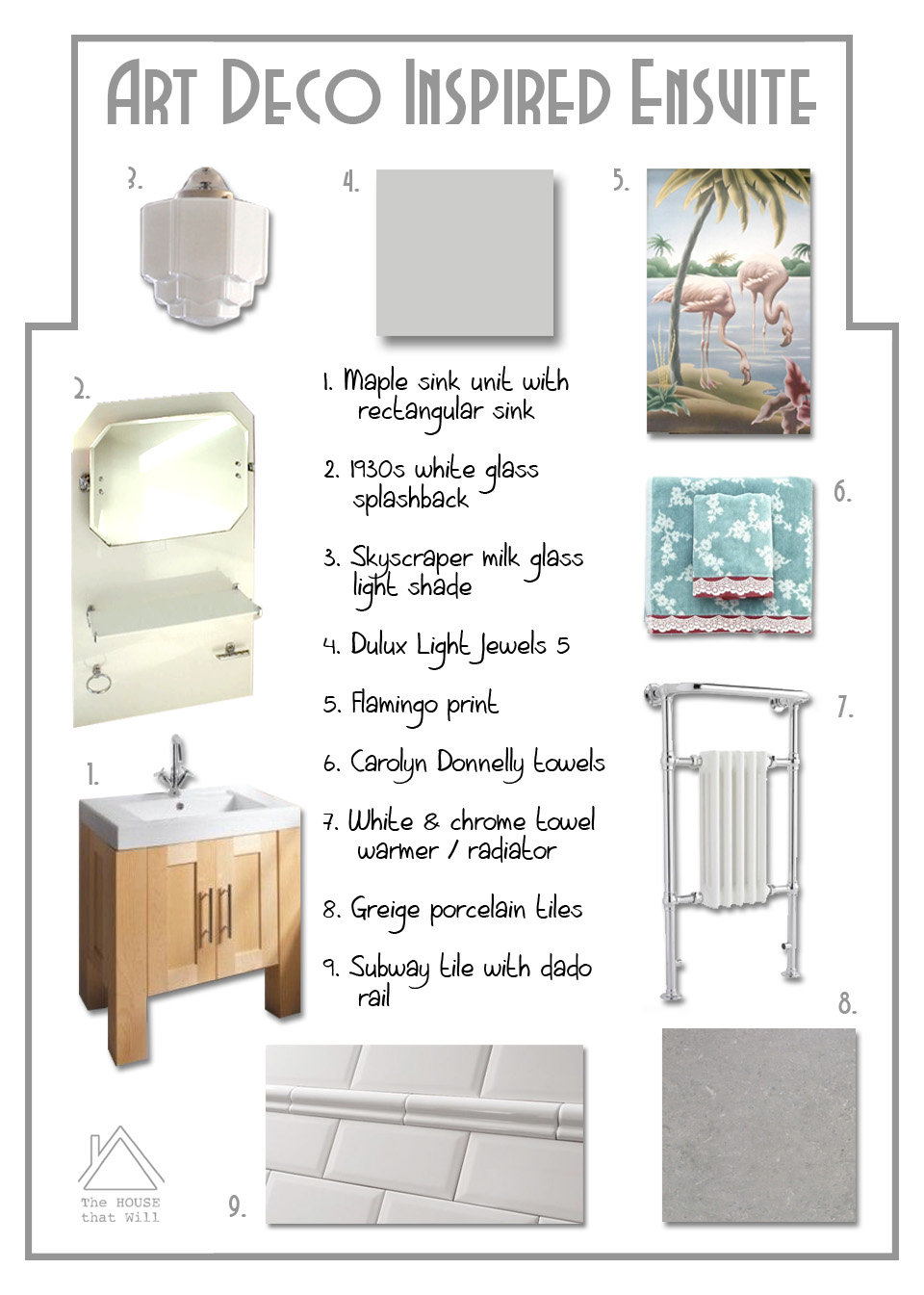 I also bought tiles for the ensuite tiles when we first moved in: off-white polished porcelain. I had planned on putting those on both the wall and floor. But after learning a hard lesson about white floor tiles in the downstairs loo, I decided to forfeit those entirely. Fast forward a few years to me finding some polished porcelain tiles in the sale at B&Q in Galway that cost less than €60 in total for the room. They're a perfect example of that new grey/beige portmanteau colour 'greige' in that they look grey from a distance, which tones in well with the wall colour I have chosen; but up close they have a lot of warmth in them that will look well against the wood of the sink unit and the oak flooring in the bedroom. 
For the walls I have decided to go with white subway tiles that will wrap around the lower part of the walls and be trimmed with a dado rail. Above the dado will be painted using the same colour as the bedroom, but one tone lighter; so the bedroom is already painted in Night Jewels 4 by Dulux, and we will paint the ensuite in Night Jewels 5.
To bring in the Art Deco style, I will get an original 1930s glass splashback similar to the ones at The Control Tower. These are widely available on online auction sites. I have also seen a vintage "skyscraper" milk glass light shade that I would like to get for the room.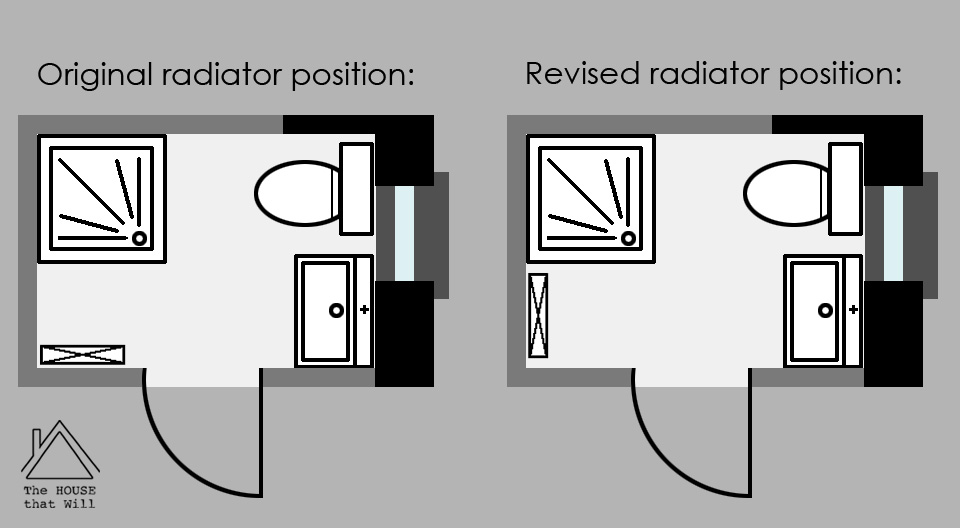 Hubby came up with the idea of moving the radiator to maximise the space in what is really a very small room (it measures just 150cm x 205cm). This may not seem like a very big change on paper, but it visually opens up that space beside the shower cubicle and makes it feel like a space one can actually walk into rather than just an awkward corner. Since we are taking out the radiator anyway, I'm taking the opportunity to replace it with something more in keeping with the Art Deco style I'm aiming for. I've chosen a traditional column-style radiator with integrated chrome towel rail.
Hanging on the new towel rail will be my aqua and pink Blossom hand towels from the Carolyn Donnelly Eclectic collection at Dunnes that I purchased a while back.
Finally, I want to include a striking-looking artwork on the wall opposite the door as that wall is visible from the bedroom. I have a thing for birds - after we had decorated the first few rooms in the house, Hubby pointed out to me that I had unwittingly included a bird of some sort in every room! Now that I'm aware of it, I make a point of doing it as a kind of private joke or whimsical feature of our home. I recently spotted these vintage prints featuring flamingos on some of the online auction sites that not only meet my birdie requirement, but that also pick up the colours from my hand towels. The flamingos are more kitschy mid-century than Art Deco in style, but I think the 1930s and 1950s periods have quite a bit in common, so I think that will work. Besides, I think it's a sound design principle to include some eccentric pieces in every room, just to keep things interesting!
So that's the plan ... now to make it all happen. It's a small room, but a big job. Wish us luck!

Other posts in this series: