Insiders Secrets is three-part exclusive interior design & style event organised by the House/EDIT duo, Claire Price and Elaine Regan, in association with Fleetwood paints. The first event took place in Sligo on March 11th, and I was delighted to attend the second in the series in Galway last Saturday.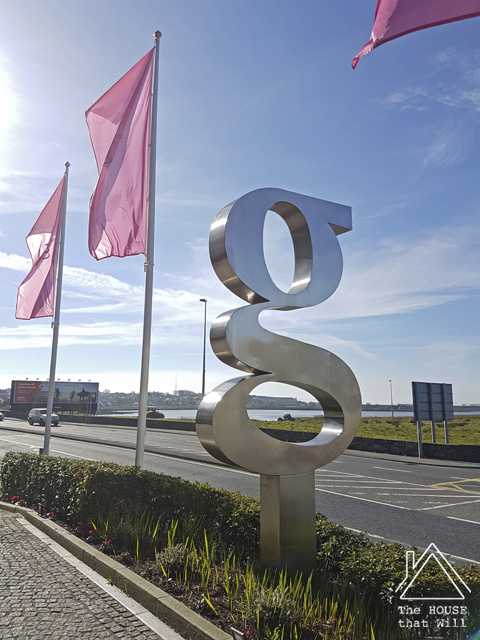 The choice of The g Hotel as a venue, with its interiors designed by Galway native and world-renowned milliner, Philip Treacy, provided inspiration in itself. The hotel features three distinctive Signature Lounges, each with its own unique style: the Grand Salon in glittering tones of silver and ivory, the bright pink Ladies Lounge with its coral motifs and striking spiralling rug, and the Gentleman's Lounge with its plush velvets in jewel tones set against deep teal walls. Insiders Secrets was hosted within the hotel's Event Suite, which has been renovated in an Art Deco style with a navy and silver scheme offsetting statement mirrors and stunning lighting fixtures.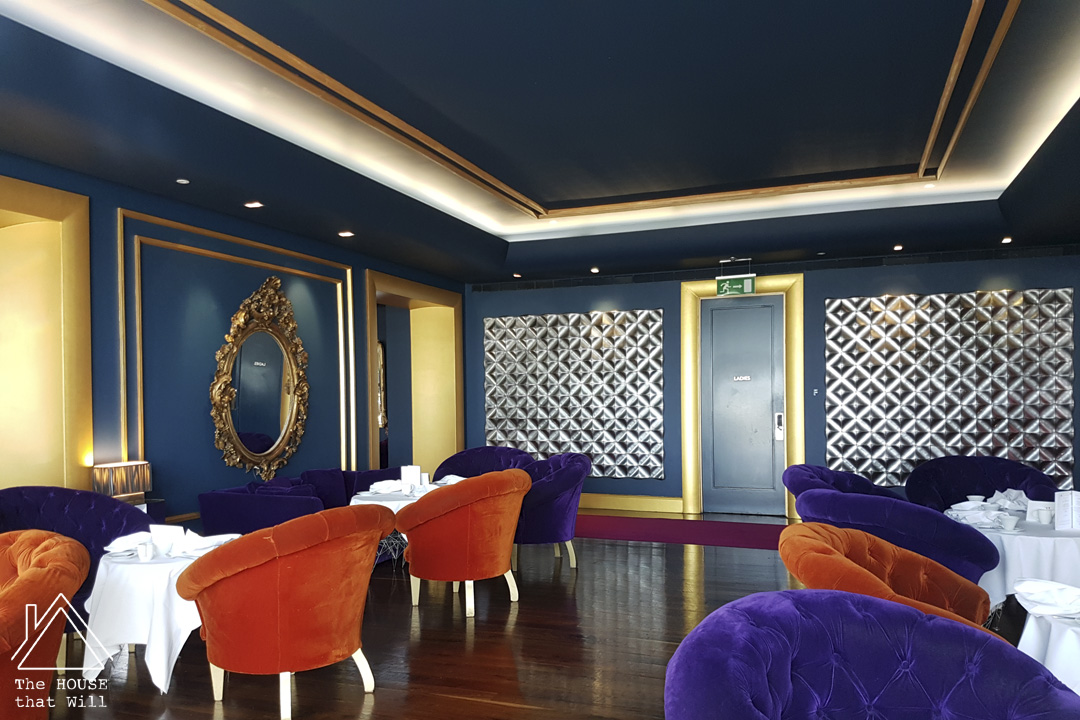 Gentlemen's Lounge at The g Hotel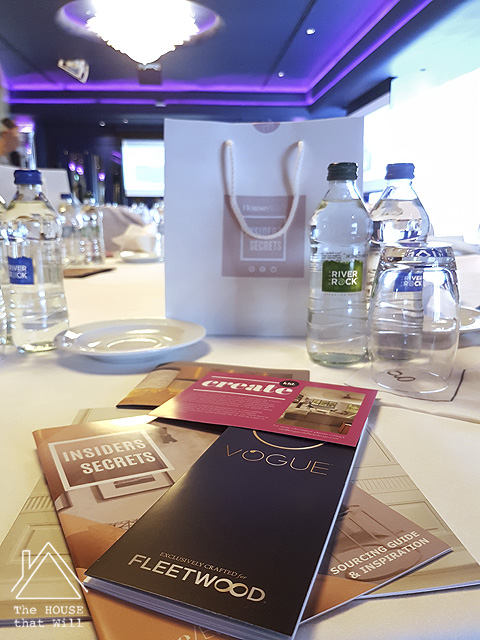 Greeting us upon our arrival was a lovely goodie bag for each participant containing colour cards and a free sample of the exclusive new range of Pantone colour paints from Fleetwood, an exclusive sourcing guide from House/EDIT, a handy compact measuring tape and a set of interiors postcards from The French Bedroom Company, as well as vouchers for Foxford Woollen Mills, CA Design, Kady Berry Art, Fleetwood, home-lust.com, Standún, Cloud10 Beauty, and Tribeton.
https://www.instagram.com/p/BSD8I7PB0lN/
Follow The House that Will
Facebook | Instagram | Bloglovin'
Insiders Secrets includes a masterclass with interior architect, Roisin Lafferty of Kingston Lafferty Design, a presentation by Carol Anne Leyden of CA Design (a different industry expert will speak at each edition of the event), a colour workshop with our hostesses Elaine and Claire of House/EDIT, and a style workshop with fashion stylist Orla Sheridan. If you want to discover all of their secrets, you can attend the Dublin event this coming Saturday: tickets available here. However, I'll share some of my personal takeaways from each speaker ... just between the two of us, OK? ;)
Roisin Lafferty, Interior Architect
https://www.instagram.com/p/BSDx700hJjy/
I'm a huge fan of Roisin's work - knowing that she was one of the speakers was a major reason I wanted to attend this event in the first place. And I wasn't disappointed. She talked very comprehensively about all aspects of design, from new-builds to renovations to just freshening up an existing space. I was inspired by her idea of enhancing the feeling of space in an interior by incorporating views of the garden - even to the point of adding lighting to one's outside spaces in order to be able to enjoy it at all times of the day and night. 
https://www.instagram.com/p/BSD2SA3BSsT/
Roisin also spoke about allowing for different experiences all within the same space; for example, by allowing for intimacy within an open-plan space. I think that's such a clever idea, because having each room fulfill more than one purpose is an ingenious way of making the most of the available space in a home. 
Carol Anne Leyden, CA Design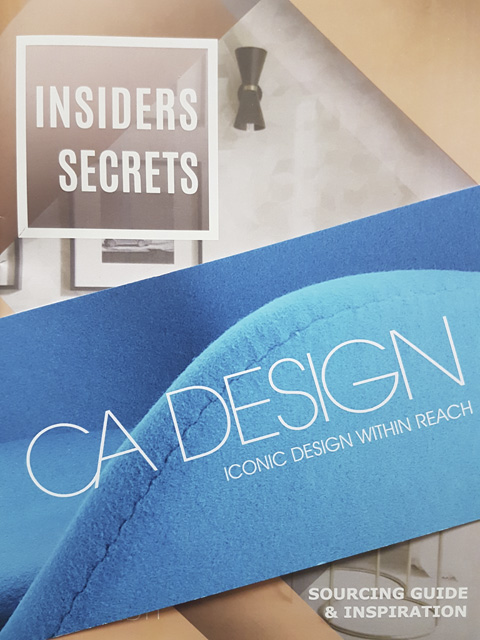 The aim of CA Design is to bring affordable design classics to the Irish market. I was delighted that the Irish-born icon of 20th-century design, Eileen Gray, received a special mention from Carol Anne. (Read my post about Eileen Gray here.) CA Design also works with contemporary Irish designers, such as Martin Gallagher. Although primarily an online outlet, CA Design now also has a bricks-and-mortar store in Ranelagh, Dublin.
Claire Price & Elaine Regan, House/EDIT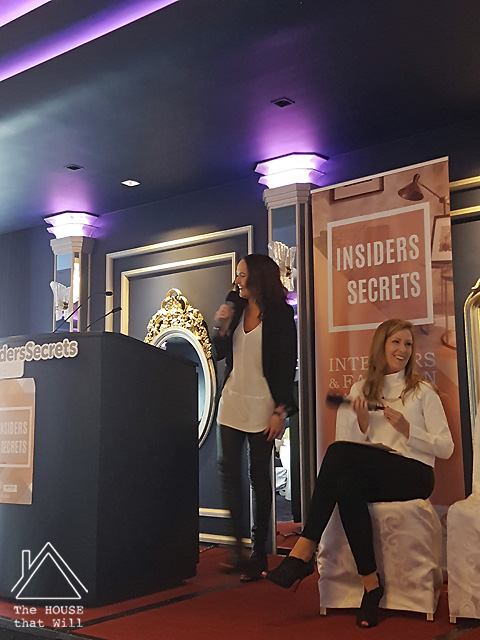 Claire and Elaine gave an excellent presentation on the use of colour in the home. I particularly enjoyed hearing their thoughts about colour intensity. For example, although red may not be a colour that may work in a particular room, a lighter tint of that same colour e.g. a blush pink, may work very well. They also gave a great tip on how to transition one room into the next by using the dominant colour from one room as a complementary colour in an adjoining room.
Orla Sheridan, Fashion Stylist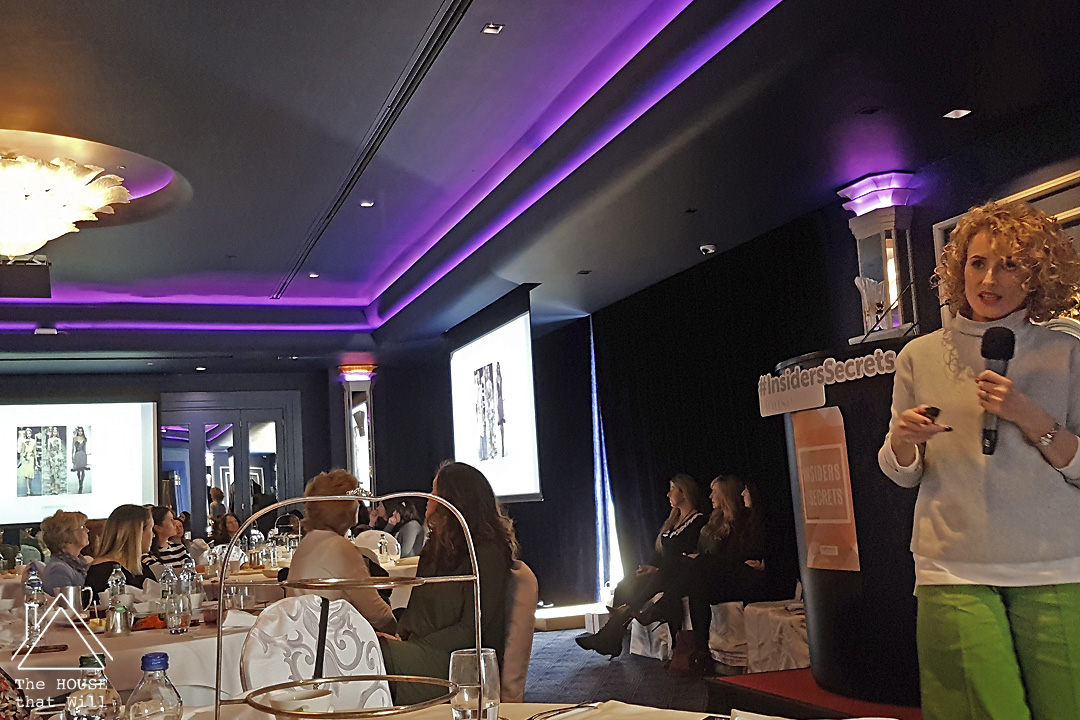 To be honest, when I realised that the entire event wasn't dedicated to interiors, I was initially a little disappointed. However, I actually learned a lot from Orla. Firstly, she spoke about wardrobe organisation and, after all, clever use of available storage space is always a key point for any interiors enthusiast. But I also picked up some great tips for purchasing clothing. I'm the worst for buying a garment with the idea that "I'll get some wear out of it anyway," but Orla insists that you should be able to get a minimum of thirty wears out of anything you buy. Otherwise, don't buy it! She also had a clothes rail with some wardrobe essentials. What I liked was that her ideal wardrobe has loads of personality, so her concept of "essential" is not just something that an expert says you "should" own, but rather something that can be worn with multiple other items in your own wardrobe.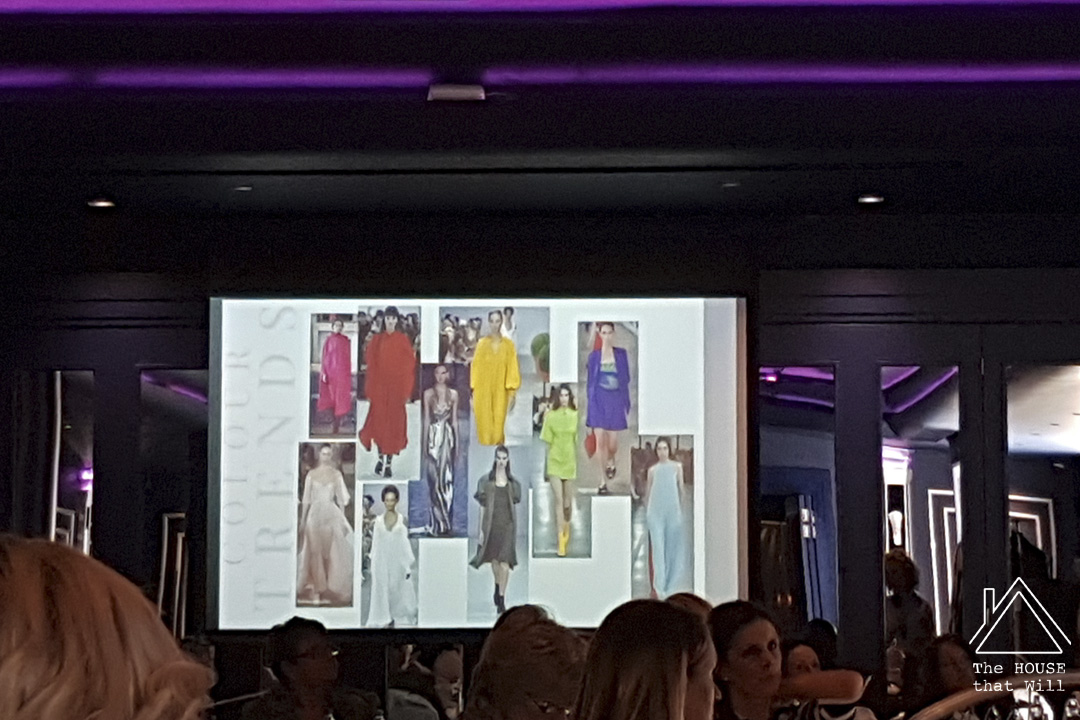 Afternoon Tea
The interiors and fashion parts of the day were punctuated with a delicious Afternoon Tea, something that is always a special treat at The g Hotel (check out my friend Sarah's post on The Creative Yoke Blog about our recent Girlie Afternoon Tea At 'The G' Hotel in Galway). My gluten-free dietary requirements were catered to flawlessly, and everyone else at the table struggled to choose a favourite from the delicious treats served up. We tried valiantly to polish off everything on offer but, try as we may, the portions were just so generous that there were actually leftovers!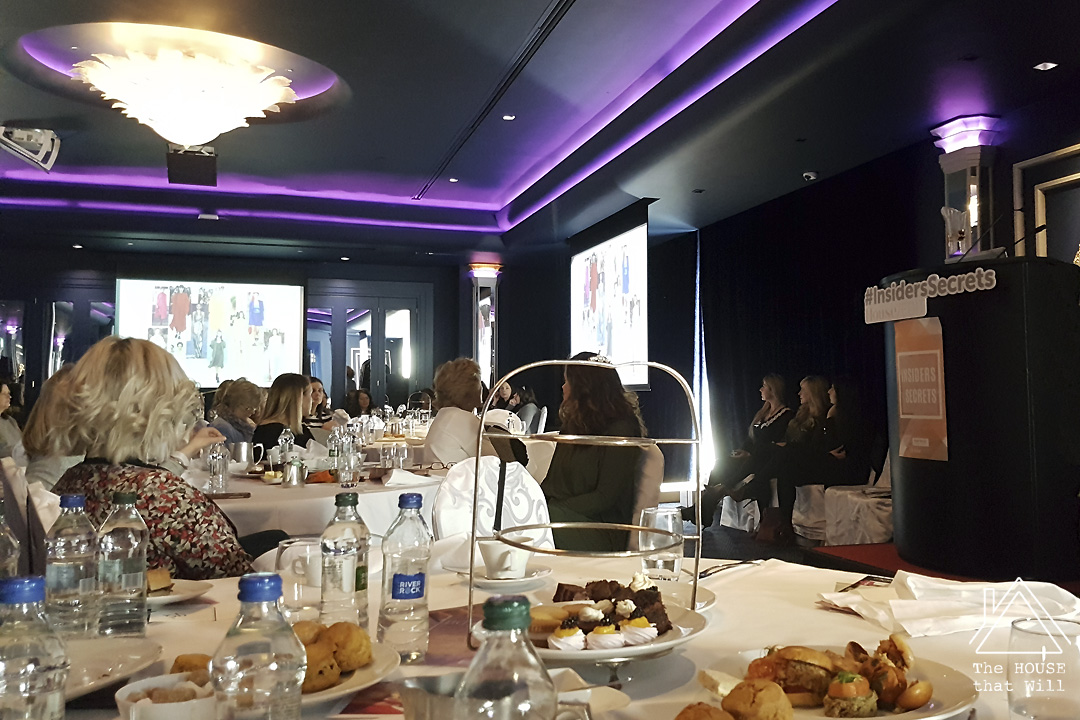 Leftovers!
Spot Prizes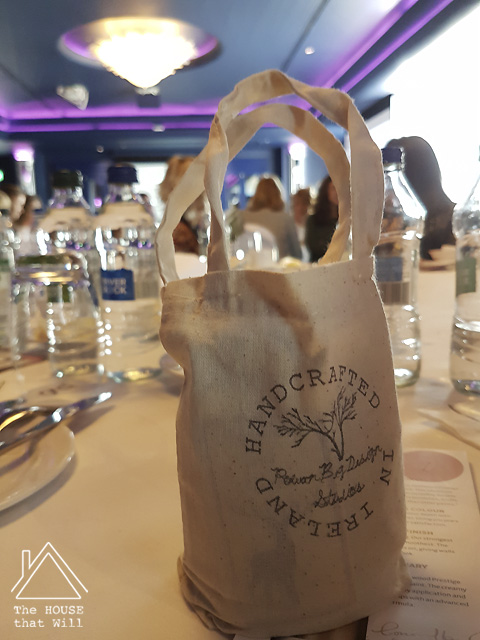 There were spot prizes galore on offer throughout the day. Our table did quite well, with one of the girls winning a scented candle in a cotton presentation bag from Galway-based Rowan Beg Design Studios. Then my luck came in when I won this gorgeous ruby and rose quartz pendant from Emma by Jane. I never usually win anything, so I was delighted to receive this beautiful piece.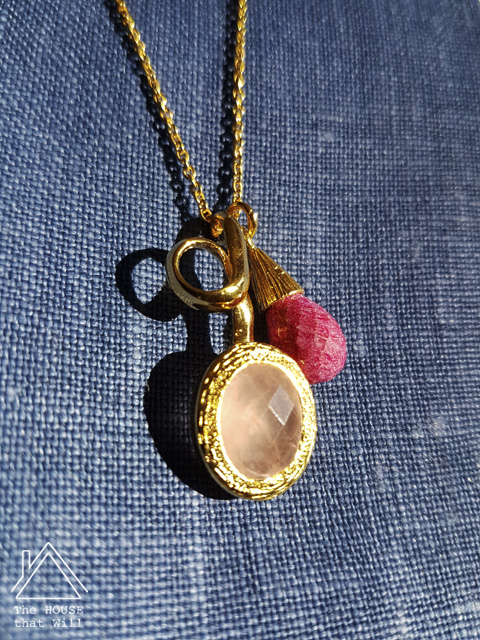 The top prize of the day was this beautiful painting by Lola Donoghue, of which Denise O'Shaughnessy was the lucky winner. 
https://www.instagram.com/p/BSD9zwHh9oa/?taken-by=thehousethatwill
All in all, it was a thoroughly enjoyable day. Although I attended the event alone, it was only a matter of minutes before all the ladies at my table were chatting away about all our various house projects we had on the go back home! Sarah, who ended up sitting next to me, was also the first person I ever met (other than friends and family!) who follows my blog, so that was a huge personal thrill for me too.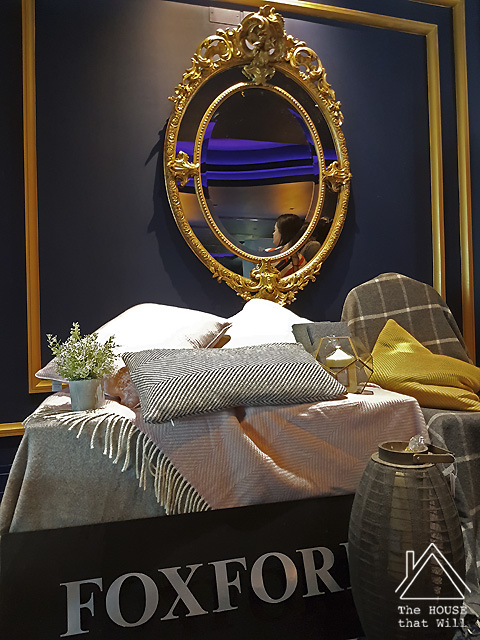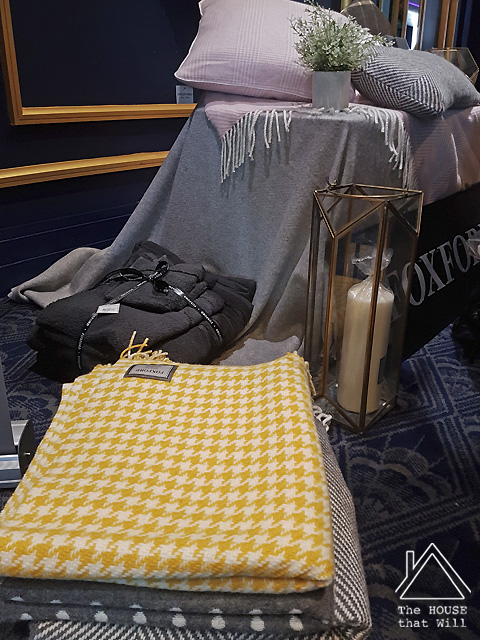 Foxford Woollen Mills at Insiders Secrets
You have one more chance to catch the current series of Insiders Secrets in Dublin on Saturday. However, a little birdy told me that there may be future such events to look forward to, so keep an eye on the House/EDIT website for possible news!