The sun lounge was the first room in our house that made me feel like home. We hadn't even bought the house yet, but it was our second viewing and the estate agent gave us the keys to let ourselves in. We asked some family members to come along with us - we figured it was better to have some extra pairs of eyes scrutinising our potential purchase. Of course, my mother did the typical Irish Mammy thing and brought a picnic! So, after we had gone around the house with our checklists making notes, we all sat on the windowsills in the sun lounge and tucked into her homemade apple crumble and drank tea out of a thermos flask. The sun streamed through the windows as I watched my Hubby and family sitting around chatting and laughing and drinking tea ... and in that moment, this house felt like home.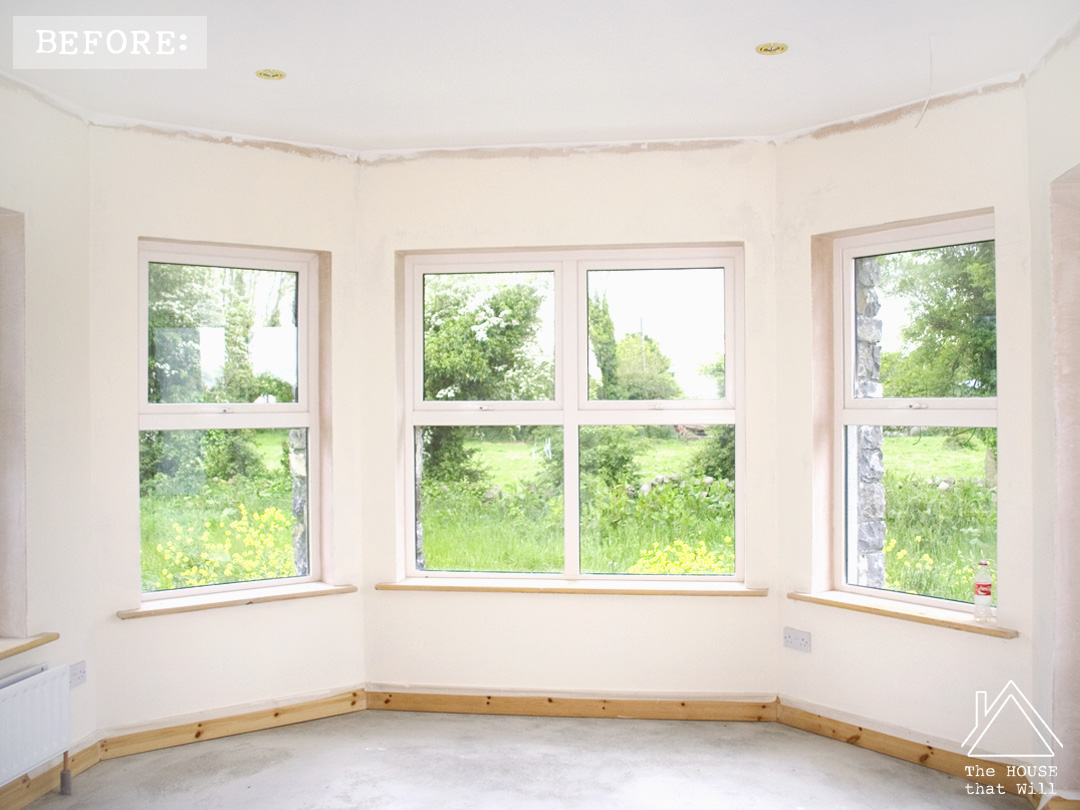 If you are new here, welcome! My name is Norma, and I live with my Hubby and border collie sheepdog in a rural area of County Galway in the west of Ireland. When we first moved into this house, there were just bare concrete floors, and zero fixtures or fittings – that means no kitchen and just a toilet and basin that we had hurriedly installed. With very little outside help, Hubby and I have embarked on a DIY adventure to turn this empty shell into a beautiful home. And in case you're in any doubt about who's the boss around here … it's the dog! We've nicknamed him 'The Foreman' because he's always looking over our shoulder to see what we're doing. I hope he likes what we've planned for the sun lounge!  
The sad thing is, now that we've moved in, we almost never use this room. I somehow never managed to rediscover that warmth and cosiness that I had felt that day when it was still just bare walls and concrete floors. It just doesn't feel like the inviting space I'd imagined the room would become.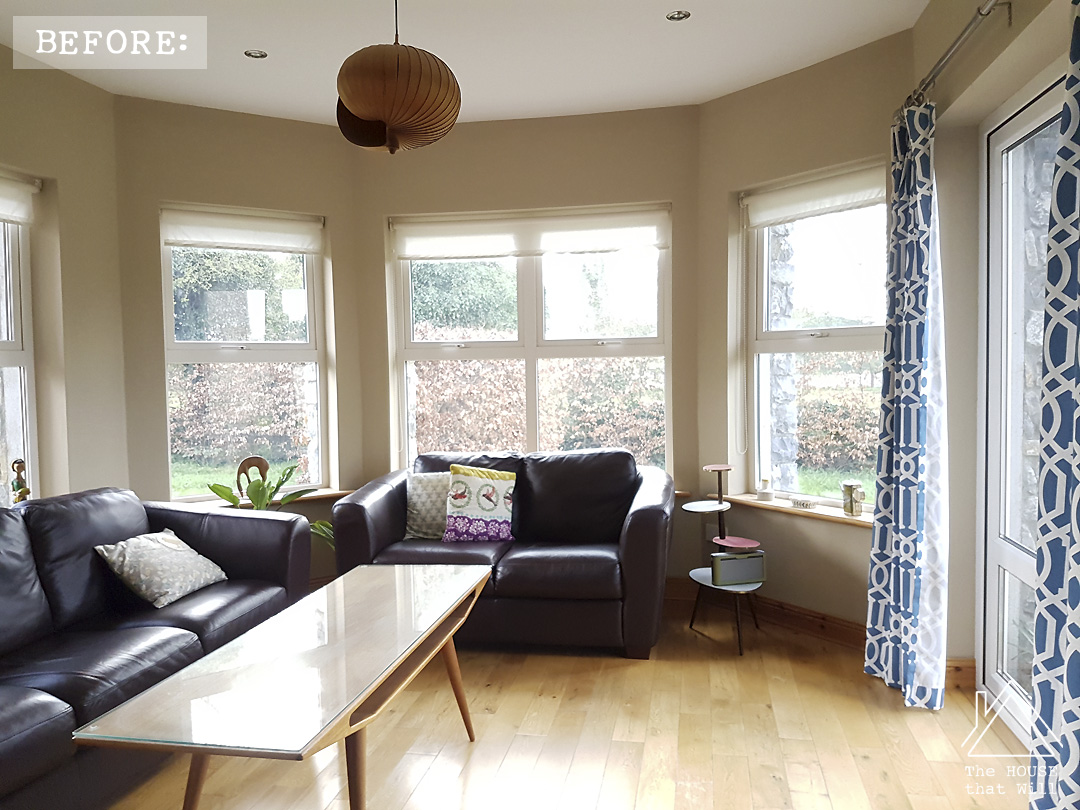 The problem is that this room has confounded me for a long time. It's open-plan to our to our kitchen/dining room, where I chose this big, bold wallpaper pattern.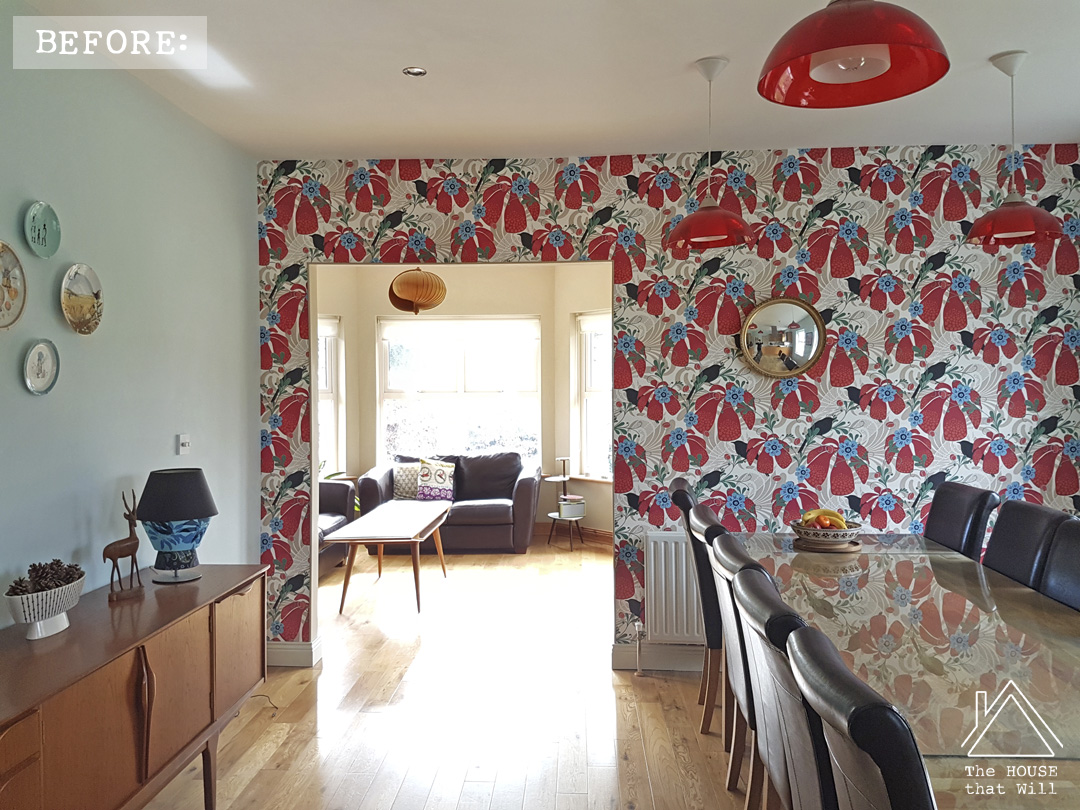 I want our sun lounge to have its own distinctive character - to be somewhere I feel drawn to - but yet the decor in that space has to sit comfortably with this dynamic wallpaper. And finding that balance has been a huge challenge for me.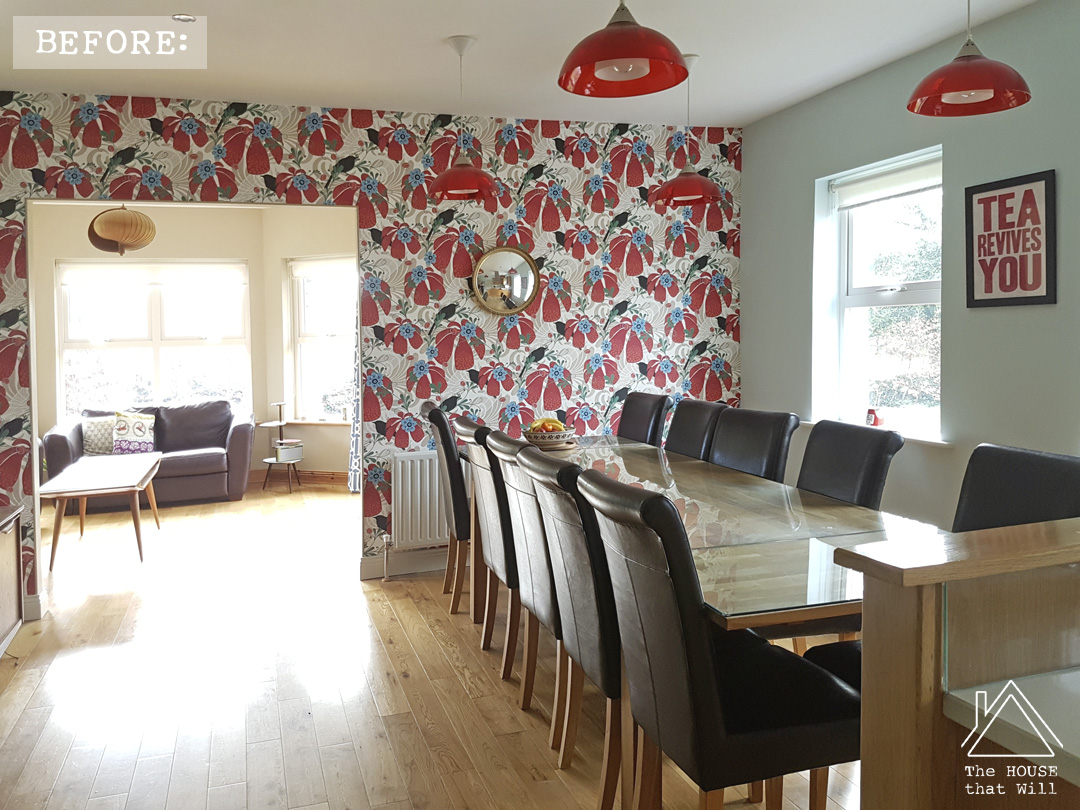 Our kitchen/dining room is a bold eclectic mix of styles: a little bit granny chic, a little bit mid-century modern.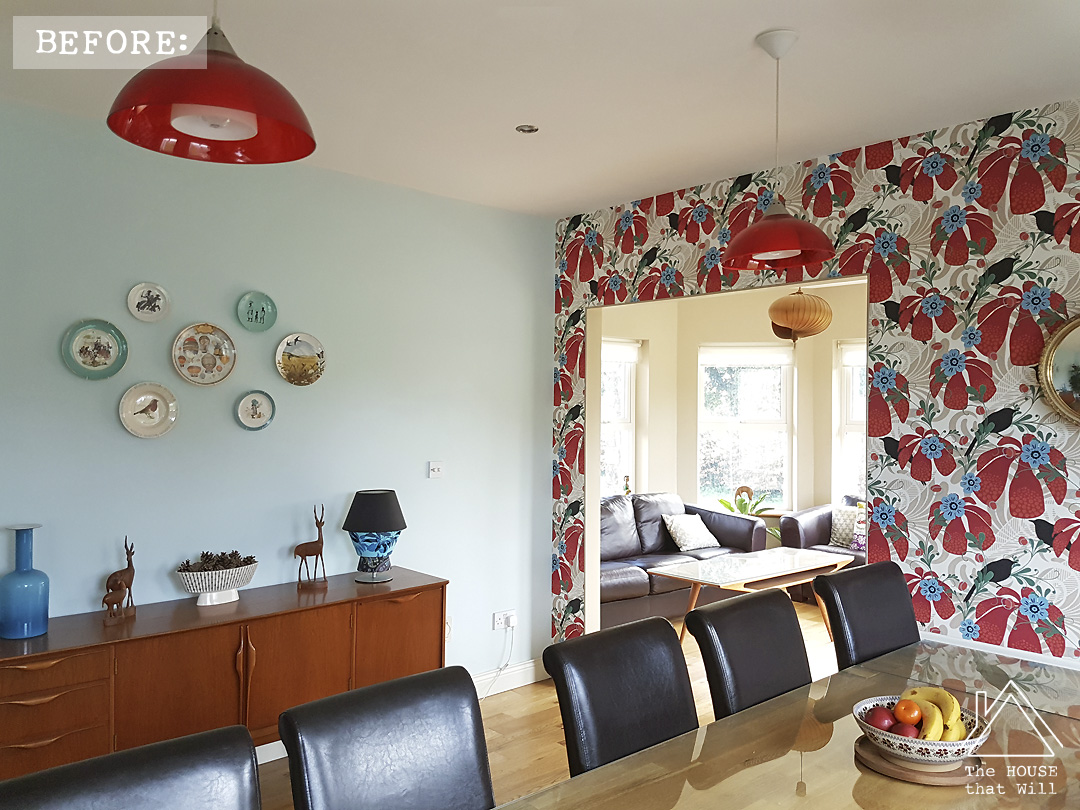 The problem is that I never knew how to transition from such a bold statement room into another room, especially when I wanted it to have a totally different vibe. At the same time, there needed to be some semblance of continuity, which I attempted by taking the neutral colour from the dining room wallpaper through into the sun lounge.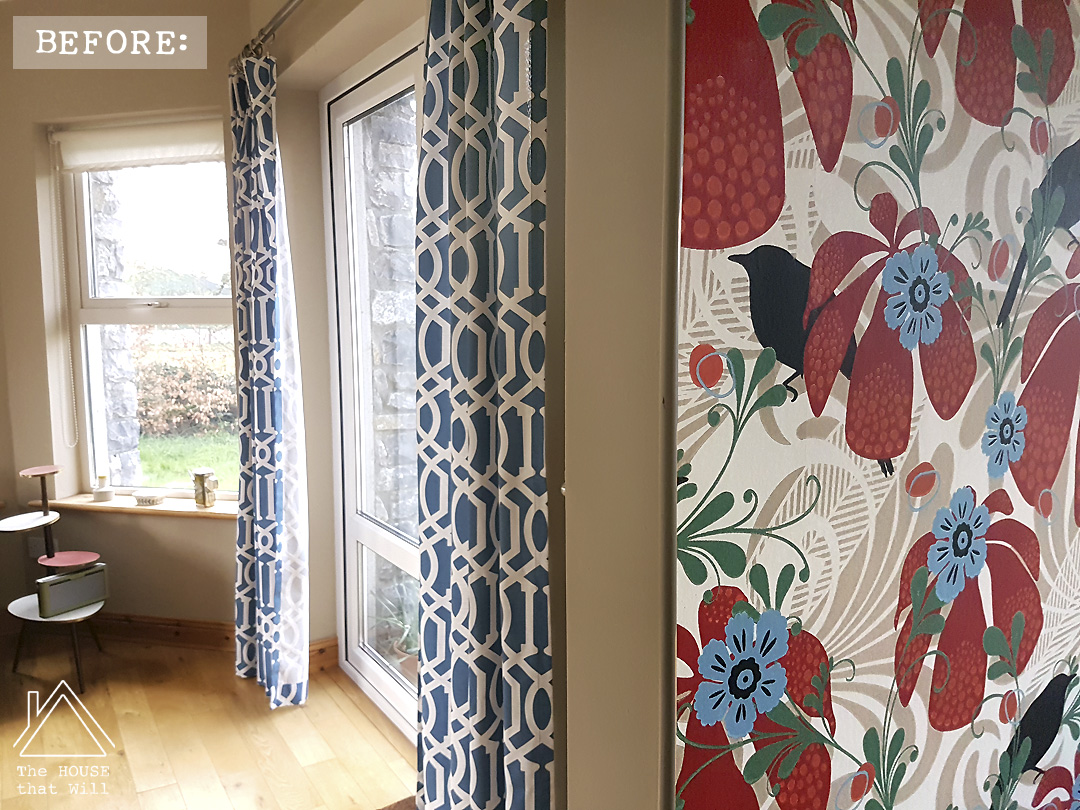 Beige and brown were all the rage when we moved into the house, and I guess I just went along with the trend. That was before I realised that I don't like warm neutrals! Grey is the neutral of choice these days and, although I know that fashion too will pass, I also know that grey is a colour that I can live with long term - whether it's in vogue or not. The tricky thing is that, while I can change the paint colour easily enough, I'm stuck with the dark brown leather couches for now.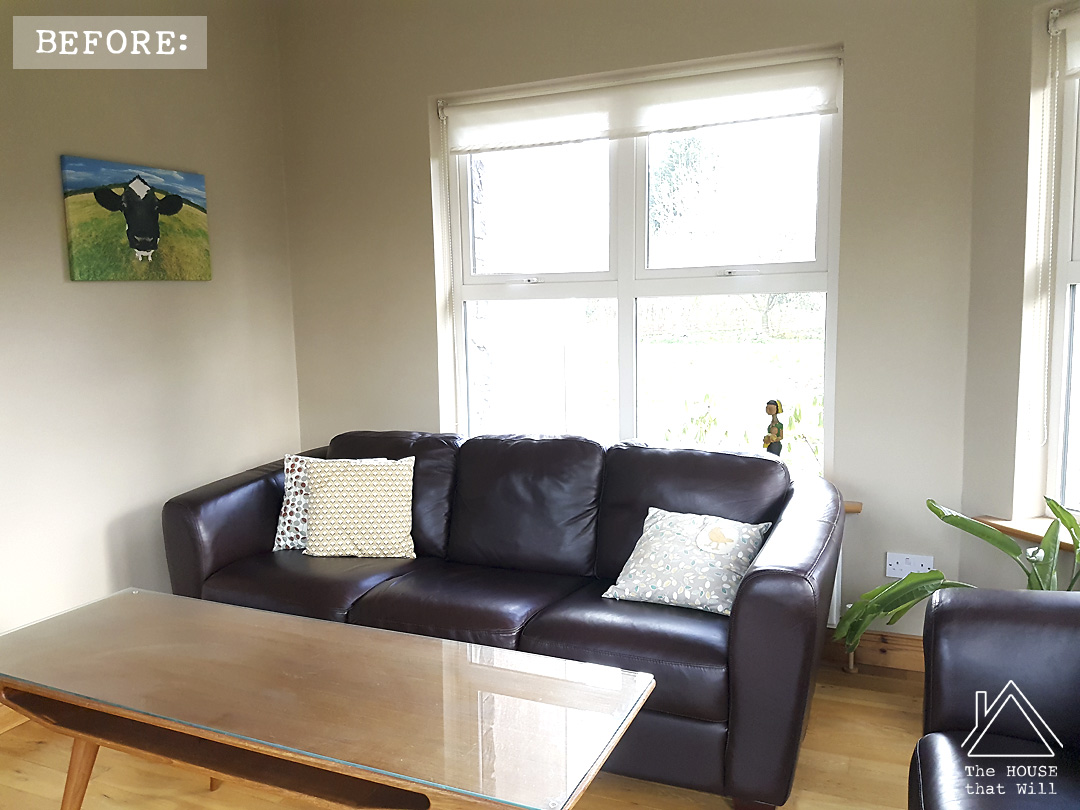 The good news, however, is that I've finally come up with a plan that will work for this room. And I'm using the One Room Challenge as my motivation to stop pussyfooting around and to finally realise the potential I saw in our sun lounge way back before we could even call it our own.

The One Room Challenge is a semi-annual decoration challenge hosted by Linda Weinstein in partnership with House Beautiful. It involves renovating one room in your home over a six week period, while posting weekly updates on to your blog. The twenty featured designers share their progress every Wednesday and the hundreds of guest participants, like myself, post every Thursday. On Week 6, the finished room will be revealed!
So in our sun lounge, what stays and what has to go?
Well, in addition to re-painting the walls, all of the woodwork needs to be painted. I hate knotty pine. You can see in these photos how I've already painted the trim in the kitchen/dining room in Old White by Annie Sloan, so I can't wait to continue that through into the sun lounge.
On the other hand, I do love the mid-century modern coffee table and light shade, so they will stay. They work well in the room because they relate to the teak sideboard in the dining room, which helps to unify the two spaces.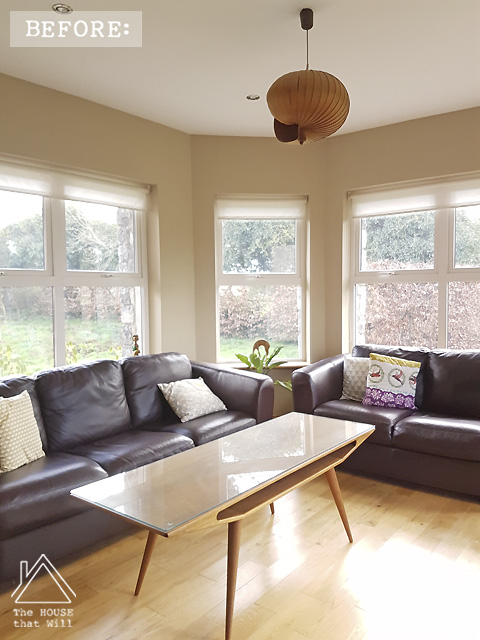 The atomic plant stand, sadly, will have to go. I love it, and waited years to find one I could afford, but the red colour just doesn't work in this room because I want to stick to restful, natural shades in here.
Another miss were the scatter cushions (throw pillows) that I made for the couch. I was going for more of that mid-century vibe again, but they're just too random and lack cohesion in the room. So they'll definitely be replaced with a more pared-back colour palette.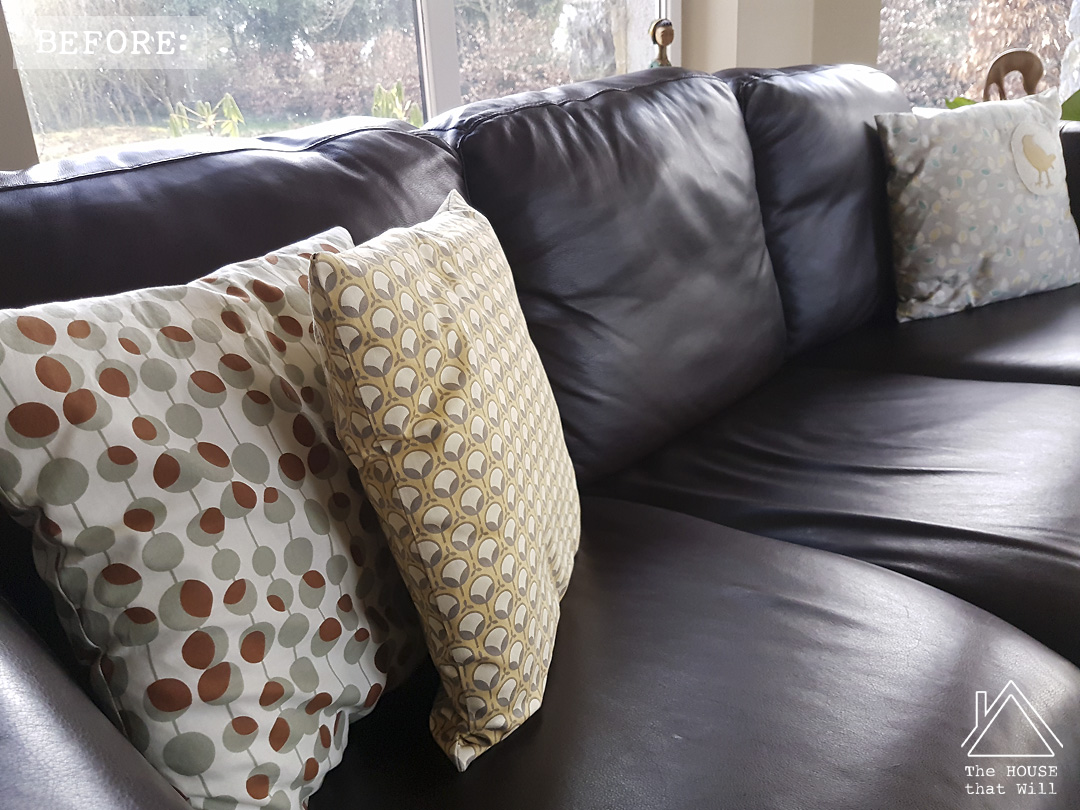 The roller blinds were intended to be just a temporary solution to offer privacy when we first moved in. While they work well in other rooms, I feel like there are too many windows in this room to get away with plain white shades, so the long term plan was always to replace them with Roman blinds. However, I could never settle on a fabric that worked for both this space and also the wallpaper in the adjoining dining room. My luck finally came in when I bought some readymade curtains for another room that ended up not getting used. I was trying to think of somewhere else to use the curtains rather than letting them go to waste and, when I tried them in the sun lounge, I really liked them there. The colour co-ordinates with the kitchen/dining room and the scale of the pattern holds its own against that bold wallpaper, yet is different enough that they're not in direct competition with one another.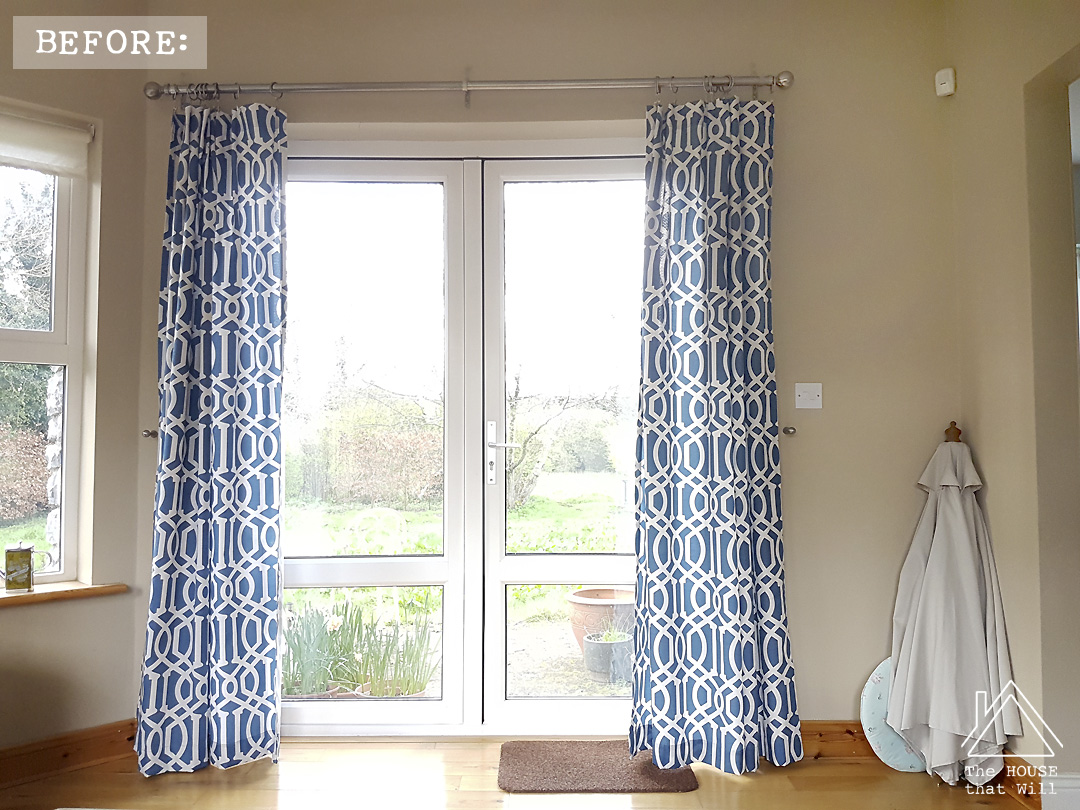 I will cut down some of the curtain panels to make Roman blinds for the windows. On the patio doors, the existing panels look a little skimpy; so there I'm going to get a third panel, cut it in two, and stitch half to each of the other two panels to add volume. I'm also going to add lining and put weights in the hems so that they hang better. And I'll replace the curtain pole because that bracket in the middle bugs me - not that I mind centre brackets in general, but this one is particularly ugly.
And that parasol needs to go! I've been keeping it in this corner so that it's conveniently to hand when I want to use the patio ... but, realistically, there are so few days in the year when that can happen in Ireland that it's ridiculous to keep it here. It'll be relocated to the storage closet under the stairs and I'll find something prettier to put here instead. That ugly doormat has to go too.
The biggest change, however, will happen on the wall you see looking from the sun lounge towards the kitchen/dining room.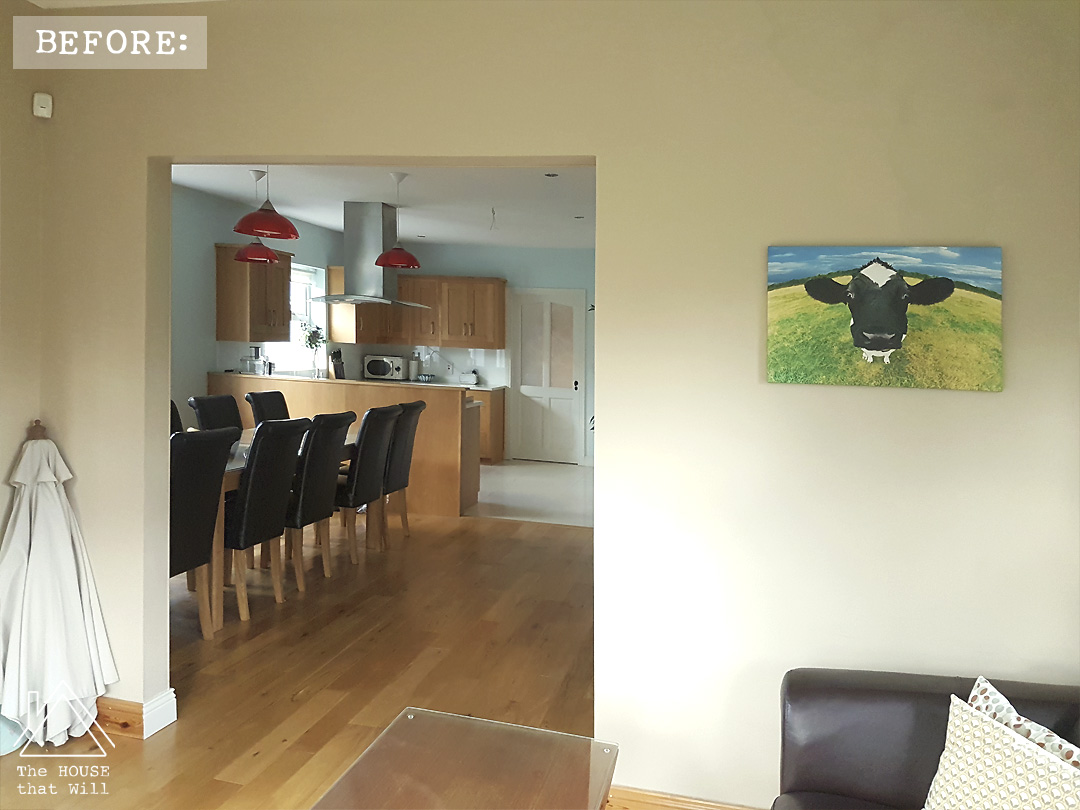 Currently, there is a total discord between the two spaces. Plus, since the feature wall in the kitchen/dining room is not visible from here, what can be seen of the adjoining space lacks visual interest. I thought about putting a different wallpaper on this wall to add impact, but ultimately, it is only by reigning in the colour palette that I will be able to unify the two spaces. So rather than add colour or pattern to this wall, I opted for texture: this entire wall will be clad in beadboard panelling and painted the same pale grey as the rest of the room. I've chosen Dimpse by Farrow & Ball, though I'll most likely have it colour-matched and mixed by Colourtrend, which is made right here in Ireland, so no waiting for paint to ship!
Before any of that can happen, however, I first need to address this water staining that occurred after the flashing on the roof came lose during a storm last year and leaked rainwater into this area.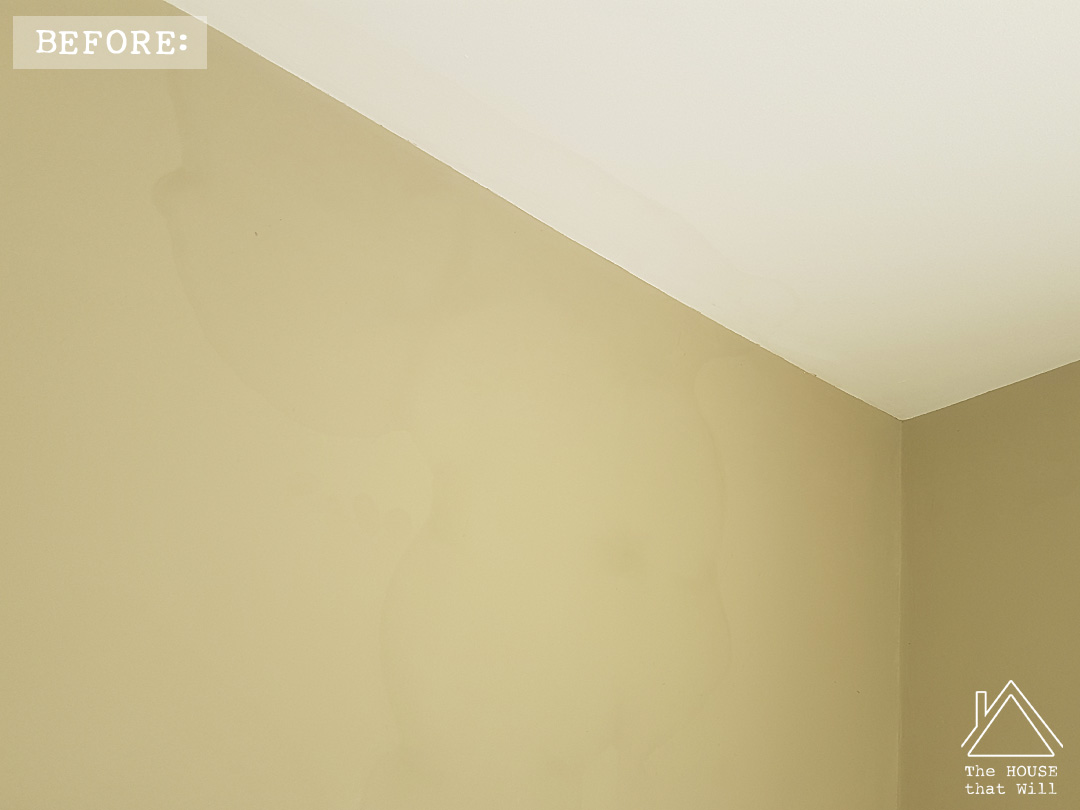 I will also need new artwork for this wall. I'm thinking something inspired by nature because, with all the windows and the double doors out to the garden, I want this room to be a bridge between the outside and the interior of the house.
So, what am I hoping to achieve in this room over the next six (short!) weeks?
An inviting space that draws me in. 
A space that has its own distinctive style, yet co-ordinates with the adjacent the kitchen/dining room.
A space that creates a link between the house and garden.

This is my inspiration moodboard for the room ...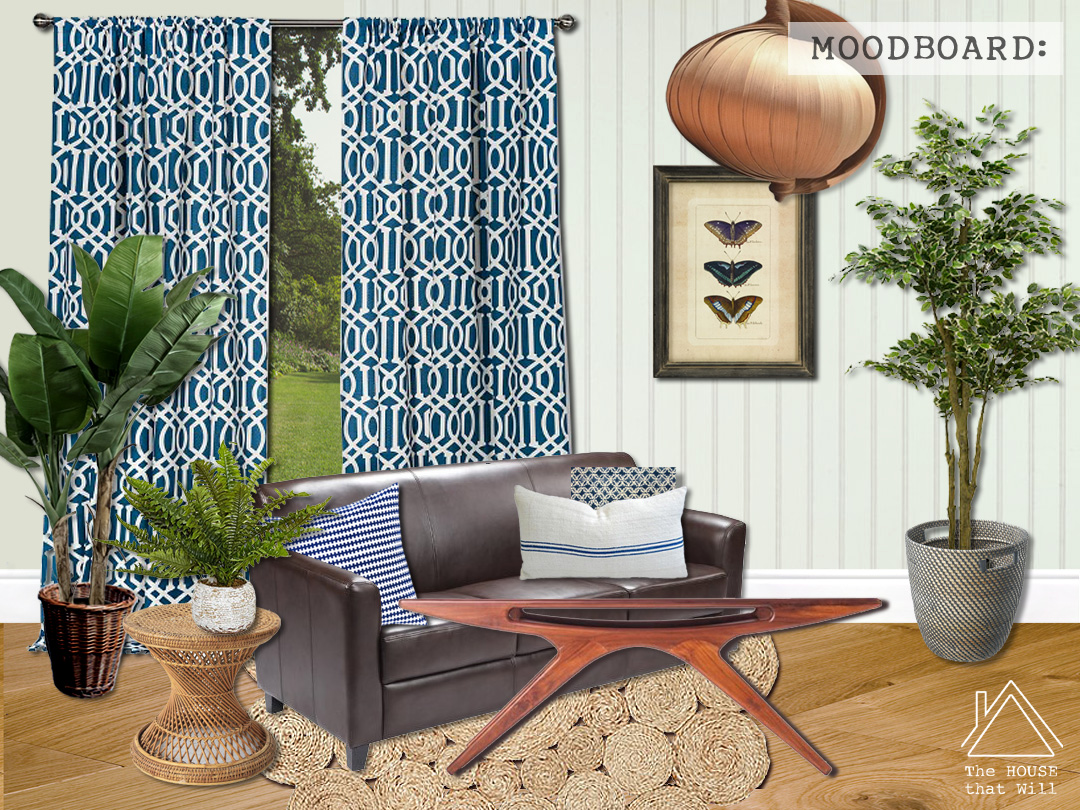 I guess you could call it an eclectic mid-century boho farmhouse style? Whew! That's a lot of adjectives! But as strange as it sounds when you try to describe it, I think this will give the sun lounge a distinct character of its own and sit well next to the kitchen/dining room also.
https://www.instagram.com/p/BSgnG6cBavL/?taken-by=thehousethatwill
Follow The House that Will
Facebook | Instagram | Bloglovin'
To make this vision become reality, over the next six weeks I will need to:
Clear and clean out the room.
Paint the ceiling.
Paint the woodwork.
Add the beadboard panelling to the feature wall.
Paint the walls.
Sew four Roman blinds.
Sew a pair of curtains for the patio doors.
Replace the curtain pole.
Buy and make new scatter cushions.
Introduce texture through the accessories.
Replace the plant stand with a new side table.
Add lots of greenery (faux because of Hubby's allergies) to help link to the garden.
Find new artwork for the feature wall.

It doesn't seem as taxing a to-do list as the last time I undertook the One Room Challenge, when Hubby and I decorated our guest ensuite from scratch. However, I have never made Roman blinds or curtains before, and I'm actually very intimidated by the prospect. These are expensive items to buy and, although I will save a huge amount by making them myself, I've still spent quite a bit on materials so this is something I can't afford to mess up! 
I think I have a better idea this time of what I'm getting myself into with the One Room Challenge. And I can't decide yet if that's an advantage or disadvantage - perhaps ignorance is bliss! In any case, I know it's going to be a hectic few weeks. And I'm already off to a bad start because I'm busy elsewhere over the next few days, which won't leave much time to work on the room this week. That means I'll need to be extra-diligent about knuckling down to it when I am available. 
So, please wish me luck and do join me back here next week for the first progress update. In the meantime, I'll be sharing behind-the-scenes updates on my Instagram stories @thehousethatwill, so don't miss those! Also, be sure to check out what the other participants are up to - there is always so much to inspire.

Related posts:
One Room Challenge: Sun Lounge Reveal
One Room Challenge: Sun Lounge (Week 5)
One Room Challenge: Sun Lounge (Week 4)
One Room Challenge: Sun Lounge (Week 3)
One Room Challenge: Sun Lounge (Week 2)
One Room Challenge: Guest Ensuite Reveal