The One Room Challenge is back for its twelfth season! If you haven't seen it before, this is a room makeover challenge for bloggers that must be completed in six weeks, with weekly progress updates posted every Thursday. Last year, I tackled our guest ensuite for the One Room Challenge and, earlier this year, I renovated our sun lounge.

Six weeks may sound like a long time but, believe me, it goes by extremely quickly - especially when you're DIYing everything, like we are. From experience, I know that these weeks are intense, and will involve less sleep and more take-out dinners than I know to be healthy! But with our house being an ongoing project that we work on at our own pace, the One Room Challenge provides the best motivation to push through a room renovation in a short space of time. That is incredibly rewarding, which is why I'm back here once more and ready to transform another room in our house.
No 'Good Room' Here!
The room I'm decorating this time is the large room to one side of our entrance hall. Traditionally in Ireland, this would be called The Good Room: a sitting room that houses a luxurious suite of furniture and copious displays of crystal and china. A room that is considered too precious to use except on special occasions. Well, I don't see the point in paying a mortgage on a room we don't use, so there was never going to be a Good Room in our house.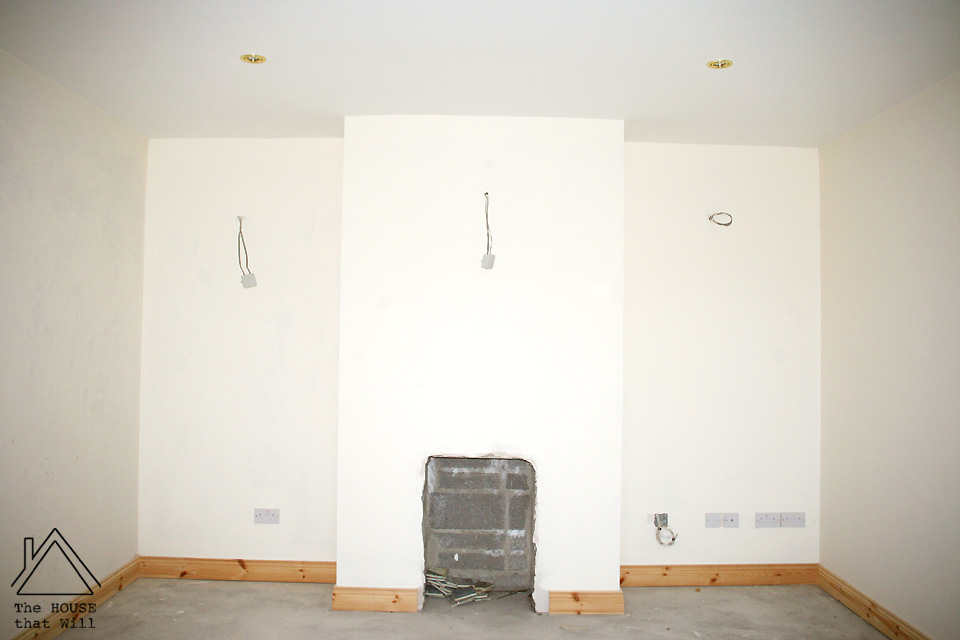 The room as it looked when we first moved in.
With surround sound built in, our initial plan was to set it up as a movie room. However, after living in the house for a while, it became apparent that the cosier sitting room across the hallway was where we preferred to spend our evenings. So this room sat empty and undecorated while we tried to figure out what to do with it.
It didn't help that the room is such a awkward shape. Measuring 4.62m x 4m, it actually isn't far off square - but when you add the bay window and the alcoves either side of the chimney breast, that extra metre makes the room start to feel surprisingly long and narrow. Even worse, despite its generous size, there are no usable walls in it: you enter through the double doors on one side, the wall opposite has a large double radiator, on the left is the chimney breast, and the bay window is on the right. With all those limitations, we really struggled to come up with a useful purpose and a good layout for the room.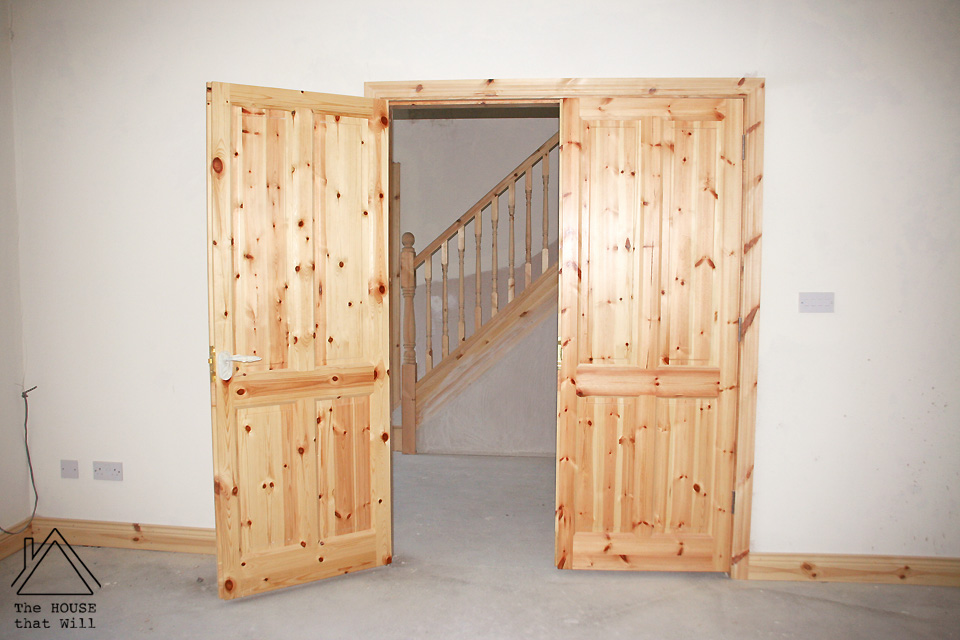 The room as it looked when we first moved in.
The Library
Then one day out of the blue, Hubby blurted out that he knew what that room should be: a library. I thought he was kidding but, as he went on, what he was saying made perfect sense. OK, so a Library might be a kinda grandiose name for it, but call it a study or work room or whatever you like, he definitely had the right idea: we needed a place to work on our computers, to play music , to store files and paperwork, to hold our books etc. A library seemed the perfect use for the room.
Before
Now before we get to into what this room will look like in six weeks' time, let's first take a peek at how it looks now ... and please bear in mind that I did forewarn you that we hadn't done anything with it since moving in!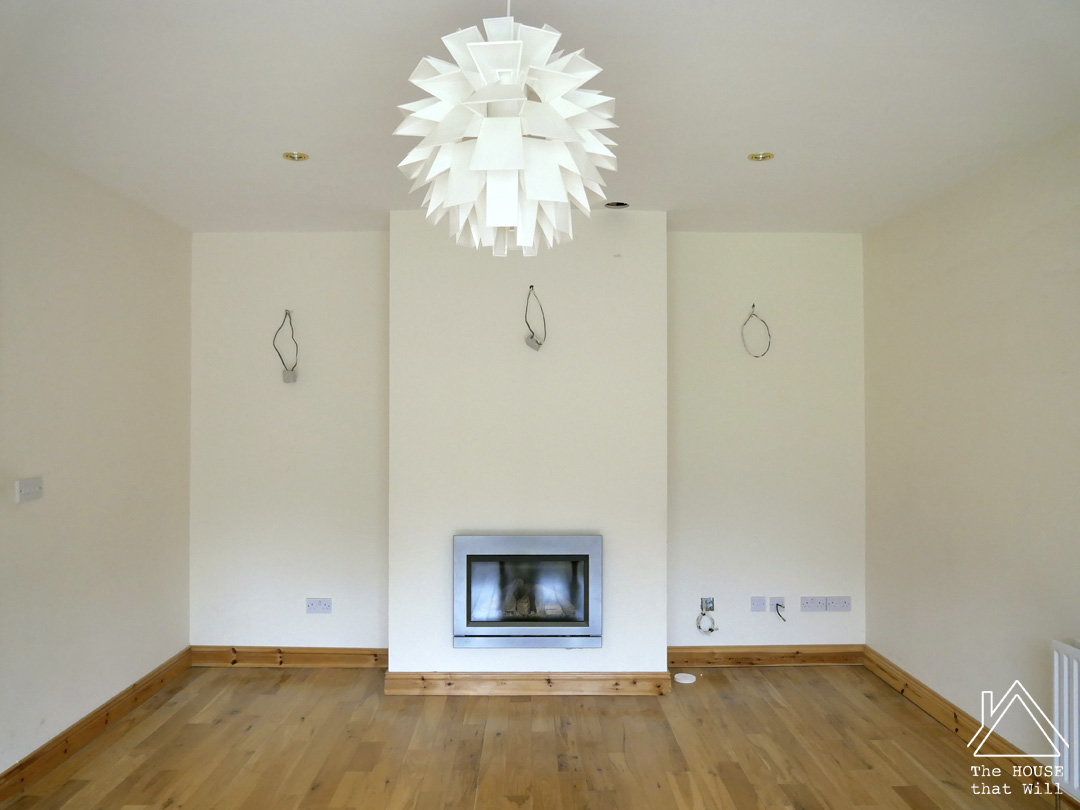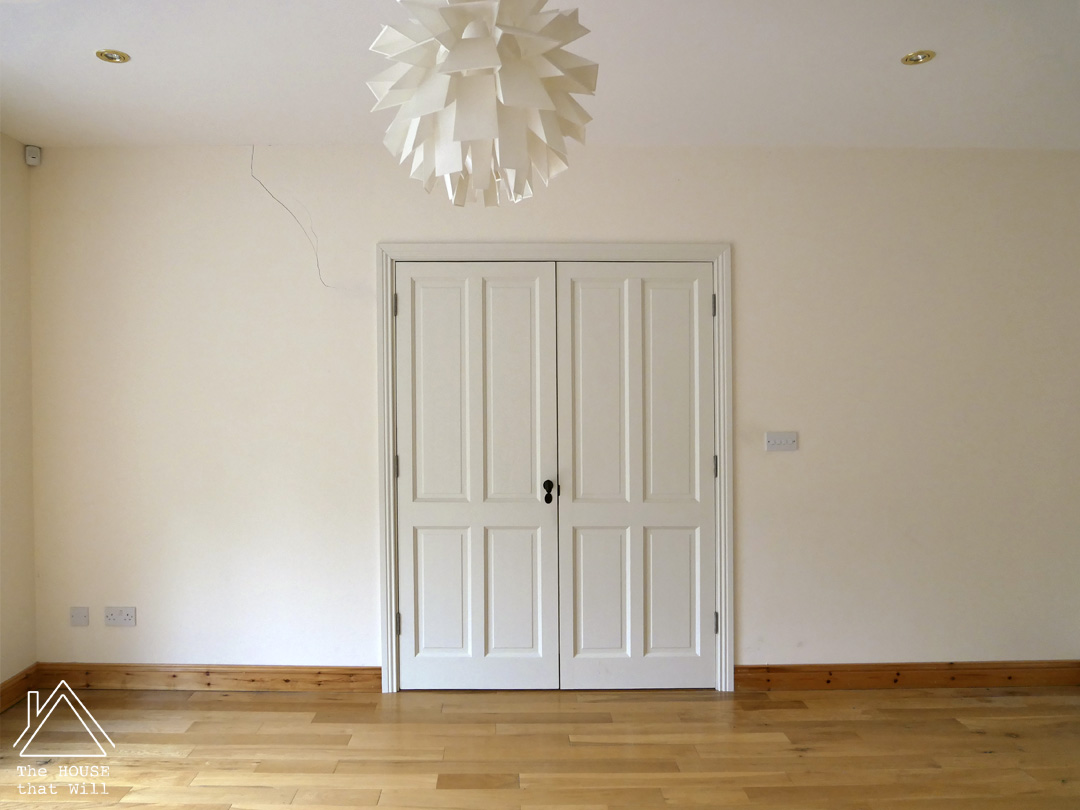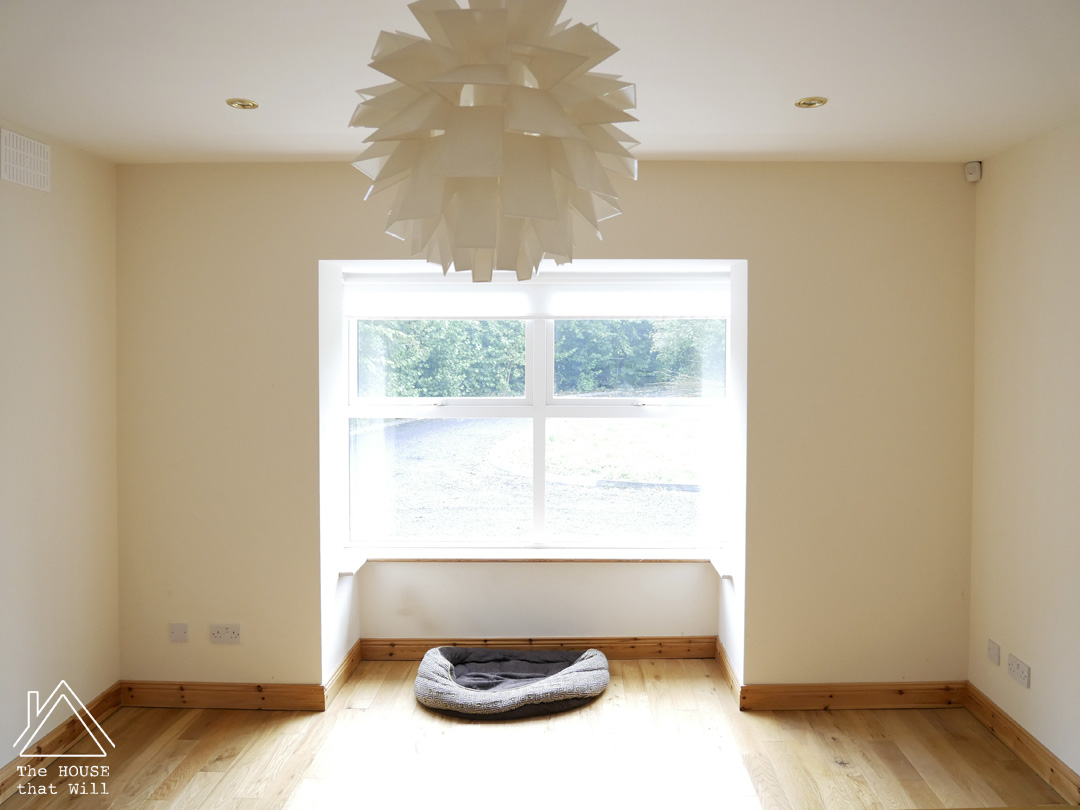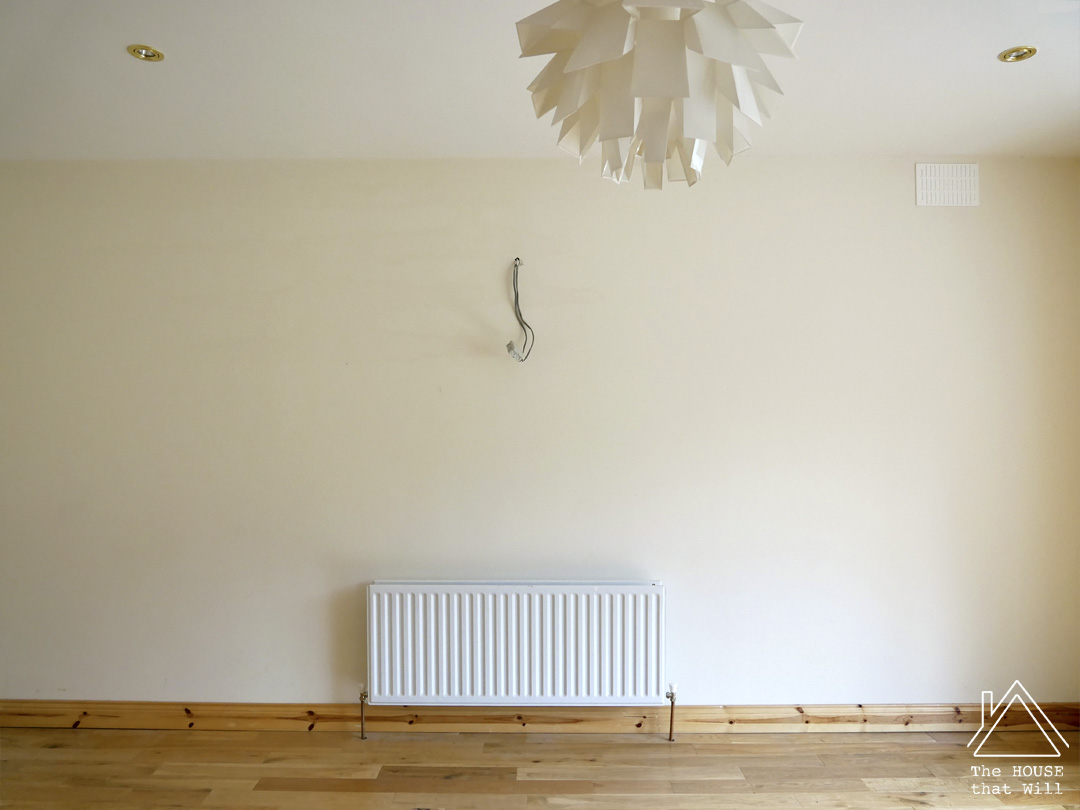 In fact, other than having the gas fire installed and painting the doors, it hasn't changed much at all.
In the interim, this space became a bit of a store room for furniture - and somewhere the dog preferred to sleep because it was somewhere he could get peace and quiet while we watched TV across the hallway.
OK, OK ... full disclosure: it inevitably became a bit of a junk room.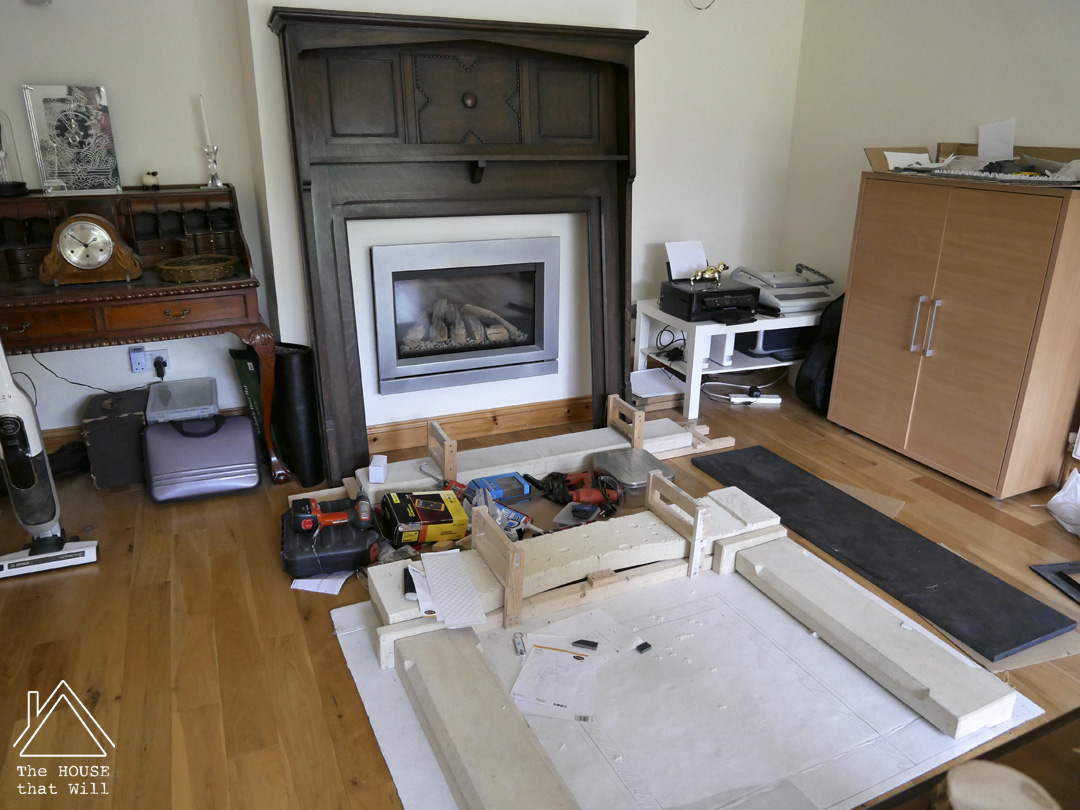 That fireplace on the floor is the one we're modifying to go in our sitting room, and everything else are bits and pieces that we have collected but may not have found a place for yet (I'm much better now at not buying stuff unless I do have somewhere for it to go). But Hubby and I spent last weekend clearing it out, and now it's a blank canvas.
Design Plans
Given the awkward layout of the room, and the fact that it needs to fulfill many functions, we decided to create several zones in the room.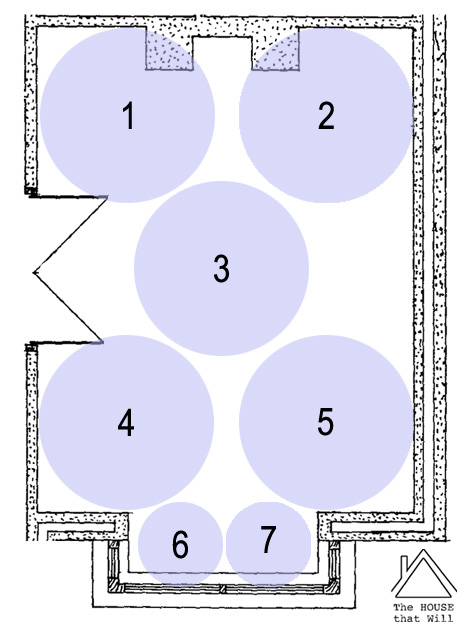 This will give both Hubby and I our own work space, with other areas of the room being use for playing music, displaying family photos, working on projects, reading ... and the dog gets to keep his spot in the bay window.
I am a firm believer that form should follow function, so we are planning a huge modification to the room in order to gain back some valuable wall space. Since the chimney and bay window can't be changed, and the radiator not easily, the wall with the double doors became the focus of our attention. I wanted to be able to open the doors back fully to integrate this space with the entrance hall but, to do that, we would need to leave some wall space free behind each door. Or come up with a epic plan. So ... guess which we went for?
EPIC PLAN!
If you follow me on Instagram, you may have seen a little teaser about this in my stories a couple of days ago. The plan is to build a new stud wall inside the existing wall and use it to contain a new set of pocket doors. Well, actually, because we will be doing this on a modest budget, we plan to reuse the existing doors. This way, they can be opened all the way back while leaving the wall space either side unimpeded.
Decor Plans
Having decided to call the room our library, I feel like that sets up certain expectations for what the room should look like. So I'm going to roll with it! Think wall panelling, a traditional fireplace, a leather-covered desk, and floor-to-ceiling bookcases - all in dark blue with burgundy accents.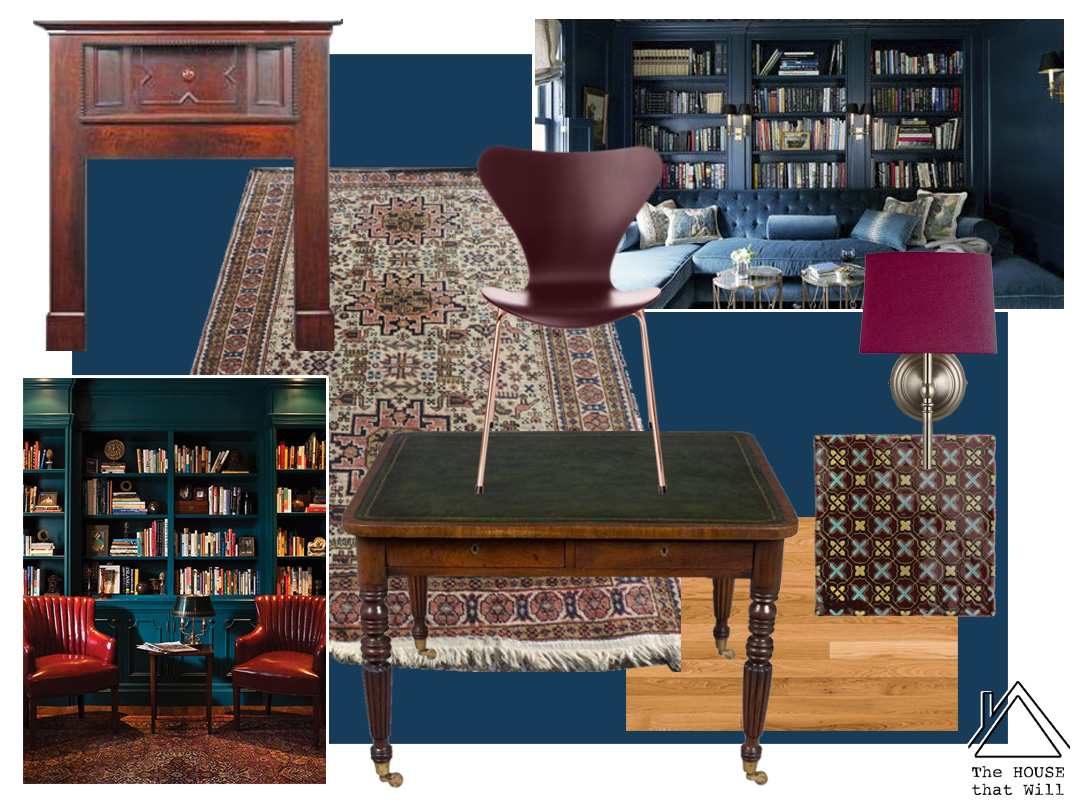 Click here to view my Pinterest board of inspiration for this room.
Now, I'll be honest here and say up-front that, despite calling it our library, the bookcases might be the last thing to be installed - and perhaps not before the end of this challenge; the reason being that we can't fully decide yet exactly what kind of storage we will need, so we may have to live in the room for a while before committing to that. However, I do promise that, even without the storage, by the time I reveal this room six weeks from now, it will certainly have the look and feel of a traditional library.
I can hardly contain my excitement that we are finally making a start on this room, and I do hope you will follow its journey as I blog our progress every Thursday until the final reveal on 9th November. And do also check out all the other participants - so many inspiring projects to enjoy. So I'll get back to working on the room and I'll see you back here next week for an update!

Related posts:
One Room Challenge: Library Reveal
One Room Challenge: Library (Week 6)
One Room Challenge: Library (Week 5)
One Room Challenge: Library (Week 4)
One Room Challenge: Library (Week 3)
One Room Challenge: Library (Week 2)