Well that first week of the One Room Challenge sure went by quickly, and it was a busy and interesting week for me. Firstly, I am thrilled to have won Bronze in the Irish Blog Awards for a personal blog in the Interior Design / Architecture category. Hubby and I had a great night out at the awards ceremony, and I really enjoyed meeting up with my fellow bloggers. My congratulations to all the winners!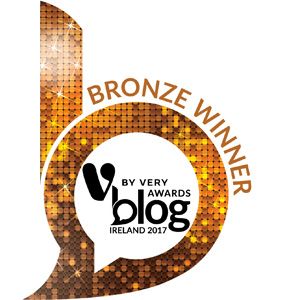 Unfortunately, that wonderful day was followed by several less wonderful ones, as I succumbed to a dose of food poisoning (unrelated to the awards night out, I should add). That put the brakes on my work in the Library quite a bit this week. Still, I did manage to make some progress, so let's take a look at that.
If you're just joining in now, you can catch up on Week 1 here.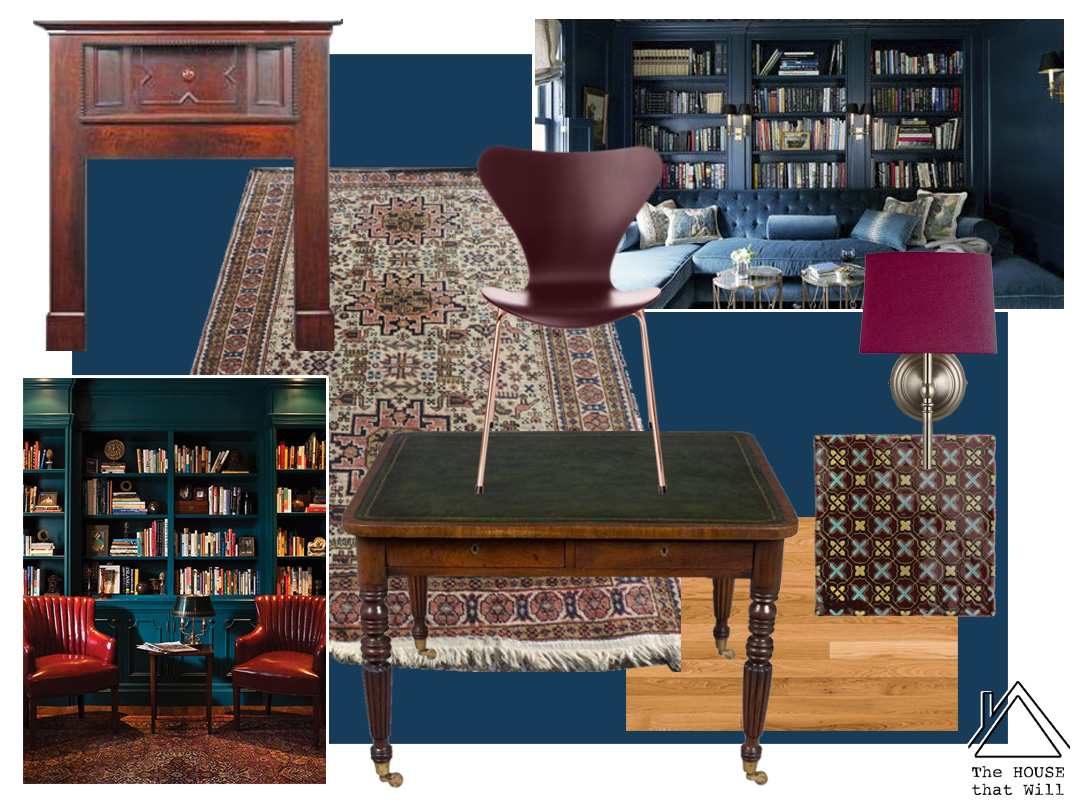 Fireplace
I'm a big fan of "brown furniture" and, because it's fairly unpopular at the moment, it can be picked up really cheaply in junk shops and online auctions. Unfortunately, that means that a lot of it gets "upcycled" ... which usually means being painted with something that has a French-sounding name. I have to say that my heart hurts a little every time I see that, as furniture made from mahogany and rainforest woods will likely never be produced again; at least not in our lifetime. Thankfully, the fireplace I got for our library had escaped this fate.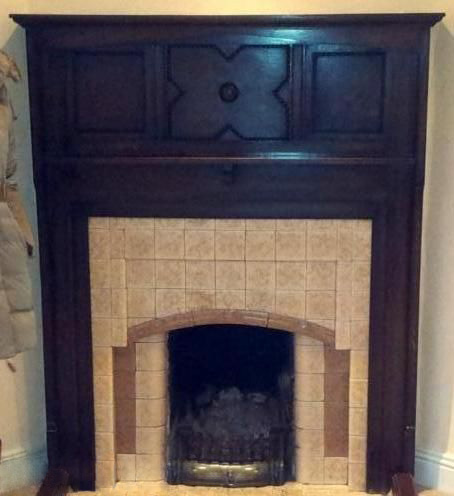 Photo from the online ad.
It came out of a farmhouse in County Meath and dates to about 1930. This imposing piece has a majestic stature, standing at 5.5 feet (about 167cm) tall. That's even taller than I am!
For those who may be curious, the insert had already been removed when I bought it.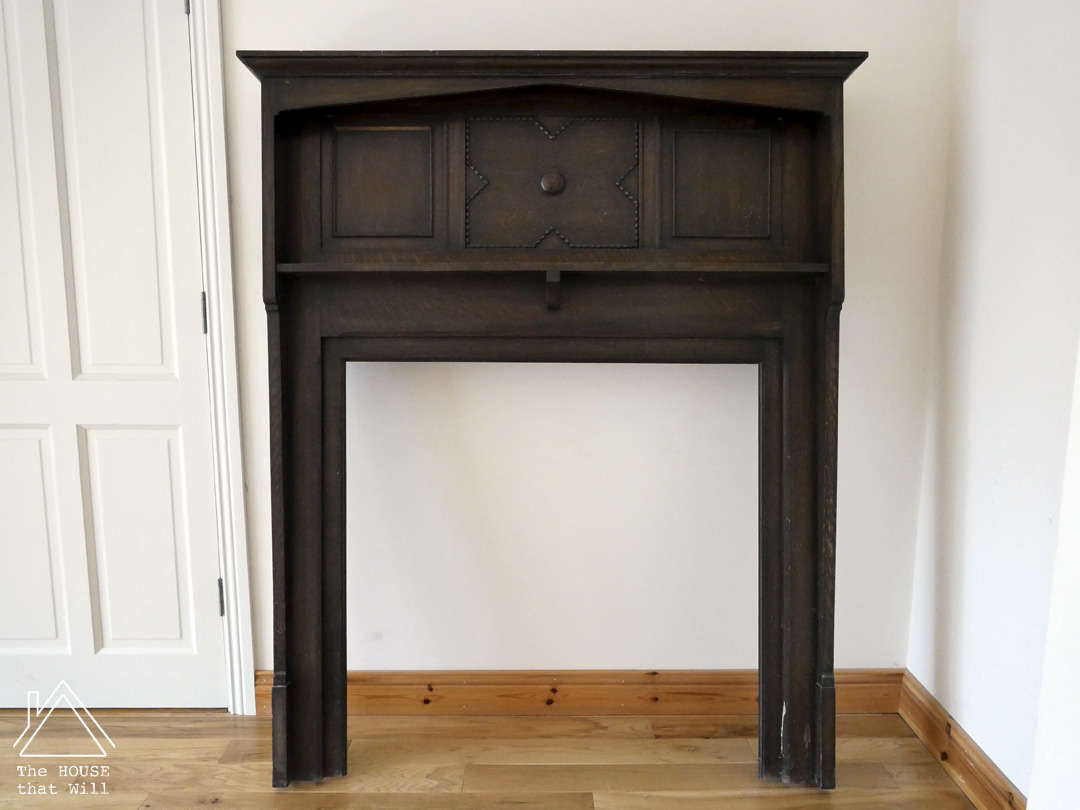 Unfortunately, one of its previous owners was apparently more concerned with getting paint on the wall around it than keeping paint off the fireplace: it was covered all over in specks of paint, and the top and sides had paint brushed on quite heavily.
As it was water-based emulsion, I was able to remove it by gently rubbing it with a wet cloth - you can see where I made a start here at the top of the left side.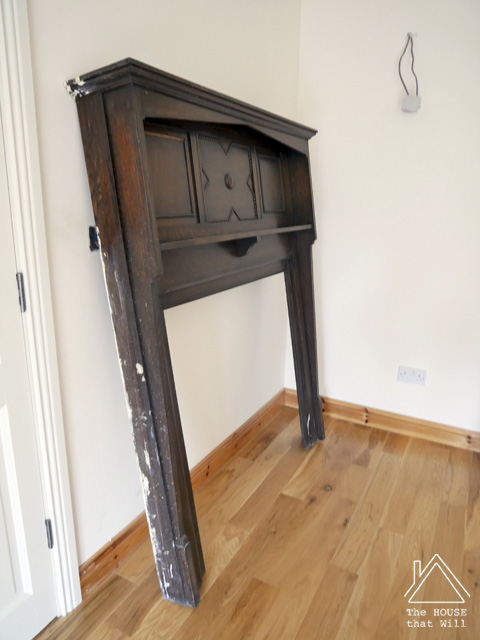 I used a soft toothbrush to clean around the detailed trim.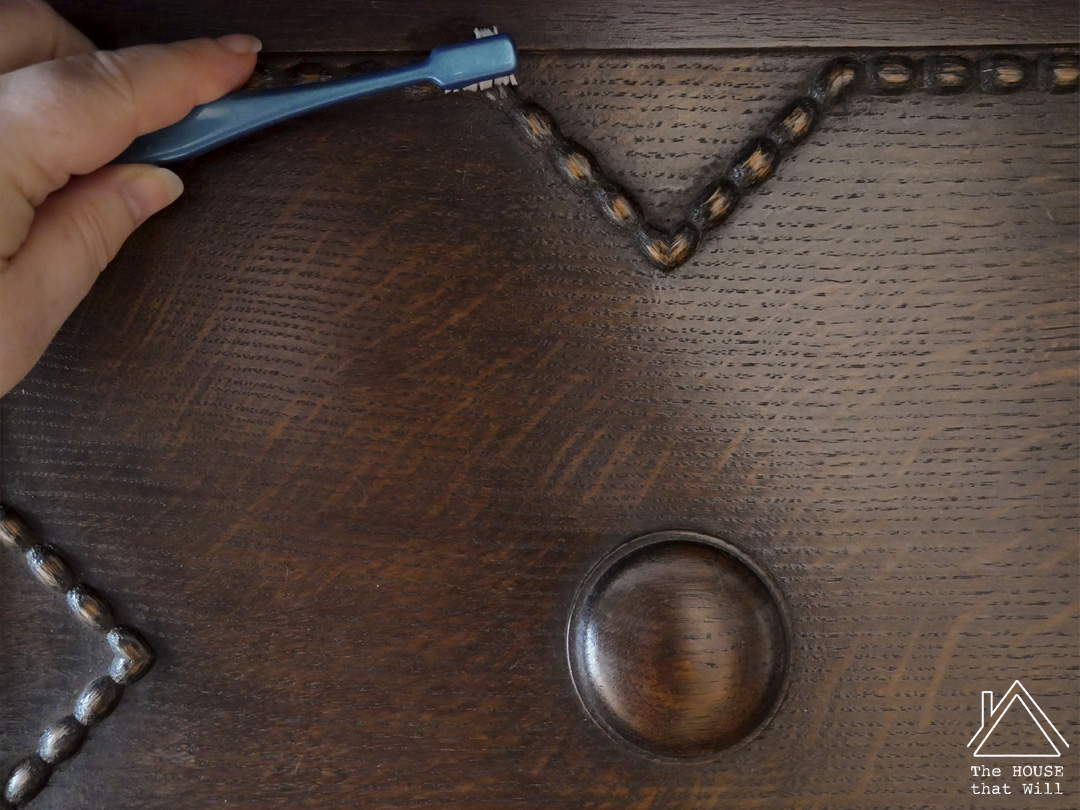 So the good news is that the paint came off.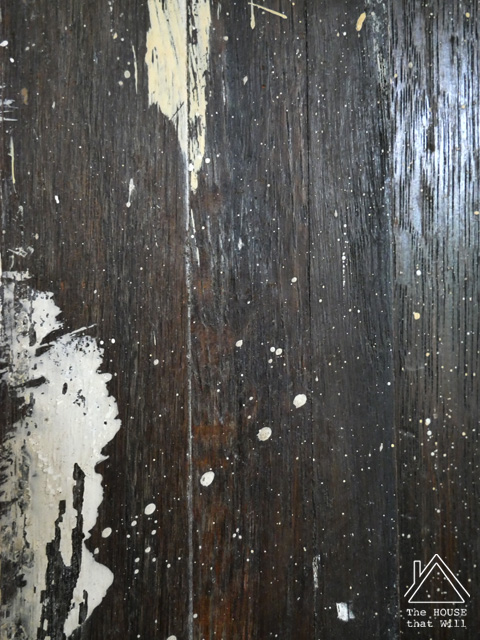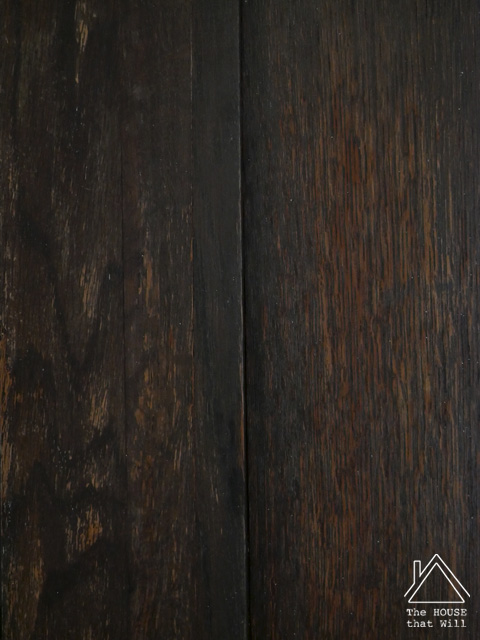 The bad news is that there was so much paint on it that it took me two full days of gentle scrubbing to clean it all!
I still need to work on restoring the finish, but it's already looking so much better!
Paint Samples
In between scrubbing old furniture, I have also been trying to find the perfect shade of blue to paint the walls.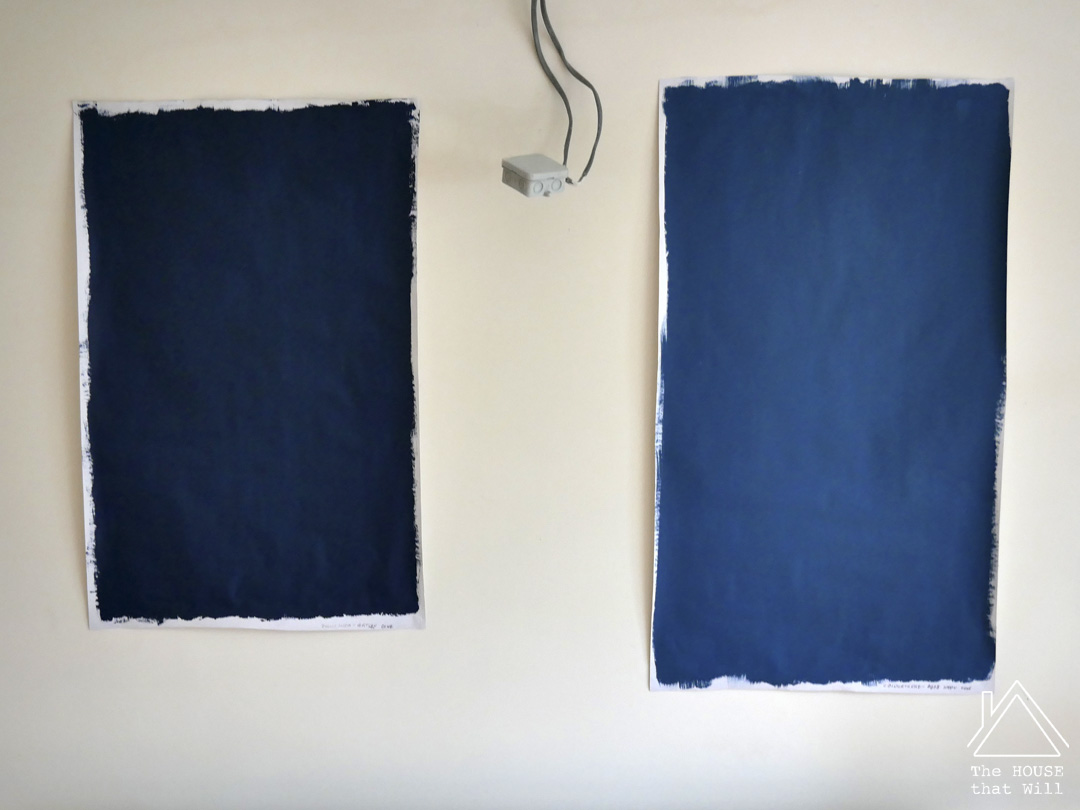 On the left is Gatsby Blue from the Dulux Moda range, and on the right is No. 648, Happy Tune, from Colourtrend. I put a poll on Instagram to help me decide and I got loads of very helpful suggestions through private messages and comments. However, in the end, there were only two votes in the difference, with Gatsby Blue just edging in front. Ultimately, Hubby had the casting vote and decided that the first one is too dark and the second one is too light. So now we're looking for the Goldilocks of dark blue paints for our wall!
Follow The House that Will
Facebook | Instagram | Bloglovin'
If you're following on Instagram, you'll have seen in my stories that I added two more options last night that are still up for decision: Hague Blue from Farrow & Ball and Venetian Crystal 1 from Dulux.
Pocket Doors
The pocket doors are the BIG project in this room, and Hubby made a great start on them this week by doing a lot of the necessary electrical work that will ultimately be completely hidden, but which will make such a difference to how the room functions ... and not only the library, but also the entrance hall (which I hate and is next on the to-do list for renovation).
One of my pet peeves in the hallway was the ugly wifi router and bird's nest of cables just inside the front door. So Hubby drilled through the wall and pulled through all of those cables to connect them with a phone line in the library. Now that messy electrical stuff will be hidden in a bookcase in one of the library alcoves instead of being an eyesore in the hallway.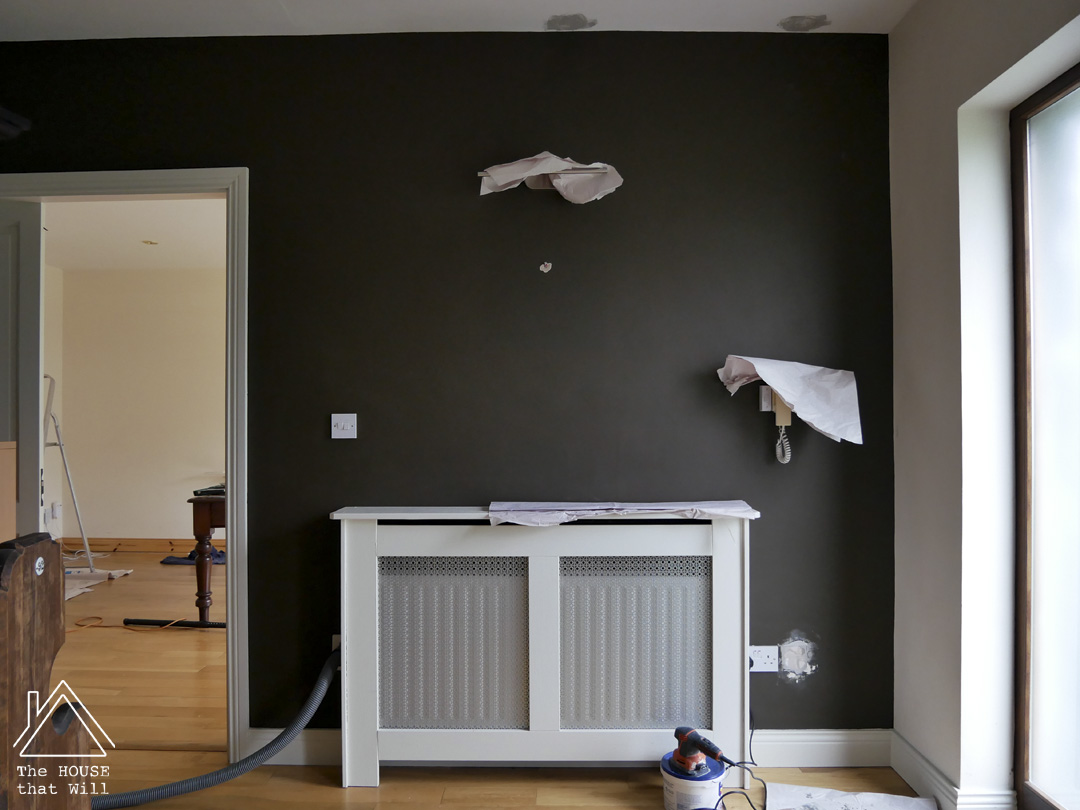 He also dealt with the electrical cables on the library side of that wall, as the light switch will need to be relocated to allow the doors to move inside the pocket wall.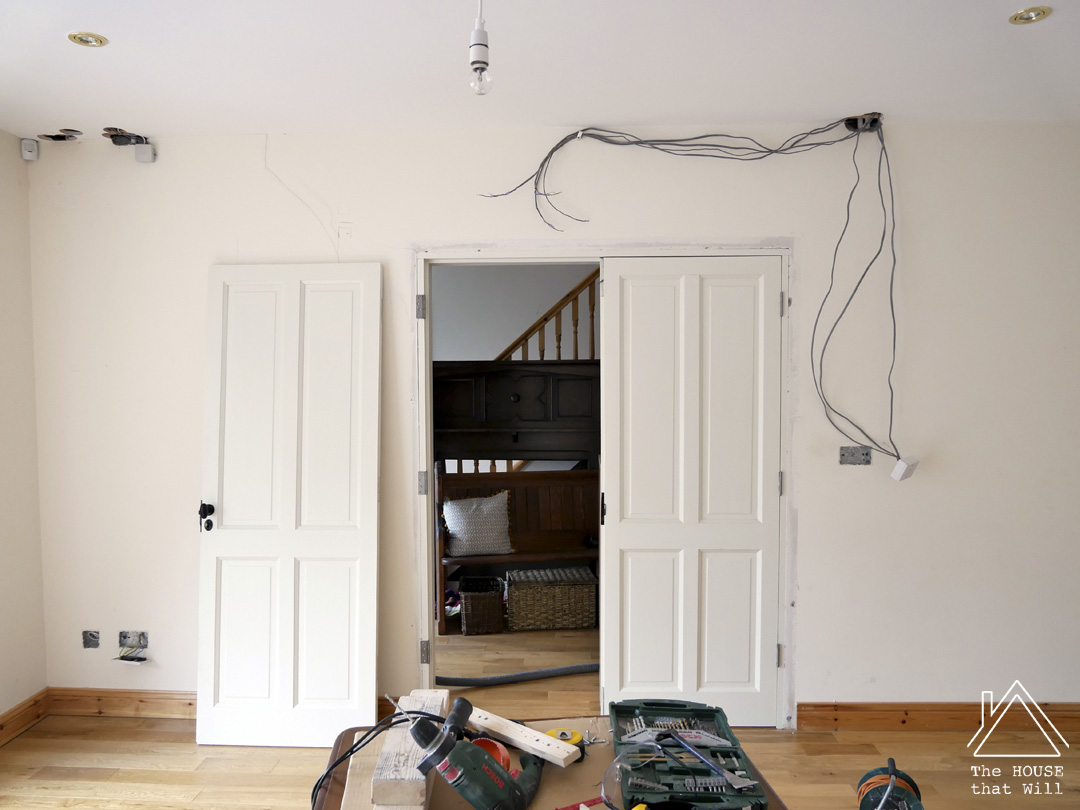 As you can see, he removed one of the double doors so that we could weight it: in researching pocket doors, we discovered that the type of rail required depends very much on the weight of the door. So we needed to determine that first before we could move any further with this project.

So the plan for this week is to:
get the pocket door system installed and start working on the new wall around that
choose a paint colour for the walls
finish restoring the fireplace and desk
remove all the skirting boards for painting (they need to come off anyway as we're changing the walls)
As always, I highly recommend you check out all the other participants, and join me back here next week when I hope to be able to show you a new wall and pocket doors installed in this room.

Related posts:
One Room Challenge: Library Reveal
One Room Challenge: Library (Week 6)
One Room Challenge: Library (Week 5)
One Room Challenge: Library (Week 4)
One Room Challenge: Library (Week 3)
One Room Challenge: Library (Week 1)