Well, it's been another weeks of ups and downs with the One Room Challenge as, once again, work got put on hold for a few days. This time it was due to Ex-Hurricane Ophelia storming her way across Ireland. We spent most of the weekend preparing for the imminent tempest; trimming trees around the house, putting away garden furniture, and bringing in any plant pots or garden items that might become projectiles in the wind. Then, on the day Ophelia arrived, our One Room Challenge started to resemble Noah's Ark, as even the hens were brought indoors to shelter from the storm.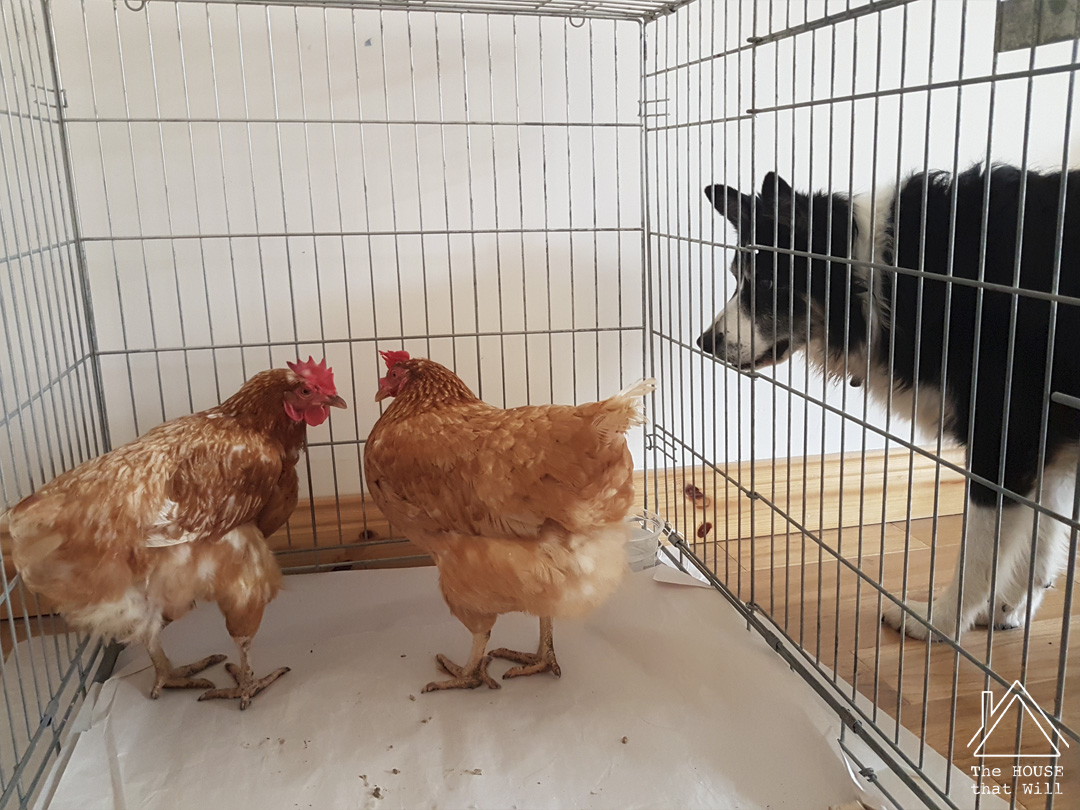 Thankfully, we escaped with only minor damage to our greenhouse, a couple of small trees blown down, and limited phone supply for a couple of days afterwards. Despite the lights flickering all evening, we never lost power, and so we were able to make some progress with the room ... after the hens had returned to their usual quarters, that is!
Paint
If you recall from last week, I had trouble finding the right blue for our room. So I went back to the paint store and looked at every blue I could find there!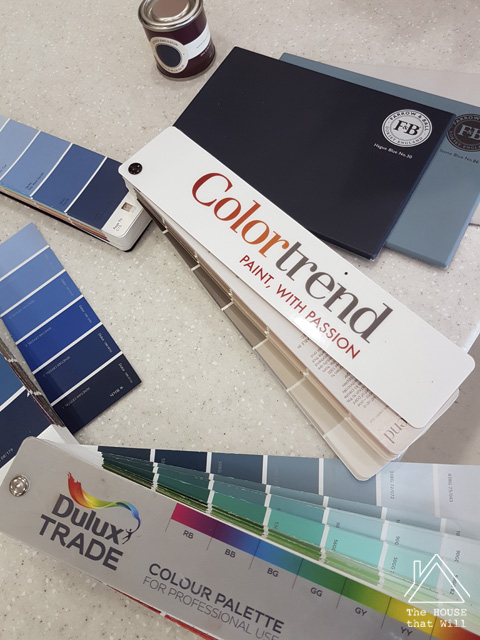 I eventually narrowed it down to four. Left to right, they are: Venetial Crystal 1 from Dulux, Gatsby Blue from Dulux, Happy Tune from Colourtrend, and Hague Blue from Farrow & Ball.
We thought that Happy Tune was too pale, the undertones in Gatsby Blue were too red, and the undertones in Hague blue were too greeny-black for our room. So the winner was Venetial Crystal 1 from Dulux.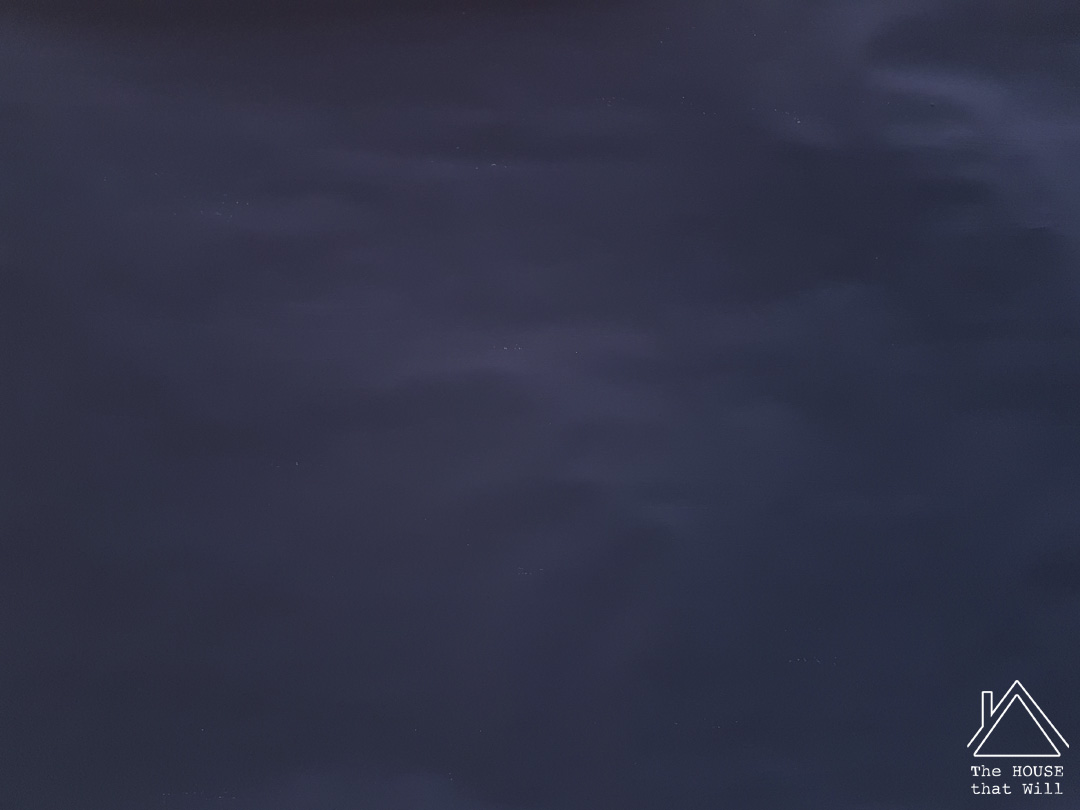 It has just the right tones and saturation to work in our library and, now that we've chosen it, I can't wait to see it on all the walls.
Fireplace
I also placed the order for the fireplace tiles. I was fairly sure I already knew what I wanted, but I had only seen pictures online and we both wanted to see them in real life before we committed. So Hubby and I found a sample in a local shop and confirmed our choice.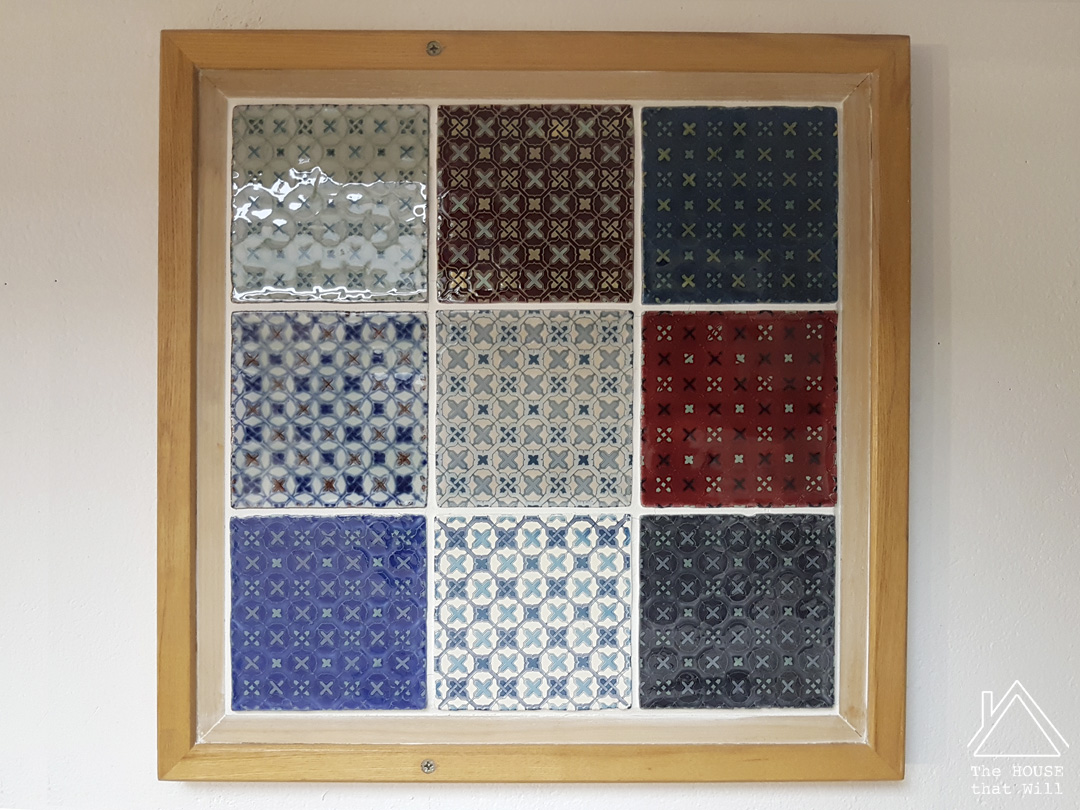 These are the Ormeaux décor tiles from the Châteaux range by Original Style. The one I chose is called 'Blackberry', although the colour is actually a deep burgundy colour.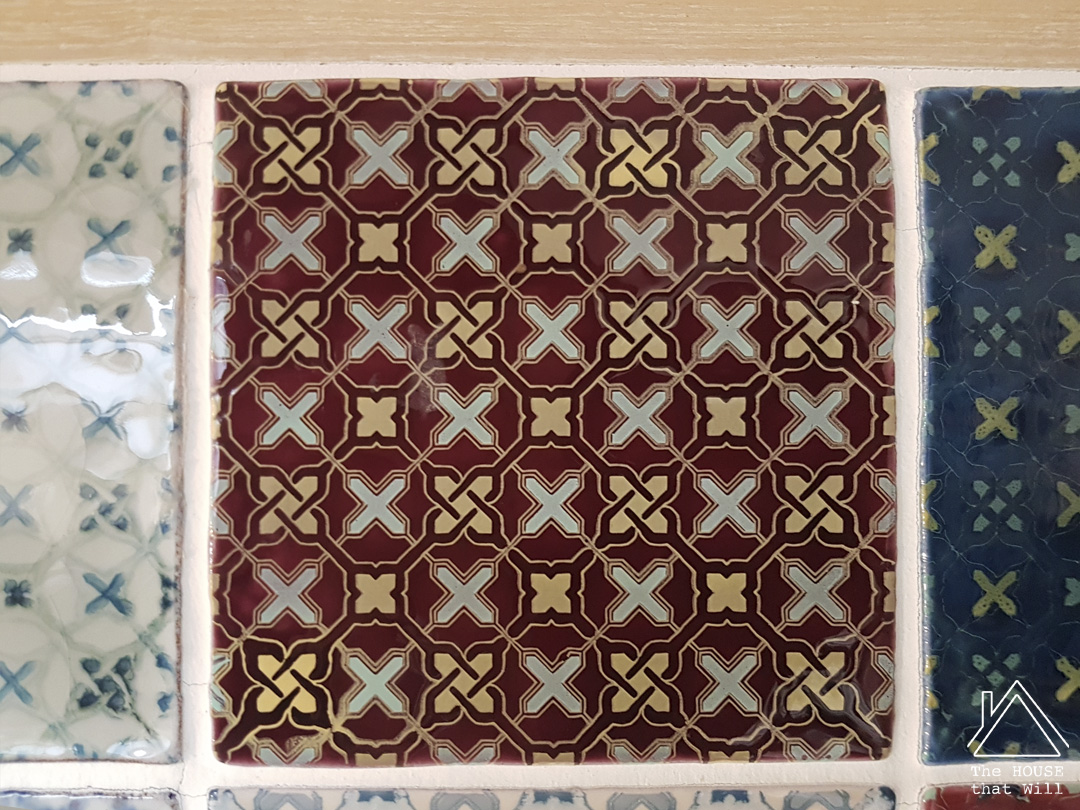 These are 13cm (4") tiles, which I chose because the pattern is timeless and I think will work well as a transition between our very modern gas fire and our antique Arts & Crafts style fireplace.
Pocket Doors
Have I mentioned how excited I am about these?! Well, they're now installed ... although I don't think they can technically be called "pocket" doors until we've built the pocket around them. But we have sliding doors at least!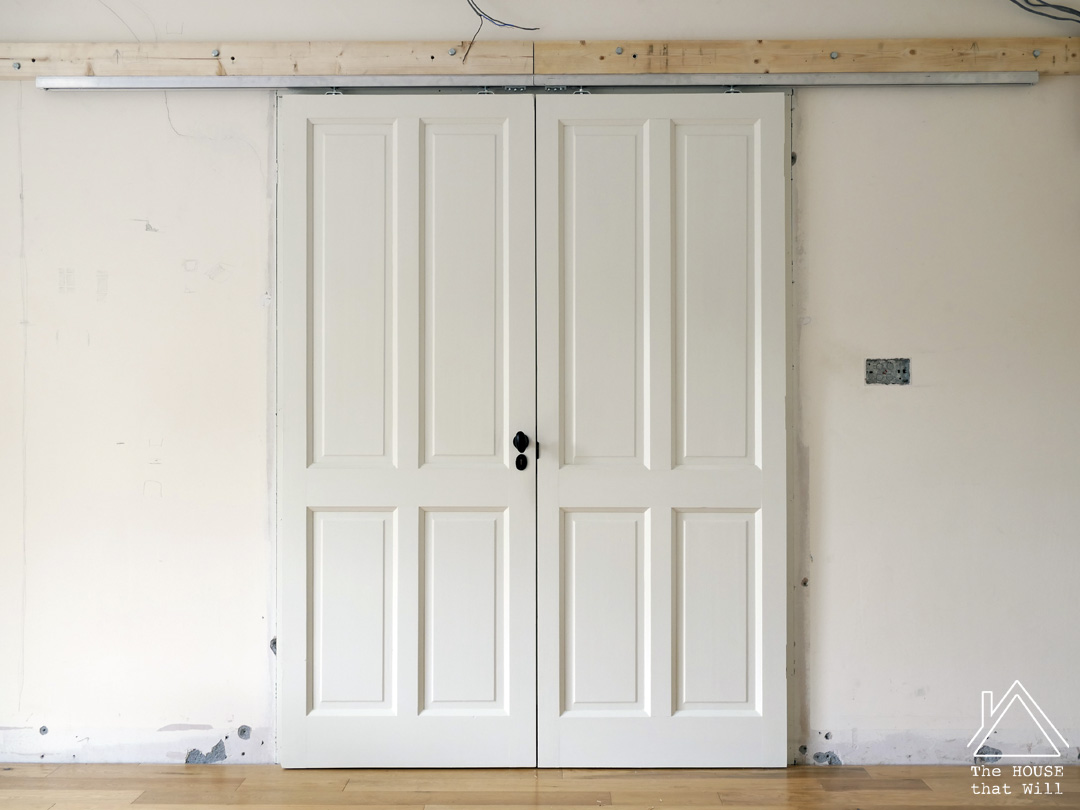 It's been a lot of work to get to this point, and there's still a lot to do to get them to integrate seamlessly into the room. At times it feels a bit frustrating that it seems like not much else is getting done, and I'm impatient to start painting walls and seeing more visible change. But I have learned from experience that it is absolutely worth taking the time to make sure that the room functions properly before even thinking about starting to make it look pretty. And these doors will not only make a big difference by creating more useable space in the room, I think they will also be a great feature in their own right.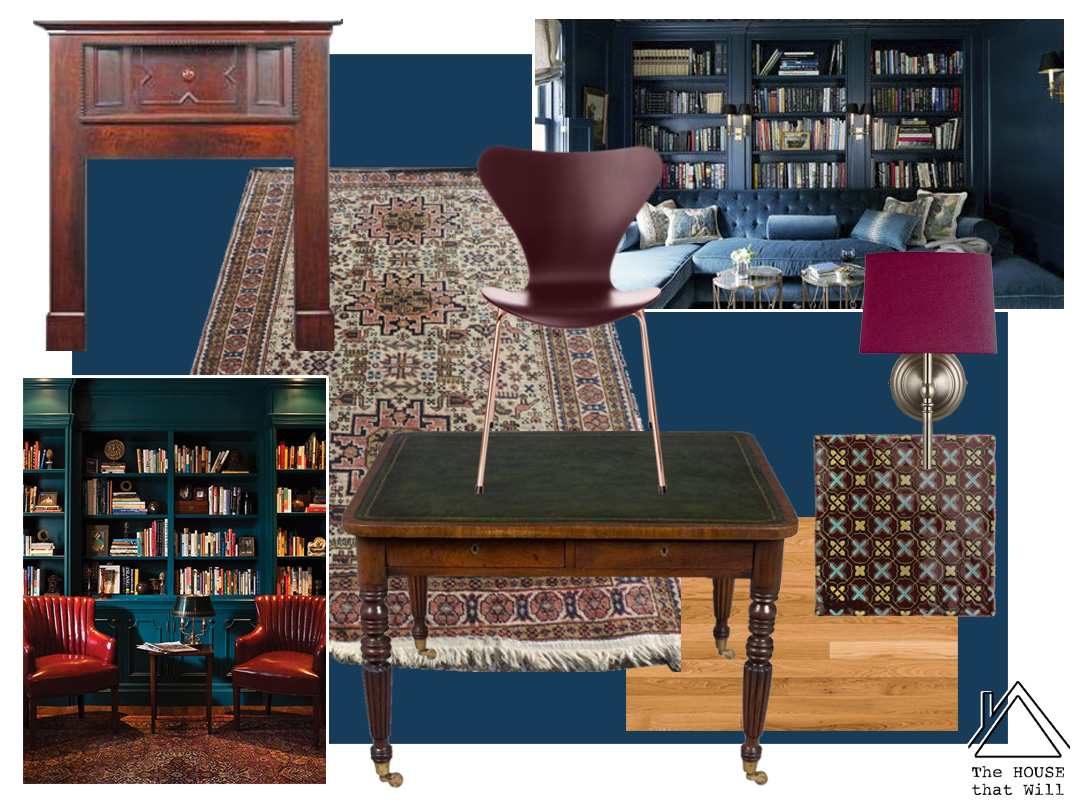 Follow The House that Will
Facebook | Instagram | Bloglovin'

So check back next week, when we hope to have the doors boxed in and the new wall framed out. And, of course, check in on all the other participants - the featured designers post on Wednesdays and guest participants, like myself, post on Thursdays. So there are pages of decor inspiration for you to enjoy! And now that we are half-way though the challenge, I am looking forward to getting started on the wall panelling and turning our attentions to the more decorative aspects of the room from here on.

Related posts:
One Room Challenge: Library Reveal
One Room Challenge: Library (Week 6)
One Room Challenge: Library (Week 5)
One Room Challenge: Library (Week 4)
One Room Challenge: Library (Week 2)
One Room Challenge: Library (Week 1)