I'm glad this isn't my first time doing the One Room Challenge because at least now I now that Week 4 can be the most frustrating part of the project: you start to feel the pressure of the deadline looming, but yet you're too far from the finish line to see the end in sight. That frustration has been added to with this room because we have been working extremely hard, and yet the room doesn't look that much different yet from when we started. It's all been that super-annoying invisible work that is absolutely necessary, but which doesn't make you feel like you're moving forward very much. I'm sure anyone else who's done a renovation can relate.

If you've been following along though Week 1, Week 2, and Week 3 of this room makeover to date, then you won't be surprised to hear that it's the pocket doors that have been consuming all our time this week ...
Pocket Doors ... and Panelled Walls
I feel like the fairytale emperor with his "new clothes" here, trying to convince you that we've made a start on the wall panelling when you can clearly see that there is no panelling on the wall! But just because you can't see it doesn't mean it's not there!
If we weren't going to be panelling this wall, it would have been finished by now. The thing I've heard about panelling a room is that working on the layout is the hardest part - and I certainly hope that is true, because we've spent ages figuring out how to do that. And while it seems like we're putting the cart before the horse to start working out where the decorative panelling will go when we haven't even finished building the wall it's going to go on yet, I promise you that there is method to our madness.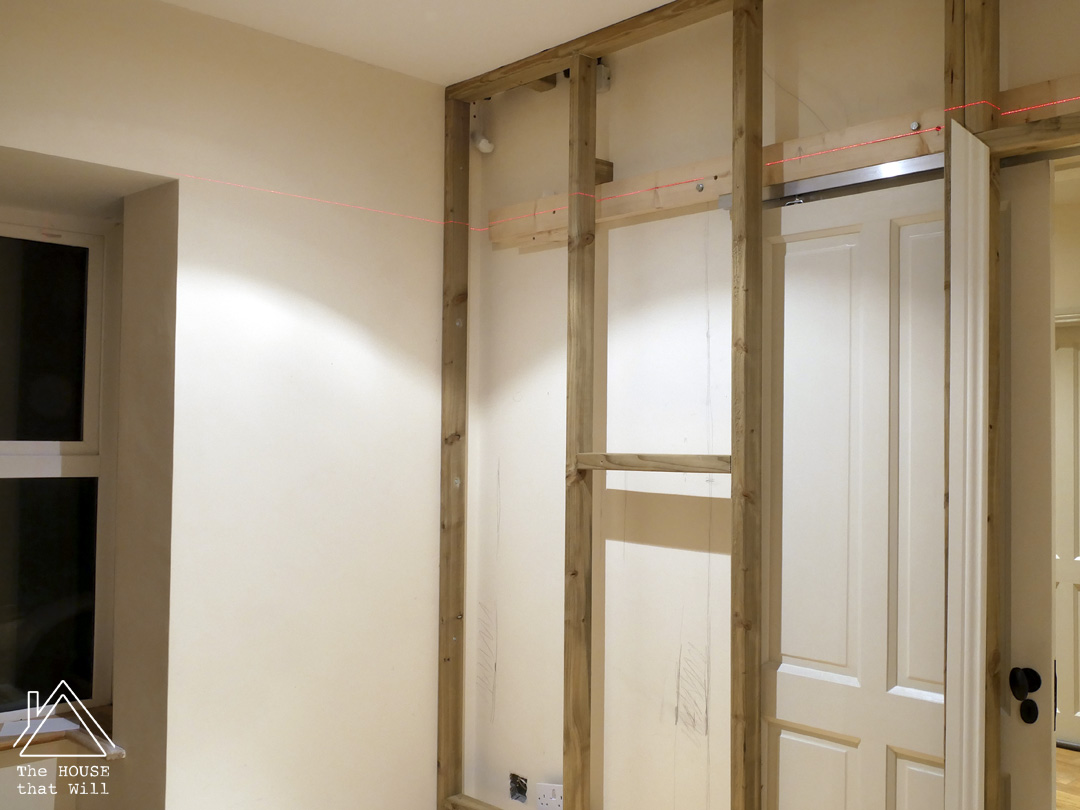 Using a laser level to determine the positions of the decorative wood panels
If you remember our DIY bedroom fireplace, we faced that "chimney breast" with MDF panels instead of plasterboard, and that's what we're going to do here too. It's easier for us to work with MDF than plasterboard, but the disadvantage is that it comes in much smaller sheets. That means that you would see lines across the surface of the wall where the MDF sheets meet. To avoid that, we've built the wall in such a way that the decorative panelling we add afterwards will cover those joins. In other words, we've worked backwards from the decorative wood panels to the placing of the MDF sheets to the positioning of the studs and noggins in the wall.
So, where most people probably just see a regular ol' wall under construction ...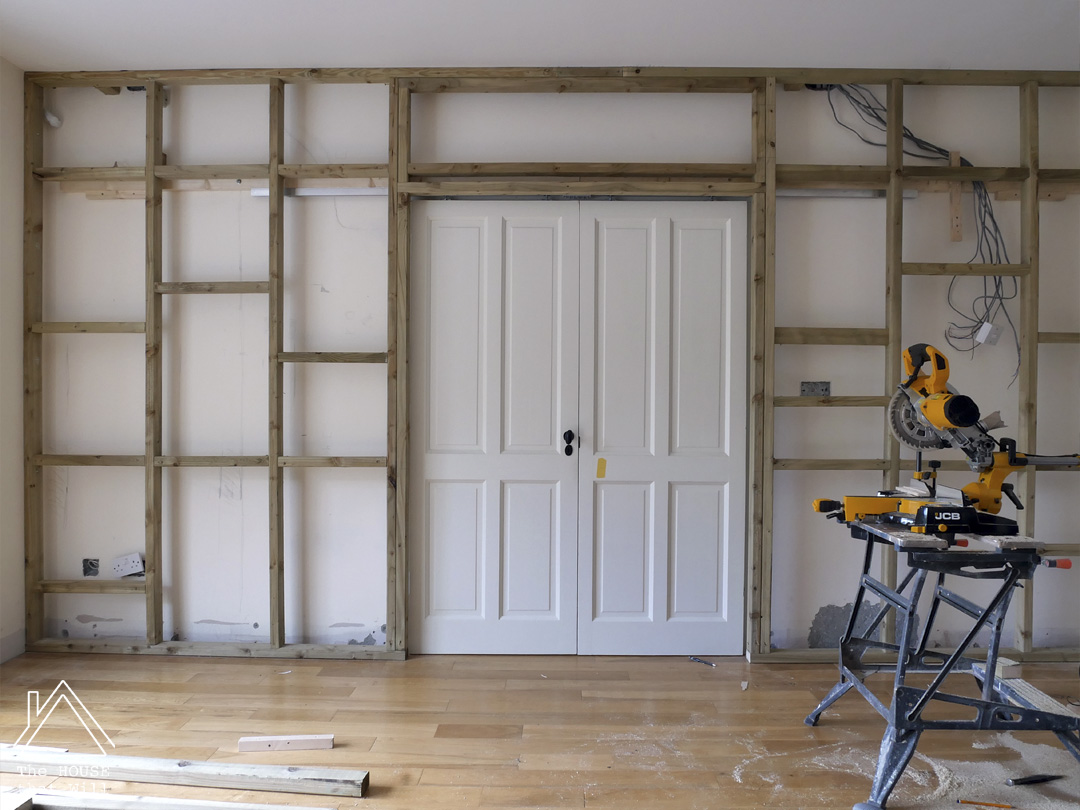 ... I see decorative wall panelling starting to appear: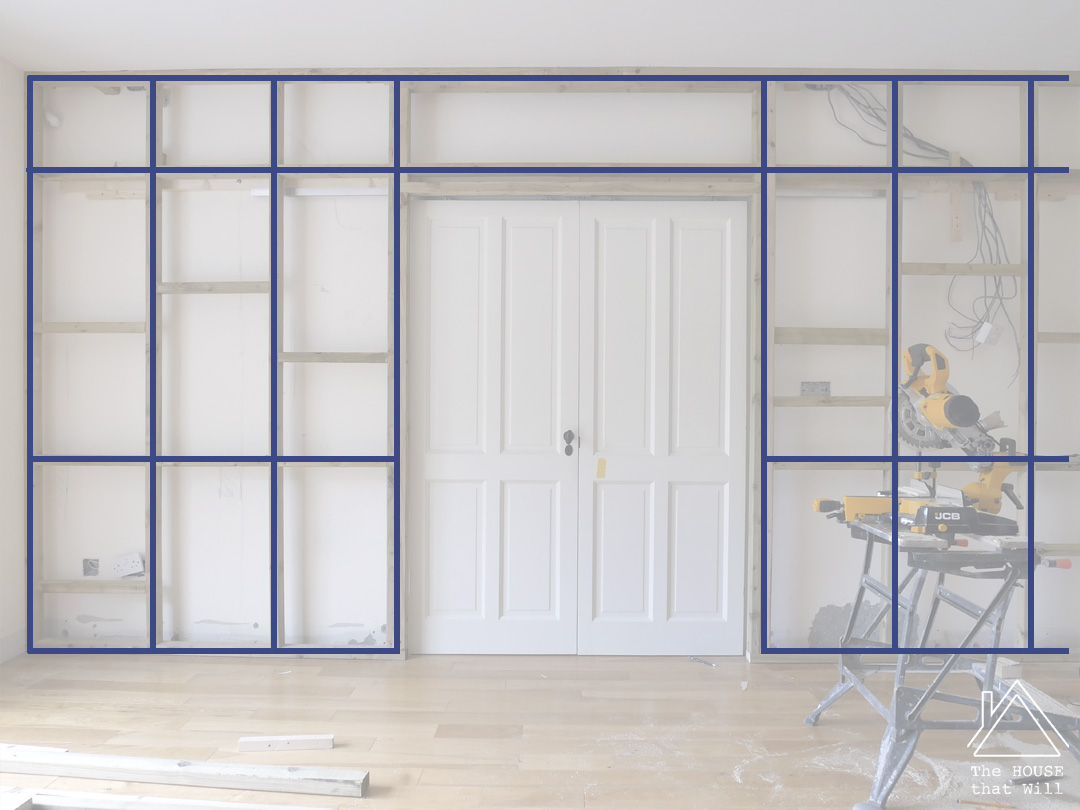 The other randomly-placed noggins are either where the electrical boxes will be positioned, or to provide additional structural support.
Side Project
Speaking of electrical ... remember that photo I posted a couple of weeks back to show how we're taking advantage of this new pocket wall in the library to move the cabling for the router out of the entrance hall? You know, that really ugly hallway of ours: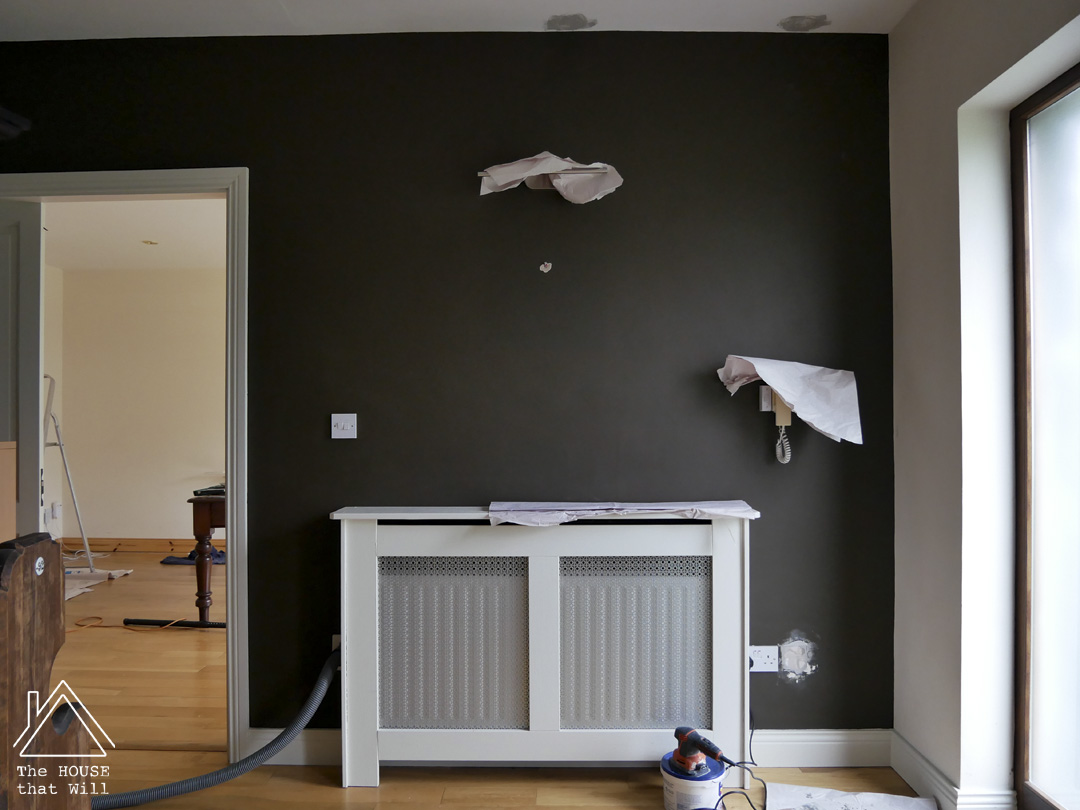 Well, I just couldn't bear the thought of having a beautifully-renovated library hiding behind such an ugly entry. So, over the weekend, I got out my paintbrush and gave it a quick refresh.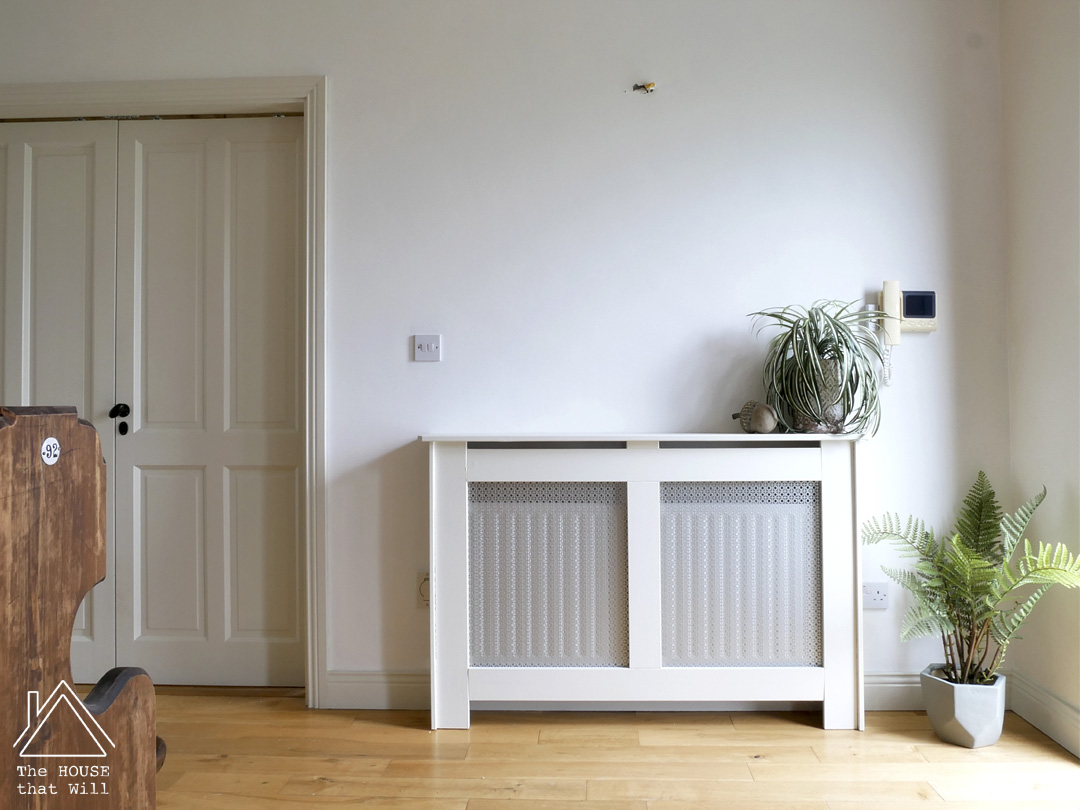 This is just a stop-gap measure until we get to properly decorate the hall, but it already feels so much better.
https://www.instagram.com/p/BagVl_UB1go/?taken-by=thehousethatwill">https://www.instagram.com/p/BagVl_UB1go/?taken-by=thehousethatwill
Follow The House that Will
Facebook | Instagram | Bloglovin'
Now I just can't wait for the day I slide open those fancy new pocket doors to reveal our beautiful blue panelled library!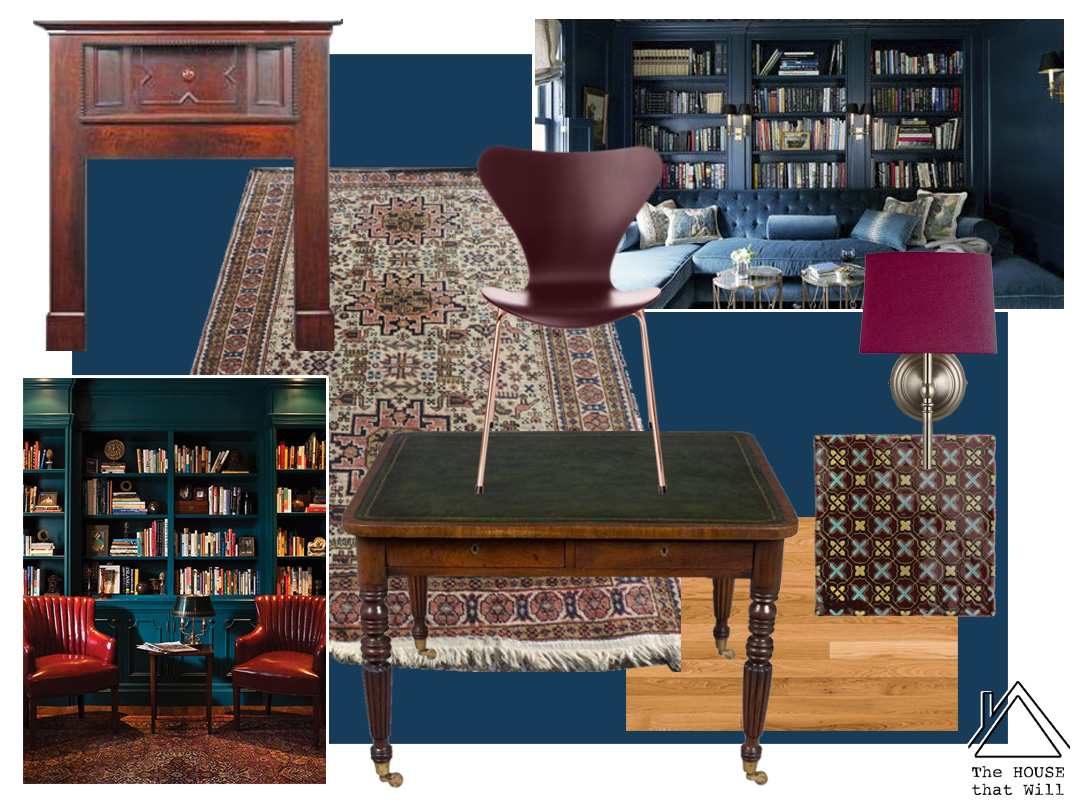 Until then, do head on over to the main One Room Challenge page to see how the other participants are progressing, and then join me back here next week for some decorative wall panelling that you can actually see!
*****
UPDATE: This year, for the first time ever, Linda - the creator of the One Room Challenge - has decided to allow an extra week to complete the challenge. This is due to the unprecedented number and magnitude of natural disasters across the US, as even those not directly affected have had difficulties with deliveries being delayed etc. Over on this side of the Atlantic, we too lost an entire weekend that should have been spent working on our library because we had to tend to some dangerous trees around our house in anticipation of the arrival of Ex-Hurricane Ophelia. We are still trying to make up that time, so I am very grateful for the extra few days to catch up. Now the featured participants will reveal their finished rooms on November 15th, and the guest participants like me will post our big reveals on November 16th.

Related posts:
One Room Challenge: Library Reveal
One Room Challenge: Library (Week 6)
One Room Challenge: Library (Week 5)
One Room Challenge: Library (Week 3)
One Room Challenge: Library (Week 2)
One Room Challenge: Library (Week 1)