I can hardly believe it's time for another One Room Challenge; that crazy attempt to completely makeover a room in just six short weeks with updates posted every Thursday on the blog. This is my fourth time joining in as a guest participant. I decorated our guest ensuite in 2016, and last year I renovated our sun lounge and made a start on our library. Check out what the other guest participants are up to this season - for me this time around, it's my craft room that's up for a makeover.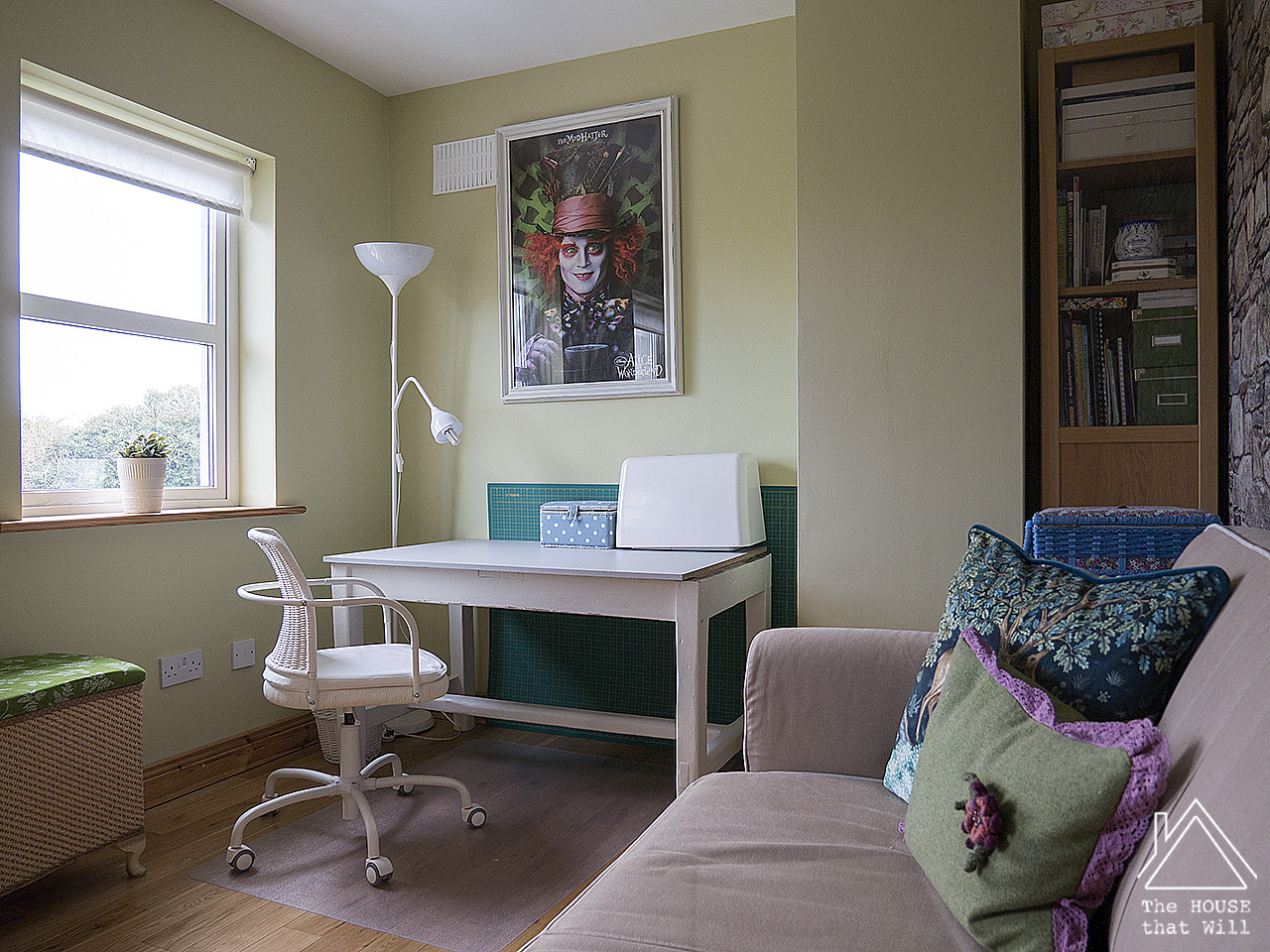 I claimed the smallest bedroom as my craft room when we moved to this house, and I realise that it is such an indulgence to have it. In our previous home, I had to work on the kitchen table, which meant having to clear my sewing things out of way when it was time to serve dinner - and that was not always easy, depending on what I was working on and what stage it was at. My dream was to have somewhere that I could leave unfinished work, so that I could easily pick up where I left off without it being disturbed in between. Having this room allows me to spread out my work-in-progress without having it impact our daily life ... that is, until it did.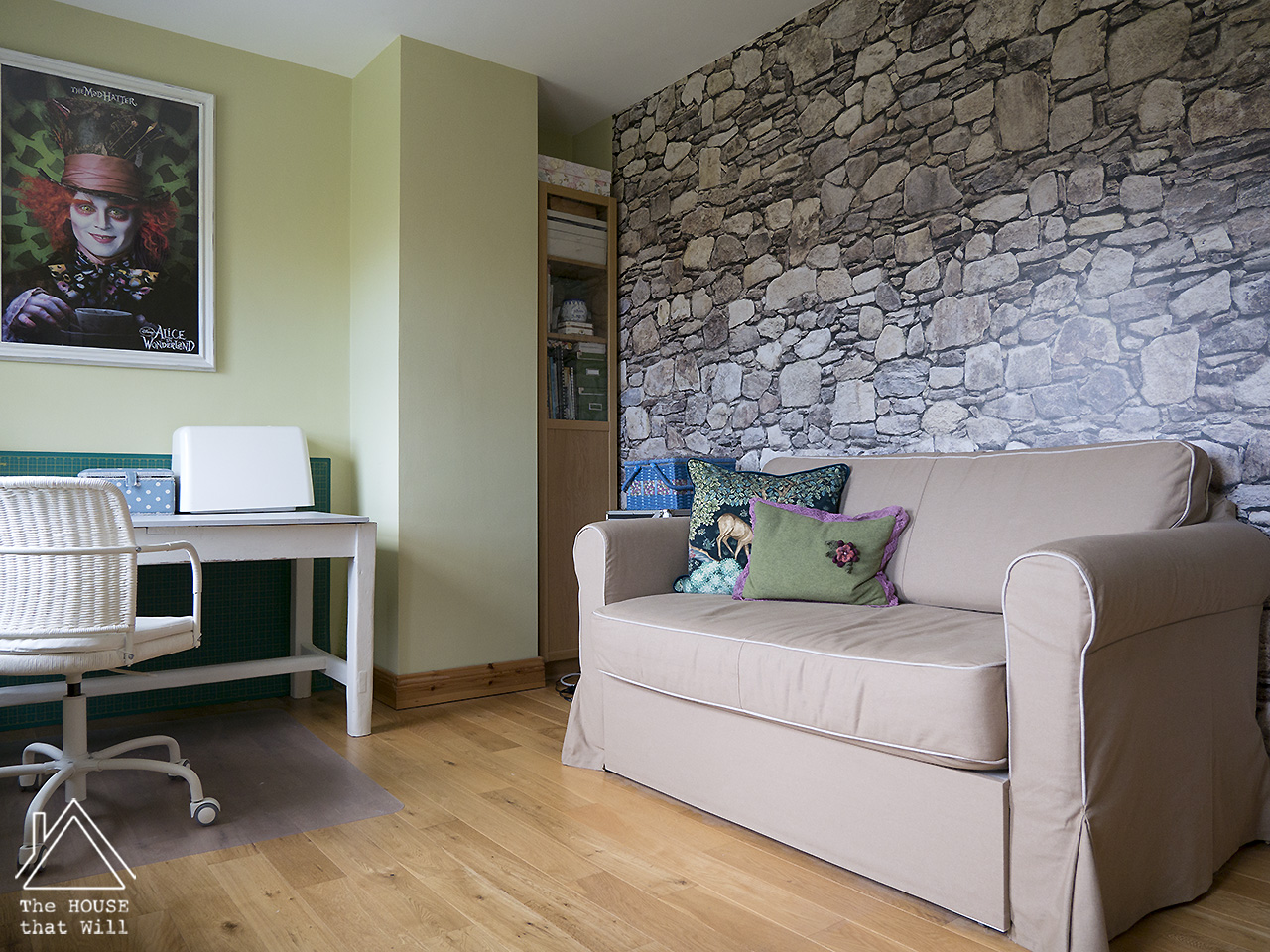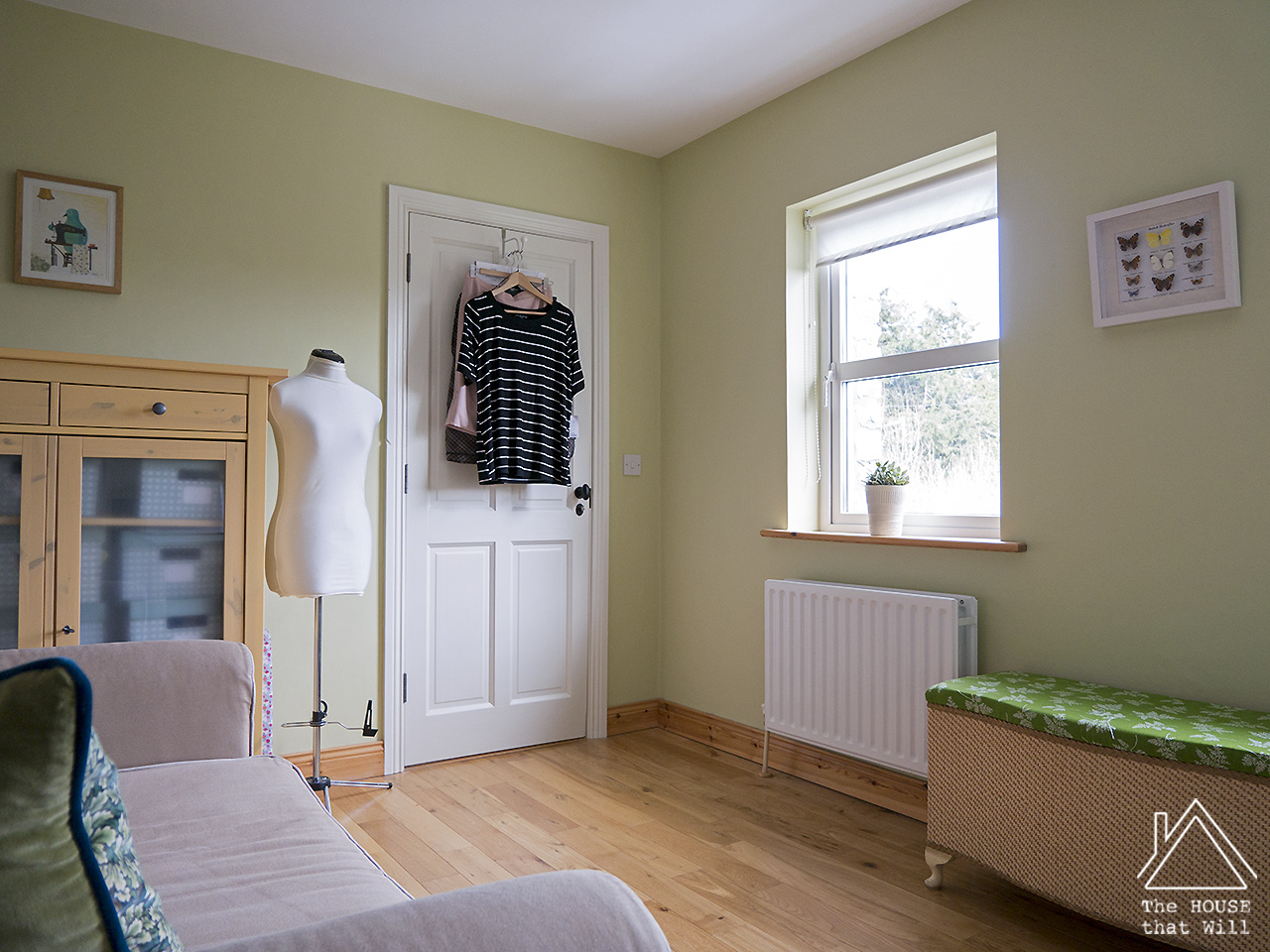 Recently, my craft items have started to creep into other parts of the house, and have been known to show up unexpectedly on the coffee table or get in the way at breakfast. Which is totally inexcusable when I have a dedicated craft room. So, clearly, there was a problem. And that problem was lack of storage.
Follow The House that Will
Facebook | Instagram | Bloglovin'
It felt too self-indulgent really to have my very own craft room, so I had tried to make the space multi-functional by having it work as an overflow guest room as well. A huge part of the room is taken up with a sofa bed, and on the back of the door was a clothes hanger - intended to offer hanging space to potential guests - but which more often operated as my "inbox" for clothing that needed alterations. That only left space in the room for one storage cabinet and one tall bookcase - and the bookcase was full of stuff that should have been moved to our new library ages ago. I had recently added a vintage blanket box to the room, but it wasn't sufficient to pick up the slack in terms of needed storage.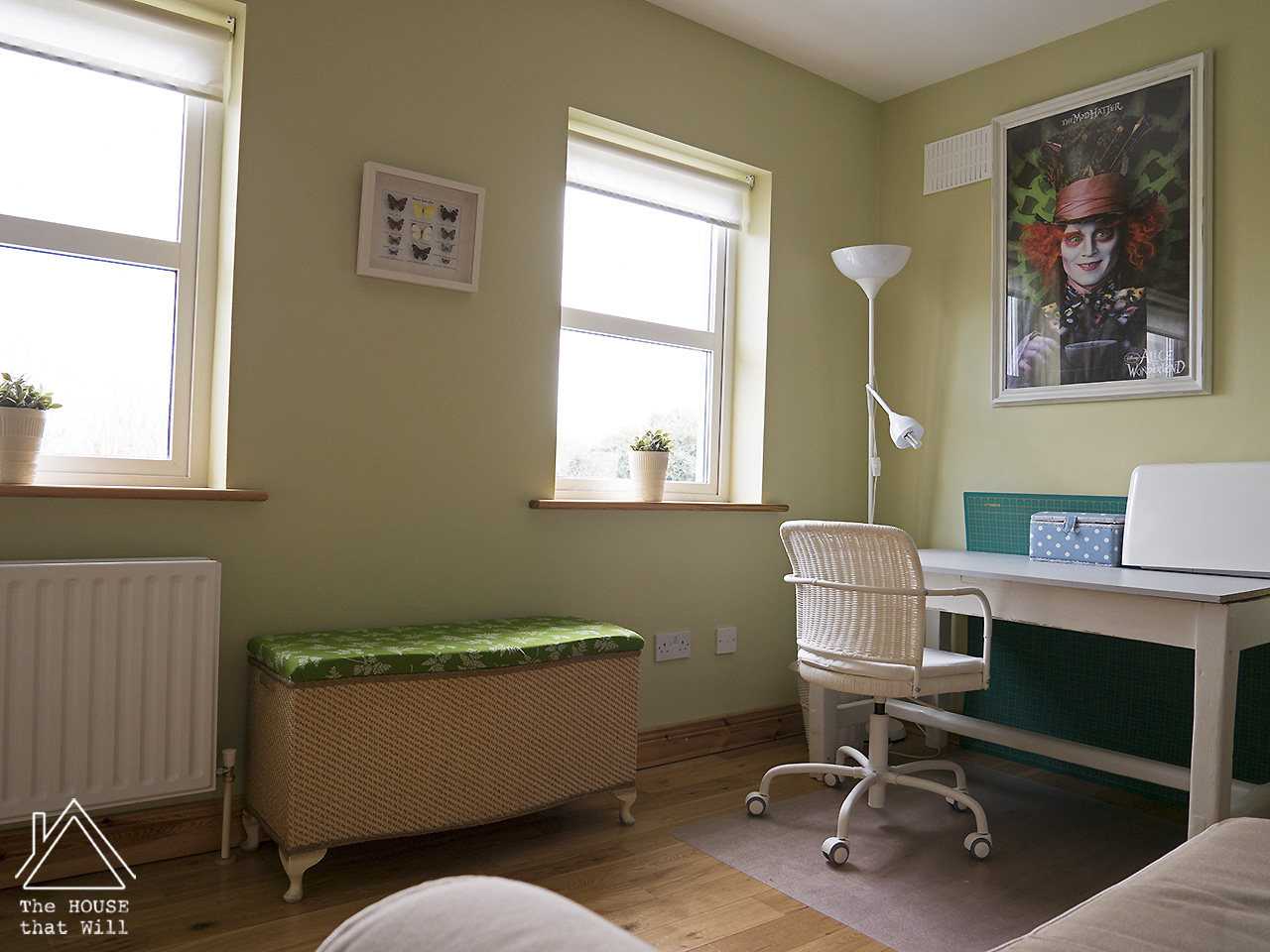 Another issue was the decor: the room just wasn't the most exciting place to work. I had originally attempted a kind of "garden room" feel in the room, with the sage green walls and dry stone mural. I had always intended painting that yellow storage unit; I just never got around to it. I also never found time to paint the pine skirting and windowsills. And the purple accents were a half-baked idea that got no further when I realised that I don't even like the colour purple! So, basically, the room was just a mishmash of unfinished ideas.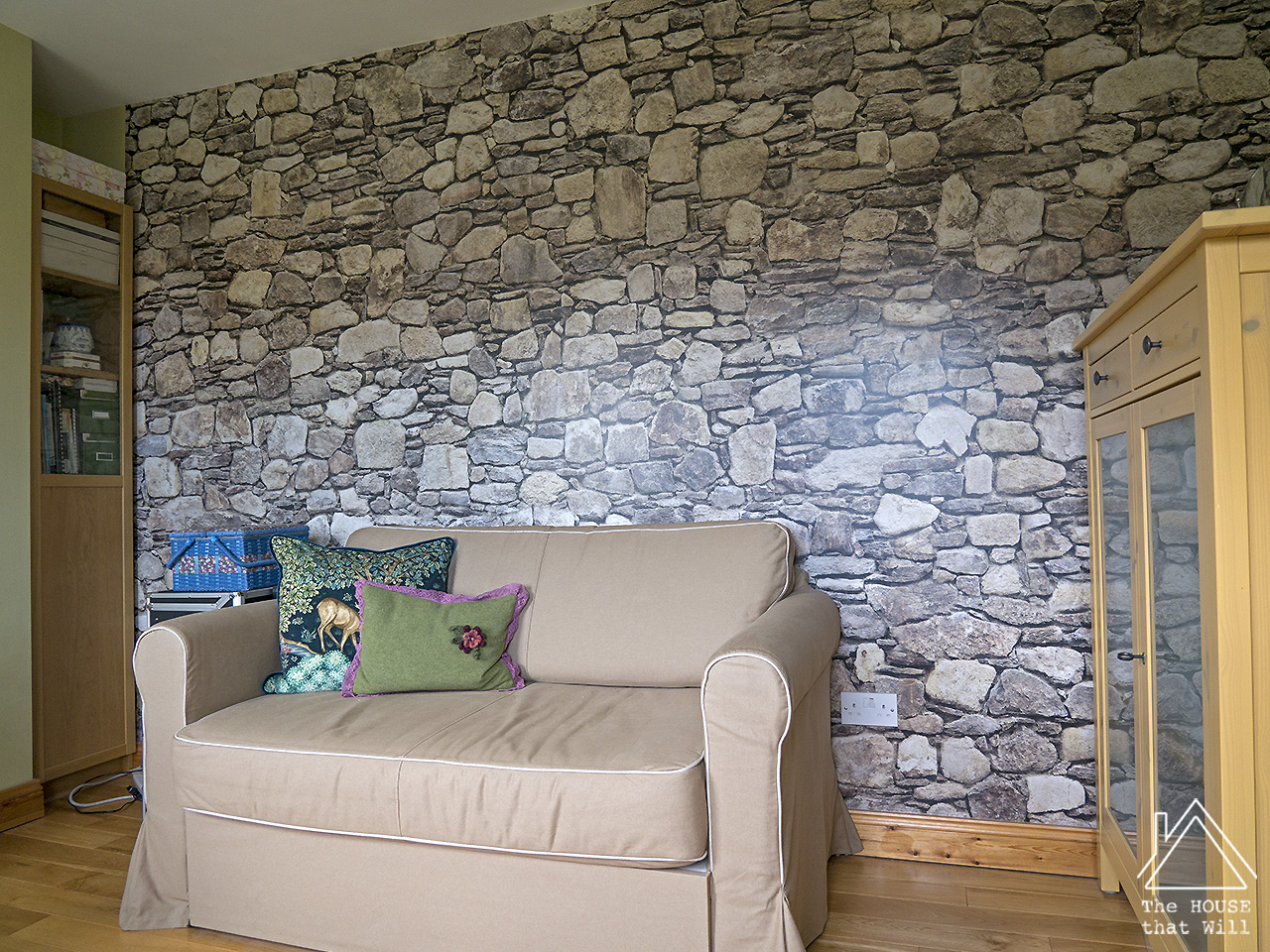 Ironically, the room looks better in photographs than it does in real life. That mural, for example, is poorly printed, with awful artefacts in the image from indiscriminate use of the Photoshop cloning tool, and panels that don't join up properly.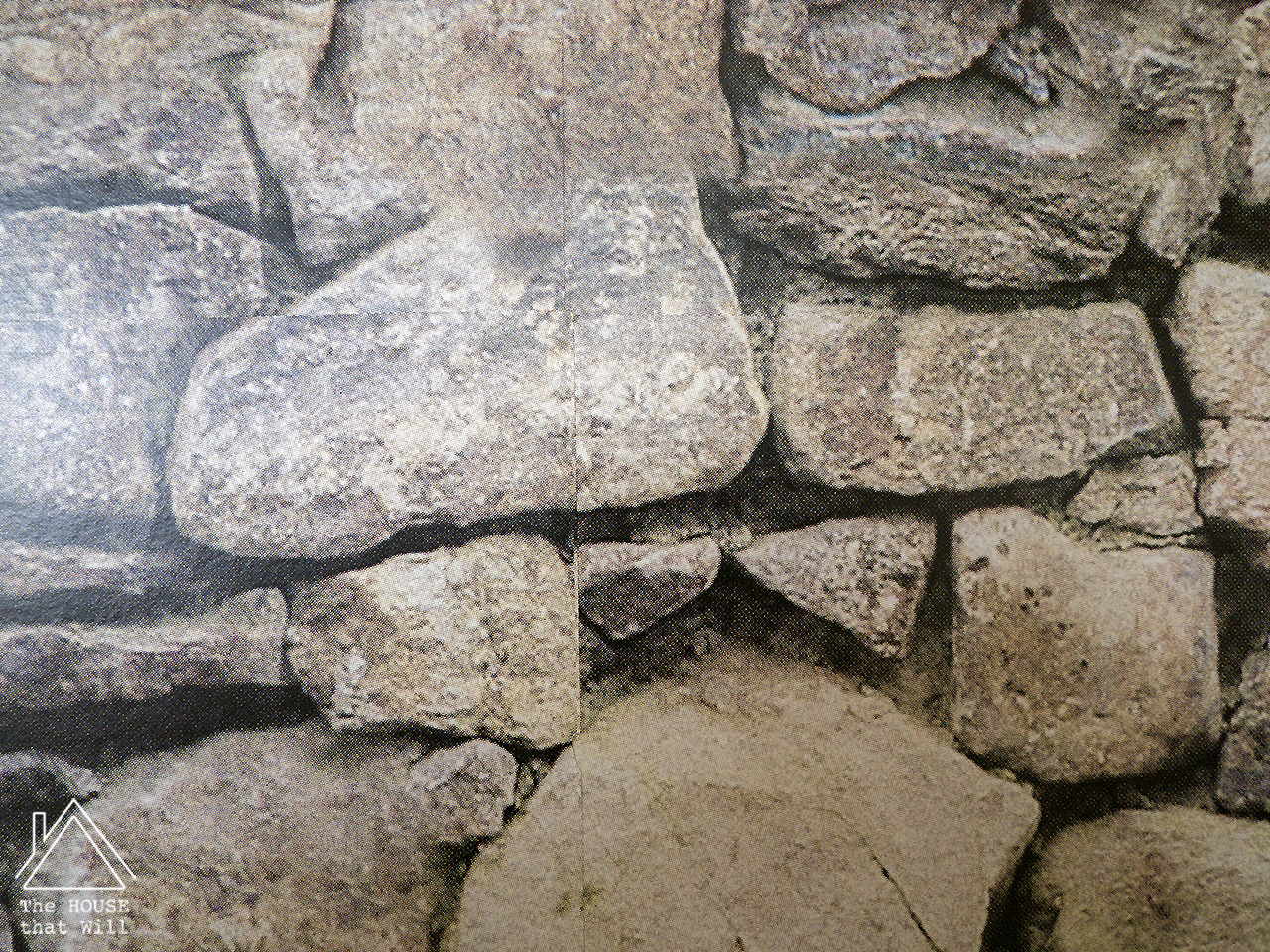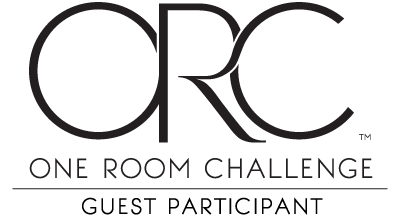 So it's time to show this room some love! Firstly, the sofa bed needs to go. This one makes up into a single bed, but we have since added a double sofa bed to our loft, so this one is no longer needed. That means that this room can now be totally dedicated to crafts!
So, the plan is:
Remove that awful mural
Fresh paint
More storage
Functional work area
Inspiring decor
Next week, I'll share all the details about how I'm hoping the room will look when I'm finished. So check back on Thursday for my next weekly update!

Related posts:
One Room Challenge: Library Reveal
One Room Challenge: Sun Lounge Reveal
One Room Challenge: Guest Ensuite Reveal