I have always claimed that you don't need a big budget to make a house a home. Now that's all very well and good to say, but it's important to note that the idea of a "big budget" can mean very different things to different people. So when a good friend recently asked me to help her to decorate a bedroom for her two little boys, and to do it on a shoestring budget, I was delighted for the opportunity to show that it really is possible to create a beautiful space at minimal expense. It was also exciting for me because this was was my first time decorating a kids' room, and my first time decorating for anyone other than myself.
For the purposes of anonymity, let's call my friend Julie because she and I started discussing this idea in July. Julie is one of the most warm and fun-loving people I know, but her rented house didn't reflect how wonderful she and her gorgeous family are. So that's where I come in!
In fact, I think it is really important to note that part of my friend's request in asking me to help with the boys' room was that I should also write about it on the blog because she feels that it is very important to help other people who are also trying to create a home on a tight budget by showing them how it can be done. That's just a small example of what a thoughtful and generous person that she is.
This project also gave me the opportunity to show that you don't need to own your own house in order to create your own home. However, the fact that Julie rents her home meant that I did focus the bulk of the budget on items that the family can take with them should they ever move house.
The Brief
The brief was to create a bedroom for Julie's two boys, 'J' aged one and 'M' aged three. Top of Julie's priority list was storage, both for the boys' clothes and also their toys. The older boy takes after his father with his interest in anything with an engine: helicopters, boats, planes, fire engines, and most especially, trains. Indeed it is a familywide fascination, as Julie herself has an impressive collection of Hot Wheels. So transportation was most definitely going to be a strong theme in the room. Other than that, Julie expressed an interest in bunting, which gives her a happy feeling.
Today I'm just going to show the before-and-after photos and some insights into how I spent the budget; more in-depth explanations and how-tos will follow in later posts.
PIN THIS!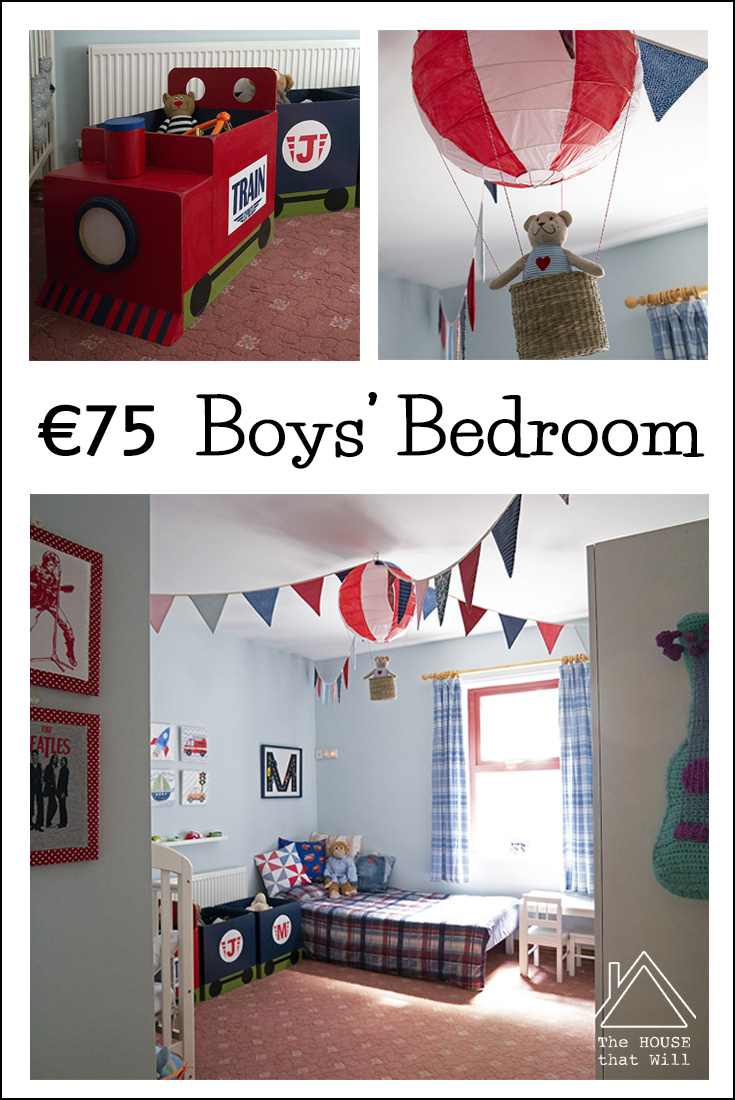 Follow The House that Will
Facebook | Instagram | Bloglovin'
Before
So let's start with the 'Before' photos. Aside from the couch, which was used only by the family's dog (and even he preferred a chair in the sitting room!), the room already had a lot going for it. It is a great size and had a cute little red window. Julie had already removed the red curtain because it darkened the room a lot, but the curtain pole (not pictured) and brackets were still there.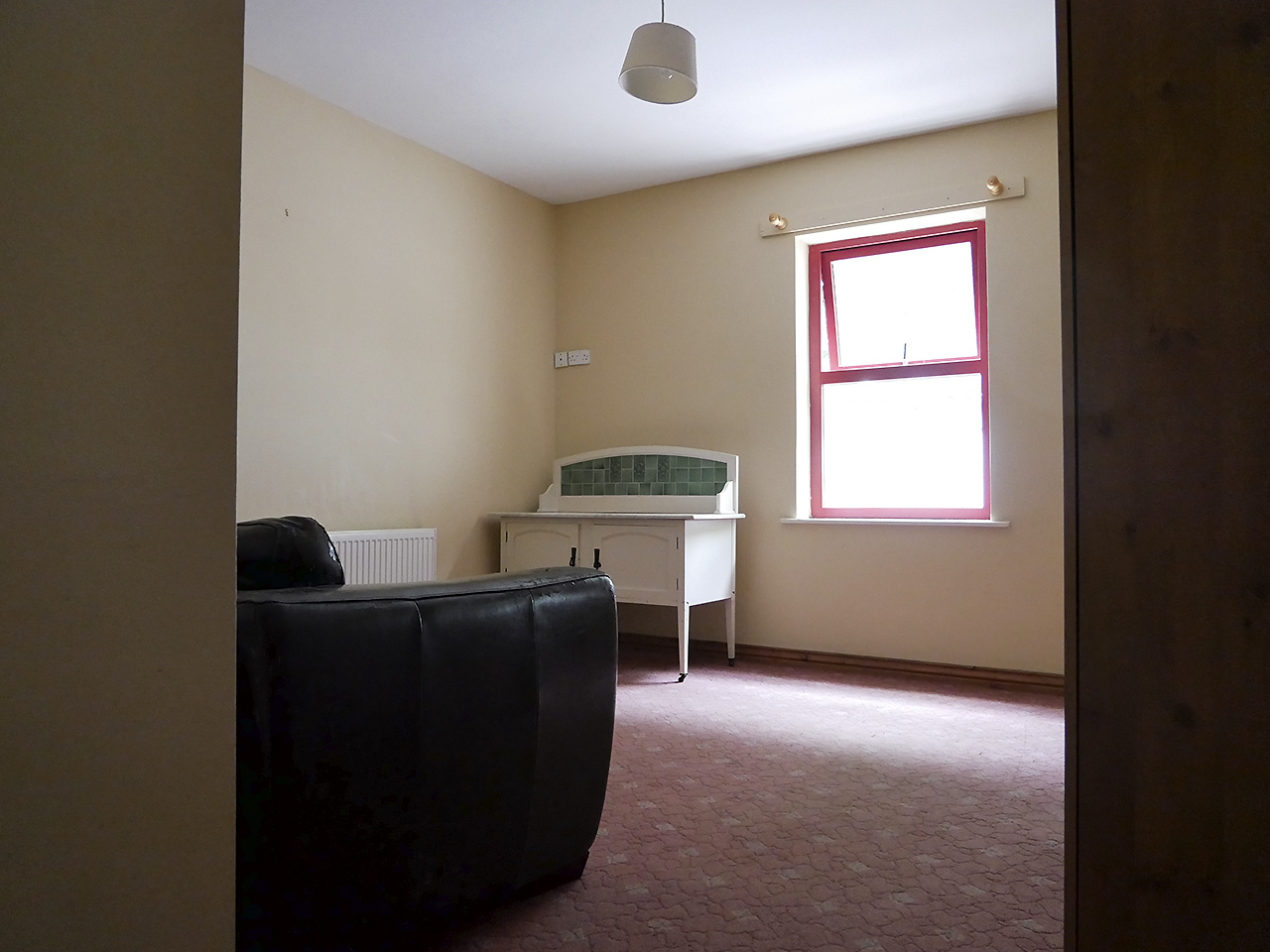 The red window and reddish hues of the carpet were the inspiration for the accent colour I chose for the room. When working on a budget, it's best to work with what you have where possible.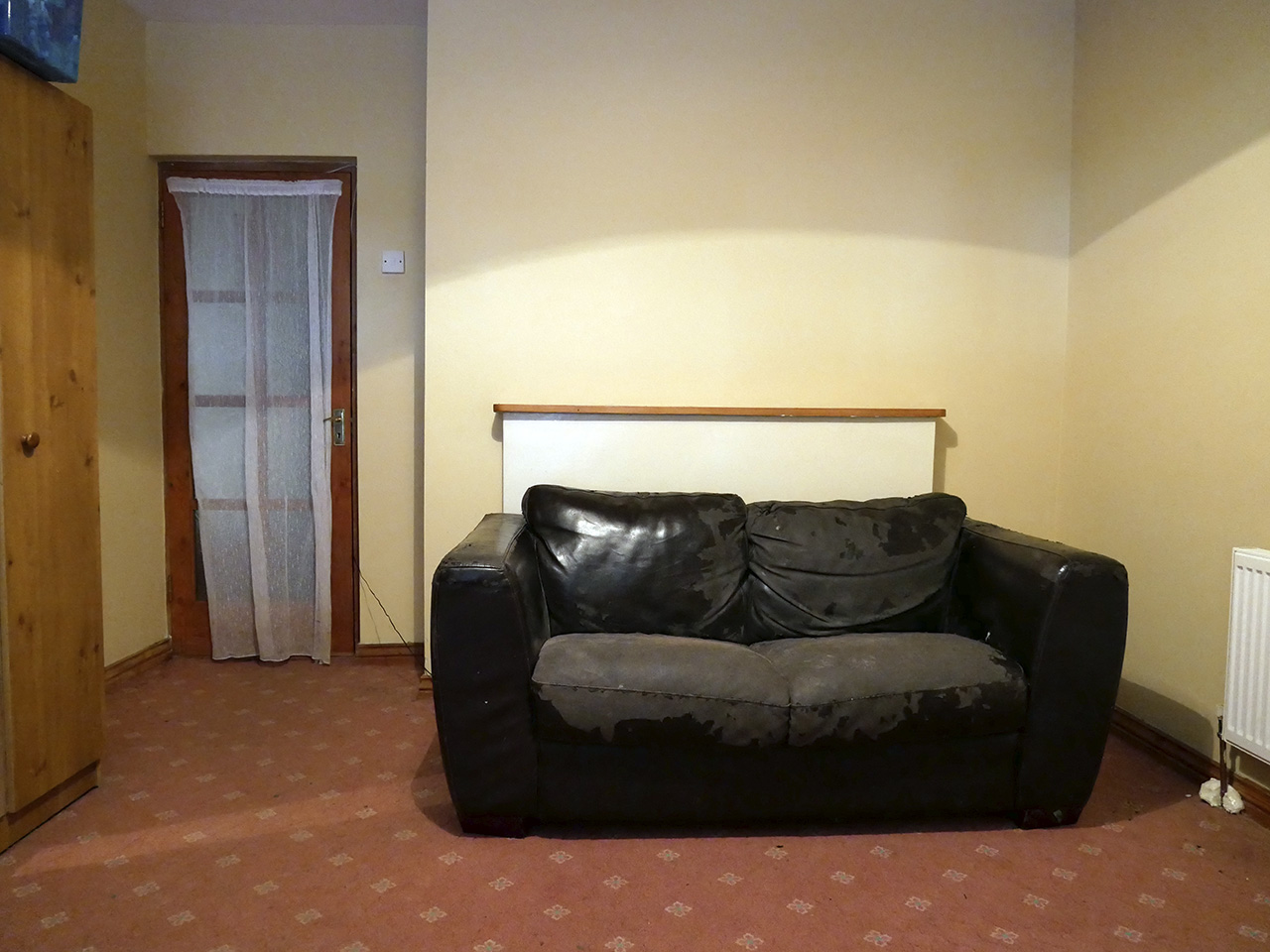 Something else we worked with were the pair of laminated chipboard wardrobes - identical in style, but not quite identical in finish. The finish didn't matter, however, since my intention was to paint them anyway.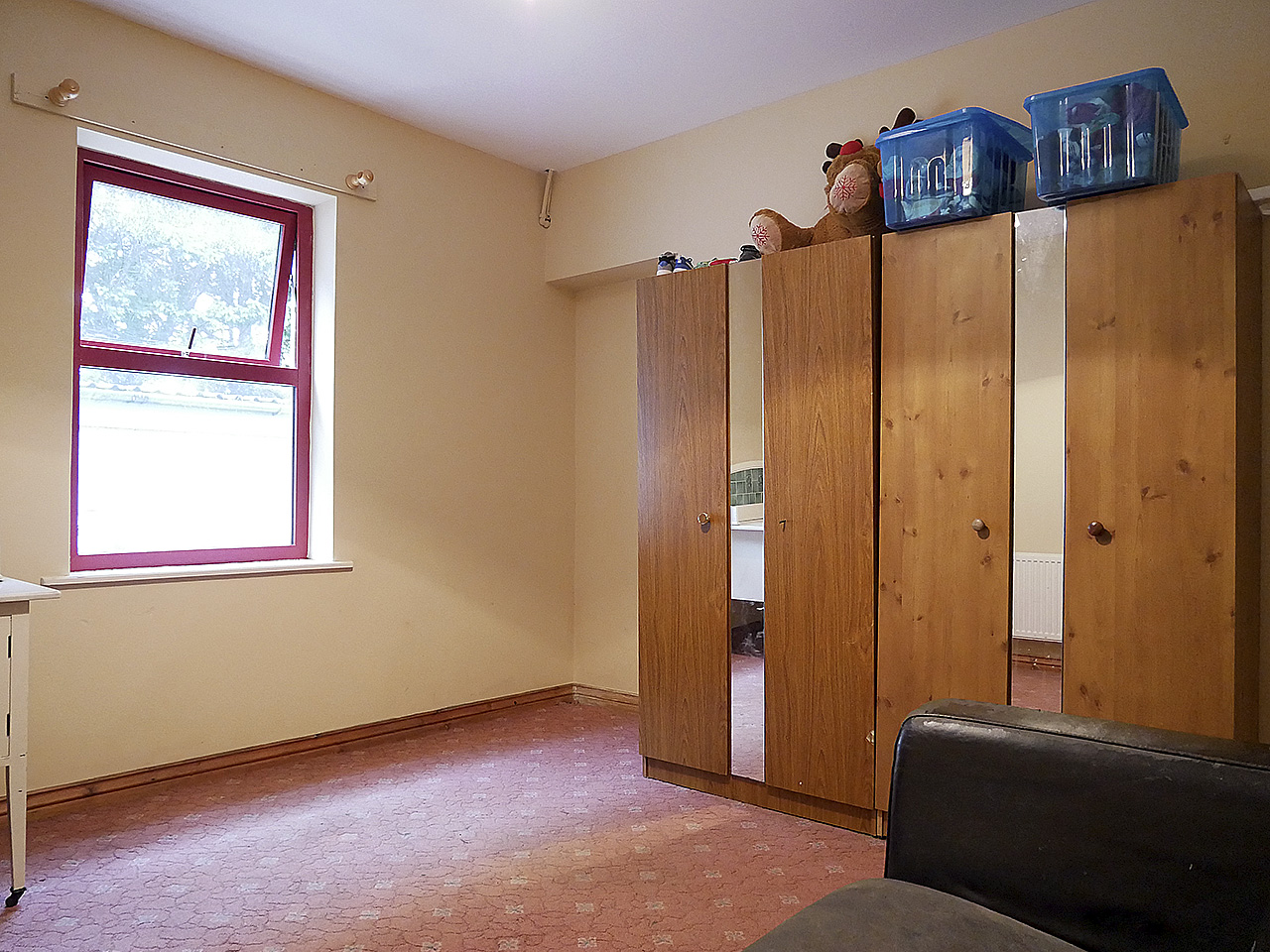 The carpet was in good condition and only needed for the face-painting stains to be taken out of it! In another room, Julie already had the younger boy's cot and all the accessories for that.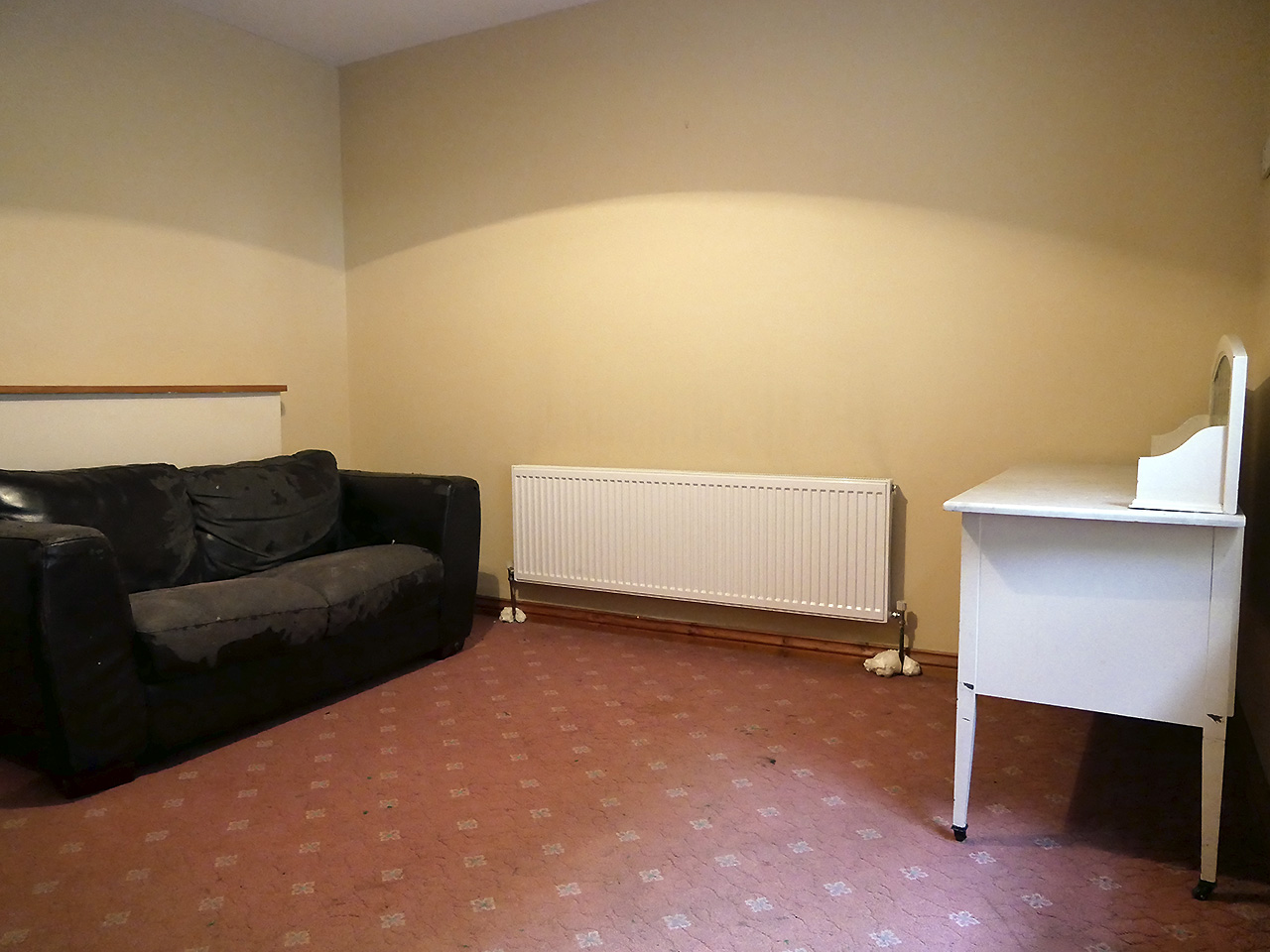 Transforming the Room
Having determined what we could use, we then cleared out the unwanted furniture. The old couch was disposed of, and the gorgeous antique washstand was moved to another room, where it will become a beautiful feature.
Then we set to work with the painting, starting with the woodwork. I removed the wardrobe doors to make it easier to work, then the laminate surface got a light sand to knock the shine off it. We primed the doors and the carcasses with some of my leftover favourite primer, Zinsser B.I.N. (available in almost all hardware stores), which we applied with a foam roller. Then the wardrobes got two coats of Dulux 'Chiffon White' paint in a hard-wearing eggshell finish. I found an unopened can of this eggshell paint in our garage, and neither Hubby or I have no idea why we bought it, or what we had intended it for! So I was glad to put it to good use in the boys' bedroom rather than let it go to waste. We also used it to paint the windowsill, which had been painted with a beige gloss. A quick sand, a coat of primer, and two coats of the white eggshell gave it a fresh new finish that brightened the window area. Finally, I salvaged four door knobs to replace the existing mismatched and missing ones on the wardrobes. I painted them dark blue using some leftover satin paint from when we decorated our library.
Julie then replenished all the unpainted woodwork in the room: the skirting boards, the door, and the old mantelpiece on the blocked-up fireplace. She used some Danish Oil that I had originally bought for our exterior woodwork at home before realising that even versions of it sold specifically for outdoor use are unsuitable for our Irish climate (see my post about Exterior Woodwork for a much better solution!). However, it is ideally suited to indoor use, so it was perfect for this job.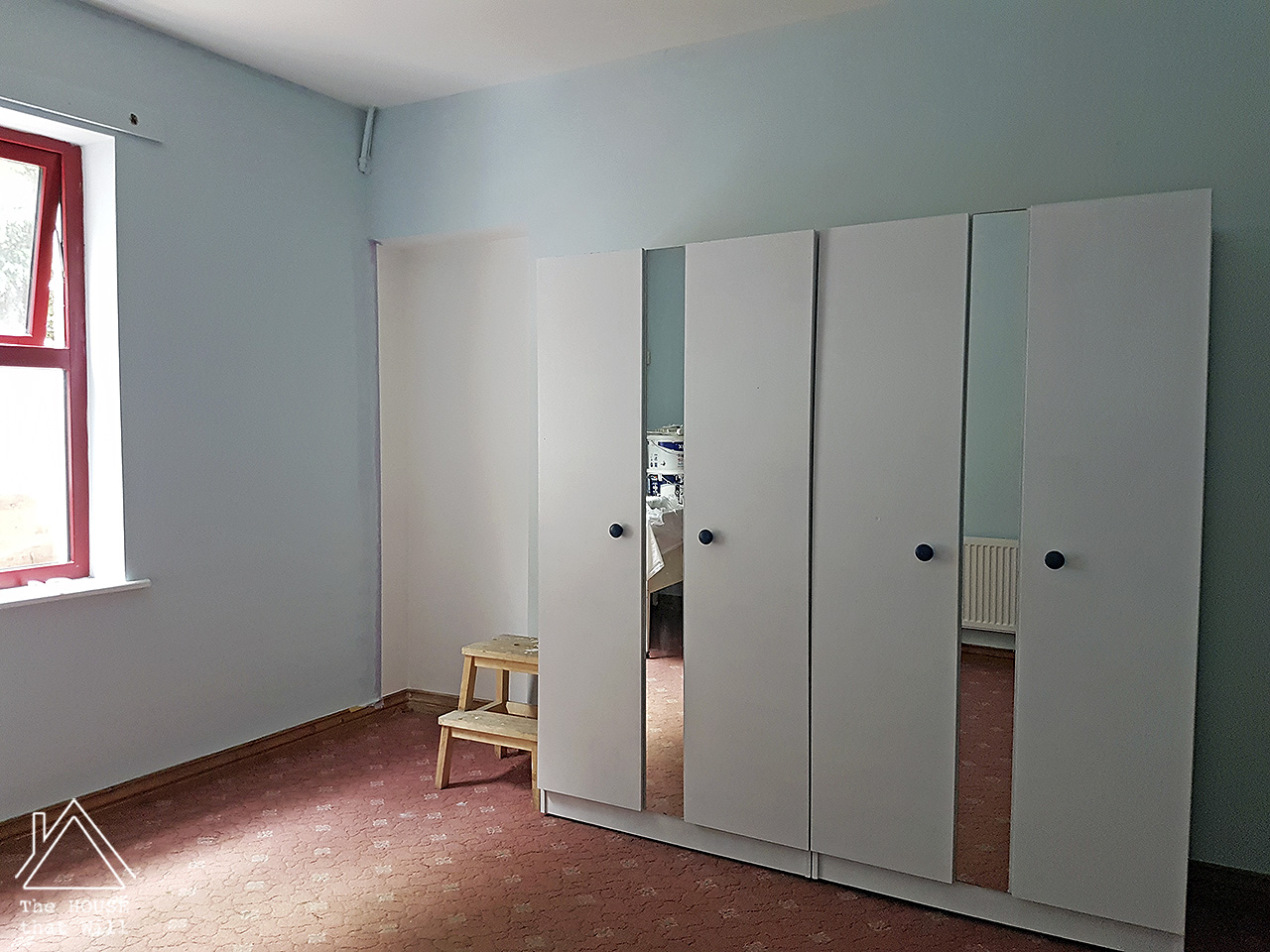 Next we turned our attention to the ceiling, giving it two coats of Dulux 'Brilliant White' ceiling paint. Then the walls got two coats of Dulux 'Velvet Touch 6'. Again, these were paints I had leftover from projects at my own house, so they didn't cost us anything. There was an alcove where the old back door used to be before the house was extended. I painted that white to contrast with the blue walls because I had a special plan in mind for that alcove!
So far, all the work on the room was on aspects of it that are bound to the house (the wardrobes belong to the landlady), so I was glad we were able to do all of that at no cost. Everything else can be taken with the family and reused elsewhere in case they ever have to move from this house.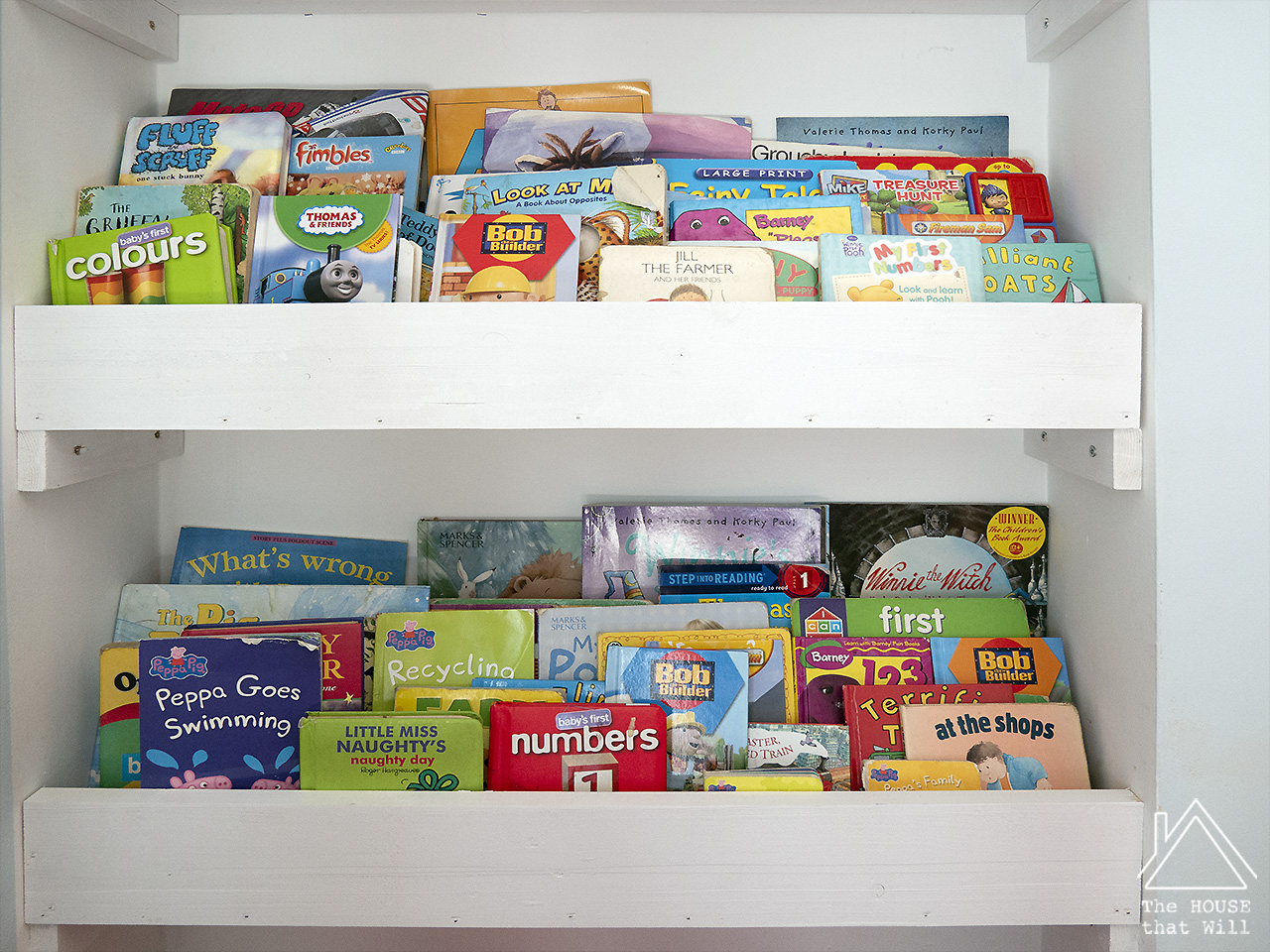 Julie's husband, who I'll call Mr. J, sourced some pallets and broke them down into their individual planks so that we would have some free wood to use for the projects in the room. Most of it was used to make shelves for the alcove, creating the effect of a built-in bookcase. The shelves were painted white to match the alcove, and for that we used more of that eggshell white paint. The lower couple of shelves have a ledge at the front to allow books to be displayed front-forward in a child-friendly manner. The ledge also prevents books from topping down on a young child as they browse, so they also serve a safety function. Although the shelves are built into the alcove, there's no reason they couldn't be detached and reused in a different configuration in another house if needs be.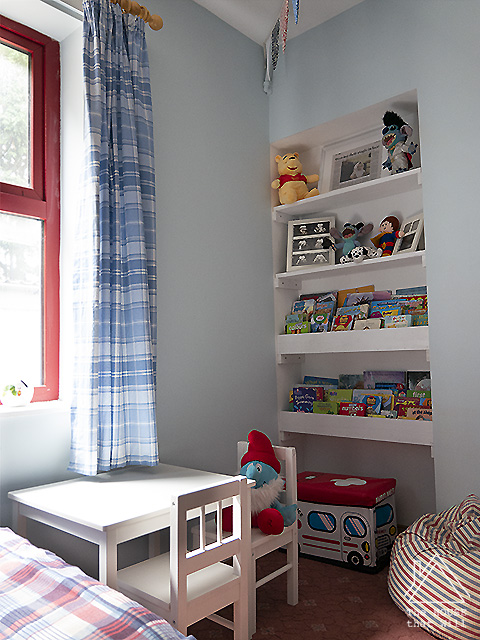 The blue check curtains were a great find - Laura Ashley brand and fully lined - which I bought second-hand for just €5. They are beautiful quality and in perfect condition.
A vital part of any bedroom is obviously the bed! Mr. J is a professional metalworker, and he made the bed frame for his little boy. I sourced the mattress free-to-collect via online classifieds and it was in perfect condition.
I purchased the bedding in The Range during a trip to Derry, and discovered later that it cost about half the price in Northern Ireland stores than the same set costs here in the Republic. Go figure. Julie wanted the bed to feel like a daybed, so a mutual friend who is a whizz with textiles made some cushions using fabric from her stash. The fillers were from my cushion stash. Hubby actually begged Julie to please take some of the cushions from our house! Do you think that's a sign that my cushion crush has become a problem?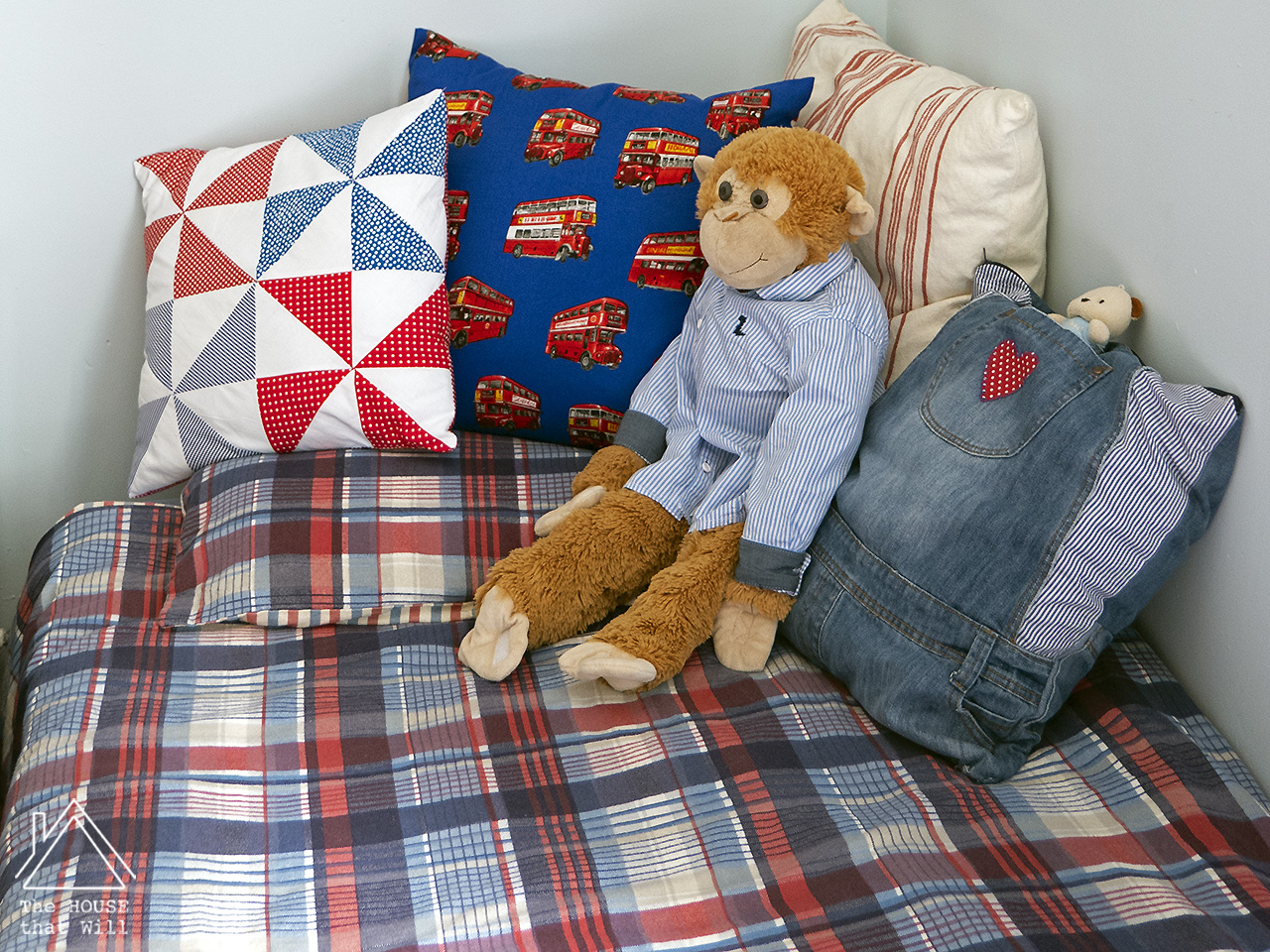 That bedding I bought in the North went a very long way, and I don't just mean geographically. I ended up buying a king size set because the store was sold out of single sets and the king were only £4 extra on special offer. I cut and sewed the duvet cover down to size. Then I used the leftover fabric to cover a beanbag that I bought on Facebook Marketplace for €5.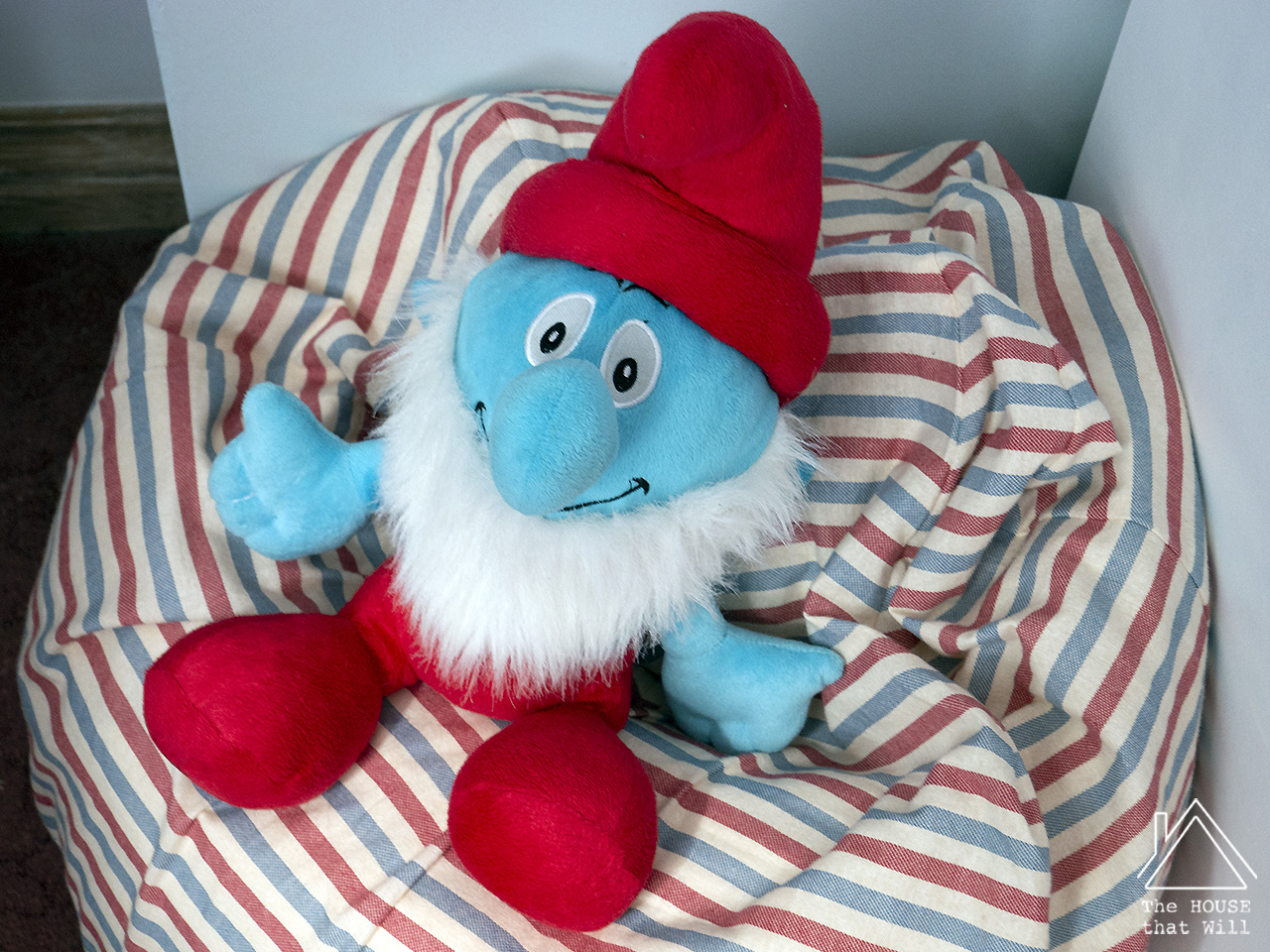 I ripped open the existing beanbag cover to make a pattern for making the new cover.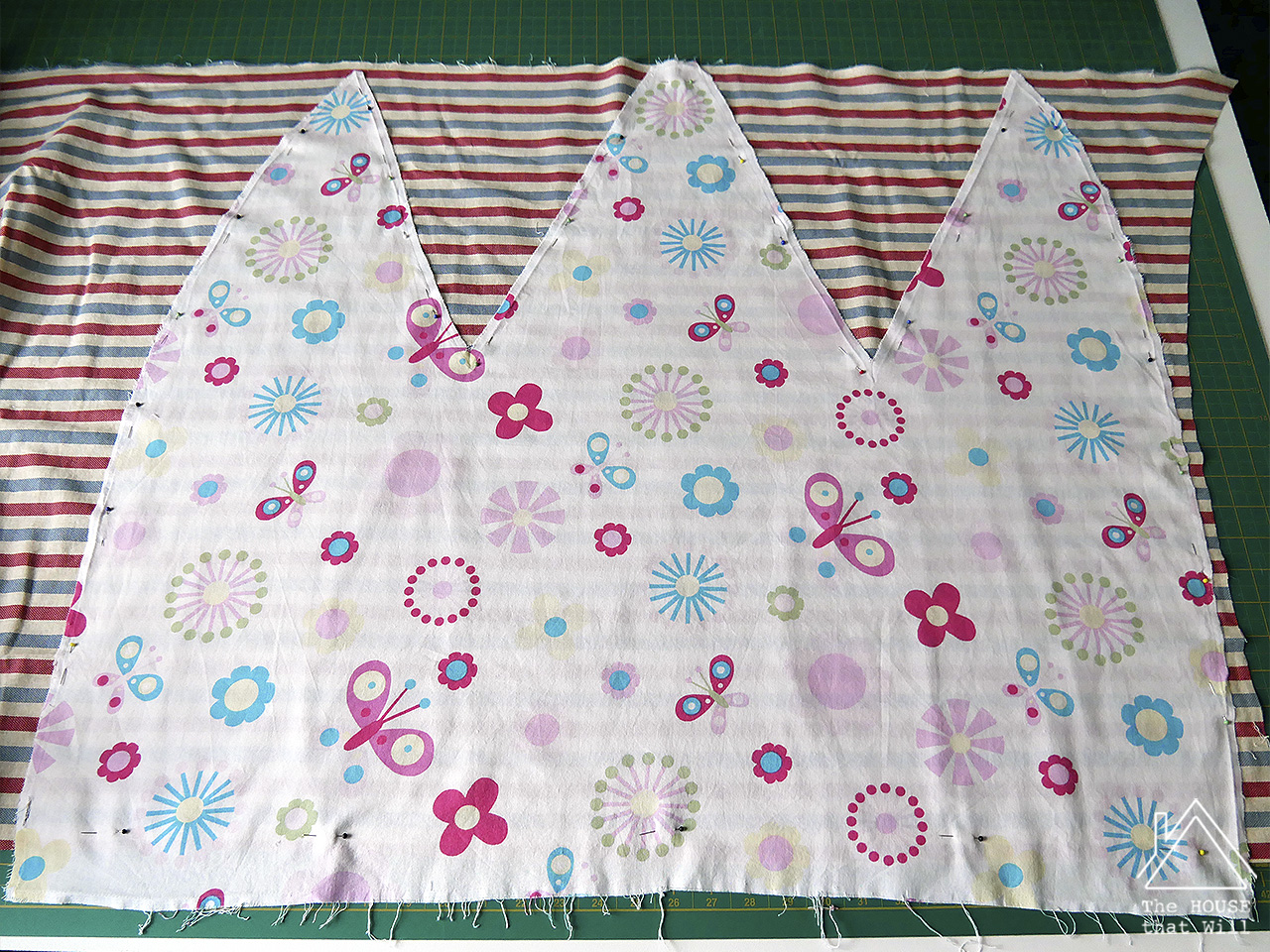 The new beanbag fabric doesn't look like it came from the duvet because the reverse side of the duvet has a different print to the top. That makes it the perfect fabric to complement the bedding, but without looking too "matchy-matchy".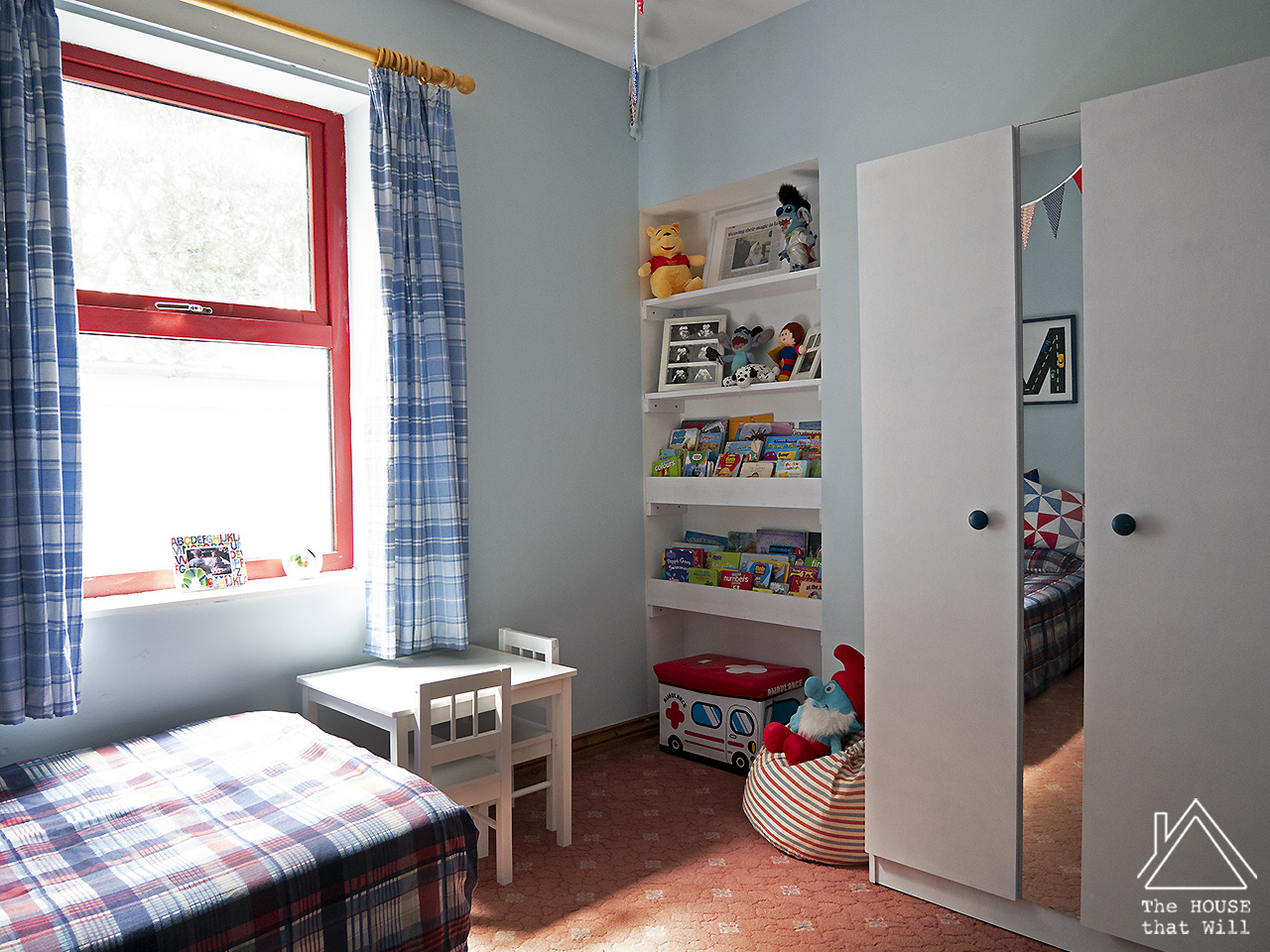 The beanbag creates the perfect little reading nook next to the boys' bookshelves.
An important part of any child's room is toy storage. Because M is such a train fanatic, I decided to make some storage boxes shaped like a train. We used the MDF offcuts from our library wall panelling as well as some of the pallet wood. All the paint was leftover from other projects except the red. For that, I used a tube of acrylic paint that I bought in Mr. Price for €4.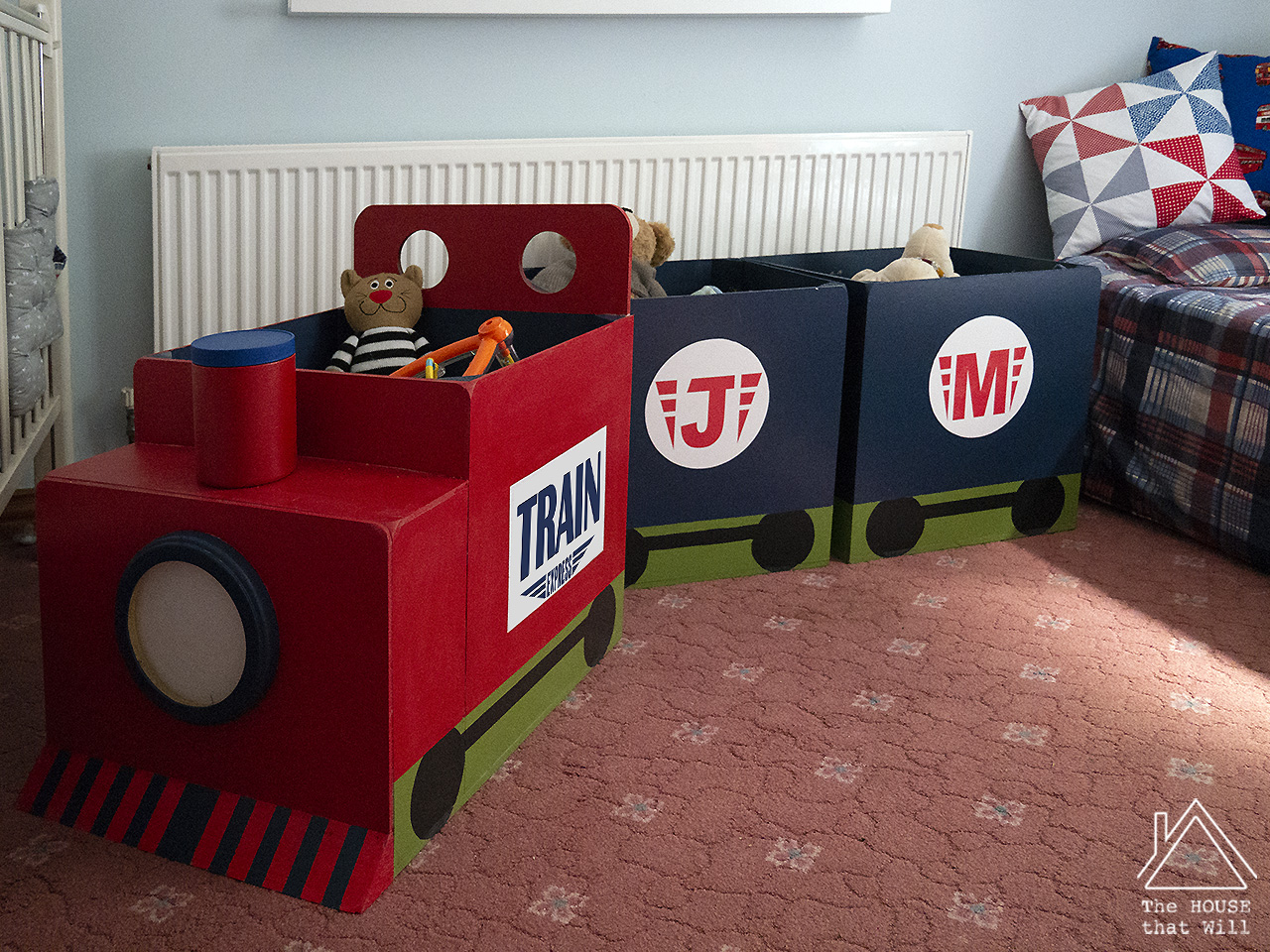 I designed and printed some logos to attach to the train. The carriages are labelled with the boys' initials, and the train with the family surname. I've used Photoshop to obscure their name in the photo with the word 'Train' so the locomotive was actually more personalised than it looks here.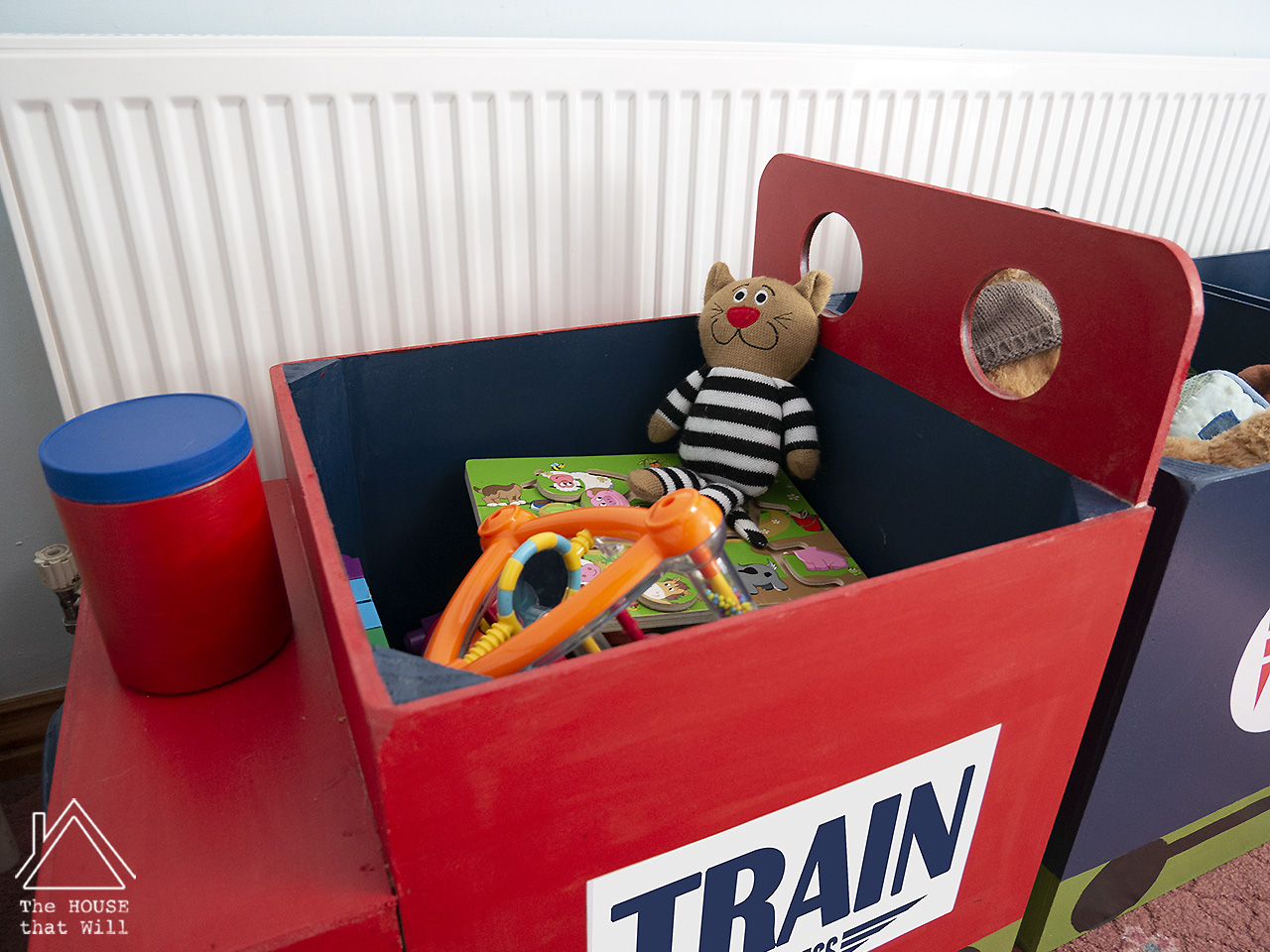 The boys went straight for the train when they first saw the room - even the one-year old. And I think their Mammy and Daddy liked it almost as much as the boys!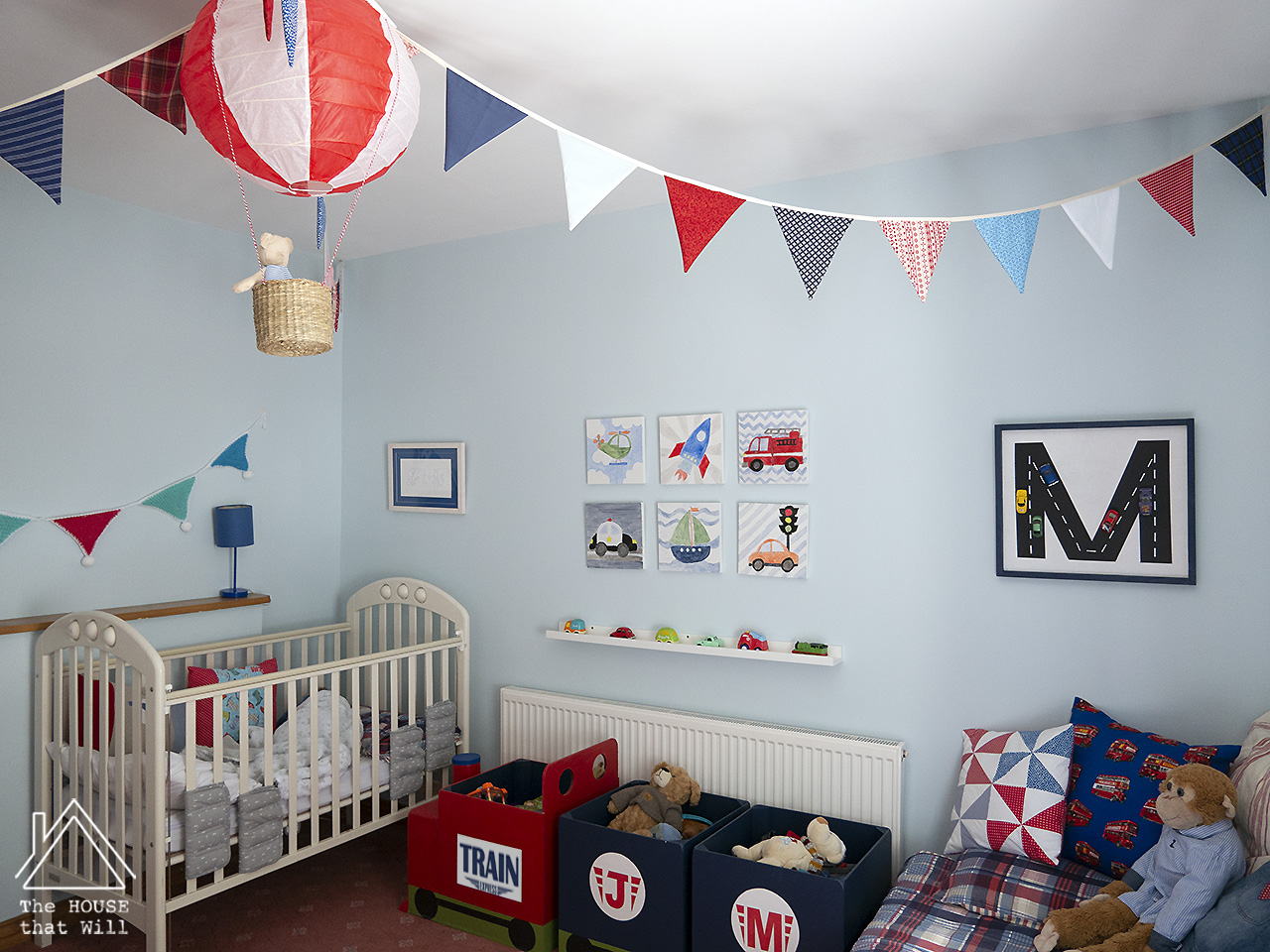 I'll give detailed instruction for making the train toyboxes in a follow-up post.
Julie wanted to make some artwork to put in her boys' room. What we wanted were a set of canvases, but the budget didn't stretch that far. So I used more of the leftover MDF from our library. Cut to size and primed, they were the perfect starting point. Julie found inspiration on Pinterest and painted some transportation-themed panels to add colour to the room.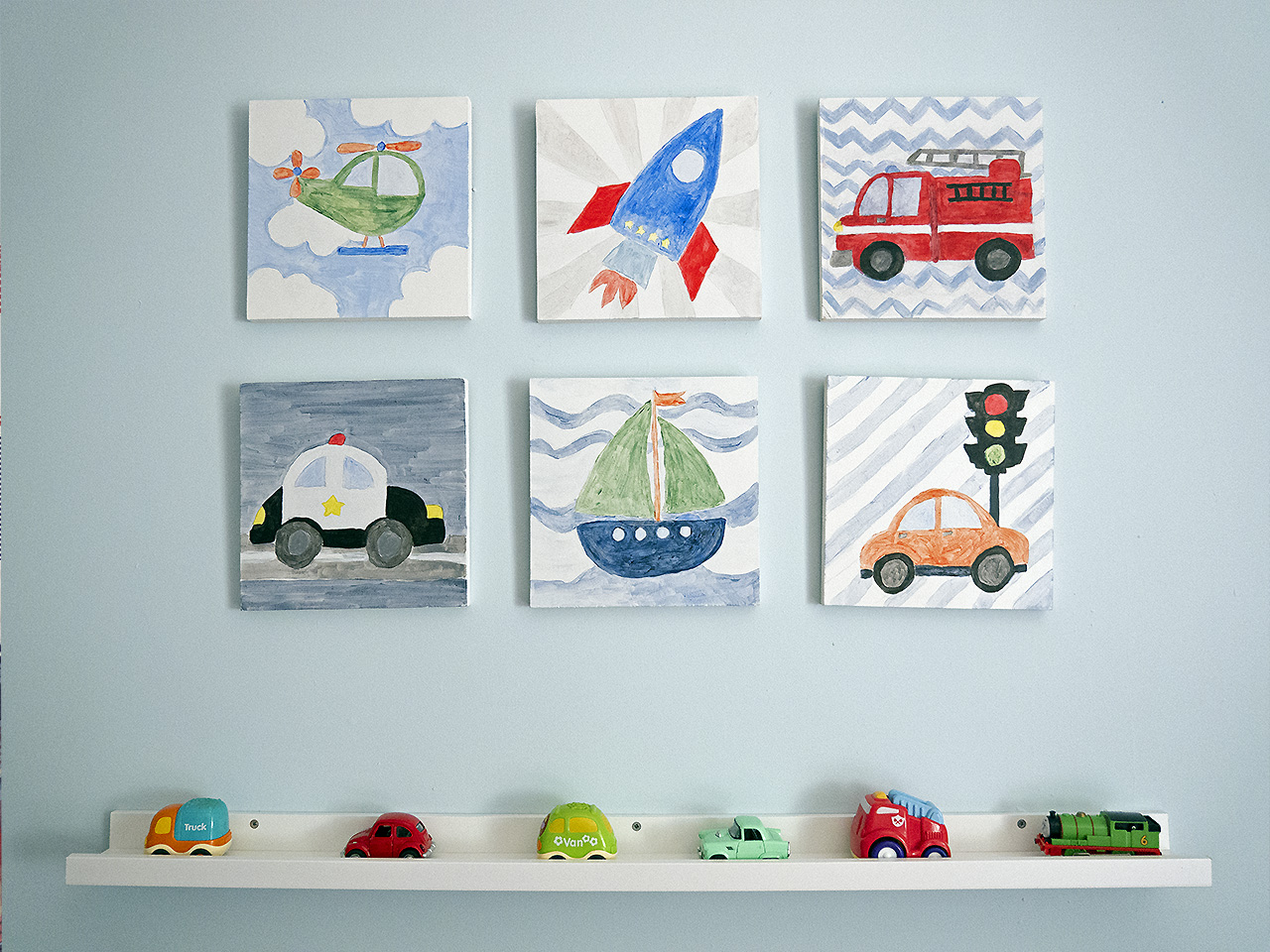 An unused picture ledge I had bought in Ikea became the perfect place to store and display some of the boys' favourite toys.
We also took inspiration from Pinterest for the artwork above M's bed. Again I used an MDF base, and painted a roadway in the shape of a letter M, using masking tape to create the road markings.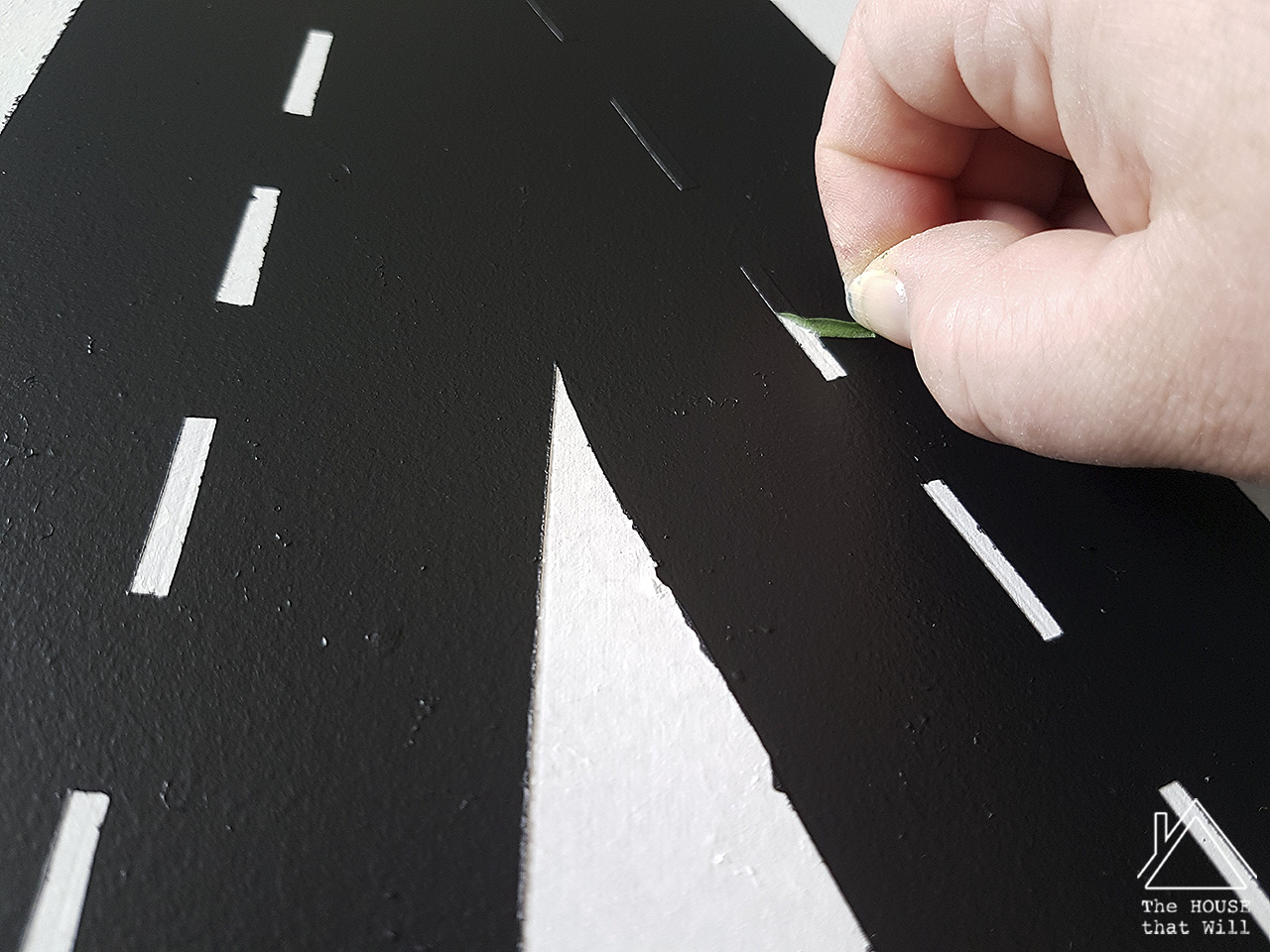 We took some of Julie's Hot Wheels collection and attached them to the surface using a hot glue gun.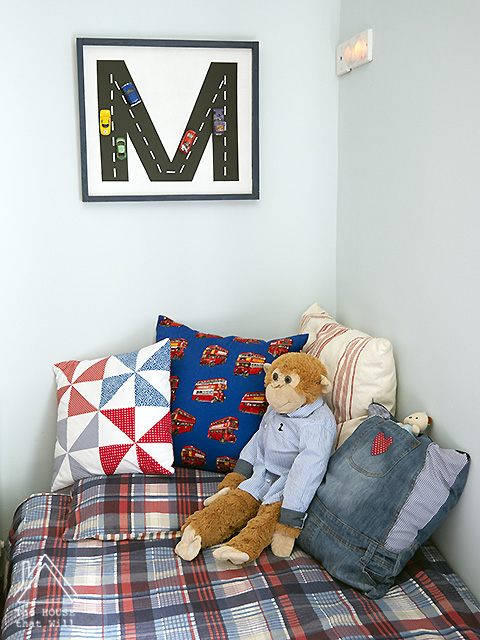 When I asked M what his favourite thing in the room was, he answered: "The road with the cars".
I find it more difficult to pick out my favourite part of the room. It's between the train toybox and the hot air balloon lightshade that I crafted.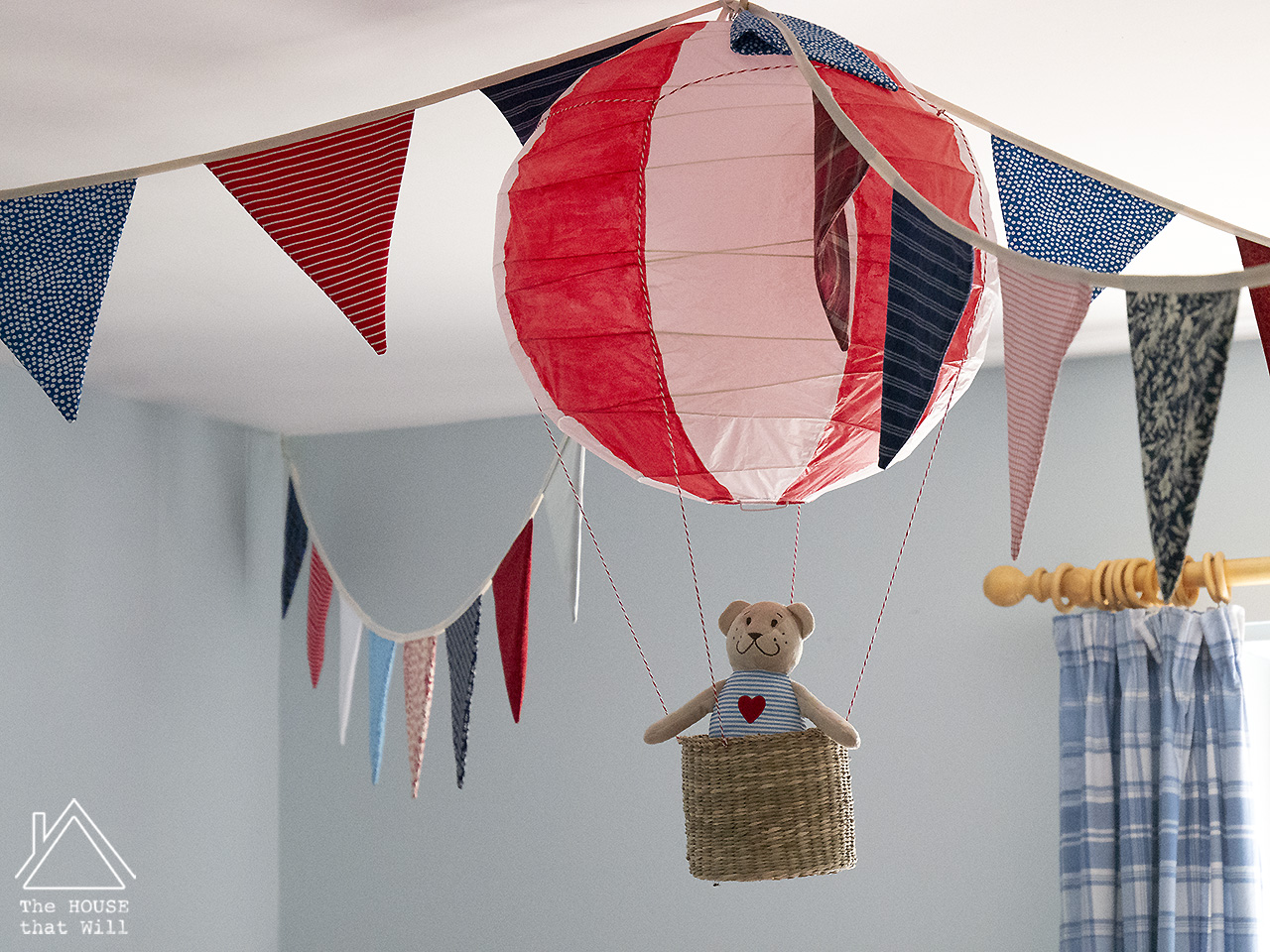 Again, I'll be giving detailed instructions for making the hot-air balloon light in a future blog post. Watch this space!
The beautiful bunting that adorns the ceiling, and which was a special request from Julie, was also made by our talented textile friend.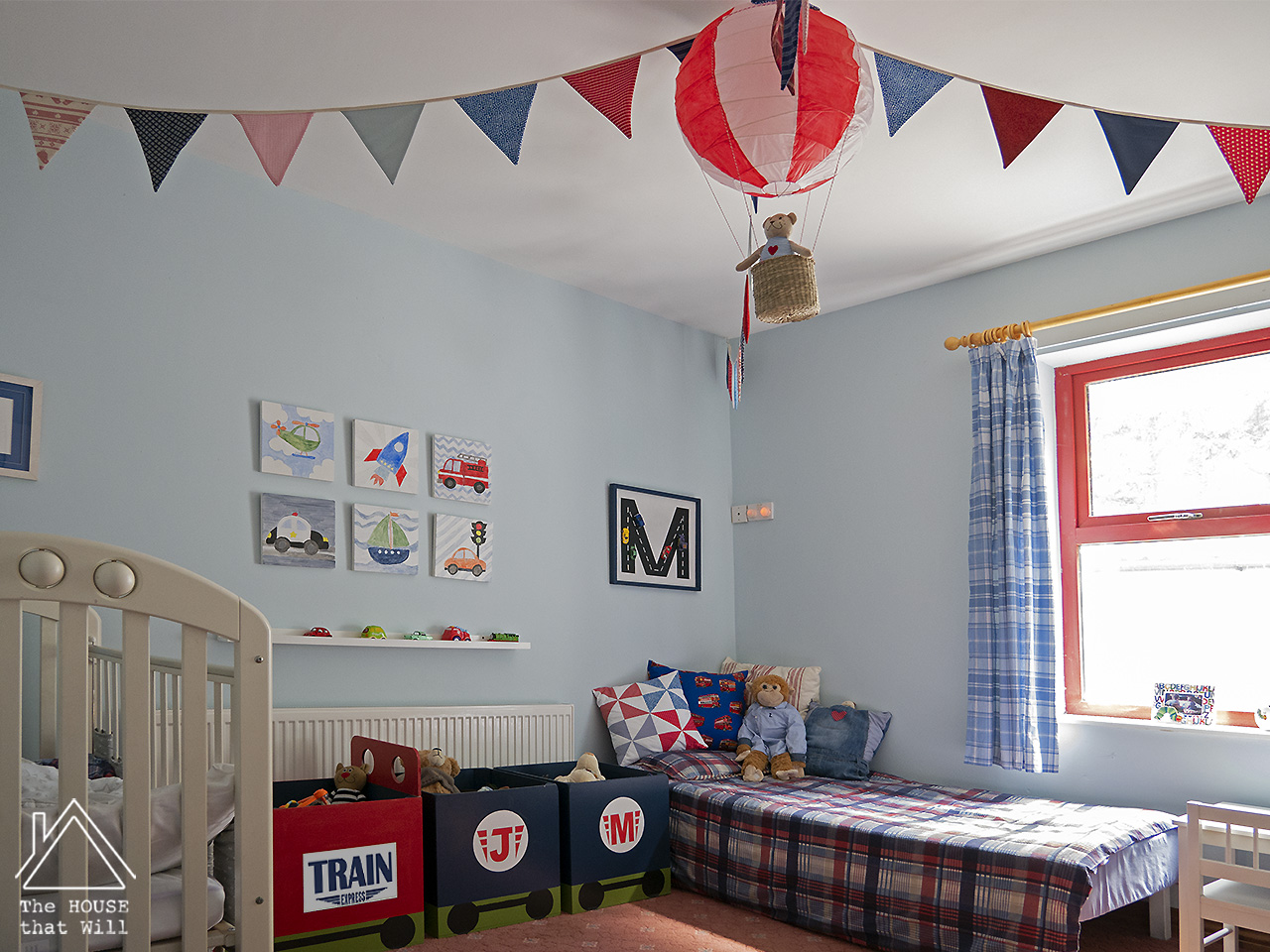 She also made the new curtain for the door. She and I pooled our fabric stashes to get enough materials for all of that.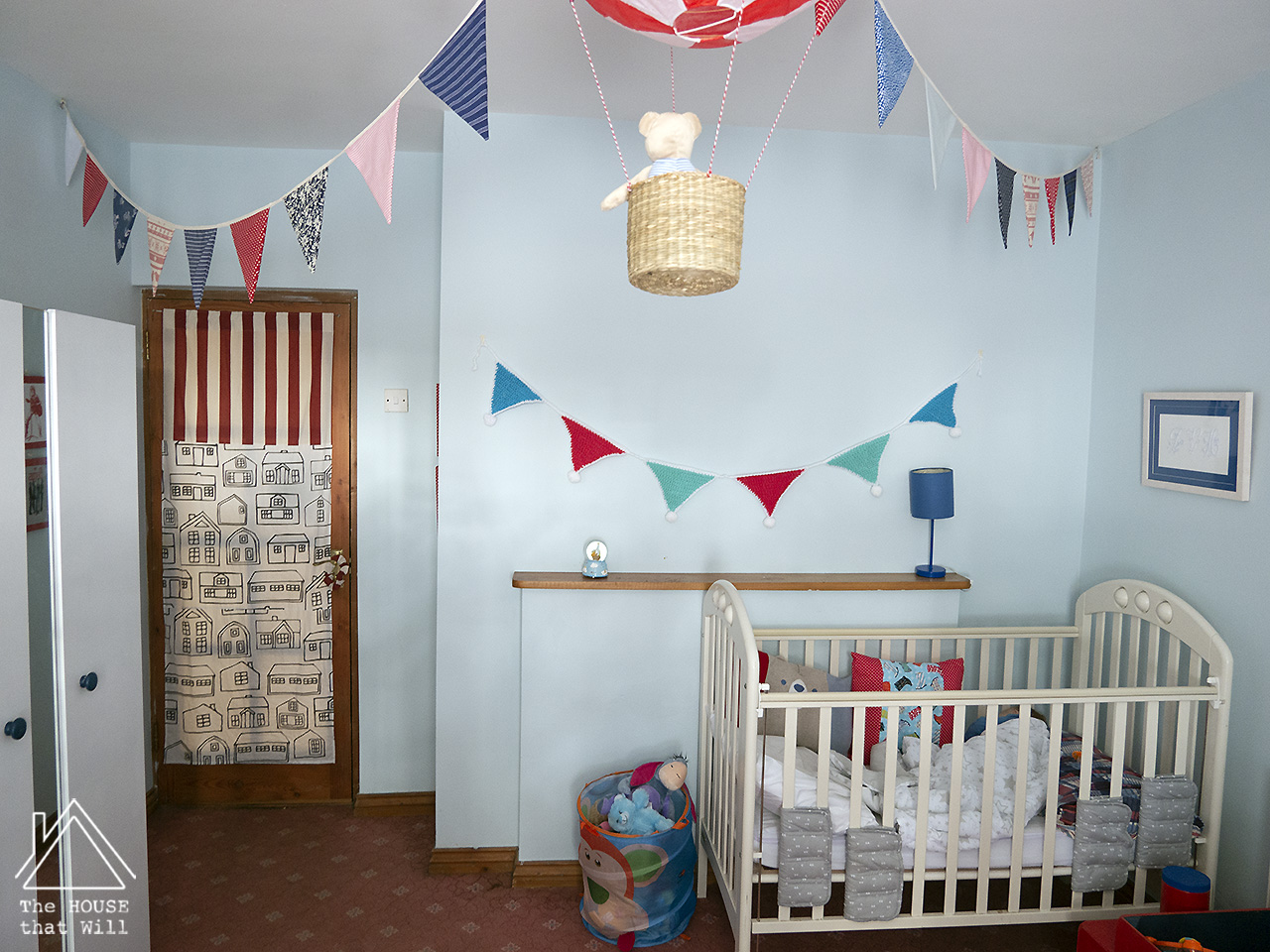 Above the cot is a beautiful framed monogram done in Mountmellick embroidery by another friend.
A bedside light is placed beside the cot because that is next to one of only two electrical sockets in the room. But fear not! The cable is well secured to prevent risk of strangulation.
Furthermore, the lamp itself is child-safe. It is powered via a transformer, making it low-voltage, and the electrical contacts are covered by a plastic cap that is screwed into position inside the light shade.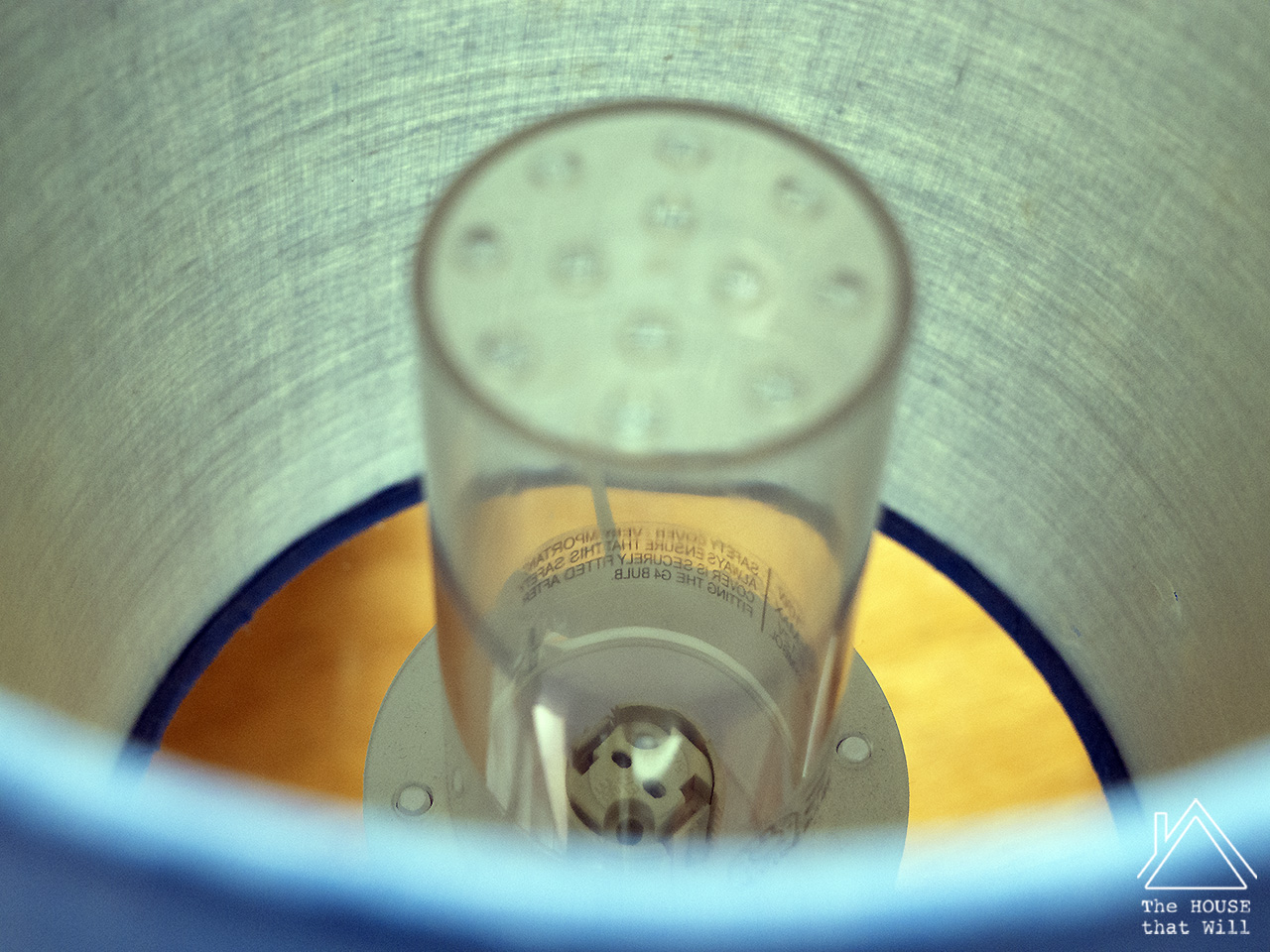 The lamp was a great find on an online classifieds site and was also a free item.
To make the room even more child-friendly, I added a kid-sized table and chairs. I picked these up second-hand for €15, and they only needed a fresh coat of paint to make them like new again.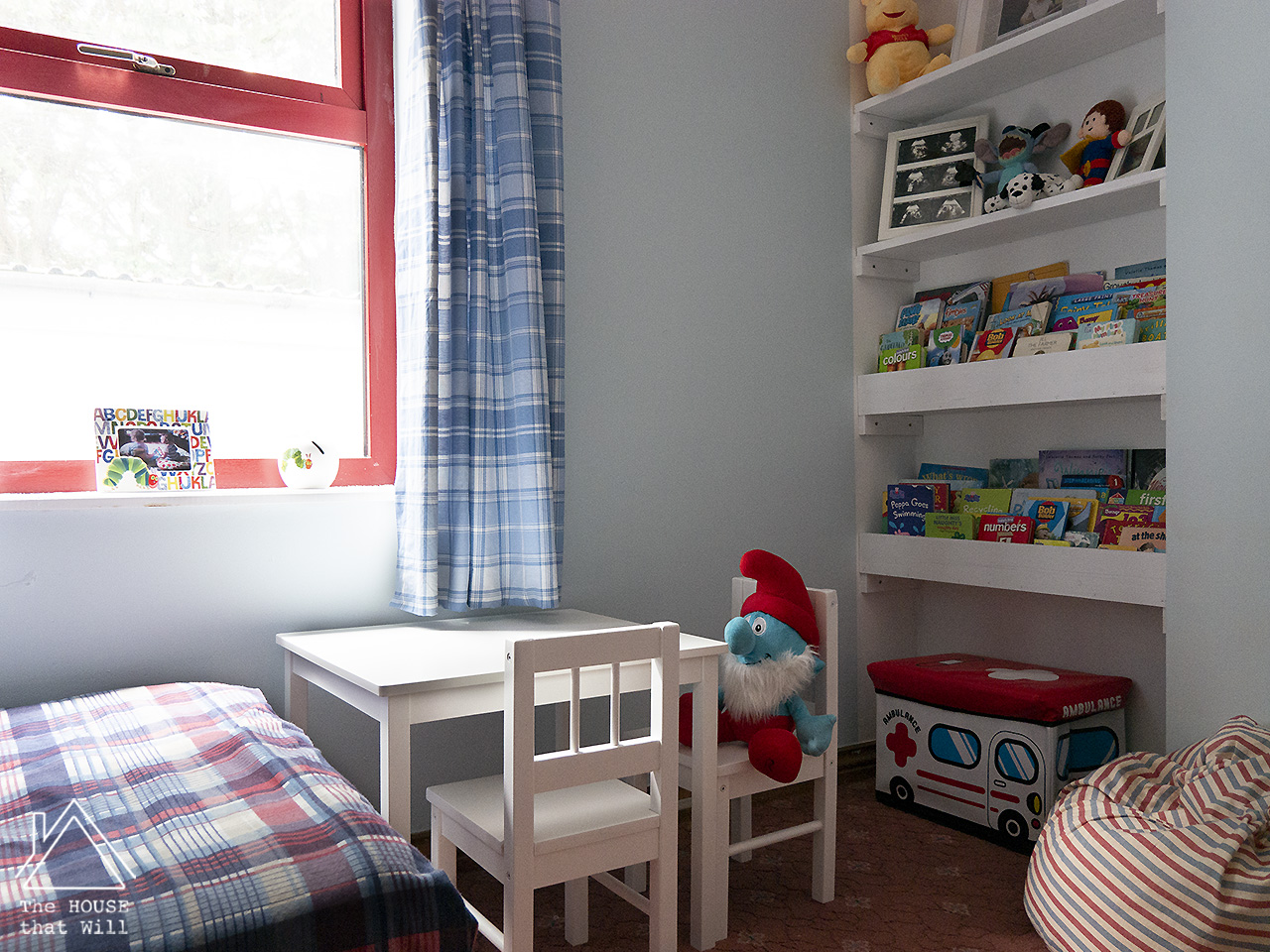 The older boy especially was thrilled with these, and immediately sat down to have a "cup of tea" with his favourite stuffed toy. Well, I can tell you that just about melted my heart and made all the hard work done on the room feel so very worthwhile.
Next to the table and chairs, on the side of the wardrobe, I created a little gallery wall of blank frames so that the boys can add any artwork they create at their little table.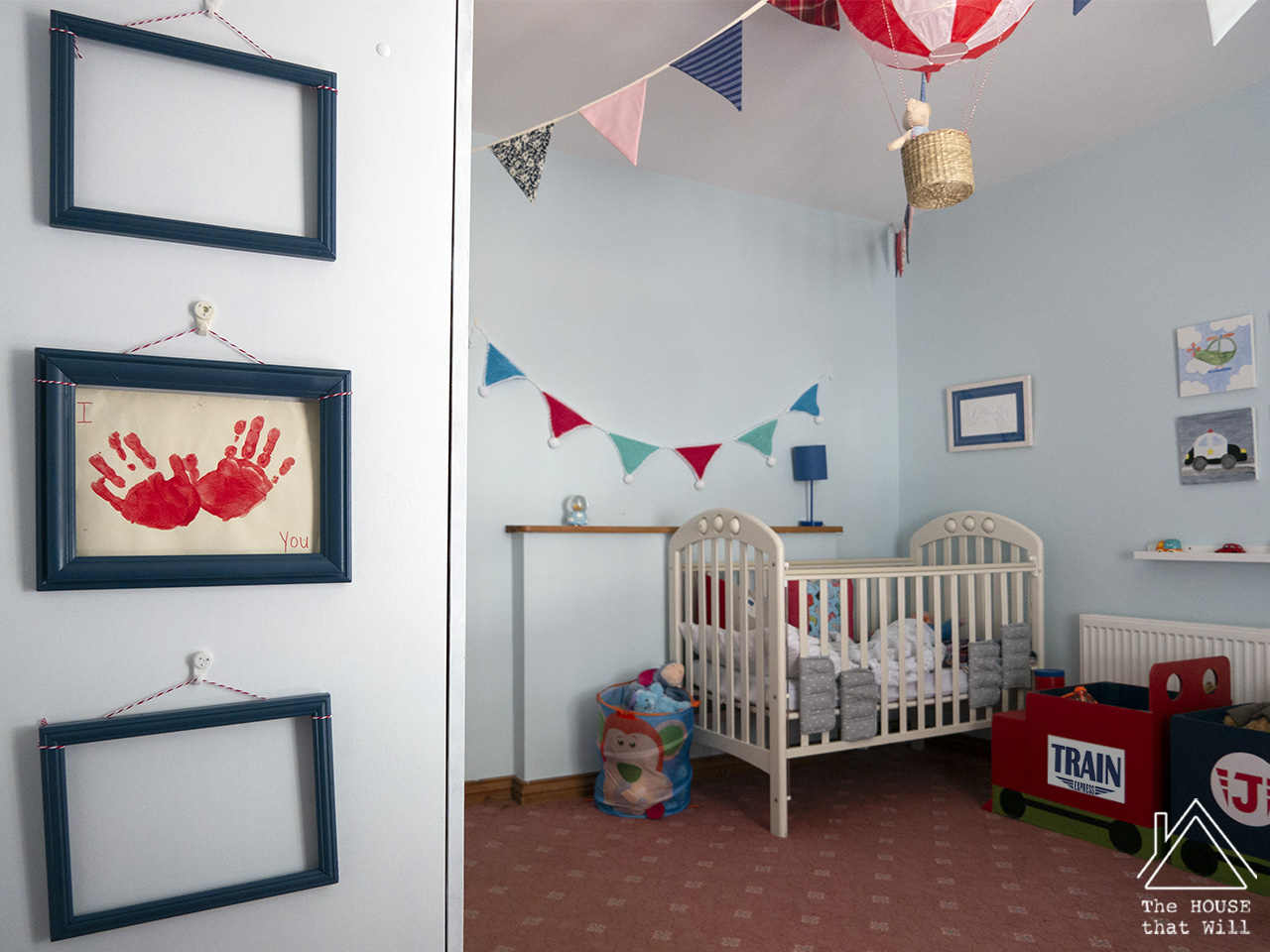 That precious little bundle in the cot is the one-year-old. When I called to take the photos for the blog, he was having his afternoon nap, so I was tiptoeing around him!
The items which really make a house a home are the things that evoke special memories for any family. Here, our friend took some old garments that had sentimental value to Julie and repurposed them as cushion covers on the bed and also artwork on the walls.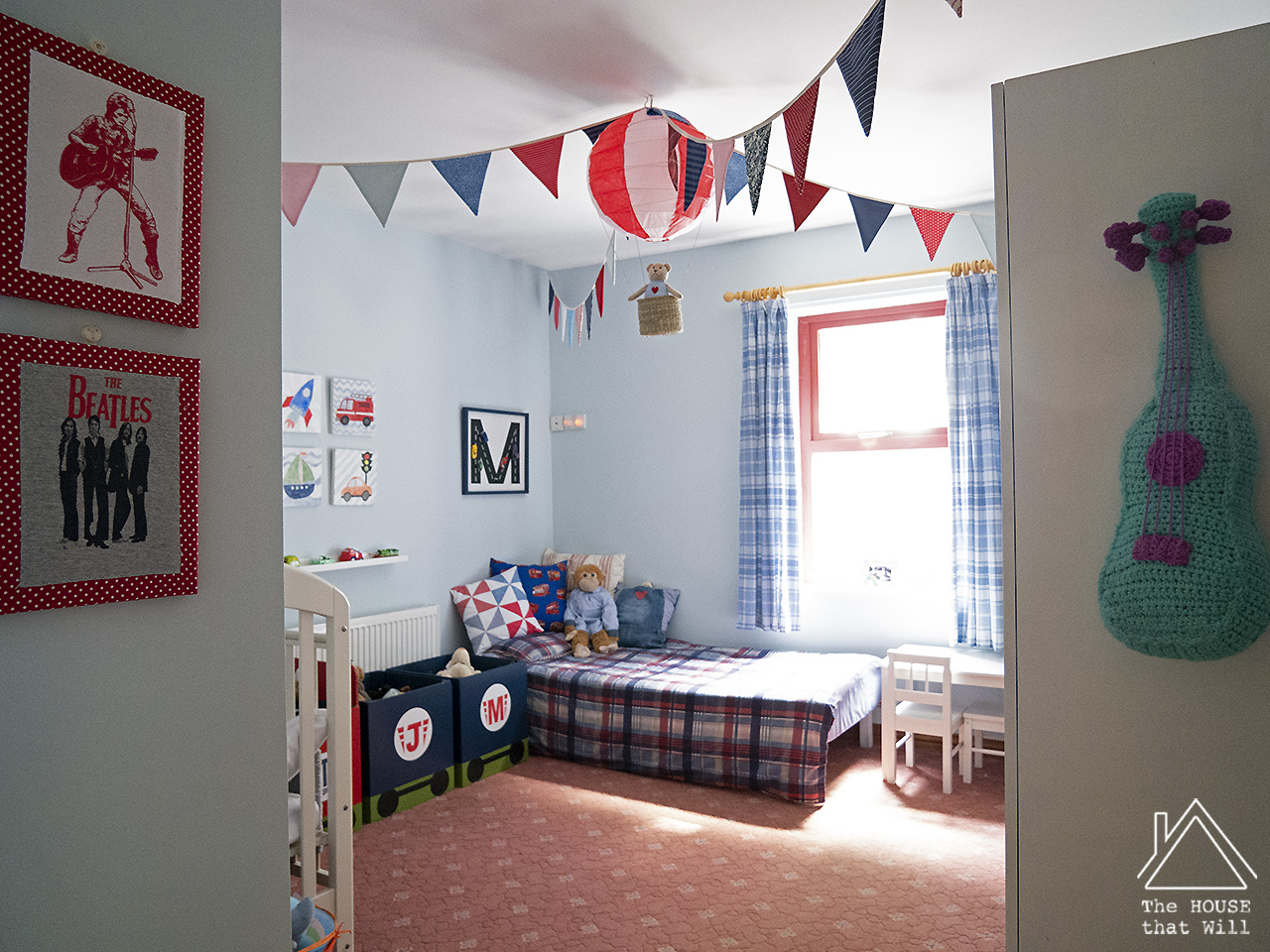 The crocheted ukulele was a gift that also has special meaning for Julie and the boys. Given that Julie's original concern was that the house did not feel like it belonged to their family, it means a lot that they are now surrounded by everything that is meaningful to them and which tells the story of their lives.
I'm going to finish this post with a detailed breakdown of the budget. Given Julie's intention to share this process with others, this post will form part of a series of budget makeovers we will be working on in her home. My next post will include all my tips for how save money and decorate on a budget, including making the most of what you have and sourcing items, so check back here next Tuesday for that.
BUDGET


Unless otherwise stated, anything marked €0 was something we already had or that we made from reused or recycled materials.
WARDROBES: €0 (leftover sandpaper, primer & paint; salvaged door knobs)
BED: €0 (The boys' father made the frame and the mattress was found free to collect via online classifieds)
BEDDING: €36 (waterproof mattress protector, duvet cover set, and single fitted sheet - all from The Range in Derry. Stores also nationwide.)
TOY STORAGE: €4 (for red acrylic paint from Mr. Price (Nationwide). Wood and other paints were leftovers)
CURTAINS: €5 (Originally Laura Ashley, but purchased preloved via online classifieds)
PAINT: €0 (leftovers from other projects)
LIGHTSHADE: €9.60 (paper shade, basket, and teddy from Ikea; baker's twine from The Range)
TEXTILES (cushions, bunting, door curtain): €0 (all from the stash of a friend and I)
BEANBAG: €5 (preloved via Facebook Marketplace)
PICTURE FRAMES: €0 (reused)
TABLE & CHAIRS: €15 (Originally Ikea, but purchased preloved via online classifieds)
LAMP: €0 (Online classifieds)
SHELVES: €0 (Made from free pallets and leftover paint)
CANVASES: €0 (leftover sheets of MDF cut to size and primed with leftover primer)
TOTAL: €74.60

Related posts:
Top Tips for Decorating on a Budget
DIY Hot Air Balloon Lightshade