Remember my friend Julie? She's the one who is living in a rented house that she wants to make feel more like her home, but on a very tight budget. We've already transformed a bedroom for her two little boys, and created a relaxing master bedroom for her and her husband. Next we turned out attentions to the ensuite bathroom.
PIN THIS!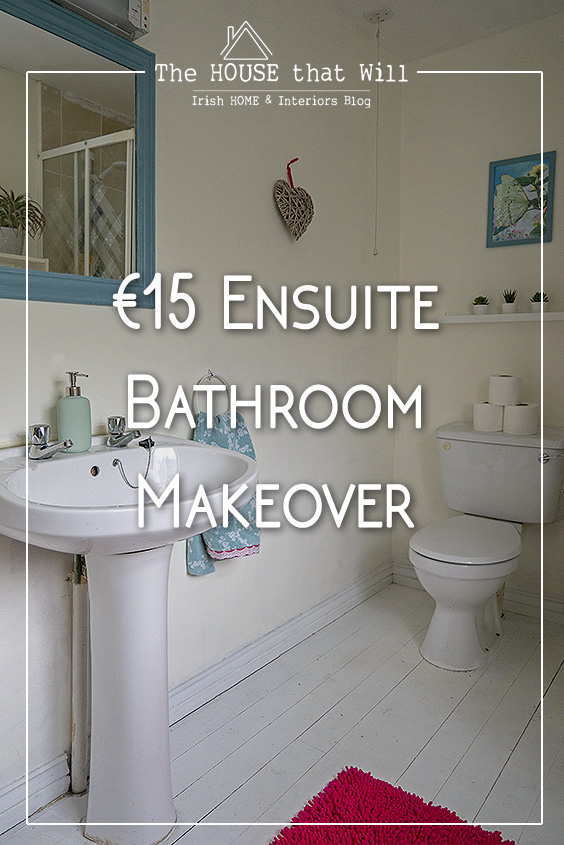 Follow The House that Will
Facebook | Instagram | Bloglovin'
Before
Let's start by taking a look at some before pictures, and then we'll discuss the work that was required.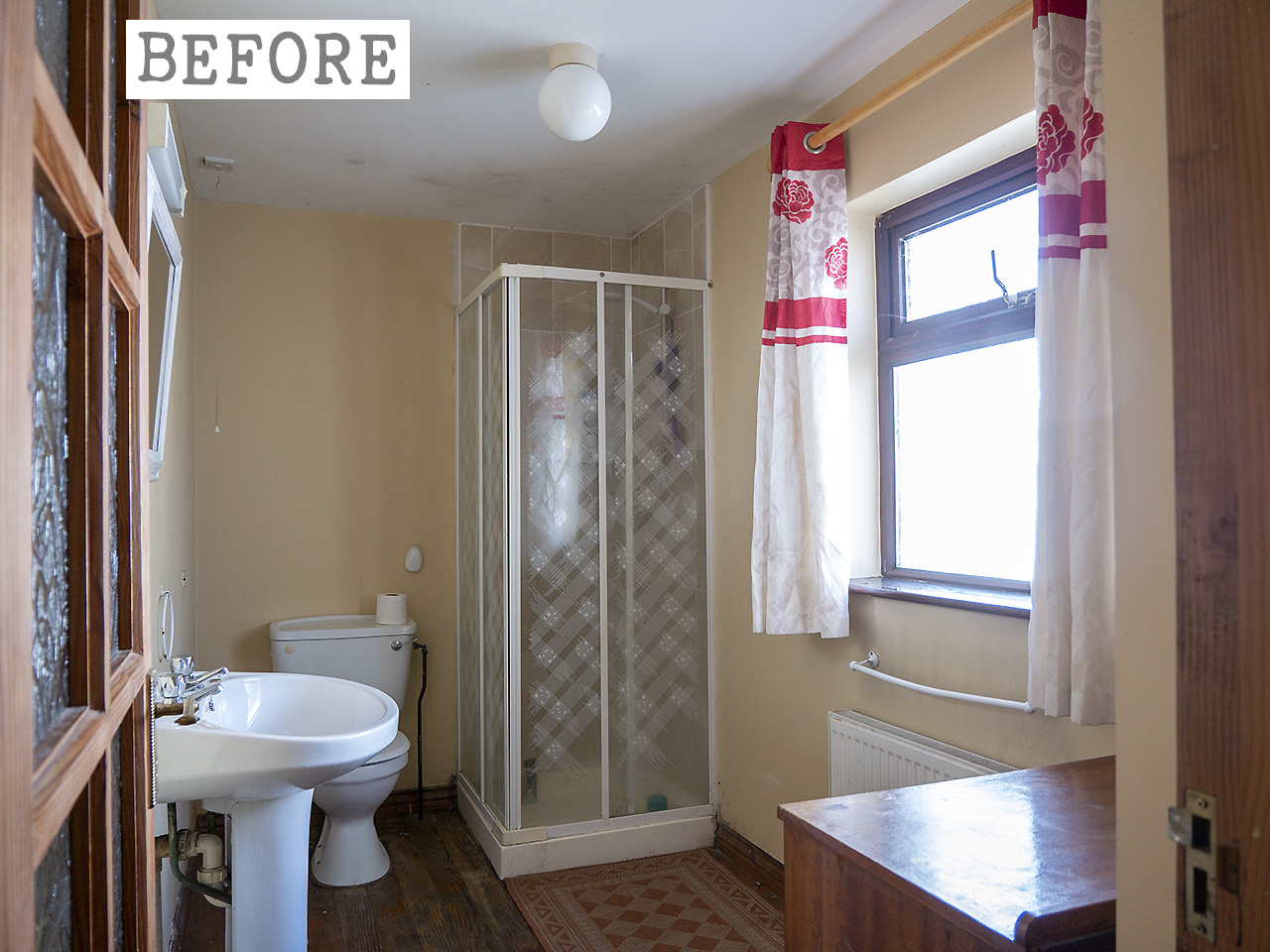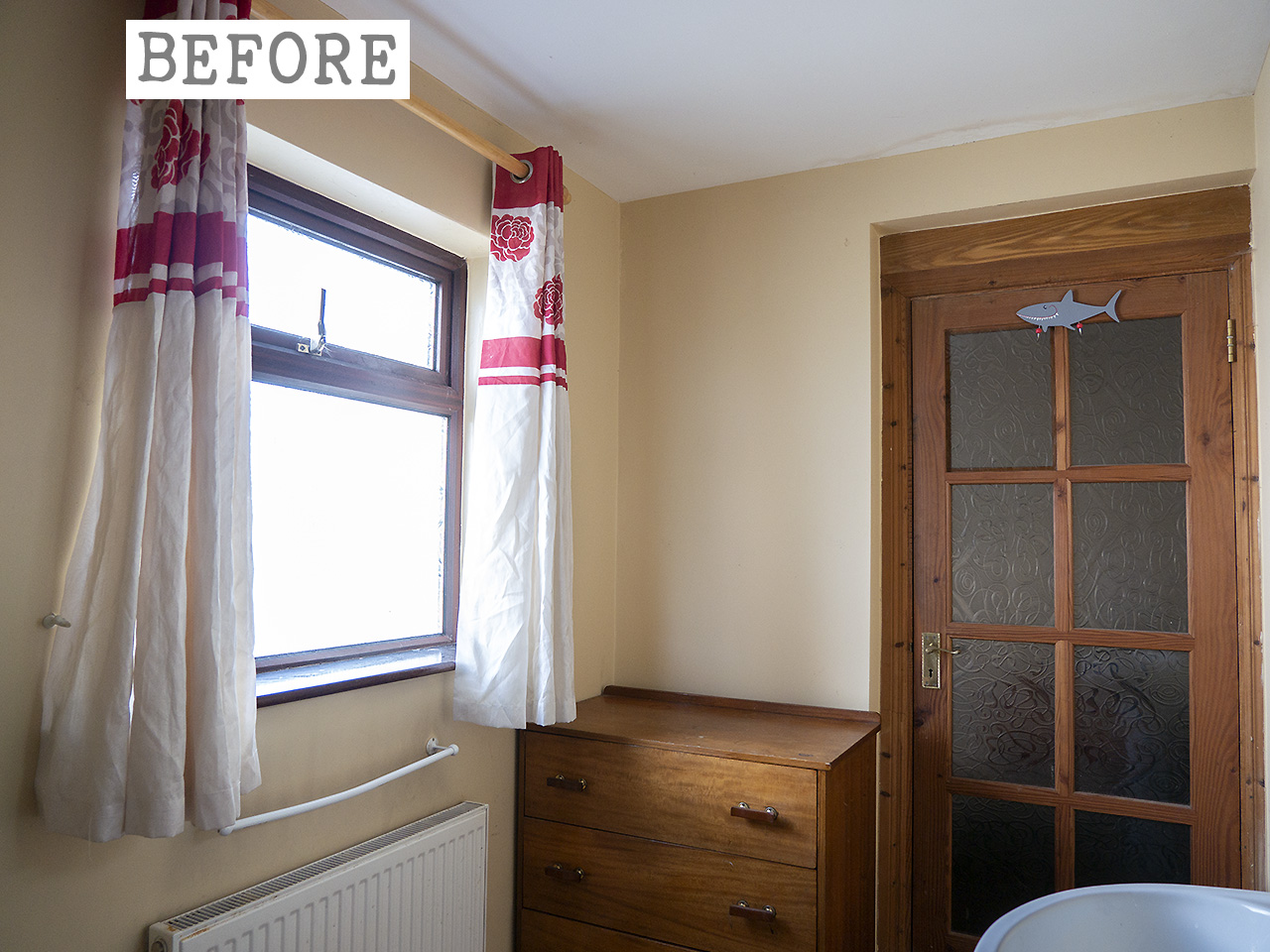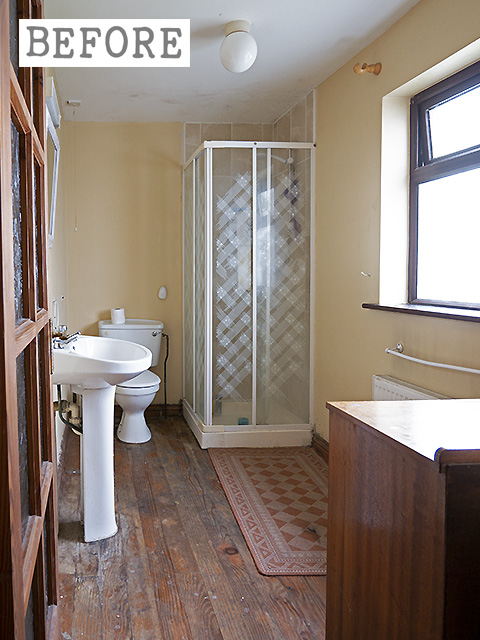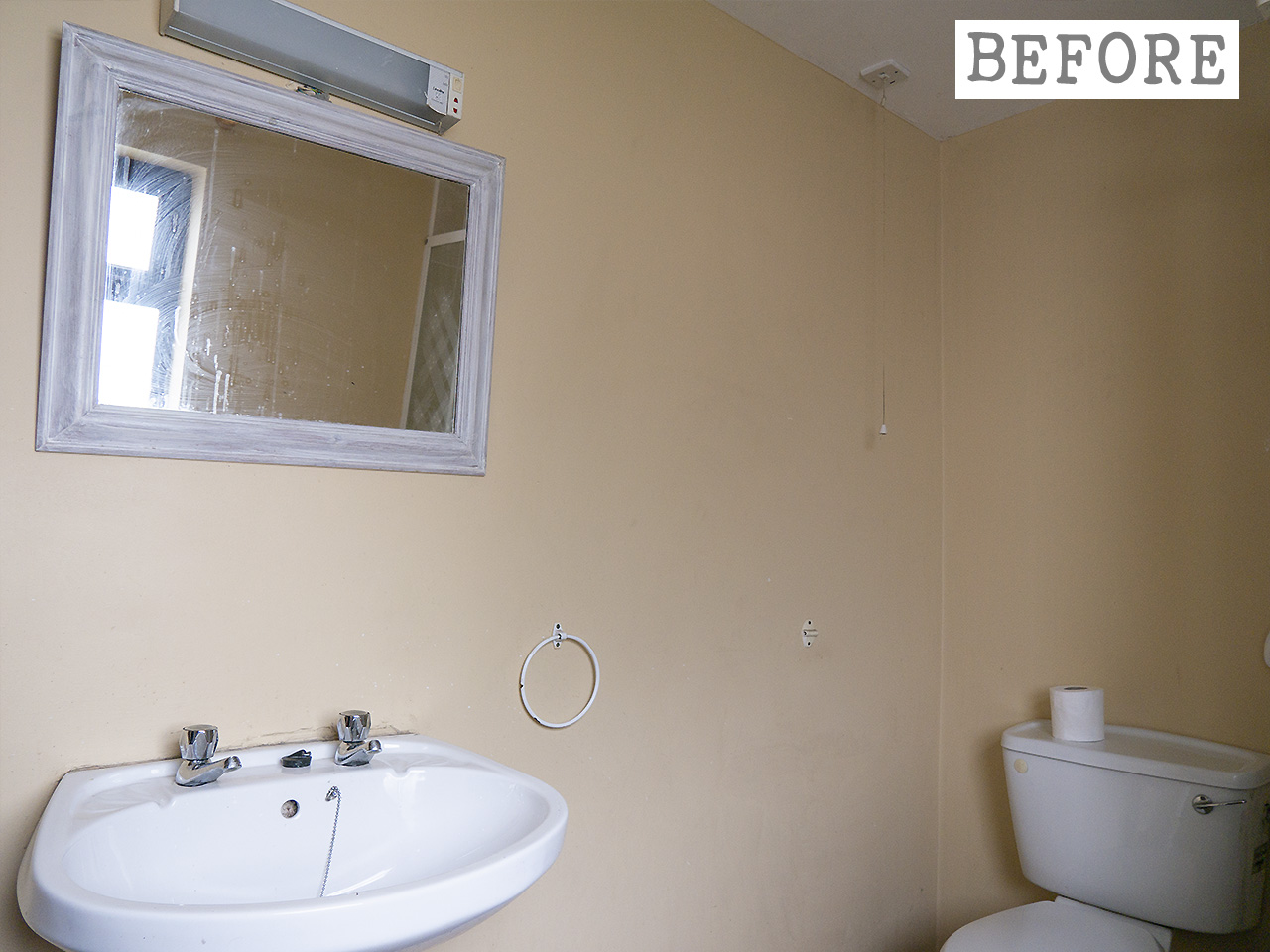 Plumbing
What may not be obvious from these photo is the dire state of the washbasin. It was not properly fixed to the wall and one of the taps had a substantial leak. The water had been running down onto the floor, which was not adequately sealed, and the wood was in immediate danger of rotting. Obviously that needed urgent attention, so we started there.
The frustrating thing about this situation is that it took so little to remedy it: we only needed to tighten up the connection between the tap and the water inlet pipe. We also replaced the small screws underneath the basin with the appropriate bolts in order to secure it firmly to the wall. Then we used silicone to seal around the top of the sink.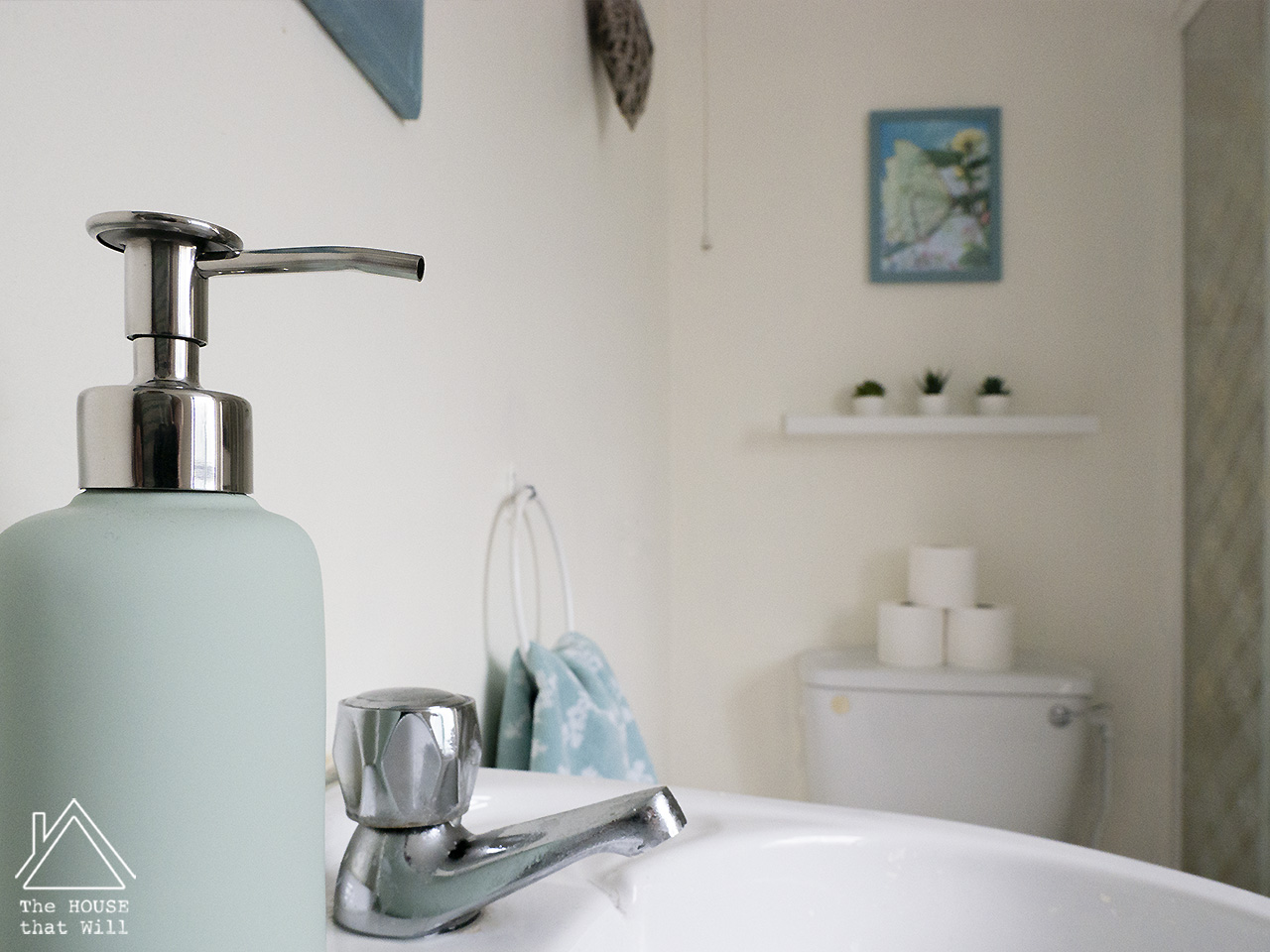 After that, we waited several weeks to allow the floor to fully dry out before we proceeded with the next step.
Flooring
Since our budget was very tight for this makeover, the most economical option was to refinish the existing floor to make it properly moisture-resistant. One reason the leak caused so much damage to the floor is because the wood hadn't been properly sealed, so the water penetrated through the wood itself.
As the wood was in such poor condition, we started by priming the floor and giving it two coats of white eggshell paint. Then, to seal it, we top-coated it with three coats of a suitable varnish. We used a water-based polyurethane because an oil-based finish would have yellowed over time; something we wanted to avoid so as to keep the floor looking bright and white. Although water-based, it becomes waterproof as it cures. Because we already had all of these left over from previous projects, it cost us absolutely nothing. And I love the look of the white painted floorboards!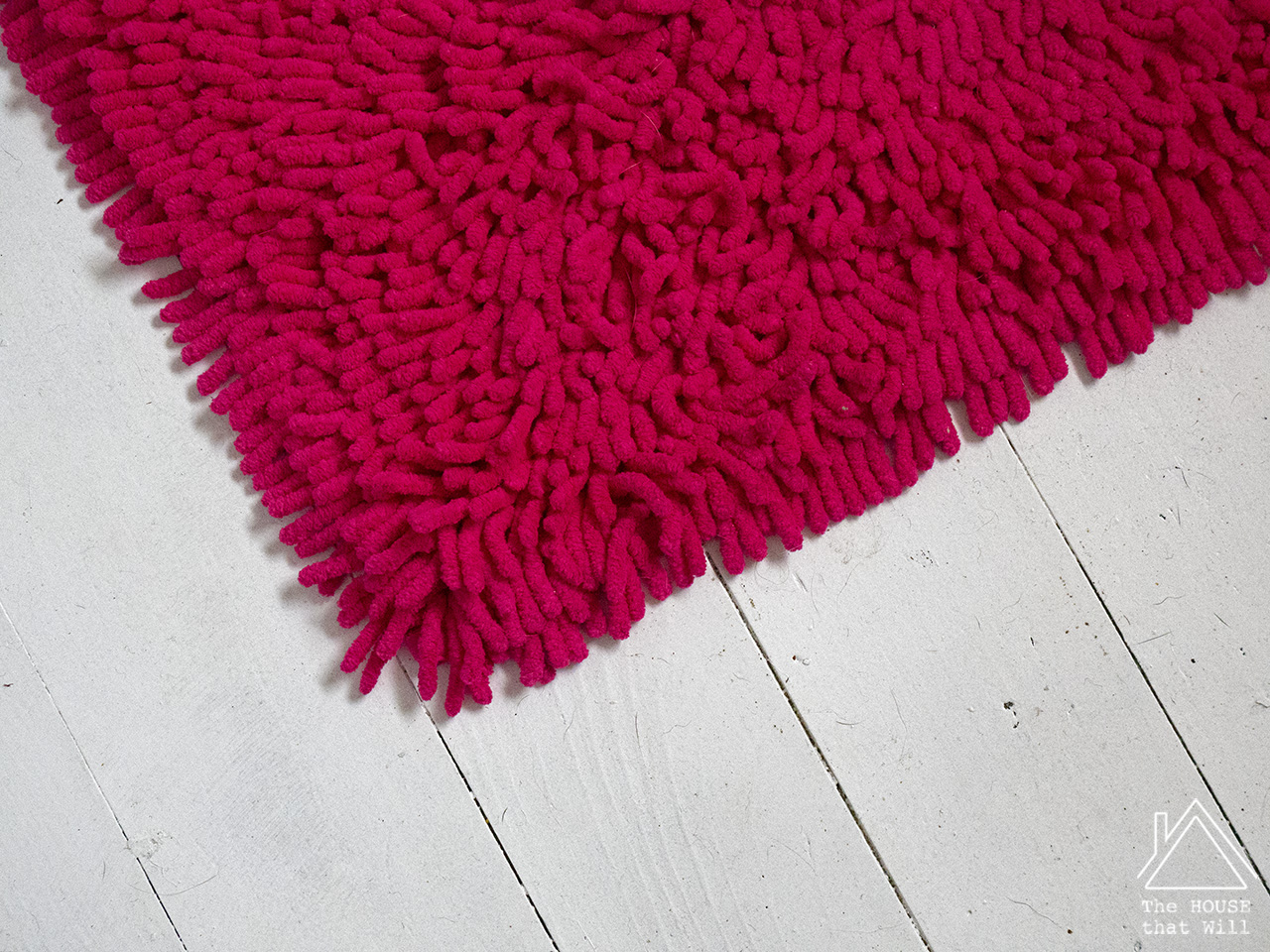 Painting
Next we freshened the room by giving the ceiling and walls a fresh coat of paint. We used a specialist white bathroom paint all over (that I had leftover from painting our own bathrooms), which really brightened the room. We also used the eggshell paint we'd used in the boys' bedroom to paint the windowsill.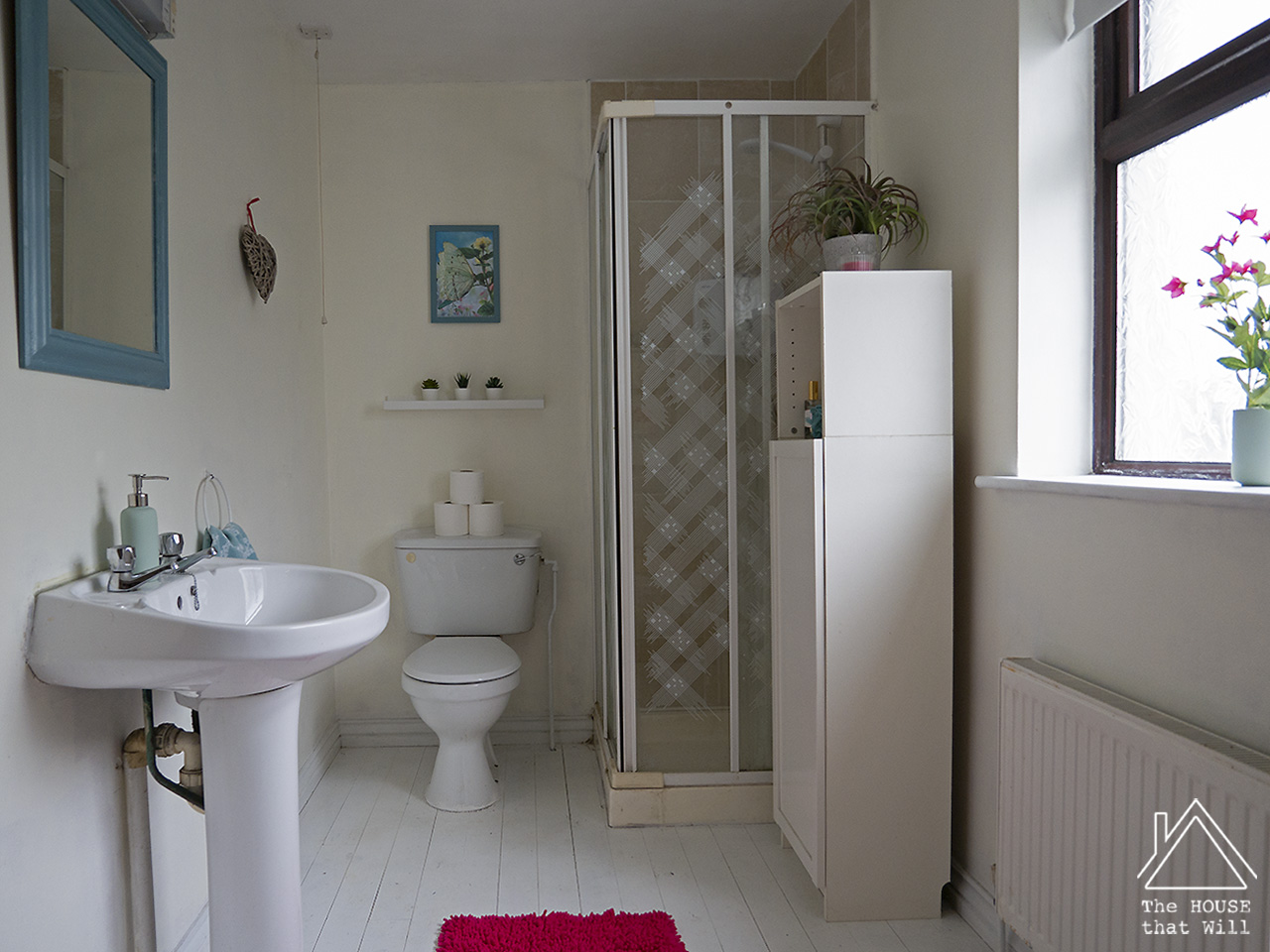 Window Treatment
The existing curtains were old-fashioned and unattractive. We replaced them with a simple white blind that I had taken out of my guest bedroom when I installed blackout blinds.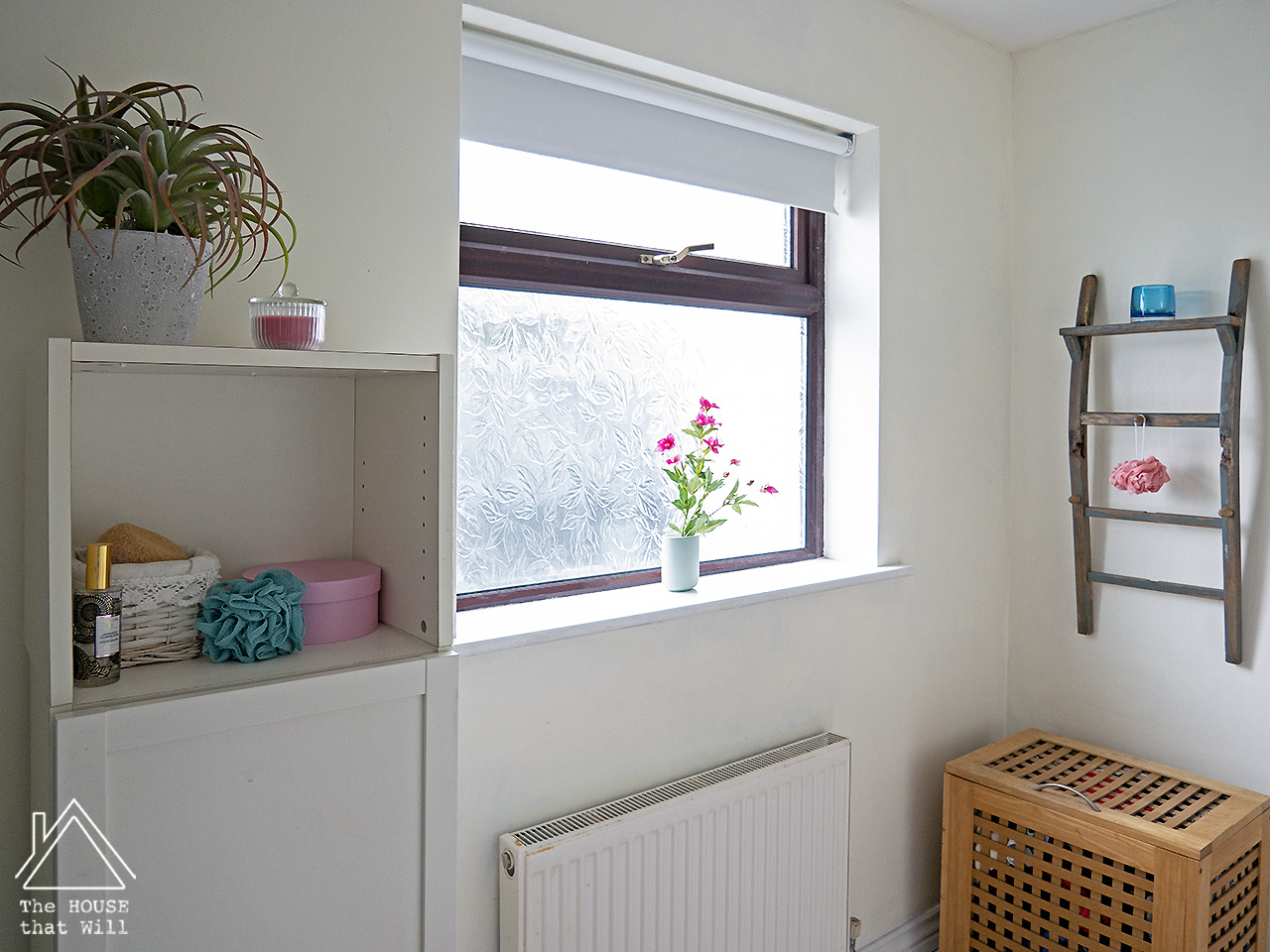 Storage
Julie's only request for this makeover was that we would remove the existing chest of drawers, which was too large for the space, and replace it with more suitable storage. I purchased this Ikea unit secondhand off an online marketplace for just €15. And that's the only thing we needed to buy for the room. For everything else, we used what we already had.
This shabby chic towel rail was given to Julie by a friend.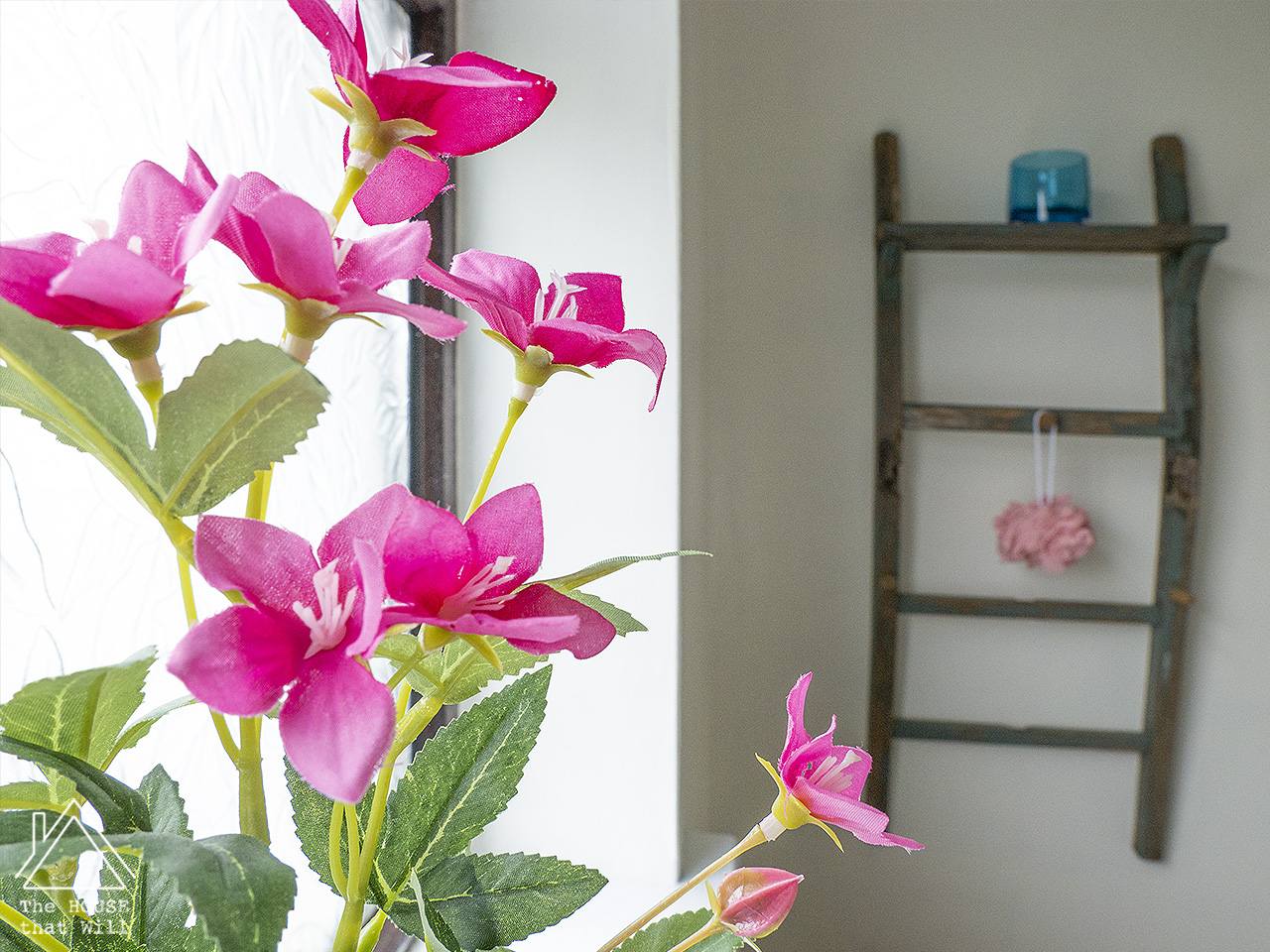 Decoration
The little ledge above the loo is from Ikea and is one I had leftover from a project that I changed my mind about in our own house. The picture frame is also from Ikea and I printed a license-free image off the internet to put inside it.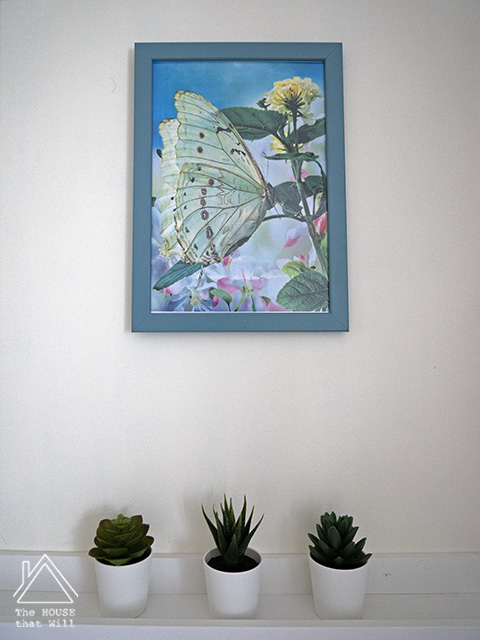 We used some leftover paint to add colour to the mirror above the sink.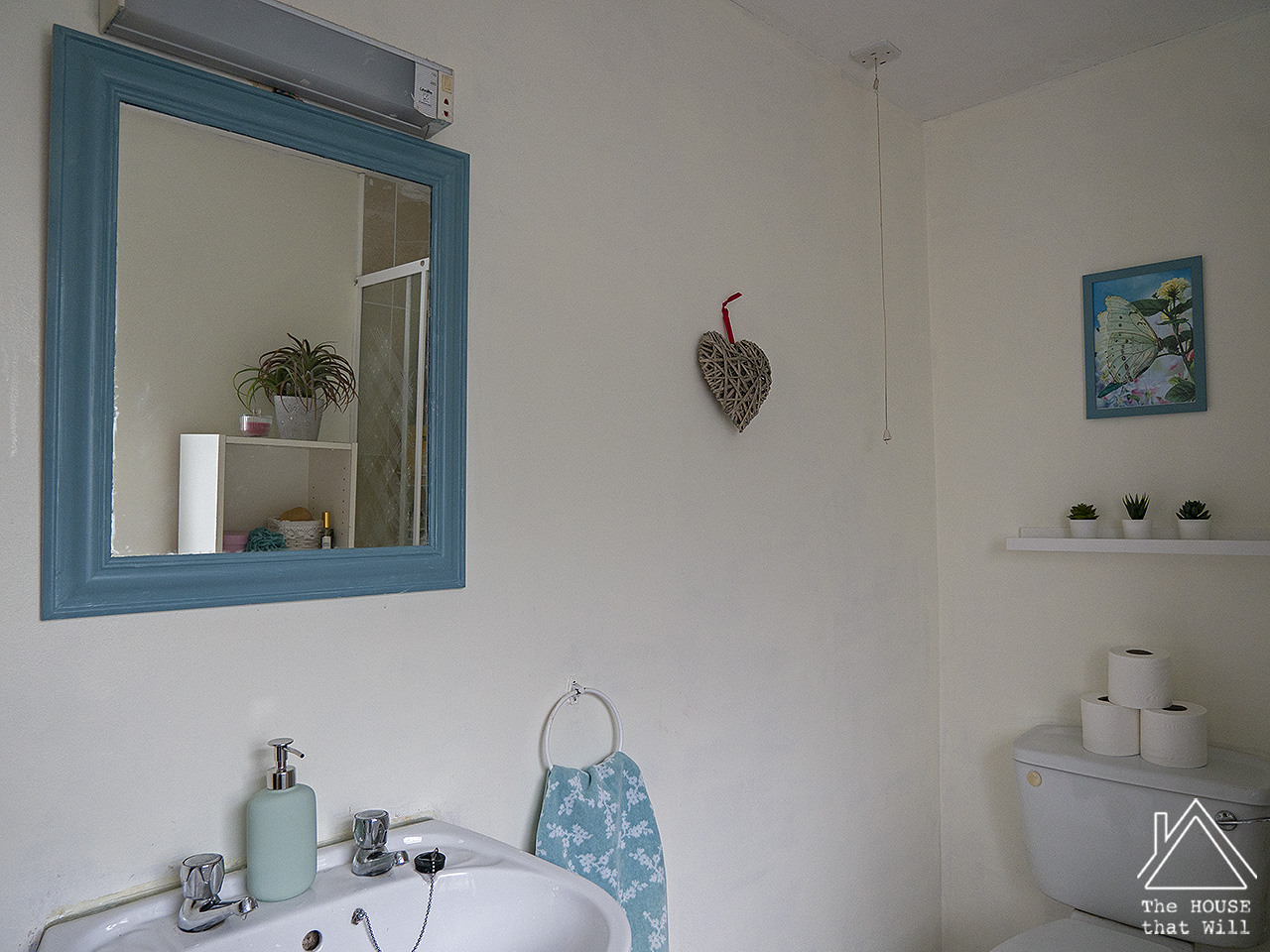 As I mentioned in other posts in this series, Julie's family have a special affinity with hearts, and our goal is to include one in every room in the house. The ensuite is no exception, and I was happy to provide this woven one which was one of a pair I had picked up in a charity shop some months ago.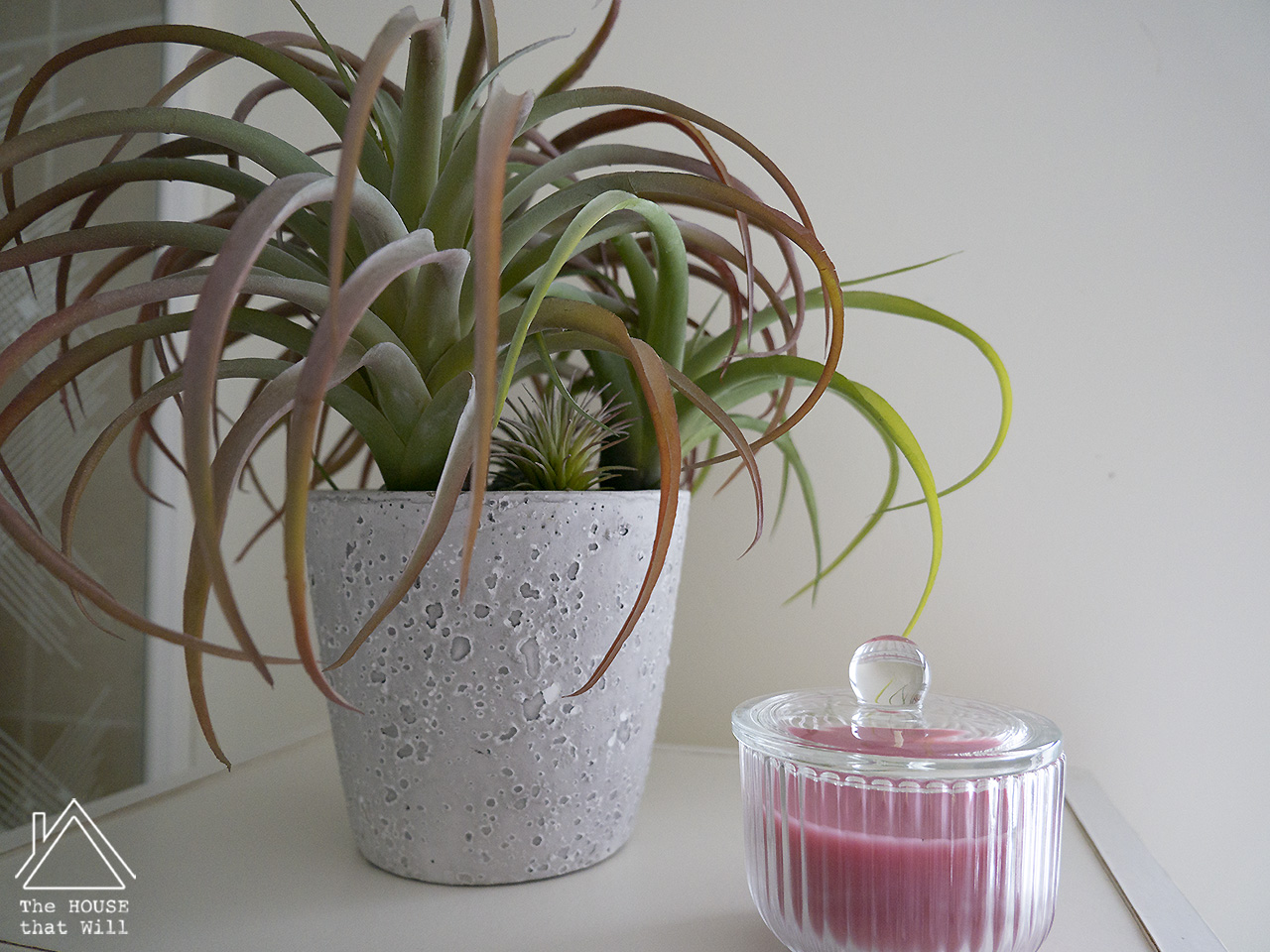 The fluffy pink bath mat was part of a set I had purchased years ago for our white and pink loo. I've no idea why it was still hanging around in our attic because I changed the decor in that loo years ago. In fact, that makeover was one of the first posts I wrote for the blog!
Shortly after I left Julie's house after finishing her ensuite, she sent me this photo. Apparently the pink fluffy bath mat has been claimed by the family dog!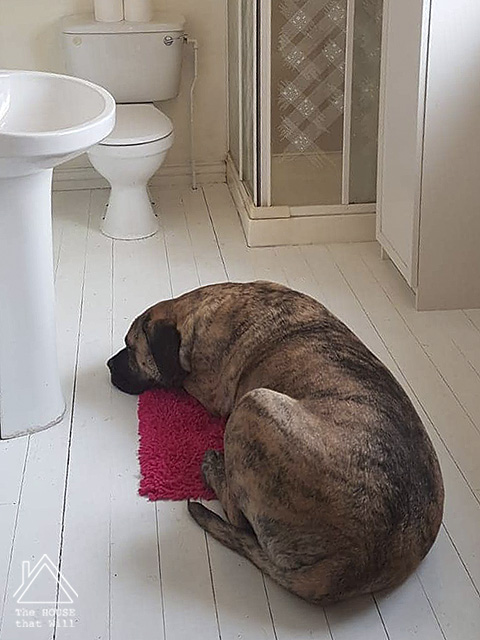 So there you have it - some basic repairs, a fresh coat of paint, some reused decor items, and a €15 secondhand cabinet were all that was needed to give this ensuite a completely fresh new look that not only looks more attractive, but also functions properly throughout. No more leaky taps and soggy floors! If you too are inspired to decorate on a budget, be sure to read my Top Tips for Decorating on a Budget and check out the other posts in the Budget Decor series (linked below).
I have to admit, as somebody who is all too willing (just ask my husband!) to go out and buy homewares, I'm really enjoying the challenge of decorating on a minimal budget. I am also learning lessons that I am carrying through into my own home. I now find myself purchasing much less, resusing what I have and, when I do need to buy new, I am much more intentional about my choices. I think there's a lesson in that for all of us.

Related Posts:
Top Tips for Decorating on a Budget
Budget Decor: €125 Master Bedroom
Budget Decor: €75 Boys' Bedroom