I'm joining late, but I've decided last-minute to participate in the One Room Challenge. This will be my fifth time participating in the challenge - in the past I've renovated the guest ensuite, the sun lounge, the library, and my craft room. This time it's the downstairs loo (powder room) that's up for a makeover.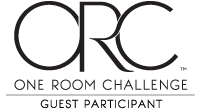 WEEK ONE - WEEK TWO - WEEK THREE - WEEK FOUR - BLM - WEEK SIX - WEEK SEVEN - ROOM REVEAL
The challenge is to complete a room renovation in the allocated time. Thankfully, this time around the challenge has been extended from six to eight weeks. I hope that extra time will compensate for the difficulties in sourcing materials during the coronavirus pandemic ... and also make the work less frantic! It sounds like a long time but, believe me, it goes by very quickly!
Before
Let's start by taking a look at how the room looks now. In other words, the awful 'Before' photos ...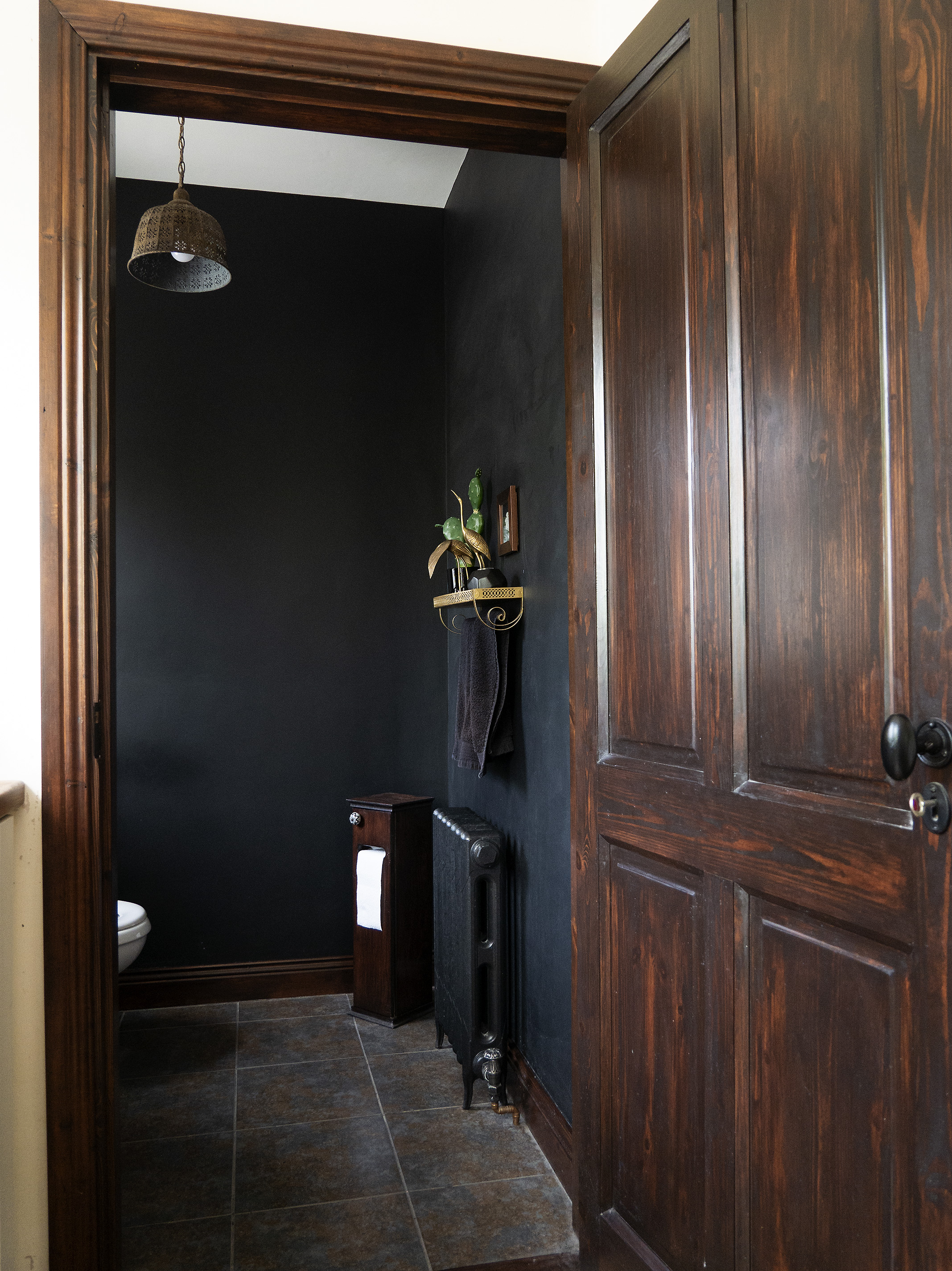 I had intended finding a very striking piece of art for this wall opposite the door, but I never could find anything I liked that worked, so it was just left as a boring, blank, dreary wall.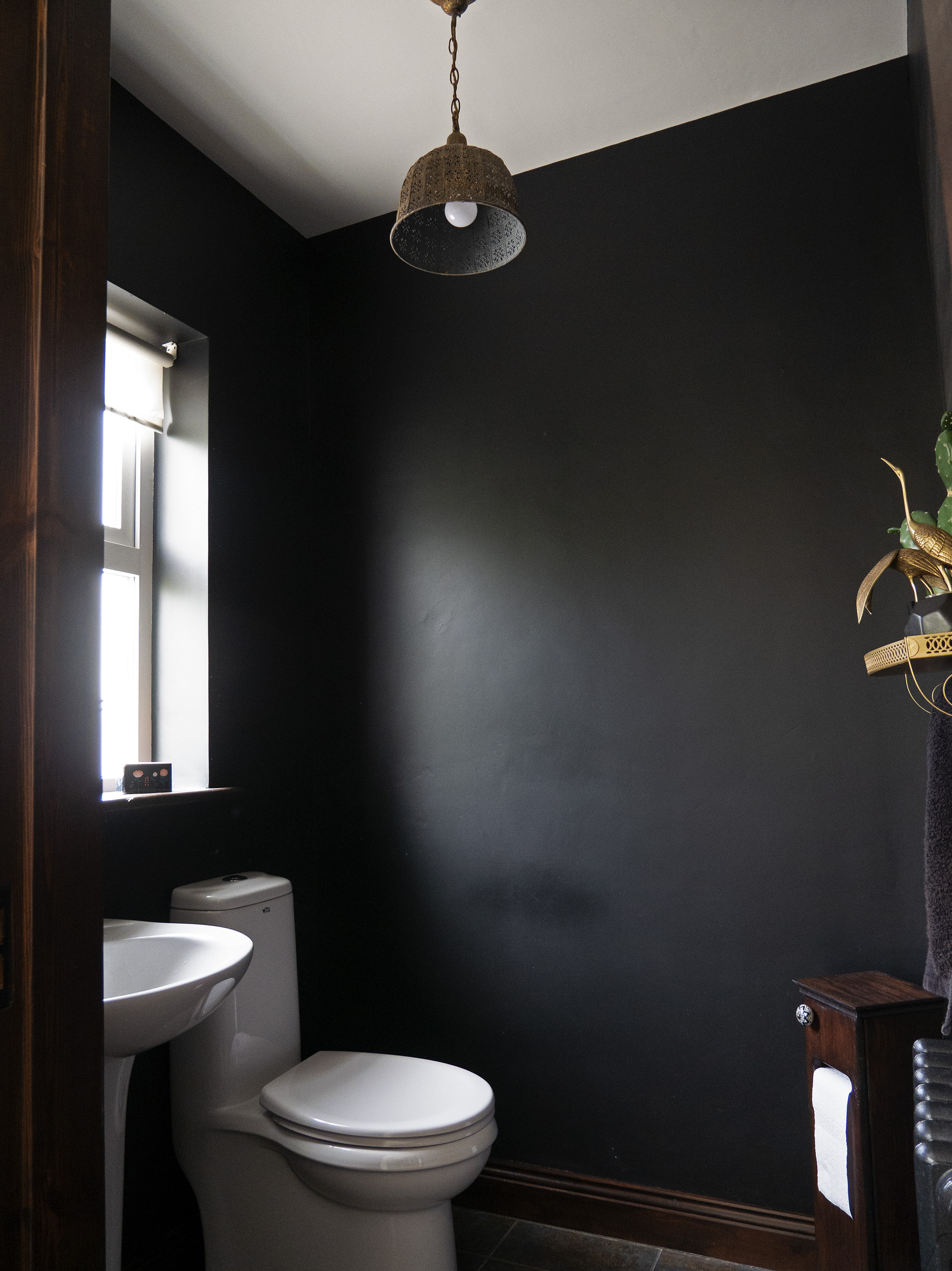 I still like the pendant light, so that will be staying.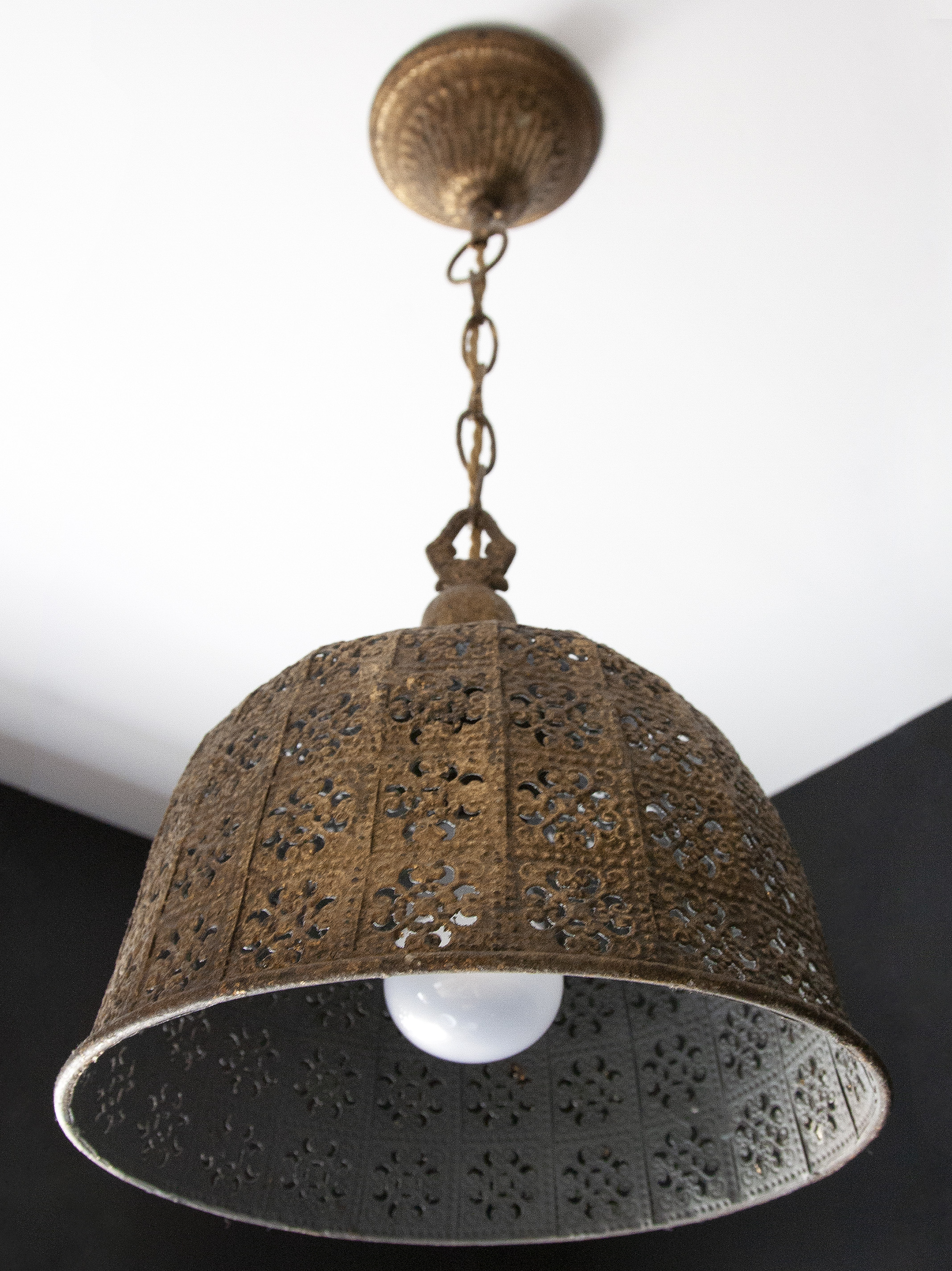 The sink will be changed, and I'll make a new blind for the window.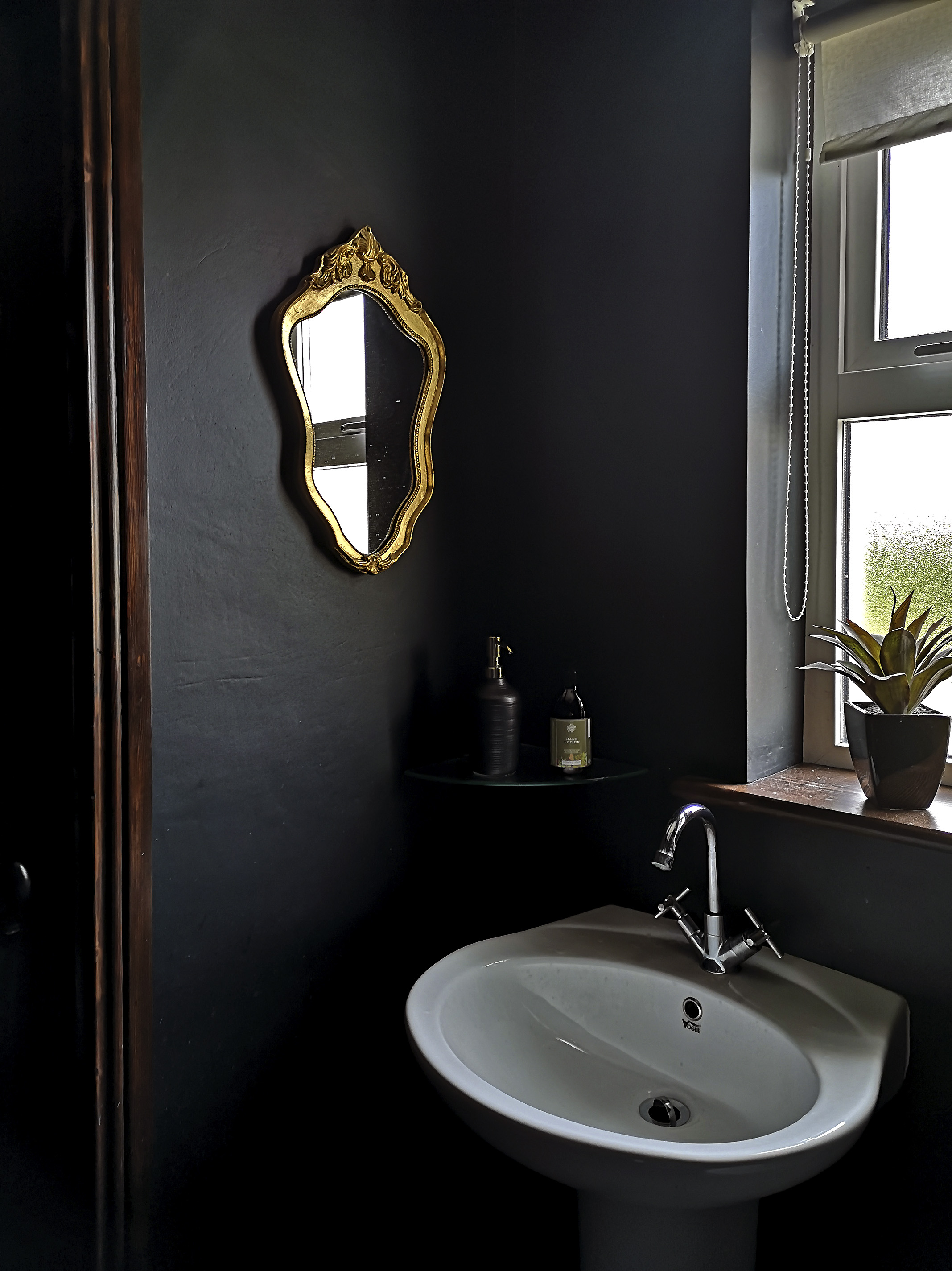 I don't like the dark stained wood any more, so that will all be painted. I also want the new surfaces to be easier to clean, as currently the poor-quality paint is not scrubbable and is therefore completely impractical for this hard-working space.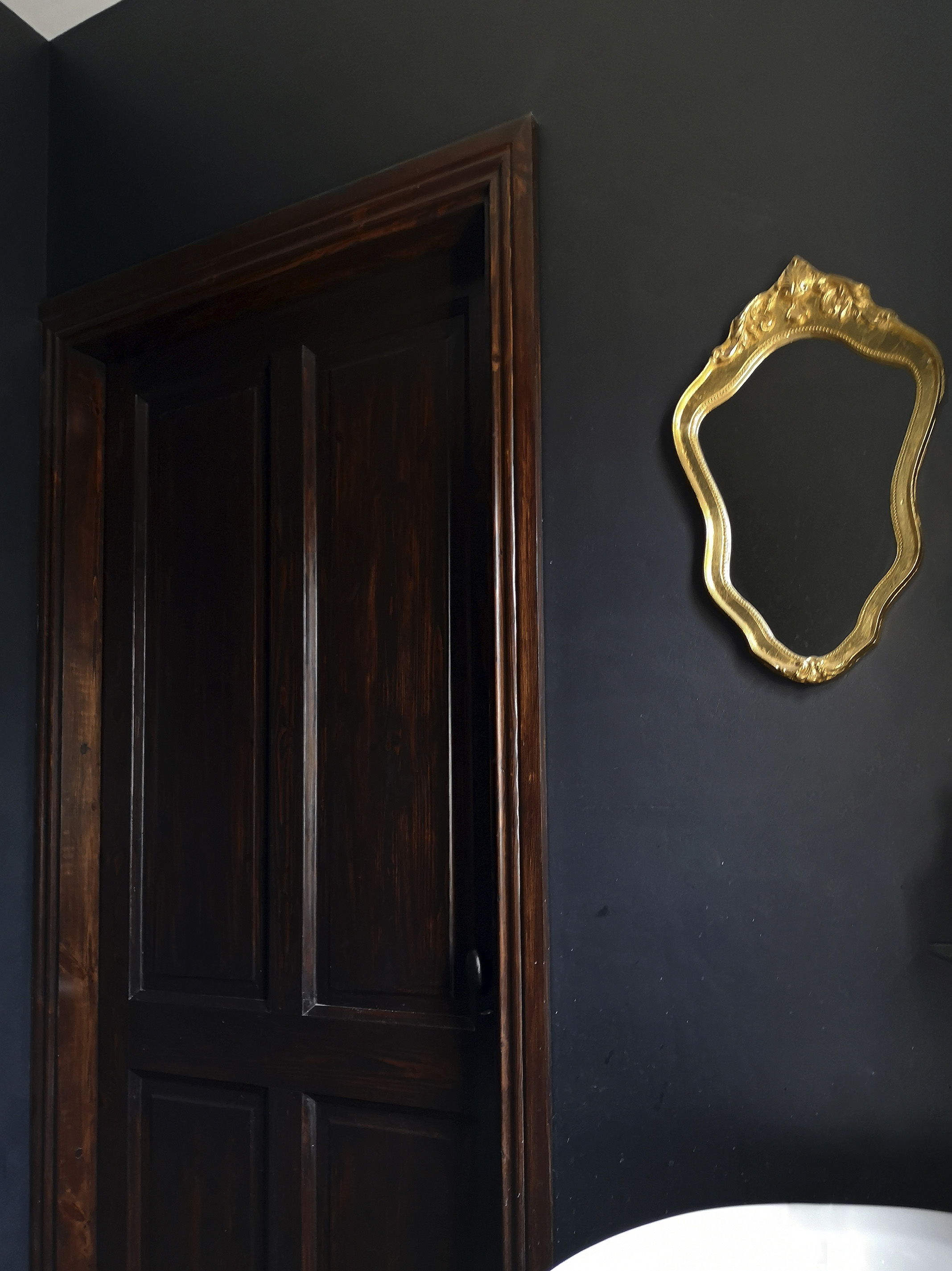 The wall opposite the window is the only one with anything interesting on it, and I don't even like it any more! Again, you can see here how water being splashed in the room has marked the surfaces, so I need to come up with a way to solve that problem.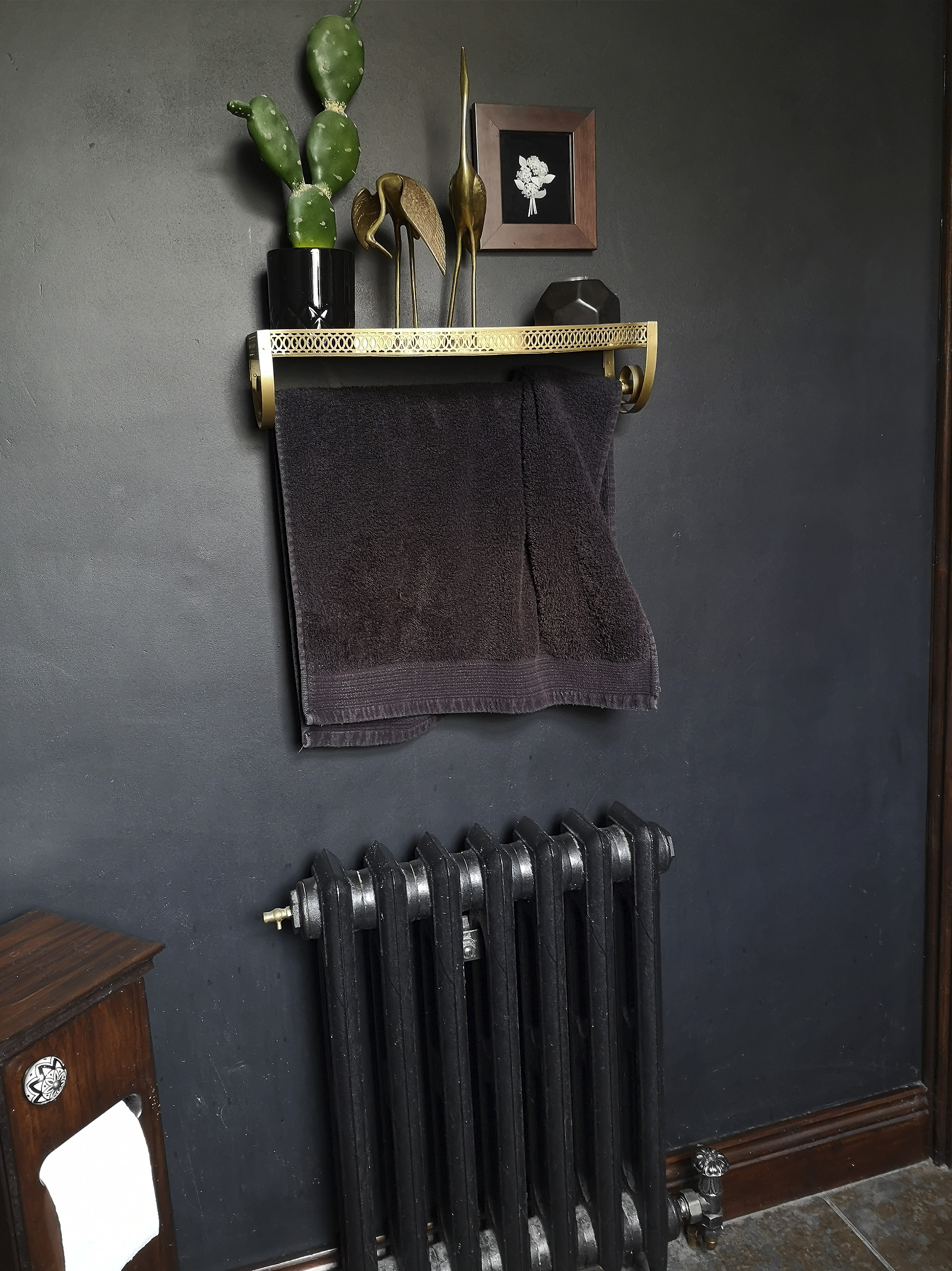 What's Changing, and Why?
First off, that colour has to go! This was the first room I painted a dark colour, and it felt like a very brave thing to do at the time. But I should have taken the advice I usually give people who are unsure about how to decorate their home: look to your wardrobe to see what colours you like to wear, because you'll probably like those colours in your home too. I really hate wearing black, so why on earth did I think I would like it on the walls? I don't have a problem with the darkness per se because I do still love our library, which is painted a dark blue/navy colour. But I don't like black, and so this room feels more like a frumpy black smock than a little black dress!
Also, I tried, very unsuccesfully, to go for some glam elements in here with the gilt mirror and pendant light and brass accents. I thought they would be enough to lift the gloominess of the room, but they weren't. That's because I didn't go far enough towards making this room feel luxurious; and the reaon for that, I now realise, is because it's not a look I'm really comfortable with. I like it in other people's houses, but for myself I prefer a more relaxed, rustic feel. So that's what I'm looking to create with this makeover.
The Plan
I want the new look for this room to feel lighter, and to reference our rural location by including elements inspired by nature.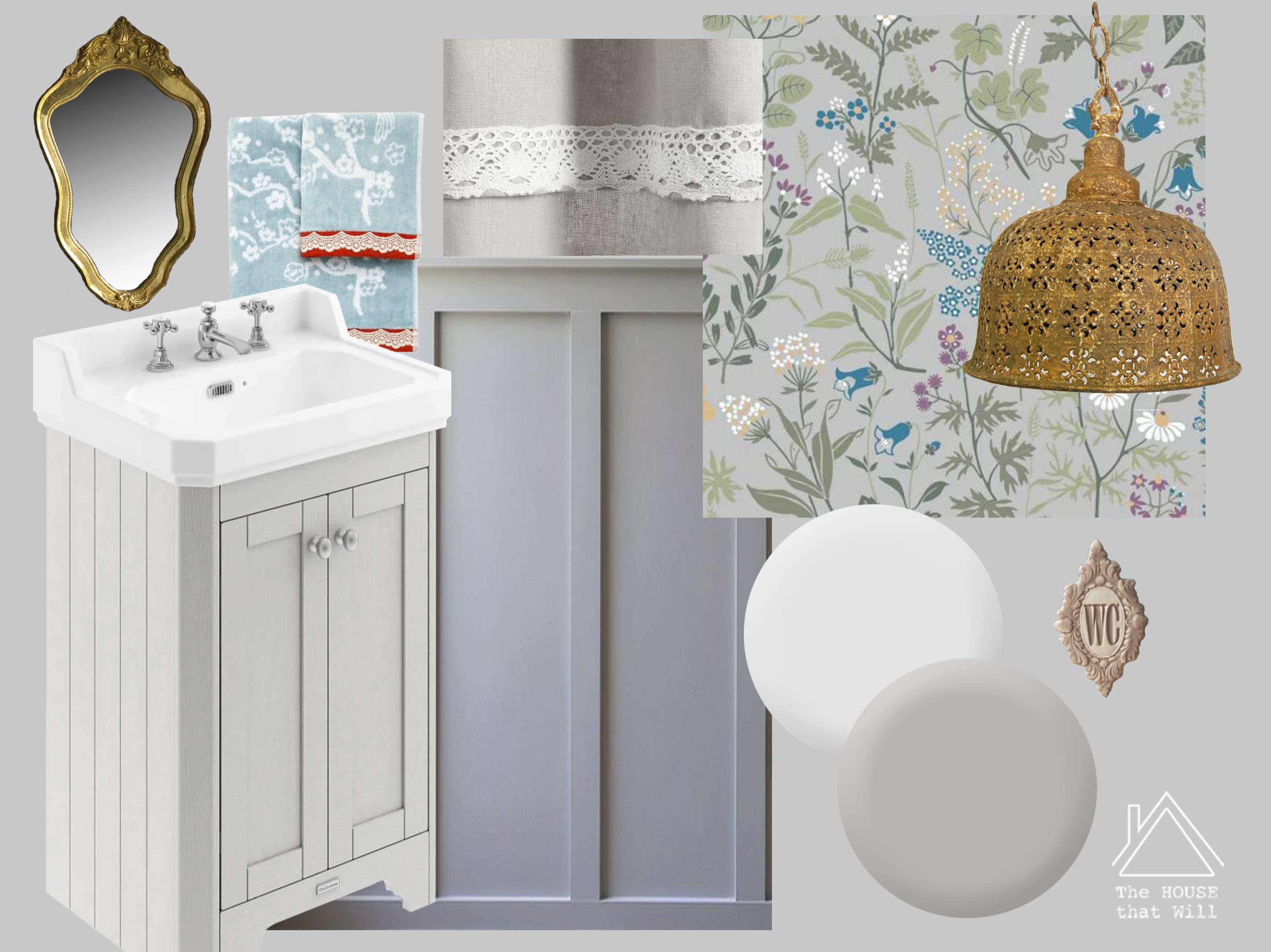 Follow The House that Will
Facebook | Instagram | Bloglovin'
The lower part of the walls with be panelled and the upper part will be wallpapered in this beautiful Flora wallpaper from Boråstapeter. I will keep the gilt mirror and pendant light, but they will be contrasted with the texture of a linen and lace Roman blind. And, of course, there'll be lots of pretty accessories!
Part of the One Room Challenge is to post weekly updates every Thursday, so do check back to see how the work progresses. And do also take a look at all the other wonderful makeovers happening over at the One Room Challenge website.
Til next time!

You may also like:
One Room Challenge: Guest Ensuite Reveal
One Room Challenge: Sun Lounge Reveal
One Room Challenge: Library Reveal
One Room Challenge: Craft Room Reveal