I must confess that I'm not the biggest fan of yuletide. However, I do feel that the season is a nice bookend to the year and I do appreciate the excuse to put pretty things around the house that bring a little extra cheer to the darkest winter days. Here's how The House That Will looks at this time of year …  
We always get a real tree and we go for a very traditional look in mostly red and white, with lots of painted wooden ornaments from Germany (bought years ago in Wooden Heart in Galway) and little bits we have collected over the years. We have some fine bone china bells from the old Royal Tara factory in Galway (since shut down) that my mother gave me, some Silverware decorations that were also gifted to us, crocheted angels I bought at the National Crafts and Design Fair a couple of weeks ago (read my review of the fair here), glitter-dusted pine cones, a few scandi-style ornaments from Ikea, and various baubles and trinkets that I mix and match from each year. And lots of little white lights. I read recently that the rule of thumb is that a tree should have 100 lights per foot in height, so that a 6-foot tree would have 600 lights, for example … but I like to double that! And nothing but warm white will do because I really dislike the bluish-greenish light put out by some modern LED lights.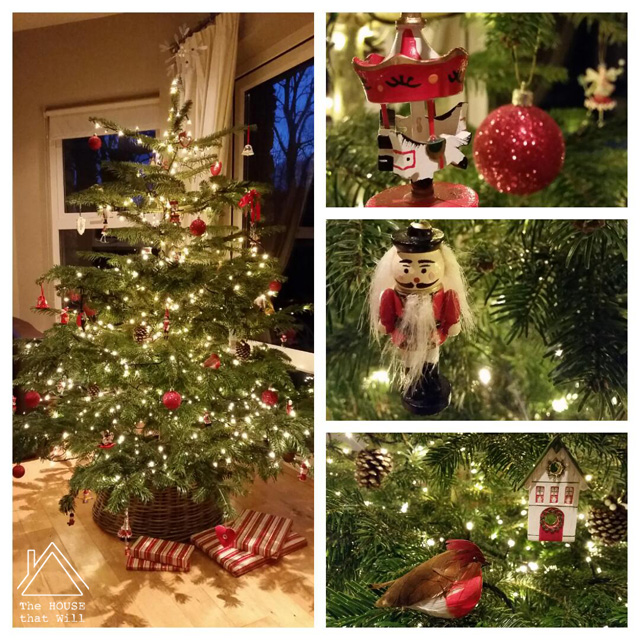 In recent years, we started putting the tree up in the sun lounge because it's not a room we use very much this time of year, and so the tree isn't in the way there. Yet we can still see it from our kitchen and dining room, which is nice. Also, it gives us a reason to use the sun room when we otherwise wouldn't, as we tend to go there to eat breakfast beside the tree when we're both at home during the holidays.
I like to spread the cheer elsewhere around the house too. I bought a few of these little characters when we lived in the United States a few years ago, and they all take up residence in various spots around our hallway.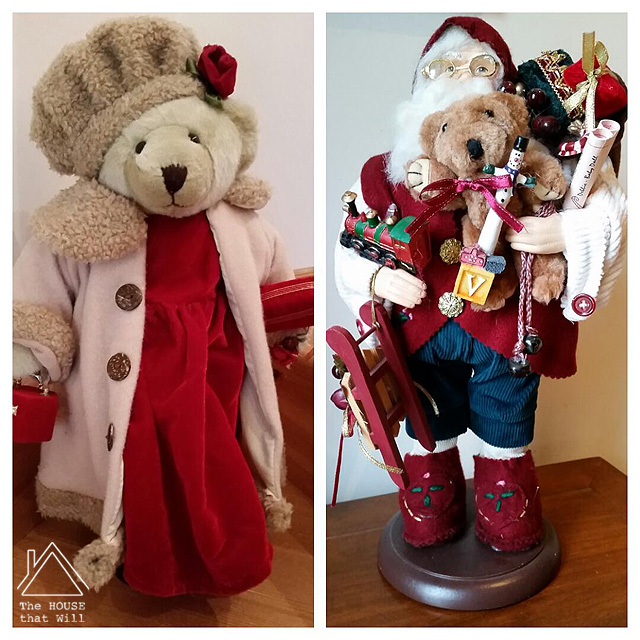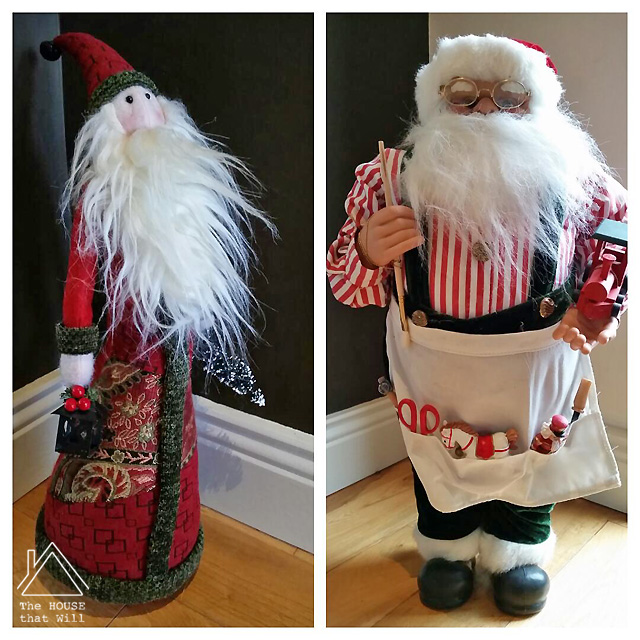 Our hallway feels a bit awkward to me at the moment as it is halfway decorated. We did a quick pass at it when we first moved in, and another freshen-up earlier this year, but it's still not looking how I would like it to. Fingers crossed we'll get to it next year. But even in its current state, it is still the first room you see when you enter the house, so I wanted to make some effort in there with the decorations. I moved my silver deer candlesticks into this room (I used to put them on the sideboard in our dining room) and I also bought a new white and silver paper star from the Carolyn Donnelly Eclectic collection at Dunnes that I hung from the ceiling.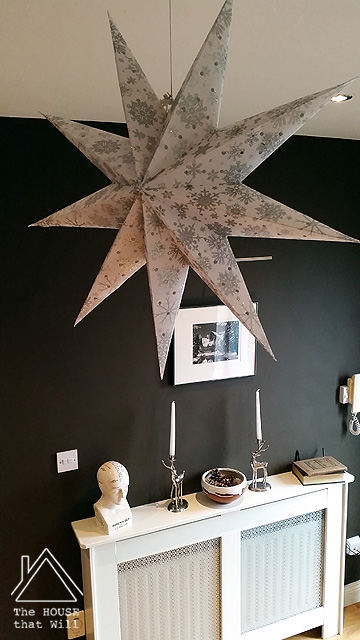 I love carousels! One of my favourite decorations is a working carousel that we bought years ago in the post-Christmas sale in Woodies. That usually takes pride of place on the table in our kitchen/dining room and we turn it on and sing along with the tunes as we prepare the traditional seasonal feast!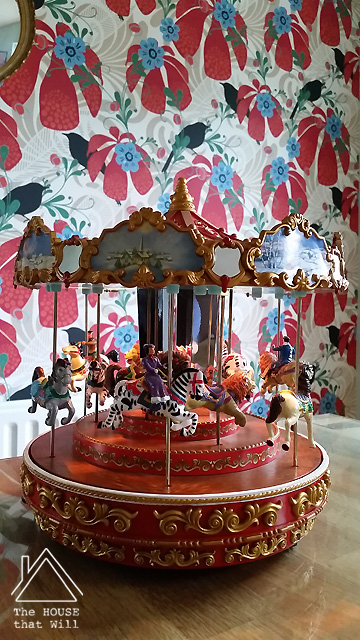 I am very excited that our garden is finally mature enough this year to harvest some seasonal greenery. I have cut a bundle of holly, red dogwood, yew, ivy, and hazel catkins that I have arranged on the kitchen windowsill in an enamel jug from Ikea. The red reindeer is from the Kilkenny Shop in Galway.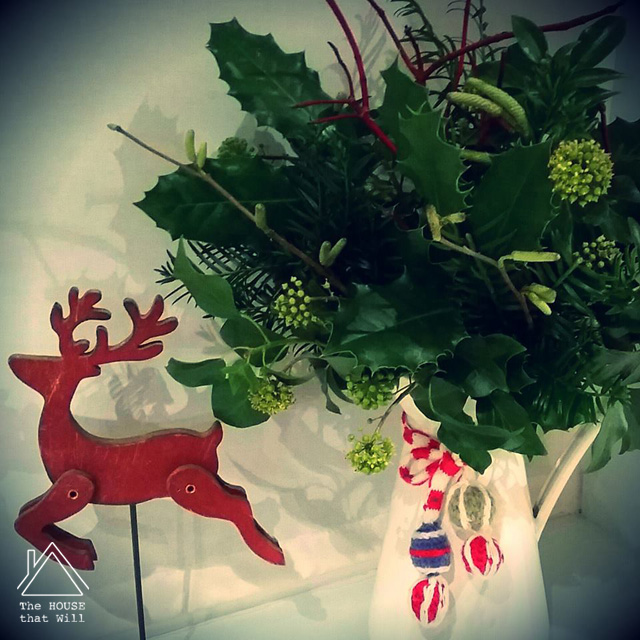 As I said, I used to put my silver candlesticks on the sideboard in the dining room, but I thought it was a bit much with the wooden antelope that are always there. So this year I moved in these cute little characters that my mother bought me during a visit to Kinsale a few years back.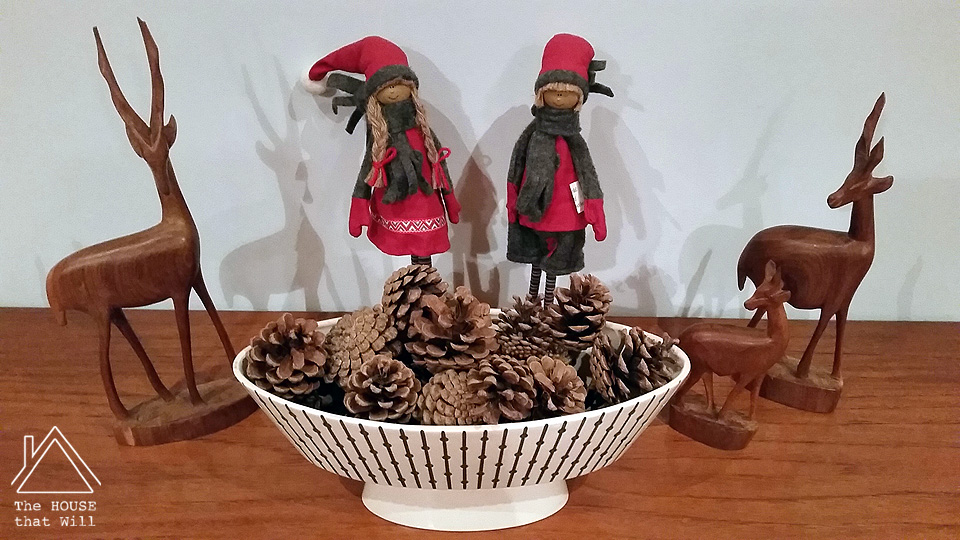 Because the dog spends most of his time in the sitting room, we usually keep it quite simple in that room. There are a couple of metal deer by Paul Costello Living Studio for Dunnes that I bought years ago. Although they are actually Christmas decorations, I like them so much that they live on the cabinet year-round! So to bring an extra hint of the season into that room, we add a couple of wooden trees decorated with battery-powered lights either side of the fire. We bought the trees at Habitat in Galway years ago. (Let's just pause for a moment to lament the loss of that great store in Ireland. Sob!) The trees were a weird maroony-brown colour when we got them, so we spray-painted them dark green as we thought the original colour was rather drab and unseasonal. Now, they're one of my favourite ornaments.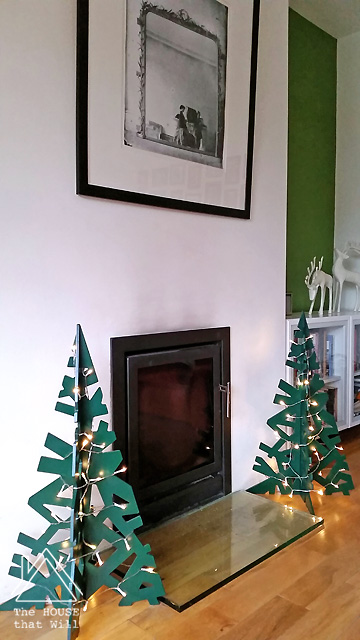 The sitting room is scheduled for an overhaul in the new year, so that's another reason we didn't go overboard with the decorations in here this year. I had hoped to have a new fireplace installed in time to at least decorate that, but the fireplace we bought for here ended up being re-allocated to our larger lounge room (long story - we'll get to that at a later date!) where it's now propped up against the wall, waiting for us to get around to doing something with that room. Even though it's not properly installed yet, hubby decided to surprise me by placing a garland on it. And even though it's just temporary, I think it looks great!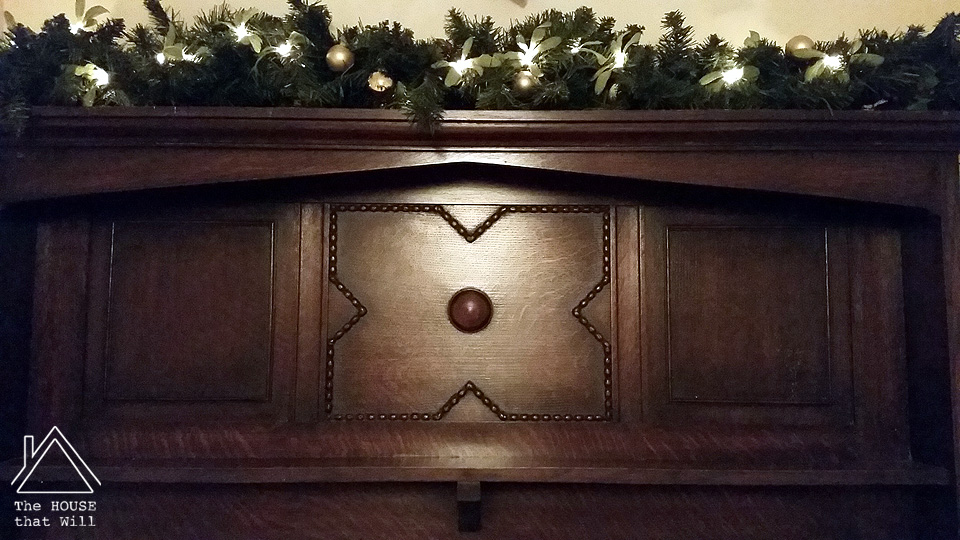 Last summer, we re-treated all the exterior woodwork, including the front door. We also put new hardware on it, replacing the old brass ones with new aluminium fittings. When I saw this wreath in TK Maxx in Galway that had the same warm brown and silver colouring, I thought it would look really well on our front door. I embellished it with some strands of ivy picked from the garden.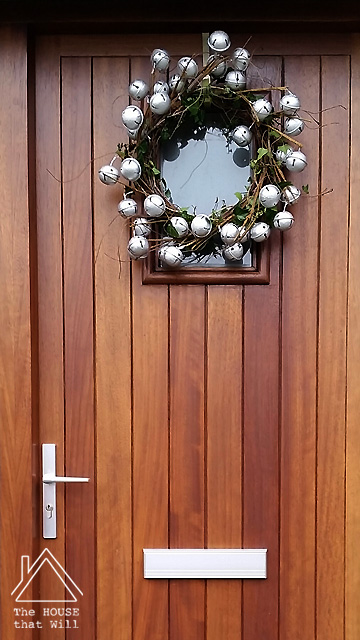 We also redecorated our loo this year (see the full room reveal here) and I realised last-minute that the decorations I usually put in there wouldn't suit any more. So I picked up this little gold tree with black jewels in a glass dome from M&S in Galway, and I think it looks perfect in there.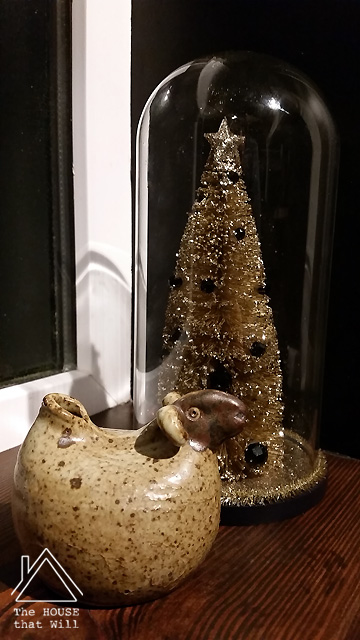 I am most excited about our bedroom fireplace this year. As we just recently finished this project (pre-blog, although I may do a post on it sometime), this was our first opportunity to decorate it, and I really enjoyed doing so. The white ceramic deer head on the mantelpiece is another Christmas ornament that became a permanent resident! I bought it in Target and brought it home from the States with me. I bought the wooden house in The Gaiety in Galway, and I got the other items from TK Maxx. The knitted stocking also came from TK Maxx, and the other one I sewed myself using fabric recycled from a gift bag we bought years ago at B&Q in Galway. They are hung from brass stocking holders that we spray-painted black to blend in with the fireplace. On the hearth are a pair of glitter-dusted twig hedgehogs by Gisela Graham that I got at The Gaiety a couple of years back and I look forward to seeing them every year since.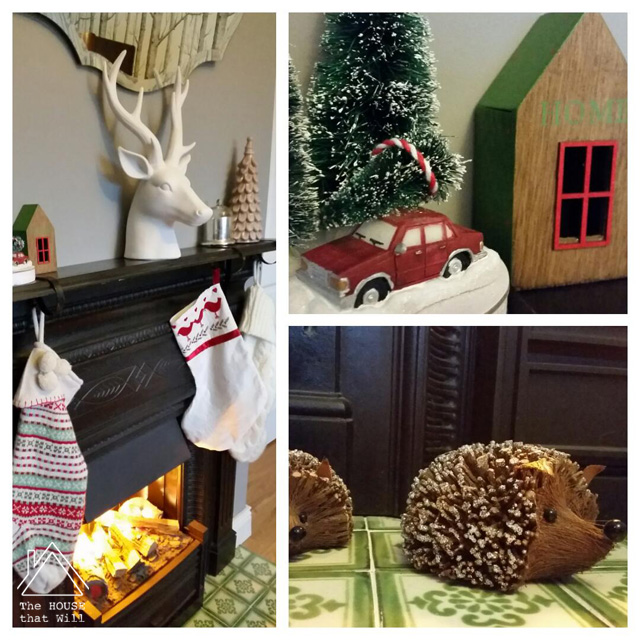 Follow The House that Will
Facebook | Instagram | Bloglovin'
Finally, I would not consider the season complete without the candles in the windows, as it a very old tradition in this part of the country. They apparently signify that your home is open to any weary travellers or people in need at this time of year as a nod to the bible story, but I'm sure the practice has pagan origins associated with the winter solstice. Nowadays, the open flames have been replaced by electric candles in almost all homes, but I still prefer the nostalgia that only a flickering candle can evoke. For safety reasons, I have eschewed the open flame in favour of tea lights enclosed in glass lanterns that I bought years ago from the garden department in Woodies. We light these in every window at the front of the house. Add a log fire and a glass of mulled wine and there's nothing in the world as cosy!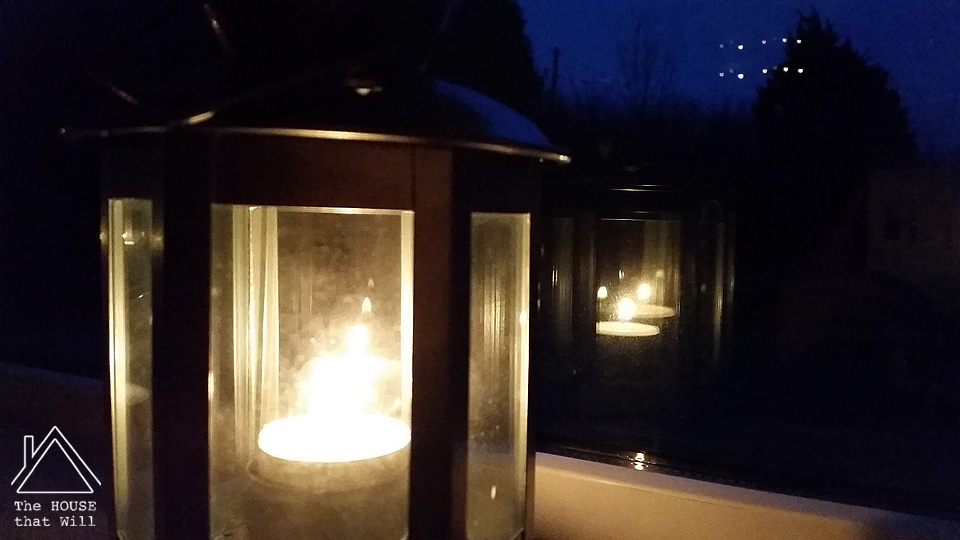 However you celebrate this time of year, I wish you and your loved ones a happy time together.