This room reveal seems long overdue because it's been almost done for such a long time ... about a year, in fact. But there were a few finishing touches needed, and they were DIY projects that I didn't get around to working on until quite recently. Now, at last, I get to show you how our guest bedroom turned out.
PIN THIS!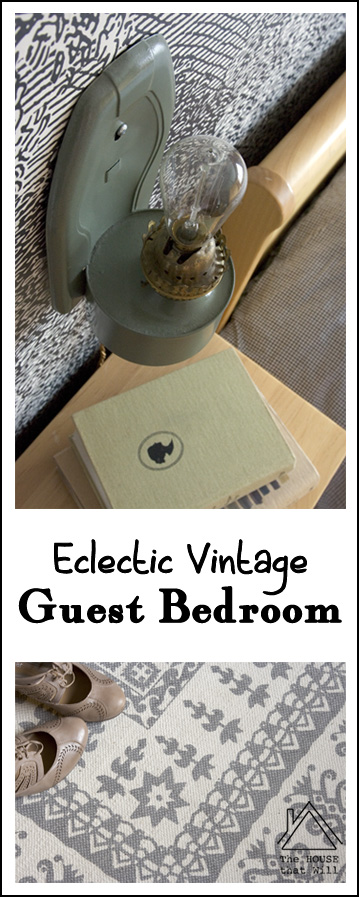 We started out with a blank canvas, having not really done anything with this room except to put some furniture in here. So it was functional, but that was it. Now when I walk out my bedroom door in the morning, I am greeted by this cheerful view of our guest room across the hallway. I love that it has so many quirky interesting things to catch the eye and draw one in.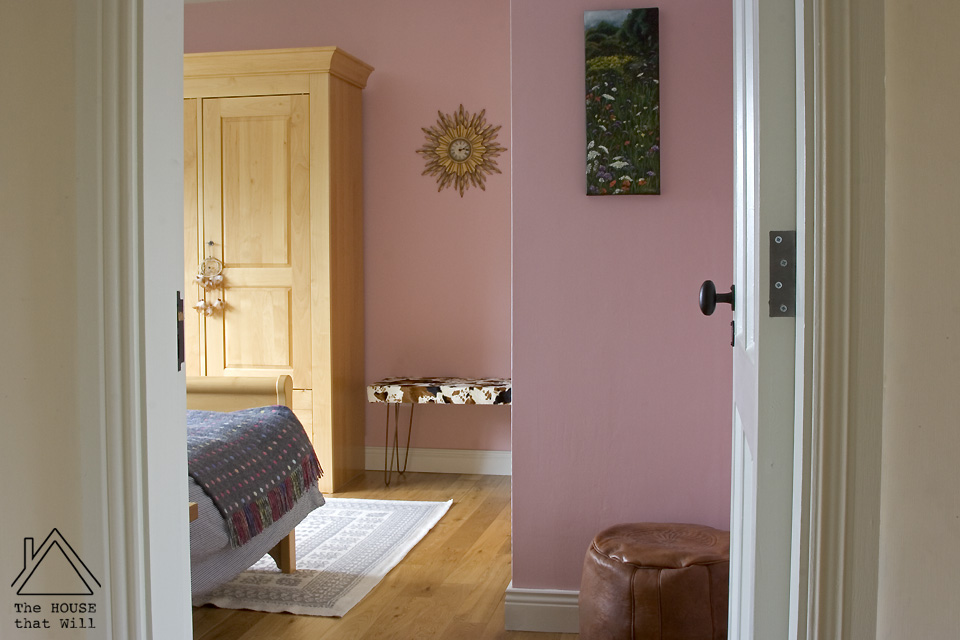 Once inside the room, the main feature is this spectacular mural behind the bed. It makes me feel like I'm walking into a lithographic illustration in an old book!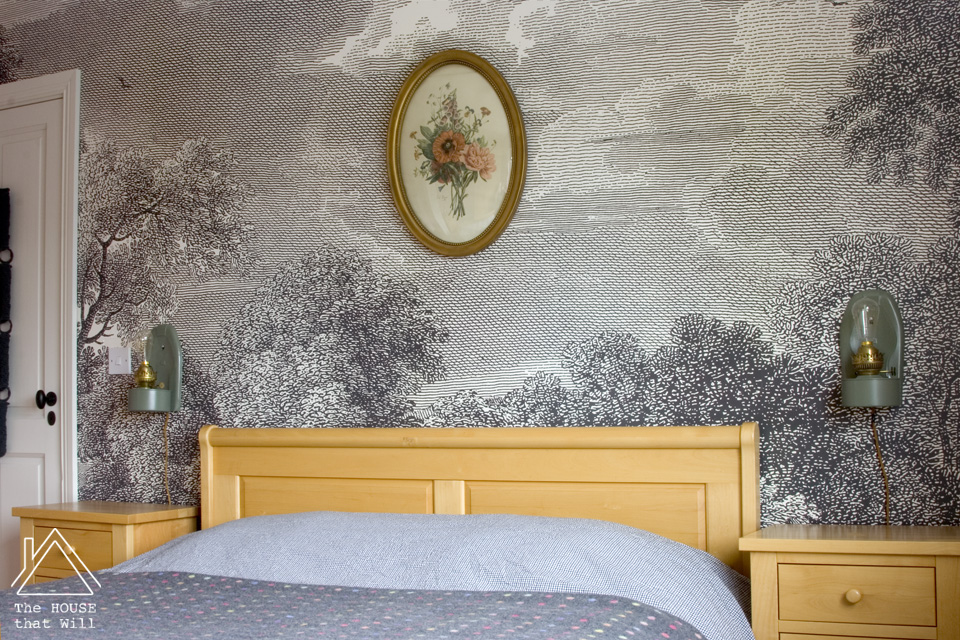 There are even birds flying overhead - and you know how much I love birds! So much so that I also have this little guy sitting on the windowsill. His silhouette is so realistic that sometimes when I walk into the room, there is a half-moment where I think a live bird has come in the window and perched on the windowsill!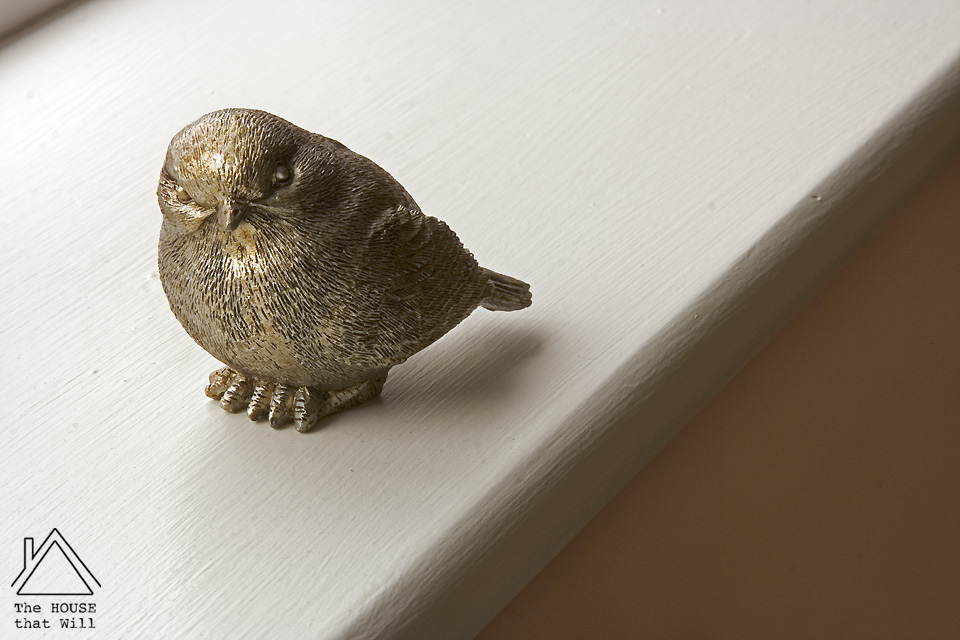 As I mentioned in my design plan for this room, the roof of our garage is very prominent outside this window, so it was important to me to make the most of the part of the garden that is visible from here. To that end, the mural really helps to draw your eye to the trees outside in the way that the depiction of billowing branches seems to mirror the real willow tree outside. (You can get an even better impression of that effect in a photo in this post: Hanging a Wallpaper Mural.)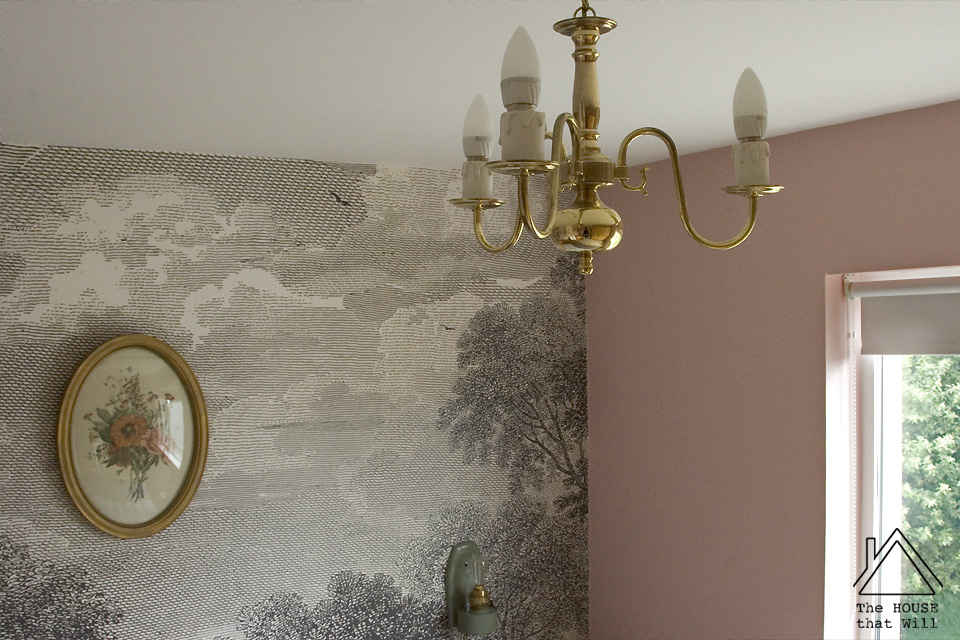 I abandoned the idea of putting white lace curtains in the window. Actually, I did try it. But once they were hanging, I realised that it was just one step too far and that they looked fussy and over-the-top. So instead I kept things simple and just fitted a white blackout blind. It makes the room much darker when drawn and is a far more appropriate choice for a bedroom that the translucent one it replaces.
I totally surprised myself by painting this room pink, a colour that I would never have envisaged myself using in the house. But it is a lovely earthy shade of pink that, in this west-facing room, takes on a sort of ethereal glow at sunset. The colour is O Fortuna (#0070) from the Colourtrend 'Wall of Colour'.
The 3-arm brass chandelier is vintage and I won it in online auction for just €30. I love a bargain!
Another online auction win hangs above the bed: a floral print in a gold oval frame with convex bubble glass. I am captivated by bubble glass and convex mirrors generally (something that I think originated with my fascination for the convex mirror in The Arnolfini Portrait by Jan van Eyck). I didn't even particularly care for the picture inside, and had intended replacing it with something else until I ended up painting this room pink. Surprisingly, the original picture suits very well in here now. It's serendipity!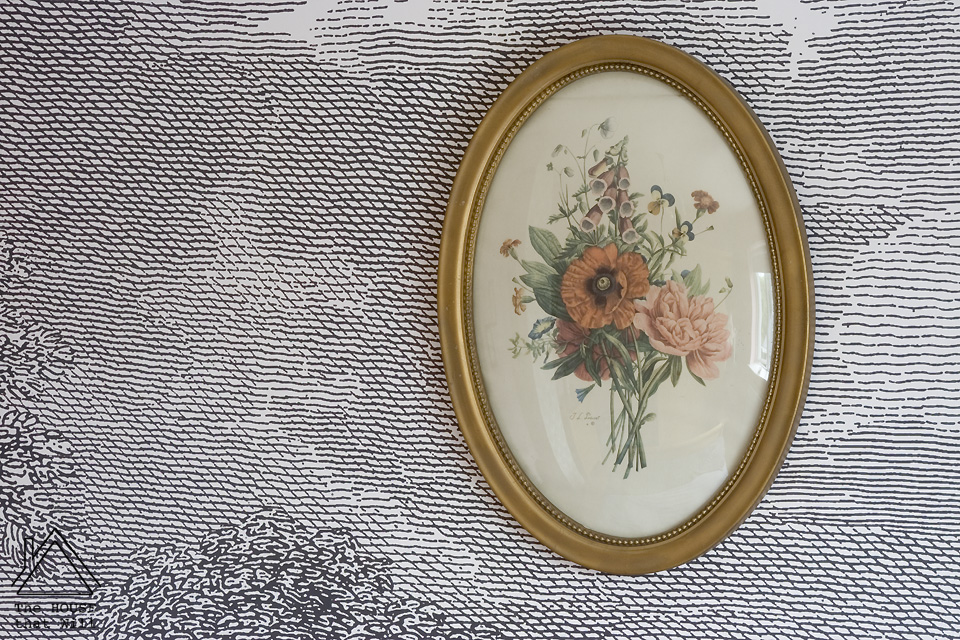 The bedside lamps are one of my favourite things in the whole house! They were mismatched (one blue, one pink) old oil lamps that I bought in an online auction for €10 each and they were already converted to take an electric bulb. Hubby used wire wool to remove the rust on them, and then he spray painted them sage green (he's much better than me at this - I always get drips). The wires from the bulb fitting were very short - designed to hang where there was an electrical outlet on the wall, which we didn't have here - so I bought a gold braided flex to match the brass fitting on the lamps and fit a plug so that we could plug them into the sockets behind the bedside tables. The plugs are connected via a remote control socket so that guests can easily switch them on and off without having to reach behind the furniture. The fact that we made remote-controlled bedside lamps from something so old and obsolete totally cracks me up - I love it!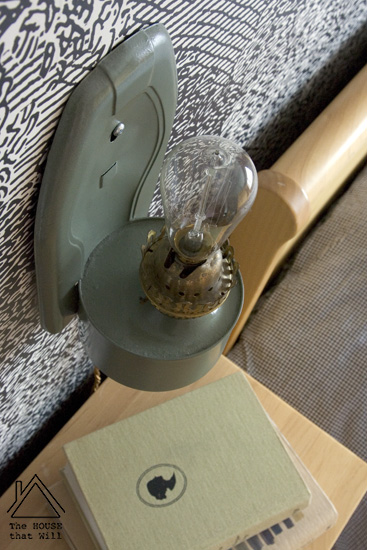 And the 'squirrel-cage' Edison bulbs we put in them really complete the look and give off such a lovely warm glow.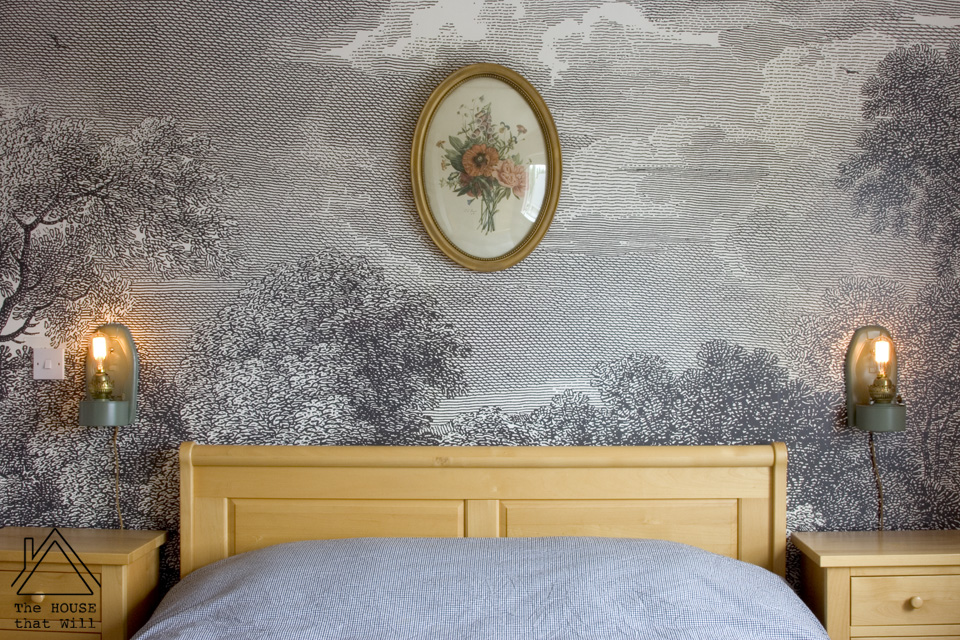 I once visited a house where I didn't sleep a wink all night because I was absolutely freezing cold. It's a totally miserable way to spend a night. We all have different tolerances to temperature, some preferring a warm room at night and others who can't sleep unless the room is cool. A lot of my friends live overseas and are used to warmer climates, so just in case they feel a little chilly when they come to visit, I have a woollen blanket from Foxford Woollen Mills draped across the end of the bed. The mills were established in 1892 by a Catholic order of nuns in a part of County Mayo that was poverty-stricken following The Great Famine, so they have a long history here in the west of Ireland. I remember family outings to the mills when I was a child because my mother is also a fan of their wool blankets. I love that this rich heritage is blended with contemporary designs and supersoft lambswool to create textiles that can work in any modern home.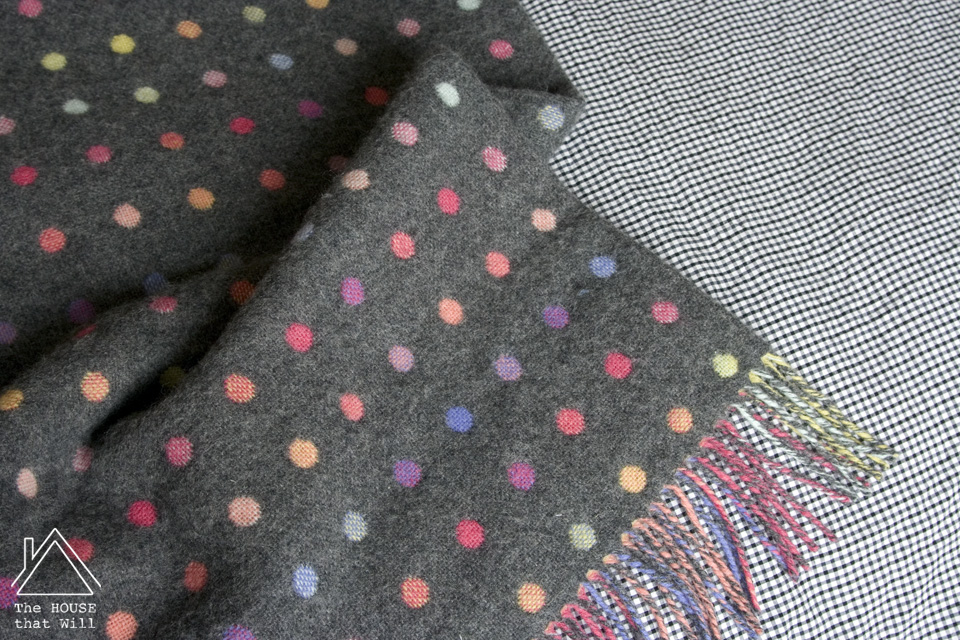 The bedding underneath is the Snärjmåra quilt set from Ikea. This is actually the reverse side of the quilt, but I use it upside-down because I like how the pattern works with the wall mural. I discussed making a patchwork quilt for this room, but I am doing all the quilting by hand, so it's taking a long time. I worked out that if I spend all day every day working on it, it will take me five months to complete ... at least at the rate I'm going, having never hand-quilted before. Yes, I know I could have gotten it machine-quilted, but once I started hand-stitching it, I wanted to finish it all by hand. I'm stubborn like that! So bear with me ... it might be a while before we see the quilt in this room.
Guests need somewhere to get ready in the morning, so I created a little vanity area using a chest of drawers with a round mirror hung over it.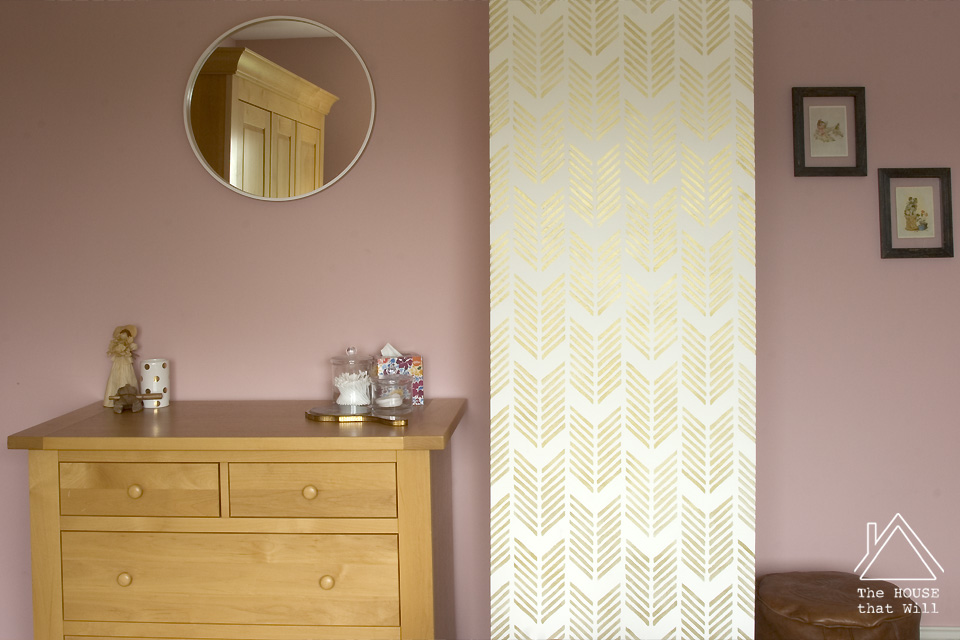 There are little glass lidded jars containing essentials like cotton pads and swabs, a box of tissues, a ceramic tumbler to hold toothbrushes, and a beautiful Turkish hand mirror painted with a portrait of Hürrem Sultan that was gifted to me by my brother. I also use this area to display a few curios: a maize doll that I bought in the Azores and a wooden frog instrument that I bought in Thailand (when you remove the stick from its mouth and use it to rub the ridges on its back, it makes a sound like a croaking frog!).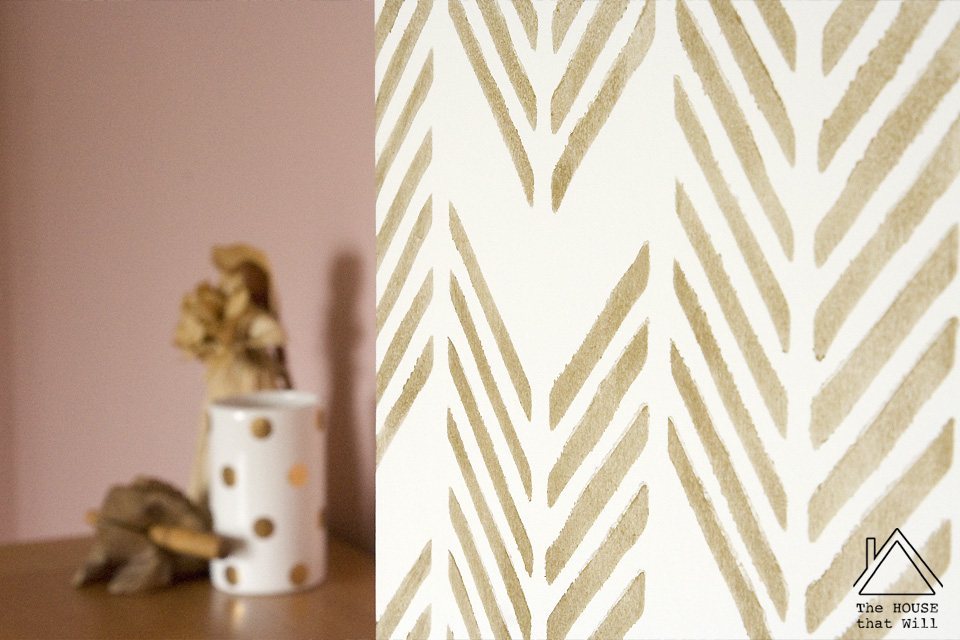 The stencilled wall is another feature that I am really pleased with. There was no pretending that this chimney isn't an intrusion into the room so, rather than try to ignore it, I decided make a feature out of it. I painted the face of the chimney in Almost White by Colourtrend and stencilled a repeating arrow/chevron pattern all over it in metallic gold.
Suspended from the door is some hanging storage from Ikea in the form of grey handmade woven pockets. I use it to hold guest towels, which I make into little rolls. (Some of the pockets came stitched down the centre to create two smaller sections, so I unpicked that stitching to use the full width of the pockets.)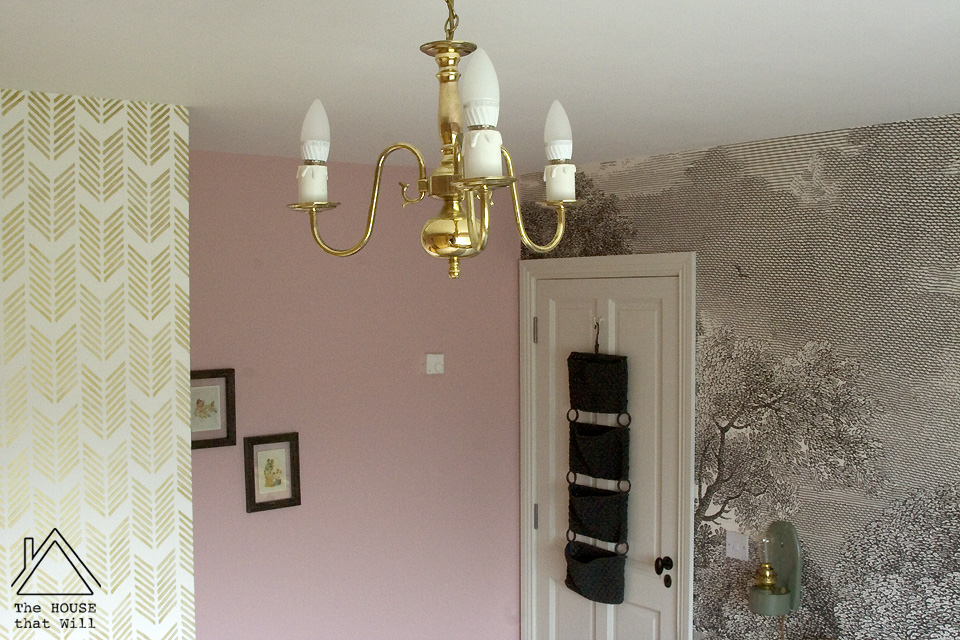 The variety of wall finishes in the room - with the pink walls, black-and-white mural, and golden stencils - mean that there is enough visual interest inside the room to minimise the impact of that view of the garage roof outside.
I have also used the chimney wall to create different zones in the room. Just inside the door is a sort of foyer area, with a tan leather pouf that Hubby and I bought in Brighton's North Laine, and some sentimental artwork hanging on the wall: an oil painting of wildflowers painted by my aunt and a pair of (now vintage!) postcards that my grandmother sent me as a child. She always supported disabled artists by buying postcards featuring the work of mouth painters. For example, the little dog was painted by Margaret Greig, who contracted polio at the age of thirteen and became a quadriplegic. I love this picture and I have always displayed it as I grew up ... which is why there's a tiny hole from a thumb tack in it!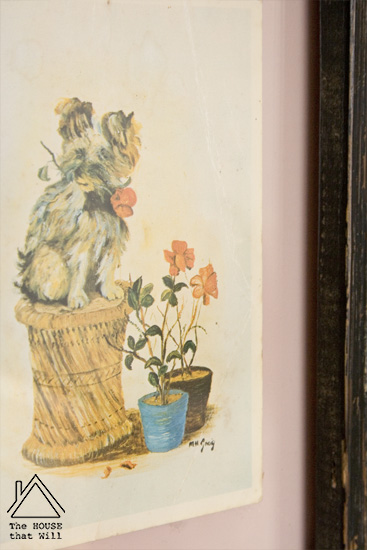 I used double-sided frames for the postcards so that whenever I want to read the messages my grandmother sent me, I can just take them down and flip them over to see the reverse.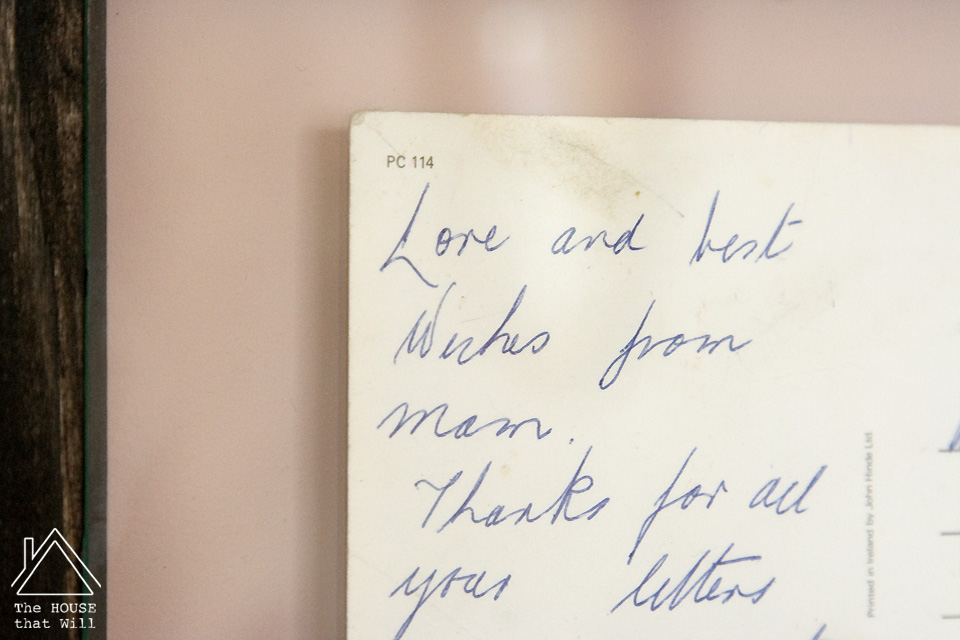 The large three-door wardrobe stands against the wall opposite the bed and, beside it, a useful seating area featuring my DIY Faux Cowhide Bench. Again, this helps to create a connection with the nicer part of the view from the window, which looks out over fields of idly-grazing cows for most of the year.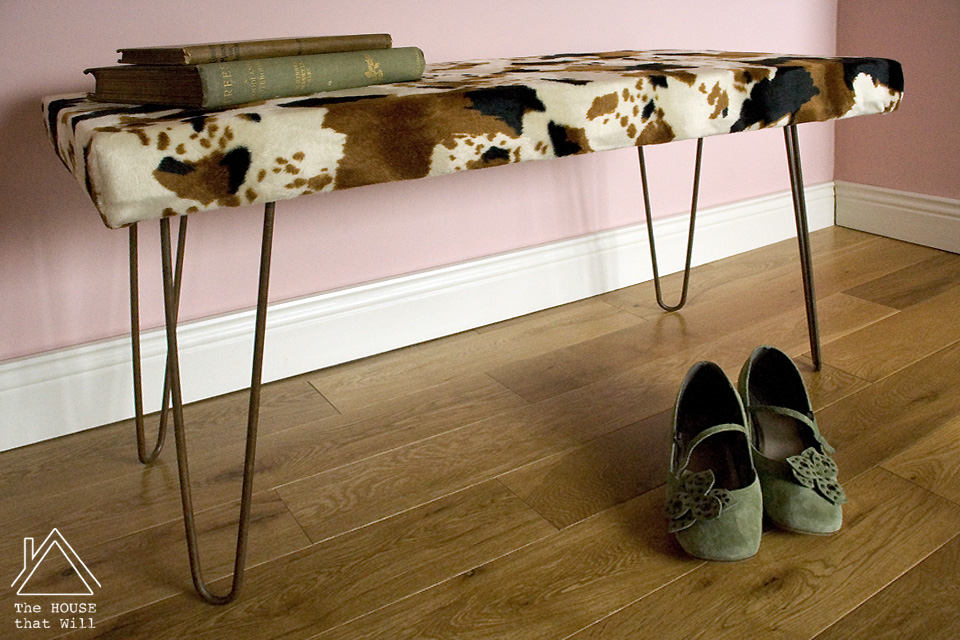 Above it hangs a gold sunburst clock, and next to it is a woven wastebasket in natural and black tones.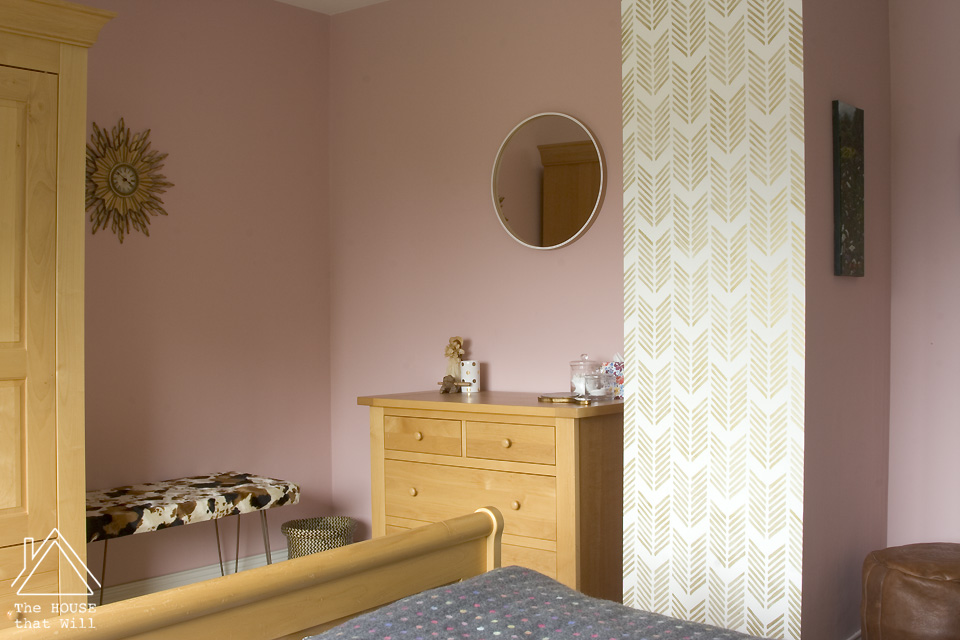 Hanging from the wardrobe door are a couple of Navajo dreamcatchers that I bought during a visit to Arizona (before we ended up living there for a while). So hopefully our guests won't have any nightmares during their visit!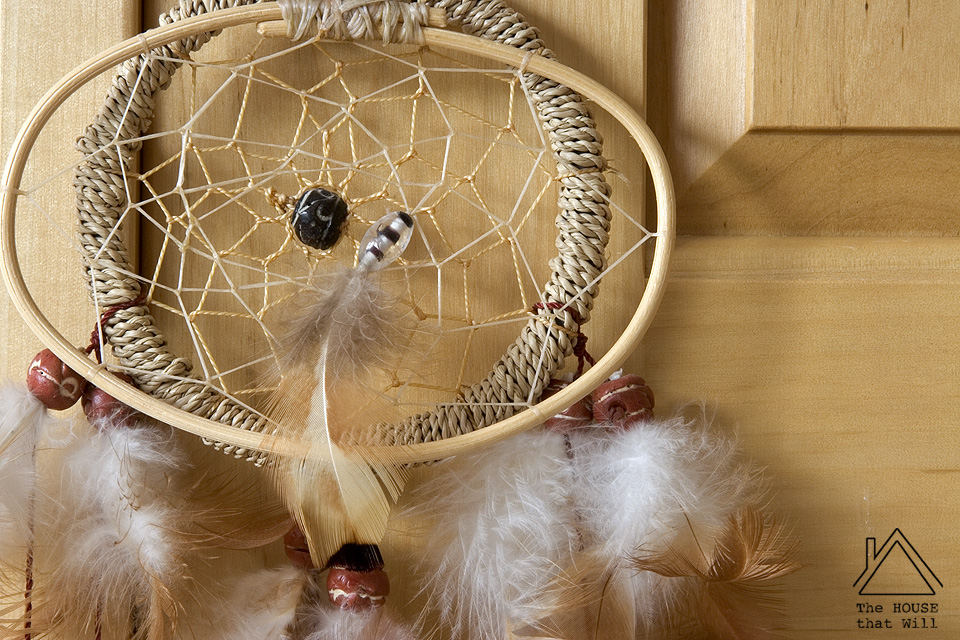 Between the bed and the wardrobe is a fabulous batik-design mat that is a modern take on a traditional idea. It is very large in the room, and the end of the best actually stands on it, which helps to ground the furniture and to link the various zones in this part of the room.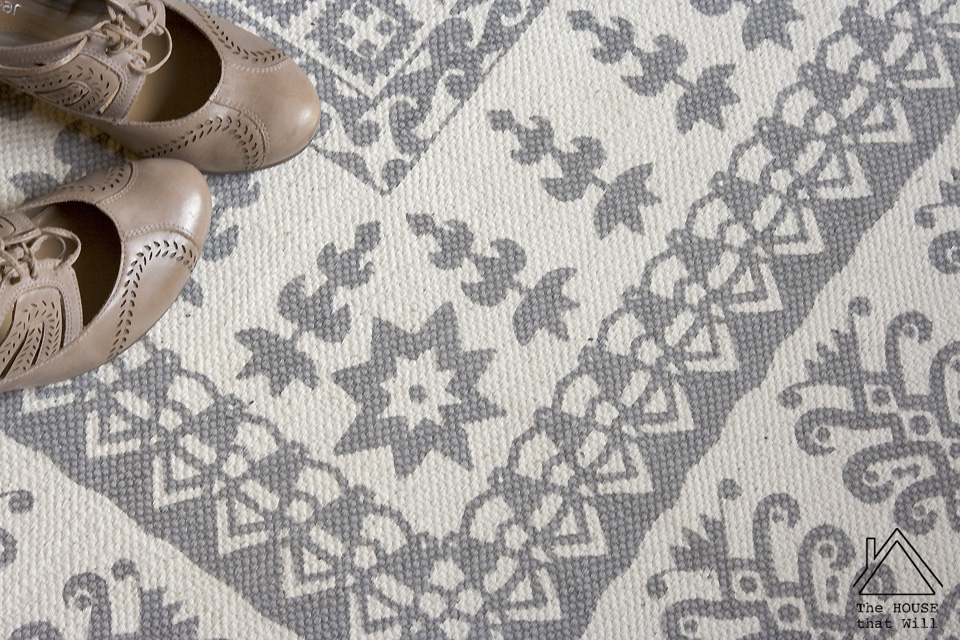 This room is an eclectic blend of patterns, colours, eras, and styles, with the bold patterns of the mural and floor mat, the earthy pink walls, and the metallic gold feature panel, as well as a treasure trove of vintage collectibles and souvenirs.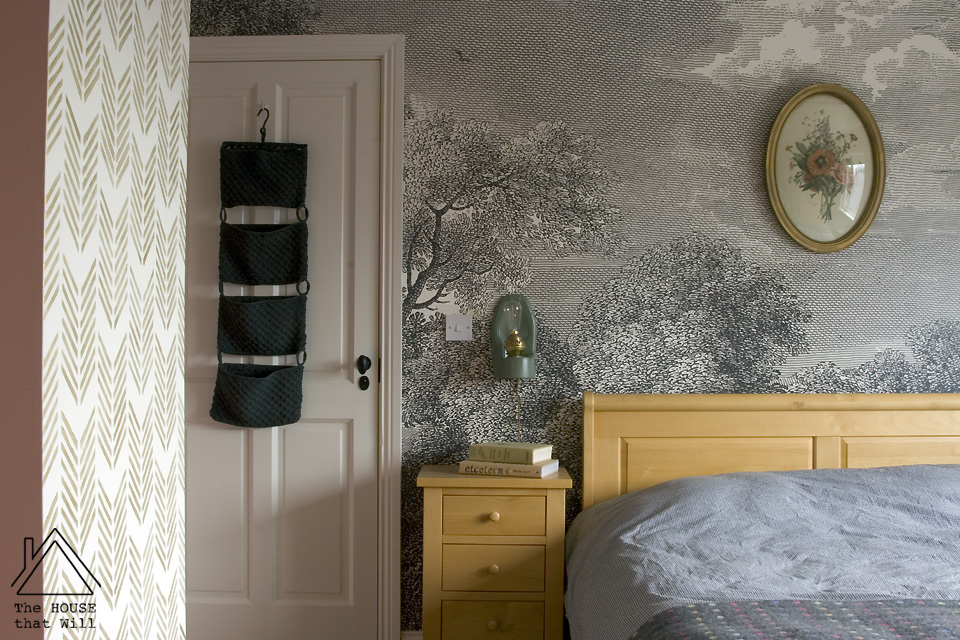 Follow The House that Will
Facebook | Instagram | Bloglovin'
Our Guest Bedroom is far more adventurous than I ever thought I could be with my interior design, and I find that very exciting. It pushes me to keep striving to work beyond my comfort zone ... because sometimes I surprise myself!
SOURCES:
Alder Bedroom Furniture: Charante by Lefevre from Assets Furniture (Kilcolgan)
Mattress: Hövåg pocket-sprung firm mattress (140x200cm) from Ikea
Bedding: Snärjmåra quilt set from Ikea
Ceiling Paint: Brilliant White Ceiling Paint by Dulux
Wool Blanket: Grey Multi Spot from the Summer Brights collection by Foxford Woollen Mills
Wall Paint: #0070 O Fortuna by Colourtrend
Wall Paint (base for stencil): Almost White by Colourtrend
Stencil: Drifting Arrows allover stencil by Cutting Edge Stencils (New Jersey & Online)
Stencil Paint: True Gold Metallic Paint from The Stencil Library (Northumberland & Online) 
Woodwork Paint (door, skirting & windowsill): Old White by Annie Sloan sealed with High Performance Polyurethane Water Based Topcoat by General Finishes)
Oak Hardwood Flooring: from Joyces (Headford)
Mural: Etched Arcadia Mural Wallpaper from Anthropologie (Online)
Clear Light Switch Plate Cover: dsd-designworks (Lincolnshire & Online via Ebay)
Bedside Lamps: Upcycled vintage; spray-painted with Painter's Touch in Sage Green (Gloss Finish) by Rust-Oleum
Gold Braided Flex: 3-core braided flex (0.75mm, 6A or 0.5mm, 3A) in Antique Gold from Art Deco Emporium (Caerphilly & Online via Ebay)
Remote Control Sockets: Siemens White Remote Control Plug Socket, Pack of 2 from B&Q (Galway)
Vintage-Style Edison Filament Bulbs: Pear Squirrel Cage Filament Bulb from Dowsing & Reynolds (Leeds & Online)
Oval Floral Picture with Gold Frame & Convex Glass: Online Auction (vintage)
Rug: Euphrates 5x7 grey rug from Urban Outfitters (Dublin & Online)
White Blackout Blind: Tupplur from Ikea
Bird Ornament: Dunnes (Nationwide)
Hanging Storage: Nordrana from Ikea
Round Mirror: Skogsvåg white/beech mirror from Ikea
Maize Doll: A souvenir from São Miguel Island in the Azores
Ceramic Tumbler: Gold Spot Ceramic Tumbler from Asda (UK)
Wooden Frog: A souvenir from Chiang Mai, Thailand
Glass Containers: Dunnes (Nationwide)
Faux Cowhide Bench: DIY Project (see blog post here)
Waste Basket: Magga from Ikea
Gold Sunburst Clock: Barna Gifts (Galway)
Painting: Gift from a family member
Postcards: Sent to me by my grandmother when I was a child
Double-Sided Picture Frames: I bought one years ago at Athena in Liffey Valley Centre (Dublin) and Hubby DIY'd a second one to match it
Tan Leather Pouf: Yashar Bish (Brighton)
Gold Spot Ceramic Tumbler: From the George Home collection at Asda (UK)
Brass 3-Arm Chandelier: Online Auction (vintage)

Related Posts:
Guest Bedroom: Wall Stencilling