Happy solstice! During these dark days, it really does feel good to bring some extra cheer into our homes during a season when we spend more time than usual indoors. While I'm definitely not the kind of person to get excited about decorating the house in November, there's no stopping me once I do get started (so you'll be seeing a flurry of decorating posts this week)! This year, I decorated very differently to how I have done for the past few years, going for a more handmade rustic style, and I'm loving it! These are a few of my favourite decorations this year ...
Starting at the front door, I made a fresh wreath for the first time ever. My mother would made a fresh wreath like this every year, and I always enjoyed watching her do it, so I don't know what took me so long to give it a go myself. It was a lot of fun and I'm very happy with how it turned out. I waited until this week to prune the holly bushes in the garden so that I could use the cuttings for decoration. Then I added in some ivy flowers and pine cones, and made the bow from hessian (burlap/jute) ribbon.
https://www.instagram.com/p/BOKMXMNhAPe/?taken-by=thehousethatwill
In the hallway, at one end of our pew, stands this very realistic-looking faux spruce sapling. It's sitting in a traditional Irish three-legged cast iron pot that I recently bought on an online auction site. I love it because it reminds me of one my grandmother used to grow pansies in.
I also put a tiny tree inside this white crystal geode to create a miniature snowy landscape.
https://www.instagram.com/p/BN4FM3dhYB5/?taken-by=thehousethatwill
Last year I hung this wreath on the front door, but it didn't withstand the weather very well, so now it hangs on this doorway in the entrance hall. I added some fresh ivy from the garden to it.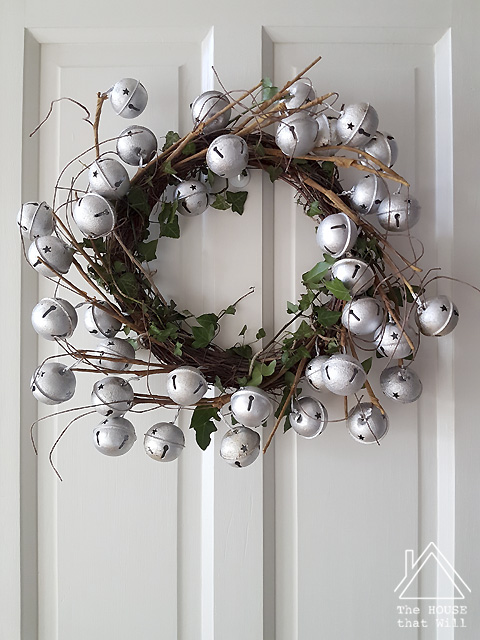 The sitting room is still a work in progress. I really wish we had had time to install the fireplace (which is still sitting in pieces in storage) because that would have been a lot of fun to decorate. Still, I didn't let that stop me ... and The Foreman (our nickname for the dog) certainly seems to approve! At one side of the inset fire is a reindeer ornament made from jute thread wrapped around a wire frame with some LED lights incorporated, and at the other side is a hazel branch with catkins that I brought in from the garden and decorated.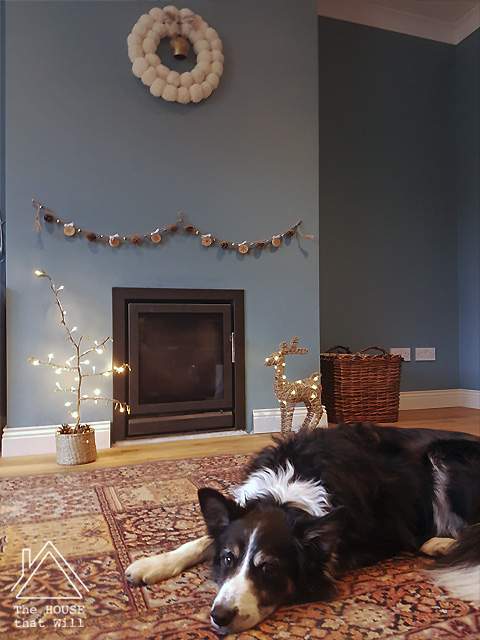 The scandi rustic style garland that I made as a guest post for The Creative Yoke (click on the link for a step-by-step guide to how I made it) is strung between small tacks hammered into the wall (the fireplace, when it's installed, will cover the holes left by the tacks).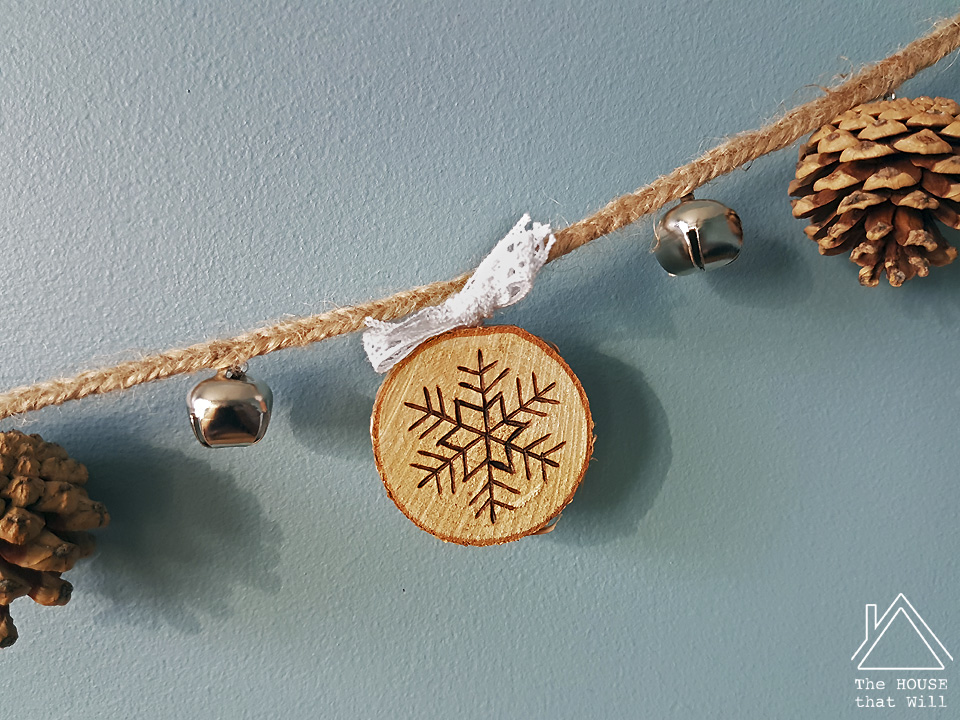 Above it all is my new pom-pom wreath. I made it last weekend, and it was such a joy to do. I'll be sharing the step-by-step process on the blog on Friday.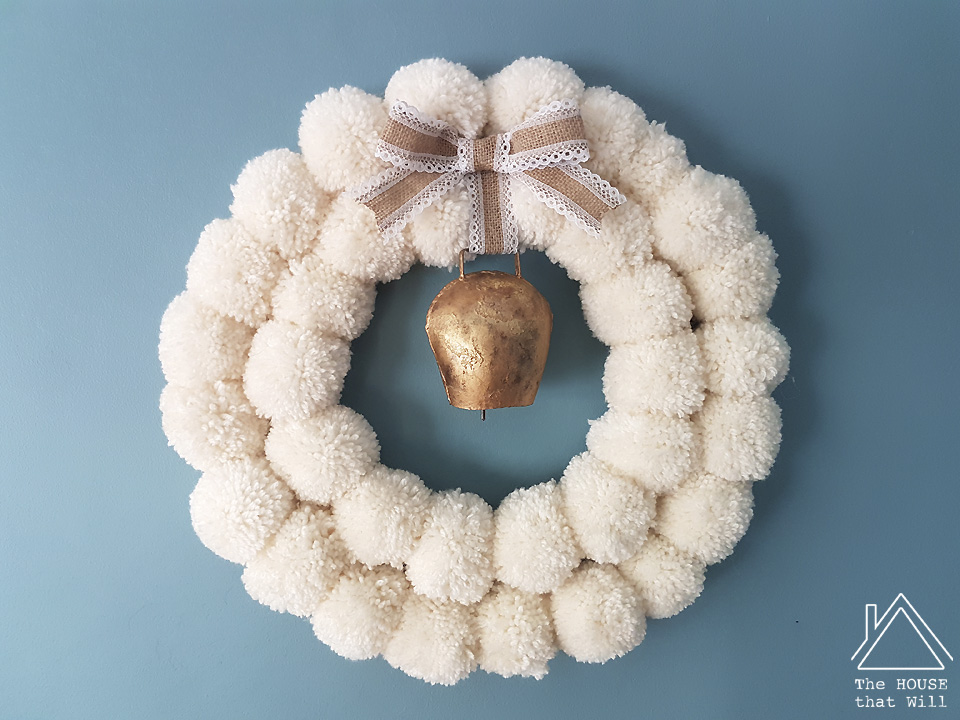 In the dining room, I used more cuttings from the garden to make a centrepiece for the table. Like the wreath on the front door, it is formed around a ring oasis to help keep it looking fresh for longer. It is flanked by a pair of silver stags.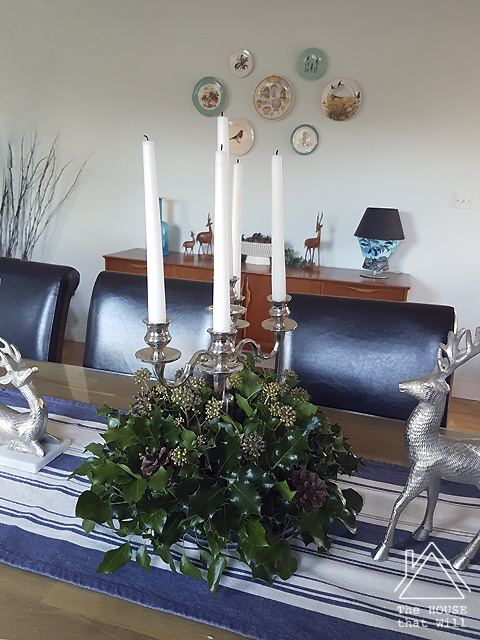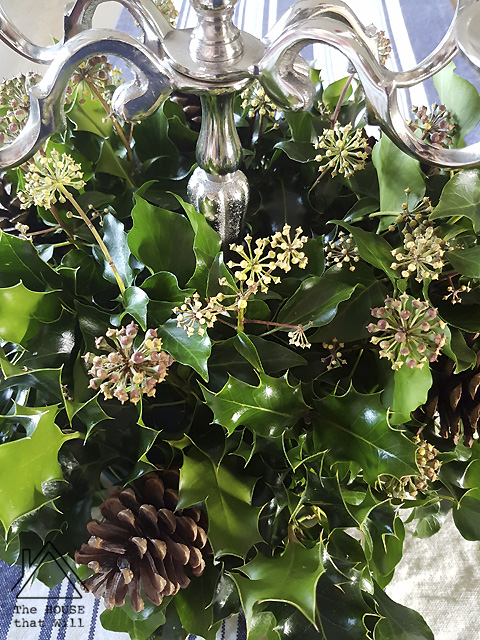 We always get a real tree for the house, and this year we went to Galway Christmas Trees, a cut-your-own tree farm outside Athenry. It was so much fun to pick out our own tree and to watch it being cut down.
Because I always decorate the tree in a traditional style, I use many of the same ornaments from year to year. I did add a couple of new ones recently, including this lovely lacy snowflake from the Treasure Chest in Galway.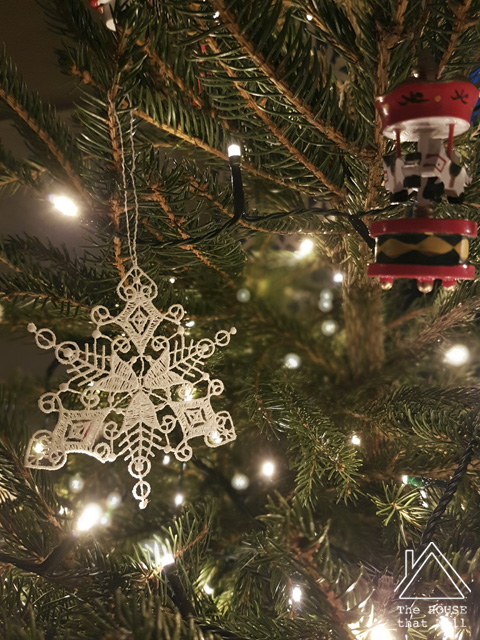 And this pretty little sailing boat that I got during a trip to Niagara Falls last summer.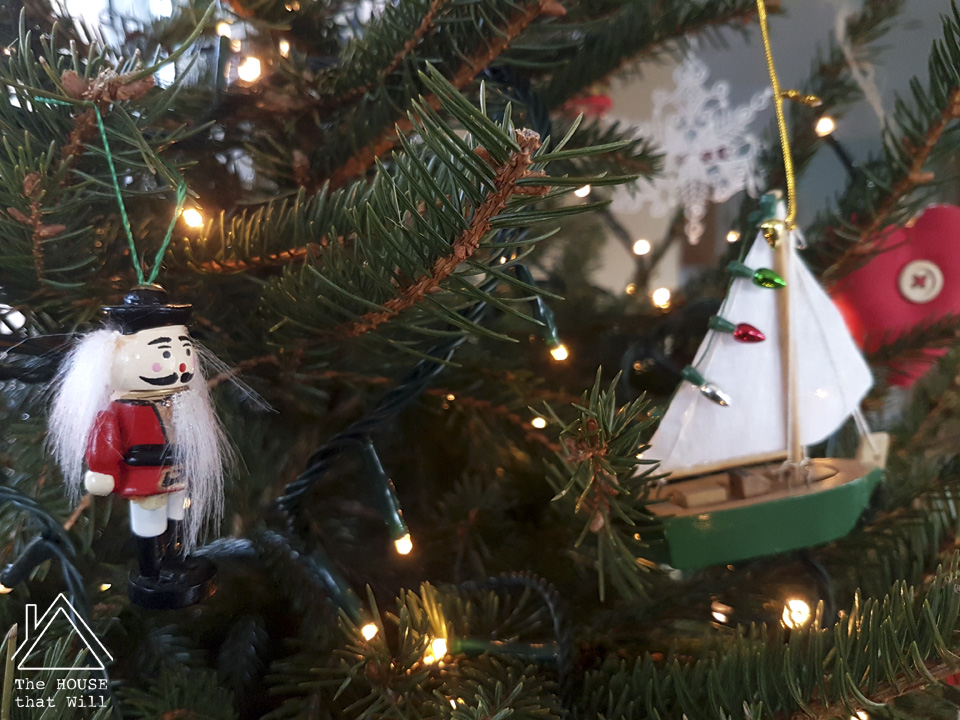 The DIY fireplace in our master bedroom is always so much fun to decorate, and is such a joy to wake up to every morning - especially this time of year.
https://www.instagram.com/p/BONMcjZBgza/?taken-by=thehousethatwill
Hubby and I usually put a few little surprise treats in a stocking for each other and a little chew bone or small toy in the small stocking for The Foreman.
I also made these little conical trees out of pine cones. Come back tomorrow when I'll share more about those.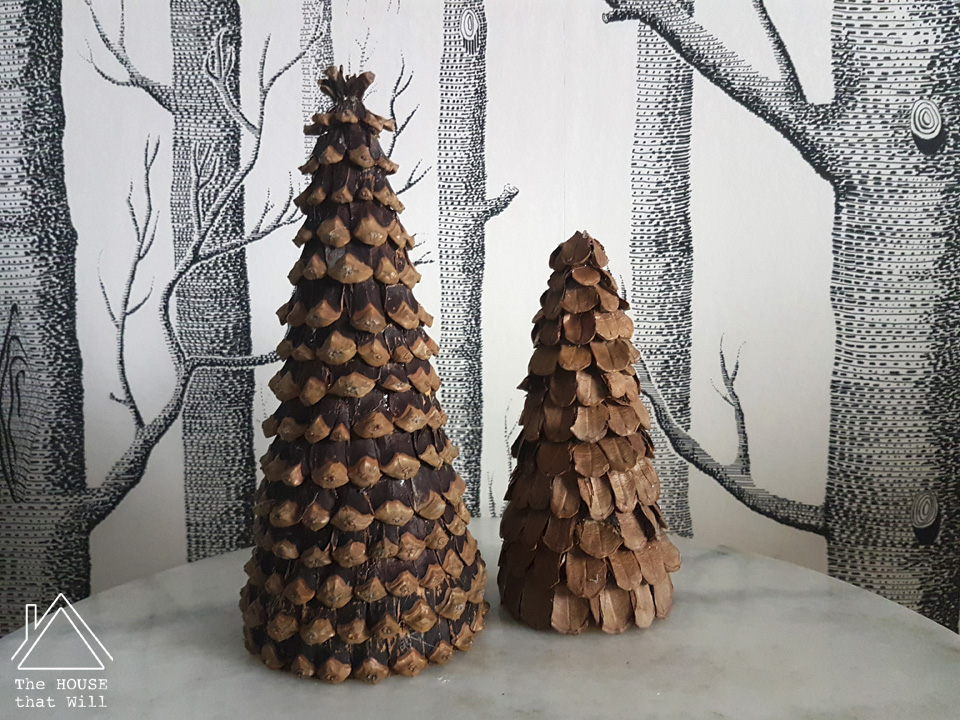 Follow The House that Will
Facebook | Instagram | Bloglovin'
I hope you enjoyed this festive whirlwind tour of The House that Will. And watch out for my favourite seasonal craft ideas coming up over the next couple of days.

Related posts:
DIY Working Fireplace Without a Chimney