This is my second time doing the One Room Challenge (last time I did our guest ensuite) and this time around was just as testing and intense as before - and also just as rewarding. It feels as though I have hardly lifted my head from the sewing machine for the past three weeks but, when I finally did, there was a brand new room in our house! The One Room Challenge is a classic case of short term pain for long term gain.
If you would like to catch up on the progress of the sun lounge from Week 1, you can do so by following the links at the bottom of the page.
Our sun lounge before was a bland mix of mismatched items that did not transition well to the adjoining open-plan kitchen and dining room. To change all that, I started by painting the walls and ceiling, as well as all those knotty pine windowsills and skirting boards (base boards). Hubby and I added a feature wall of beadboard panelling, which I painted the same colour as the walls - Dimpse by Farrow & Ball, colour-matched by Colourtrend paints. Then the sewing marathon began: having never done it before, I managed to sew four Roman blinds and a pair of curtains for the room. And, finally this week, I made three of the cushions and added all the new decor and accessories. 
Decor-wise, this was the moodboard I created as a jumping-off point:
https://www.instagram.com/p/BSivtT7h4Tz/?taken-by=thehousethatwill
Follow The House that Will
Facebook | Instagram | Bloglovin'
The style is eclectic, featuring mid-century, boho, farmhouse, steampunk, and industrial vibes, but it took an unexpected turn when it started to veer towards a slightly American feel. That bit I hadn't planned! But I guess it shouldn't come as a surprise to me given that Hubby and I have spent a few years living in the United States, primarily in Oregon and Arizona. 
But enough talking about it - I know you're really here to see some pretty pictures, and it is my pleasure to oblige!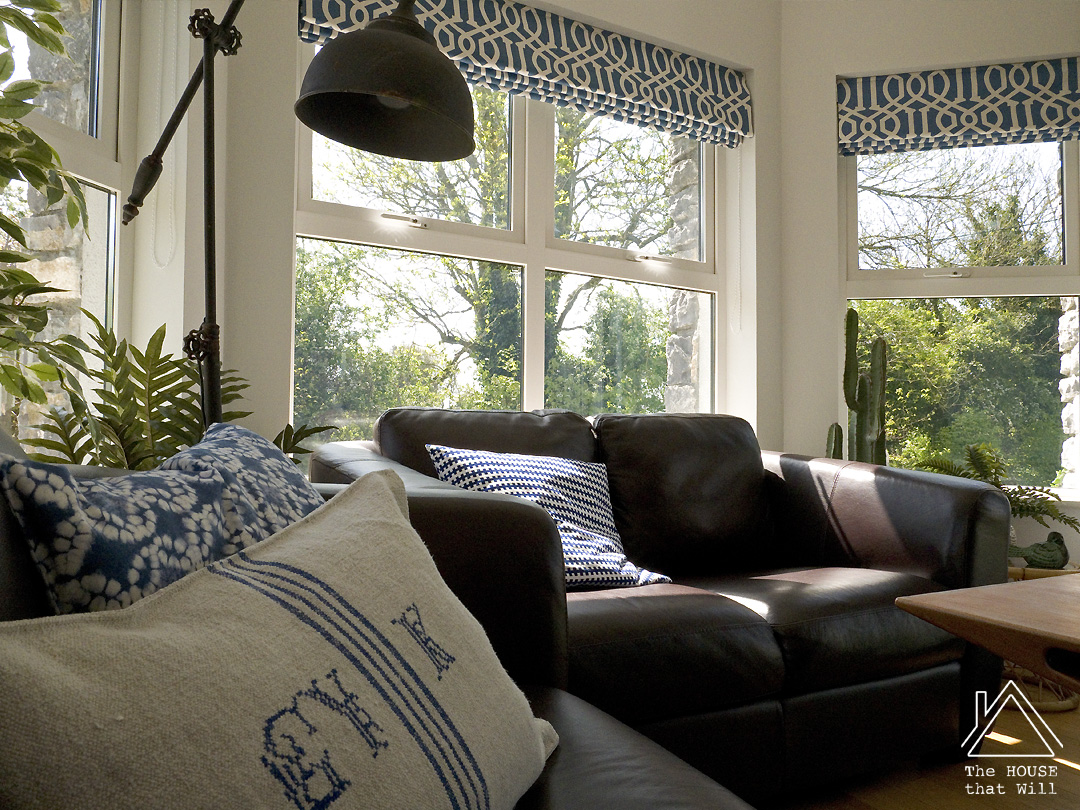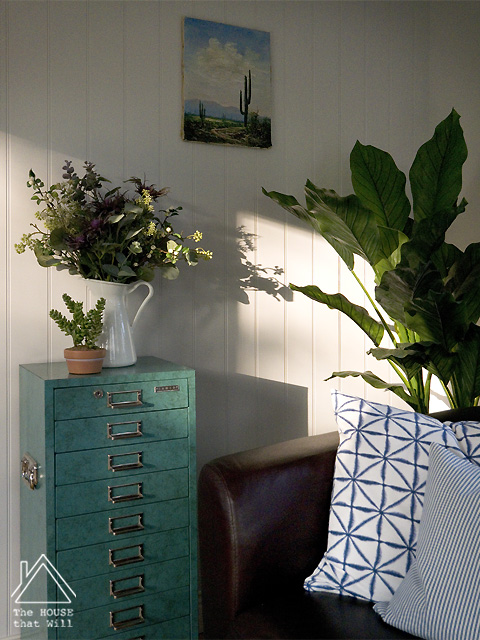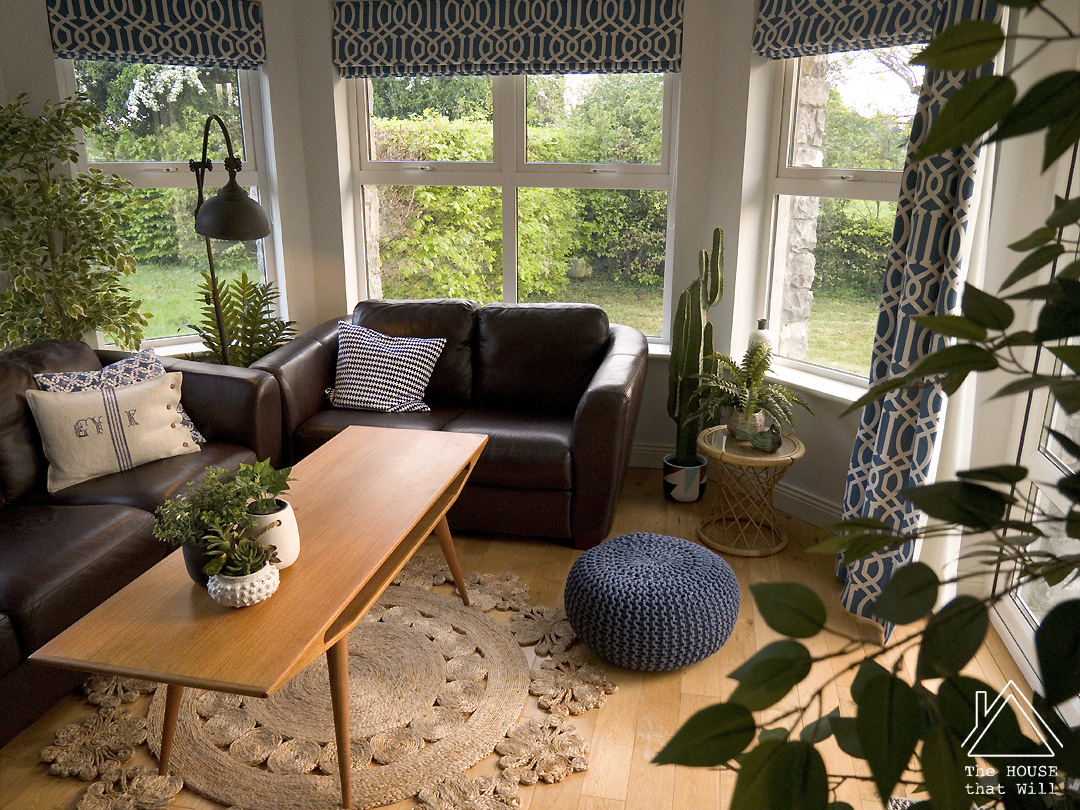 I made this cushion using fabric from a late nineteenth-century grain sack. The embroidered monogram is original to the piece, and was once used to identify whose grain it contained.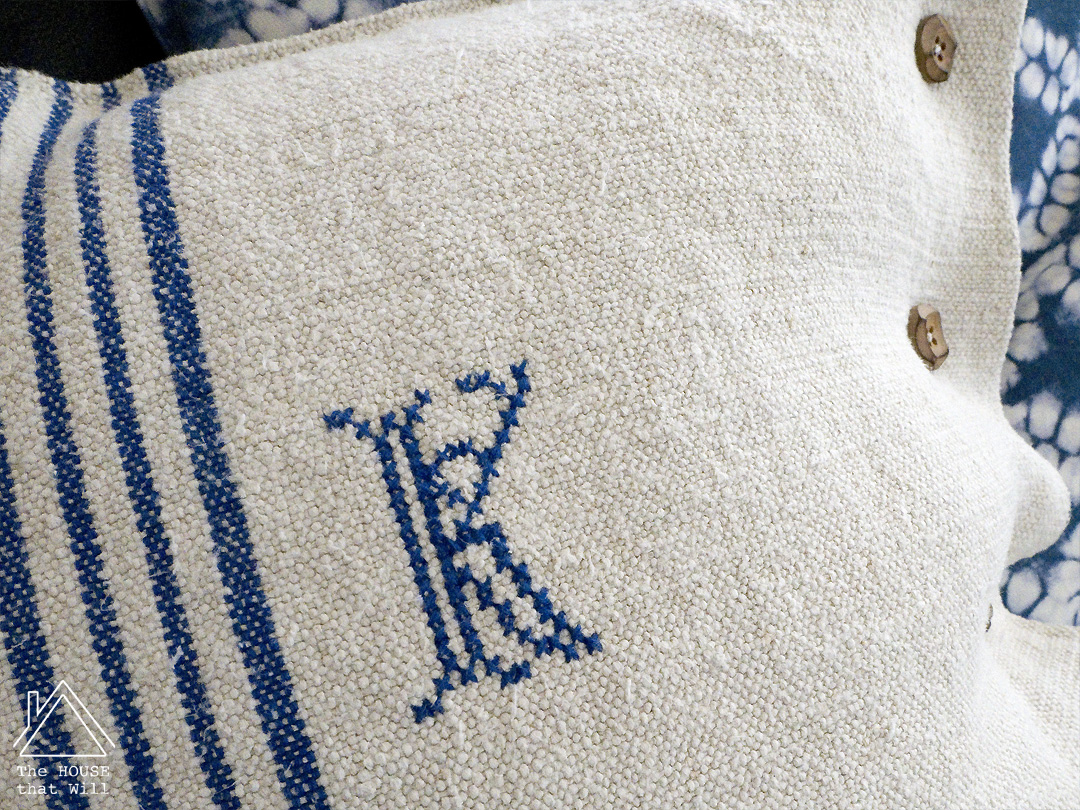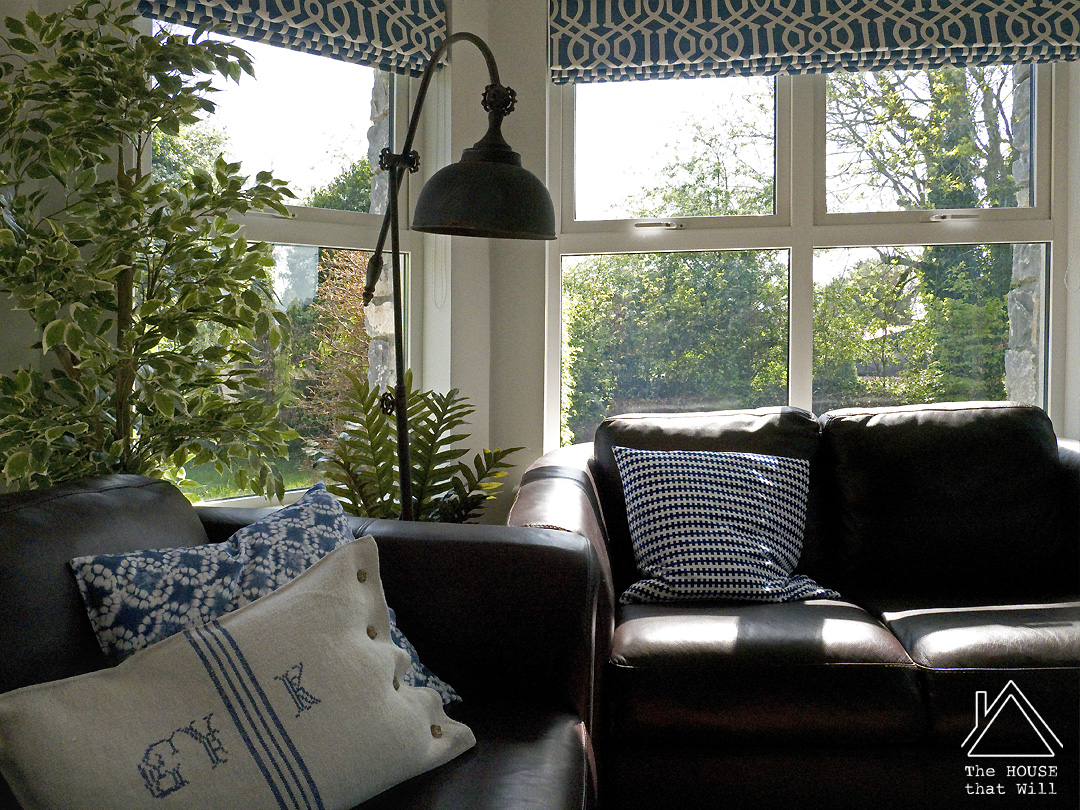 If you've been following the blog for a while, you'll know that no room at The House that Will is complete without a little birdy!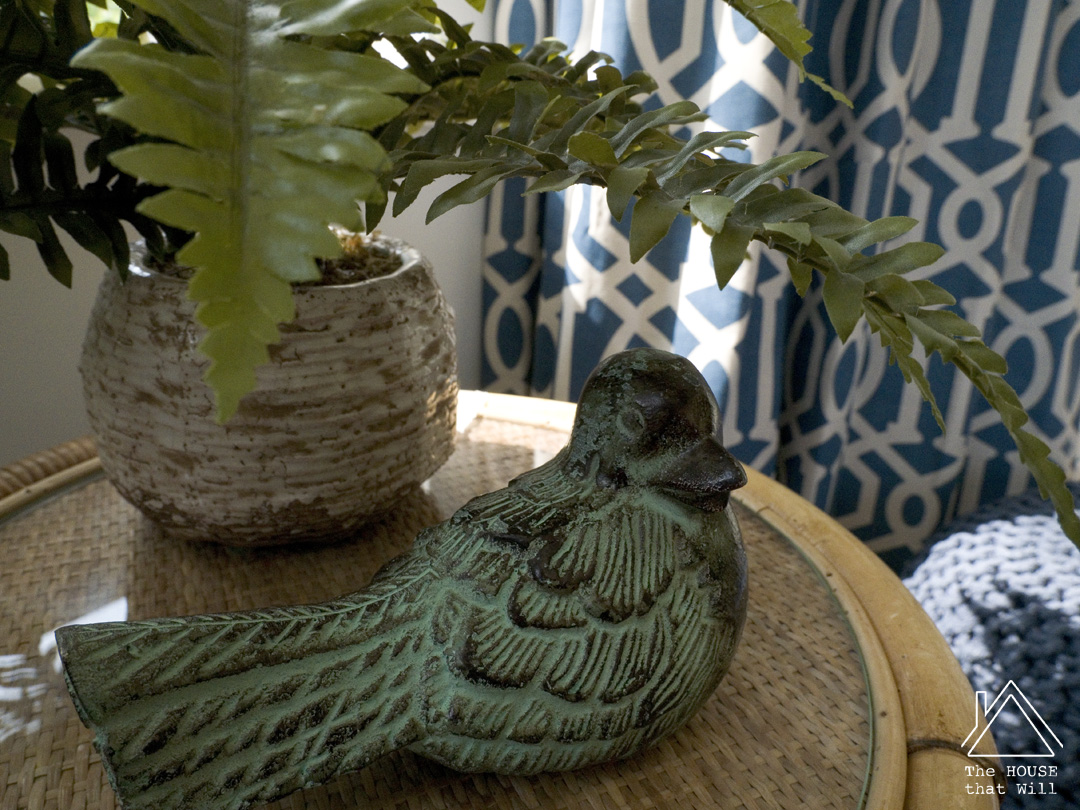 The beadboard panelling we added brings so much character to the room.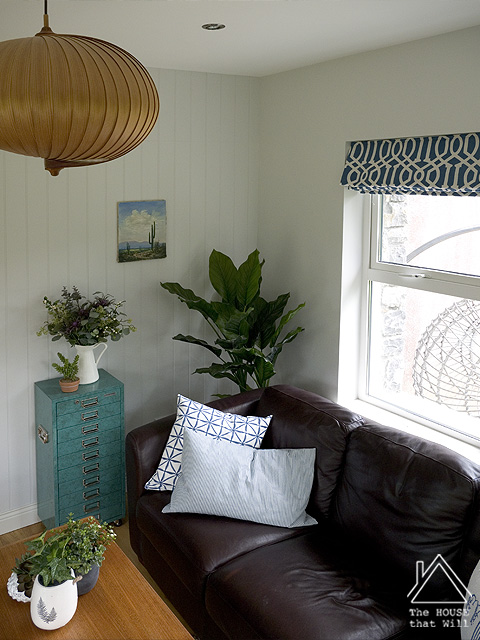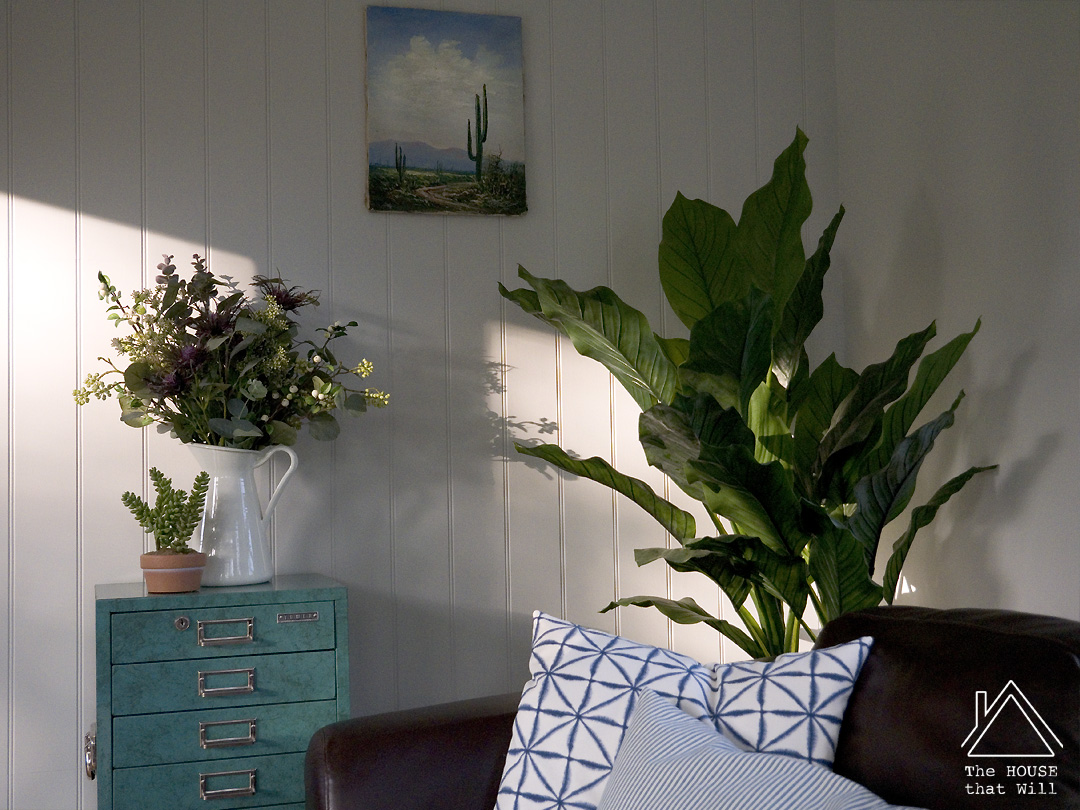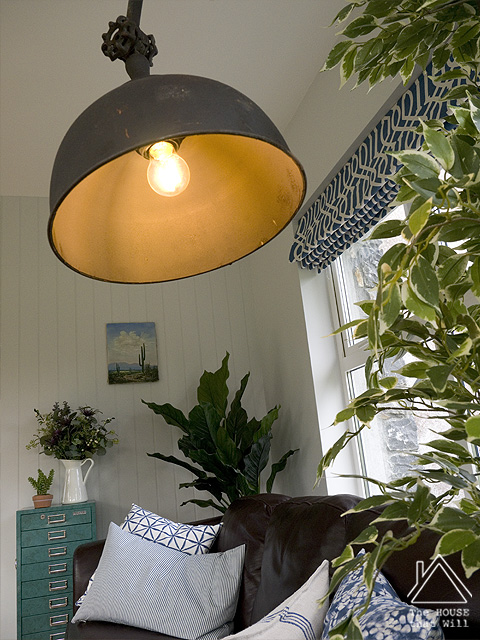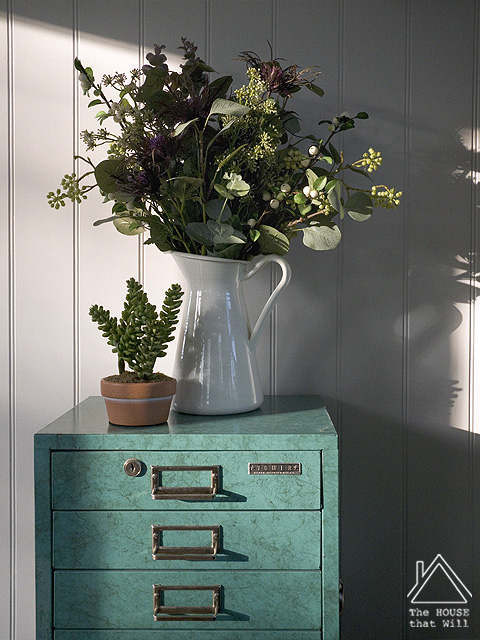 I love how the room transitions into the garden now ... and so does The Foreman! This is what we've nicknamed the dog as he's always looking over our shoulders supervising us whenever we're working on a project.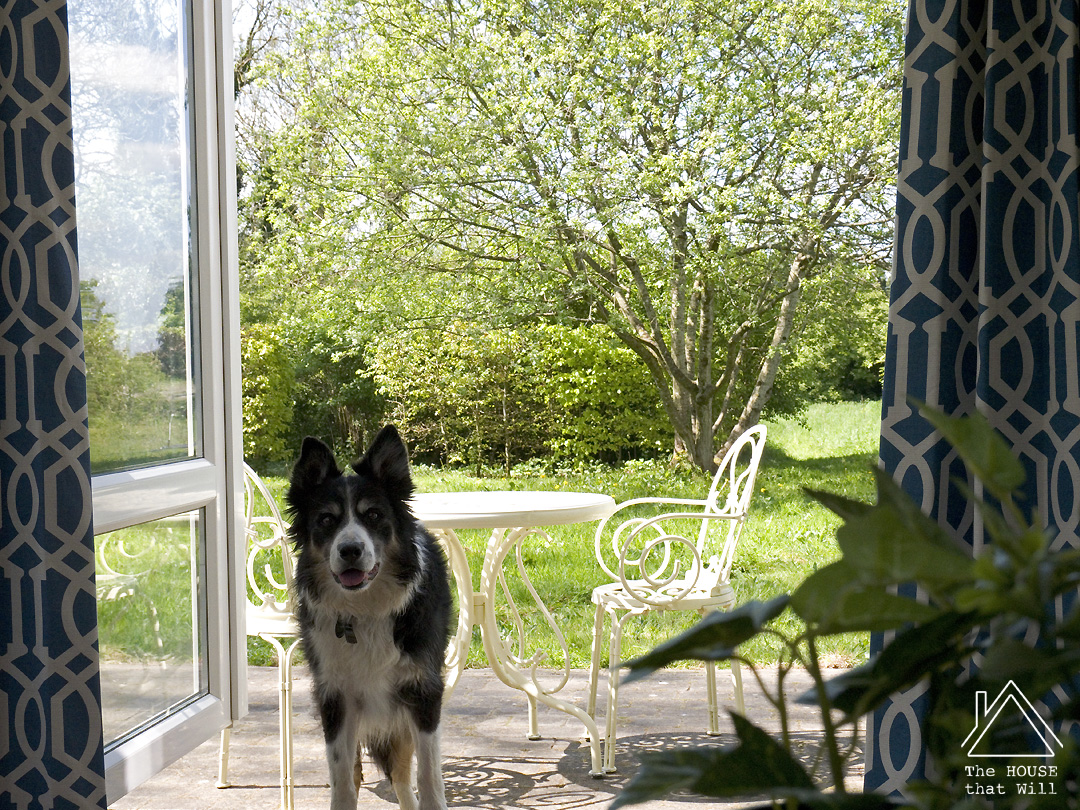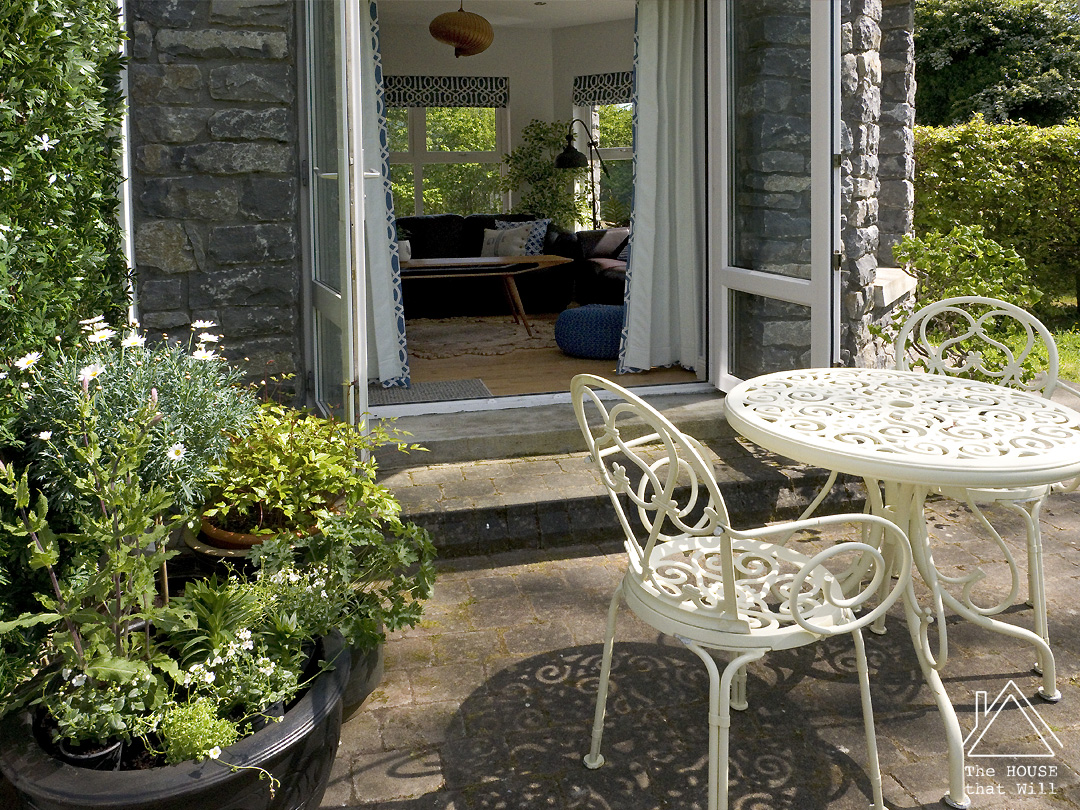 The plants really help to bring the outdoors in. All of the plants outdoors, except the trellis (which I want to be able to remove easily to paint the house), are real but, due to Hubby's allergies, every one of the indoor plants are faux botanicals.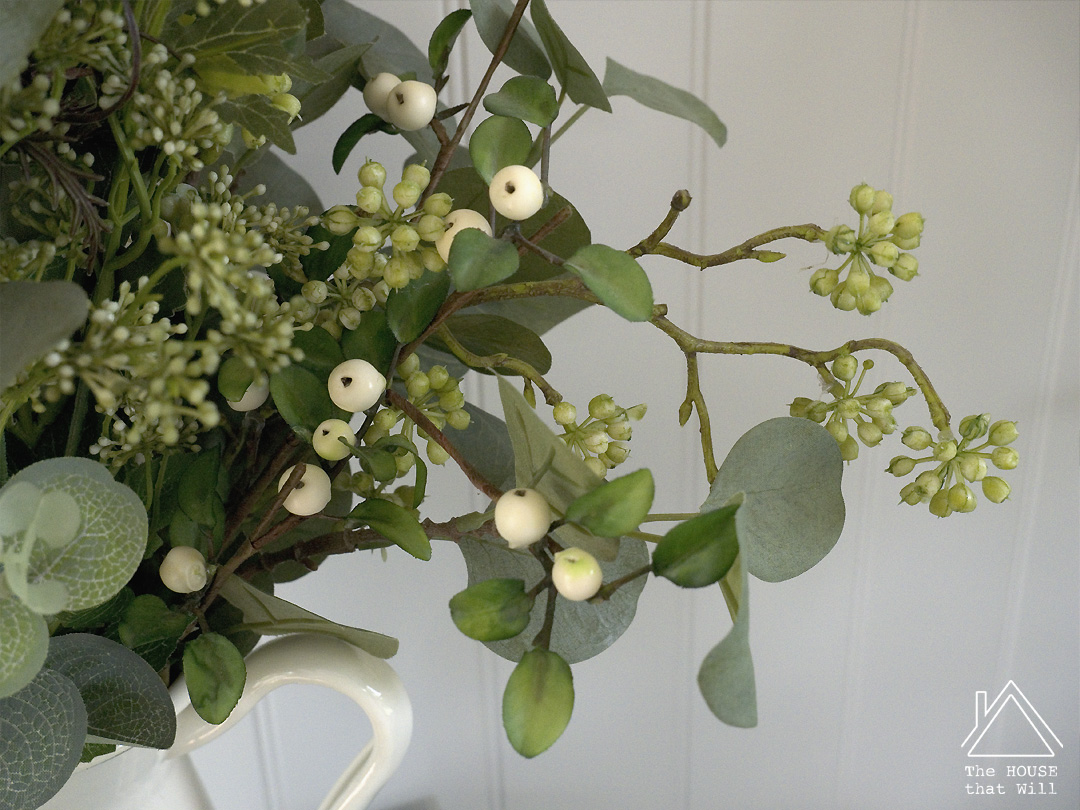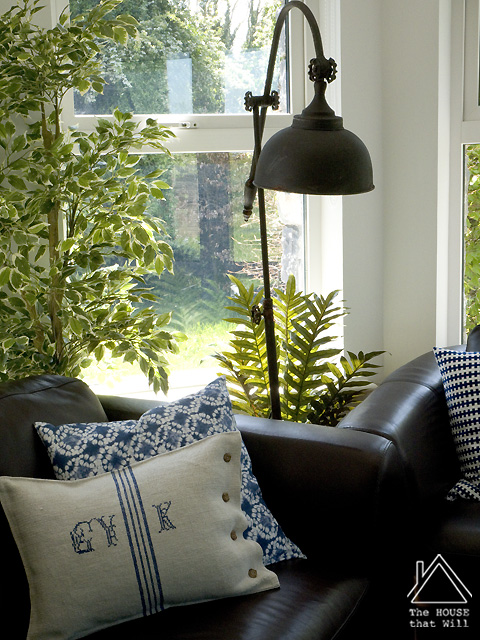 The new decor is also much more cohesive with the adjoining rooms.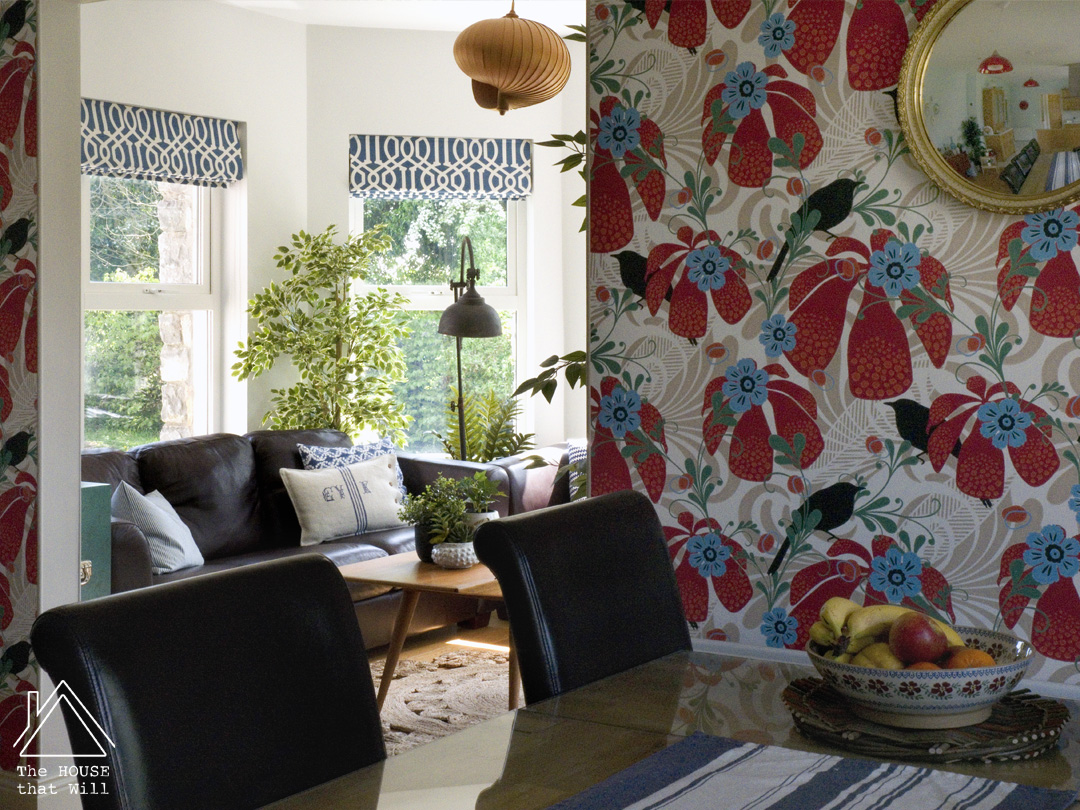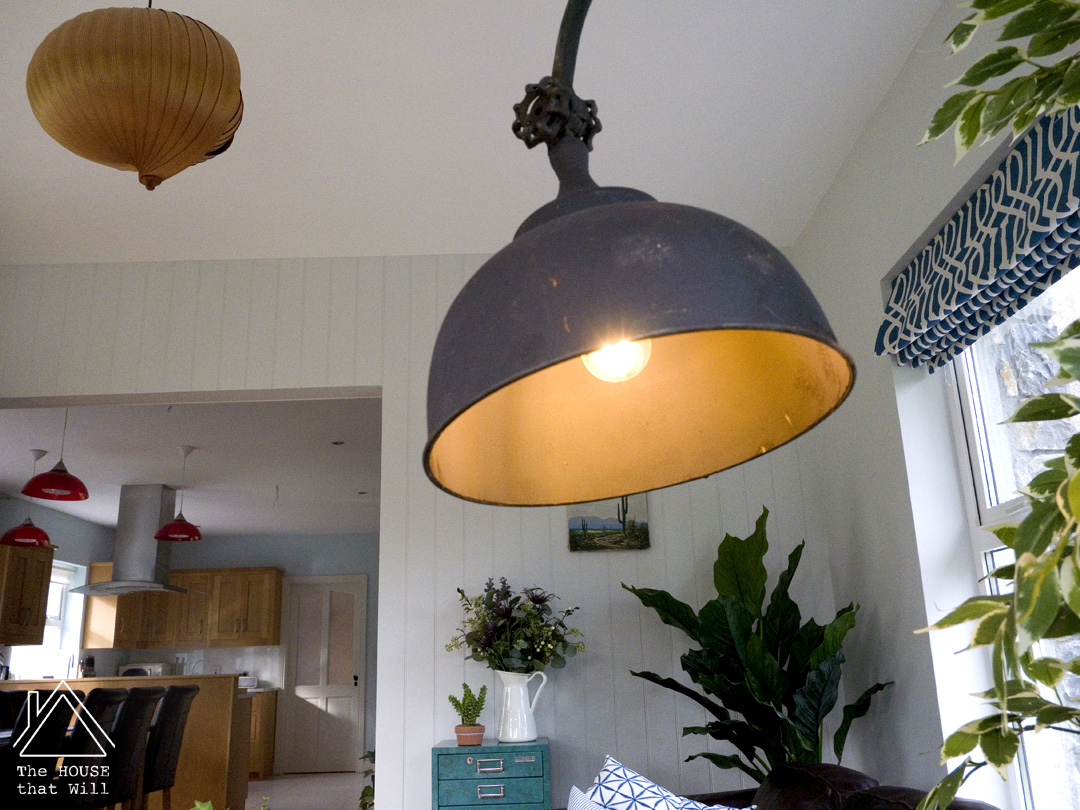 That steampunk lamp, made from salvaged materials, is Hubby's favourite thing in the room.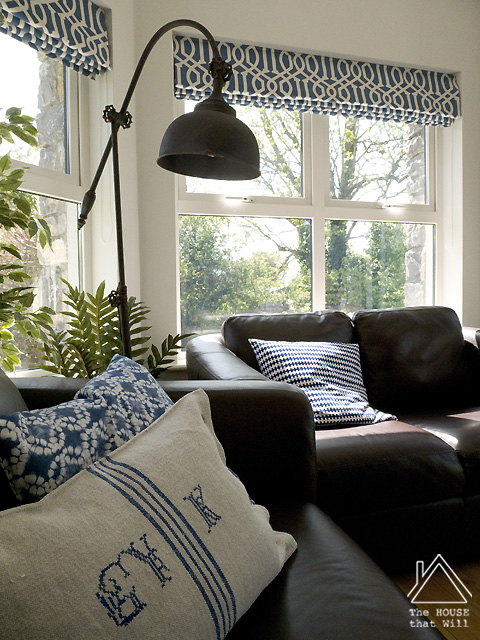 My favourite thing is the way that the sunlight highlights different things in the room throughout the day.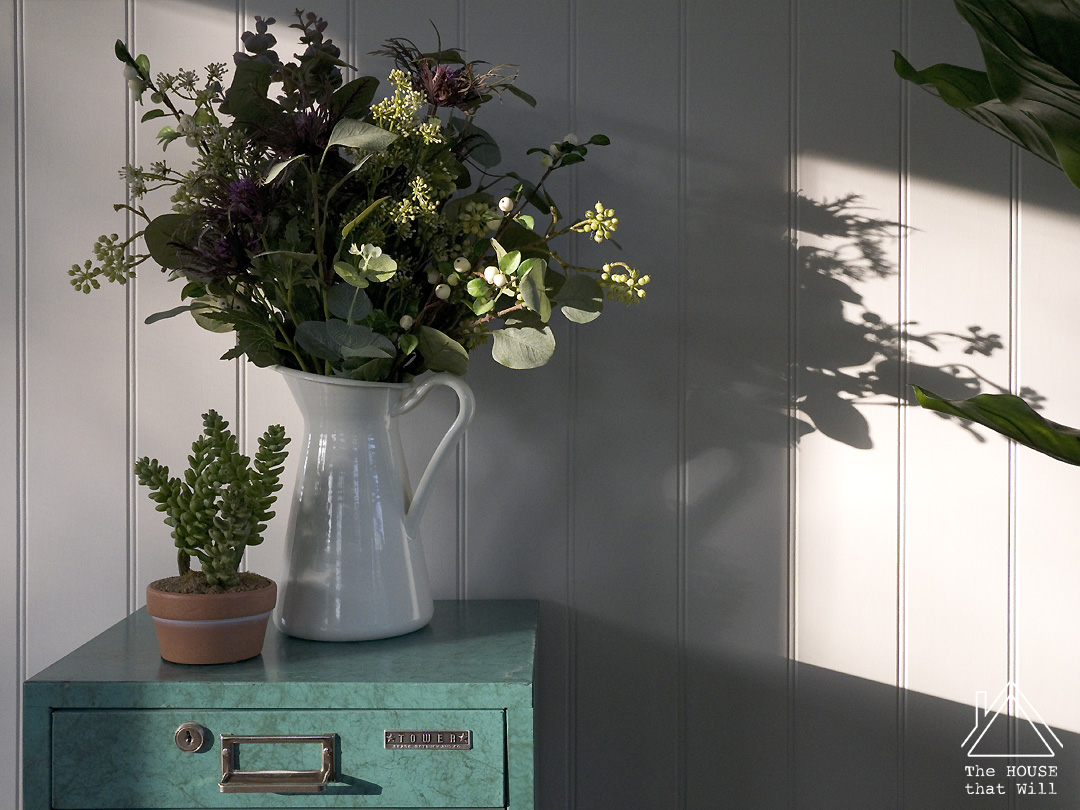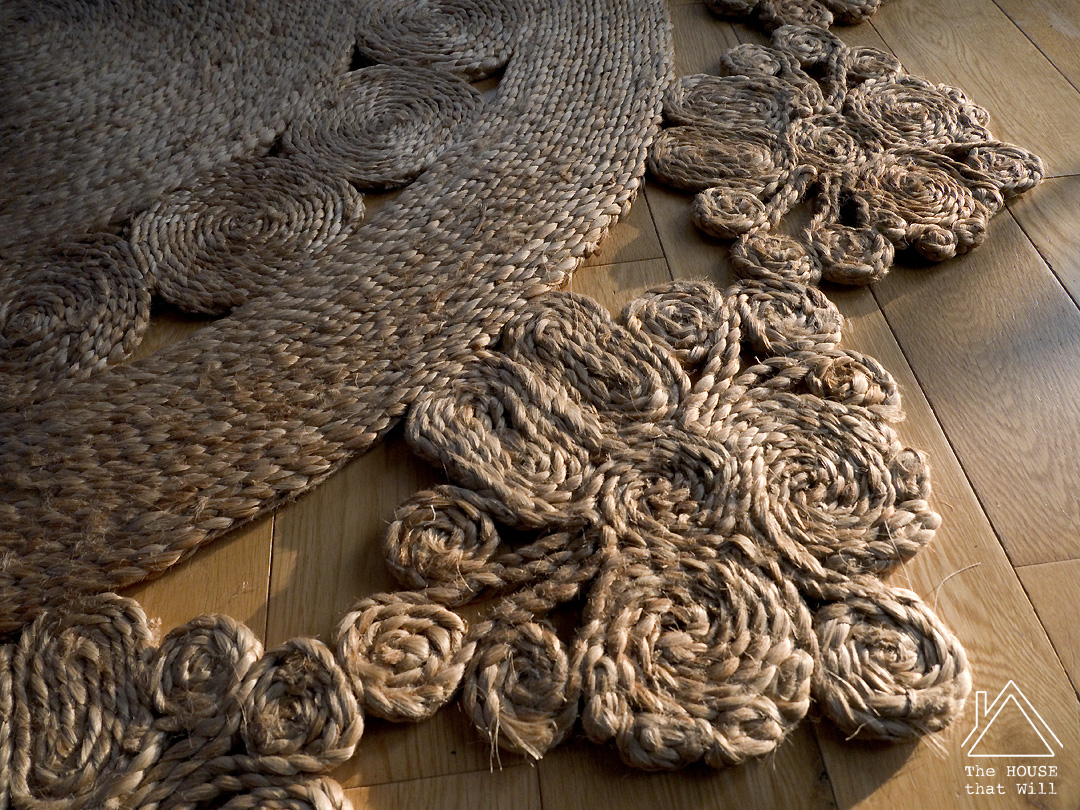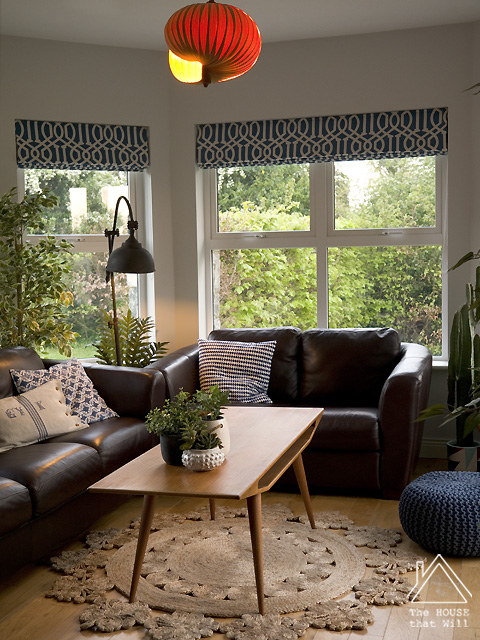 I already find myself using this room way more than I used to - which was one of the main reasons I wanted to give this room a makeover. It's the perfect place to enjoy a mid-morning coffee, a relaxing lunch, or to curl up with a favourite book or magazine in the afternoon.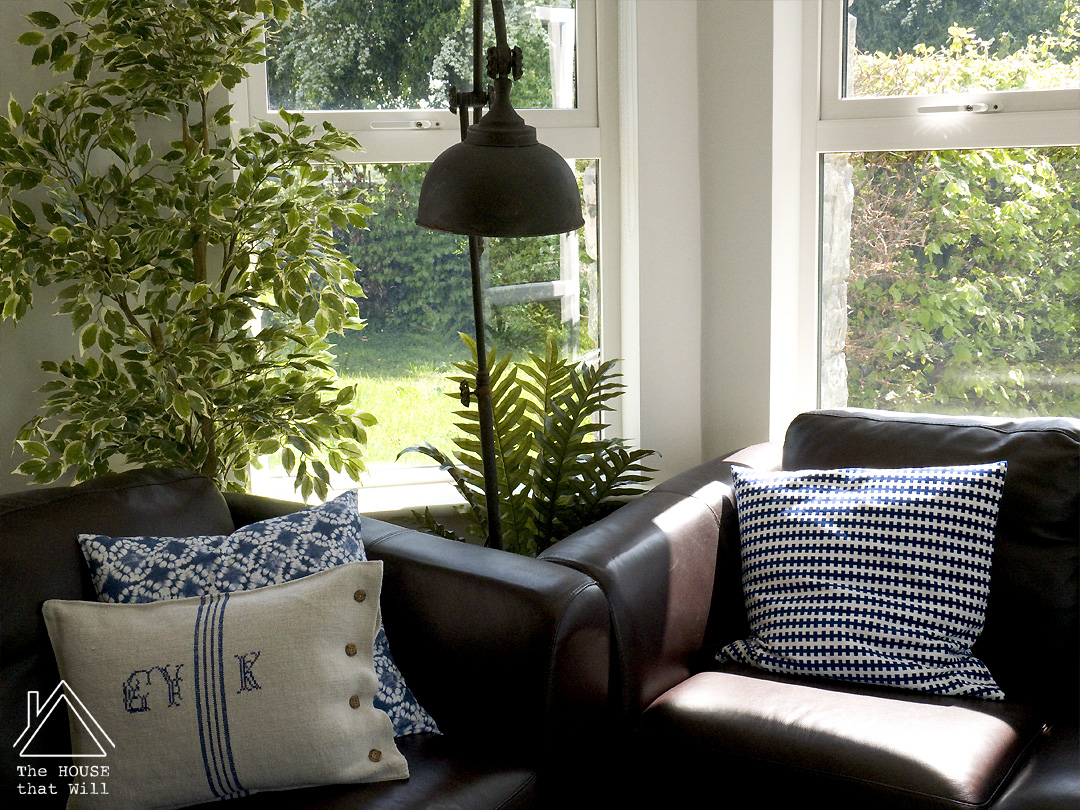 The vintage painting of the Sonoran Desert reminds me of living in Arizona. I left it unframed because I like the raw canvas edge.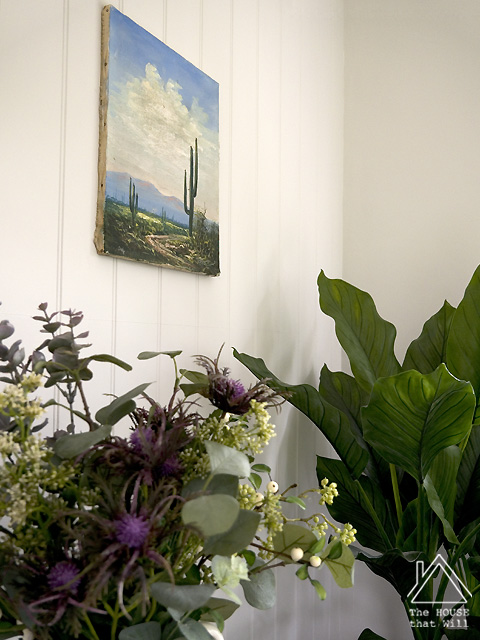 The turquoise filing cabinet was bought at a vintage store in St. Johns, Oregon. Its greeny-blue colour leads the eye into the warm blue colour on the dining room walls and makes the two spaces feel more cohesive.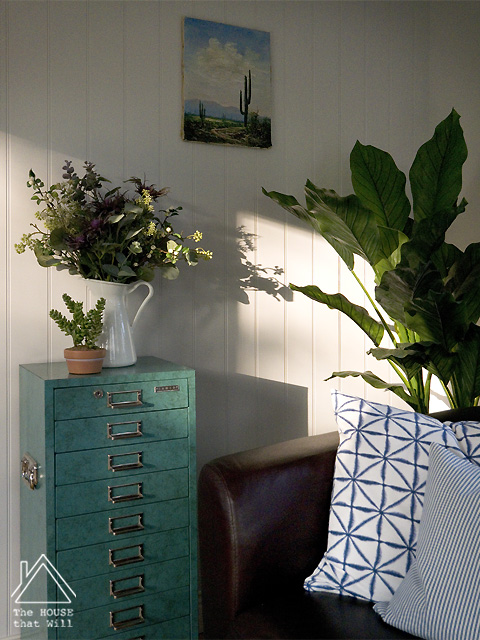 I want to say a huge thanks to everyone who followed the journey of this room over the past six weeks, especially to everyone who showed such support and encouragement through your comments and messages on the blog and on social media. And of course I'd also like to thank Linda at Calling It Home, without whom the One Room Challenge wouldn't even exist! Thanks to her, dozens of featured designers and hundreds of guest participants like myself get to share and be inspired by room renovations from all over the world.

Of course, no good room reveal is complete without some before-and-after pics ...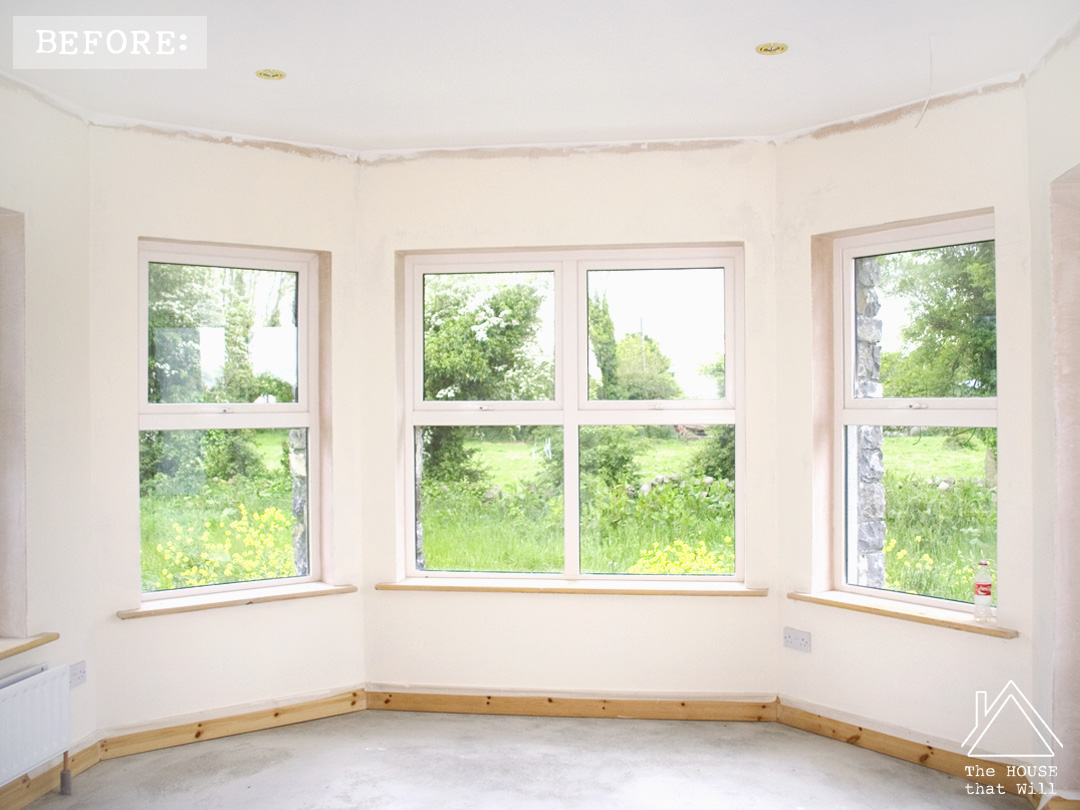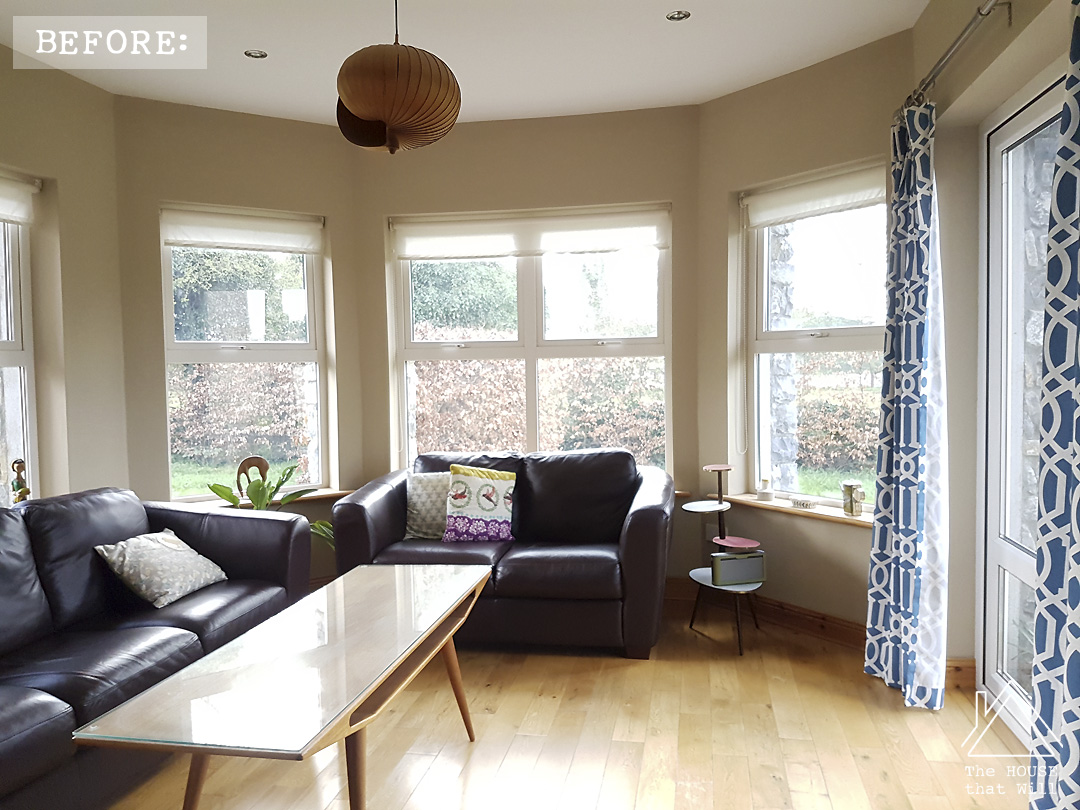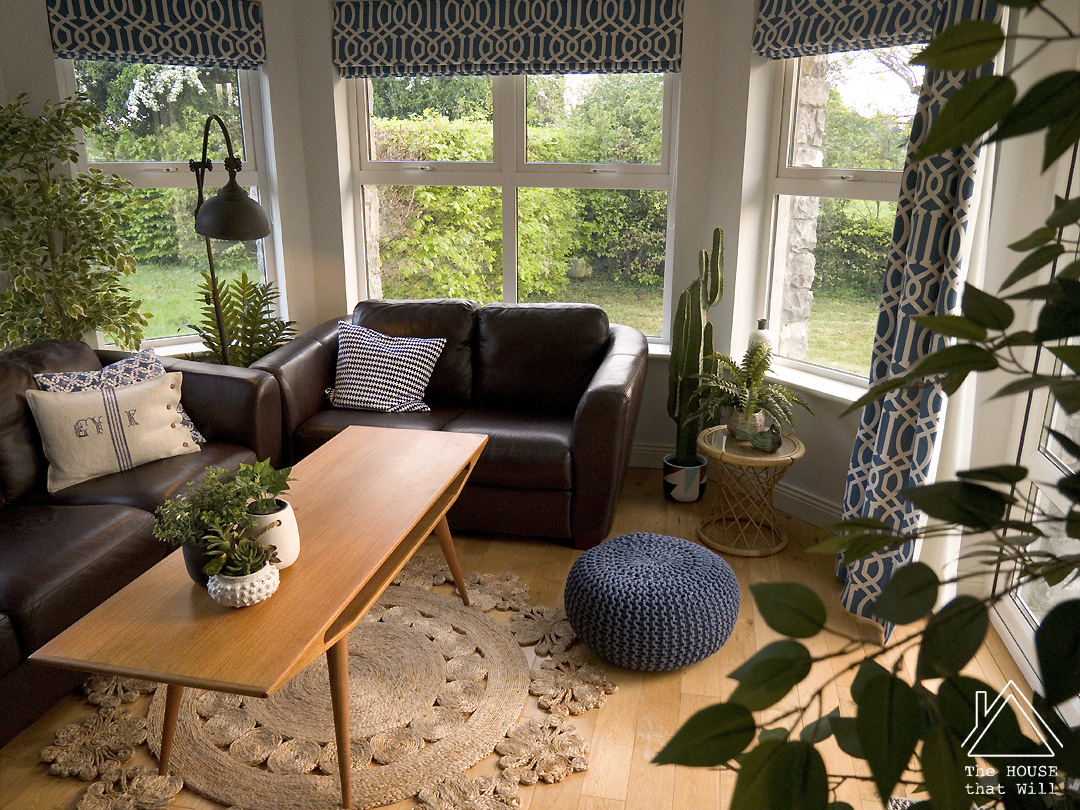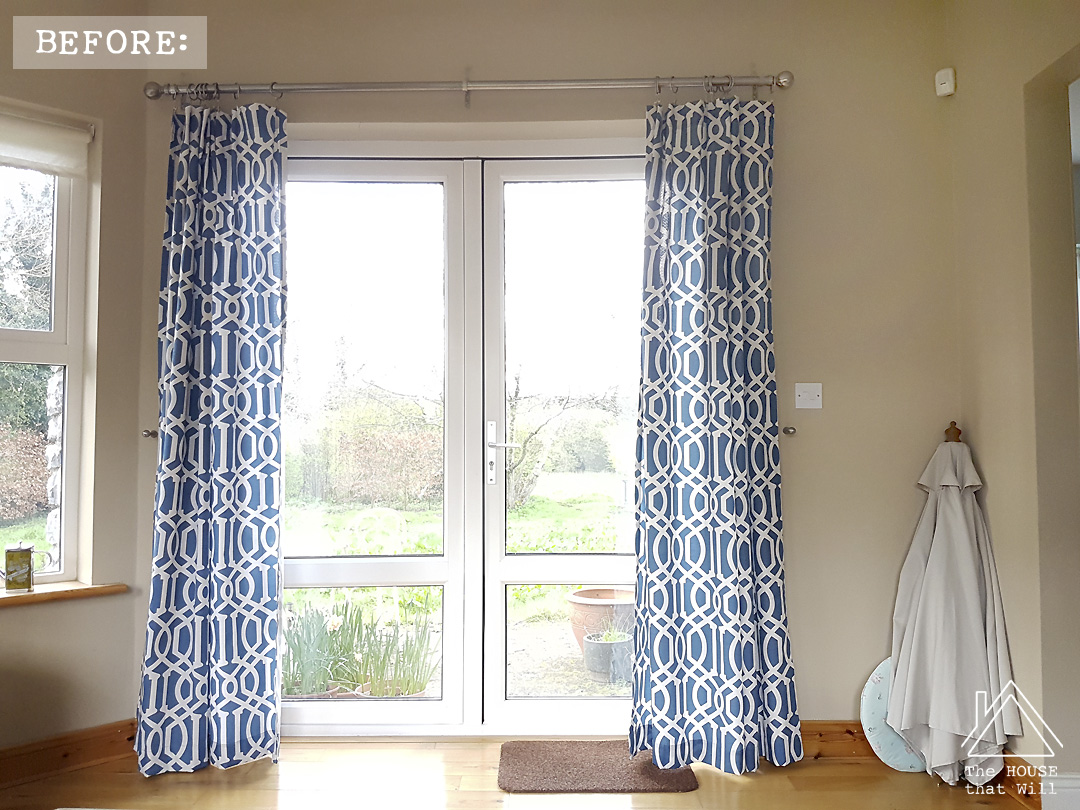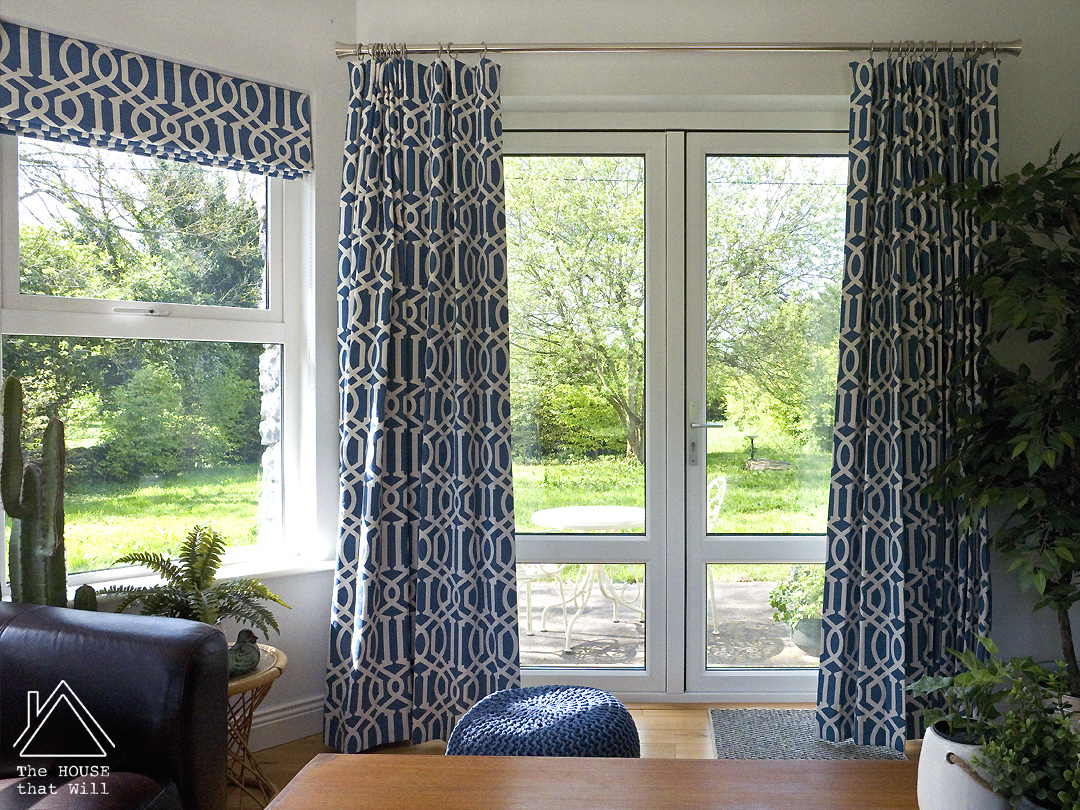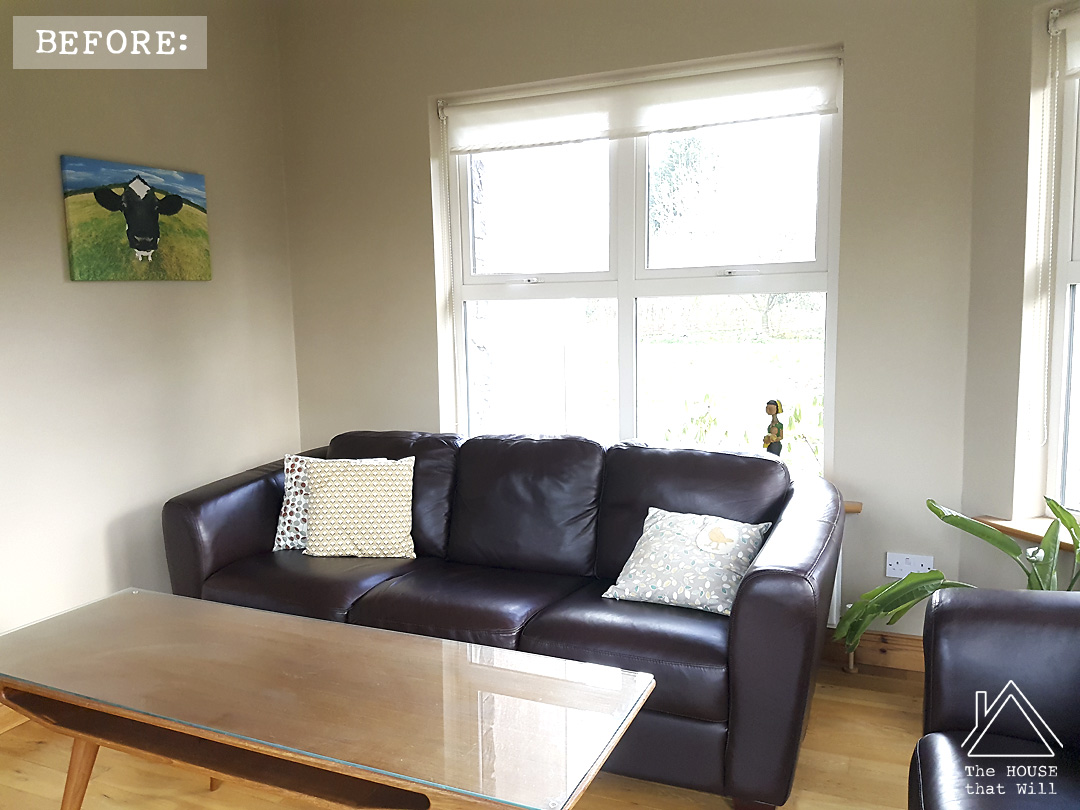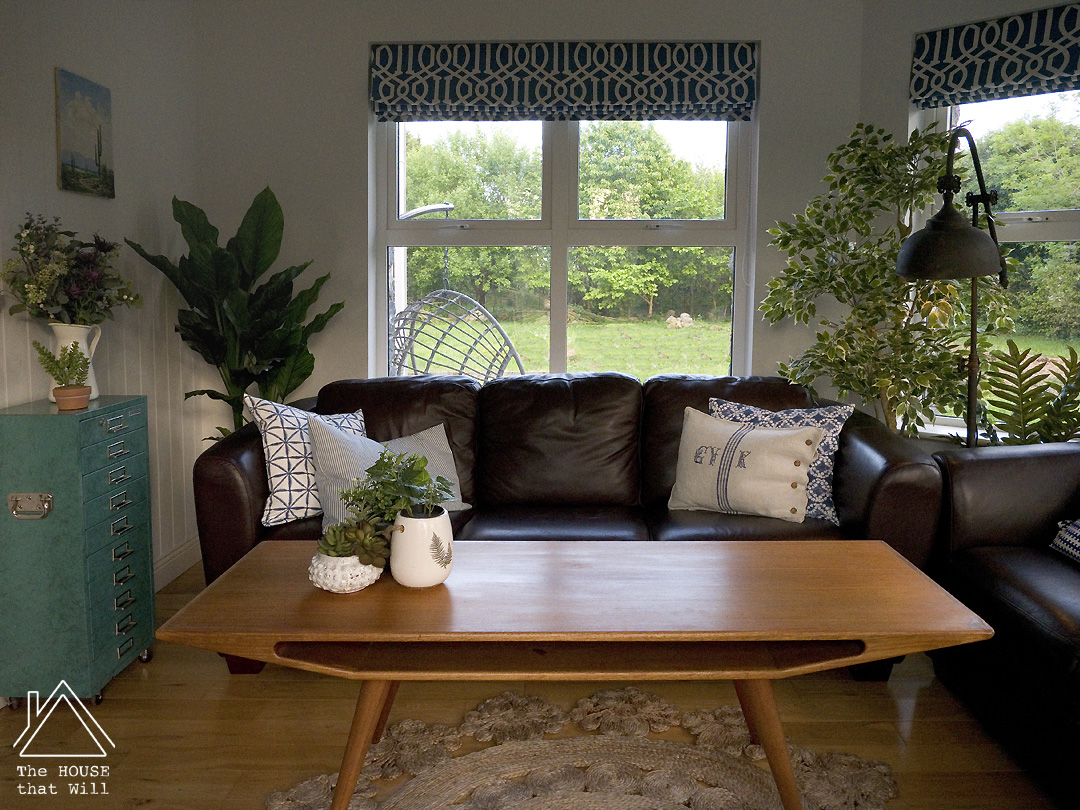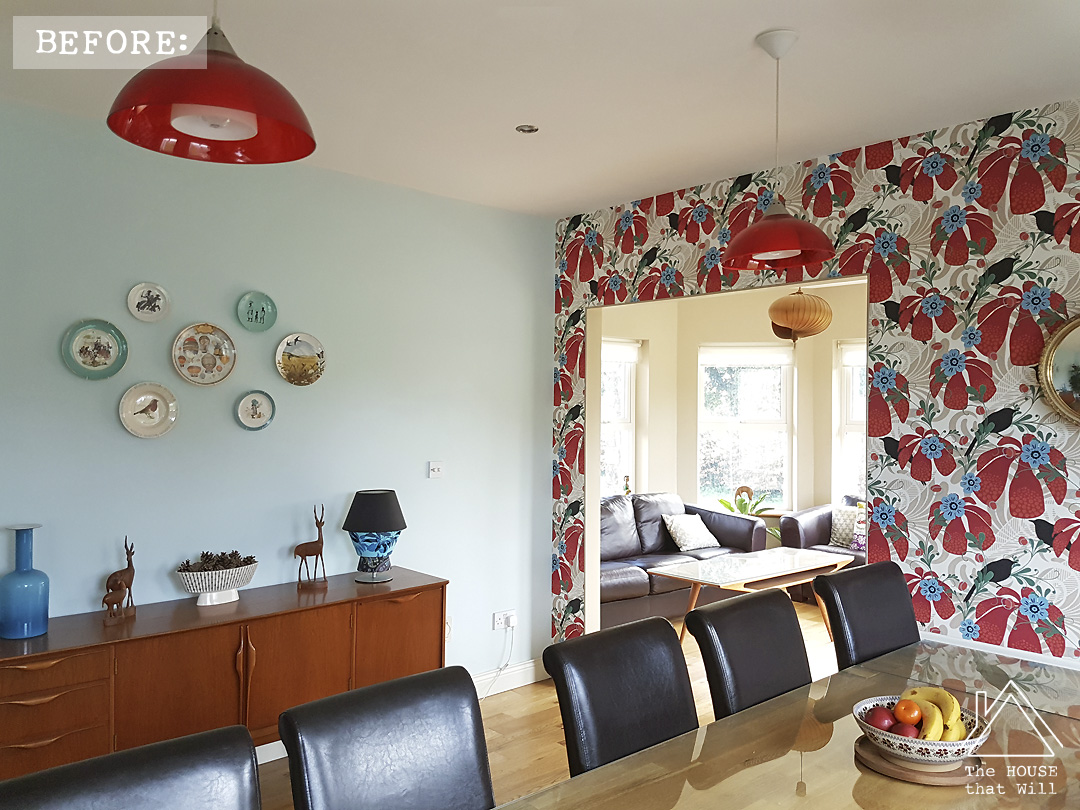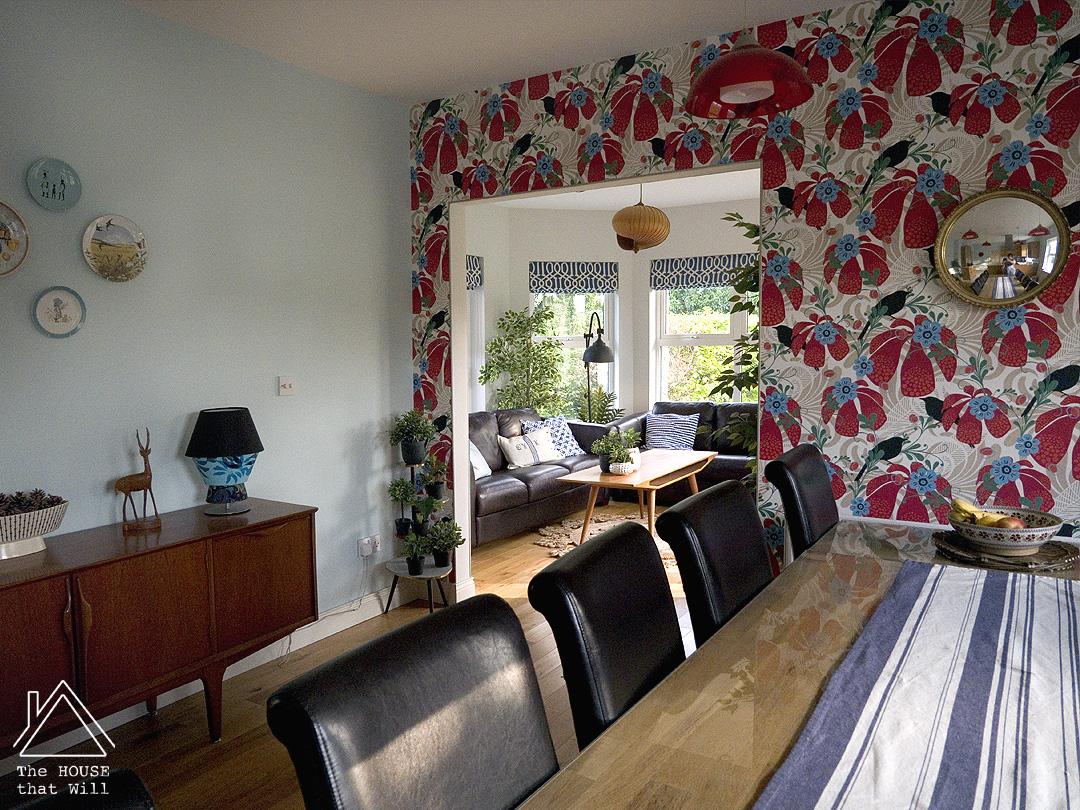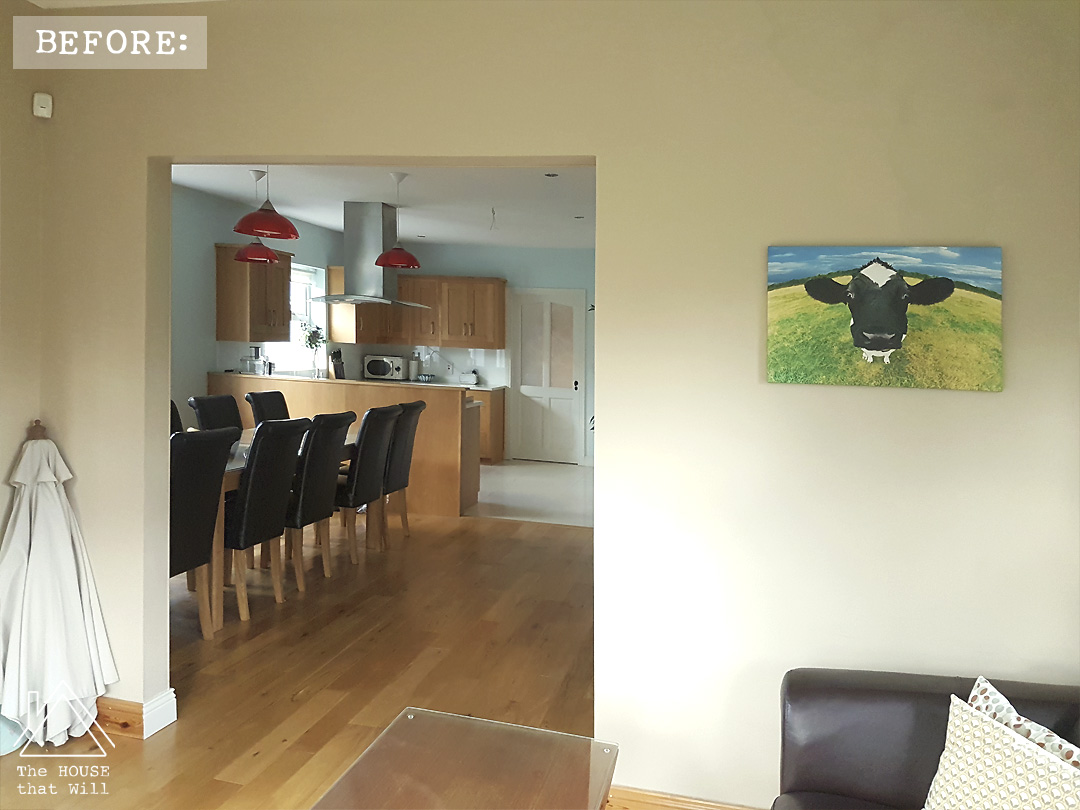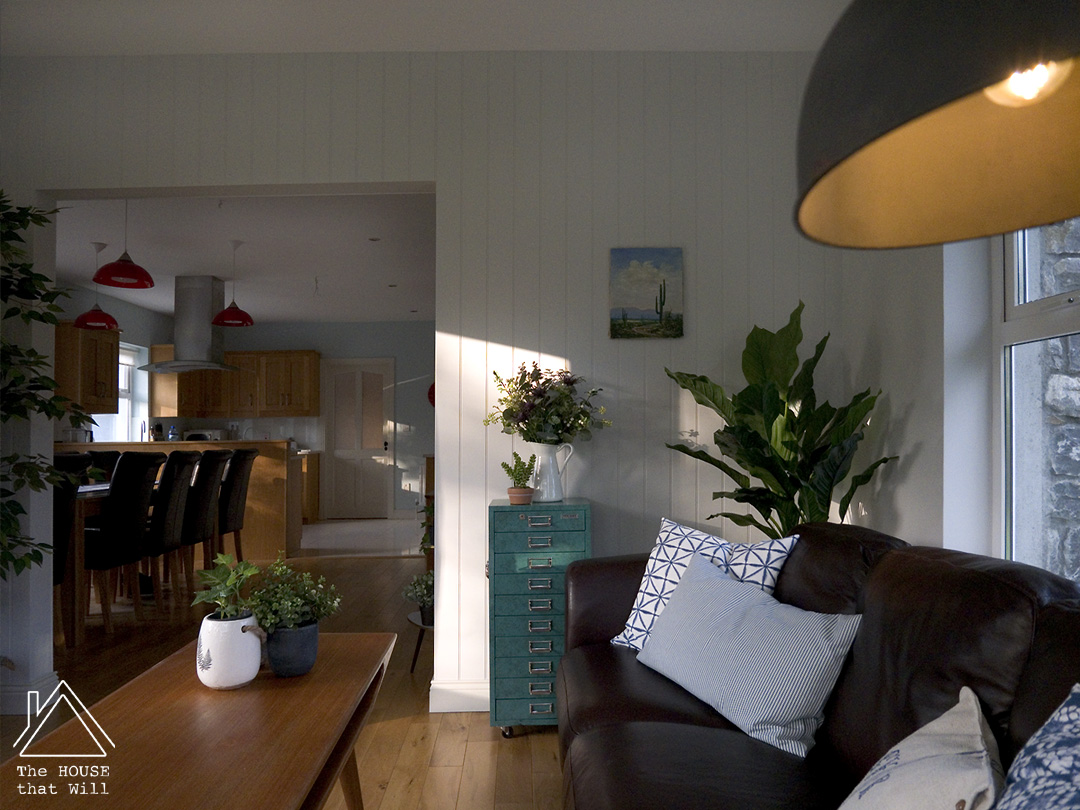 As I mentioned in my week one post, our sun lounge was the room that first made me fall in love with this house, and I really wanted the room to recapture that same feeling. When I started this project six weeks ago, my goals for the room were that it should be:
An inviting space that draws me in. 
A space that has its own distinctive style, yet co-ordinates with the adjacent the kitchen/dining room.
A space that creates a link between the house and garden.
I knew I had achieved what I wanted when Hubby, after sitting (uncharacteristically!) quietly in the room for a few minutes one day, turned to me and said: "This is a really lovely room." It's moments like that that make all the hard work so very worthwhile and which really make a house feel like a home.
SOURCES:
Wall paint: Dimpse by Farrow & Ball - colour matched by Colourtrend paints at Pat McDonnell Paints (Galway & Nationwide)
Ceiling paint: Brilliant White by Dulux
Woodwork: Old White by Annie Sloan from The Gaiety (Westport)
Floor: Prefinished white oak from Joyces (Headford)
Beadboard Panelling: Bead & Butt Match Board from B&Q (Athlone)
Window Dressing Fabric: Threshold Farrah Lattice Curtain Panel in Blue from Target (USA & Online)
Curtain & Blind Lining Fabric: Bonded Interlining in Ivory from Home Focus at Hickeys (Galway & Nationwide)
Curtain pole: Turin 28mm Satin Matt Pole Set (2.4m) from Home Focus at Hickeys (Galway & Nationwide)
Finials: Malmo 28mm Trumpet Silver Hold Backs (Pair) from Home Focus at Hickeys (Galway & Nationwide)
Cassette Roman Blind Kits: Tracy's Textiles (ebay shop)
Jute rug: That Lighting Shop (ebay shop)
Grain Sack (for cushion): Stacks of Sacks (ebay shop)
Wooden buttons (on grain sack cushion): Home Focus at Hickeys (Galway & Nationwide)
Zippers (for cushions): Focus at Hickeys (Galway & Nationwide)
Indigo batik print fabrics for cushions: Home at Hickeys (Galway & Nationwide)
Geometric print cushion: Stockholm 2017 in Blue & White from Ikea (Dublin)
Blue & white ticking cushion cover: Remvallen from Ikea (Dublin)
45cm x 60cm (18"x24")cushion form (for blue/white ticking cushion): Fjädrar from Ikea (Dublin)
50cm (20") square cushion forms: Fjädrar from Ikea (Dublin)
35cm x 50cm (14"x20") cushion form: Furnishnk (UK & Online)
Assorted faux plants: TK Maxx, Ikea, Abigail Ahern
Coffee Table: Vintage
Wood veneer light shade: Vintage
Cane & wicker round side table: Vintage
Glass table top: Glass & Mirror (Galway)
Brown Leather Couches: Reids (Galway - now closed down)
Standard Lamp: The Gaiety (Westport)
Edison Bulb: Ice Flower from lampshop2016 (ebay shop)
Sonoran desert painting: Vintage 
Turquoise filing cabinet: Vintage (from Sabi & Friends in St. Johns, Oregon)
White enamel jug: Sockerärt from Ikea (Dublin)
Faux florals: Selection from Søstrene Grene (Athlone & Nationwide), Keanes Florist (Terryland, Galway), Ikea (Dublin), Joanne Fabrics (USA)

Related posts:
One Room Challenge: Sun Lounge (Week 5)
One Room Challenge: Sun Lounge (Week 4)
One Room Challenge: Sun Lounge (Week 3)
One Room Challenge: Sun Lounge (Week 2)
One Room Challenge: Sun Lounge (Week 1)