The One Room Challenge is always precisely that: a challenge. Having decorated our guest ensuite and sun lounge through the ORC, I already knew what it would take, with hardly any down-time for six (or what turned into seven) long weeks. It's relentless. 
What I didn't know coming into this ORC was anything about wall panelling, and that was almost my downfall. Not having undertaken anything like it on this scale before, I completely underestimated what was involved. Hands up who still had no paint on the wall the evening before the reveal? No, just me then? True story! And that's because Hubby and I had spent weeks working on just the panelling, and only just finished it in the nick of time. I started painted at 8pm last night and didn't finish for seven hours!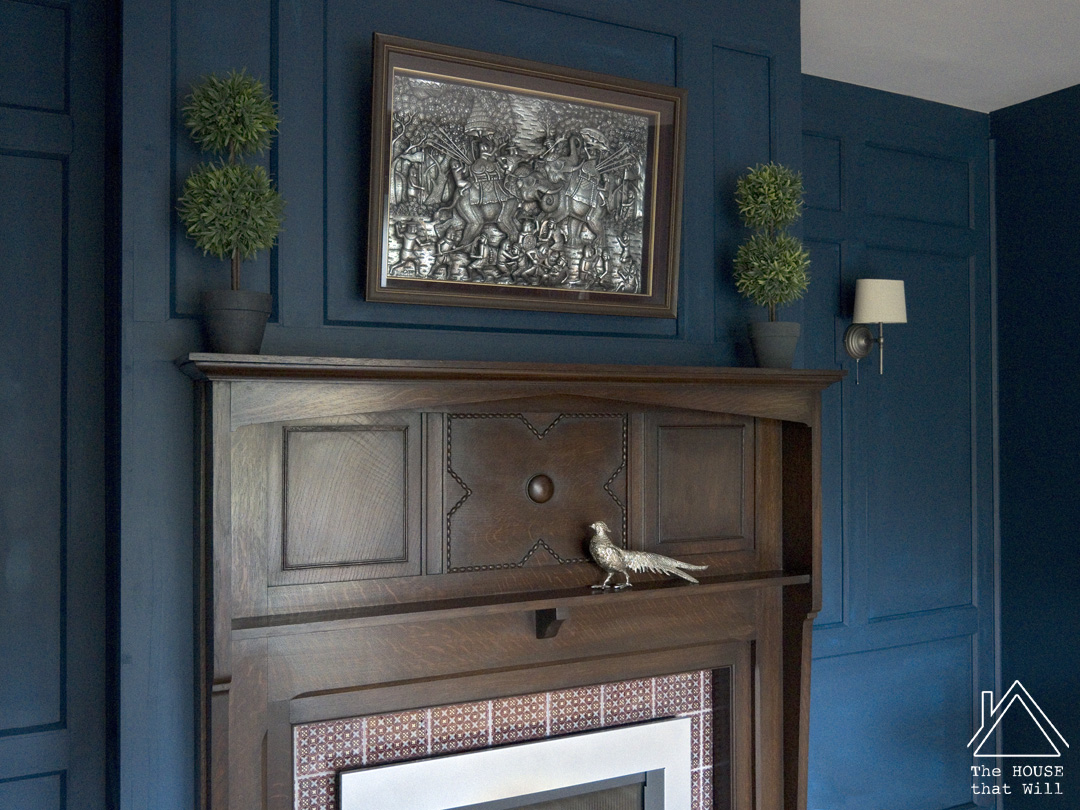 It also meant that we had to forego some aspects of the project; like coving, skirting boards, and the built-ins we'd planned on making for the alcoves. Everything needs a second coat of paint, there are lots of finishing touches to do, and I haven't had time to style it all properly. That will all be done in due course - I did say at the outset that I did not anticipate completely finishing this room within the time frame of the challenge. However, I did promise to deliver a room with "the look and feel of a traditional library". And I do feel I have achieved that.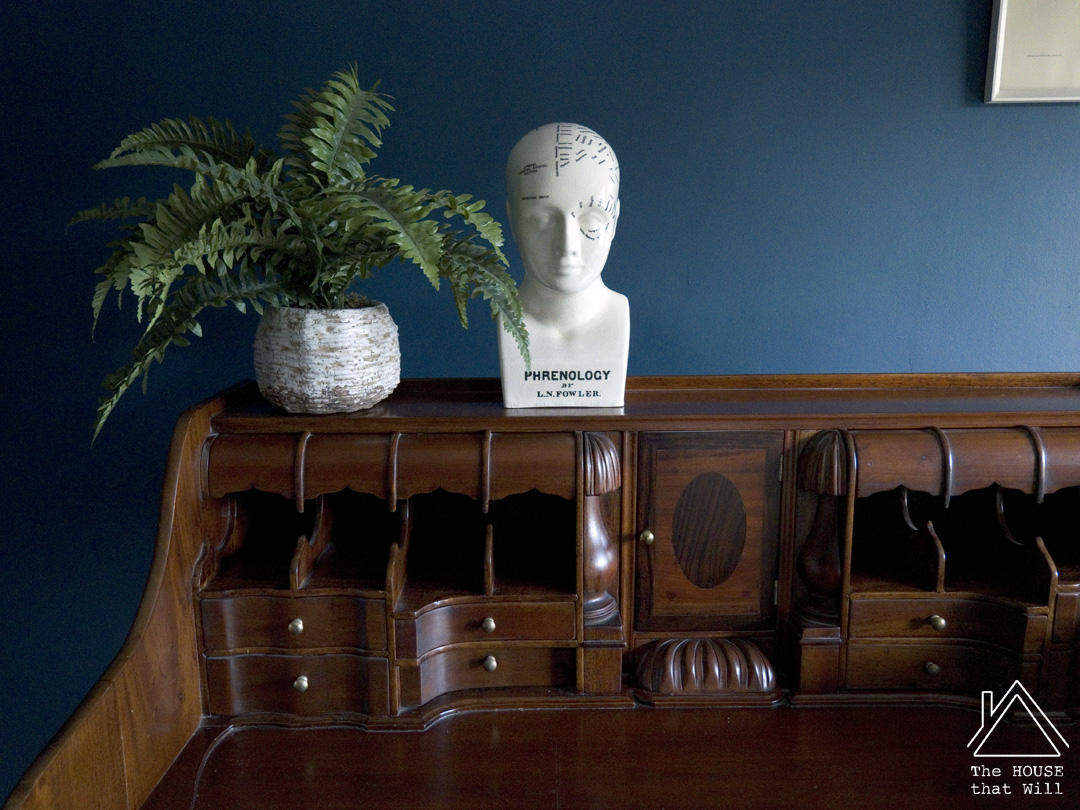 You see, despite how tough it is to do the ORC, especially for part-time amateur DIYers like us, the reason hundreds of us keep coming back is because it's always worth it in the end. Click here to see all their amazing transformations, and don't forget the featured designers too! 

The Goal
Despite being one of the largest rooms we have, this was one of the least-used parts of the house. On the other hand, we needed somewhere we could work on our computers, store books, and spend time on our hobbies or playing music. The awkward layout of the room made it difficult to imagine how we could make it function for our needs, so we needed to come up with a solution.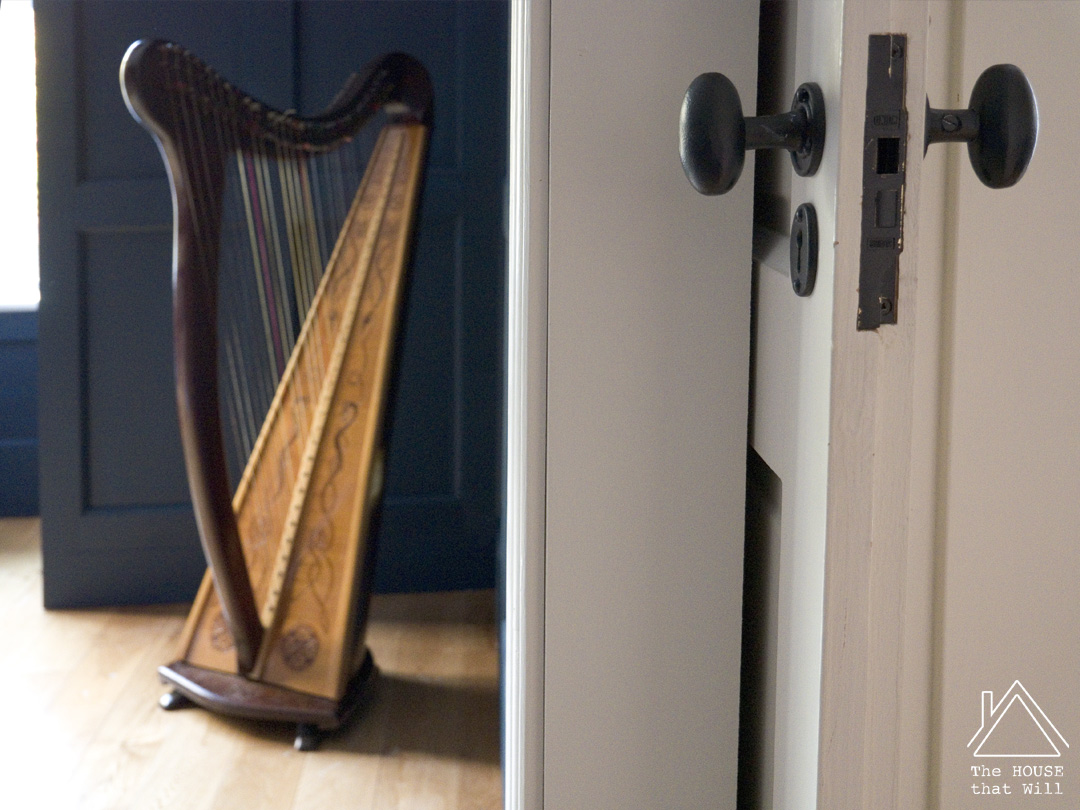 That solution came with the idea of converting the hinged double doors to pocket doors, thereby freeing up all the space at either side of the doors and creating a useable wall surface where there previously was none. Now we don't need to worry about allowing space for the doors to open back, or about open doors banging into furniture at either side.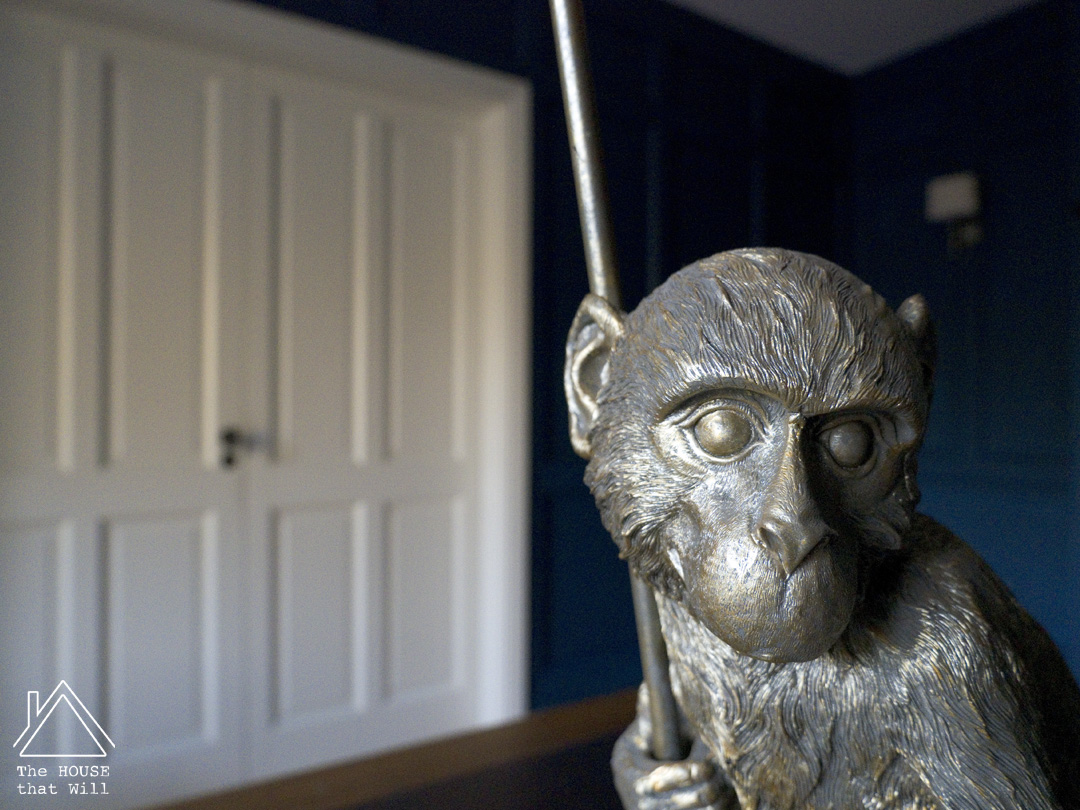 Zoning
Because the room had to fulfill many different functions, it was important to create zones for each purpose. Therefore I created areas for storage/display (the alcoves - which need to be developed further), work (the bureaus against the back wall), hobbies (the desk in the centre), music (in the nook created by the new wall), and a cosy spot for the dog.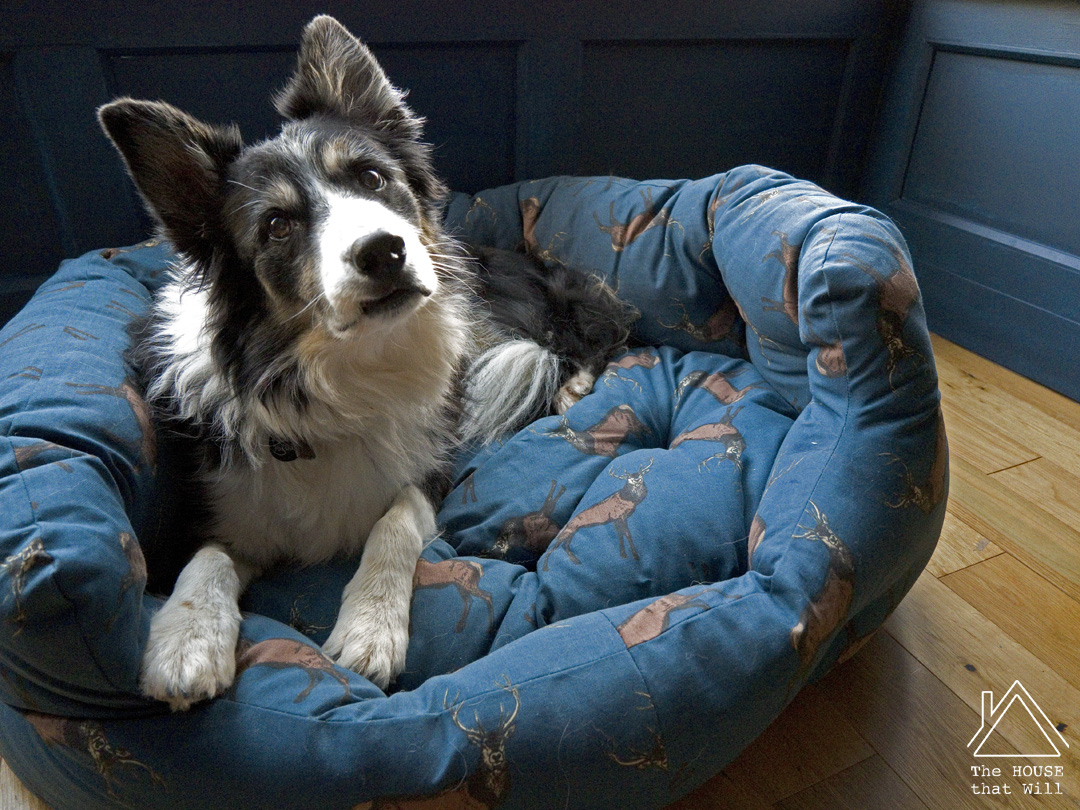 I think he approves!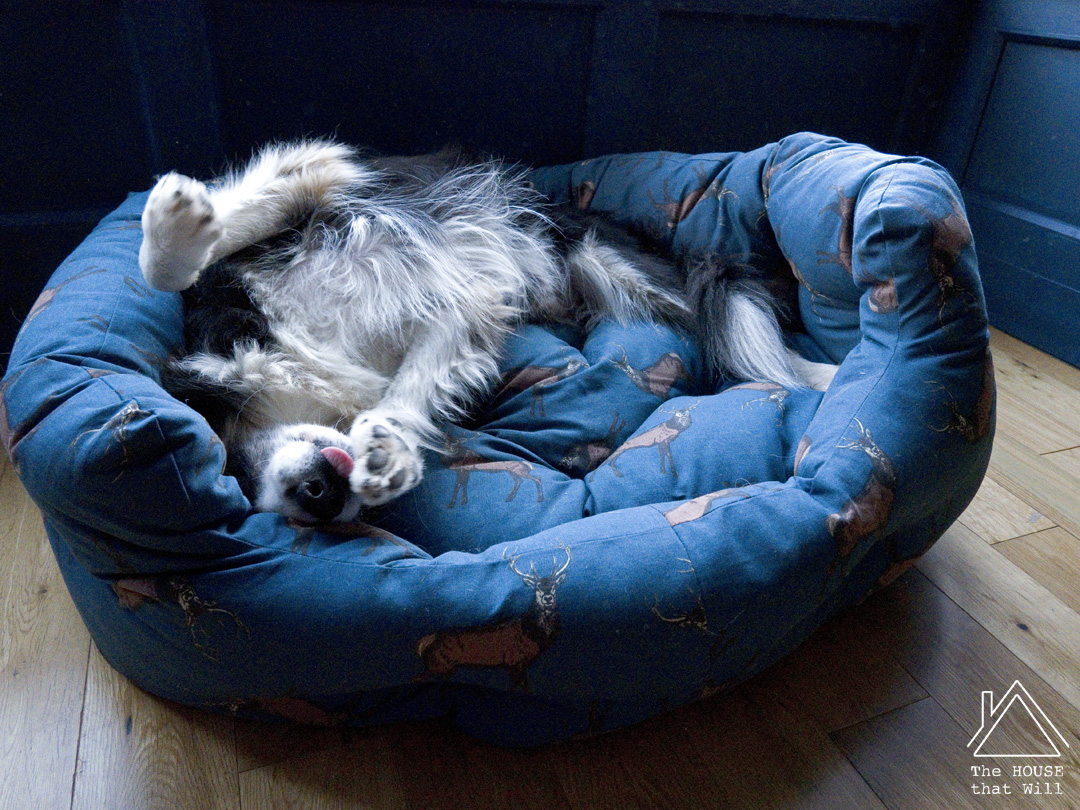 I am so pleased that we now have a dedicated place for all these activities! Where once we had an unused junk room at the front of the house, we now have a useful and attractive room that is a wonderful retreat for all the family.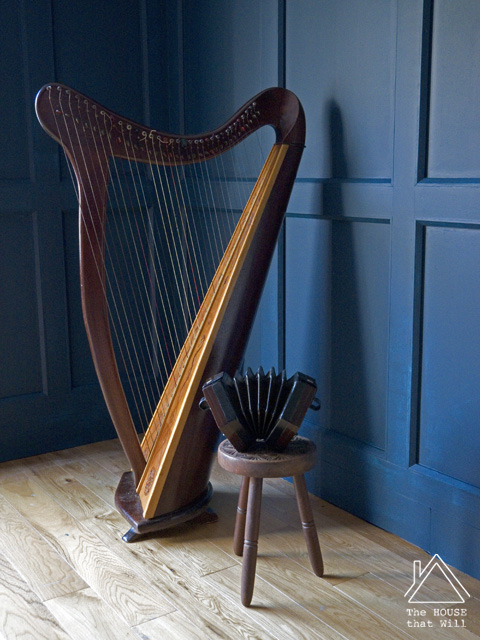 Before and After
Of course, no room reveal is complete without some good old before-and-after shots.
Here is the moodboard I started out with: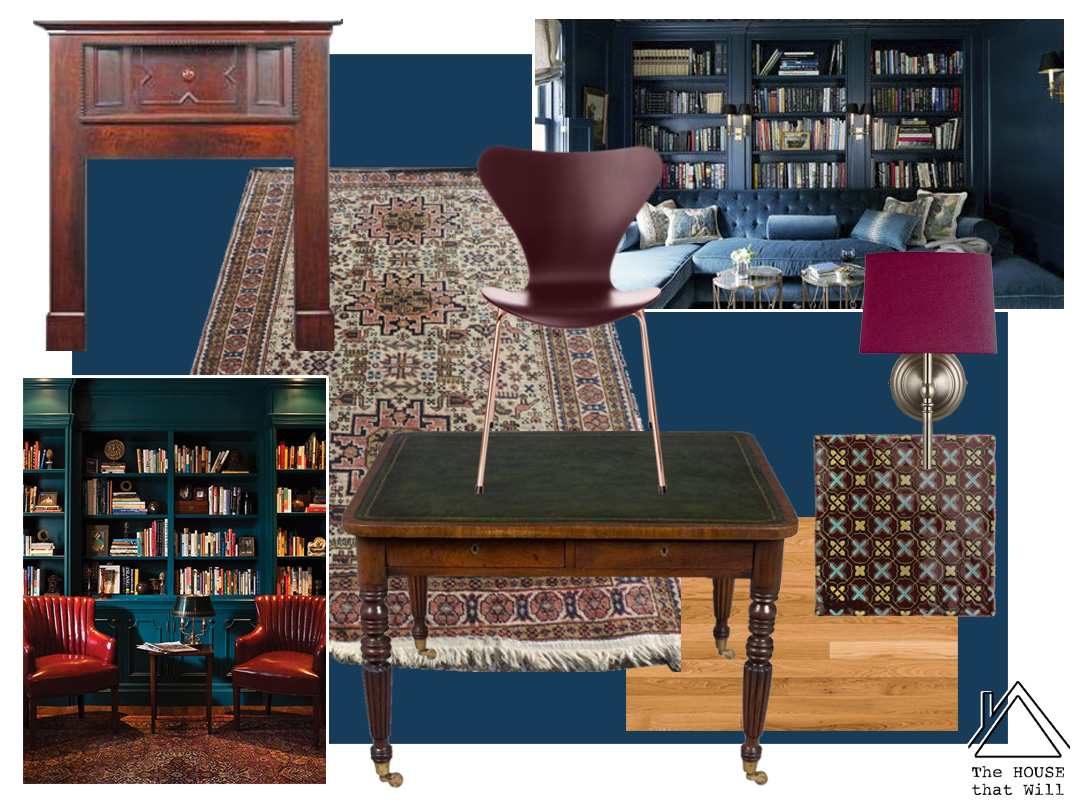 And this was my real-world starting point: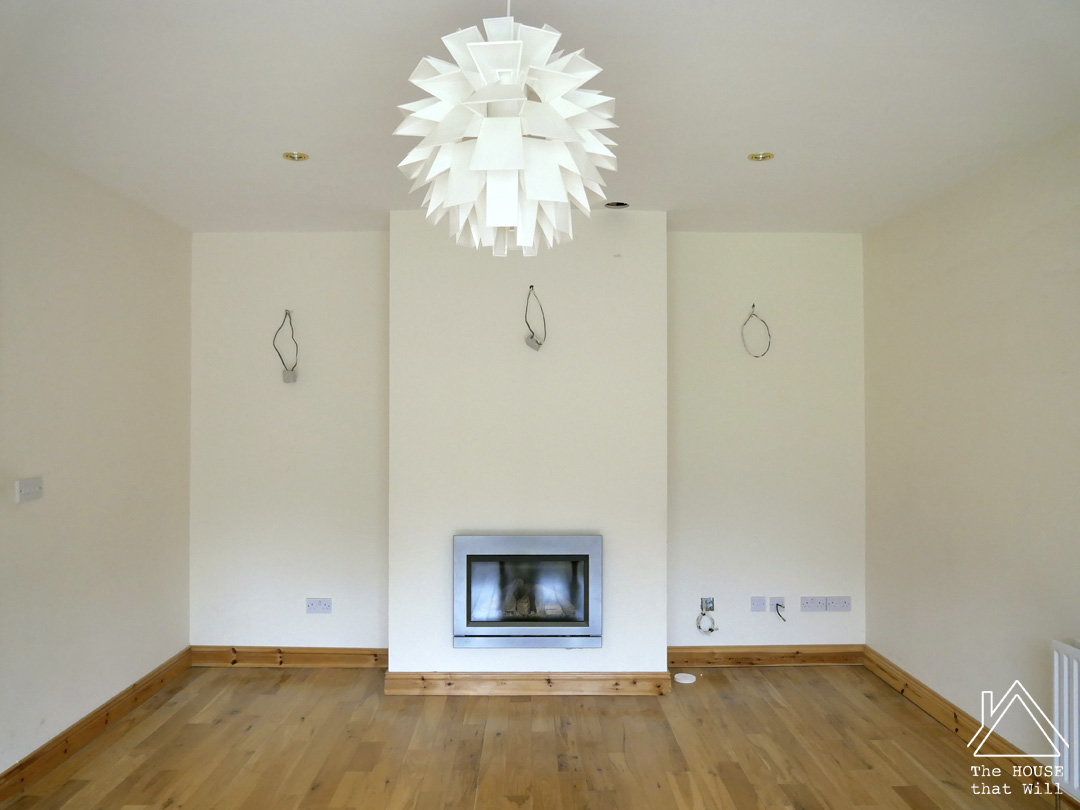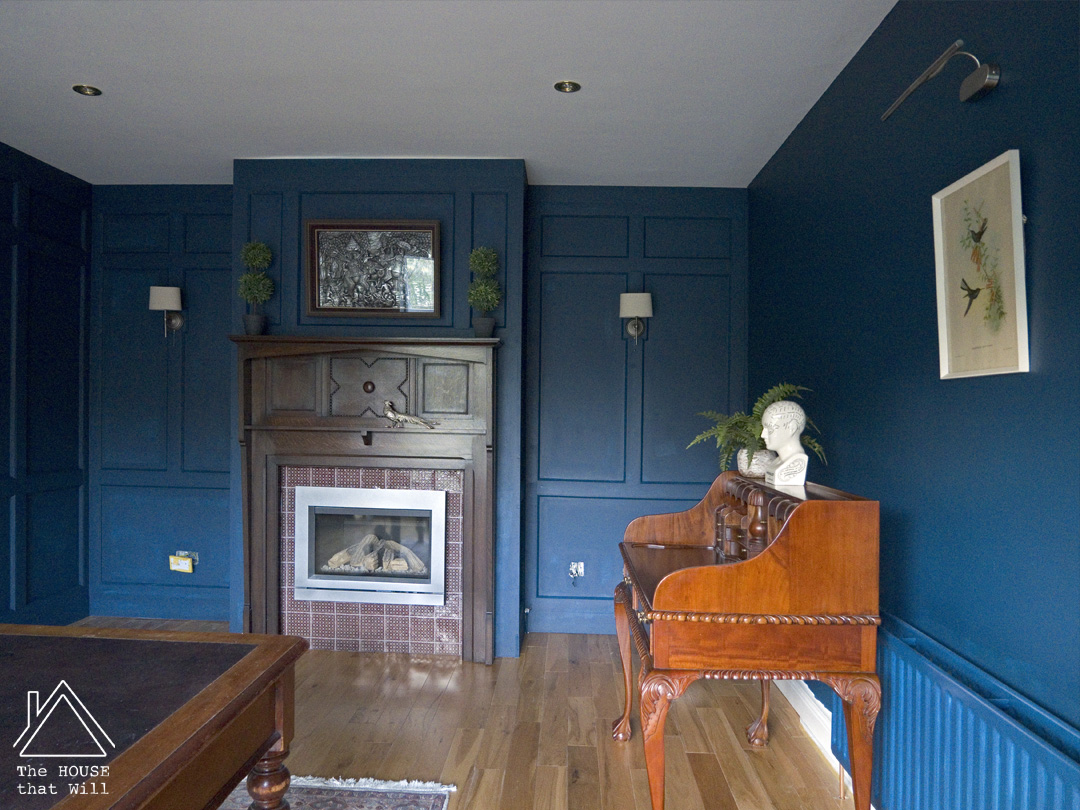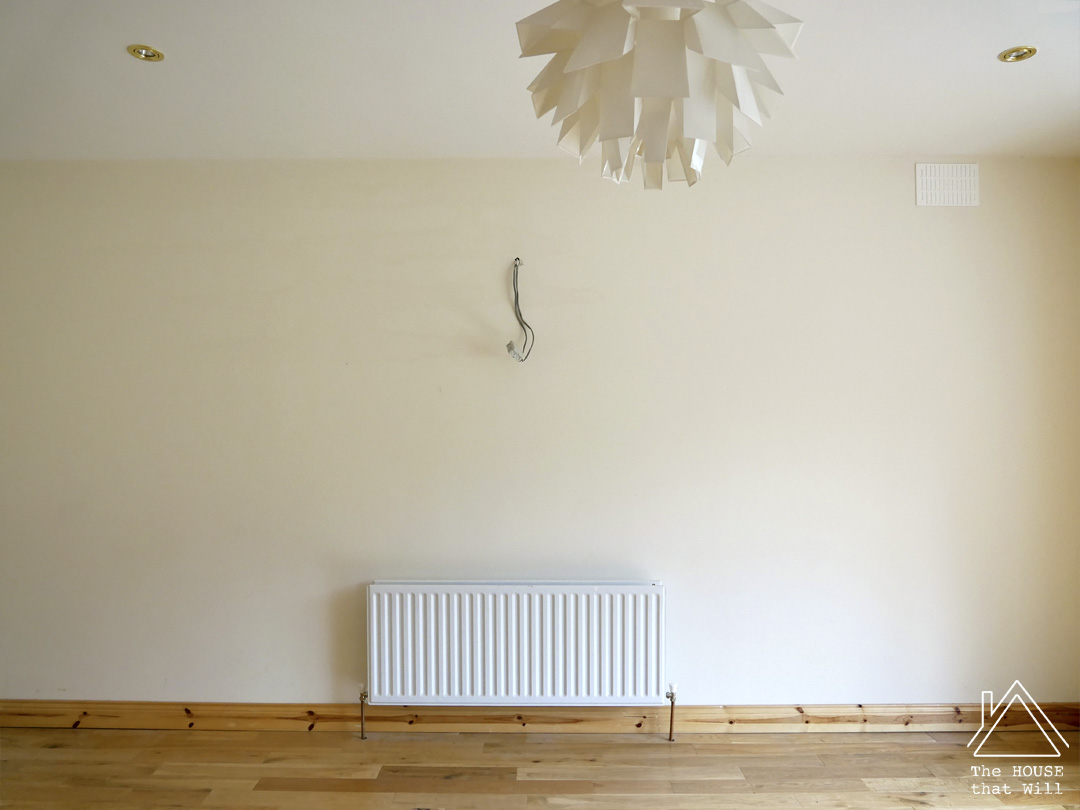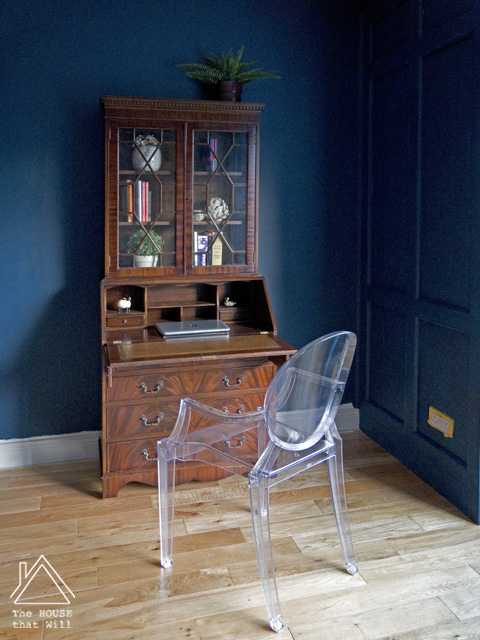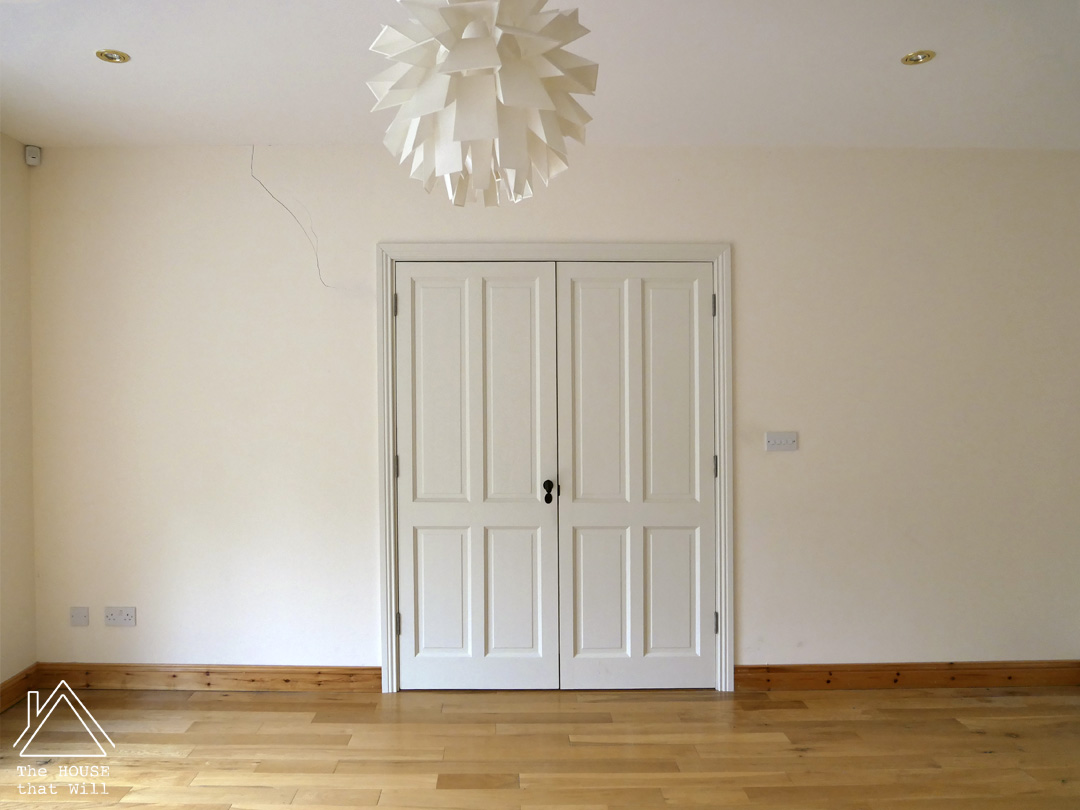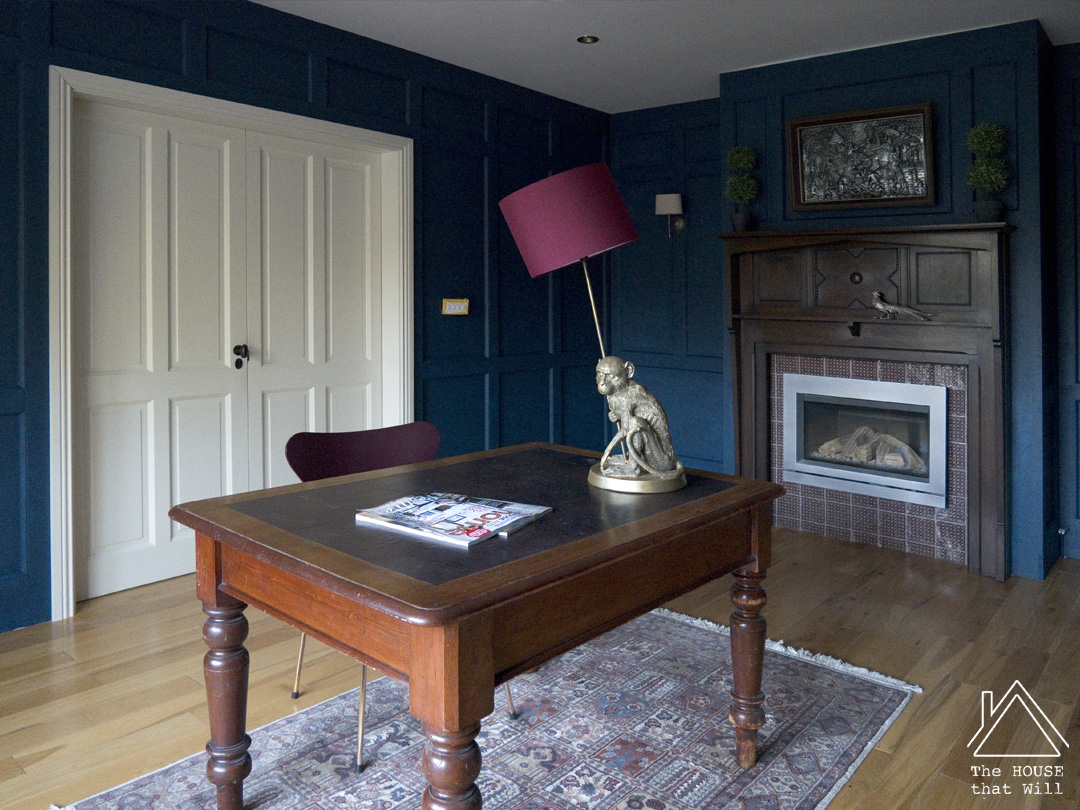 Not to mention the mini-makeover of our entrance hall that I took on in the middle of all this!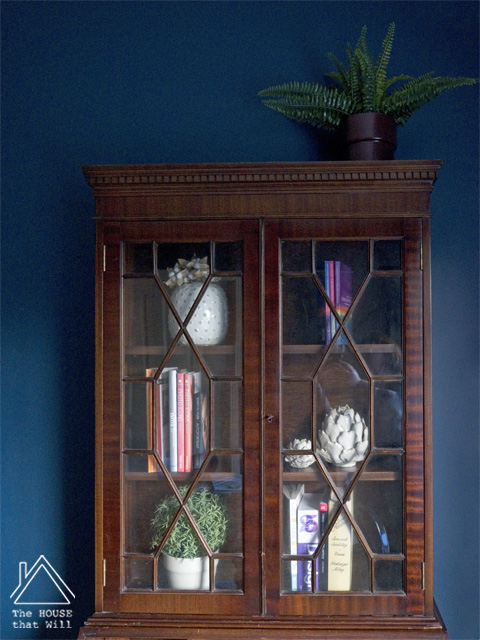 Follow The House that Will
Facebook | Instagram | Bloglovin'
Before I sign off to take a nap and clean the rest of the house that has been neglected during this challenge, I want to say a huge thanks to everyone who has followed me over the past seven weeks. Both here on the blog with your comments, as well as social media, so many of you have followed along, listening to all my DIY woes and encouraging me to keep going. I appreciate it so much, and I do promise to share follow-up posts on how we went about creating the pocket doors and panelling the walls. Until then, I will leave you with a source list if you want to shop the look. 
SOURCES:
Wall paint: Venetian Crystal 1 by Dulux
Ceiling paint: Brilliant White by Dulux
Woodwork: Old White by Annie Sloan from The Gaiety (Westport)
Floor: Prefinished white oak from Joyces (Headford)
Wall panelling: Custom DIY
Rug: Souvenir purchased on honeymoon
Burgundy Chair: Series 7 by Fritz Hansen in limited edition in merlot and rose gold colourway from Reside (Dublin)
Desk: Antique
Bookcase: Antique
Fireplace surround & mantel: Antique
Fireplace insert tiles: Ormeaux in the 'Blackberry' colourway from the Châteaux range by The Winchester Tile Company, supplied through Orignal Style Tiles to Cutting Edge Tiles (Galway)
Burgundy/pink cushion: Søstrene Grene (Athlone & Nationwide)
Blue/burgundy cushion: DIY made from 'Blue and Burgundy Art Deco Floral Rayon Jersey' from Mood (New York)
Wall sconces: Isabel wall light in the pewter finish from John Lewis (UK)
Picture lights: Litho LED Wall Light in the satin nickel finish from John Lewis (UK)
Hammered tin artwork: Souvenir purchased on honeymoon
Bird prints: The Gaiety Antique & Vintage Store (Westport)
Monkey lamp: TK Maxx (Galway & Nationwide)
Burgundy lampshade: Handmade by the Little Red Robin Co (UK & Online)
Dog bed: Woodland Range Stag Deluxe Slumber Dog Bed by Danish Design from Chelsea Dogs (UK & Online)
Polycarbonate chair: Ghost Chair in the Louis style, designed by Philippe Starke for Kartell

Related posts:
One Room Challenge: Library (Week 6)
One Room Challenge: Library (Week 5)
One Room Challenge: Library (Week 4)
One Room Challenge: Library (Week 3)
One Room Challenge: Library (Week 2)
One Room Challenge: Library (Week 1)