Our Downstairs Loo is now unrecognisable from where it was eight weeks ago, and I couldn't be happier with how it turned out. It was my fifth time participating in the One Room Challenge and, while it is very intense, it is the best motivation I have found for quickly turning around a project in our home. Thank you so much to Linda Weinstein for organising it, and a very special thanks to all my lovely social media followers who encouraged me and cheered me on throughout the process.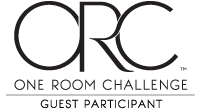 WEEK ONE - WEEK TWO - WEEK THREE - WEEK FOUR - BLM - WEEK SIX - WEEK SEVEN - ROOM REVEAL
Check out all the other One Room Challenge participants here
Remember this moodboard I created at the outset?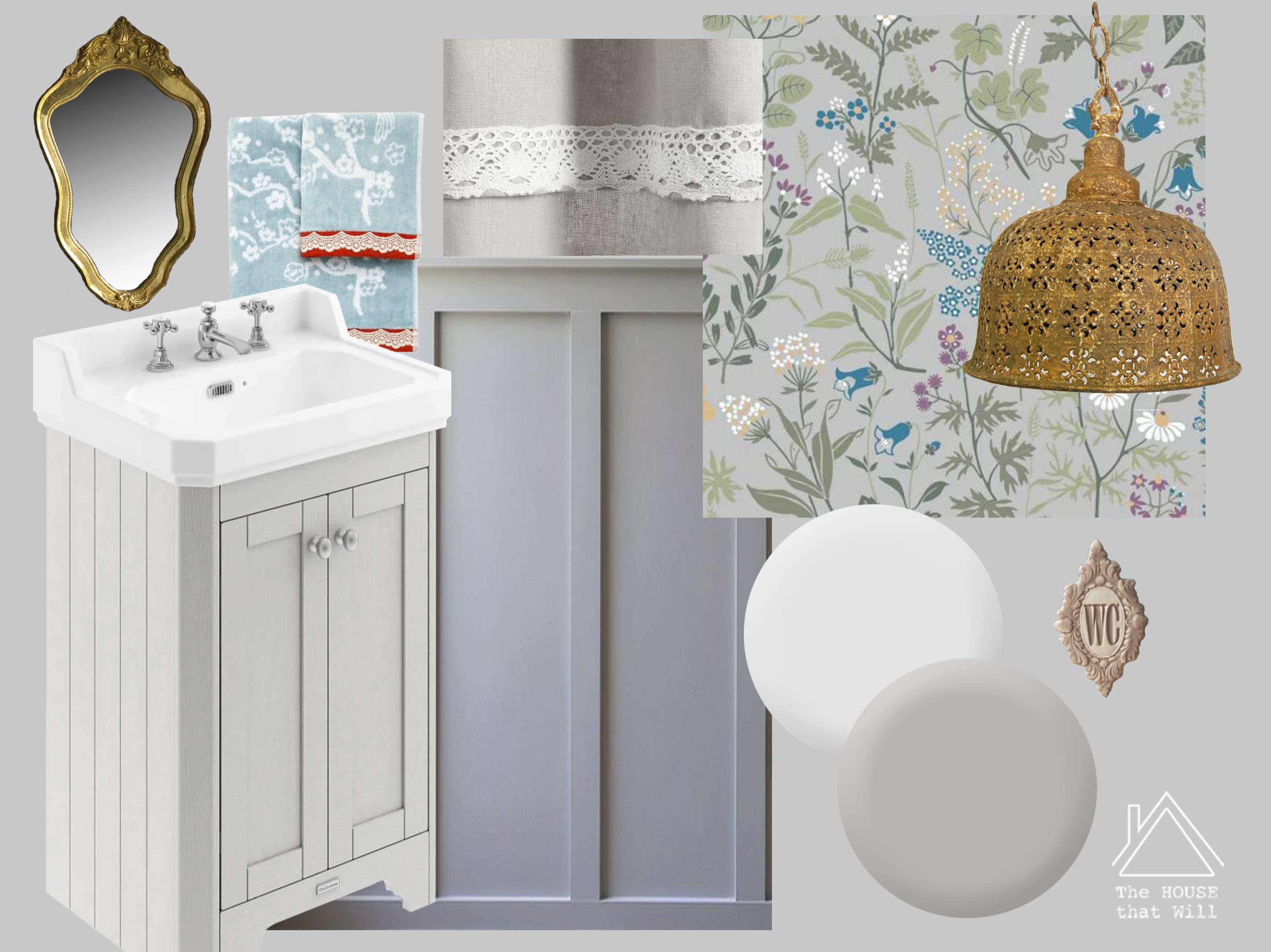 a
Follow The House that Will
Facebook | Instagram | Bloglovin'
Let's take a look at how my ideas became reality and see how our Downstairs Loo (powder room/half bath) looks now!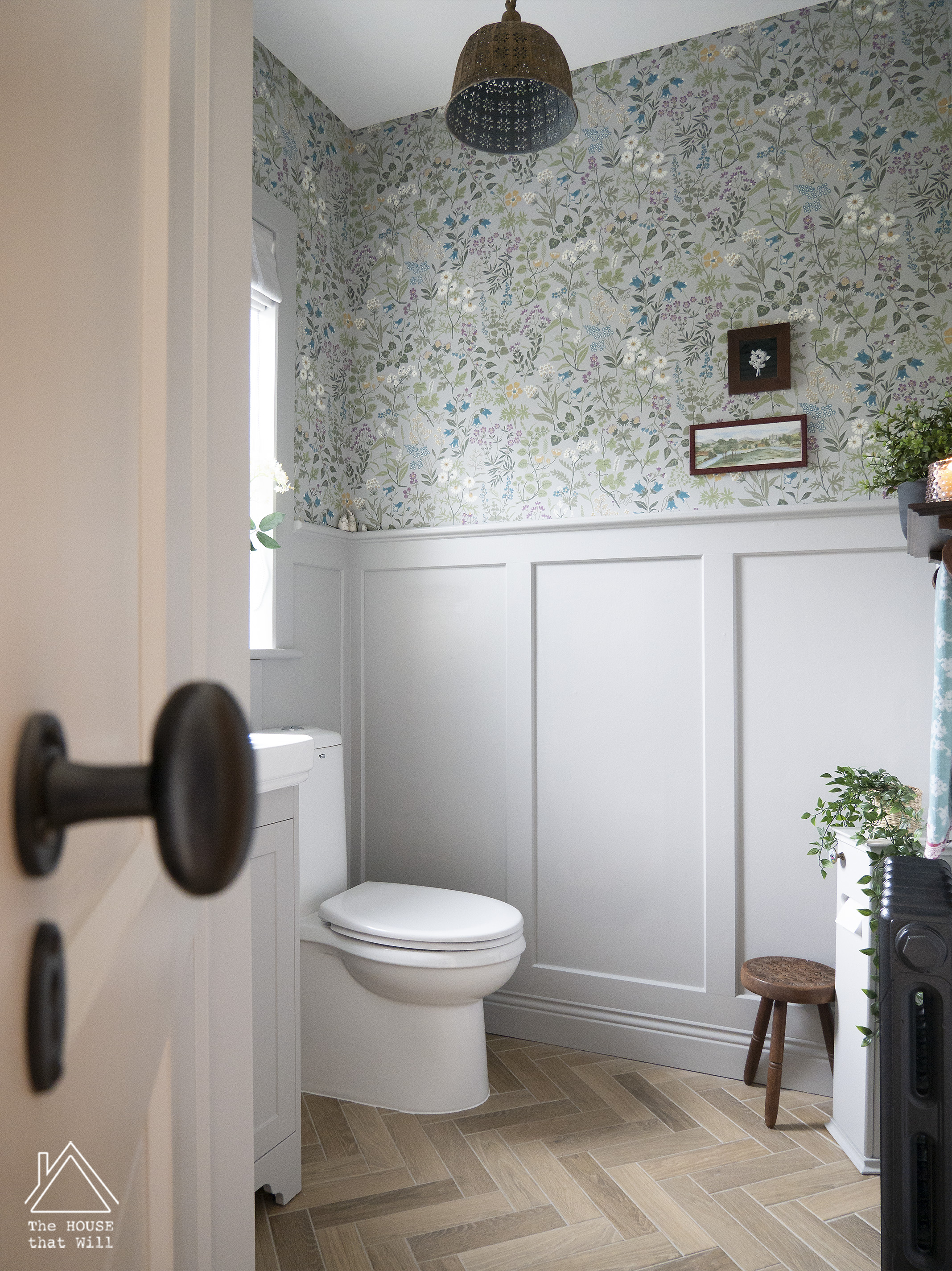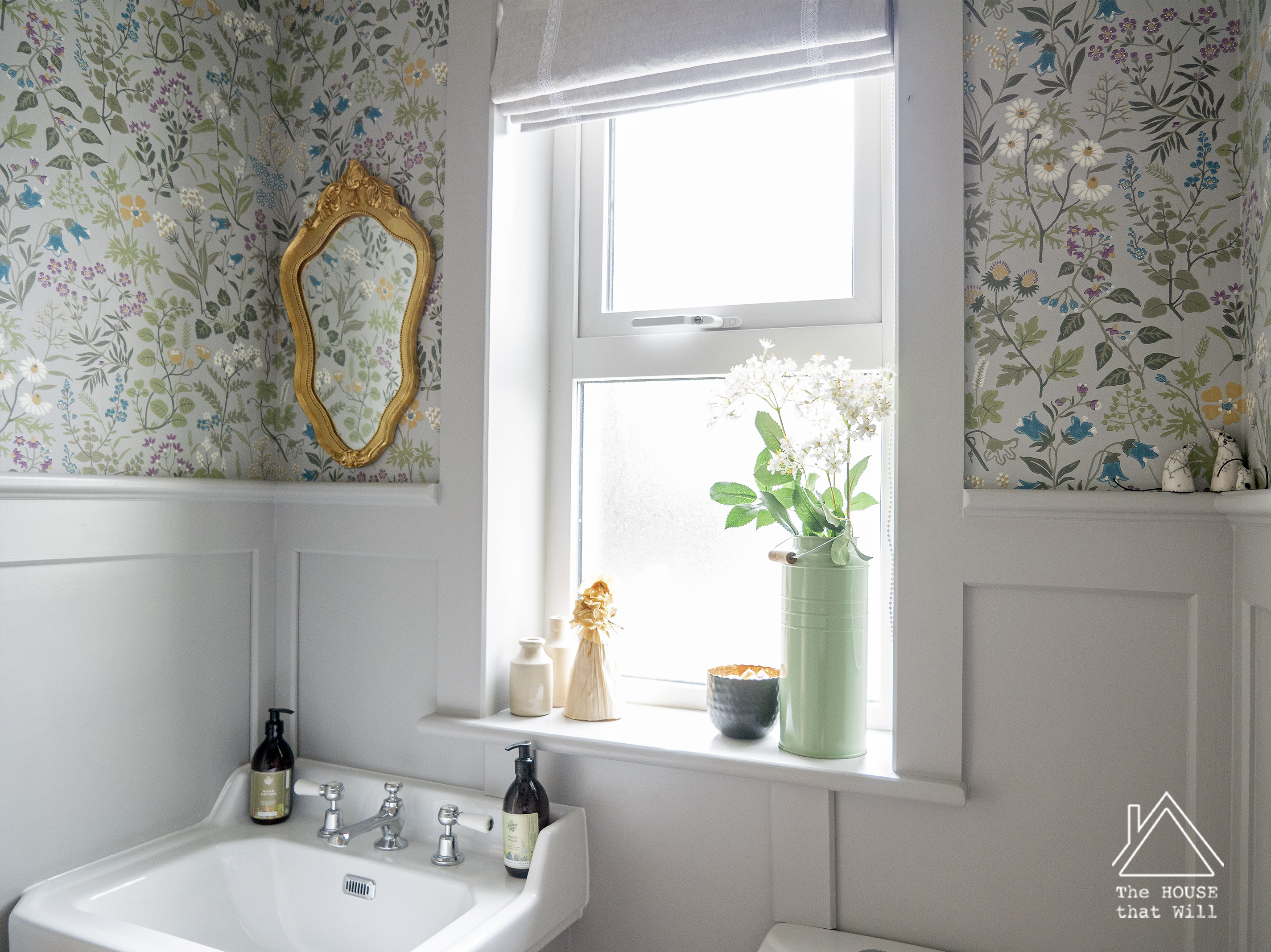 I designed the whole room around the wallpaper, which I saw in a London department store two years ago (while in town for the Amara blog awards!). It caught my eye and drew me in, and I decided then and there that I wanted it somewhere in my house; I just didn't know yet where that would be But when we decided that our loo needed brightening up, that wallpaper instantly came to mind. Unfortunately, the process of hanging it was marred by a printing defect that caused the pattern to smear. I've documented it all in detail in my Instagram stories, and stored it to my highlights. Since doing so, others have come forward to say that they had the same problem with this paper; which is a pity because the pattern is so pretty. Thankfully, I was able to minimise the damage and am still happy with the overall look.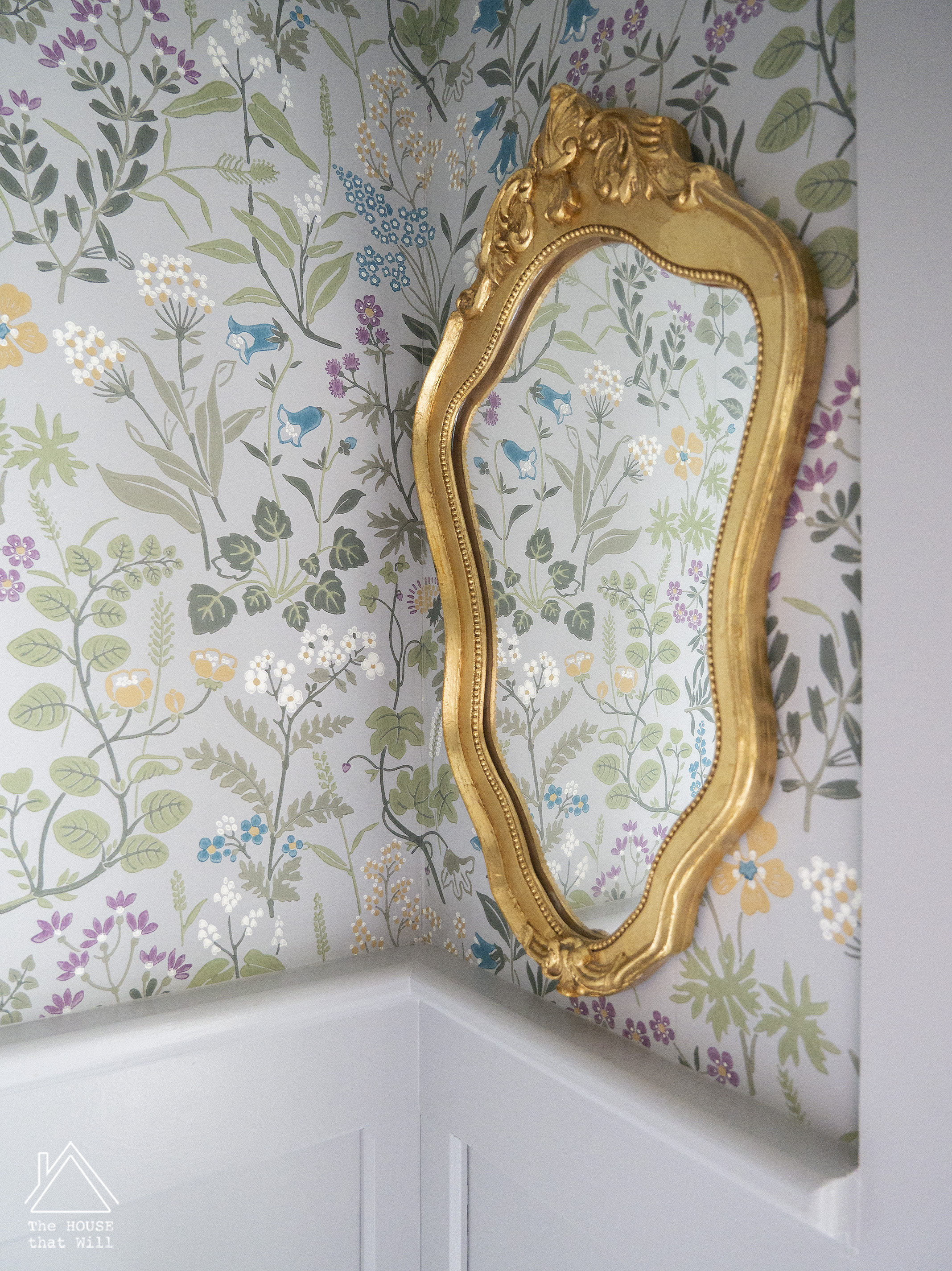 Our loo is a small room, so I didn't want to overwhelm the space with too much busyness. For that reason, I decided to let the wallpaper be the main feature and let everything else play a quieter role. So all the woodwork was painted the same warm grey colour in an eggshell finish, including the new sink cabinet.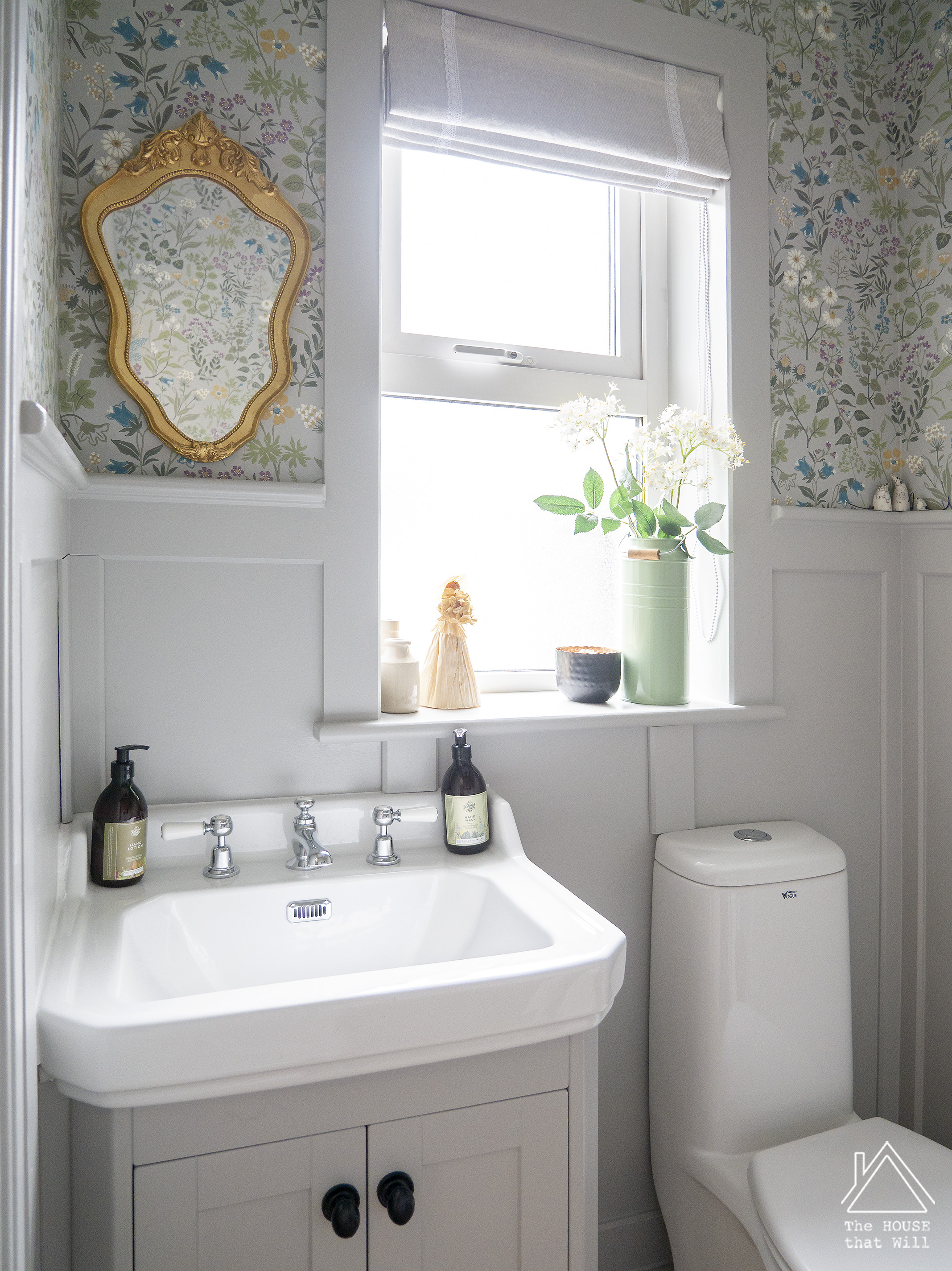 The taps (faucets) were chosen for their classic appearance, but also for very practical reasons: the lever means that we don't need to handle the taps to turn the water on or off because we can just flip the lever with our elbow, allowing for better hygeine during this pandemic situation.
We panelled the lower part of the walls and painted it with the same eggshell paint as the rest of the woodwork. I didn't want wall tiles in the room, so this paint provides a reasonably hard-wearing surface than can be wiped down if necessary.
We hadn't originally intended to change the flooring in here, but as soon as we started working on the room, we knew that leaving the old tiles in place would detract from the renovations we were making elsewhere in the room. At first we thought we'd like a patterned floor tile in here, and went as far as bringing a sample home from the store. However, as soon as we saw it in the space, we knew it wouldn't be the right choice because it was fighting with the wallpaper for attention. Instead we went for a more subdued tile that still adds an elegant touch (I think) to the room. It is an oak-effect porcelain tile that we went to great lengths to lay in a herringbone pattern. Having done lots of tiling before, we didn't think this would be too complicated, but it does add a lot of work compared to a right-angled layout. However, now it's done, both Hubby and I really love it and feel it was worth all the effort.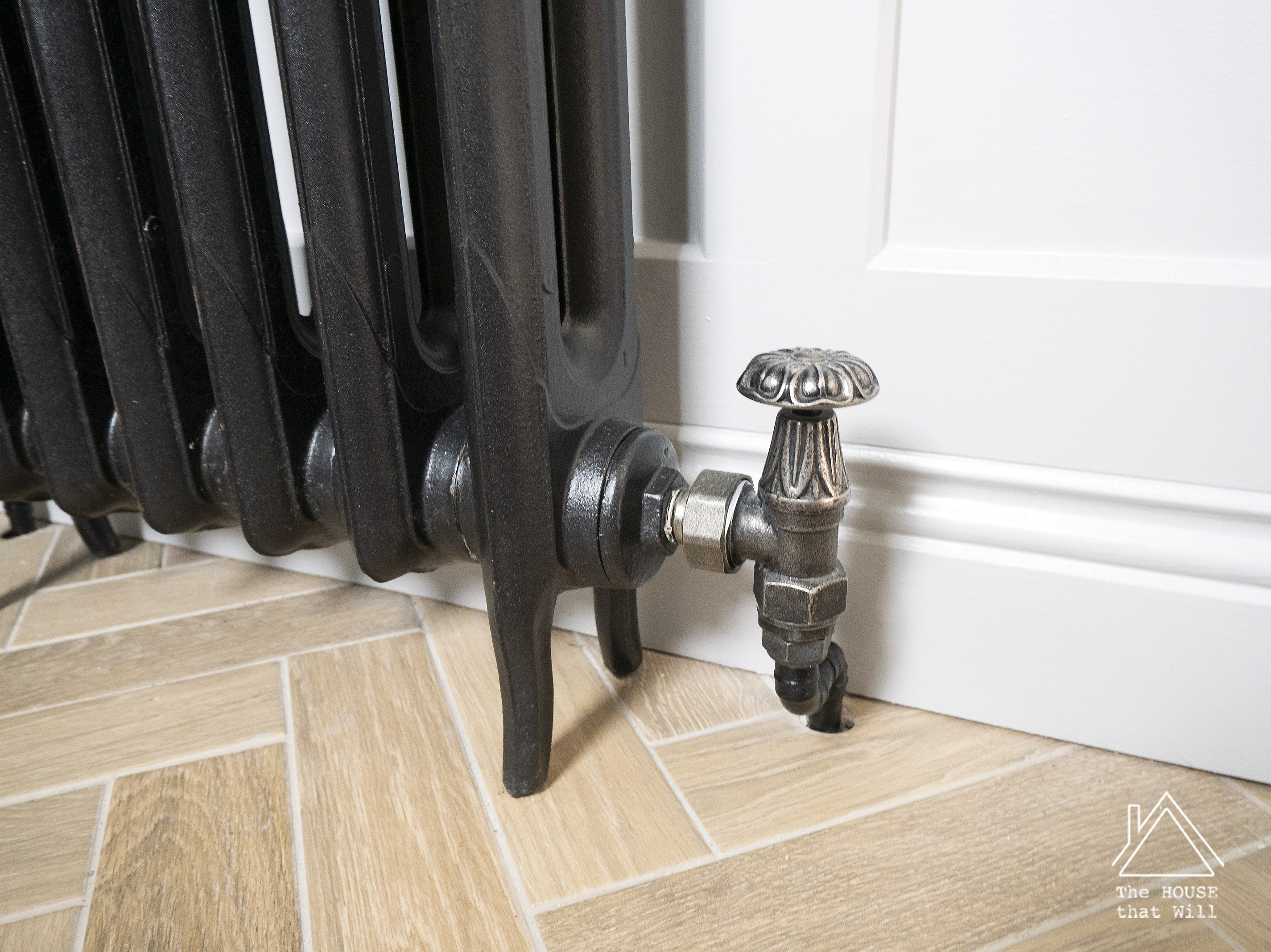 I made the Roman blind myself as a DIY project. I've made lots of Roman blinds before, and you can find my step-by-step tutorial here. I used a cotton fabric (that looks like linen) from my stash for the main body of the blind and trimmed it with a bobbin-lace trim. I did consider making the lace trim myself, because I do make lace as a hobby, but when I realised that most of it would be hidden in the folds of the blind when the blind is open all day, I decided it wouldn't be worth the time it would take to handmake it; so this is a machine-made version, also from my stash. The blind is lined with leftover thermal blackout lining to lend some structure to the blind and to protect the fabric from sunlight. It was the perfect lockdown project that made use of items I already had around the house!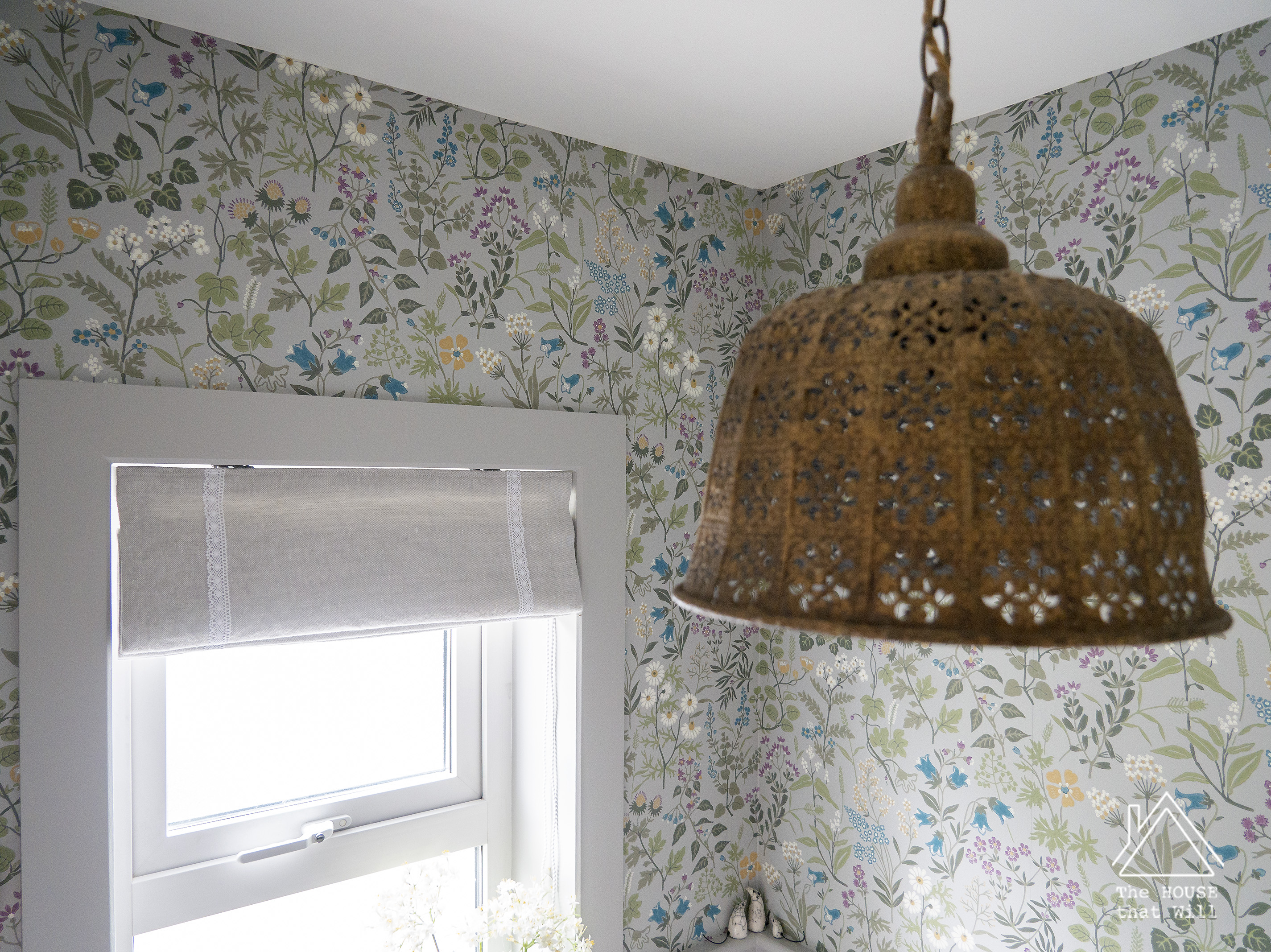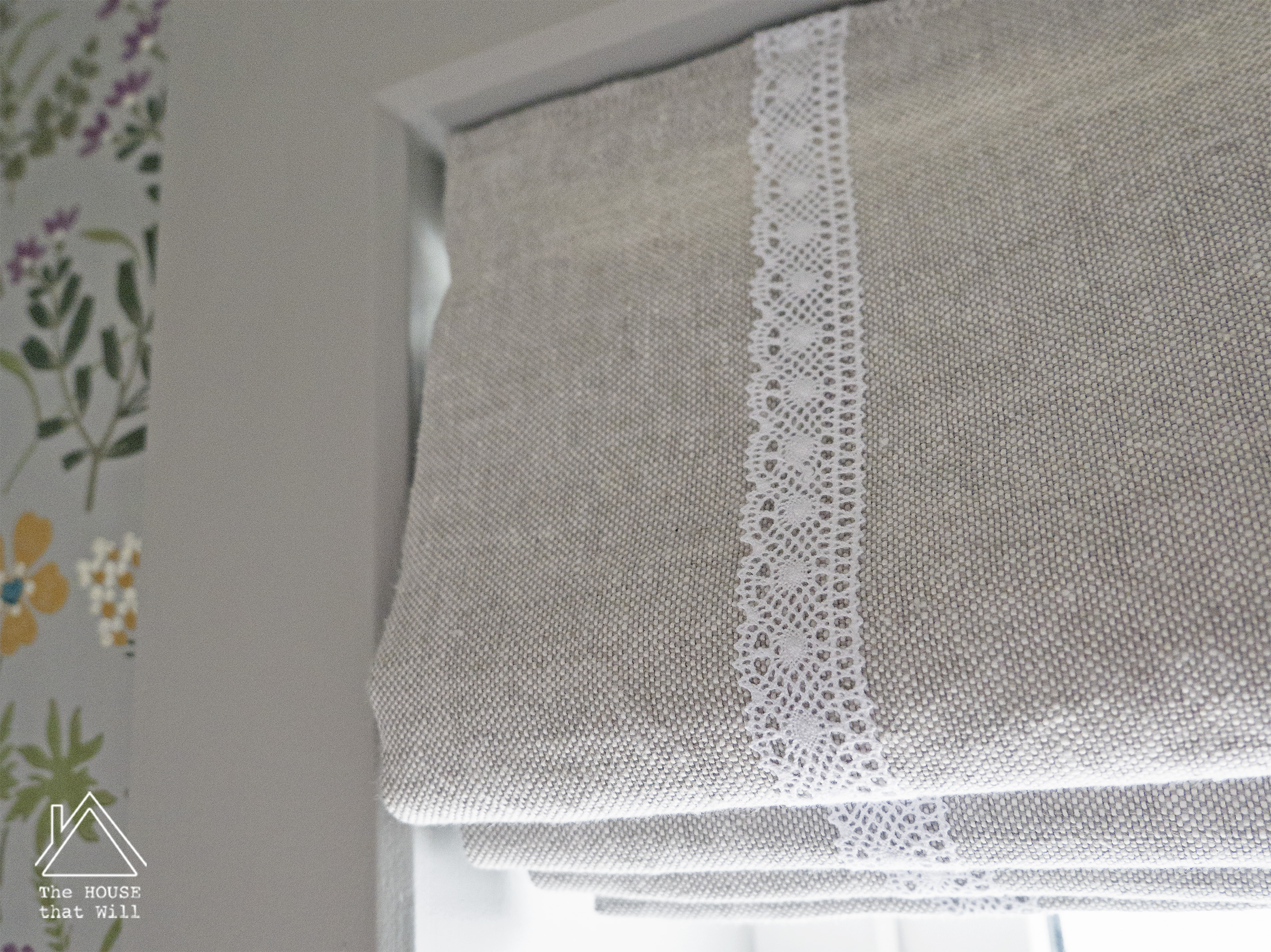 The towel rail is also a DIY affair. I had two antique wooden corbels (which had apparently been salvaged from a piece of furniture) that I'd won in an online auction a few years ago. I came across them again while I was working on this room and had the idea of using them to make a towel rail. I drilled a hole in the side of each corbel to hold a towel bar made from a pipe I purchased in the hardware store. Then I made a shelf for the top from an old oak floorboard that I planed down, cut to size, sanded, and routed a profile around the edge. I custom-mixed two different woodstains to match the corbels and sealed it with a matte water-based polyurethane. Hubby has been helping me to improve my carpentry skills through working on little projects like this, and I am delighted that my handiwork is finally producing some nice results.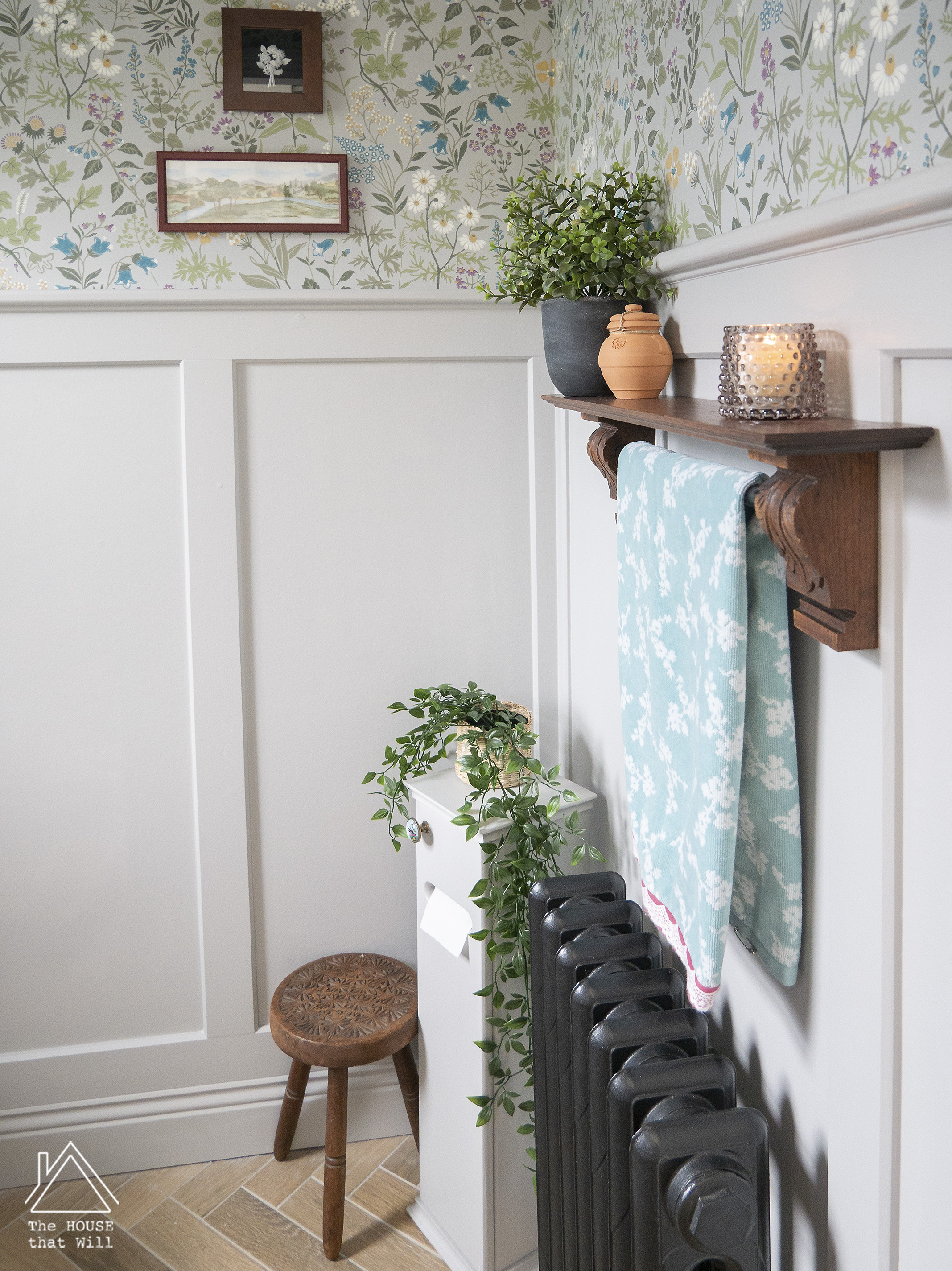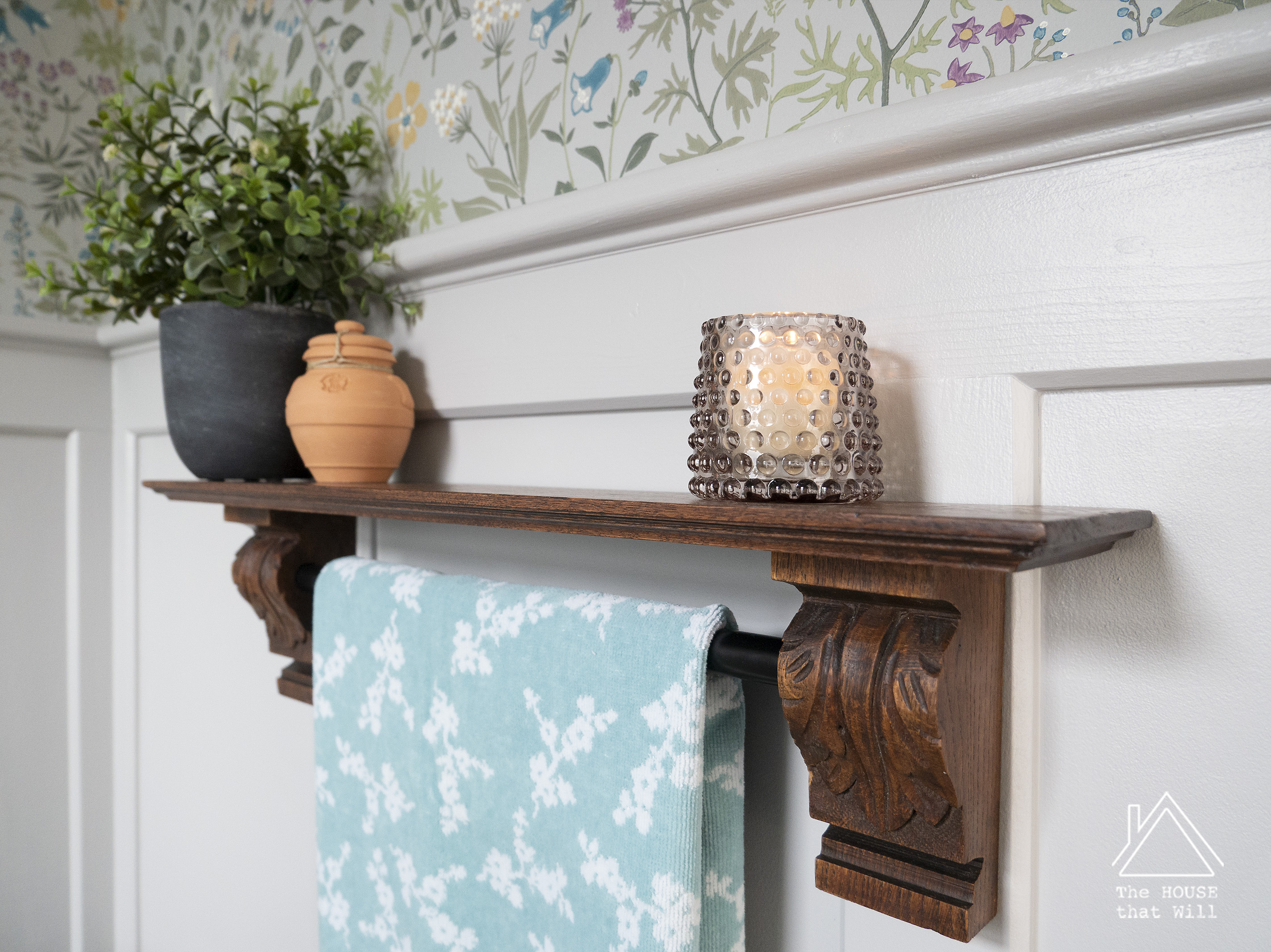 I upcycled the little toilet roll cabinet by painting it and adding a new door handle. And, if you know me, you know that every room must include a bird!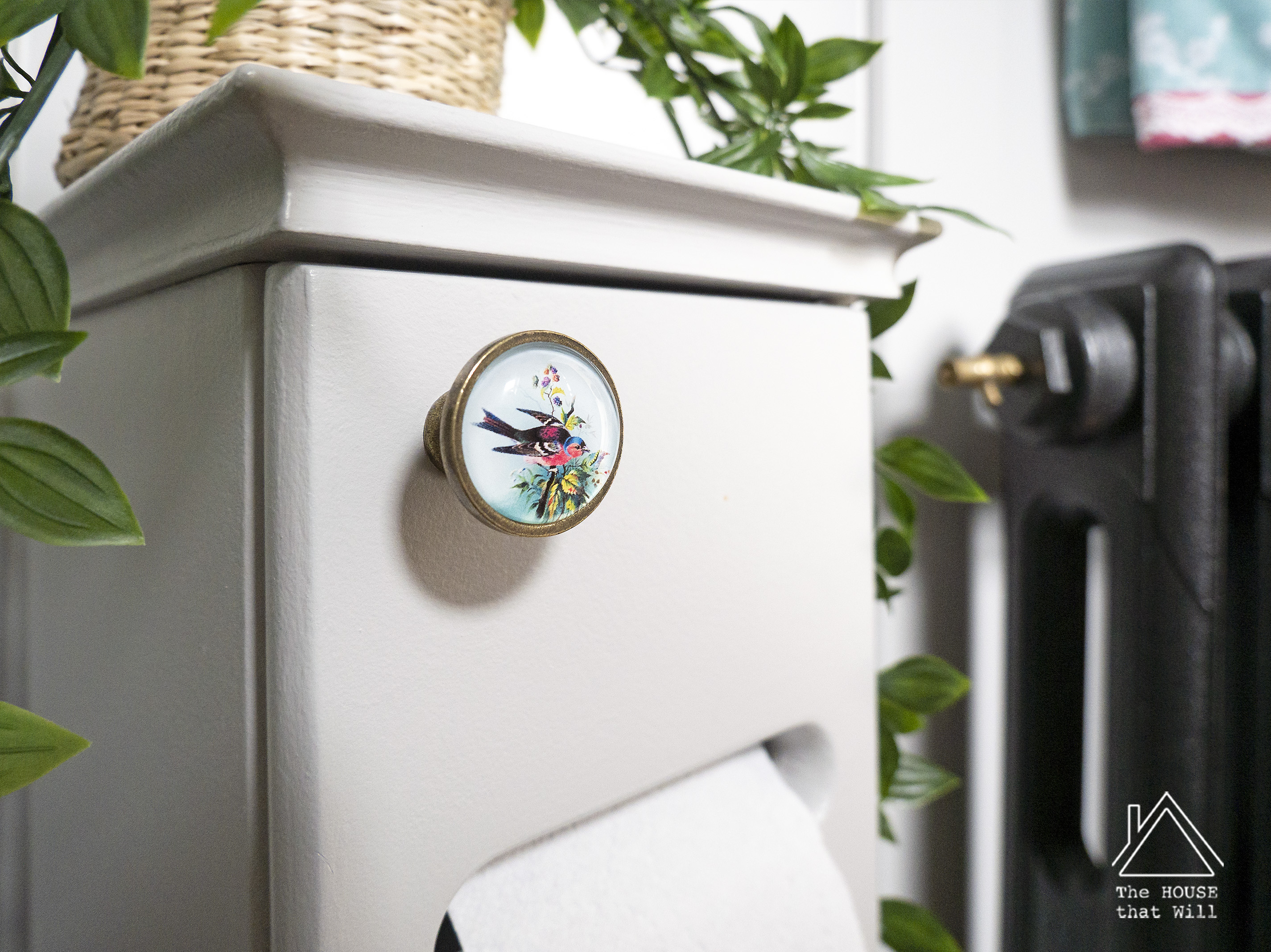 Our downstairs loo is located off our utility room (see Week 2 for more about the change in room layout), which meant that guests often opened the wrong door and walked into our hot press (airing cupboard) by accident. To avoid confusion, I bought a cute little ceramic WC plaque to put on the outside of the door. Sadly I haven't been able to install it yet because I changed my mind about the colour of the woodwork in the utility room, and so the other side of our loo door is still waiting to be painted!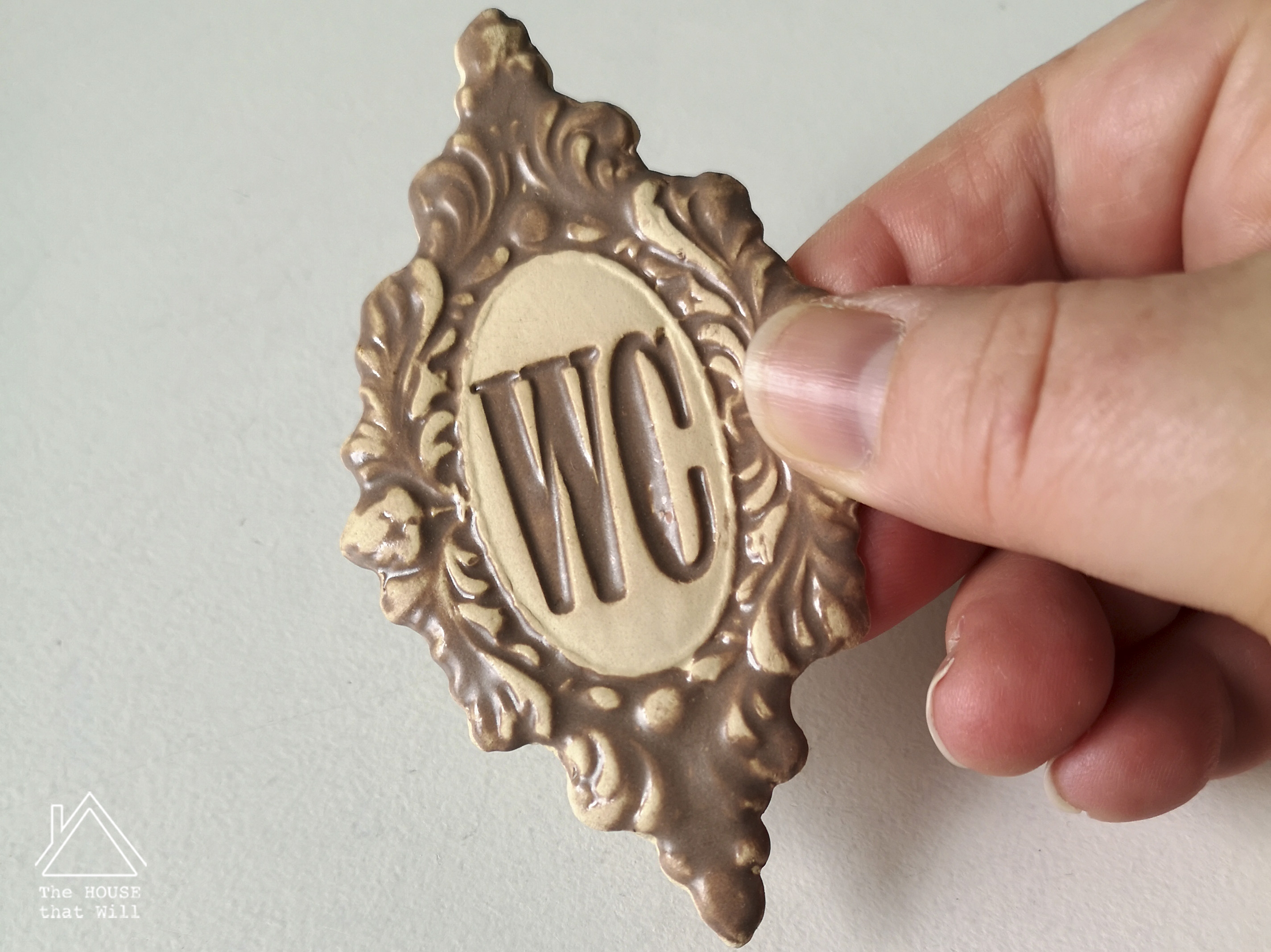 Speaking of room layout, we also reversed the swing of the door so that it now opens in the opposite direction. This means that it can no longer collide with the adjacent door to the hot press, which was frustrating when it happened. We also built an entire new wall in here so that we could hide plumbing for a future laundry room we are planning. We only lost 4.9cm (less than 2") off the room to create a whole lot more functionality in this part of our house.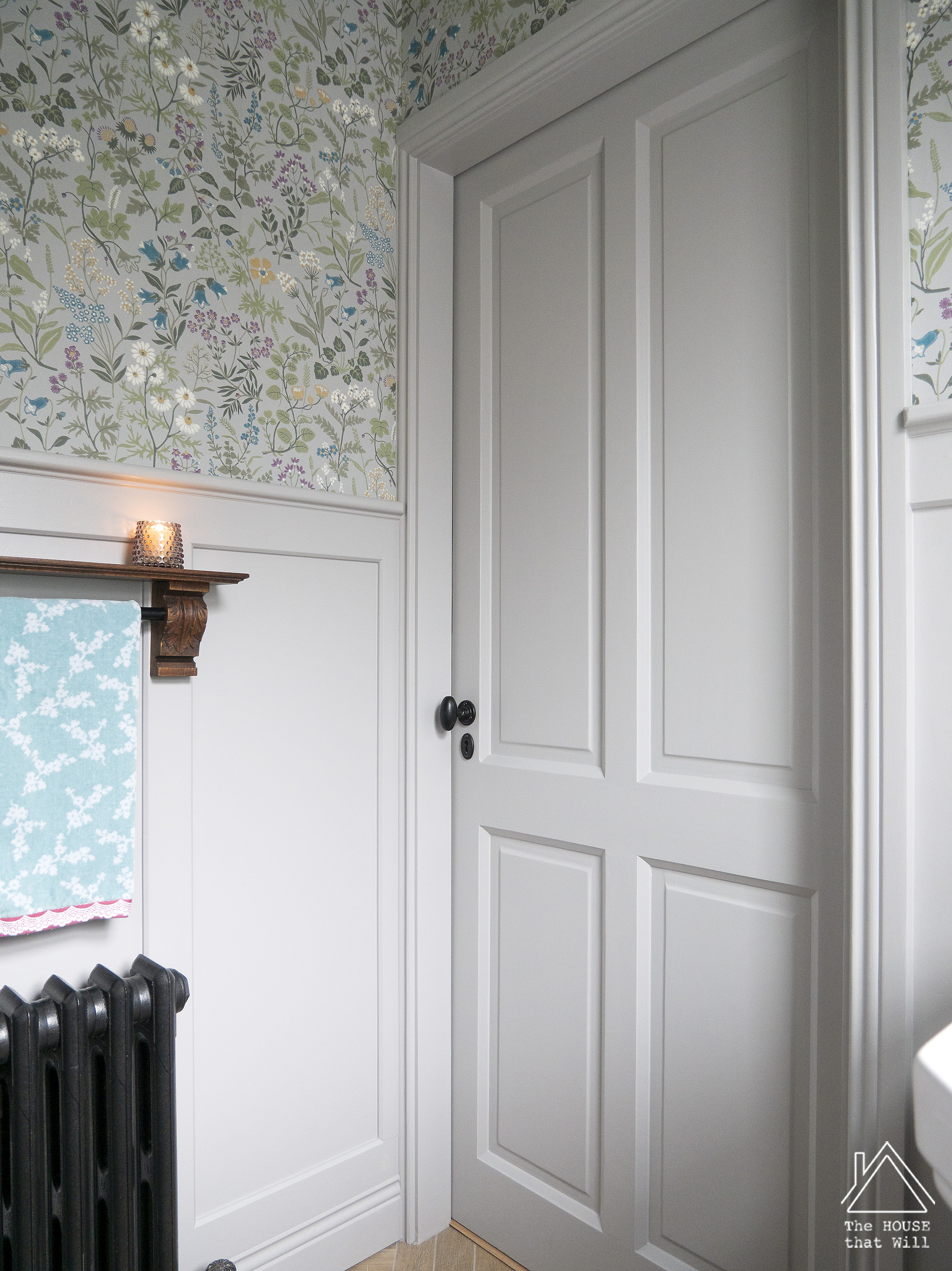 However, it's not all about practicality in this room, and I really embraced my frivolous side with the accessories. One of my favourite things are these little ceramic mice that sit atop the dado rail in the corner.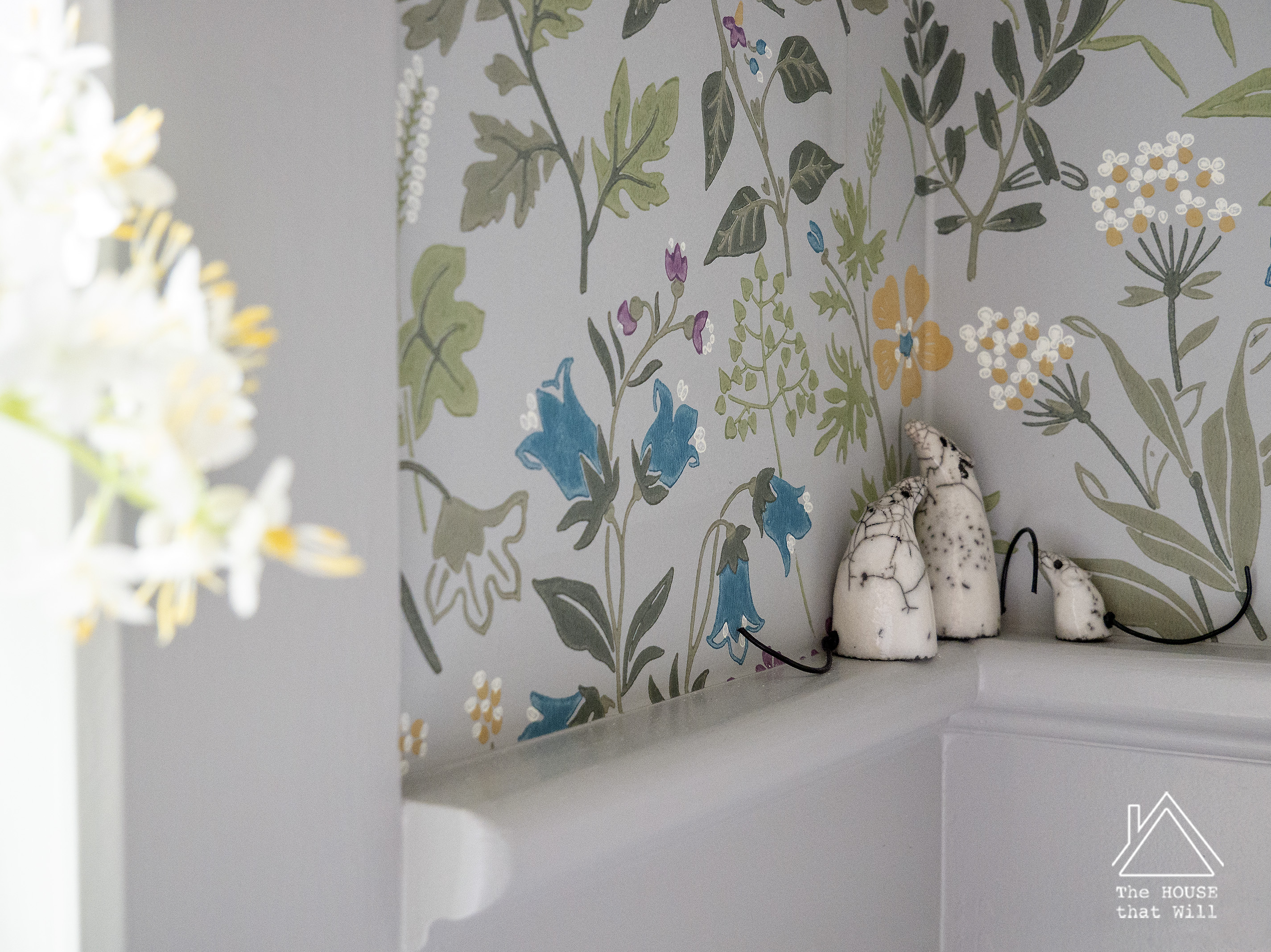 I also really love the drawing on the wall that my Hubby did when he was still in school! The artwork above it is a sculpture of hydrangea blossoms made out of fish scales; a souvenir of a holiday in the Açores.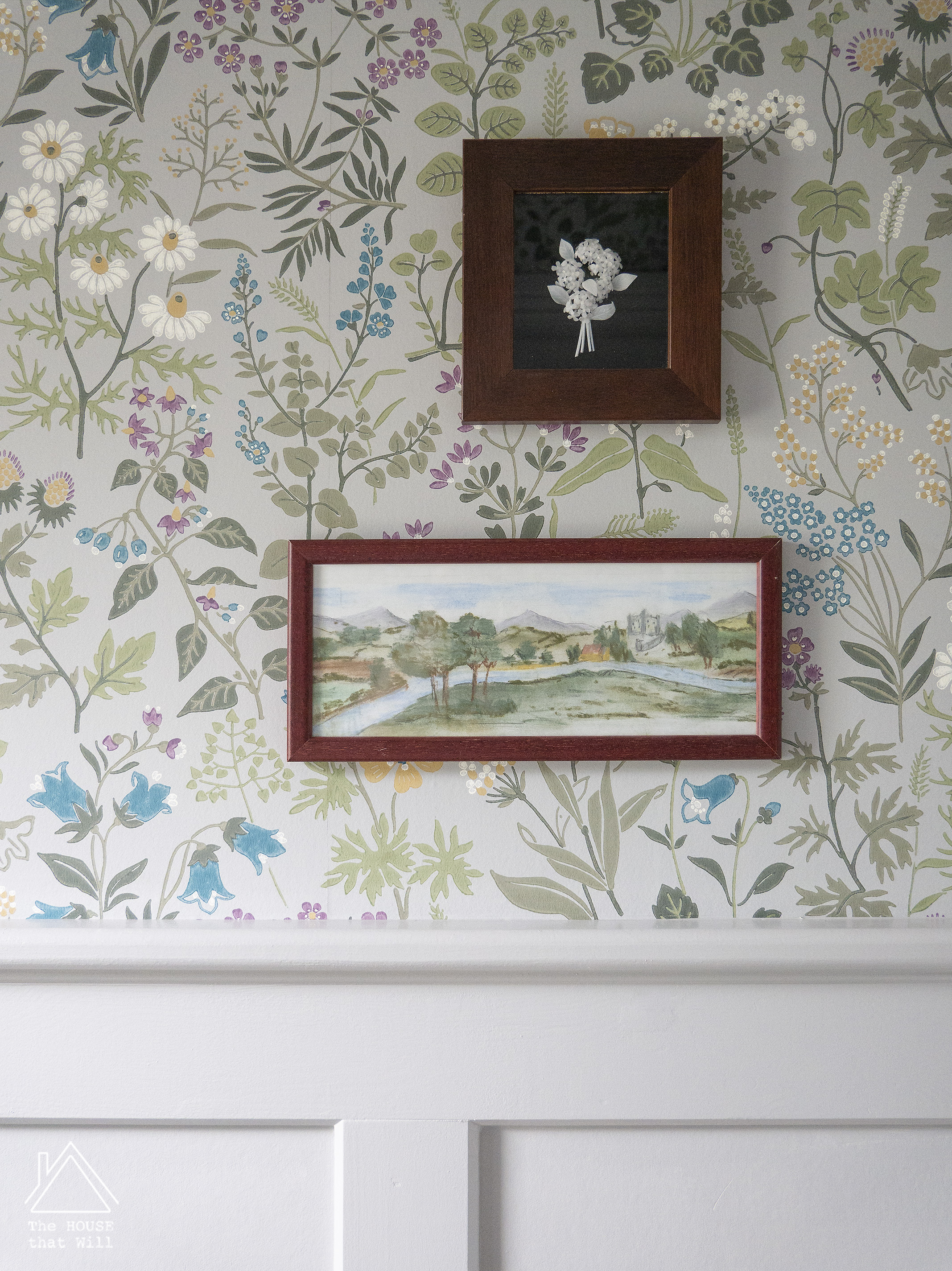 Scent is also a very important aspect of my home, and I choose only natural fragrances. A copper bowl of amber pot pourri sits on the windowsill, and the shelf opposite holds a terracotta urn filled with pot pourri made in the Florentine hills.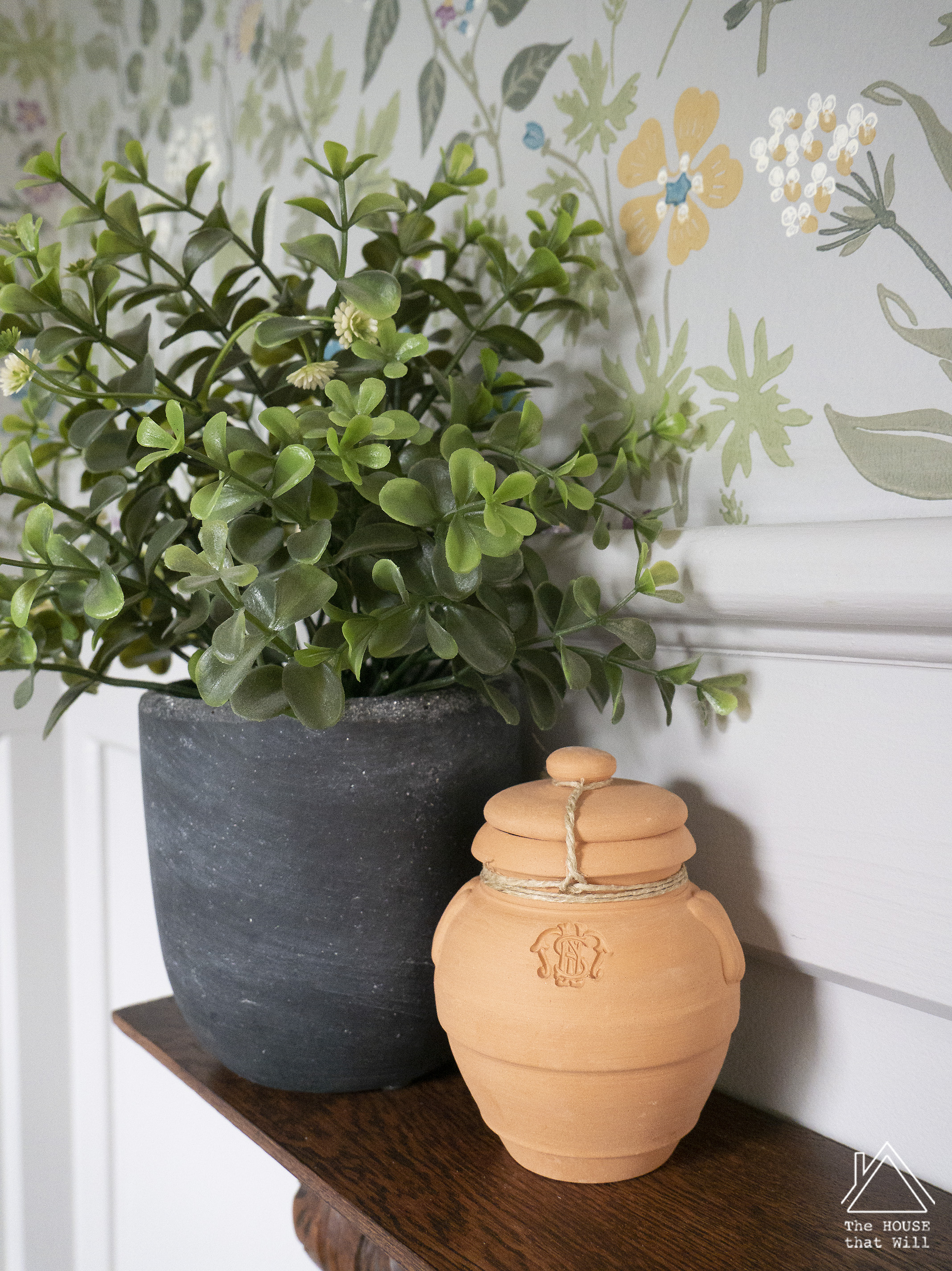 Before and After
Finally, I simply cannot let you go without some good before-and-after pics!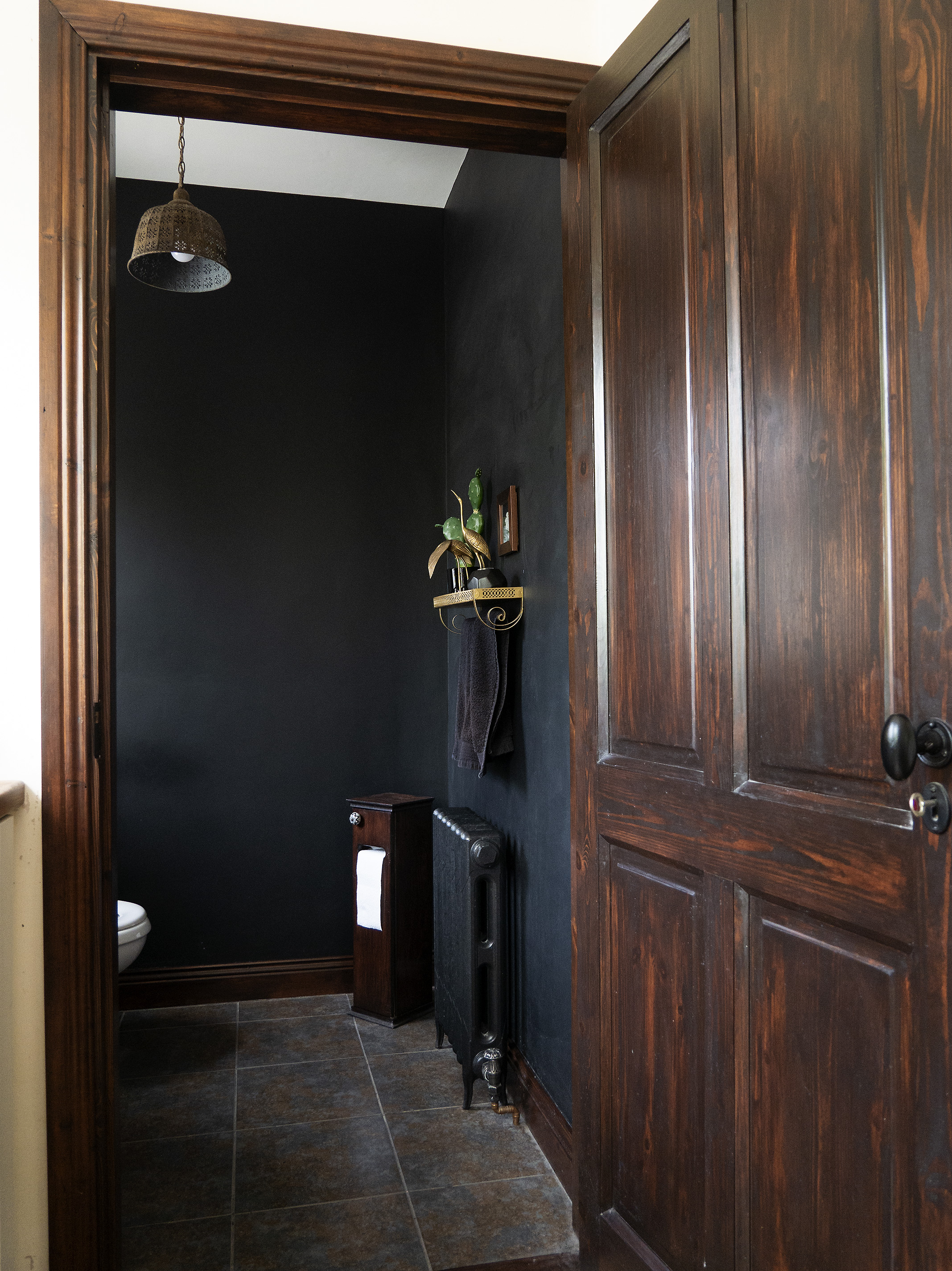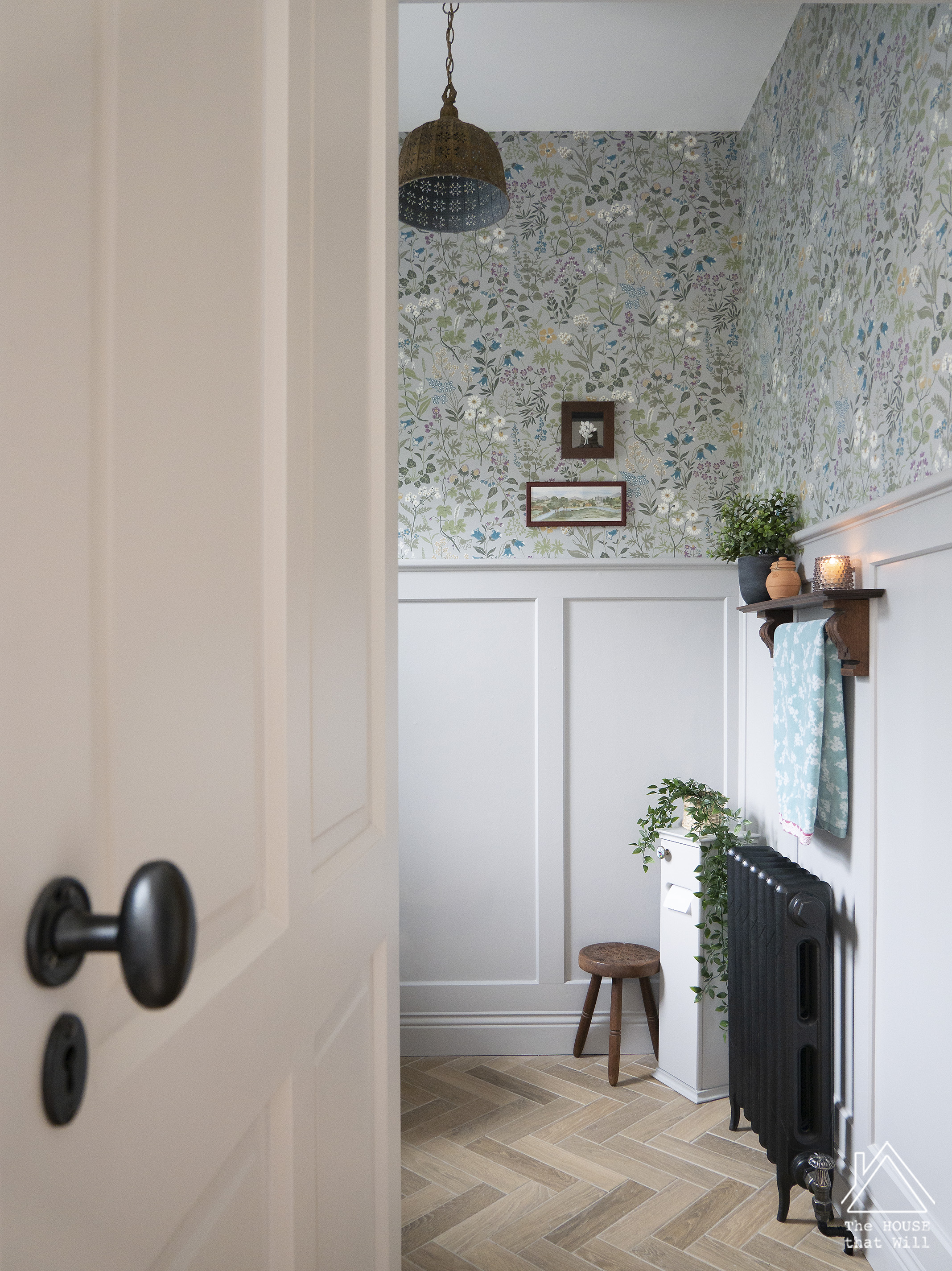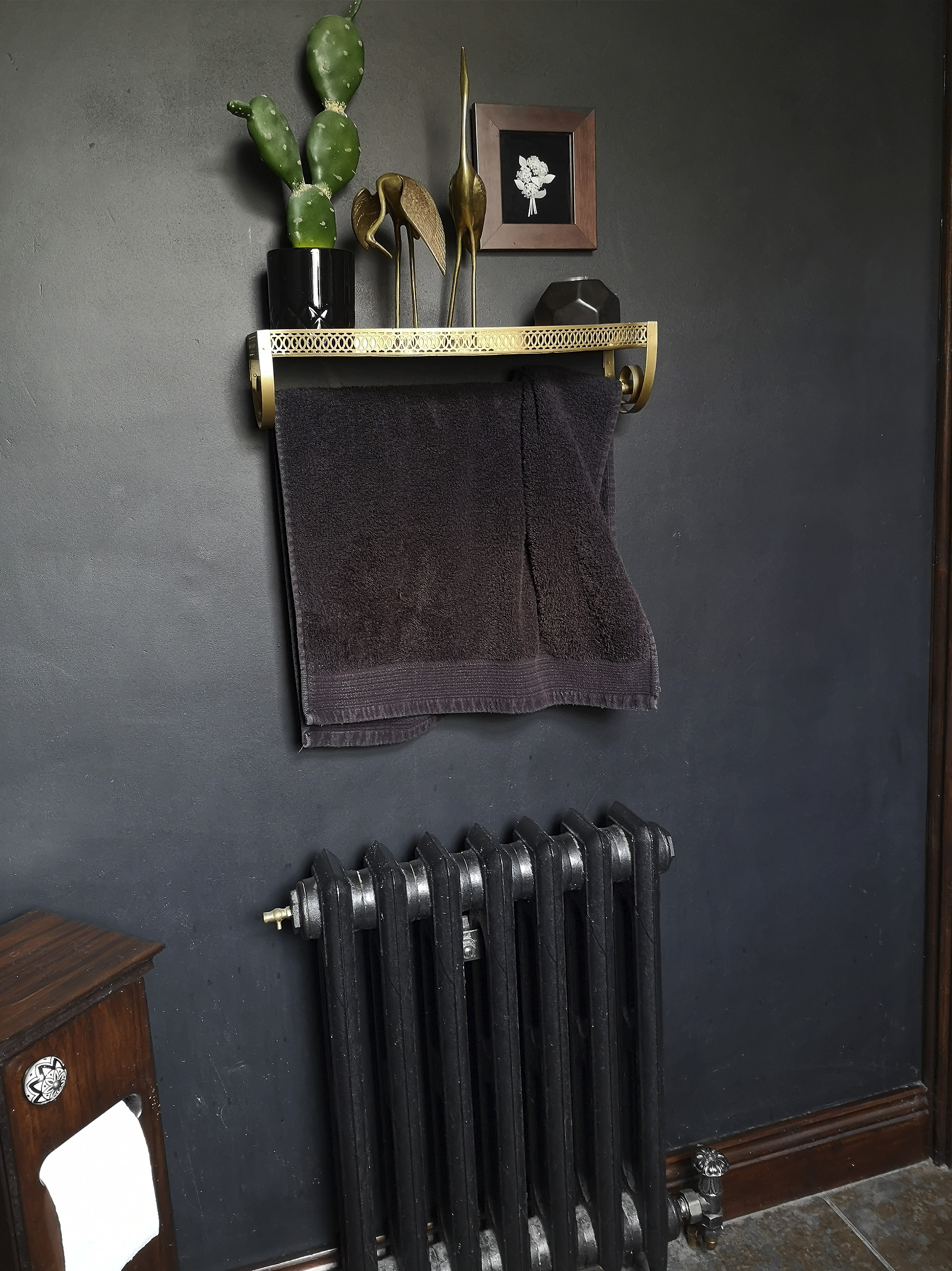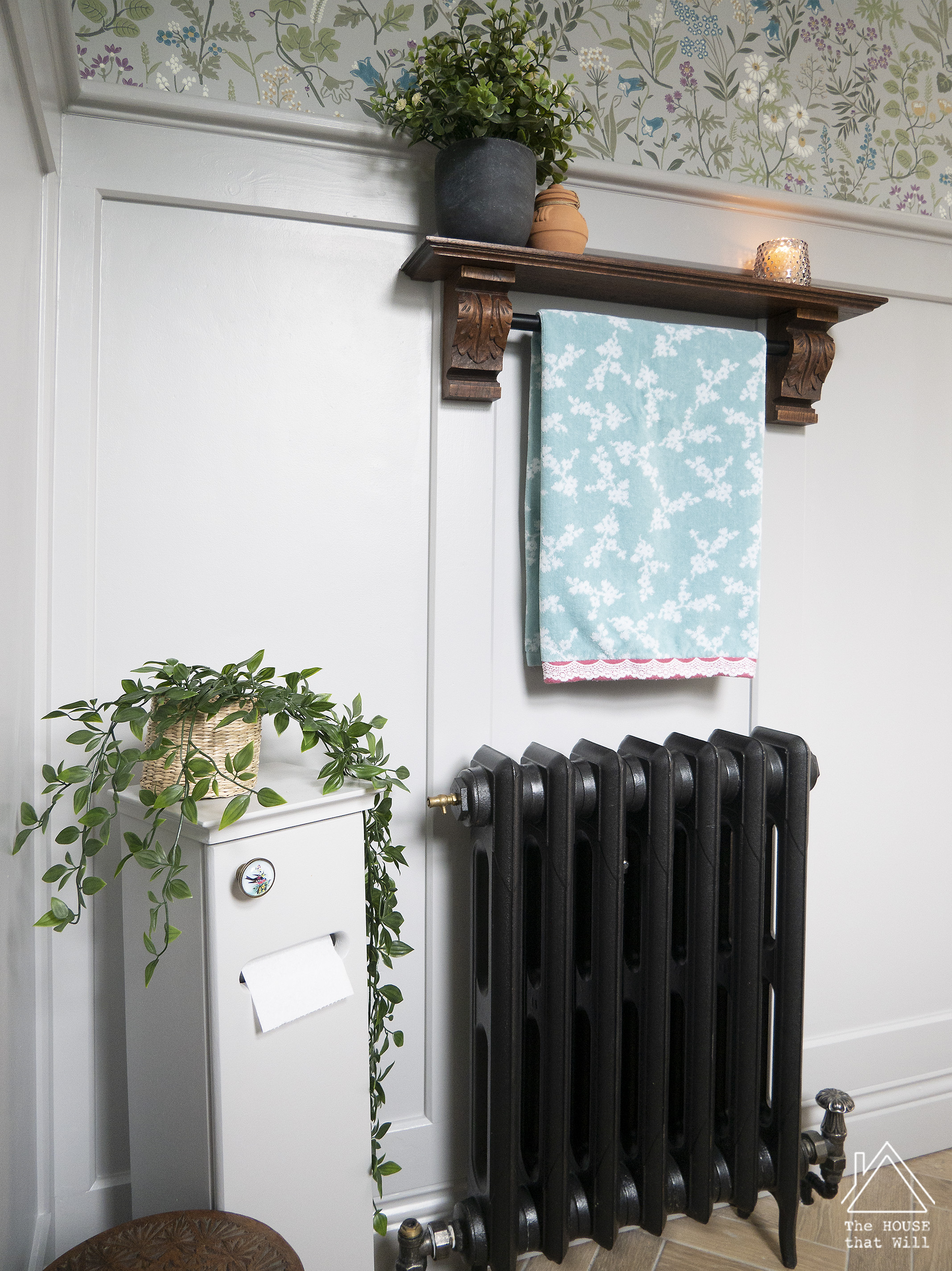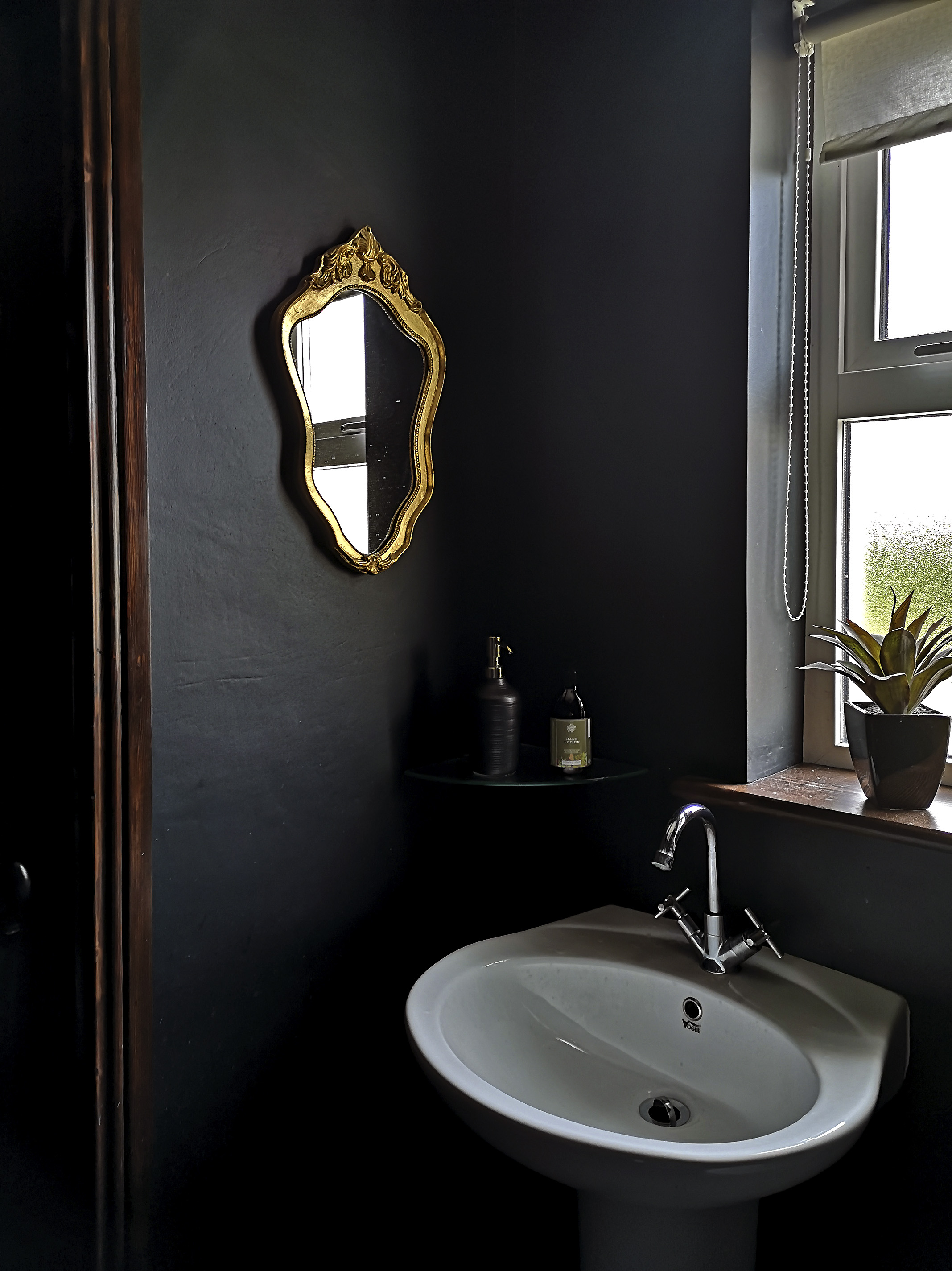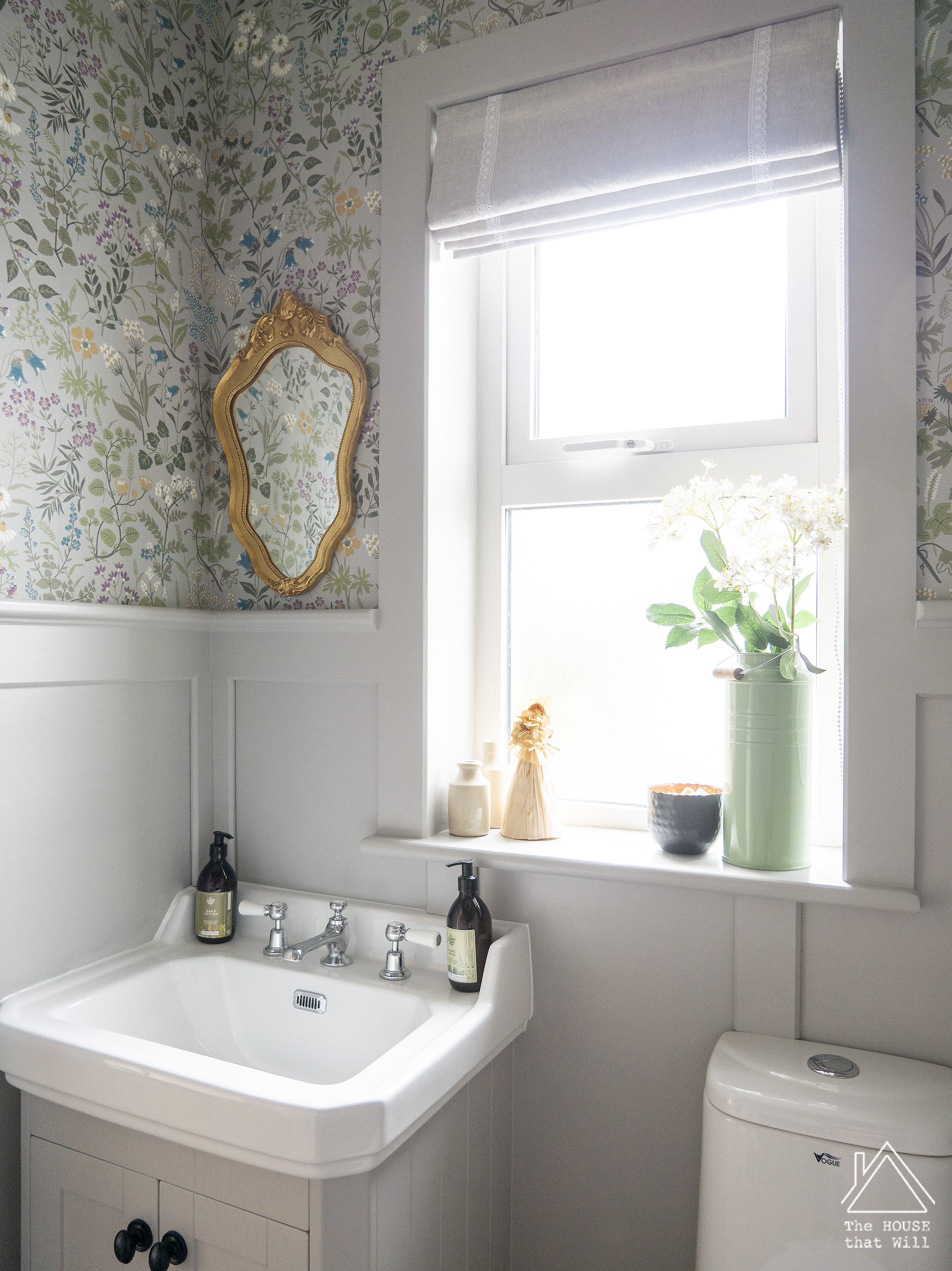 Thank you so much following the progress of our loo makeover during the past eight weeks, and I hope you will visit again to see my next big (or small!) project.
SOURCES:
Flooring: Faubourg Chêne (oak-effect porcelain) tiles from Cutting Edge Tiles (Galway)
Wallpaper: Boråstapeter Jubileum Flora in the grey colourway from wallpaperdirect.com
Pendant Light: Persia Pressed Metal Ceiling Light from Bowley & Jackson (Yorkshire & Online)
Towel rail: A DIY project from salvaged wood
Roman Blind: A DIY project - see my tutorial here
Roman Blind Fabric: Fabric Outlet (Newbridge)
Lace Trim on Roman Blind: AnFabric on Etsy
Mirror: Antique from The Gaiety (Westport)
Toilet: [Old stock] Havari by Vogue Bathrooms from Keane & Co. Ltd. (Loughrea)
Sink & cabinet (vanity): [Customised paint colour & door knobs] Old London from Wholesale Domestic (Scotland & Online). Similar available from Cutting Edge Tiles (Galway) and Tuam Heating & Plumbing (Tuam)
Tap/Faucet: Hudson Reed Chrome Topaz tap set for 3 tap hole basin mixers from Wholesale Domestic (Scotland & Online)
Paint: Pat McDonnell Paints (Galway & Nationwide) and The Paint Hub (Carlow & Online)
Handtowel: [Old stock] Carolyn Donnelly collection at Dunnes (Nationwide)
Cast Iron Radiator: Cast Iron Radiators (UK & Online)
Toilet Roll Cabinet:[Upcycled] McDonogh (Galway)
Bird Doorknob (on toilet roll cabinet): The Gaiety (Westport)
Ceramic Mice Ornaments: Annabel Langrish
Handmade WC Ceramic Door Plaque: Light Brown  (comes in other colours & styles) from EUvintage (Etsy)
Handwash & Body Lotion: Lavender, Rosemary, Thyme & Mint from The Handmade Soap Company (Stockists Nationwide & Online) 
Green Metal Vase: [Old stock] Socker (set of 2) from Ikea (Dublin, Belfast & Online)
Amber Pot Pourri: Côté Bastide
Pot Pourri in Terracotta Urn: Santa Maria Novella (Dublin & Online)
Cut Glass Votive: [gifted] Jysk (Nationwide)
Carved Stool: Antique
Faux Trailing Plant: Fejka from Ikea
Basket: Ljusnan from Ikea
Faux Potted Plant: TK Maxx

You may also like:
One Room Challenge: Guest Ensuite Reveal
One Room Challenge: Sun Lounge Reveal
One Room Challenge: Library Reveal
One Room Challenge: Craft Room Reveal