This is a two-sided tale; one of triumph and tribulation. It would be nice if every project I shared on the blog was an astounding success story, but home ownership is not like that. I'm sharing this in the hope that others can learn from our mistake and also because, along the way, I discovered a great service I never knew existed.
When we moved into the house, I wanted bright surfaces in our kitchen. I chose a quartz worktop in Luna (an off-white colour) and, to complement it, Marbella limestone floor tiles. The Marbella limestone is a beautiful creamy-white colour with hundreds of tiny fossils and polished to a slight sheen. The natural variation in the limestone tile helps to conceal small particles of dust and debris, making it easy to live with on a daily basis (unlike the pure white floor tiles in our loo which showed up every speck and were impossible to keep clean). It is a gorgeous natural material and I really love it.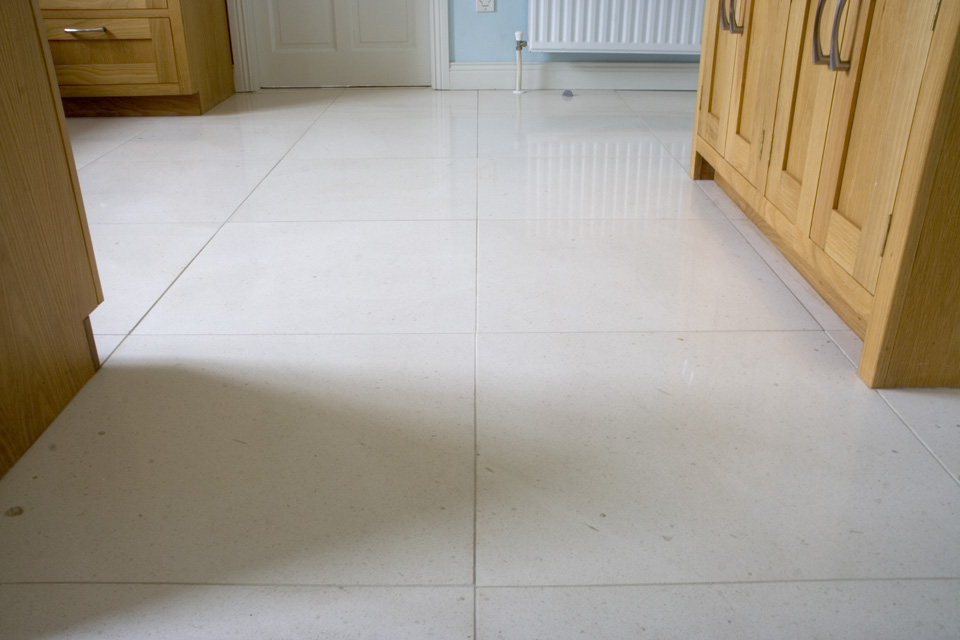 Natural stone floors do require some extra care during installation (see my guide to laying floor tiles here). As stone is porous, it needs to be sealed - on top to protect the surface from the ravages of daily life and underneath to prevent it being stained by the adhesive. After installation, only a specialist pH-neutral stone cleaner should be used to clean the floor. We followed all these guidelines and, for a few years, the floor looked great.
But, over time, our kitchen floor became increasingly difficult to keep clean. Dirt became lodged in the open pores of the stone surface, the grout lines got grubby and, more recently, I started to notice that any food or drink that fell onto the floor would stain it. It was apparent that the sealant we had applied originally had worn off (I didn't know then that some sealants can be washed off over time) and now our floor was susceptible to further damage on a daily basis.
I wasn't sure how to proceed because there was no point in re-sealing it with the dirt ingrained into it, but nothing I did would remove the dirt. I had tried every kind of cleaning solution I thought would be safe to use on the floor, I had gotten down on my hands and knees and scrubbed the entire thing with a stiff brush, and I tried steam-cleaning it. (By the way, I found out later that steam-cleaning stone can damage it, so don't try that one at home, folks.) Despite my best efforts, the floor never looked clean.
I did some investigation and discovered that stone floors can be restored. In the same way that wood floors can be sanded and re-sealed, stone floors can be honed and polished and re-sealed. This effectively involves removing the top layer of stone to reveal a fresh clean surface, making the floor like new again. Marble, limestone, slate, porcelain, terracotta, travertine, and terrazzo can all be restored in this way.
Stone restoration requires specialist equipment and should only be undertaken by a dedicated professional with the relevant expertise. It's important to understand that each material needs specific treatment - marble and limestone need to be handled differently to porcelain and granite, for example. There's also a variety of porcelains such as through-body, glazed, or colour-body (also called through-colour) porcelain that, again, cannot all be treated in the same way. Then there are surface sealers and penetrating/impregnating sealers. Beware companies offering a same-day service that involves cleaning the floor and then finishing it with a wax or polyurethane sealant: using a surface sealer on a stone floor is extremely risky, especially when the floor is damp (remember the water from cleaning will have been absorbed by the stone) as the sealant may not adhere properly or, worse, the moisture may get trapped inside the stone and cause permanent damage. Like I say, do your research and be sure you find a knowledgeable person to do the job. There are nightmare stories out there of inexperienced contractors destroying floors through lack of knowledge. 
I booked Eddie from Dunrite Floorcare to do our kitchen floor and I am very impressed by his work. Eddie is an expert who specialises in stone care, and is a tidy tradesman to boot. It's always nice to feel like your home is treated respectfully by people working in it.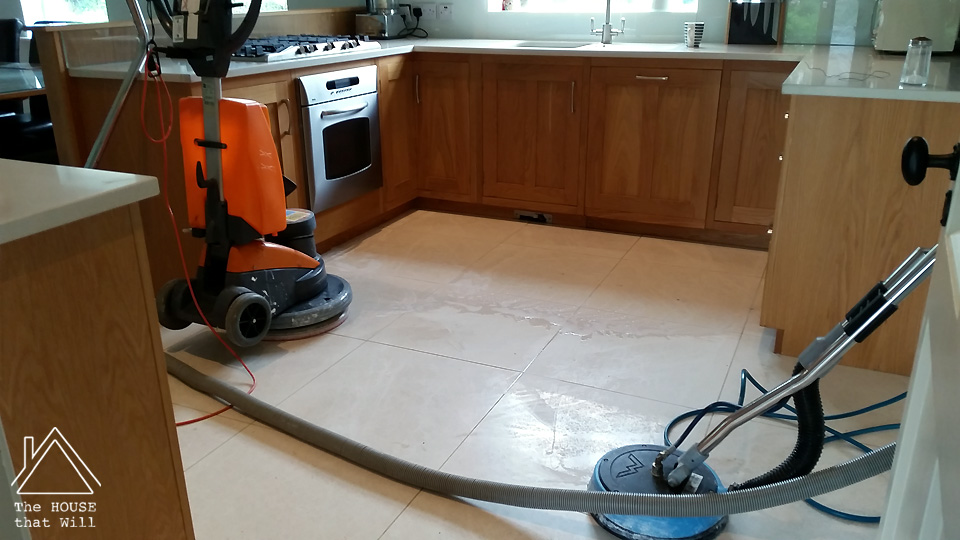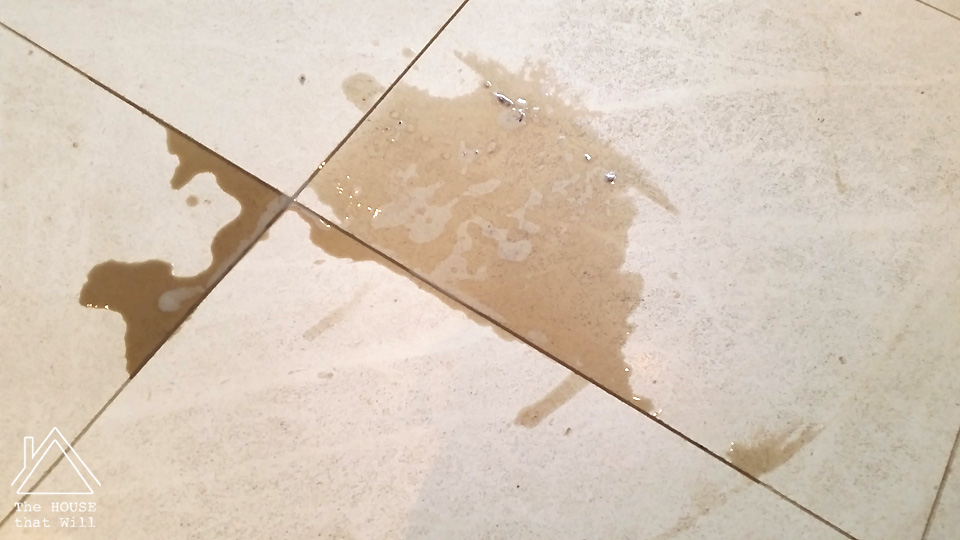 Just look at the amount of dirt that came out of the stone!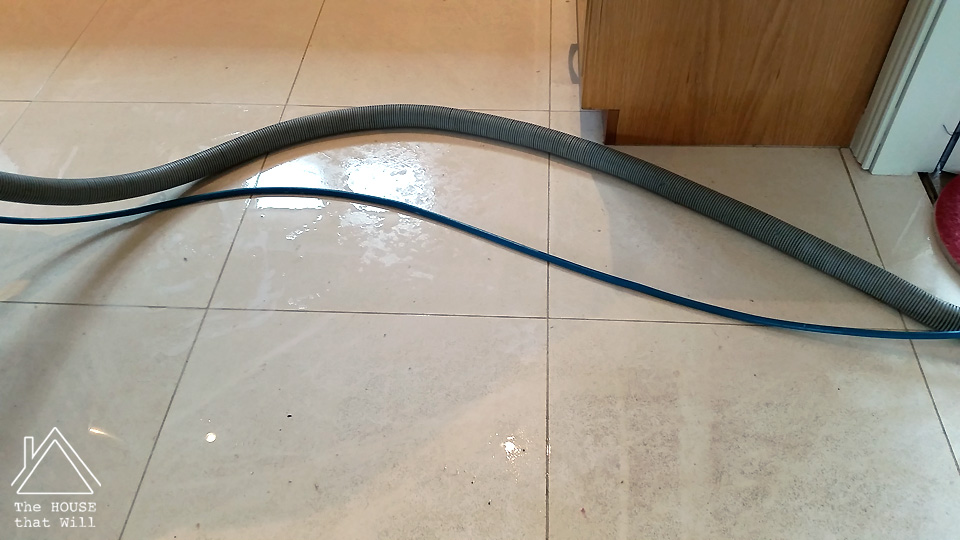 Mid-way through, you could already see a massive improvement - see that tile at bottom right compared to the rest of the floor! 
There are many natural stone products that are ideal for kitchen floors; sadly Eddie advised us that Marbella limestone is not one of them. It is particularly porous, and therefore stains extremely easily. That certainly explained why it had deteriorated so badly over the years. However, he worked incredibly hard and managed to make the floor look like new again. Check out these before and after pics ...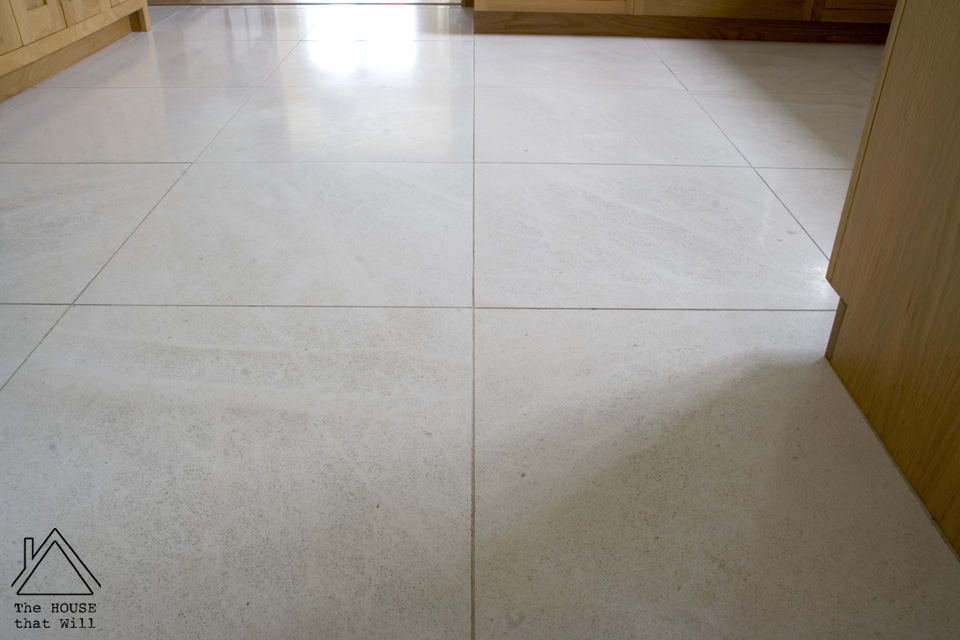 Before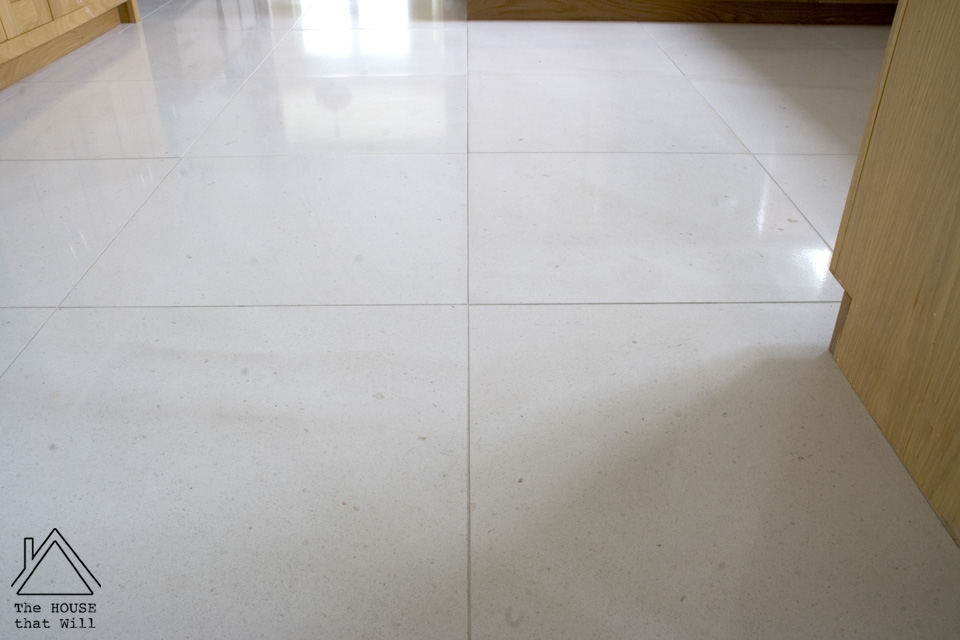 After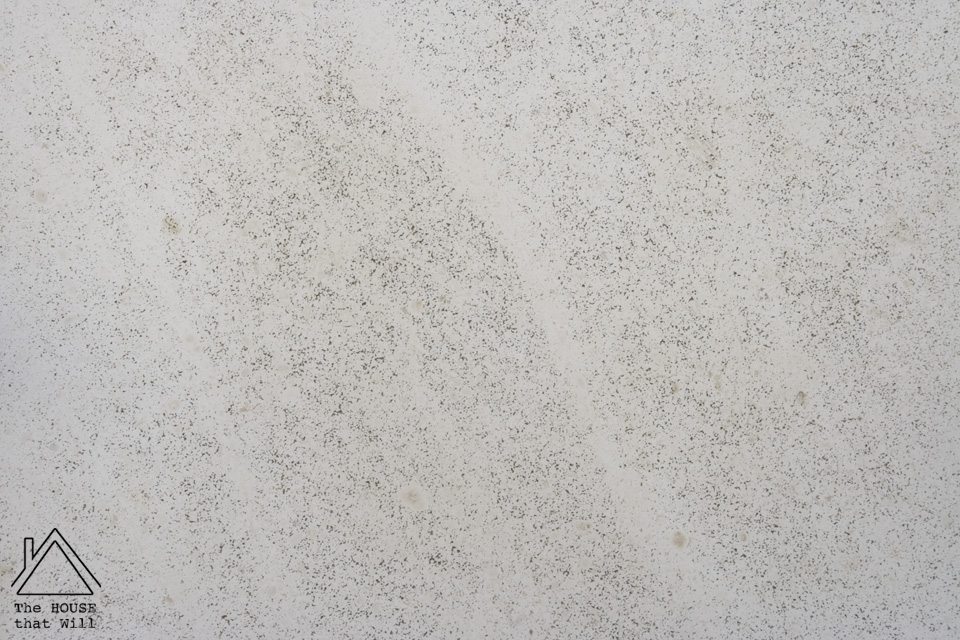 Before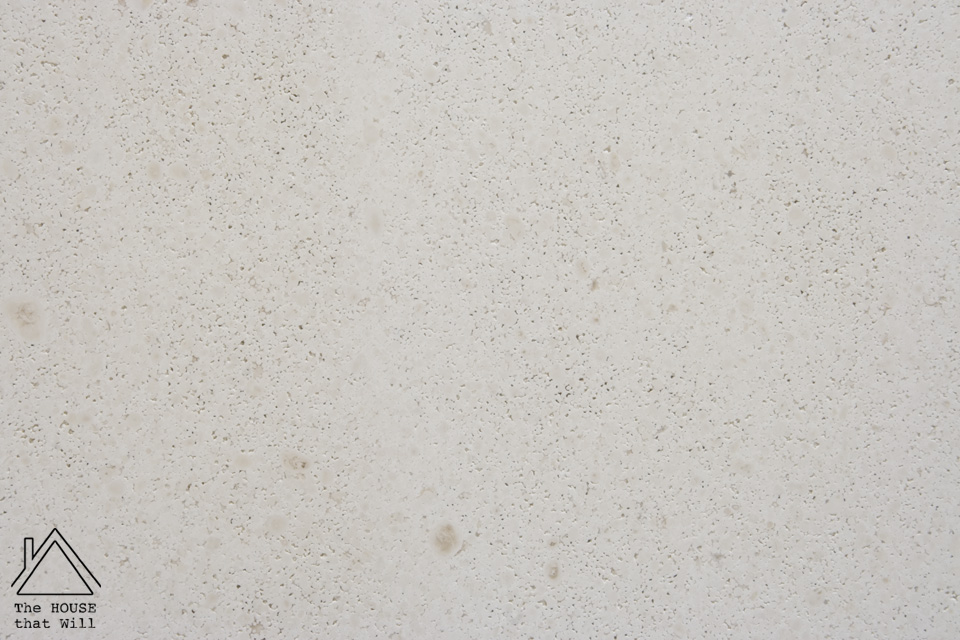 After
Even the grout lines looked really good after the deep-cleaning ...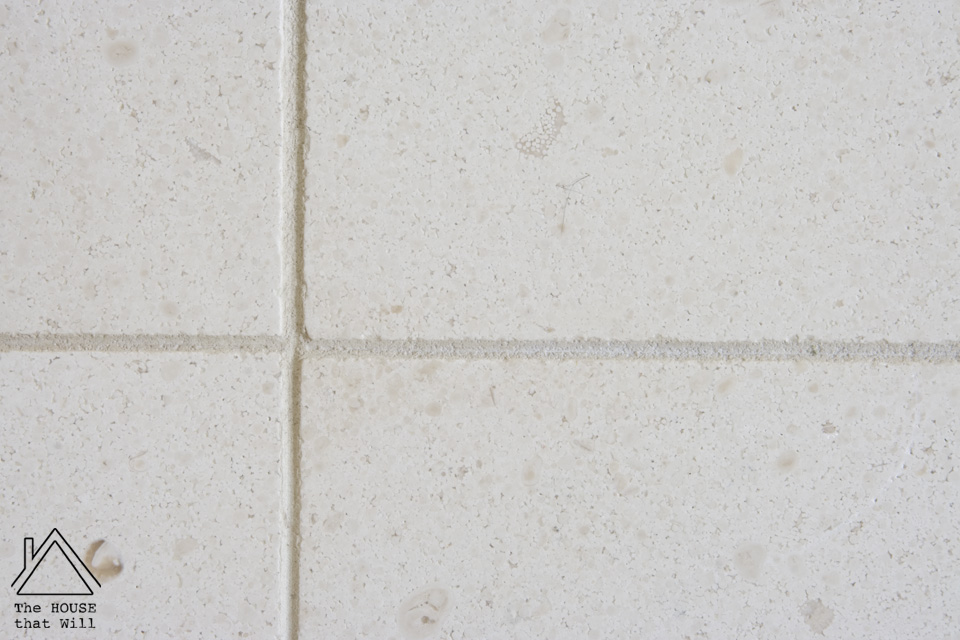 After
The difference is really amazing! The texture of the floor is still there, but those annoying blackheads (probably not the term professionals use!) are now gone.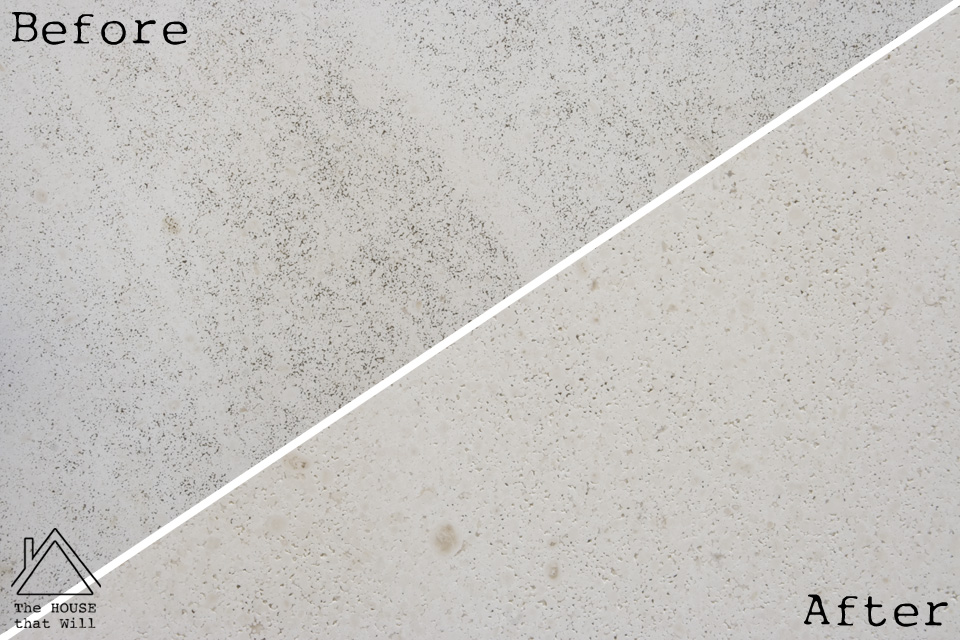 Professional stone restoration is a great way to make your hard surfaces look like new again. 
Follow The House that Will
Facebook | Instagram | Bloglovin'
Sadly, the story of our kitchen floor does not end there. The tiles continued to be difficult to maintain because the porosity of the Marbella limestone caused dirt to be pulled down into the texture of the stone. Despite the risks outlined above, we decided to apply a surface sealer. We understand that this may destroy the floor irrevocably but, honestly, the appearance of the floor was deteriorating so rapidy that it was only a matter of time before we would have had to tear it out anyway. This way, there's a chance we may be able to prolong its life. To minimise potential for permanent damage, we ensured that the floor was thoroughly dry before applying the surface sealer.
So far, so good, and I'm continuing to enjoy my beautiful good-as-new limestone floor. I'll keep you posted whether the risk pays off over time. In the meantime, learn a lesson from our mistake and do your research beforehand to ensure that you select appropriate materials for your flooring. It may look good now, but can you live with it long-term?

Related Posts:
Refinishing a Solid Wood Floor