On my wishlist for the garden is a wildlife pond. I find it so relaxing to sit by water and I know it will attract a lot of wildlife into the garden, which I enjoy watching. Obviously constructing a garden pond involves a lot of groundworks, but in the meantime I've found a simple way to introduce the magic of water to the garden.
PIN THIS!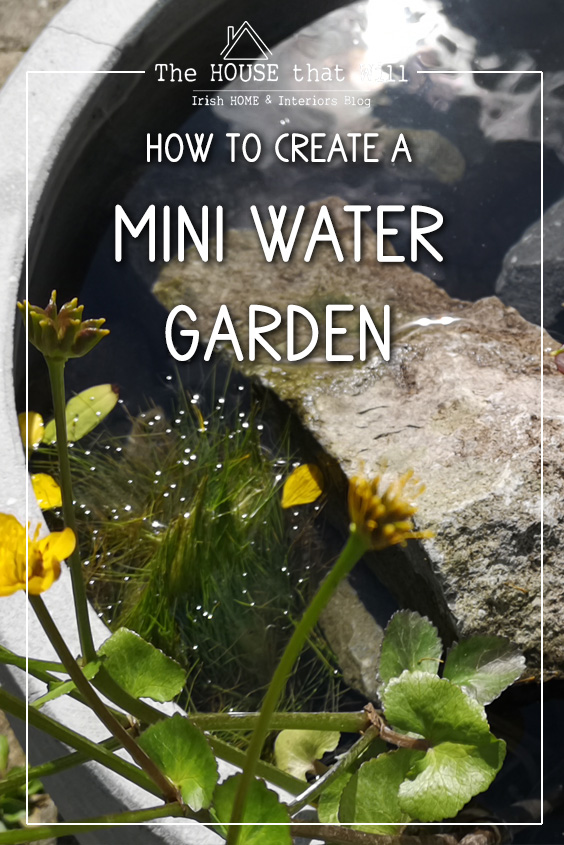 Follow The House that Will
Facebook | Instagram | Bloglovin'
Materials
Suitable container (see below)
Pebbles & stones
Selection of water plants
Waterproofing sealant (optional, depending on your chosen container)
Container
Selecting a suitable container is probably the most important aspect of this project. Obviously, it will need to be waterproof, and it also needs to be frost proof. A glazed ceramic pot will retain water naturally, but even if you buy a container made of porous material, it can be made waterproof.
The container I used was the larger pot of the Uggla set from Jysk.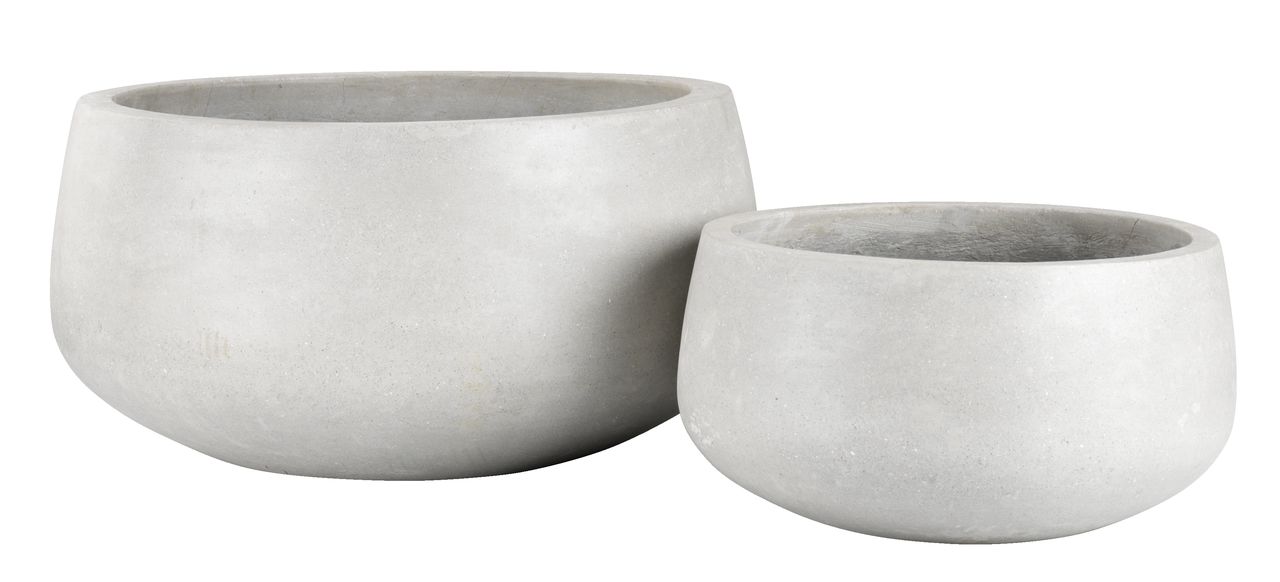 If you're not sure whether your container is waterproof, there is an obvious way to find out: fill it with water and see if it leaks! If it doesn't leak, then you can skip to the next step.
However, if, like me, your pot is not waterproof, there are ways around that. My container was made of porous material and also had a couple of microfractures.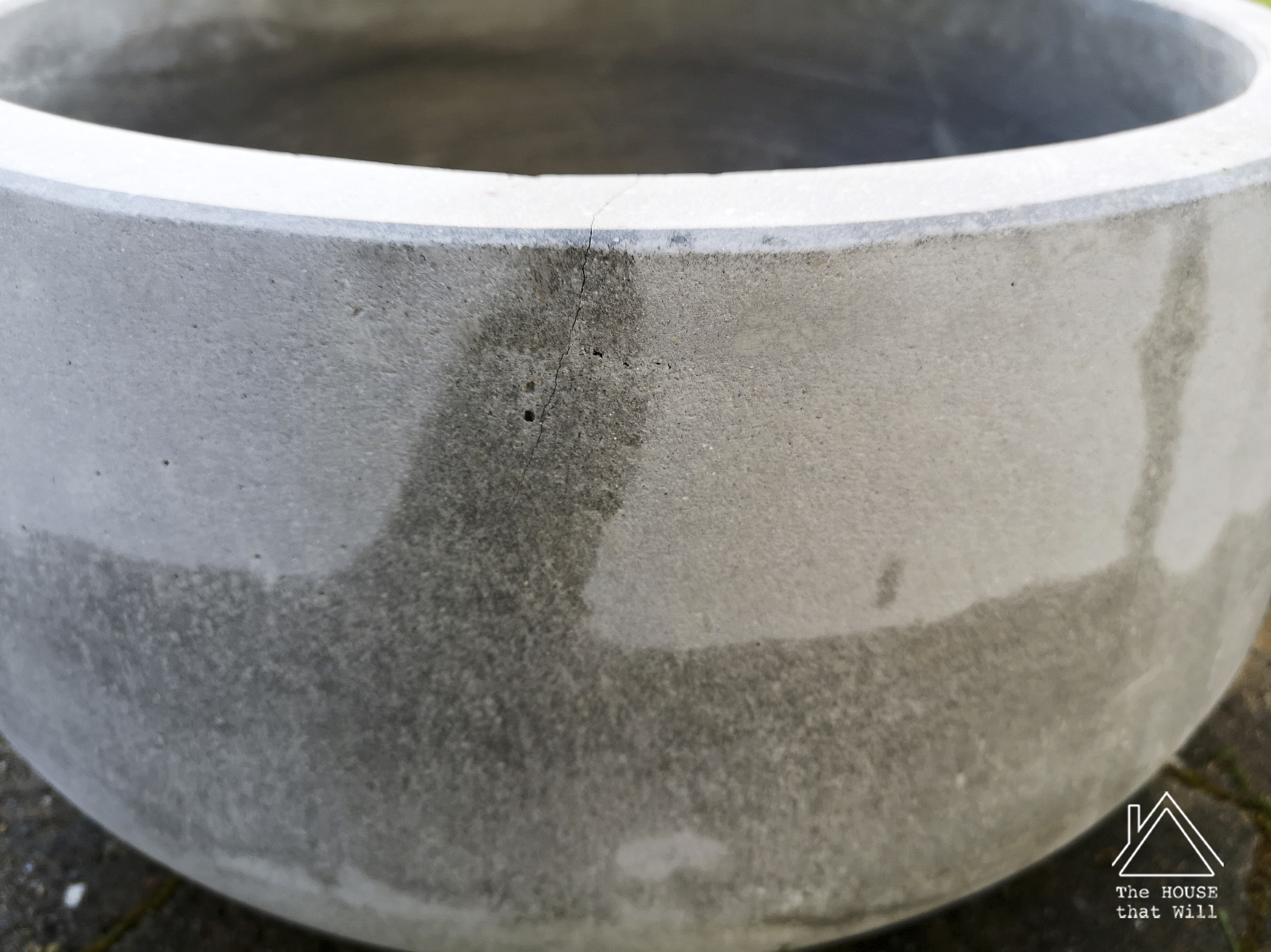 To make the material waterproof, I used some SBR compound that I had leftover from another project. This is very similar to PVA glue (the stuff kids use in school!), the main difference being that SBR becomes waterproof when it dries. Although it sounds kind of exotic, SBR is often used to seal or bond concrete, and so it is widely available at farm suppliers and hardware stores.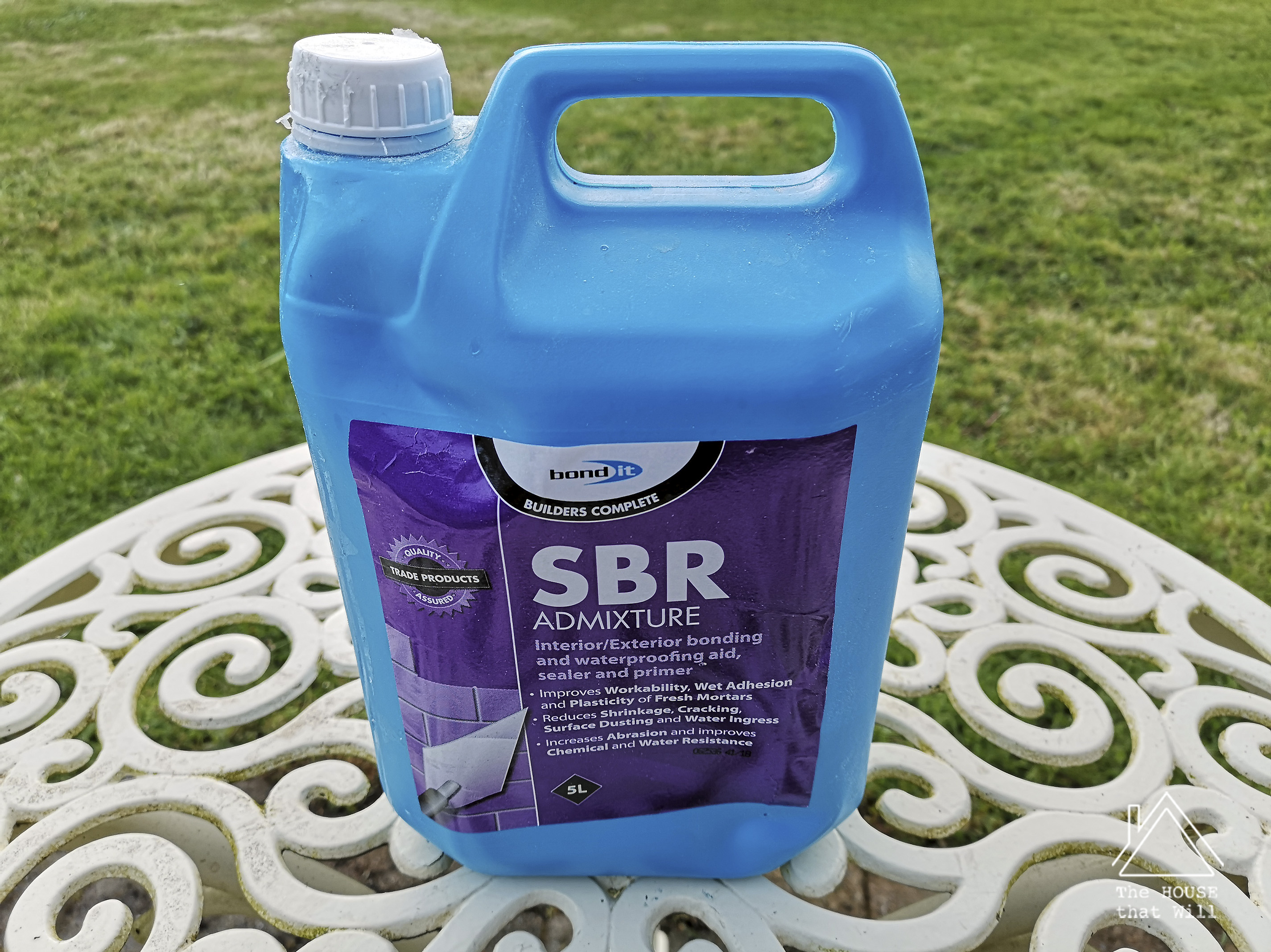 I diluted it as per the instructions and then painted the inside of the pot with it.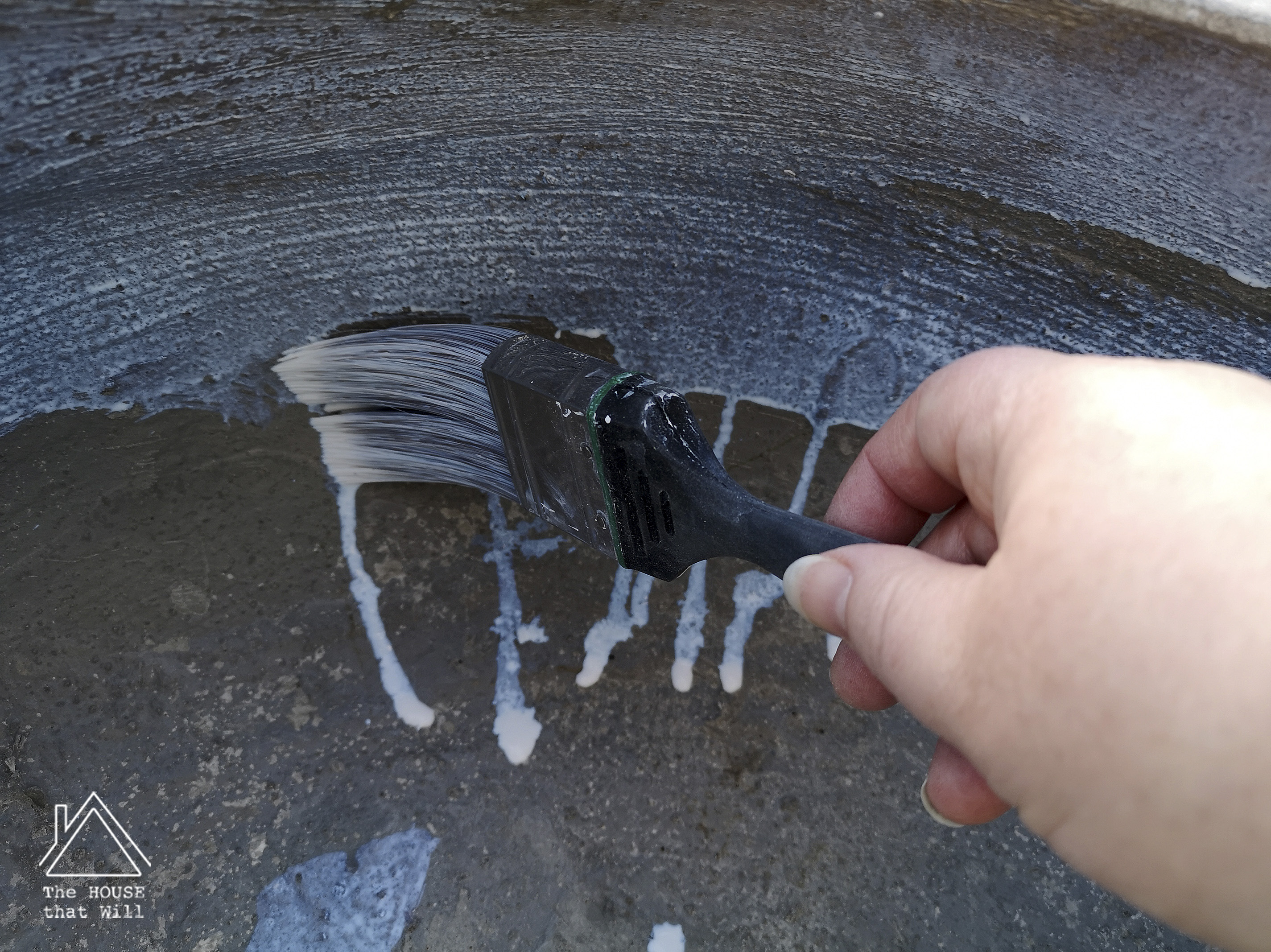 Like me, you may find that your container is designed for plants, which means that it has a drainage hole in the bottom. Obviously, that also needs to be blocked up. For that, I used Tec7, which is a waterproof adhesive/sealant. I also used the Tec7 to seal up the microfractures in the sides of the pot. I applied the sealant with a sealant gun, and then used my finger (wearing a rubber glove!) to smooth it out. You can find waterproof sealants in the plumbing section of the hardware store.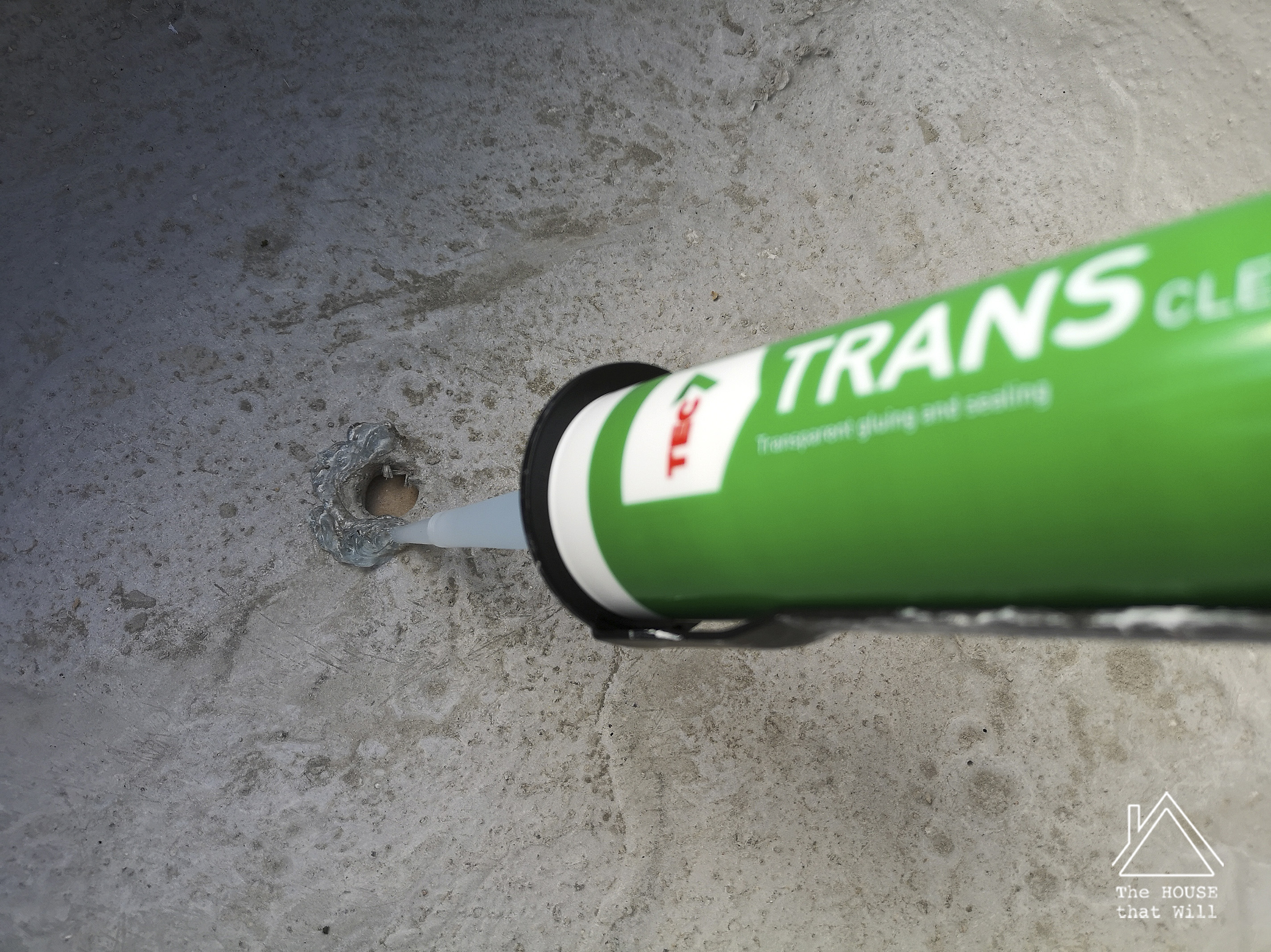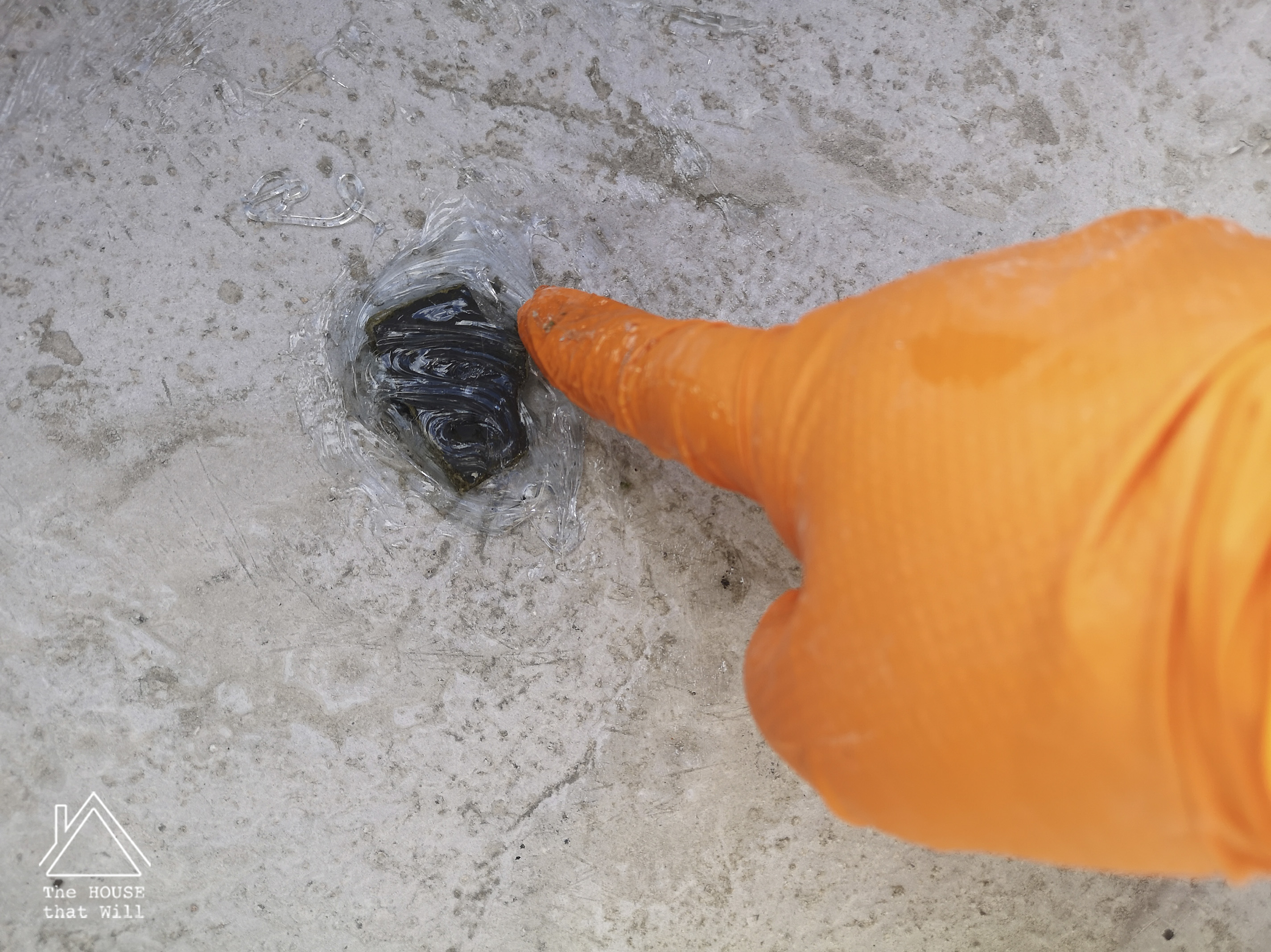 I did also add a chip of old roof slate across the bottom of the pot to make it easier to seal the hole (seen in above photo).
Landscaping
I'm calling this landscaping, although obviously here we're doing it on a miniature scale. Landscaping the water garden is important for wildlife, as well as for visual appeal. I covered the base of the container with river pebbles, which I bought at the garden centre. If you buy pebbles that aren't pre-washed, be sure to rinse them before putting them into your container. Otherwise, they may make the water murky.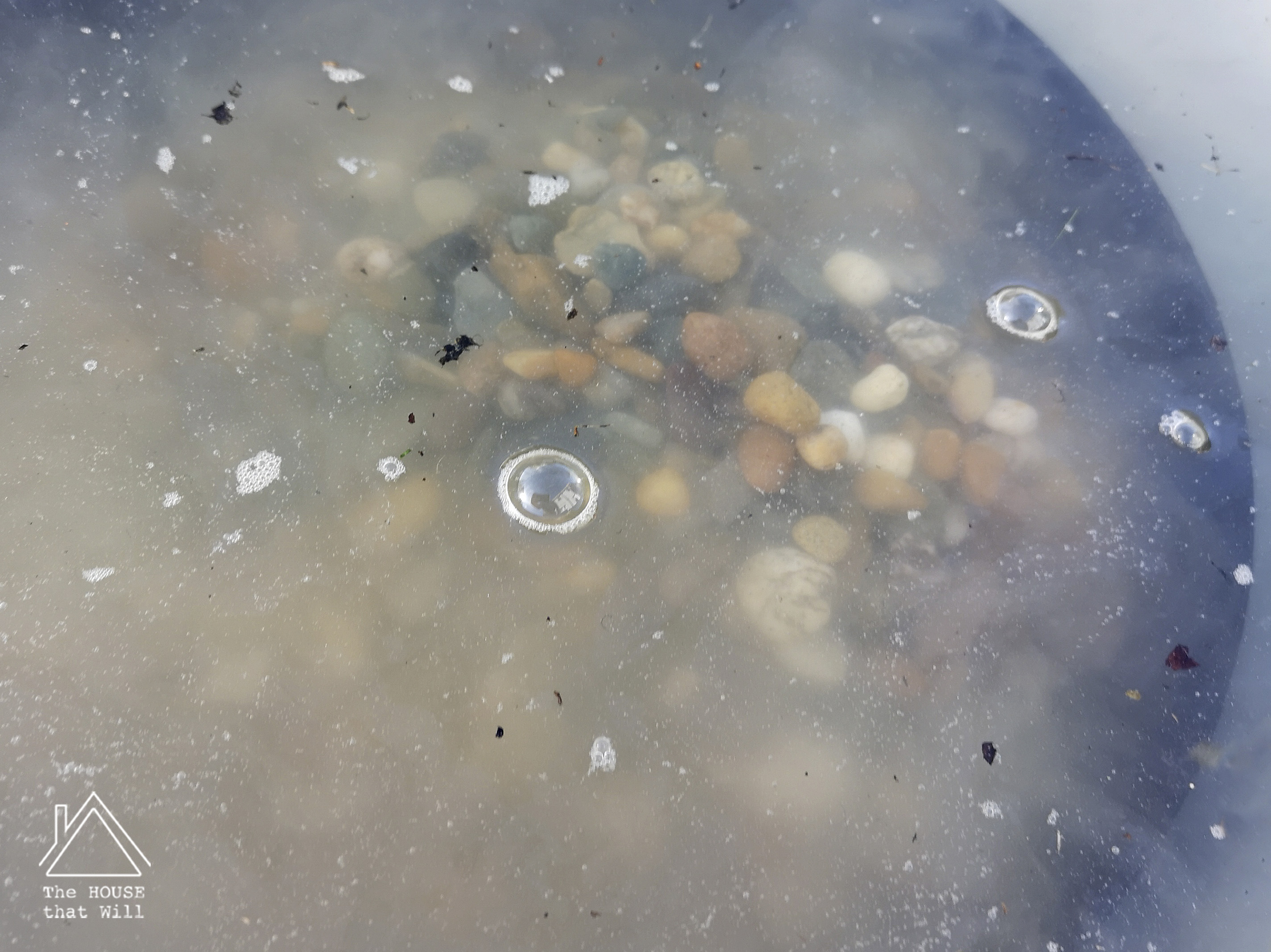 I placed the cleaned pebbles into the base of my container and began to fill it with water.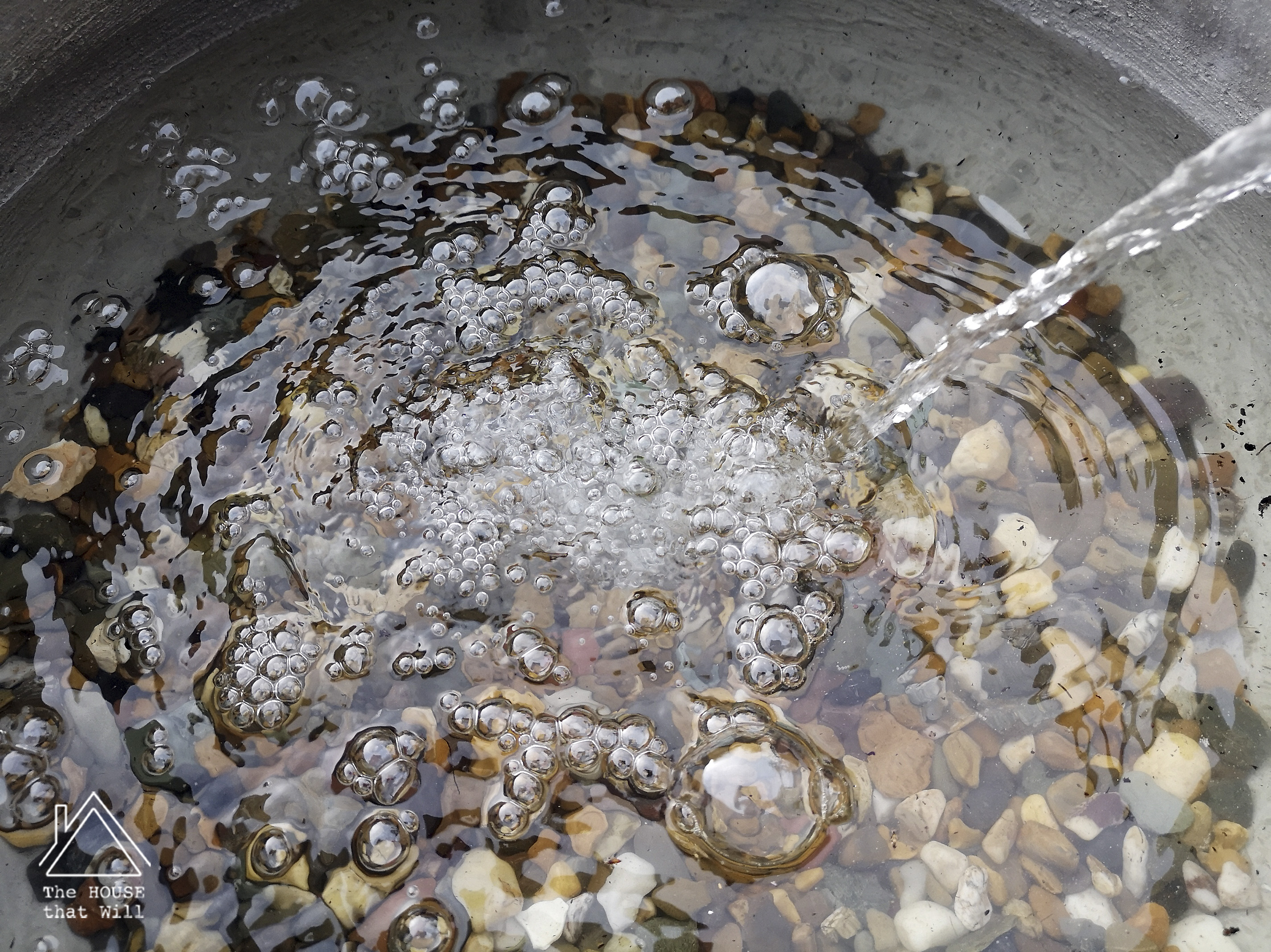 I also used a selection of stones to create a more naturalistic and safe environment suitable for wildlife ... but we'll come back to that because first I added the plants.
Plants
Obviously plants that live in water are different to those that grow in your flower bed. Simply speaking, there are three main types of water plant, and you will require at least one of each for your water garden.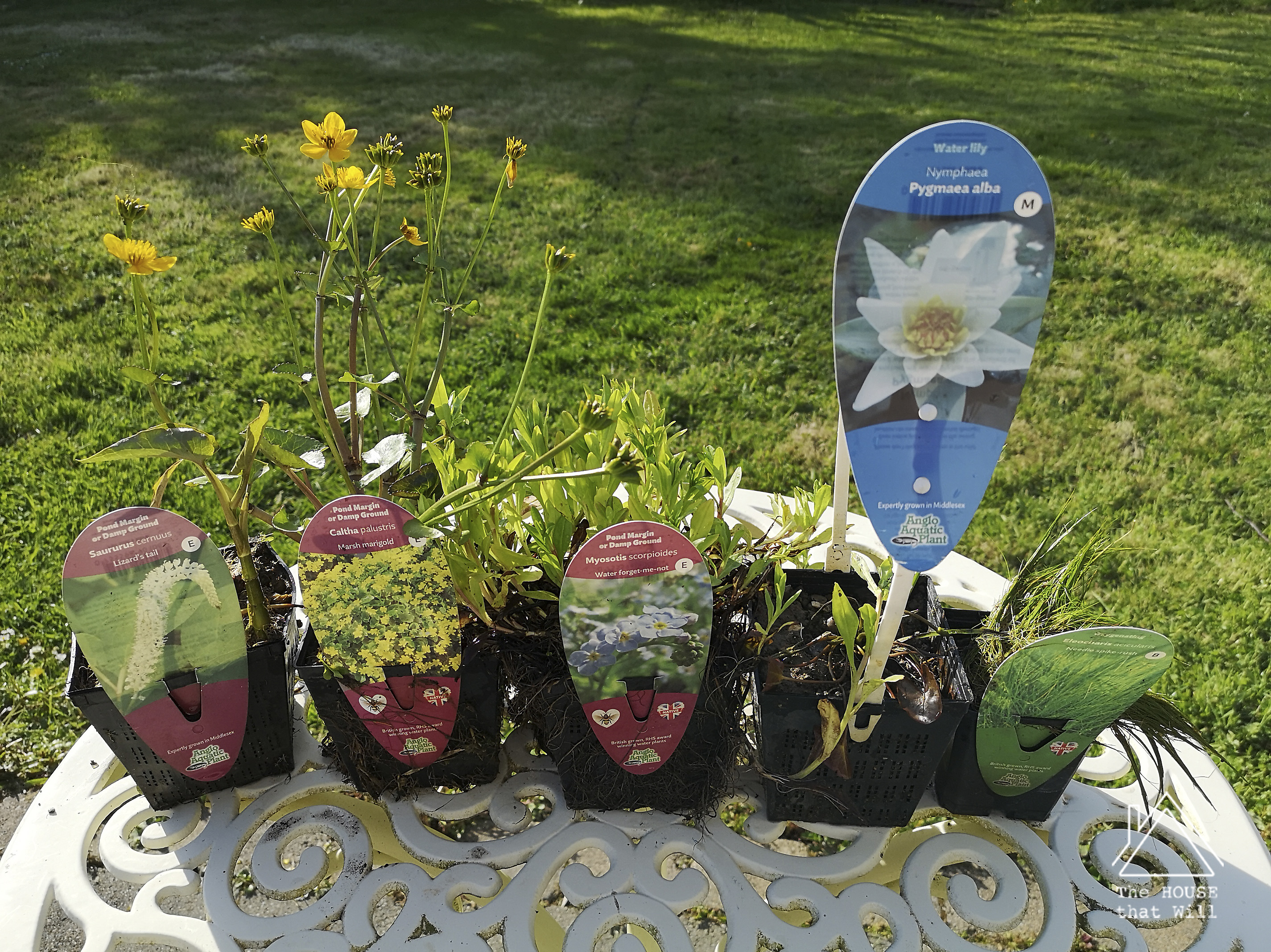 Marginals
Marginal plants live on the verges at the edge of a pond. They add height and interest, soften the boundary of the water garden, and are also where the majority of wildlife live.
Oygenators
As the name implies, oxygenating plants add oxygen to the water. This helps to keep the water clear and free of algae. Also, water with higher levels of oxygen can support more wildlife.
Floating Plants
Floating plants offer hiding places for wildlife and provide shade that helps keep the water cool in summer months. Shade also helps prevent the build-up of algae.
Do beware that some water plants are invasive, so be sure to select species that are not problematic. Your garden centre will be able to advise you about your selection of plants.
Each plant will have specific requirements as to the depth at which they can be planted. You can find this information on the plant label. I chose varieties that would be happy in the shallow water of my container.
Planting
Water plants are usually planted in baskets, rather than regular flower pots. It is important to use a specialist aquatic compost (available from your garden centre) as regular compost is high in nutrients, which will suffocate wildlife and lead to a build-up of algae in the water. However, planting in a small area like a container means you can keep all this very simple - I just left the in the pots they came in.
I began by placing my marginal plants around the edges of the pot. The plants I chose were Marsh Marigold (Caltha palustris), Lizard's Tail (Saururus cernuus), and Water Forget-Me-Not (Myosotis scorpioides).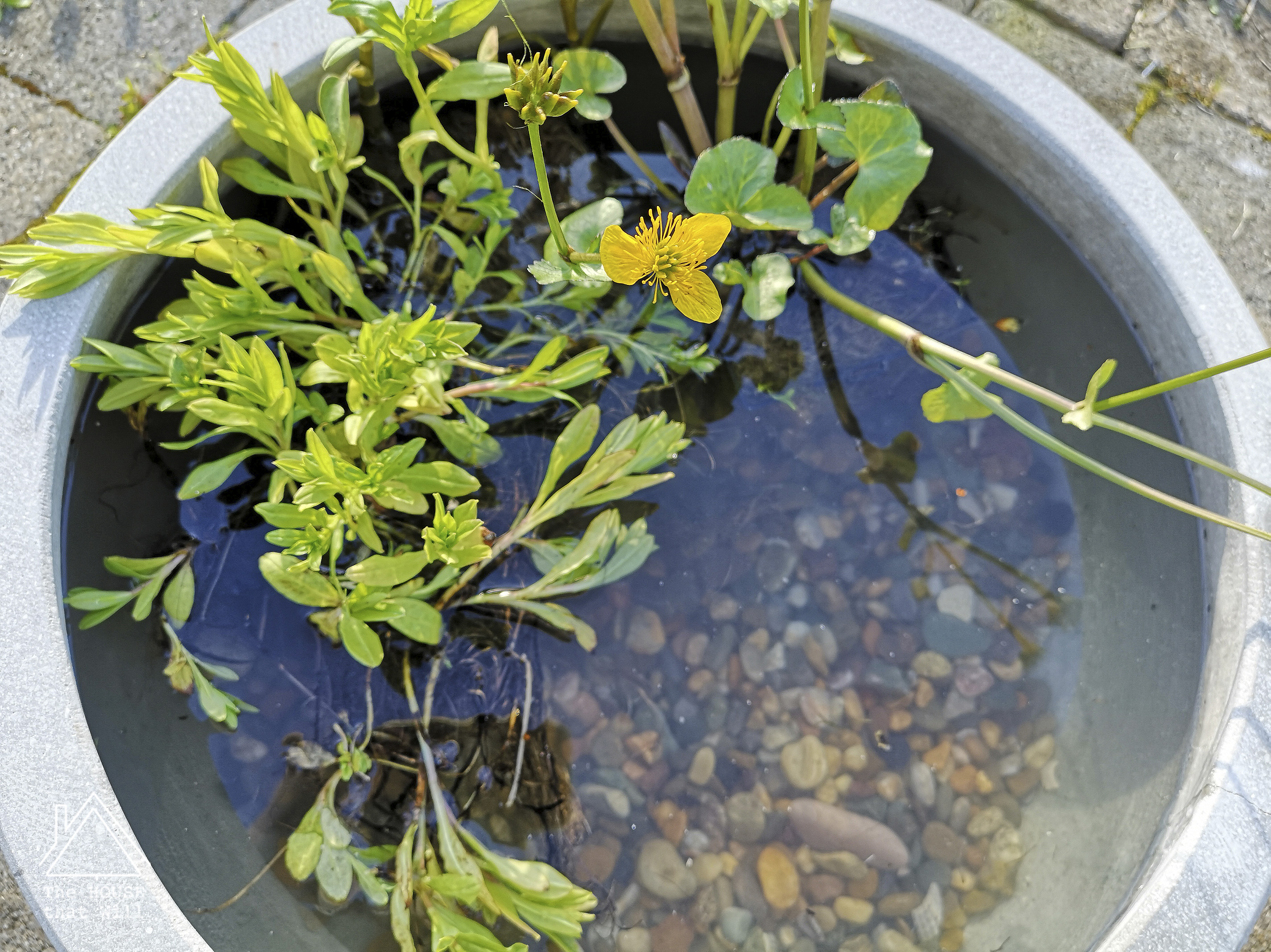 Next I lowered the oxygenating plant into the water. This one is Needle Spike-Rust (Eleocharis acicularis).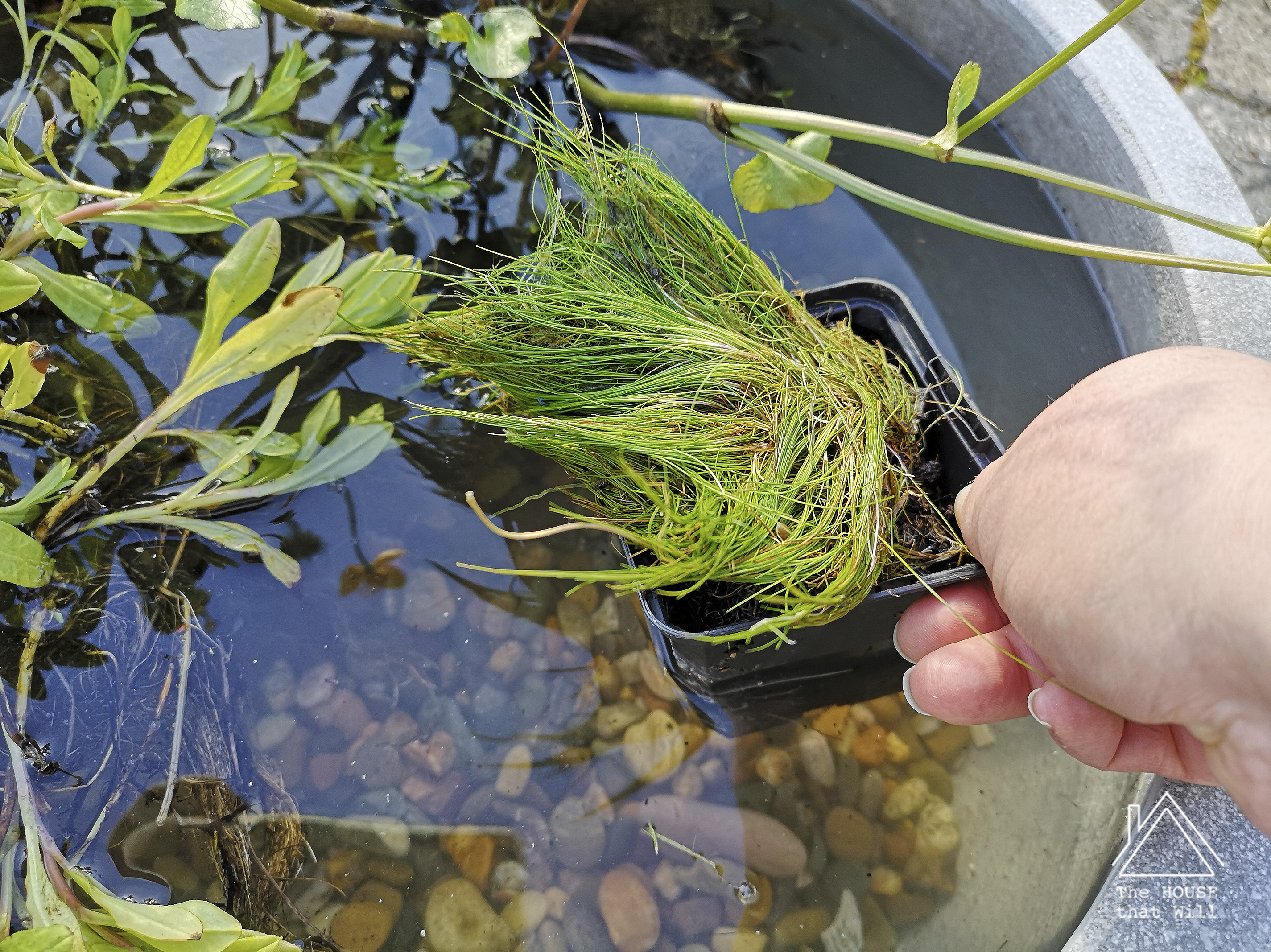 Finally I added the shade-providing plant. I couldn't find a floating plant in my local garden centre, so I chose a Dwarf Water Lily (Nymphaea Pygmaea - this one will have white flowers, therefore Nymphaea Pygmaea alba). Its leaves will spread across the surface of the water to provide the necessary shade.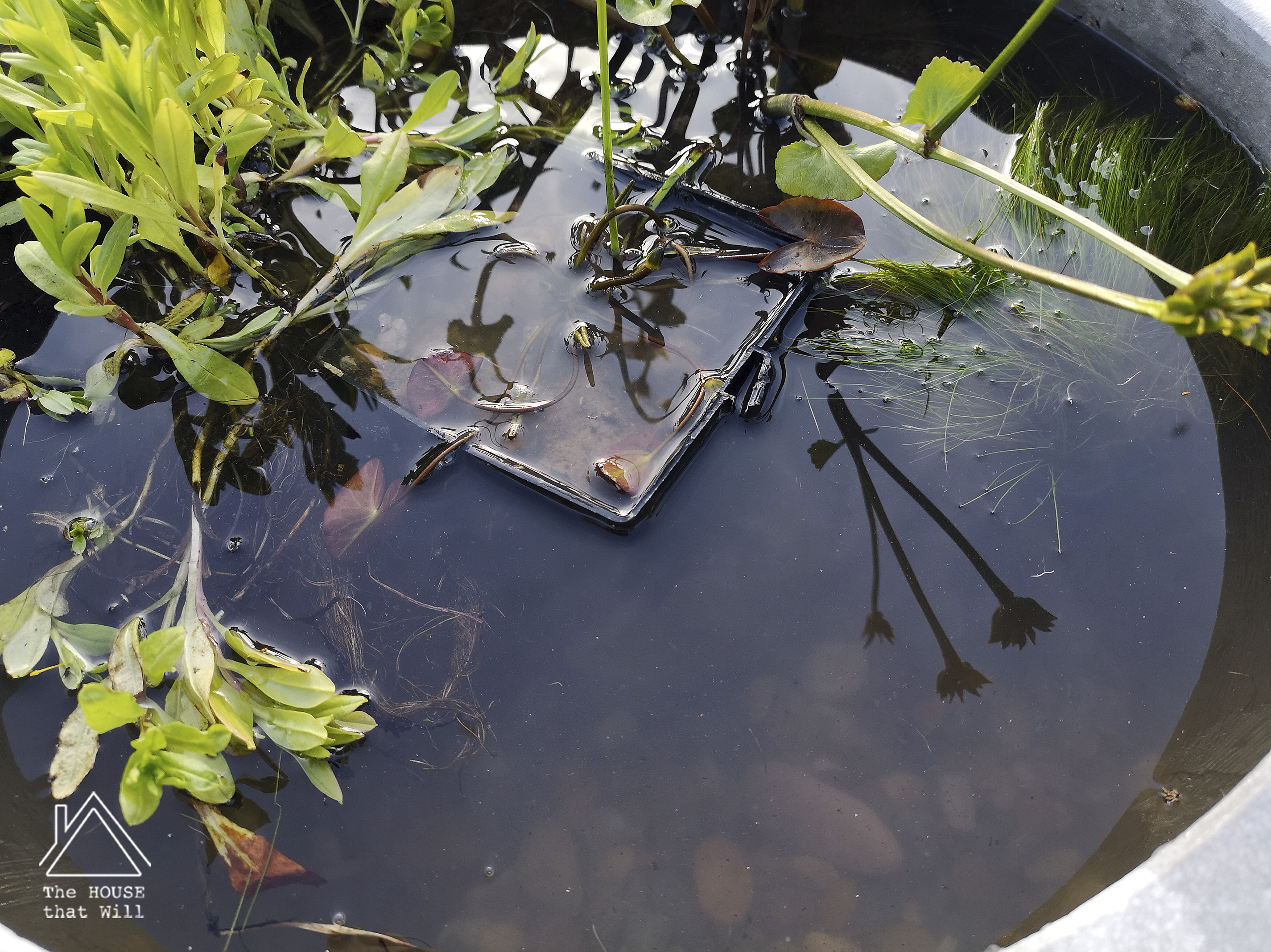 Just a note on planting water lillies: The leaves need to float at the surface, so a new plant with short stems will need to be planted closer to the surface than a fully-grown plant. I placed a stone underneath the pot so that the small leaves could reach the surface. The pot can be lowered gradually as the plant matures.
Wildlife
For me, one of the great joys of having a water garden is the wildlife that it attracts, and any water garden needs to be made safe for wildlife to enter and exit. Nobody wants to find drowned creatures in their water garden. This is one of the major reasons for landscaping your water garden, as well providing a variety of depths at which different plants can be placed.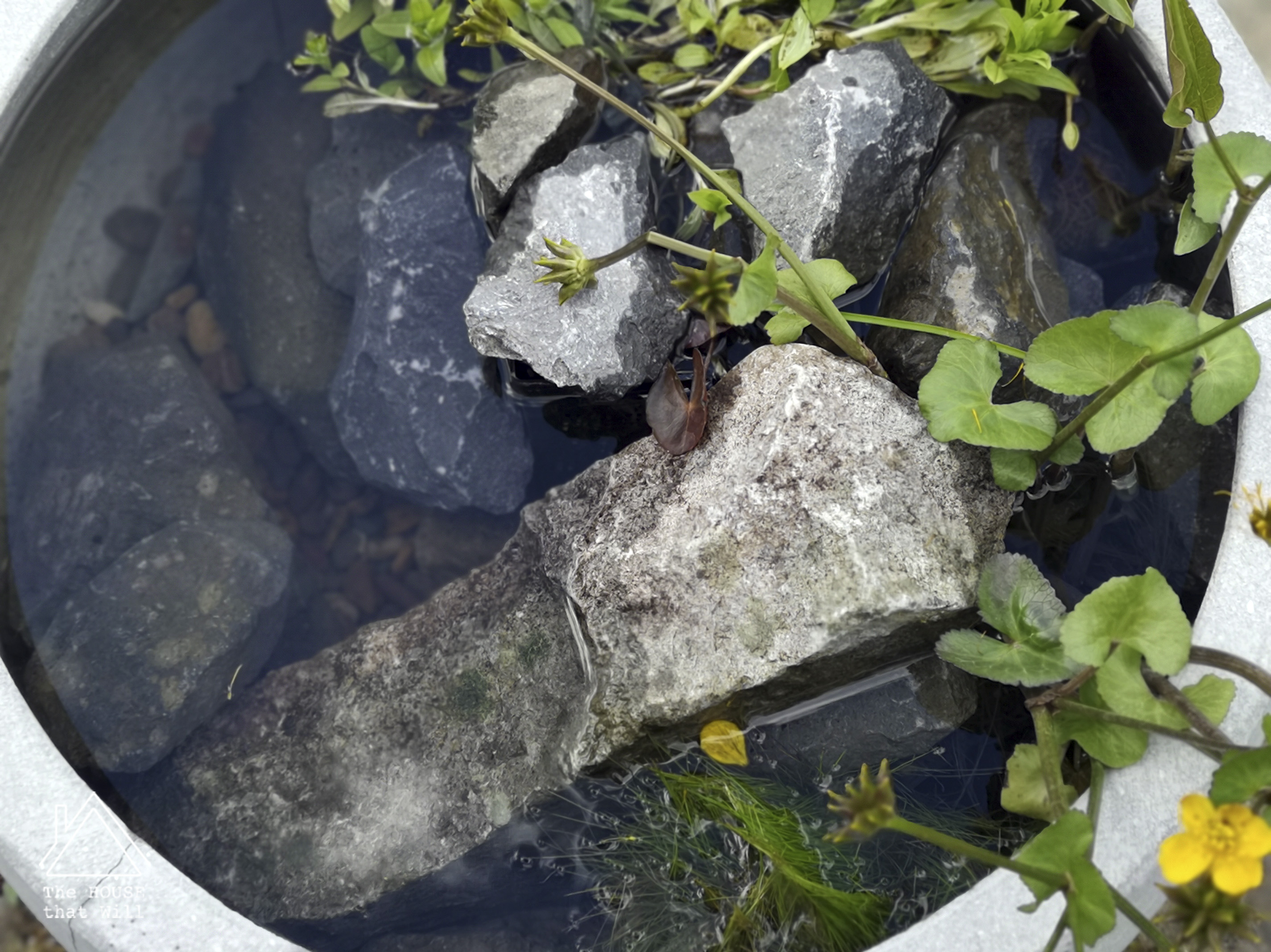 I used some stones to create steps and ramps to make it easier for any creature to easily leave the water. The stones also create places for birds, insects, and small mammals to perch while taking a drink. You may also want to build little stone steps on the outside of the pot to make it easier for little critters to access the water.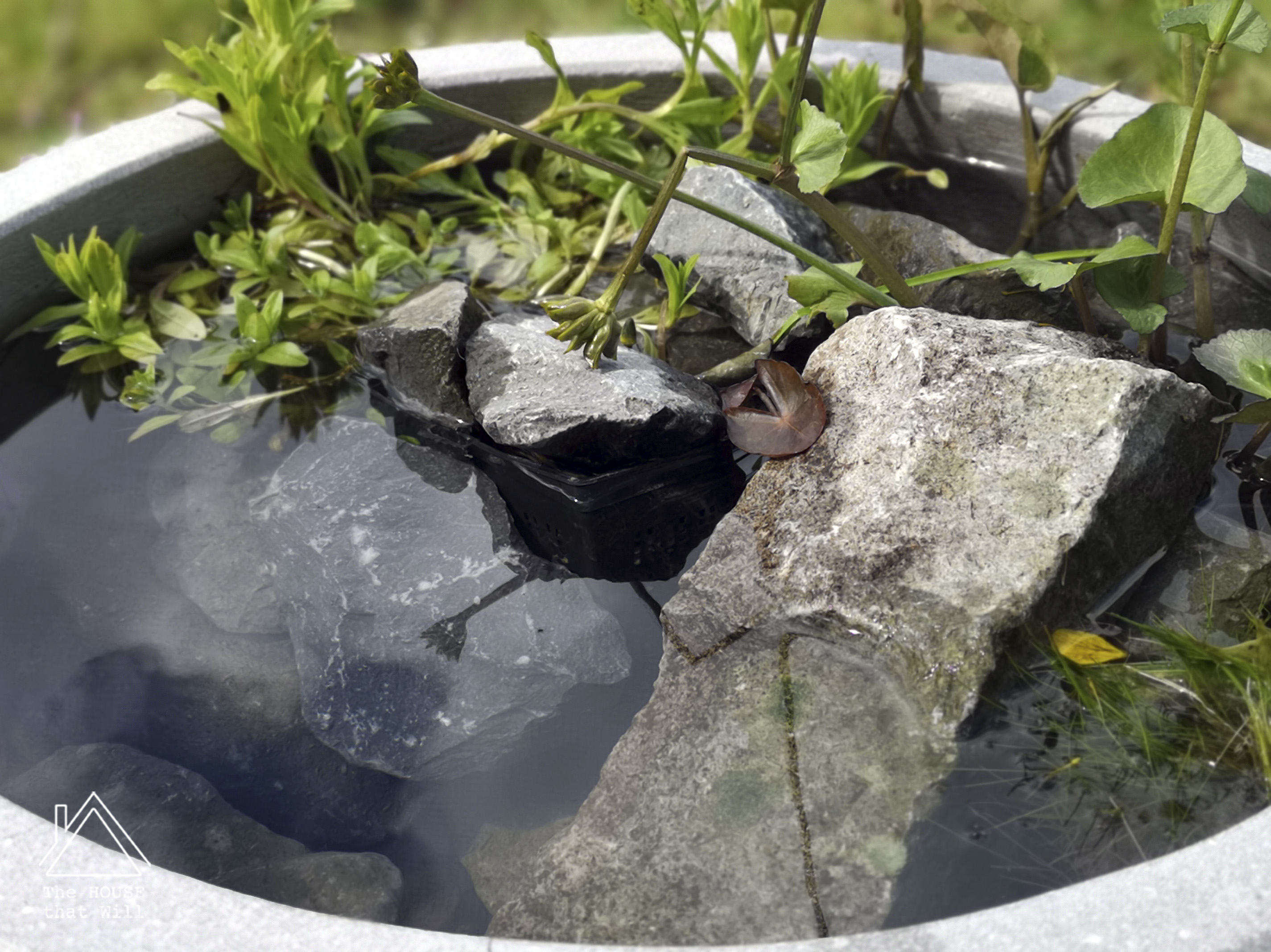 The stones also help to hide those plastic plant pots!
Enjoy!
It will take a while for everything to get established, but the Water Forget-Me-Nots are already starting to bud.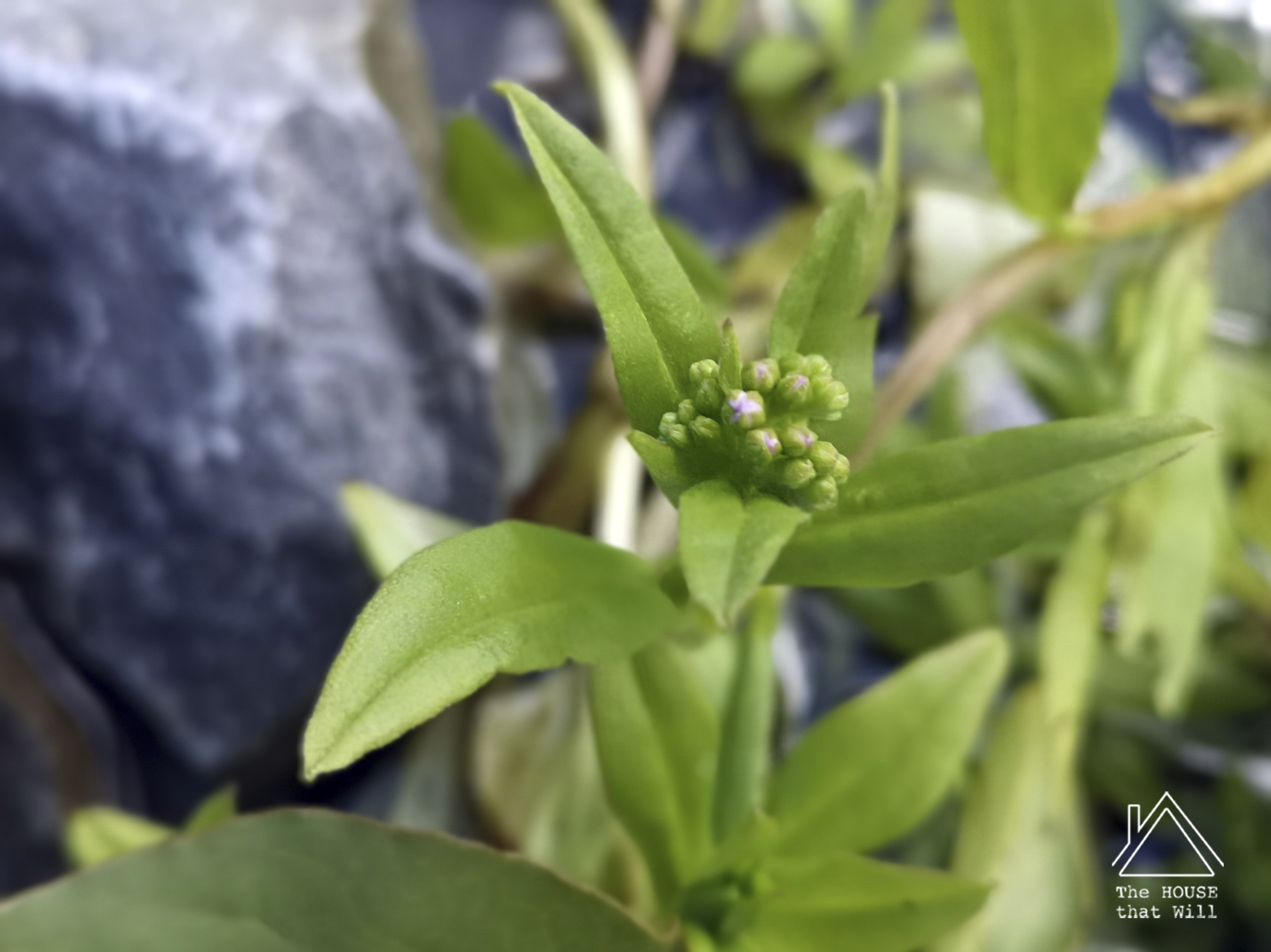 I had a container water garden a few years ago (before frost broke the pot - lesson learned) and I was surprised how quickly it started to fill up with wildlife. In this case, I got a slight head start because some of the plants I bought had pond snails on them. Not great for the plants, which get eaten, but ideal where the goal is to create a mini wildlife pond.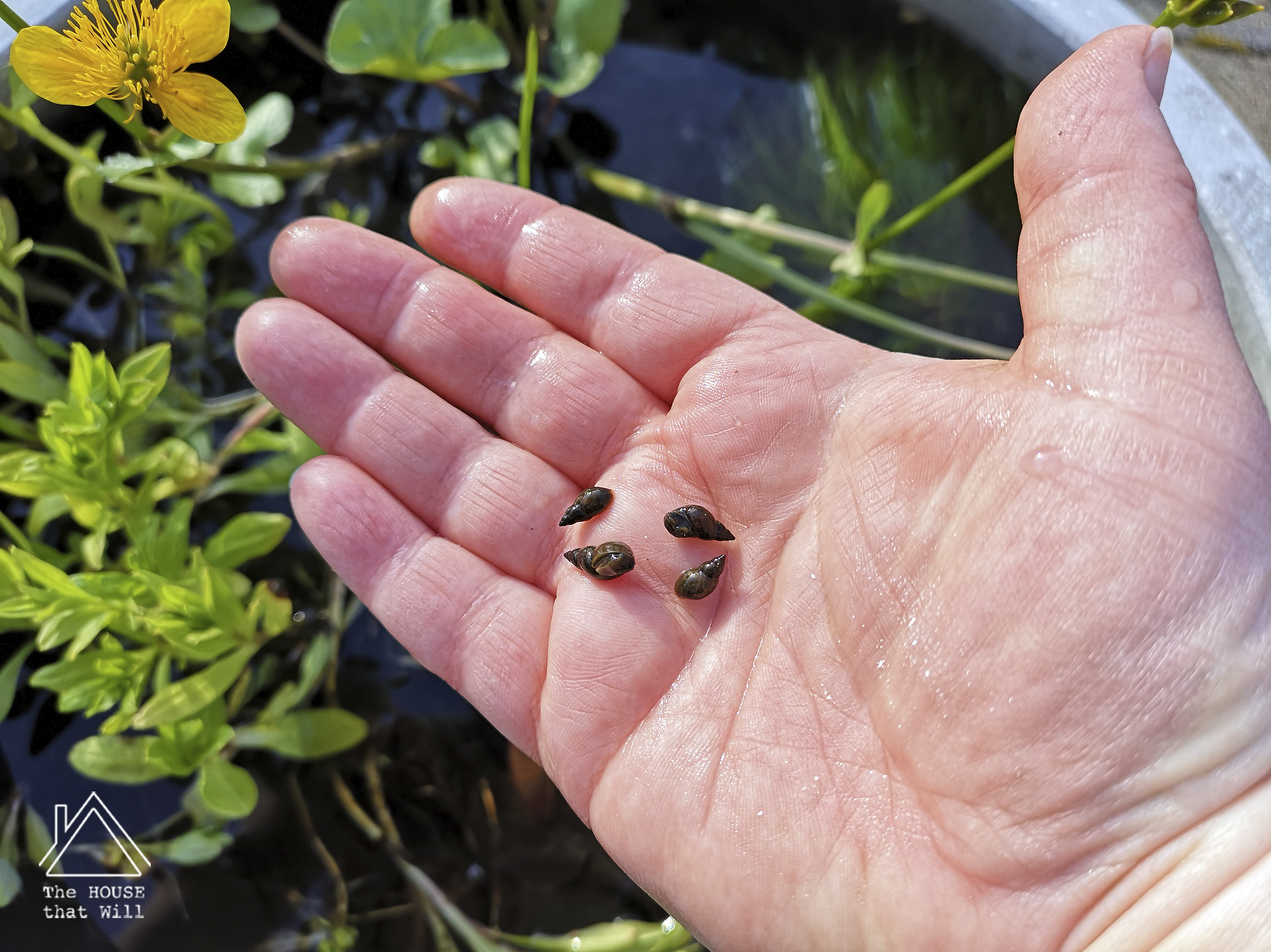 Sadly, I'm not sure how many have survived (many aquatic creatures don't like an abrupt change of environment). I'm hoping they're just hiding for now, so fingers crossed.
In the meantime, I get to enjoy my morning coffee while watching reflections of clouds rippling across the surface of my mini water garden. Bliss!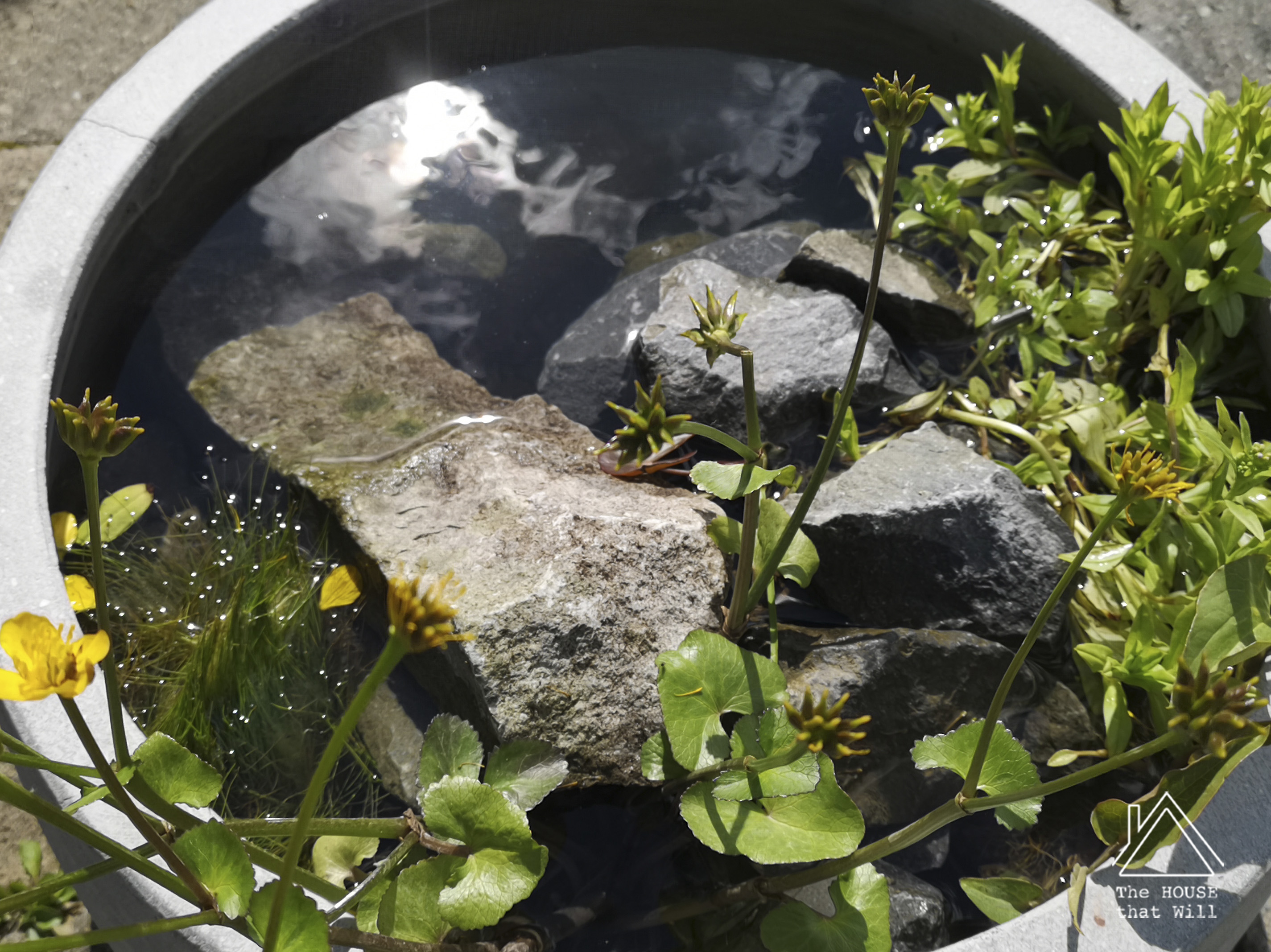 :

Related Posts