There is a little area beside our new patio that is almost always in shade, apart from a short time in the summer mornings when the sun makes its way around the house and over the surrounding tall hedges. Having had a shaded area in my last garden, I already knew this wasn't a lost cause. However, as this shady corner is visible from one of the most-used parts of our house, I also wanted to ensure year-round interest in this part of the garden. It took a bit of research, but I'm delighted to report that I found plenty of options for what is usually considered a tricky spot in the garden.
What is a Shaded Garden?
Technically, full shade refers to an area that gets less than two hours of direct sunlight; partial shade is about 3-6 hours of direct sun at midsummer; and full sun refers to anywhere that gets more than six hours of direct sunshine.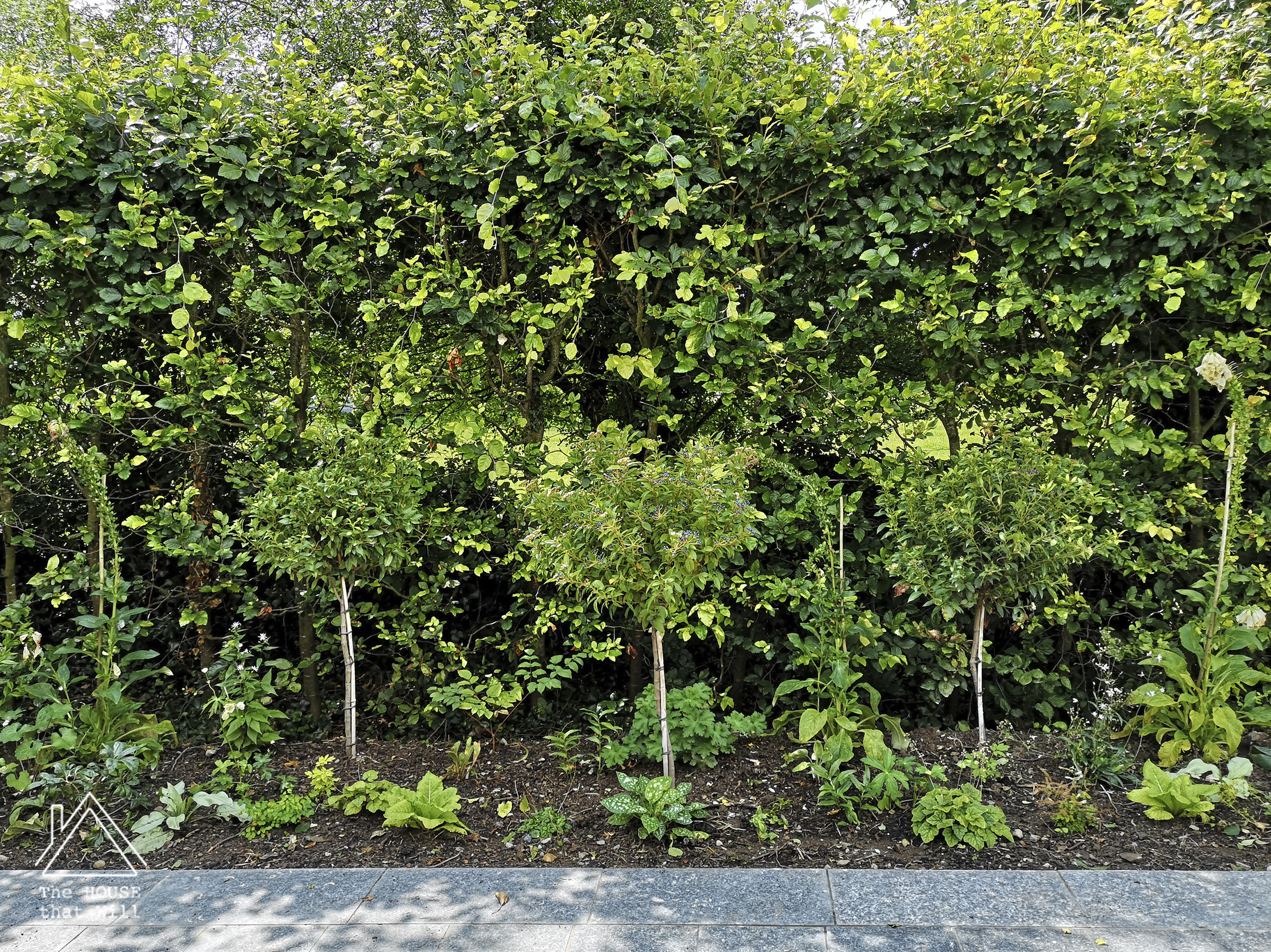 This part of the garden is in shade almost all day, even in the sunniest weather.
Plants have different requirements, depending on where they originated and their natural environment. Some need lots of bright sunshine to survive, whereas others will wilt and die in those conditions. For a shady garden, we want to select plants that are shade-loving, or at least shade-tolerant. If we think about where shade exists in nature, the woodland is an obvious place; therefore, woodland plants will thrive in a shaded area.
Assessing the Growing Conditions
It is worth spending some time figuring out what growing conditions exist in your garden. Then just follow the principle of the famed plantswoman, Beth Chatto: 'Right plant, right place'. This will save you time, money, and disappointment in the long run.



"Right plant, right place."


Beth Chatto
'Right plant, right place' basically means working with nature instead of trying to fight it. That will ensure healthy plants, as well as less maintenance for the gardener - nobody wants to waste time (and precious resources) watering a shade-loving plant in direct sunlight that is going to wilt and die anyway.
All that being said, these are just guidelines: plants actually want to grow, and definitely will given half a chance. So if you really love a plant, but your site is not ideal, it's definitely worth giving it a shot. However, your best chance of success will come from paying attention to the growing conditions in your garden and selecting plants accordingly.
Aspect
How much sunlight your garden gets depends largely on its aspect i.e. the direction it faces. For us in the nothern hemisphere, that means that north-facing gardens will be more shaded than south-facing gardens. The amount of light can also be modified by trees or buildings on your site.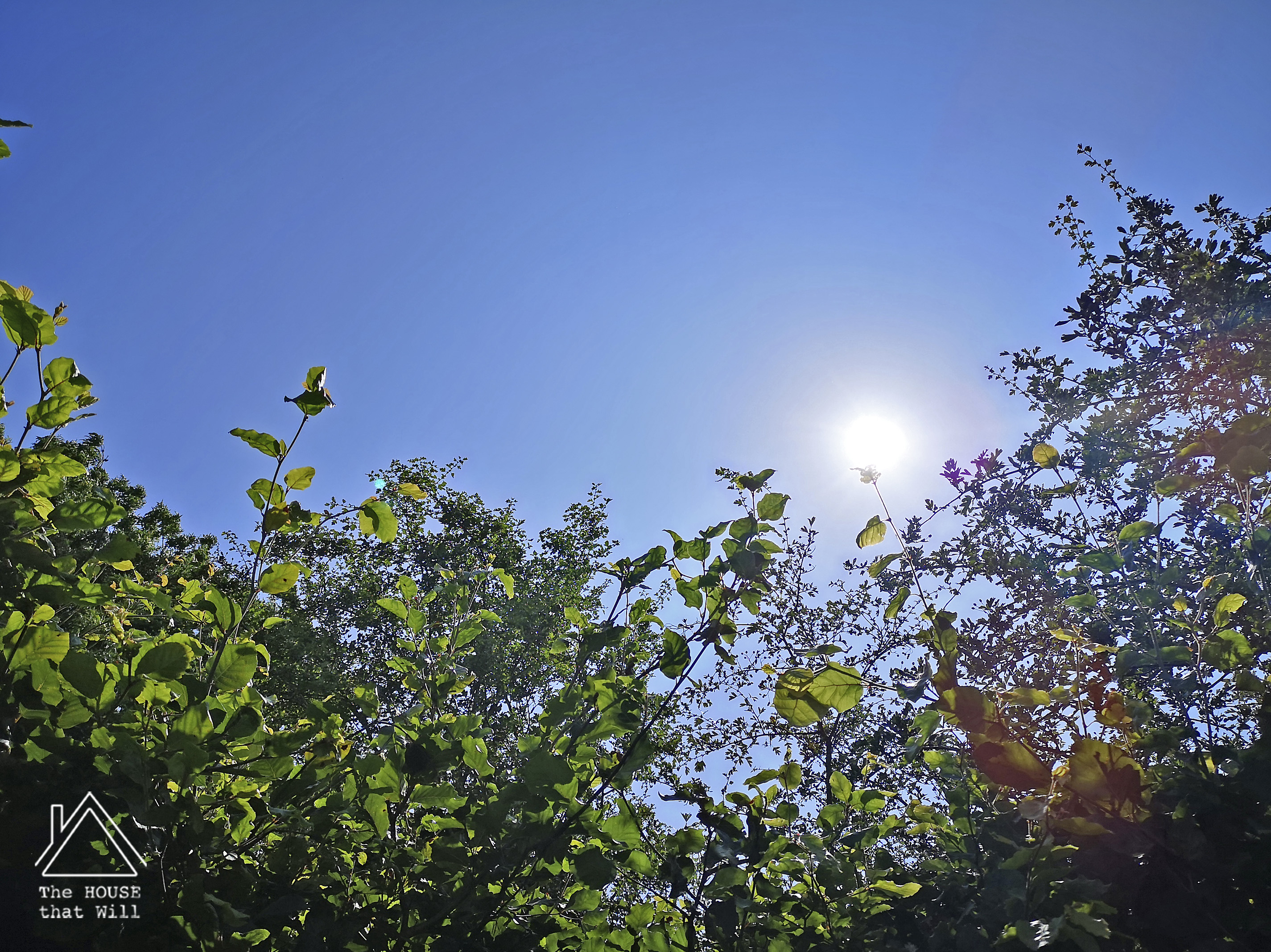 It's difficult to increase the amount of sunshine coming into your garden, but you can introduce shade, for example, by planting trees.
Soil Types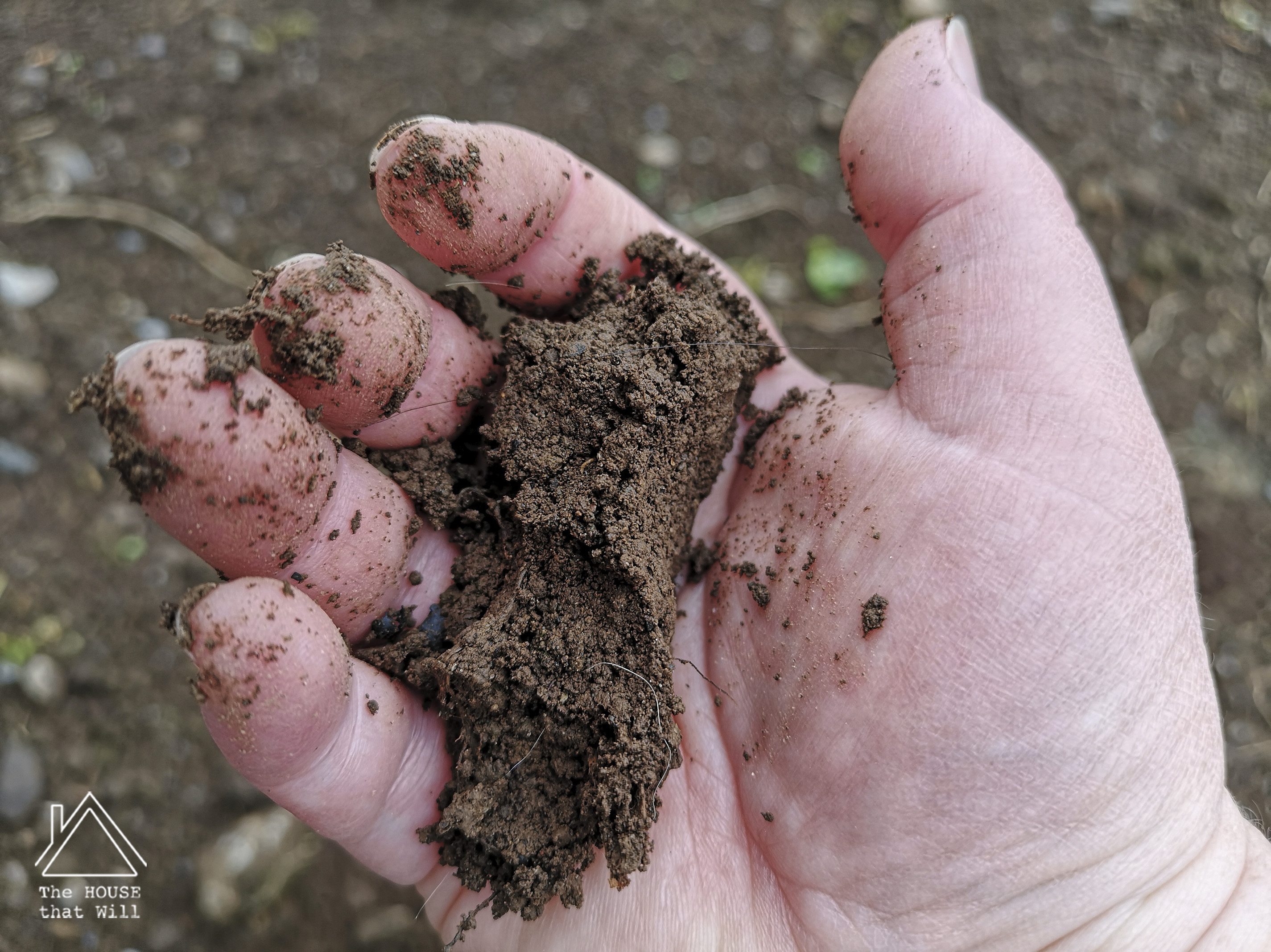 Another vital consideration is your soil type. Again, whatever soil you have, there will be plants that will thrive in those conditions. If you have heavy clay soil, it tends to become waterlogged; whereas if you have sandy soil, it will dry out too quickly. The ideal is referred to as loam, which contains a good balance.
The interesting thing is that you can improve either clay or sandy soil types by adding what gardeners call organic matter, which generally comes in the form of compost that you can either make yourself or purchase from your local garden centre (preferably a peat-free type to help protect bogland habitats). Adding compost to heavy clay soils will help break it up so that water flows more easily through it, while adding the very same compost to sandy soil helps to bind it so that it will retain moisture for longer. Compost will also boost the nutrient level of the soil, so it's almost always a good idea to add some to a new garden. The exception is where you want plants that prefer less nutrients, such as mediterranean plants like lavender.
One other thing to think about is the degree of acidity or alkalinity (measured in pH) of your soil. Most plants aren't fussy about the pH level of the soil, though there are notable exceptions: magnolias and rhododendrons prefer acid soil, whereas lilacs thrive in limey, alkaline soil.
A Shortcut!
At this point, you may be starting to think that it's all just too complicated; but it doesn't need to be. If you are a keen gardener, or would like to learn, you can find plenty of information all over the internet about how to analyse your soil. However, if you want to get the garden done with as little fuss as possible, the best thing to do is talk to the experts at your local garden centre about what might grow well for you - soil types vary by region, so they will have a good idea what soil type exists in your area. Then you just need to read the labels on the plants to see if they are a good match for your garden.
Selecting Plants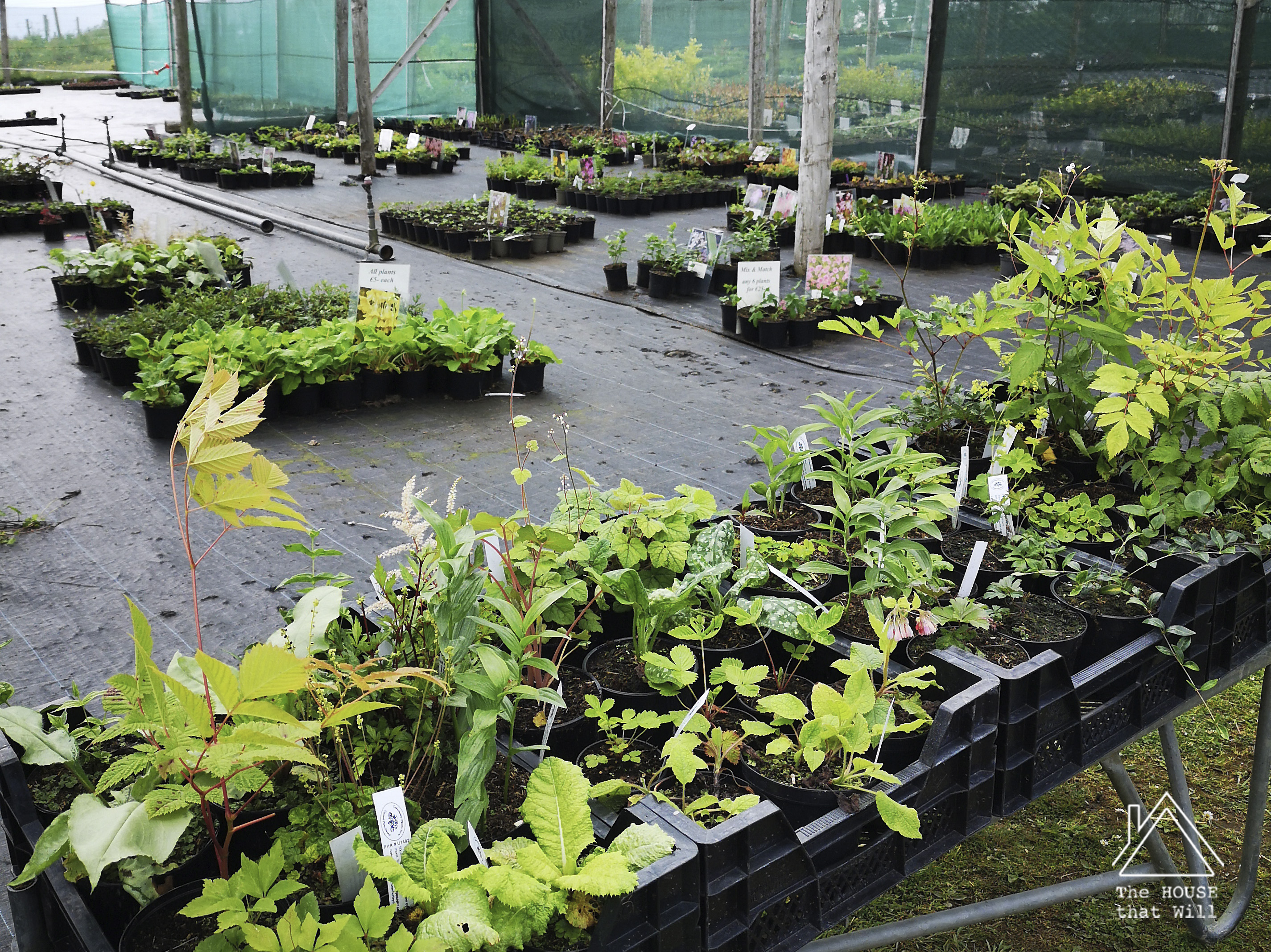 Shopping for shade-loving plants at Caherhurley Nursery
Taking all of the above into consideration, I will share some of the plants I chose for my shaded border. Keep in mind that these are very young plants, which will mature over the coming months and into next year. At the moment, it seems like there are large patches of bare soil between the plants, but it's important to allow them enough space to grow to their eventual full size.
Year-Round Interest
As I mentioned at the top, a big priority for me was having plants that would provide interest year-round. The obvious option in that case are evergreen plants. I started with a couple of sarcococcas, which flower in late winter when little else is in bloom and is famous for having a delicious fragrance. These qualities give the plants their common names: Sweet Box or Christmas Box. Like their famous cousin, the box hedge, sarcocca can be pruned to restrict its size, making it ideal for this narrow border. I got two different varieties, sarcococca ruscifolia and sarcococca confusa, each one bookending the shaded border. They are very similar, but ruscifolia has red berries whereas confusa has red berries that later turn black.
I also planted a couple of hellebores, which are commonly called the Christmas Rose. Again, these are evergreen and flower in later winter into early spring.
Later in the autumn, I will plant spring bulbs like snowdrops and crocus, and will get some winter-flowering cyclamen when they come into season at the garden centre. These will all help extend the season of interest in this relatively small flower bed.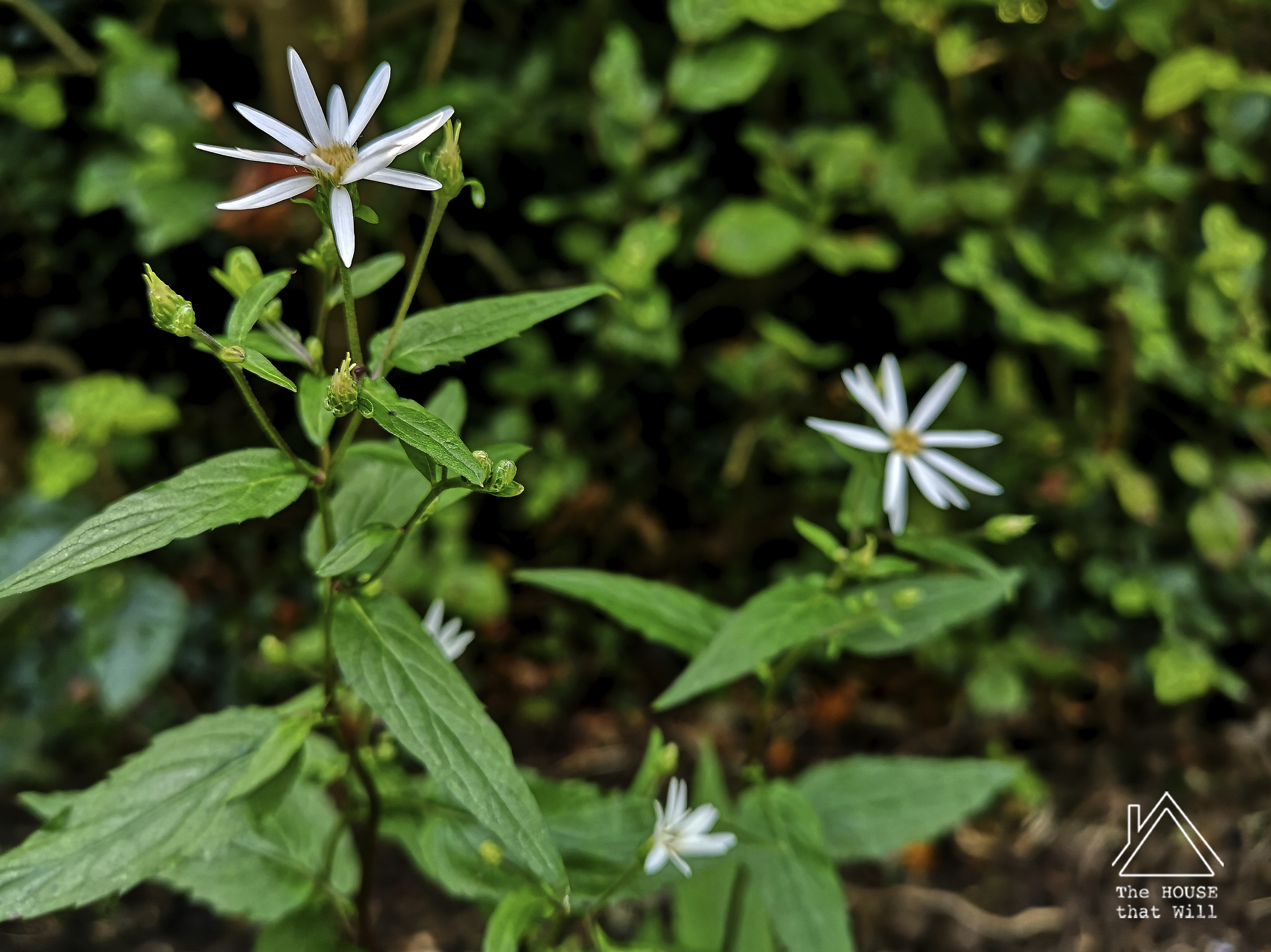 Eurybia divaricata (White Wood Aster)
Height
The hedge bordering this bed is very tall - at least 2m - which we require both for privacy as well as shelter from the wind. Rather than just having low-level planting at the foot of this hedge, I wanted to include some mid-level plants for better visual balance in different layers. Slightly taller plants would also be more easily seen from the house than low-growing ones. The narrowness of the border made this a little tricky, as I needed something to give me some height but without being so bulky that it would dominate the smaller plants or spill out onto the patio.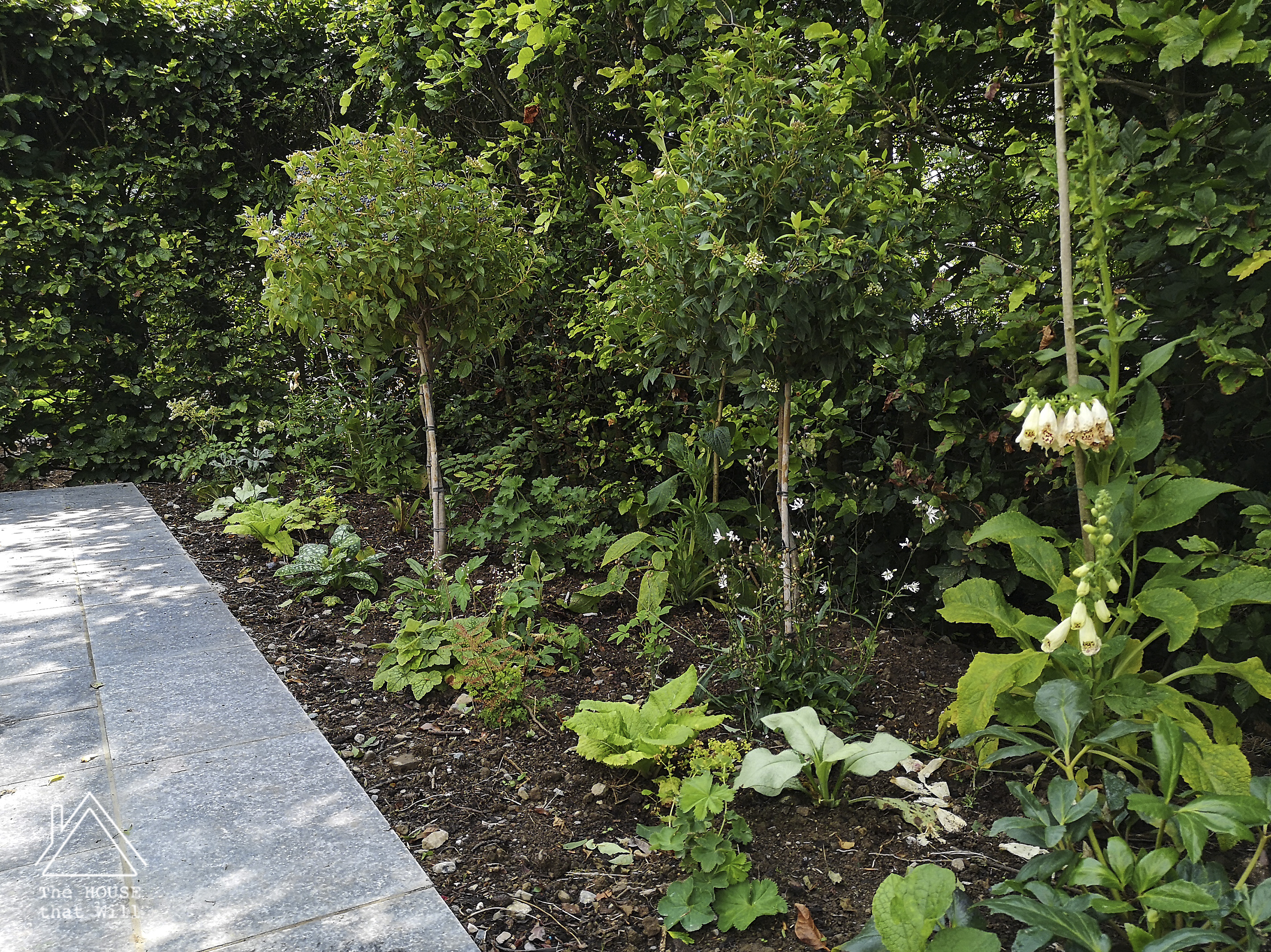 The perfect solution for me was a standard shrub; that is a shrub which has been pruned so that the lower part of the central stem is bare and all the growth is at the top - a bit like a lollipop! In my narrow border, this means that the stem does not occupy much space at the lower levels where most of my planting needs to be, while the head of the lollipop rises above the bottom tier of plants to fill the vertical height at eye level. I chose a Viburnum tinus, an evergreen shrub that produces white flowers from February to April and the most beautiful, almost irridescent blue-black berries from September to October.
At least, that's what it's supposed to do on paper; but when my shrubs arrived in early August, they had flowers and fruit on them at the same time. Absolutely magical! I actually got three of these because creating visual rhythm through repetition is an important element in any design, and these very structural plants enabled me to create that in this part of the garden.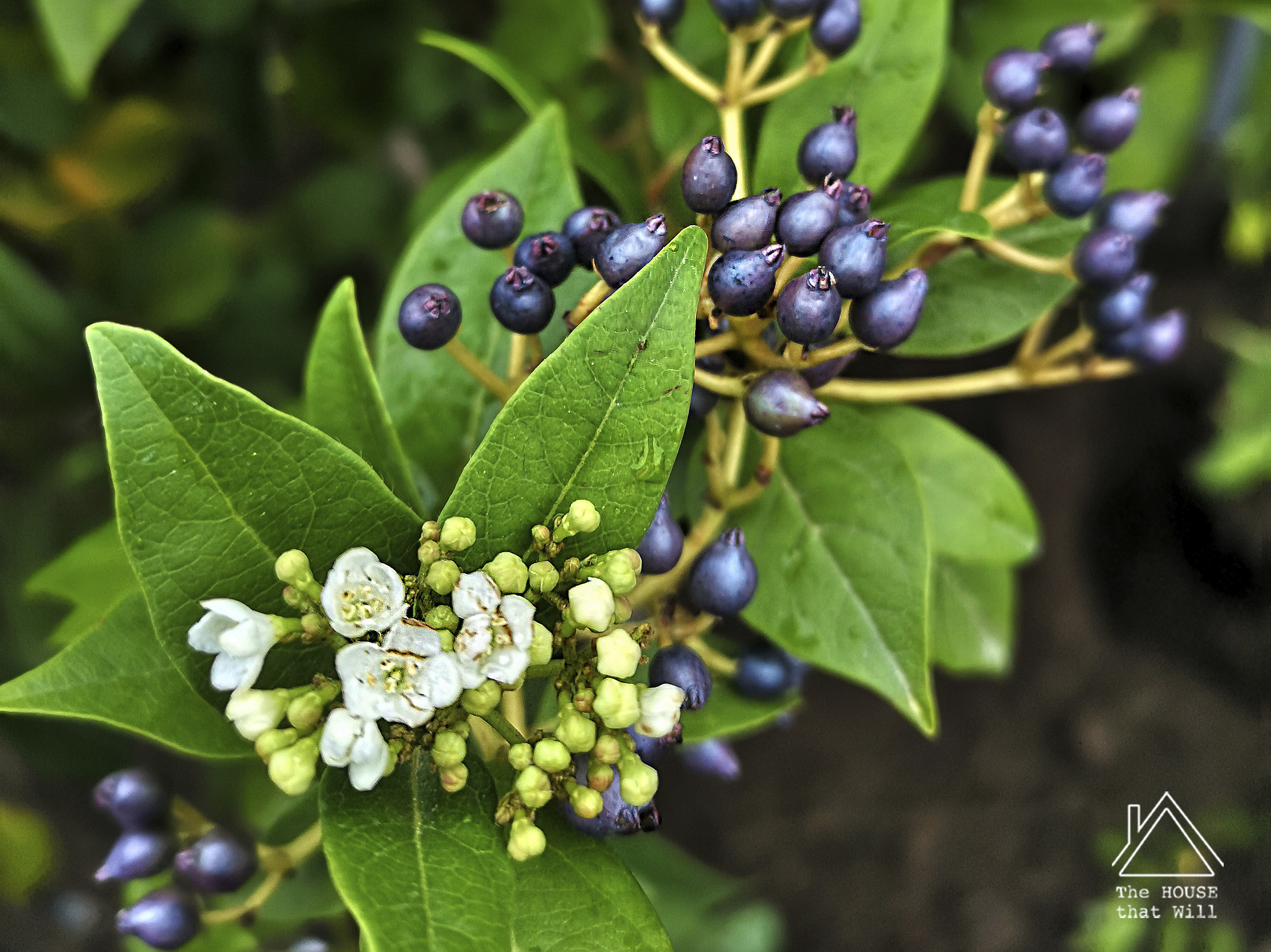 Viburnum tinus 'Eve Price'
Just a quick note on standard trees or shrubs: they come in a variety of sizes including ¼, ½, ¾, and full standards with a quarter standard having a shorter stem than a half standard, and so on. This allows you to choose the best type to provide visual interest at the desired height (my shrubs are half-standards, for example). The shape of a standard shrub is unnatural, and means that the growth is top-heavy. For that reason, a standard tree or shrub will need the extra support of a stake along its stem until it becomes strong enough to support itself.
With the structure of the border now established through the larger shrubs, I then began to fill it with some more of my favourite plants.
Foxgloves are just a super plant, with their tall spires of bell-shaped flowers. As woodland plants, they are a good choice for a shaded area. They are biennials, which mean that they start to establish themselves in their first year and will flower in their second year, after which they die. However, they set seed freely, so once you have foxgloves in your garden, you will likely always have foxgloves! If they self-seed where you don't want them, simply lift the young plants and re-plant where you want them to flower the following year. The variety I have chosen here is 'Dalmation Crème' which has been bred to produce flowers in its first year as well as its second year.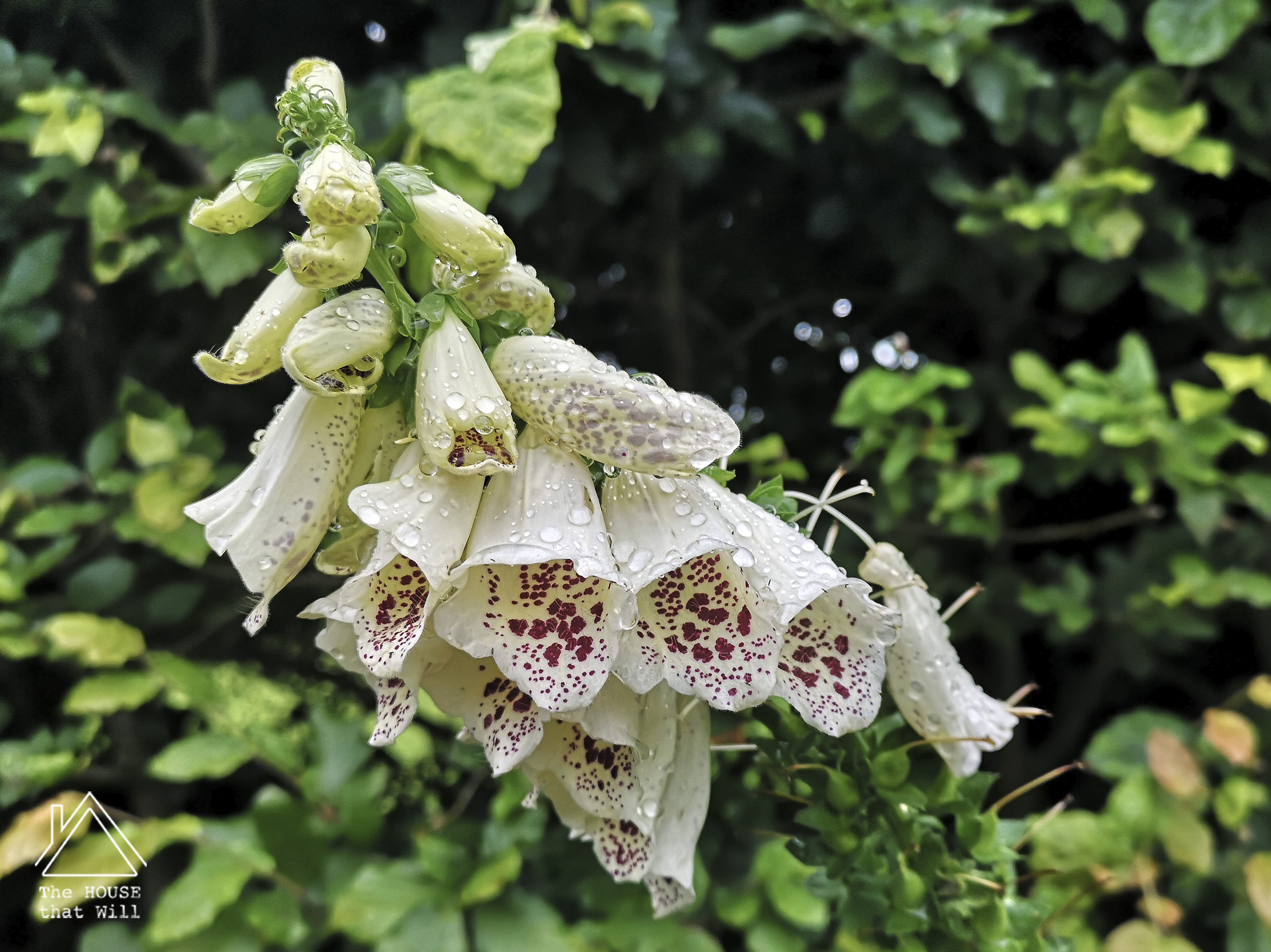 Digitalis purpurea 'Dalmatian Crème'
With their striking foliage, pulmonaria are a great plant for a shaded area, and I chose two different varieties. The first is 'Blake's Silver' with its silvery-green foliage that brightens up a dim corner.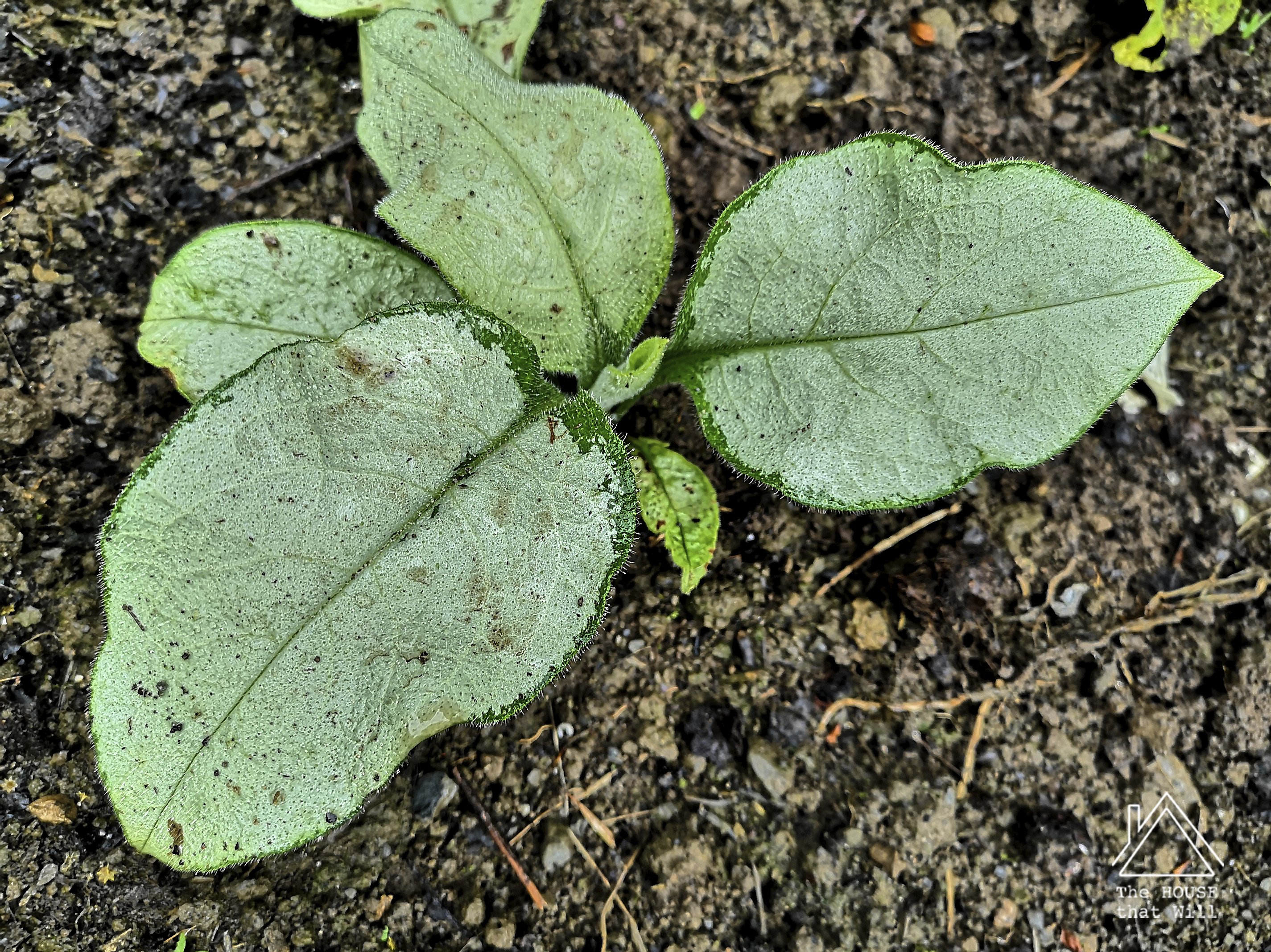 Pulmonaria 'Blake's Silver'
The other pulmonaria is 'Sissinghurst White', which has green leaves with silvery spots that echo the colour of 'Blake's Silver'.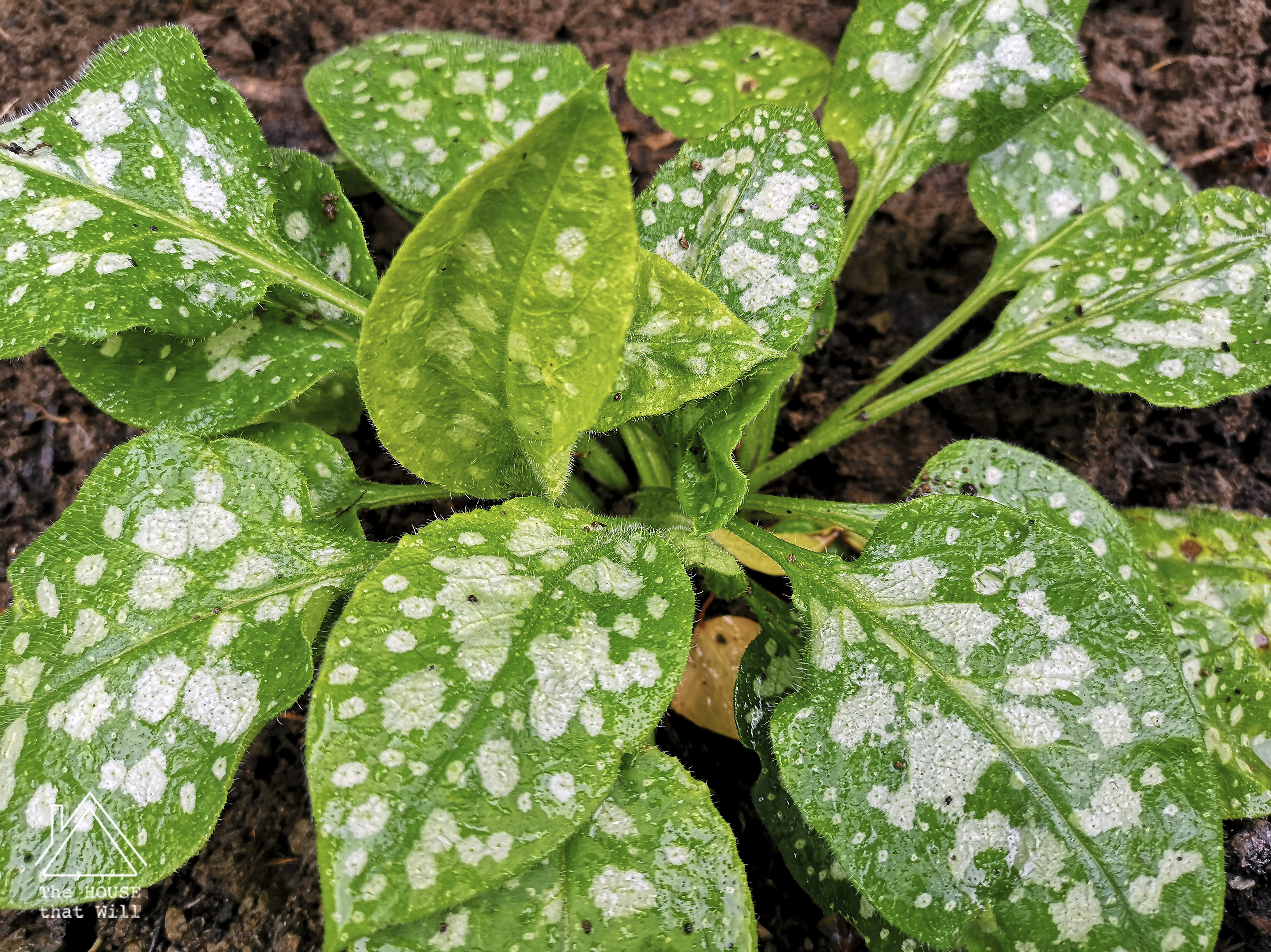 Pulmonaria 'Sissinghurst White'
Astrantias make wonderful cut flowers. Its common name is Masterwort, but it's obvious from looking at it why it is sometimes also referred to as Hattie's Pincushion.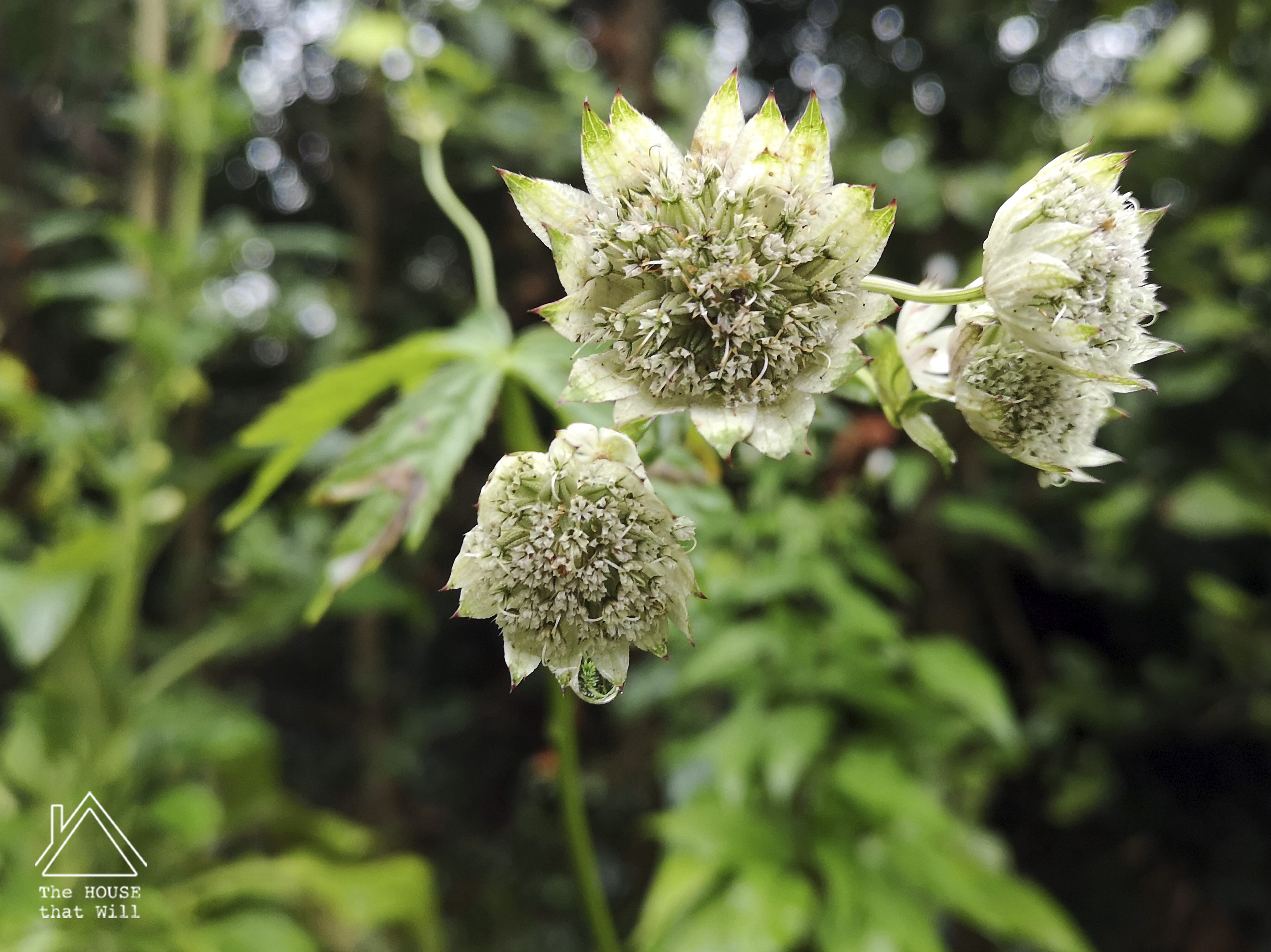 Astrantia major 'Shaggy'
A new-to-me plant that has fast become a favourite is Lychnis flos-cuculi 'White Robin' with its delicate bright-white flowers that remind me of loose threads or sheep's wool caught on a fence! This one likes a more moist soil, so I dug in plenty of leaf mould around the planting hole.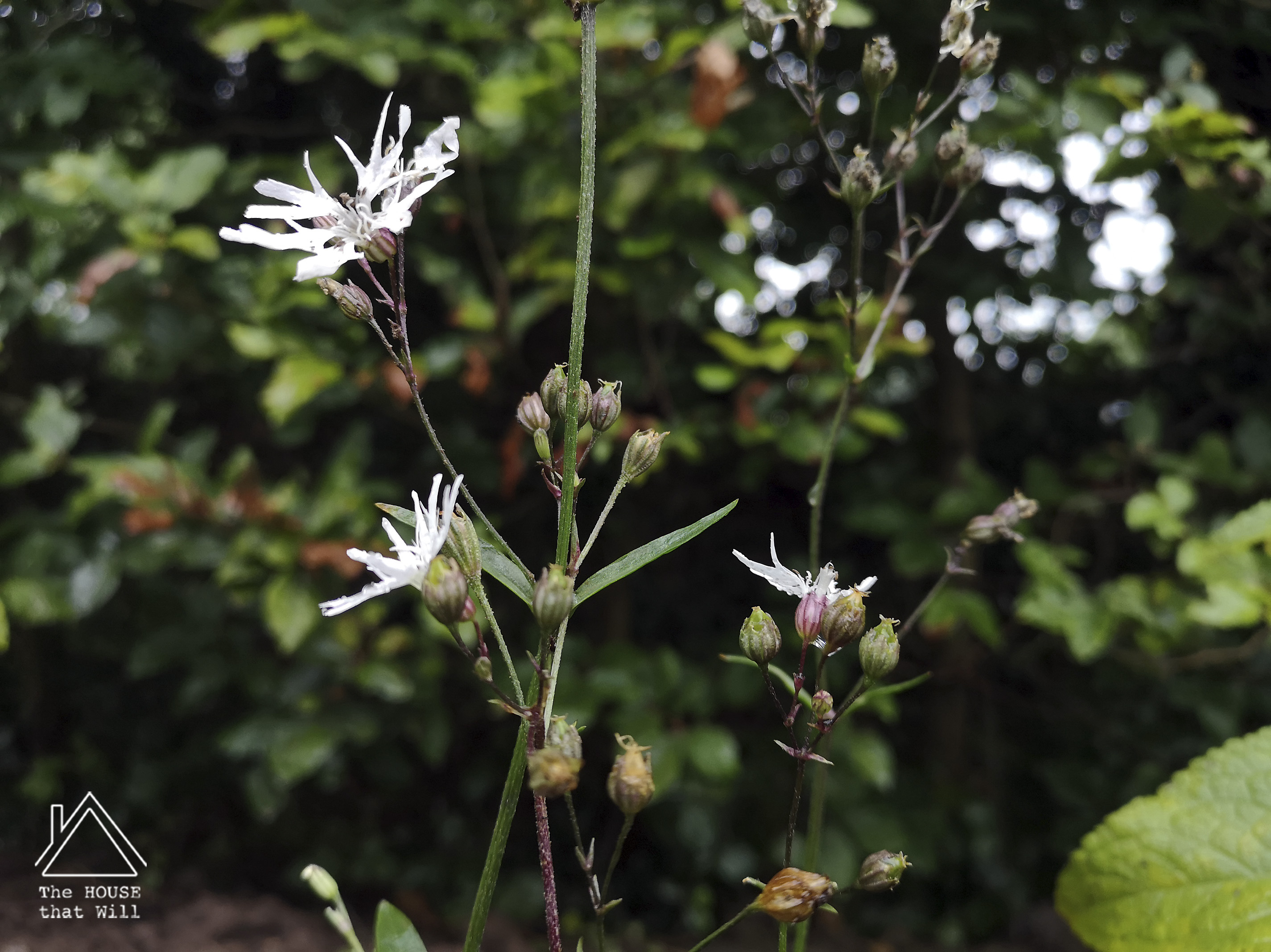 Astilbe is a plant with delicate, almost feathery flowers. My father gave me a pink one on my 21st birthday - it has moved house with me several times and I still have it (and let me tell you, my 21st birthday was a while ago now!). This white one is called 'Deutschland'.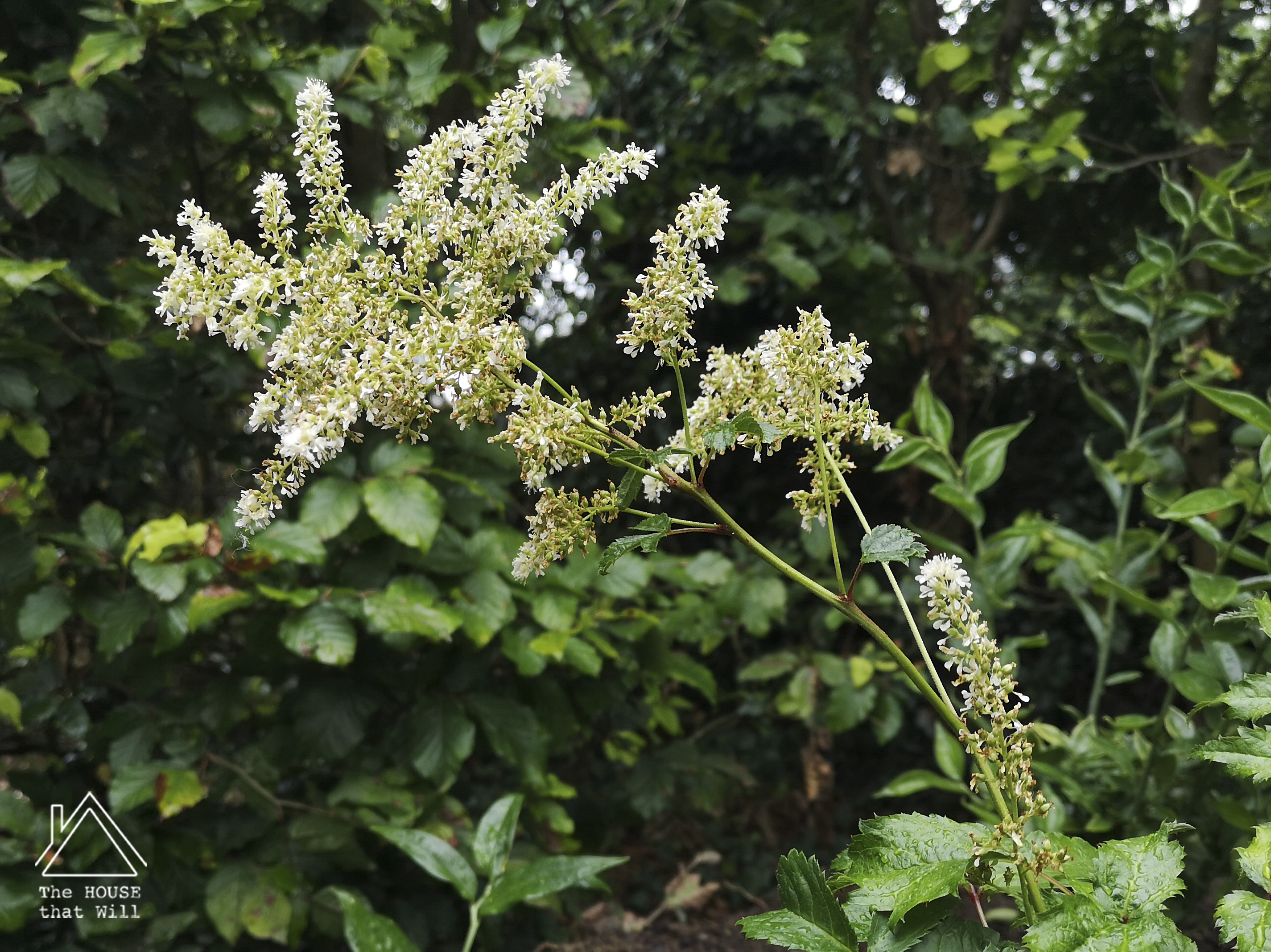 Astilbe 'Deutschland'
I also have a couple of different varieties of aruncus, which has a very similar flower. Again, repetition in a planting scheme is a good design feature that helps prevent it from looking too "bitty".
Many of the other plants haven't flowered yet, so I look forward to seeing these plants bring interesting changes throughout the coming year.
Latin Plant Names
The convention in horticulture is to call plants by their latin name, and this can be very off-putting for beginners. In fact, it's very useful because common names can vary from place to place and if you ask for something by its common name, you can never be entirely certain that you'll get what you want. The latin names, however, are standardised, and so help to avoid confusion or misunderstanding.
Besides, you don't actually have to learn Latin to use the correct botanical name of a plant: if you see a plant you like, simply note its latin name and bring that note to garden centre with you.
So I will leave you with the planting list for my own shaded border, which includes the latin botanical names as well as the common name in brackets - plus the supplier where I sourced the plant. No ads here; I just though it may be useful for others who wish to bring some life and interest to a dull corner of the garden.
Enjoy!
Planting List
These are the plants that I chose for my shaded border. I should say that they are all white or blue flowering plants, as those are my favourite colours, but many of these plants come in different colours, so choose ones to suit your taste.
Shrubs
Sarcococca confusa (Christmas Box) - Caherhurley Nursery
Sarcococca ruscifolia (Sweet Box) - Caragh Nurseries
Viburnum tinus 'Eve Price', half-standard - Caragh Nurseries
Other good shrubs for shaded areas include skimmia, spotted laurel (Aucuba japonica Crotonifolia), and Fatsia japonica; all of which are evergreen.
Herbaceous Perennials
Alchemilla venoso (Lady's Mantle) - Caherhurley Nursery
Aruncus aethusifolius (Dwarf Goat's Beard) - Caherhurley Nursery
Aruncus dioicus (Goat's Beard) - Caherhurley Nursery
Aruncus dioicus 'Kneiffii' (Goat's Beard 'Kneiffii') - Caherhurley Nursery
Astilbe 'Deutschland' (Astilbe 'Deutschland') - Caherhurley Nursery
Dicentra spectabilis 'Alba' (Bleeding Heart, White) - Mount Venus Nursery
Digitalis purpurea 'Dalmatian Crème' (Foxglove 'Dalmation Crème') - McD's
Disporopsis pernyi (Perny Disporopsis) - Caherhurley Nursey
Eomecon chionantha (Snow Poppy) - Caherhurley Nursery
Eurybia divaricata (White Heart-Leaved Aster/White Star Aster) - Caherhurley Nursery
Gentiana asclepiadea (Willow Gentian) - Caherhurley Nursery
Geranium × johnsonii 'Johnson's Blue' (Cranesbill Geranium 'Johnson's Blue') - Propogated by division
Helleborus niger (Christmas Rose) - Caragh Nurseries
Lychnis flos-cuculi 'White Robin' (Ragged Robin 'White Robin') - Future Forests
Maianthemum stellatum (Star-Flowered False Lily-of-the-Valley) - Caherhurley Nursery
Meconopsis baileyi (Bailey's Himalayan Blue Poppy) - Caherhurley Nursery
Meconopsis 'Lingholm' (Himalayan Blue Poppy 'Lingholm') - Caherhurley Nursery
Mitella breweri (Brewer's Mitrewort) - Caherhurley Nursery
Pachyphragma macrophylla (Large-leaved Pachyphragma) - Caherhurley Nursery
Primula japonica 'Alba' (Japanese Primrose, White) - Caherhurley Nursery
Pulmonaria 'Blake's Silver' (Lungwort 'Blake's Silver') - Caherhurley Nursery
Pulmonaria 'Sissinghurst White' (Lungwort 'Sissinghurst White') - Caherhurley Nursery
Symphytum 'Hidcote Blue' (Hidcote Comfrey) - Caherhurley Nursery
Tiarella polyphylla 'Filigran' (Foam Flower 'Filigran') - Caherhurley Nursery
Vancouveria hexandra (White Inside-Out Flower/American Barrenwort) - Caherhurley Nursery

Other good plants for shaded areas include anemones, brunnera, campanulas, cyclamen, euphorbia, ferns, hostas, lily of the valley, and solomon's seal. Many spring bulbs also prefer a shaded spot, such as snowdrops, crocus, daffodils, and tulips.
Note: if you have pets that are likely to dig up and eat your plants, check that the plants you choose are non-toxic to that animal. For example, all parts of the foxglove plant are toxic if ingested.
Related Posts:
How to Create a Mini Water Garden